Pros/Advantages
Free 300 virtual cards
Instant card issuance
Unlimited cards
Integrated accounting system
Complete expense control
Fully secured
Cons
Only for business purpose
Are you a business owner looking for a smart and efficient way to manage your company's finances?
Look no further than Wallester Business. This innovative platform offers a range of features and benefits to help streamline your corporate financial management.
With Wallester Business, you can issue virtual and physical corporate cards with individual spending limits, monitor all corporate spending in real time, and facilitate invoice management.
Plus, the platform offers instant virtual card issuance and contactless payment options, making it perfect for online media buying.
In this Wallester Business review, we will explore the features and benefits of the Wallester Business in detail. So let us begin.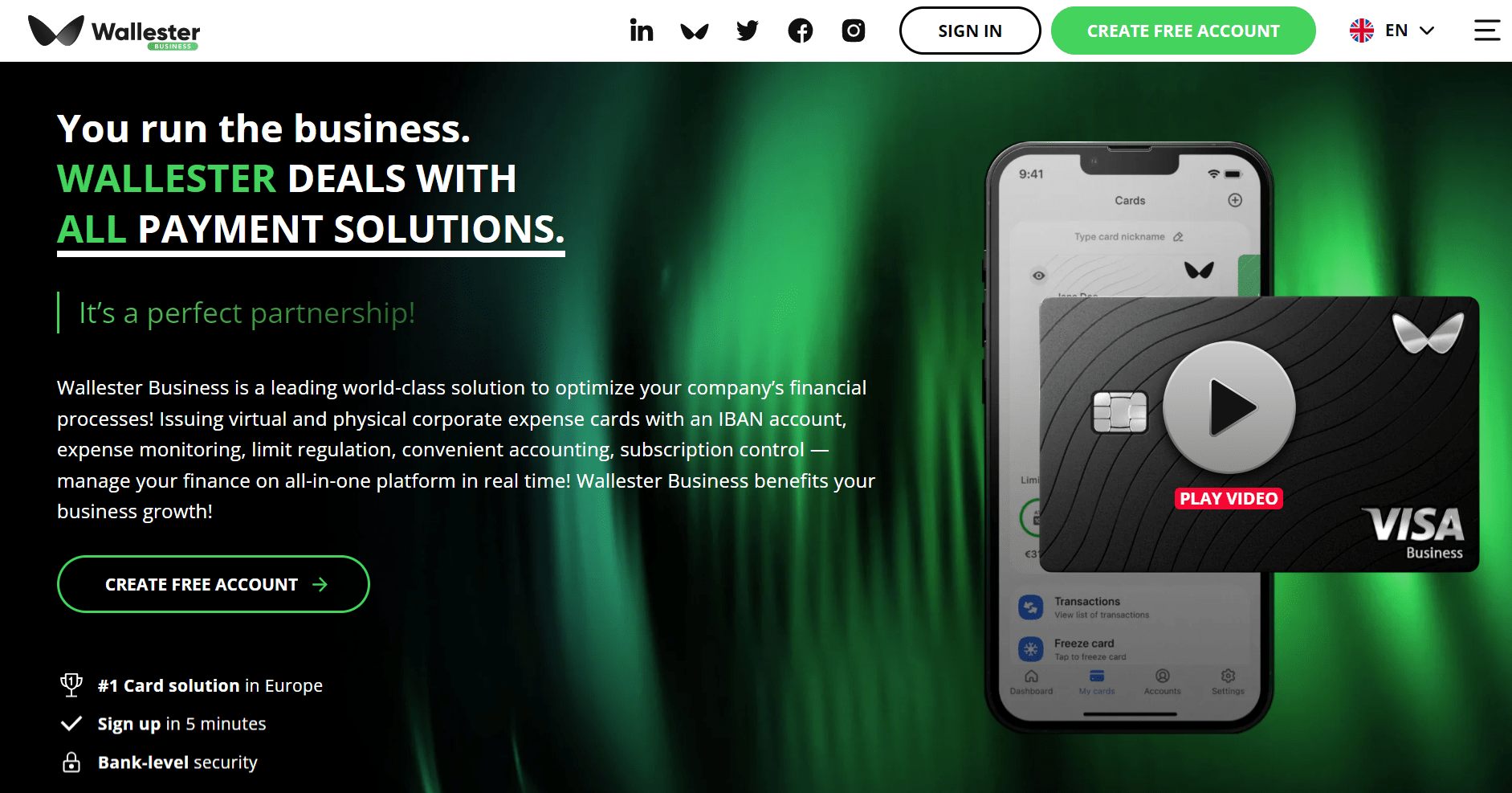 Wallester Business is a fintech solution that was founded in 2016 to provide financial services for startups and established corporations.
As an official VISA partner, Wallester focuses on issuing various VISA products, including debit cards, credit cards, prepaid cards, and more, for businesses.
Wallester serves as a buffer account for businesses, allowing them to centralize employee spending and expenses. Setting up an account with Wallester is quick and free.
Once the account is set up, businesses can top up their account via bank transfer to cover their predicted expenses.
After topping up, virtual and physical VISA cards can be issued to employees, who can spend from the expense account according to their needs and spending limits.
Wallester's mobile cash management app for iOS and Android provides businesses with the infrastructure they need to manage their finances effectively.
One of the best things about Wallester is its complete white-labeling capability. Businesses can brand their cards and white-label the mobile app, allowing employees to stay engaged with the company brand.
Wallester Business offers a range of financial management solutions for businesses. Its features include instant virtual card issuance, physical card express delivery, individual spending limits, and contactless payment options.
It also offers shared access virtual cards, streamlined invoice management, and integrated accounting services.
🔥 Major Features & Benefits – Wallester Review 🔥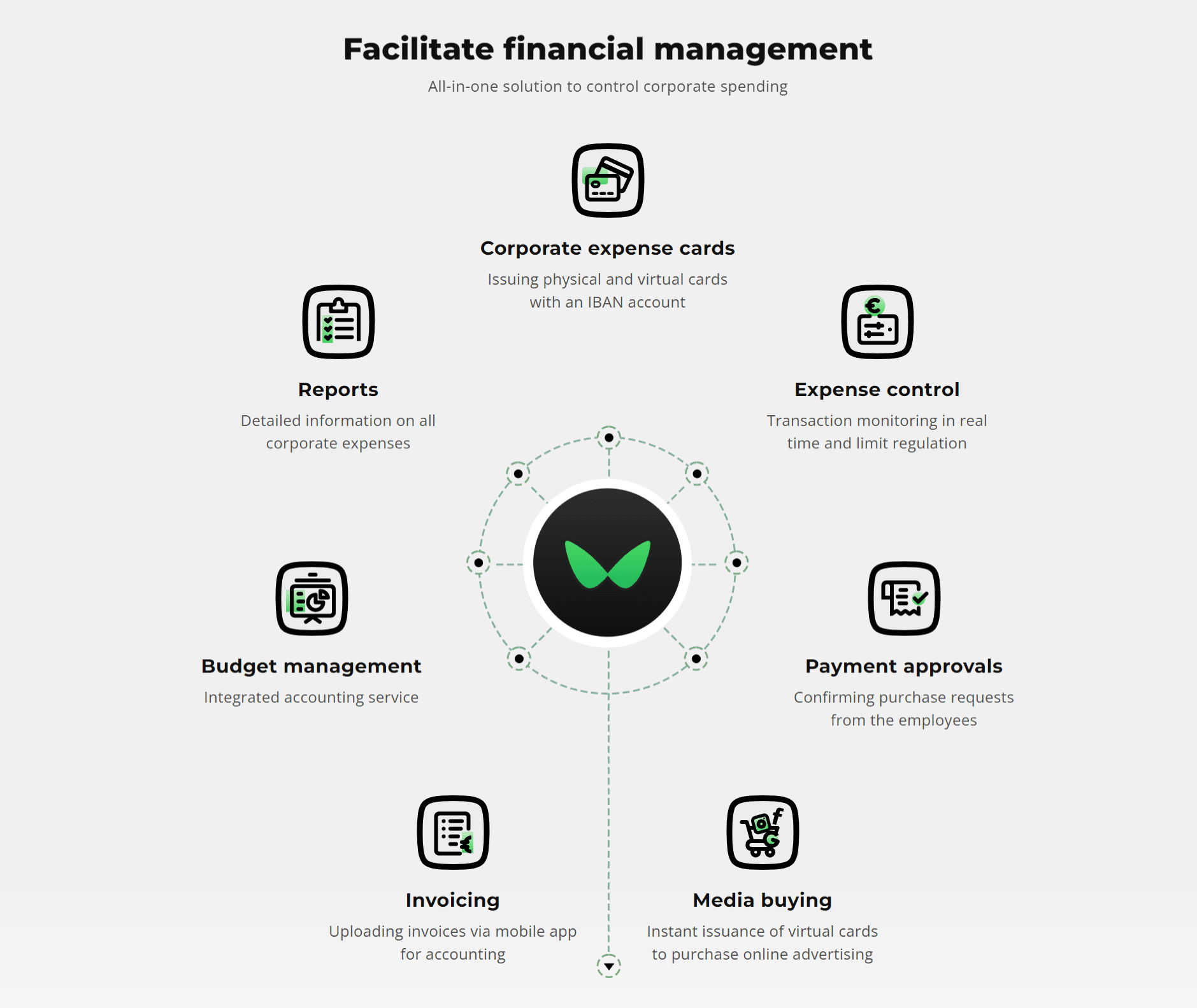 💻 Media Buying
Wallester offers instant issuance of virtual cards that can be used to purchase online advertising on any ad platform, such as Facebook, Google, TikTok, and more.
This feature makes it easy for businesses to manage their online advertising expenses and provides a smart solution for media buying.
Additionally, Wallester offers the opportunity to purchase a separate BIN, which allows running ads smoothly with Facebook, Google, and other networks.
💰 Payment Approvals
Wallester allows for payment approvals that enable managers to confirm purchase requests from their employees. This feature ensures that all expenses are approved and controlled, preventing any fraudulent or unauthorized transactions.
🧾 Expense Control
Wallester's expense control feature provides real-time transaction monitoring, allowing managers to regulate individual spending limits and keep track of their corporate expenses. This feature helps businesses maintain their budget and avoid overspending.
💳 Corporate Expense Cards
Wallester offers physical and virtual corporate expense cards with an IBAN account, providing businesses with an all-in-one solution for expense management.
The cards allow employees to spend from a central expense account with individual spending limits, making it easier to manage corporate expenses.
📊 Reports
Wallester's detailed reporting feature provides businesses with comprehensive information on all corporate expenses, enabling them to analyze and plan their budget efficiently. The reports are customizable and can be exported in various formats for convenience.
💸 Budget Management
Wallester offers efficient budget management tools that allow businesses to create cards for different teams and projects, streamline budget allocation, and monitor corporate expenses. Intelligent tools and real-time expense control enable businesses to stay within their set budget limits.
📒 Integrated Accounting Service
Wallester's integration with an innovative REST API enables businesses to easily export expense data into their financial accounting system, optimizing their financial accounting processes.
🧾 Invoicing
Wallester's invoicing feature allows businesses to upload invoices via its mobile app for accounting, providing a unified platform for invoicing management. This feature significantly saves time and ensures convenient invoice management.
What Does Wallester Offer?
💳 Cards for Every Business
Wallester Business offers physical & virtual corporate cards for efficient financial management, with the option of contactless payments through Apple Pay, Samsung Pay, and other platforms.
The platform also provides individual spending limits and exclusive Platinum card benefits for businesses.
🚀 Instant Virtual Card Issuance
Wallester Business allows for instant virtual card issuance, making it the perfect solution for online media buying. Businesses can issue an unlimited quantity of virtual cards for any ad platform, such as Facebook, Google, TikTok, and more. The first 300 cards are free.
🗄️ Efficient Business Expense Management
Wallester Business allows businesses to streamline their corporate financial management and track all business expenses in real-time. The platform also offers smart tools, individual limit setting, and expense control to help businesses stay within budget.
💳 Virtual Cards with Shared Access
Businesses can issue virtual cards with shared access to multiple employees at once, enabling them to use card funds to pay for expenses simultaneously. This feature is handy for businesses with many employees or those with multiple teams and projects.
📒 Modernize Invoice Management
Wallester Business offers an innovative platform for invoice management, allowing businesses to save and process invoices on a unified platform. This functionality increases corporate efficiency, ensures convenient invoice management, and significantly saves time.
👨‍💻 Financial Accounting Optimization
Wallester Business can integrate with a business's financial accounting system via an innovative REST API, allowing for easy exportation of expense data into the system.
🧾 Reporting with Wallester Business
The Wallester Business multifunctional platform allows businesses to systemize and process financial data and make detailed reports accurately.
Company management can track corporate expenses on the platform or via the mobile app and generate financial reports for analysis and budget planning if required.
🏷️ Wallester Pricing & How To Sign Up?
Step – 1: Go to the official website of Wallester and click on 'PRICING'.
Step – 2: Choose a plan of your choice. The Wallester sign-up process starts here.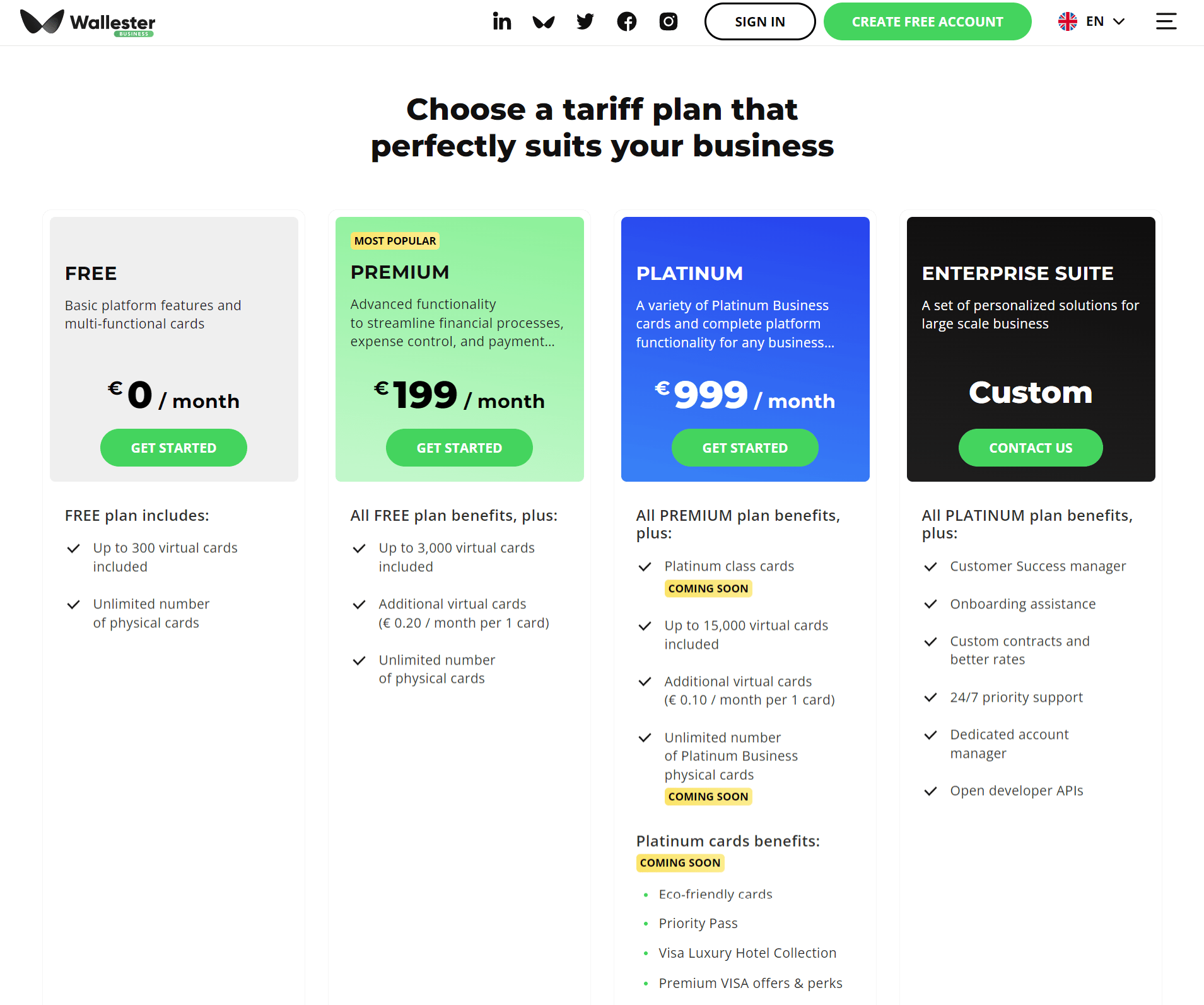 Step – 3: Fill up the details asked for, check the boxes, and click on CREATE AN ACCOUNT.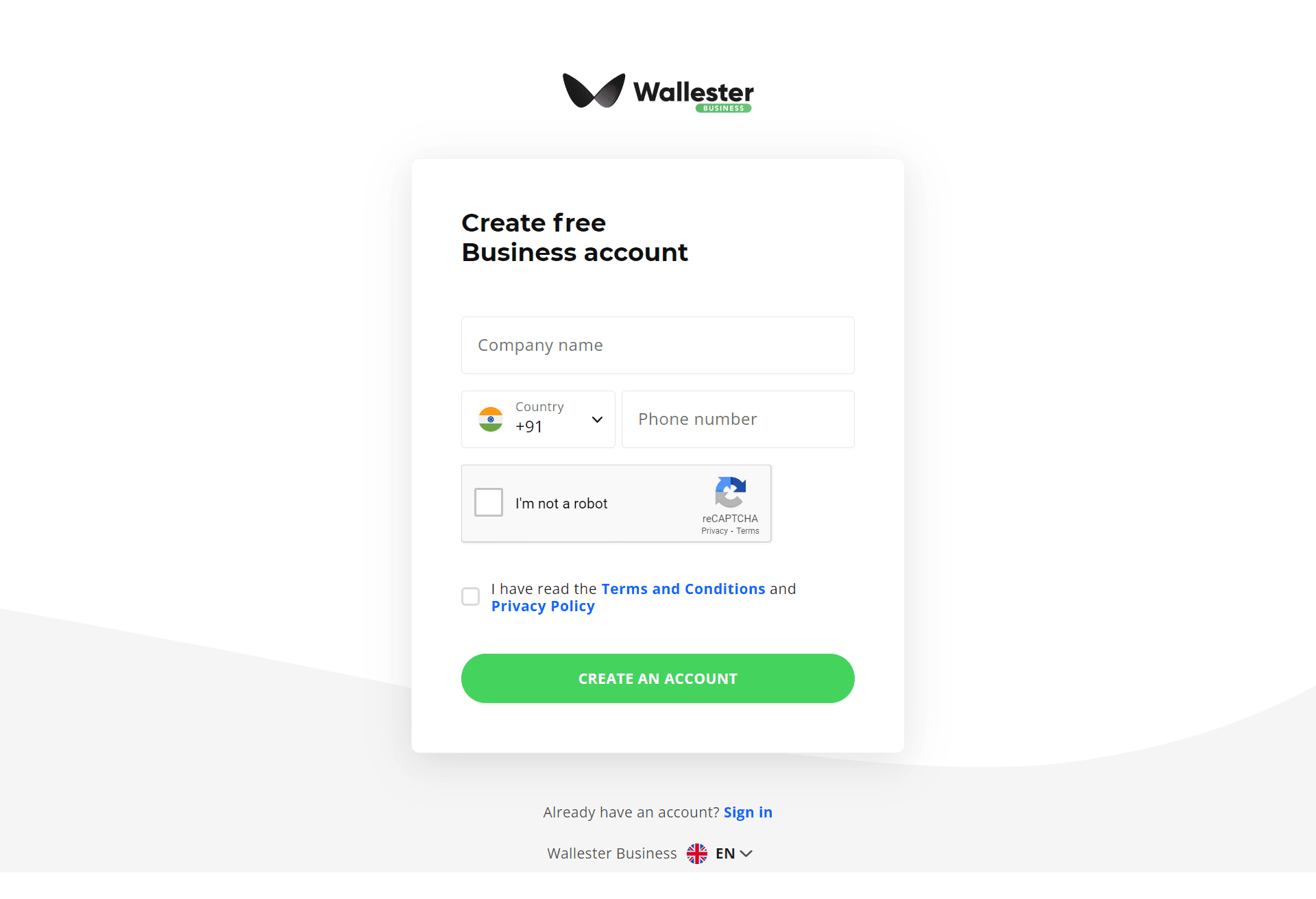 That is it. Complete the signup and you are good to go.
Why Do I Recommend Using Wallester Business?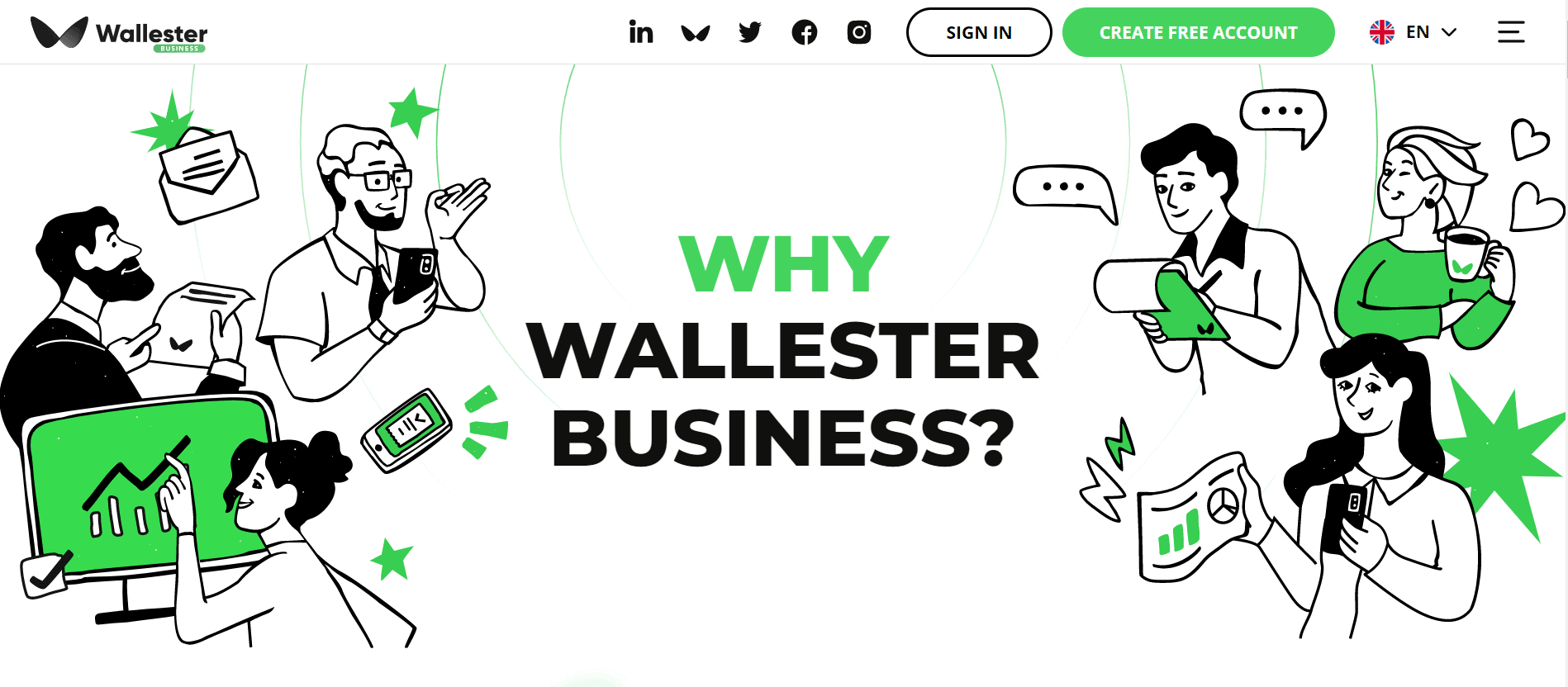 👍 Level Up Your Financial Accounting
Wallester Business offers integrated services that provide instant data export to your system, allowing you to benefit from all facilities. This feature helps you track transactions in real-time and manage your company's budget with detailed reports on the flow of funds.
🚀 Gain Full Spend Control
With Wallester Business, you can set up payment request functions, reconcile expenses online, and make payments without any delays. It also provides full spending control, allowing you to manage your budget better.
🧾 Facilitate Invoice Management
Wallester Business streamlines key financial processes, accelerating the entire cycle of interaction with suppliers, from invoicing to payment. This feature makes invoice management simple and convenient for you.
💳 The Most Efficient Corporate Card
Wallester Business is the most efficient corporate card solution. It provides instant virtual card issuance, physical card issuance, and a mobile app for easy access. You don't have to pay any sign-up fees.
Wallester Business Pros and Cons
PROS 👍
Instant virtual card issuance
Efficient budget management
Integrated accounting service
Real-time transaction monitoring
Corporate expense cards with IBAN
Streamlined invoice management
Detailed expense reports
Payment request function
Set individual spending limits
Free sign-up and issuance of the first 300 virtual cards
CONS 👎
No physical card without an additional fee
Limited to businesses, not for personal use
Conclusion
Wallester Business is a comprehensive financial management platform that offers a range of innovative features and benefits to businesses of all sizes.
Whether you need virtual or physical corporate cards, budget management tools, real-time transaction monitoring, or streamlined invoicing and accounting services, Wallester Business has got you covered.
With its user-friendly interface, customizable spending limits, and instant card issuance, this platform makes it easy for businesses to gain full control over their expenses and financial processes.
By using Wallester Business, companies can significantly optimize their financial accounting, improve budget allocation, and accelerate their interactions with suppliers, all while keeping their expenses under control.
So, whether you're a small startup or a large corporation, Wallester Business is a smart choice for managing your business's finances effectively and efficiently. Start creating Wallester Business virtual cards for free with free 300 virtual cards and test out its features for optimum results.