Do you want to generate high-quality blog posts, articles, ad copies, and more? Now, you can do it in a snap with Writesonic AI writing software. Read Writesonic review to understand how it works and helps thousands around the world. 
Writesonic Introduction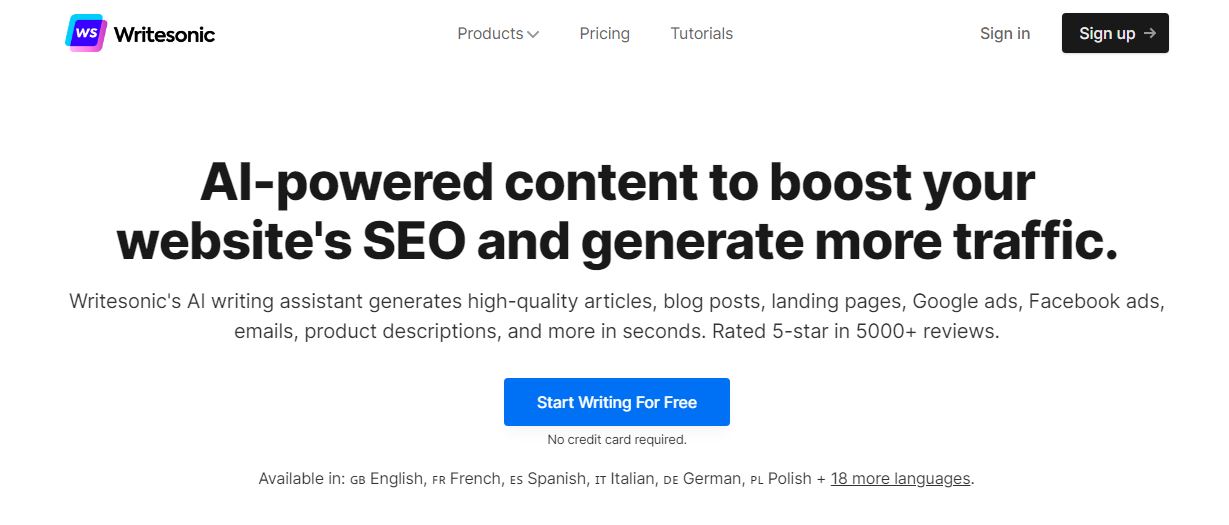 Writesonic is an AI-powered copywriting tool that generates high-quality content. With AI powered content, you not only save time but also boost your site SEO and traffic.
With Writesonic, you can generate:
Blog posts,

Landing pages,

Ad copies for Facebook ads, and Google Ads

eCommerce product descriptions

Email marketing

And a lot more.
The software is available in 18+ languages so you can use it easily in your native language. 
What Can You Do With Writesonic?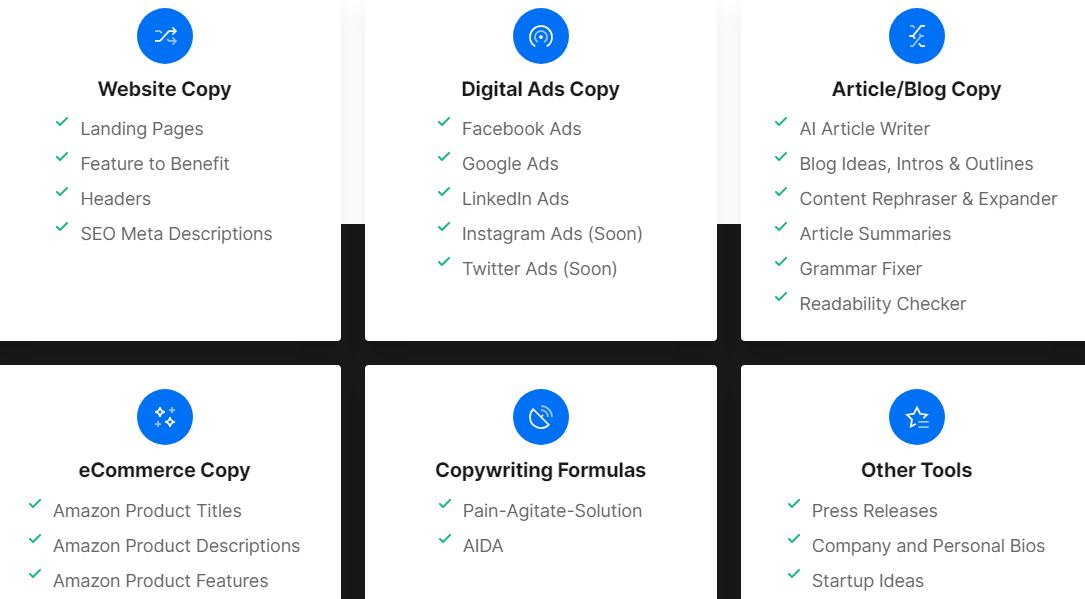 You can do a lot more than you could think of with the Writesonic. Writesonic helps you in many ways. Take a look at what it can do for you magically. 
Website Copy: You can create content for landing pages, features, headers, and even SEO meta descriptions. 
Digital Ads Copy: Create attractive ads copy for social media marketing platforms. You can create ad copies for Facebook ads, Google ads, LinkedIn ads, and in future for Instagram and Twitter too. 
Article/Blog Copy: Write Intros and Outlines, blog ideas, summaries, rephrase the content and even check the readability.
eCommerce Copy: Selling online can now be fun as you can get product tiles, descriptions, features, and ad copies in minutes. You can sell on Amazon and get more sales than your competitors. 
Copywriting formulas: Get high-quality articles with Writesonic's pain-agitate-solution and AIDA.
Other Tools: Get content for press releases, company & personal bios, startup ideas, YouTube video copy, growth ideas, and product names. 
How Does Writesonic Work?
First sign up for the Writesonic software. Click on the Sign up button to proceed with registration using your email address. You can sign up for free with your Gmail, Microsoft account or any other email address.

Type in your full name, email, and password and click on Sign up. There is no credit card information required. So, you can get started with the free trial.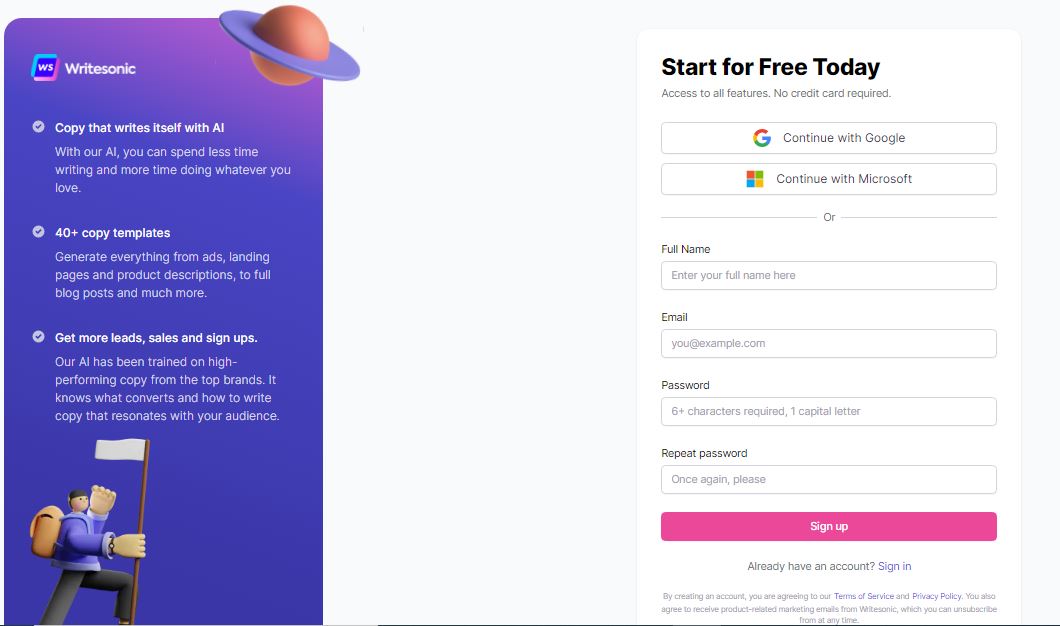 You will be asked to enter your phone number on which you will receive an OTP. Enter the otp and you will move on to the next step.
In the next step, you will be asked a few questions, so answer them correctly. The first question is how did you hear about Writesonic? So choose any one option and click on Continue.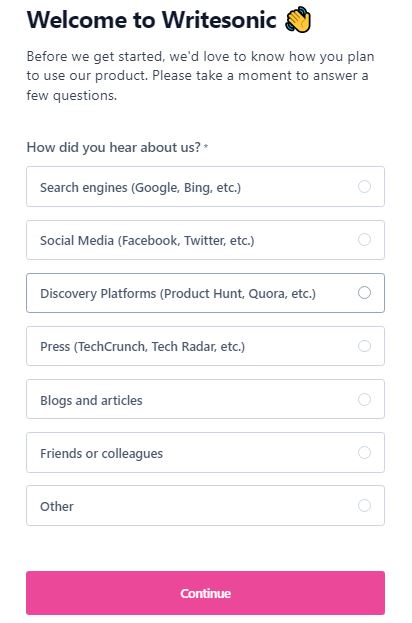 Next, how do you plan to use Writesonic? Choose from Work, Personal, or education, and click on Continue.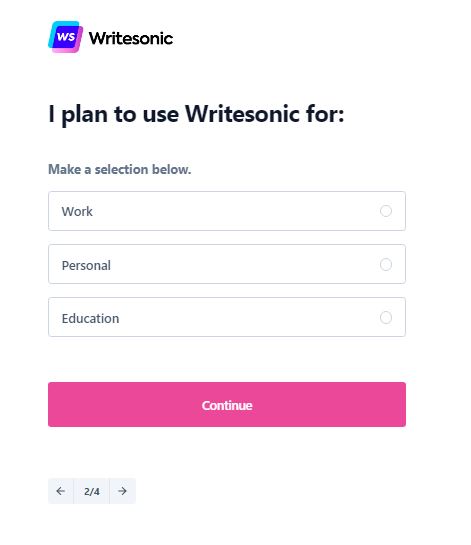 In the next question, you have to answer how you want Writesonic to help you with your task. Whether you want to write blog post, ad copies, product descriptions for eCommerce, rephrase the content, or everything. Choose any option and click on Take me to the app.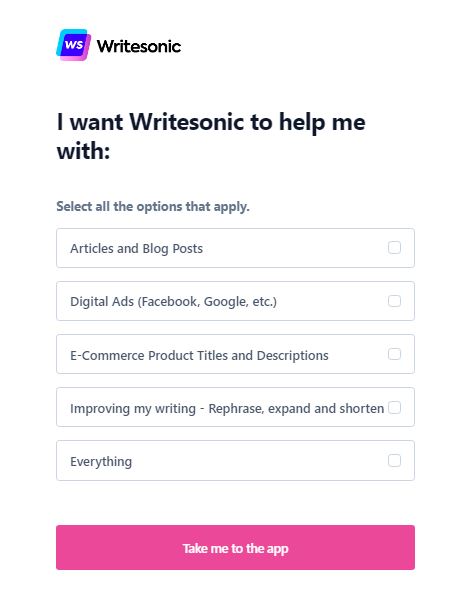 Now you will be logged into your dashboard.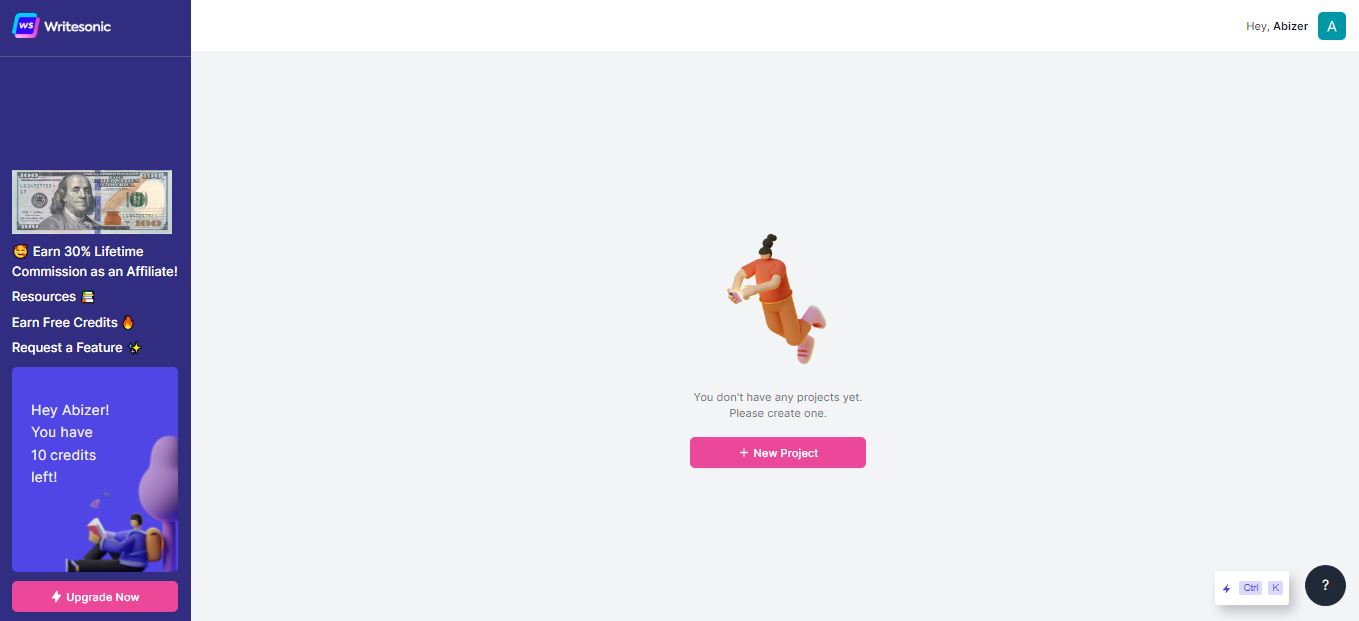 Inside the dashboard, you can get started with a new project. So, click on New Project and enter the project name.
Enter the project name, and click on New Project.
Now you will see list of services like AI article & blog writer, Content Rephrase, and more.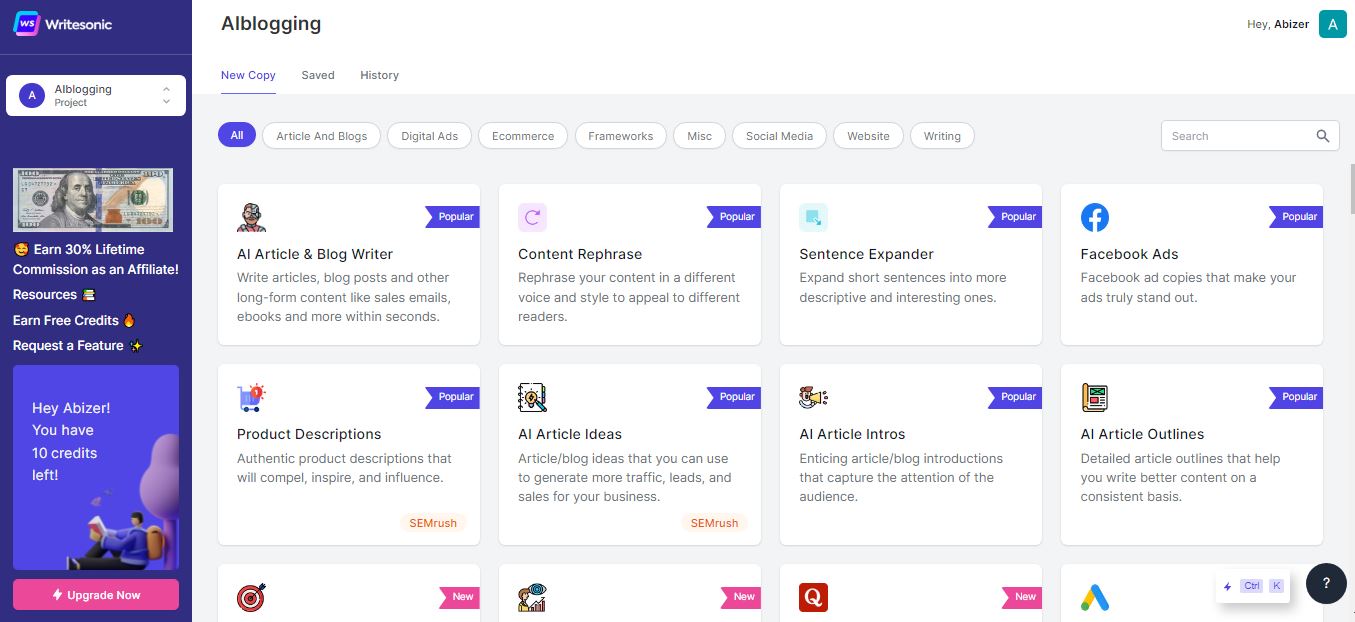 Suppose you choose the AI article service. So, there you can choose from three different templates. Choose either AI article writer 3.0, 2.0, or Sonic editor GPT-3.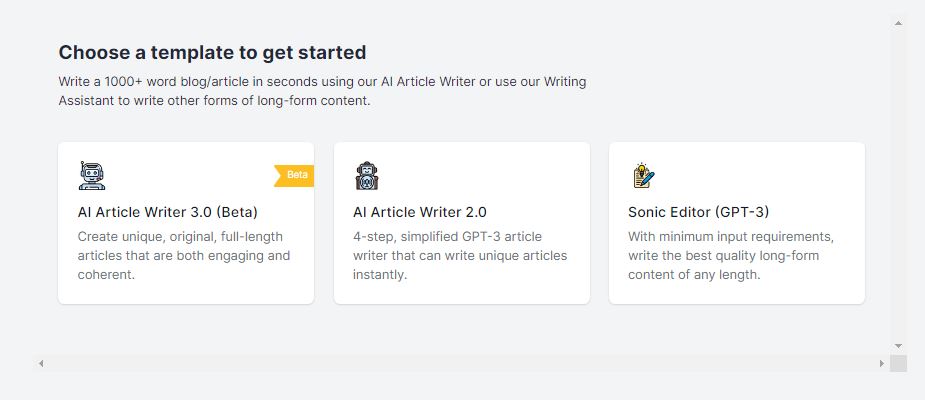 Step 1: Enter your title and choose the language. Click Generate Ideas.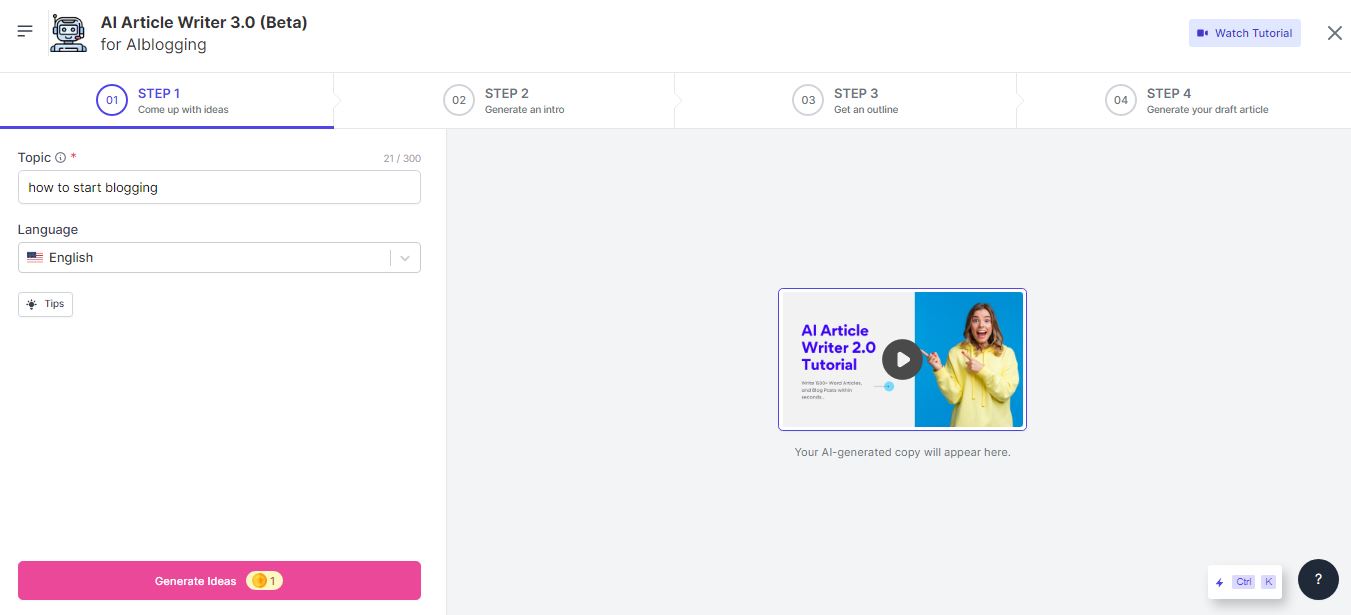 You will see a list of topic generated automatically that you can choose. So click on any topic and you will move to Step 2.
Step 2: This step helps you generate and introduction based on the topic you selected. Choose any one and you will go to step 2 where you will get outline generated.

Step 3: Click on Generate Outlines and you will get different outlines with underlined sections. You can also select individual outlines.

So you have the title, introduction, outline, and now you need complete article. So click on Write an article button and the article will be written for you.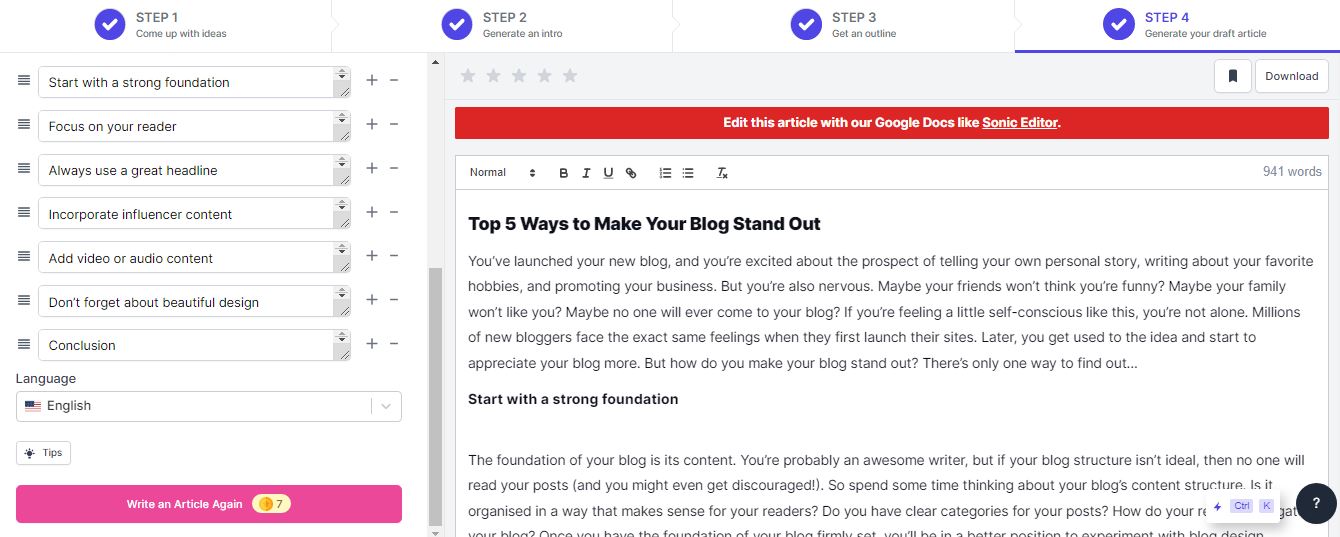 You can now download the article or edit it with Google docs.
Now that you know how to register and work with Writesonic, let me tell your about its products. 
Writesonic Products
Writesonic offers three products. These are Marketing copy generation, AI article & Blog Writer, and AI Product Description Generator.
Let's talk about these products in the Writesonic review. 
AI Product Description Generator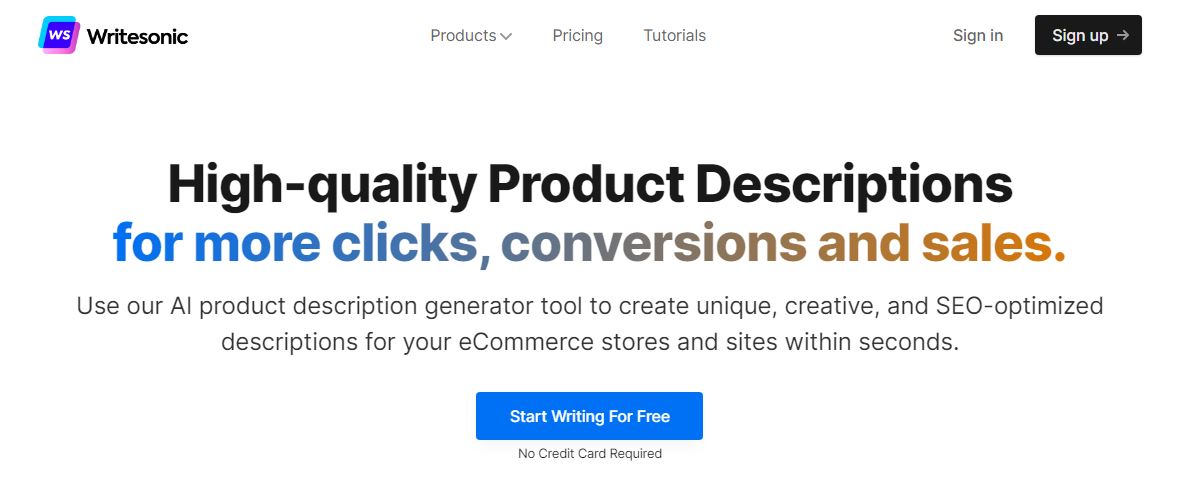 If you are selling on eCommerce websites, then you need eye-catching product descriptions. If your product description is old and boring, then customers will leave without buying the product.
Writesonic can help you get more clicks, conversions and sales by automatically generating high-quality product descriptions. 
This is how you can use Writesonic for generating unique, and SEO optimized product descriptions. You can get it in seconds and then publish it on your eCommerce sites.
First enter the product/service name, and then describe it in one or two lines. You can choose the language in which you want the result. 
Then, click on the Generate button and the software will show you a variety of product description copies. 
With the product description generator tool, you can save your time. At the click of a button, you can get a new copy each day. Product descriptions can at times be tedious, but with Writesonic, you can cut the time spend on it. 
With newly generated product descriptions in a snap, you are free to focus on other business aspects. 
With original and SEO-optimized copy, your brand will have its own voice. This will surely boost your sales. 
AI Article and Blog Writer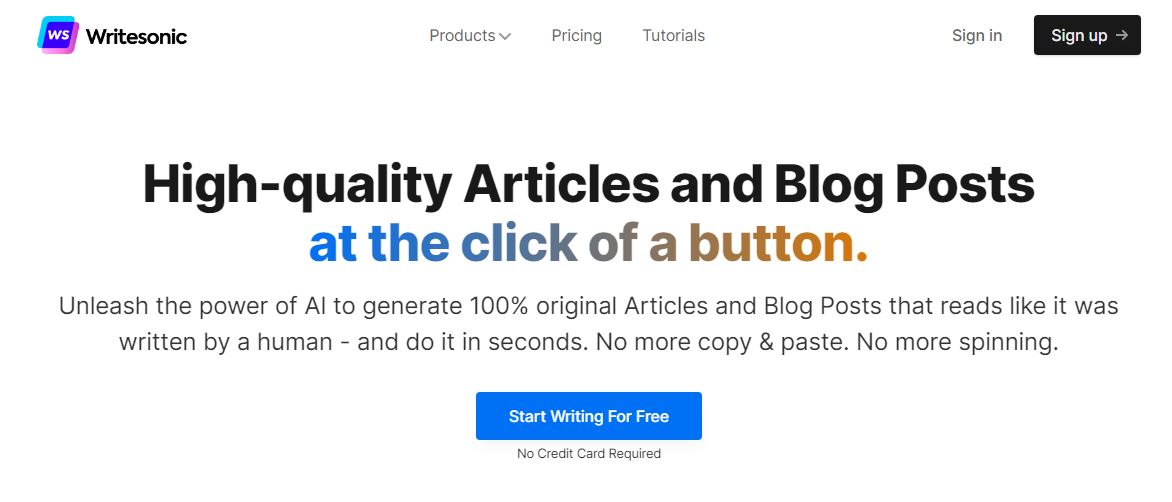 Just like you can generate short product descriptions, you can also generate high-quality blog posts. 
Bloggers are always in need of good quality content to be posted regularly. But this requires hiring expert writers and paying them a huge amount. To cut the cost and get the content fast, bloggers can use Writesonic effortlessly. 
Writesonic generates 100% original articles as if it were written by a human. And all of it at a click of a button. There is no spinning and no plagiarism in the content. 
This is how you can get articles written for your blog.
First enter the article title. In step 2, you can generate an introduction. Step 3 provides an article outline in sections. Outline could be features, pricing, products, conclusion, etc.
Finally you can generate your draft article. Its that simple to get a high-quality and plagiarism free blog post. You can then download the article and publish it on your blog after proofreading.
With Writesonic blog writer tool, you can even become a pro blogger in a short time. You not only saved your time, but you saved your precious money that you would have spent on writers.
Writesonic Pricing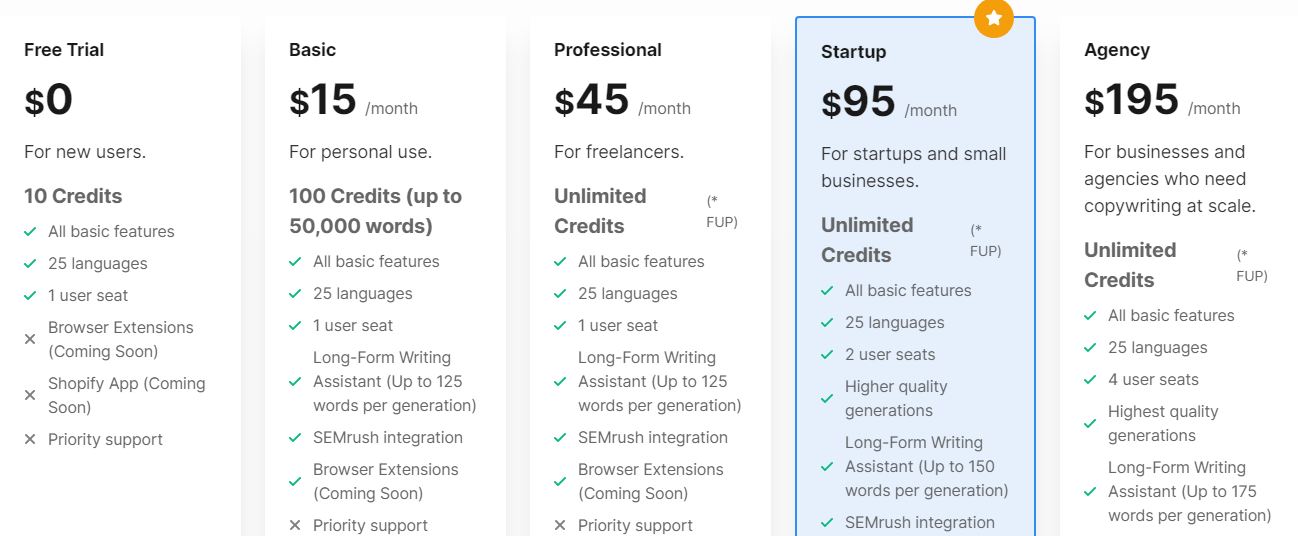 You can start a Writesonic free trial with 10 credits. You get all the basic features with 1 user seat and support up to 25 languages. 
Free Trial: $0 per month
Basic: $15 per month
The basic plan is for personal use. With this plan, you get 100 credits i.e. up to 50,000 words, 25 languages, 1 user seat, long-form writing assistant, and SEMrush integration.
Professional: $45 per month
This plan is for freelancers with unlimited credits. All the features are the same as the Basic plan. 
Startup: $95 per month
This plan is suitable for startups and small businesses. The plan offers the same features as the Professional plan along with priority support. The plan offers 2 user seats, and up to 150 words per generation.
Agency: $195 per month
The agency plan as the name suggests is for agencies and large businesses. The plan offers 4 user seats, up to 175 words per generation and the same features as the Startup plan.
Writesonic Pros and Cons
Also Read:
FAQs
Does Writesonic have a free trial?
Yes, Writesonic offers a free trial with 10 credits and 25 languages.
Is there a money-back guarantee?
Writesonic does not sign long-term contracts with its users. You can choose monthly subscriptions and cancel the plan anytime.
How is the quality of articles?
When you try the Writesonic free trial with 10 credits, you will know how it performs. Many people have used it and given positive feedback.
Writesonic Review Conclusion
Writesonic has changed many lives with its AI based copywriting solution. With the end of Writesonic review, I would like to thank this tool for its excellent content generation tool. 
I have used the software and found it to be overwhelming.