Pros/Advantages
300+ direct exclusive offers
Backed by RichAds
CPA, CPL, CPI, FTD, CPS, DOI, SOI offers
Lucrative verticals
Weekly payouts
Tailored offers
Advanced fraud protection technology
Are you looking forward to harnessing the potential power of affiliate marketing for your business? You're tapping on the right space.
Yellana Affiliate Network is a perfect choice for your affiliate marketing business. With its cutting-edge technology and data-tracking strategies this platform is a promising solution for all your marketing needs.
Let us discover more about this lucrative affiliate network in my exclusive Yellana review.
History Of Yellana Affiliate Network
Founded in the year 2017, Yellana Affiliate Network is a product of RichAds Advertising Holding group which unites affiliates and promoters.
This platform with its global reach has gained the trust of more than 110000 companies so far. As an affiliate marketer, I was very keen to use its services and can't be more satisfied.
Yellana is a worldwide CPA Network that unites affiliates and direct advertisers on a single platform. It has a vast range of offers for its clients in various niches.
Read my Yellana review to get complete details of its verticals. This platform so far has seen a massive number of positive reviews online and I am sure these are apt.
Yellana Review (Introduction)
Yellana is an affiliate network that stands out with its dynamic approach and extensive range of offers. With over 300 + offers covering various verticals, including popular niches like Gambling, Betting, Software, and Utilities, it provides a diverse selection for affiliates to promote.
One notable aspect of Yellana is its combination of in-house products, such as RichExts, and direct advertiser offers in the Gambling and Software sectors.
This variety allows affiliates to explore different avenues and find offers that align with their target audience and marketing strategies.
It is committed to supporting its partners' success. It offers exclusive rates and flexible leads payout models for any GEO (geographic location) and traffic source.
In addition, it provides free creatives, working bundles, and campaign setup assistance to help affiliates optimize their promotional efforts.
What sets it apart is its dedicated team of managers who are available even on weekends. This level of availability showcases their commitment to meeting partners' needs and being responsive to inquiries and requests.
Furthermore, they are open to discussing alternative payout methods, demonstrating their flexibility and willingness to accommodate affiliates' preferences.
The company is backed by experienced professionals with a strong background in affiliate marketing, leveraging the expertise of RichAds.
This expertise translates into valuable insights and strategies that can help affiliates generate impressive profits.
Verticals Offered
Yellana offers more than 300 + offers in various verticals and some of their top ones are:
🎰 Gambling- Payout of up to $450 through CPA and CPL models to their clients.
🎲 Betting- Up to $450 of payouts through FTD and CPL models to their clients.
❤️ Dating- Payout of up to $7 through DOI and SOI models to their clients.
ℹ️ Utility Apps- Up to $3 of payouts through the CPI model to their clients.
Why Choose Yellana Over Its Competitors?
💰 Payouts
When it comes to payouts, affiliates have multiple payment options for them. The payment modes used by Yellana are Capitalist, Payoneer, Mastercard, and Wire Transfer.
In case you wish to have another payment method, the support team is available for a discussion. The minimum withdrawal amount is $100.
The holding period for newly joined affiliates is 14 days. During this period the team asses all the vital aspects of your campaigns.
🌎 Geo Coverage
Yellana has its foot all across the globe, nonetheless, has a major catch in Latin America and Asia. However, they have great potential to help you build your business in any given location with limited constraints.
🛡️ Advanced anti-fraud system
The anti-fraud system on Yellana makes sure that the traffic that is generated for their clients is legit. This system focuses on early detection and prevention of mishaps.
These mishaps can be related to conversion rates, lead generation, number of clicks, and so on. The algorithm designed at Yellana focuses on monitoring the traffic and alarming the team during suspicious activities.
With this Yellana ensures that both the affiliates and promoters receive their fair shares.
💬 Support and Assistance
The team at Yellana is proactively available to help you with creatives when needed free of cost. There is a dedicated manager for every affiliate here.
These managers are highly qualified in their fields and are always available to help you with any issue.
You can reach them through Emails or Skype or request a one-on-one consultation with them. The support team at Yellana is here to help you 24/7.
Yellana goes above and beyond by featuring the "Best Offer of the Day" on their blog. This feature provides you with an added advantage by highlighting the top-performing offer of the day.
This allows you to stay informed and capitalize on the most lucrative opportunities within the network. By leveraging this feature, you can potentially boost your earnings and stay ahead of the competition.
🔥 Pre-tested offers
All the offers Yellana has for its affiliates are pre-tested to ensure that they work fine for every affiliate be it a naive or experienced one in the market.
There are more than 300 offers available on Yellana for you. The team here will advise you with the offers which have given great results previously. They offer efficient and impactful combinations of funnels for better reach and revenue.
The perk is you can also put forth your ideas in case they're not on the offer list and the team will help you implement the same free of cost.
Pros & Cons
👍 PROS
Yellana uses machine learning to ensure effective revenue growth under all verticals
This platform is open to having personal deals
Get an opportunity to earn a bonus as affiliates
Offers instant pre-landing pages and creatives when requested
Get assisted by a dedicated account manager
On-time and prompt payouts
Offers a varied range of payout models
All traffic sources are accepted
👎 CONS
There are no specific details on the count of countries covered by Yellana
There is a minimum withdrawal value of $100
How do I sign up As An Affiliate Or An Advertiser?
Steps To Sign up as an Affiliate
Click on the signup tab and then choose the option "As an Affiliate".
Fill in all the details as requested and sign in. You will now be redirected to the login screen.
Enter your login credentials and that is it. With this, you'll be taken to Yellana's Affiliate Dashboard.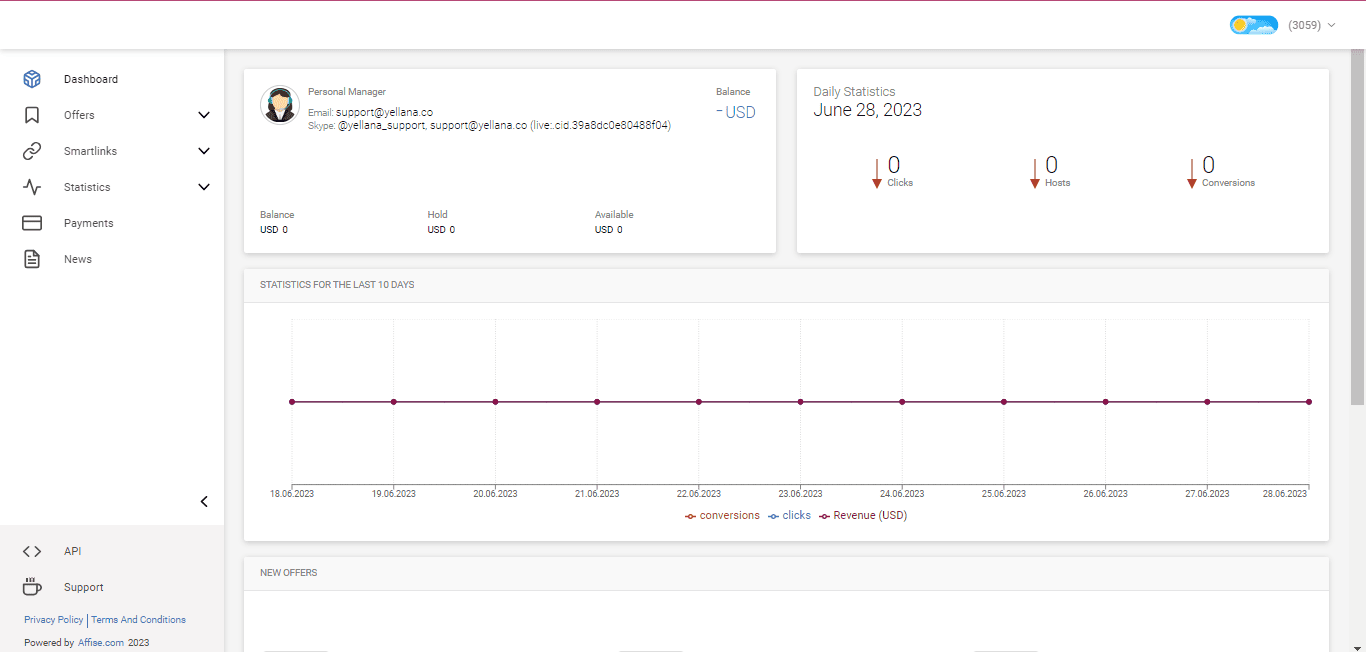 Explore all the fields to make the best use of Yellana.
Steps To Signup as an Advertiser
Click on the signup tab and then choose the option "As an Advertiser".
Fill in all the details as requested and complete the signup. You will now be redirected to the login screen.
Make sure to add your correct email address while signing in since the password to your account will be sent to the registered email address.
Click on the check top offers icon in the mail, and you'll be redirected to your Yellana's Advertiser dashboard.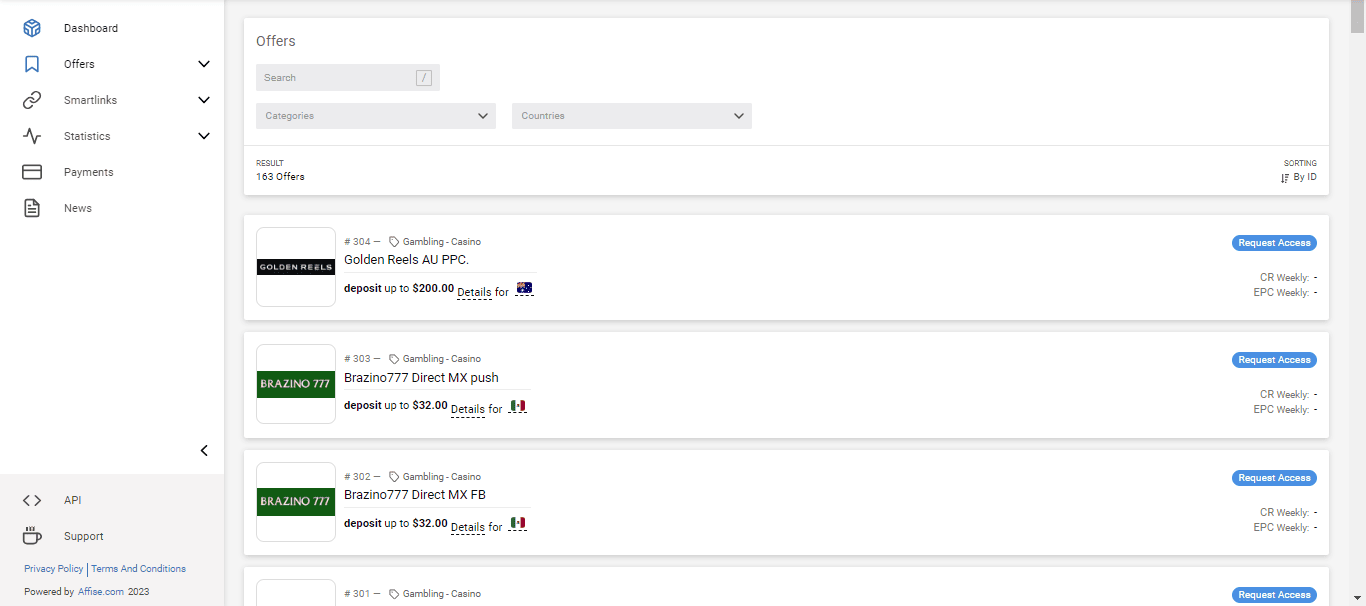 Watch Related Affiliate Reviews On My YouTube Channel
RichAds Review
PMAffiliate Review
FAQs
Are there any restrictions on the geographical locations to sign up on Yellana?
Not at all; there are no such restrictions. Yellana welcomes affiliates from across the globe.
Do I have the option to track my earnings and evaluate my performance on Yellana?
Yes, when you sign up, you're redirected to Yellana's Affiliate Dashboard, where you have the fields to check your conversion rates, number of clicks, revenue made, and more. With these insights, you can surely enhance your performance.
Does Yellana let its clients promote multiple products or services at once?
Yes, Yellana gives you the flexibility to promote multiple products or services at once.
Yellana Review Conclusion
If you've given this article a keen read, I am sure by now you're convinced that Yellana is an extremely reliable platform for affiliate marketing success.
With over 300 + offers for its clients in various verticals, this place has plenty of opportunities for you. Its easy-to-use interface has been the show-stopper of this platform.
We're sure you'll enjoy working with the team here because we certainly did.
From our experience, we can assure you that Yellana has no negative carryover and is the best advisor amongst the rest for your landing pages, tested creatives, ready-made funnels, custom apps, and all your needs.
Overall, Yellana is a great choice to boost your sales and generate promising revenues.