Best Samsung Phones: We live in an era where mobile phones have become a significant part of people's lives. But what becomes difficult is to have the best and most reasonable smartphone in this competitive world where you can find various companies offering you excellent mobile phones at just the price you want.
Today I am telling you about the best Samsung phones under 100k you can buy online. That's right, you can still get your hands around the best ones without breaking the bank.
"The future is mobile computing phones, and tablets are just the elements of it. The industry is on the verge of a whole new paradigm."- Thorsten Heins
We are here to help you people with the list of phones as the gift of Korea-based company, Samsung, with a price of 100k rupees or less. So, let's dive right in.
Table of Contents
Best Samsung Phones Under 20000 – 100000 INR
Every Indian is looking for a smartphone that strikes the perfect balance between affordability and advanced features, akin to those in expensive Apple iOS devices.
Finding such a device can transform the way we use technology, making it more accessible and enjoyable for all.
With the rapid advancements in the phones market, numerous options cater to these demands. By exploring the latest Samsung phones, you can discover a world of cutting-edge technology and premium features, all at a budget-friendly price.
Say goodbye to compromising on performance or breaking the bank for high-end devices. Embrace the best of both worlds with Samsung, where innovation and affordability converge.
You might wanna take a look at these-
# 1 Samsung Galaxy S23
Get ready to be amazed by the fantastic Samsung Galaxy S23! This beauty comes in not one, not two, but four stylish finishes – Phantom Black, Cream, Green, and Lavender. How cool is that?
And guess what? You've got options when it comes to storage, too! The base variant rocks 8GB of RAM and 128GB storage, all yours for just Rs. 74,999.
But wait, there's more! For those who crave extra space, the second variant boasts 256GB of storage and comes at a slightly higher price of Rs. 79,999. So, which combo will you pick to rock your tech?😎💫
I love that they didn't mess with what already worked. The thin bezel around the flat display on the front remains, ensuring a captivating viewing experience without any distractions.
Plus, with an IP68 rating, you can trust the S23 to resist water and dust like a champ – perfect for those accidental spills or clumsy moments!
The phone's dimensions are nearly identical to its predecessor, the S22, making it feel oh-so-familiar in my hand. Talk about comfort and ease of use!
Features:
RAM: 8GB
Storage: 128 GB
Processor: Single-core, Quad-core, and Tri-core processor
Battery:3,900 mAh
Includes: Data Cable, Ejection pin
Offers extensive customization options
Pricing: ₹74,999.00
#2 Samsung Galaxy M53 5G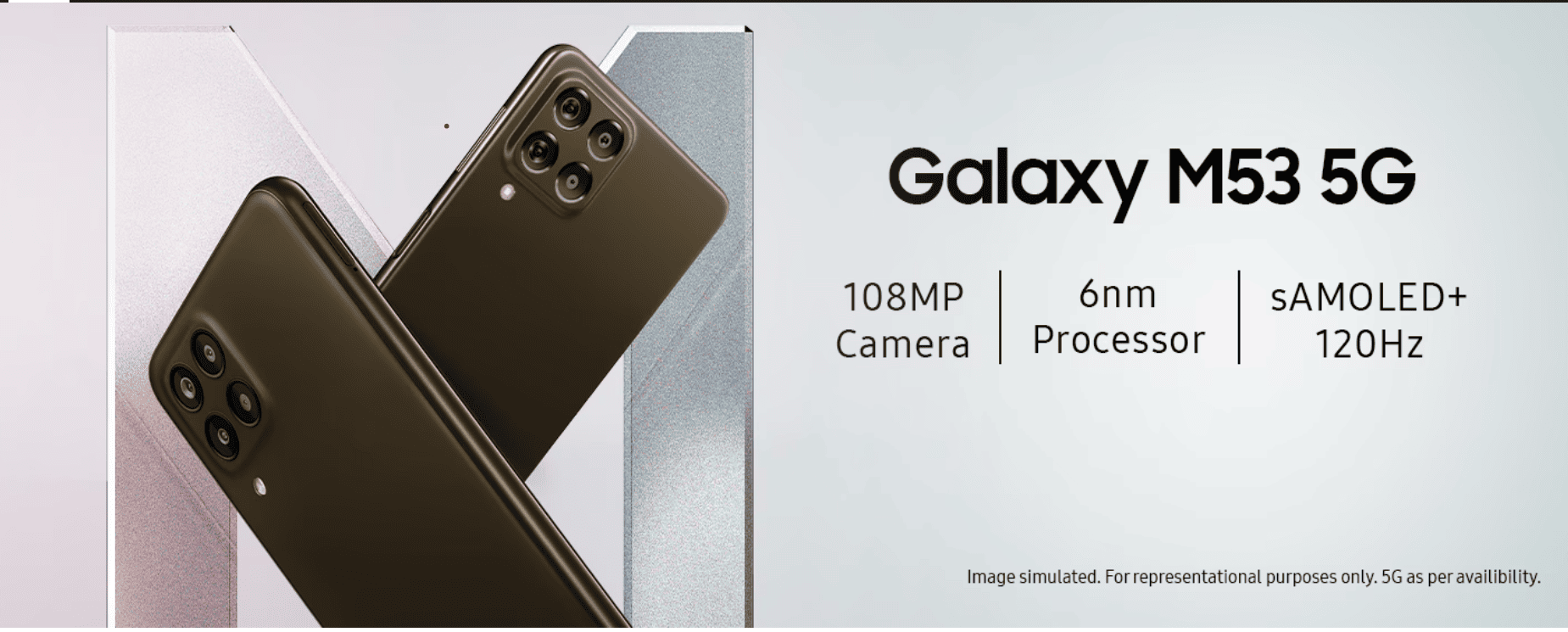 The Samsung Galaxy M53 5G is a device that exudes reliability with its sturdy plastic build. Upon the first encounter, you can't help but applaud its captivating Mystique Green finish, setting it apart from the competition with a touch of elegance.
However, delving into its daily usage, you might notice a minor setback – the device seemed to easily attract smudges, though they remained subtly concealed.
With a generous 8GB of RAM and ample 128GB storage, you can say goodbye to performance lags and storage concerns. The device comes with the innovative RAM Plus feature, offering an incredible 16GB RAM capacity for unparalleled multitasking capabilities.
Capturing memories becomes an absolute joy with the impressive 108MP camera, ensuring your photos are filled with stunning clarity and detail.
And let's not forget the striking sAmoled+ display with a buttery-smooth 120Hz refresh rate, making every interaction and visual experience truly delightful.
Samsung Galaxy M53 5G comes without a charger. This move encourages users to utilize their existing chargers, reducing electronic waste and creating a more sustainable environment.
Features:
RAM: 8GB (16 GB extendable)
Storage: 128 GB
Processor: Octa-core
Battery: 5000mAh
Type-C Charger
Pricing: ₹28,999.00
#3 Samsung F54 5G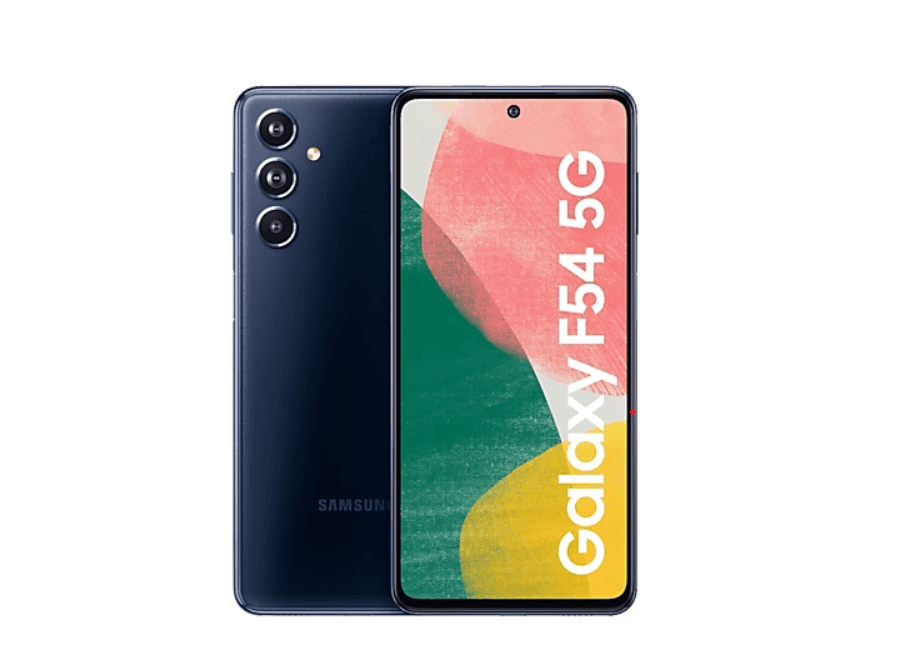 Prepare to be captivated by the power of photography with the remarkable 108 MP (OIS) Triple Camera, featuring Astrolapse and Nightography, ensuring every shot is a masterpiece. For stunning selfies, the 32 MP Selfie Camera delivers unparalleled clarity, making you the star of every frame.
In an extravagant display with the expansive 16.95cm (6.7″) FHD+ sAmoled+ display, boasting a smooth 120 Hz refresh rate, it breathes life into every image and video.
With a robust 6000mAh battery, your phone will keep running long after your regular battery has given up! Sounds like a fun and reliable feature, doesn't it?
Features:
RAM: 8GB
Storage: 256
Battery: 6000mAh
Pricing: ₹29,999.00
#4 Samsung Galaxy M34 5G (8GB)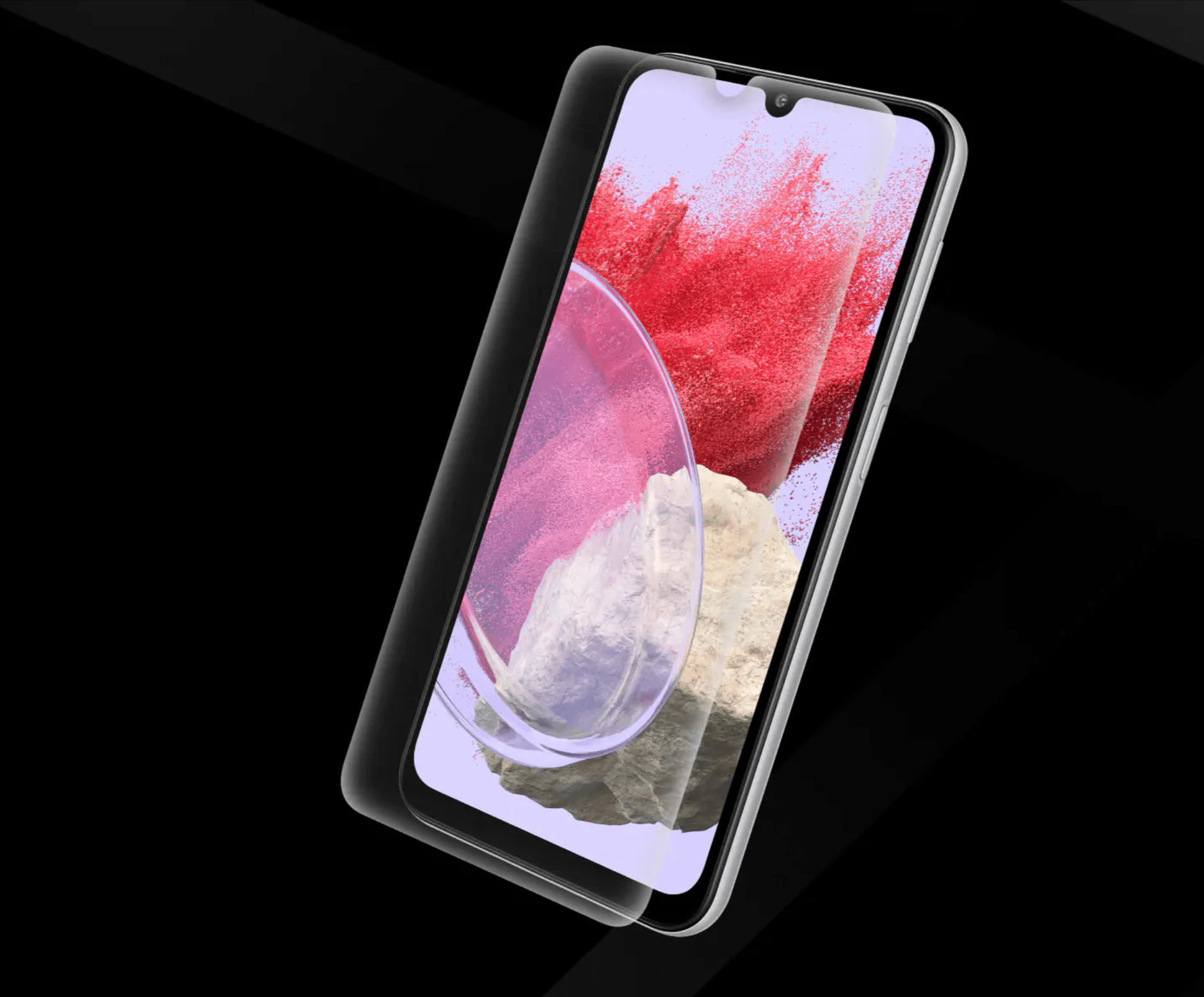 Here comes the Galaxy M34 in its captivating hue! This device is here to redefine the way you experience mobile tech.
The striking 120Hz sAMOLED display is awe-inspiring, bringing your content to life with fluid motion and vibrant colors. Say goodbye to blurred shots with the impressive 50MP Triple No Shake Cam, ensuring your memories are captured with stunning clarity and stability.
Powering through your day has never been easier, thanks to the mighty 6000mAh battery, offering long-lasting performance and freedom from constant recharges.
That's not all – the device is equipped with a staggering 16GB RAM, enhanced even further with the remarkable RAM Plus feature, guaranteeing a seamless multitasking experience like never before.
Stay ahead of the curve with the Samsung Galaxy M34 5G, running on the latest Android 13, offering the best innovation and user-friendly features. As part of Samsung's eco-friendly initiative, this device comes without a charger, encouraging you to use your existing accessories and contribute to a greener tomorrow.
Features:
RAM: 8GB
Storage: 128GB
Processor: 2.4 GHz, 2GHz, Octa-Core
Battery: 6000mAh
OS: Android 13
Pricing: ₹20,999.00
#5 Samsung Galaxy Z Flip4 (128GB | 8GB)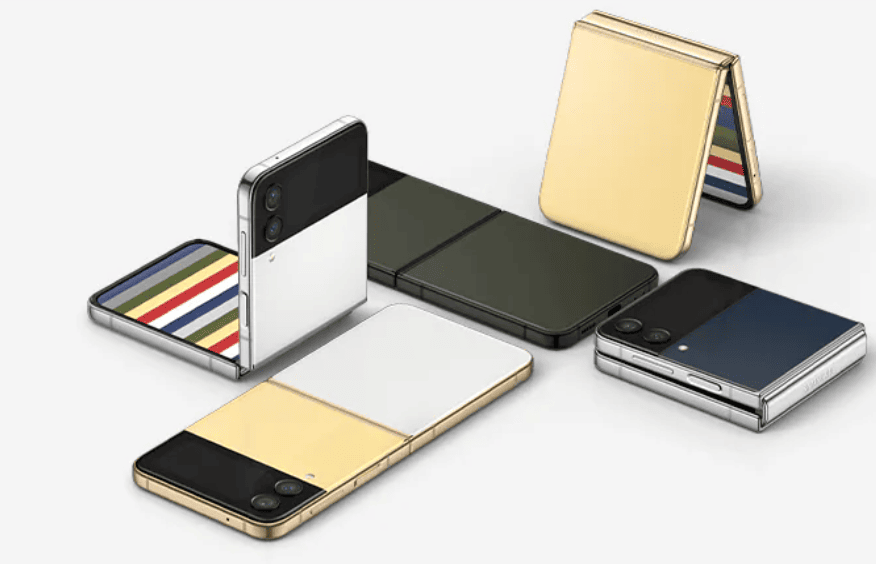 The Samsung Galaxy Z Flip4 is a groundbreaking foldable smartphone that redefines durability and protection. With an impressive IPX8 rating, it is the only water-resistant foldable device on the market. Rain or accidental spills, worry no more about water damage affecting your innovative companion.
The Galaxy Z Flip4 is designed to withstand the tests of time and everyday wear. The hinge is enclosed within lightweight Armor Aluminum, setting new standards for strength in the mobile industry.
This innovative construction ensures smooth folding and unfolding, enhancing the device's durability and ensuring a flawless user experience.
The Main Screen is safeguarded by Ultra-Thin Glass, offering resilience against repeated folding and unfolding stresses. It's a promise of continuous functionality and striking visual quality that endures, fold after fold.
It doesn't just stop at durability; it's a powerhouse of performance too! Thanks to the upgraded 4nm processor, your device is optimized for seamless multitasking and smooth operations, ensuring you easily breeze through your day.
With the long-lasting 3700mAh (typical) battery, you'll have the power to keep going for hours. But that's not all – when it's time to recharge, get ready to be impressed. Super Fast Charging comes to the rescue, swiftly replenishing your device to get back to what you love without delay.
Features:
RAM: 8GB
Storage: 128GB
Battery: 3700mAh
Operating System: Android 12.0
Pricing: ₹89,999.00
#6 Samsung Galaxy Note20 Ultra 5G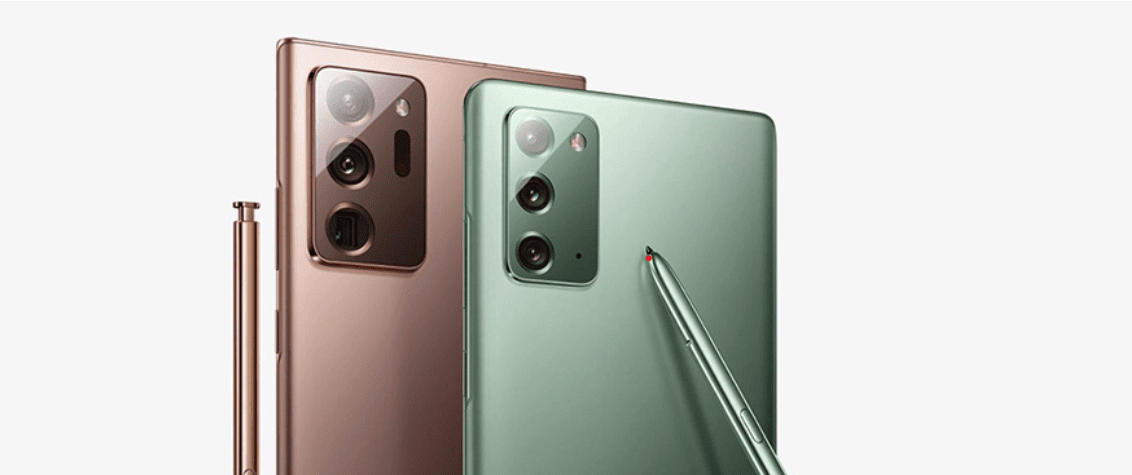 While this may seem an older version compared to other ones, it still works like a charm to get you the best performance.
The Samsung Galaxy Note 20 Ultra is a creative powerhouse in your pocket. With a 108+12+12MP triple rear camera and a 10MP front camera, it captures stunning images and flawless selfies. The 6.9-inch WQHD+ Dynamic AMOLED display offers an immersive visual experience. Multitasking is a breeze, backed by 12GB RAM and a powerful Exynos 990 octa-core processor. Store everything with 256GB internal memory, expandable up to 1TB.
The 4500mAh battery ensures all-day usage. Its elegance, durability, and 1-year manufacturer warranty make it the ultimate phone package. Elevate your smartphone experience with the Galaxy Note 20 Ultra!
Features:
RAM: 12GB
Storage: 256GB
Battery: 4500mAh
OS: Android 10
Pricing: ₹78,990
#7 Samsung Galaxy S22
Experience a smartphone like never before with the Galaxy S22. Embrace epic nights with Nightography, a revolutionary feature that easily captures stunning low-light shots. Smooth Video ensures your memories stay steady with improved stabilization and gorgeous Super HDR colors, frame by frame.
The Galaxy S22's display outshines the sun, crafted with the stunning Dynamic AMOLED 2X technology. Enjoy high outdoor visibility and a breathtaking visual experience in any lighting condition.
Powered by a cutting-edge 4nm processor, the Galaxy S22 delivers unrivaled speed and performance. Your tasks, apps, and gaming will reach new levels of smoothness and efficiency, setting a new standard for smartphone technology.
Never worry about battery life again with the Galaxy S22's intelligent adaptive battery that lasts beyond 24 hours on a single charge. Stay connected, productive, and entertained throughout your day.
Enhance your social experience with Google Duo Live Sharing. Host virtual watch parties and enjoy high-quality video streaming with your friends and family, no matter where they are.
The Galaxy S22 redefines what a smartphone can do, elevating your daily interactions to extraordinary heights. Embrace innovation, performance, and versatility with the Galaxy S22 – the ultimate companion for a life without limits.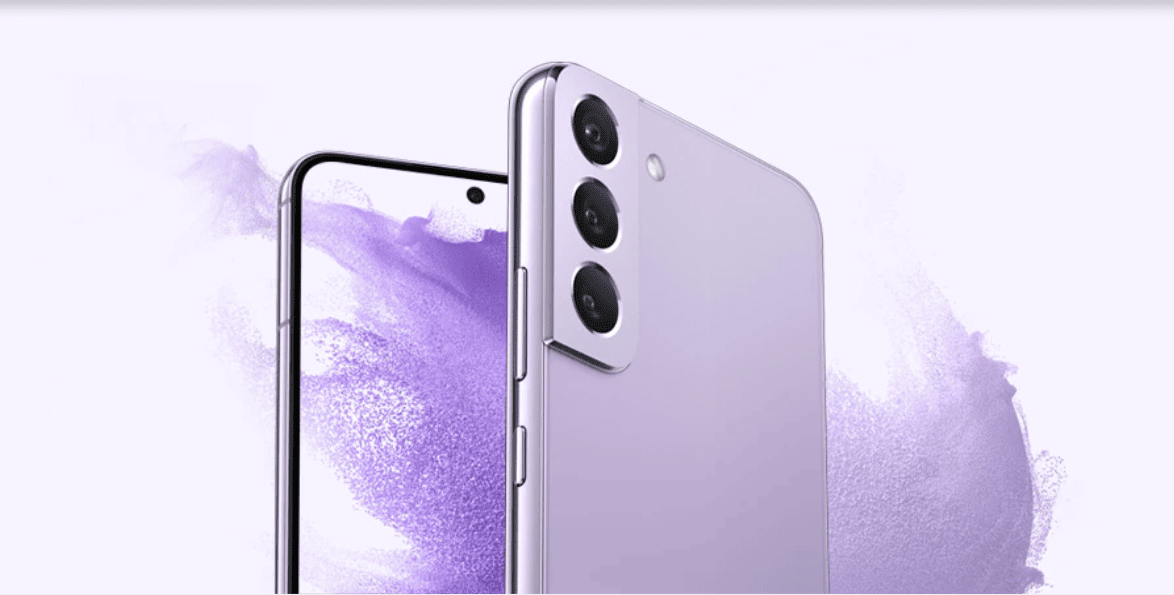 Features:
RAM: 8GB
Storage: 128
Processor: Octa-Core
OS: Android 12.0
USB Type C
Pricing: ₹62,999
Also Read:
Conclusion
In conclusion, the world of Samsung phones under 100k INR offers a tantalizing array of cutting-edge technology, sleek designs, and impressive features. Whether you seek top-notch performance, exceptional cameras, or long-lasting battery life, these devices have it all.
So, don't miss this golden opportunity to upgrade your mobile experience and seize the best value for your money. Embrace innovation, seize the future, and elevate your smartphone game with these remarkable Samsung models. Happy smartphone hunting!