Affiliate marketing is one of the most effective and efficient ways to make money online. However, it can be difficult to learn all the ins and outs of this business.
Affiliate marketing can be a very profitable way to make money, but it takes serious effort to start the affiliate journey. You need to know where to find offers, how to create campaigns that convert, how to track your results, and more.
Wallah Habibi! 🐪
The Ultimate Affiliate Marketing Event – Affiliate World Dubai 2023 is the perfect opportunity for you to learn everything you need to know about affiliate marketing.
This event will teach you how to find high-converting offers, create successful campaigns, track your results, and more.
Plus, you'll have the opportunity to network with other affiliate marketers worldwide. Register today and start making money with affiliate marketing!
Let us understand more about the event.
Table of Contents
What is Affiliate World Dubai? – All You Need To Know About The Event
Get ready to be a part of the biggest gathering of top-performing affiliate marketers and e-commerce entrepreneurs. Immerse yourself in a world of cutting-edge insights and data-driven strategies by industry experts.
With numerous opportunities to grow your business, Affiliate World Dubai is the conference you want to attend.
Unwind with your peers and celebrate the end of each day with happy hours, stunning rooftop sunsets, and the industry's most exciting nightlife.
Affiliate World Dubai takes place on March 1st and 2nd, 2023, and it promises to be the world's #1 performance marketing conference with over 5000 attendees from 110+ countries, 35+ speakers, 120+ advertisers, 40+ traffic sources, and 170+ affiliate networks.
What Will You Learn at this Conference?
1. Affiliate Marketing Hottest Topics 🔥-
Paid Search: An overview of the latest trends in paid search.
SEO: An overview of the latest trends in SEO.
Generating High-Quality Leads: Techniques for generating high-quality leads.
Performance Max: Strategies for maximizing performance.
Pillar-Content Marketing: An overview of pillar-content marketing.
Deal Structures: An exploration of different deal structures.
Buying and Selling Digital Assets: An overview of buying and selling digital assets.
Google Shopping: An overview of Google Shopping.
2. TikTok Ads 😍-
UGC vs. Paid Ads: An exploration of the difference between user-generated content and paid ads.
TikTok Ads Manager: An overview of the TikTok Ads Manager.
Spy Tools: An overview of spy tools for TikTok advertising.
Ads Policy: An exploration of TikTok's ads policy.
TikTok Shop: An overview of the benefits of the TikTok Shop.
High-Converting Content Creation Tips: Tips for creating high-converting content.
3. Facebook Ads 🤑-
Ad Creatives Playbook: An overview of the Ad Creatives Playbook.
First-Party Data and Attribution: An exploration of first-party data and attribution.
Campaign Structures: An overview of effective campaign structures.
Creative Iteration Efficiency and Performance: Strategies for boosting creative iteration efficiency and performance.
Scale with Reels: Tactics for scaling your ad campaigns with Reels.
Boost Creative Production via AI: An overview of how to boost creative production through AI.
4. Native Ads 💻-
Trending Ad Formats: An overview of the latest trends in ad formats.
Advanced Bidding Strategies: Techniques for maximizing the impact of your bids.
Video Ads: Strategies for creating effective video ads.
Ad Platforms: An overview of different ad platforms.
Combatting Ad Blockers: Tactics for overcoming ad blockers.
5. E-commerce 🛒-
Product Design and Development: Techniques for designing and developing successful products.
Maximizing E-commerce Success on Amazon: Strategies for maximizing success on Amazon.
Brand Building: An overview of how to build a successful brand.
Membership and Loyalty Programs: An exploration of the benefits of membership and loyalty programs.
6. Future of Affiliate Marketing 🤖-
AI and Marketing Learning: An exploration of the use of AI in marketing.
Scale Ads and LPs with Generative AI: Strategies for scaling ads and landing pages with generative AI.
ChatGPT for Marketers: An overview of how marketers can use ChatGPT.
ChatGPT Live: Campaign Demo: A demo of a live ChatGPT campaign.
7. Affiliate Marketing in the Middle East 🏝️-
Cash on Delivery (COD): Strategies for optimizing COD payment options.
Product and Offer Selection: Techniques for choosing the right products and offers.
Increase Conversion Rates: Tactics for boosting conversion rates.
Targeting Options: Understanding the various targeting options available on different platforms.
Platforms and Policy: An overview of affiliate marketing platforms and their policies.
How To Get The Affiliate World Dubai 2023 Tickets?
Step – 1: Go to the official website of Affiliate World Dubai 2023, scroll down, and click on 'BUY NOW'.
Step – 2: Choose your package, and click on 'Continue to checkout'.
Step – 3: Click on 'Accept & Continue'.
Step – 4: Fill up the details asked for and scroll down.
Step – 5: Tick the boxes, fill up your credit card details, and click on 'Pay'.
That's it. You are good to go.
Why You Shouldn't Miss Out the Affiliate World Dubai?
Speakers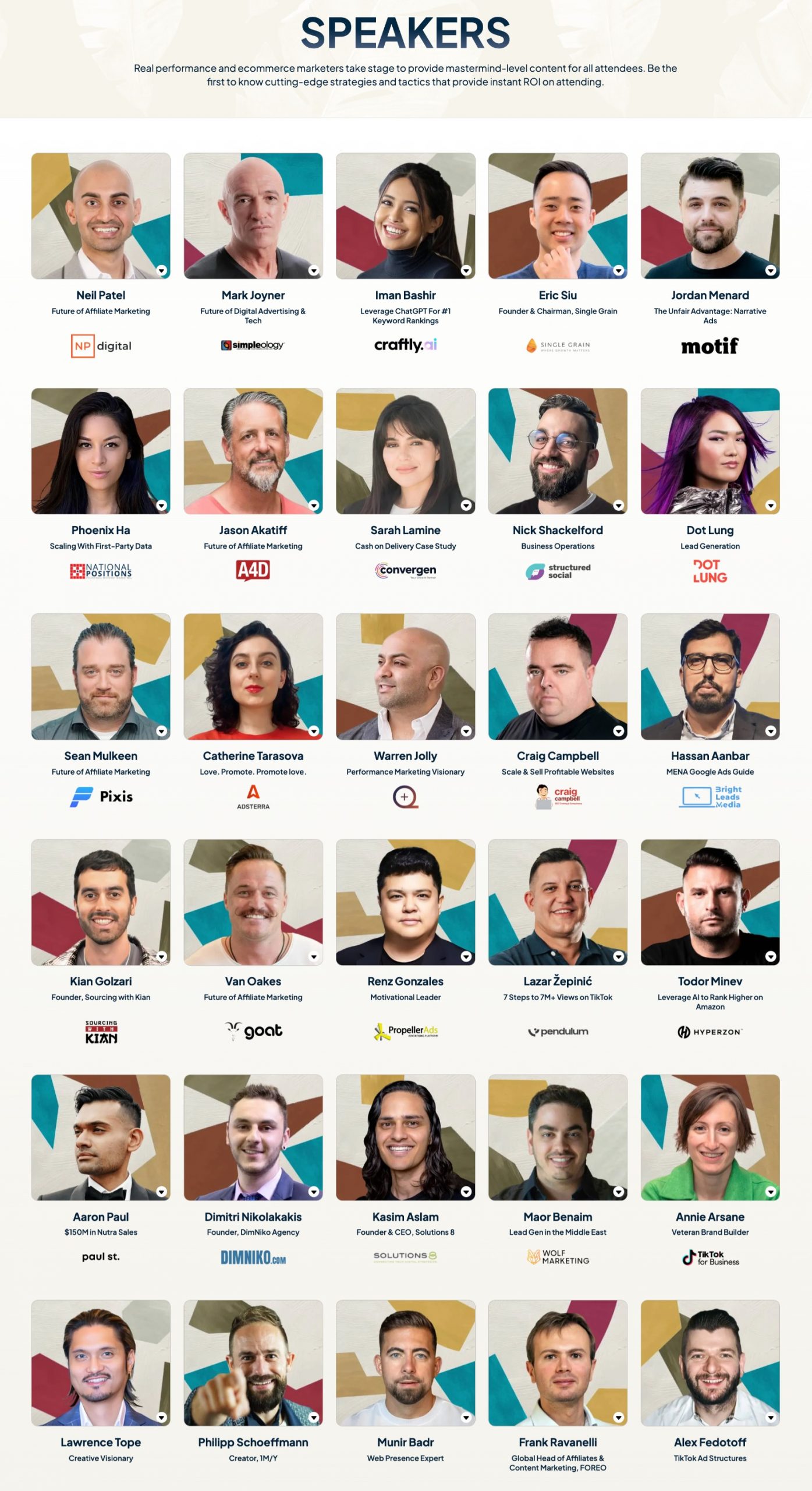 You will meet top speakers from around the world including Neil Patel from NP Digital, Craig Campbell, and many renowned speakers.
Venue
Nothing better than this!
The king of all trade centers in Dubai- one and only the Dubai World Trade Center. If you are visiting Dubai for the first time, follow the map and you will reach the place safely.
Top Exhibitors
Companies from around the world are eager to showcase their brand on the grandest stage of them all. Yep! AWD event has many global leaders partnered with them giving you a chance to meet the smartest guys.
Featured Companies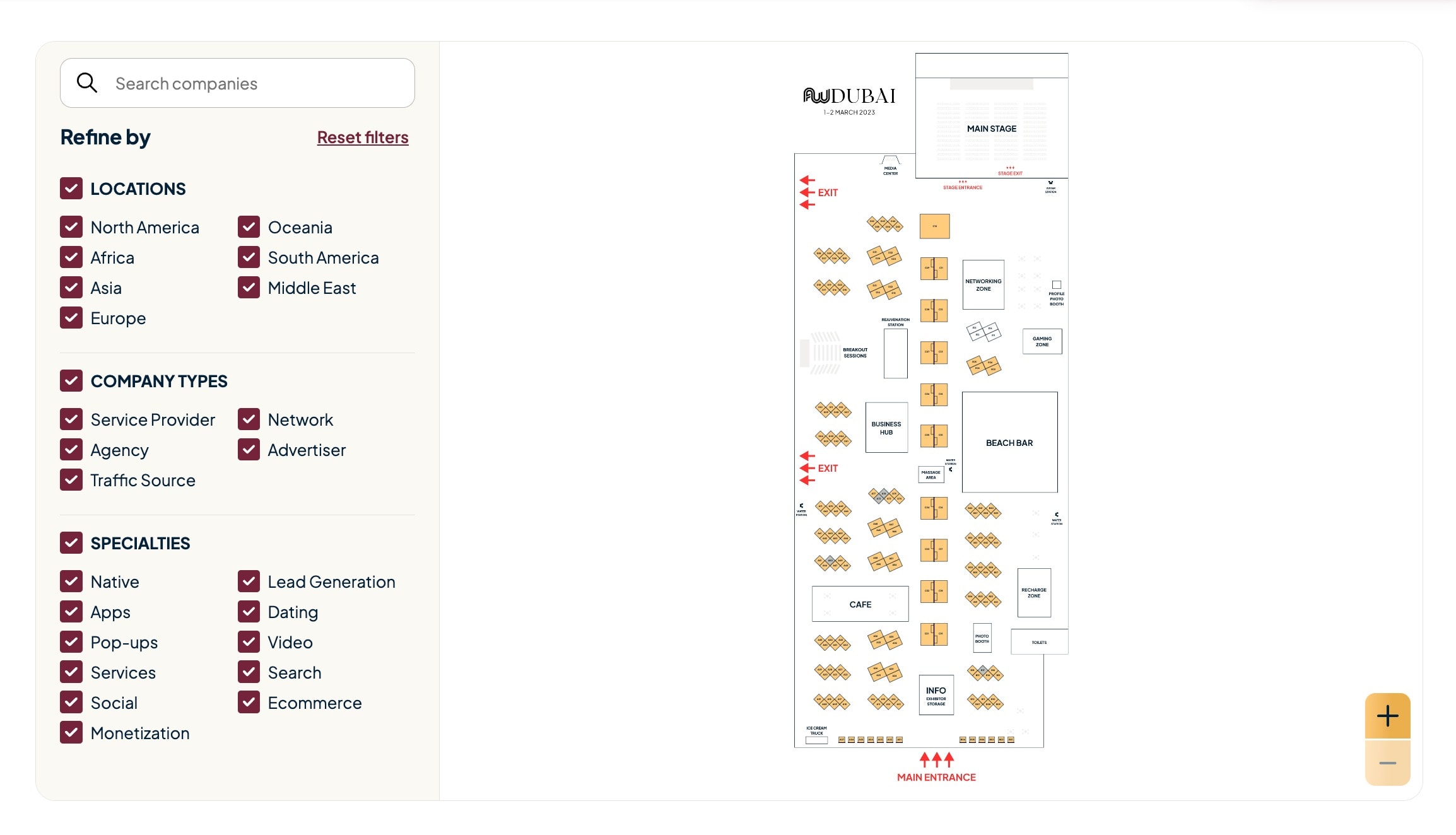 You will find many booths taken up by companies who are ready to shake hands with you. Meet some of the top innovative and high paying companies. You never know which one might close a deal with you!
Media Partners
I am so happy to announce that CorporateBloggingTips.com is the official media partner for this year's AWD Event.
Let's catchup at the AWD Event for some jamming sessions.
Party Details
Conferences are not just official meetups, they have parties too. So, at AWD, you will not only create new partnerships, but also have fun with after parties after the event.
More Affiliate Marketing Events
FAQs
When is the affiliate marketing event in Dubai?
This year, Dubai is hosting the Affiliate World Conference on March 1st and 2nd, 2023. Don't miss out this event as there will top affiliate marketers from around the world sharing their knowledge with everyone.
Why should I attend Affiliate Marketing Event?
Attending an affiliate conference gives you confidence to speak with other fellow affiliates. You can build new partnerships by visiting different affiliate booths. The speaker session is a very knowledgeable as top marketers from global brands their expertise. A major reason to attend affiliate marketing events it to stay updated with latest affiliate trends.
Conclusion
I'm really excited about the Affiliate World Dubai 2023 event! This will be the hottest affiliate marketing event with experts from all over the world coming together to share their knowledge on one platform.
If you're interested in learning more about affiliate marketing, this is an event you wouldn't want to miss out on. I'll keep you updated on all the latest news and information related to the event. Hope to see you all jamming together at the Affiliate Marketing Event Dubai!