Anstrex is an ad marketing platform that provides all the features you need to run a successful campaign. It includes analytics, audience targeting, creative production, and optimization. The best part about Anstrex is its ability to create tailored campaigns for your company's needs.
We are confident that this blog post will help you gain clarity on what it takes to be successful in today's demanding marketplace.
Whether you are a content creator, brand marketer, digital expert, affiliate marketer, or blogger, you are always in search of targeted viewers who genuinely read, appreciate, react and make use of what you have done for them digitally.
Using search engine optimization, you try to give exposure to your content, however, most often it fails to reach the expected audience because of stiff competition, content population, medium authority, and whatnot.
However, if your content attracts initial viewers who get any value out of your content then it slightly comes to the top. But in reality, it takes a lot of time and according to the content velocity, content population, traffic value, and competition entrance, it becomes pretty hard.
To overcome the tackles to reach the targeted audience many people take advantage of paid advertising.  
Many get successful and many people face disappointment as their campaigns don't work the way they had expected. Online campaign creation is an art and in this art only a few have expertise.
Why AnsTrex?
The best part about online advertising is that you are not the one doing it. In fact, there are hundreds and maybe thousands of doing it for a similar competition.
In such a situation, you have to make sure that your campaign content, target audience, and other relevant factors make you feel happy or your efforts are going in vain.
Your success in online advertising depends not only upon the successful execution of the campaign but mostly depends on a well market research.
Doing market research is frustrating and at the same time, it is time taking too.
To handle this job, there is software named AnsTrex which helps you analyze the competitor's campaigns, their results, content strategy, target locations, and a lot more.
What is Anstrex?
Analyzing the competitor's campaigns makes your task 70% easier. It not only explains what you can do well but also provides you with some ideas and secrets that many of your competitors are implementing.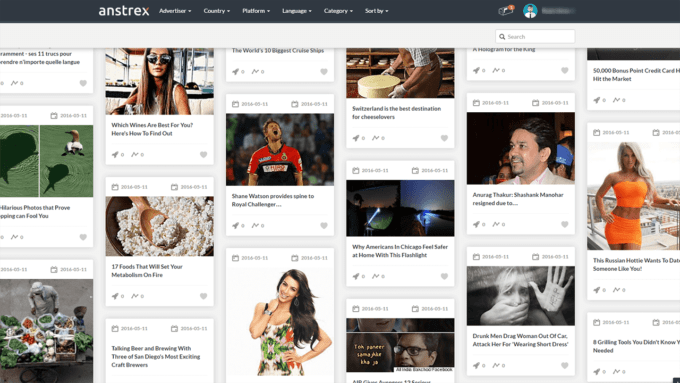 AnsTrex has many features to provide you with a competitive edge over your competitors.  Full Alexa & SimilarWeb integration helps you analyze where your competition is getting clicks. It helps you to be in the game while exploring the moves of your competitors.
Setting alerts can be used to get an email whenever any of the competition takes any action according to the set rules.
Anstrex is a full-suite, end-to-end ad marketing platform that is perfect for all your ad campaigns. With features such as analytics, audience targeting, creative production, and optimization, you can create a tailored campaign that'll work for your business.
Plus, Anstrex is always up-to-date with the latest trends in ad marketing, so you can be sure that your campaigns are reaching their full potential.
If you're looking for an all-in-one solution for your ad marketing needs, Anstrex is definitely the platform for you.
Who Uses Anstrex?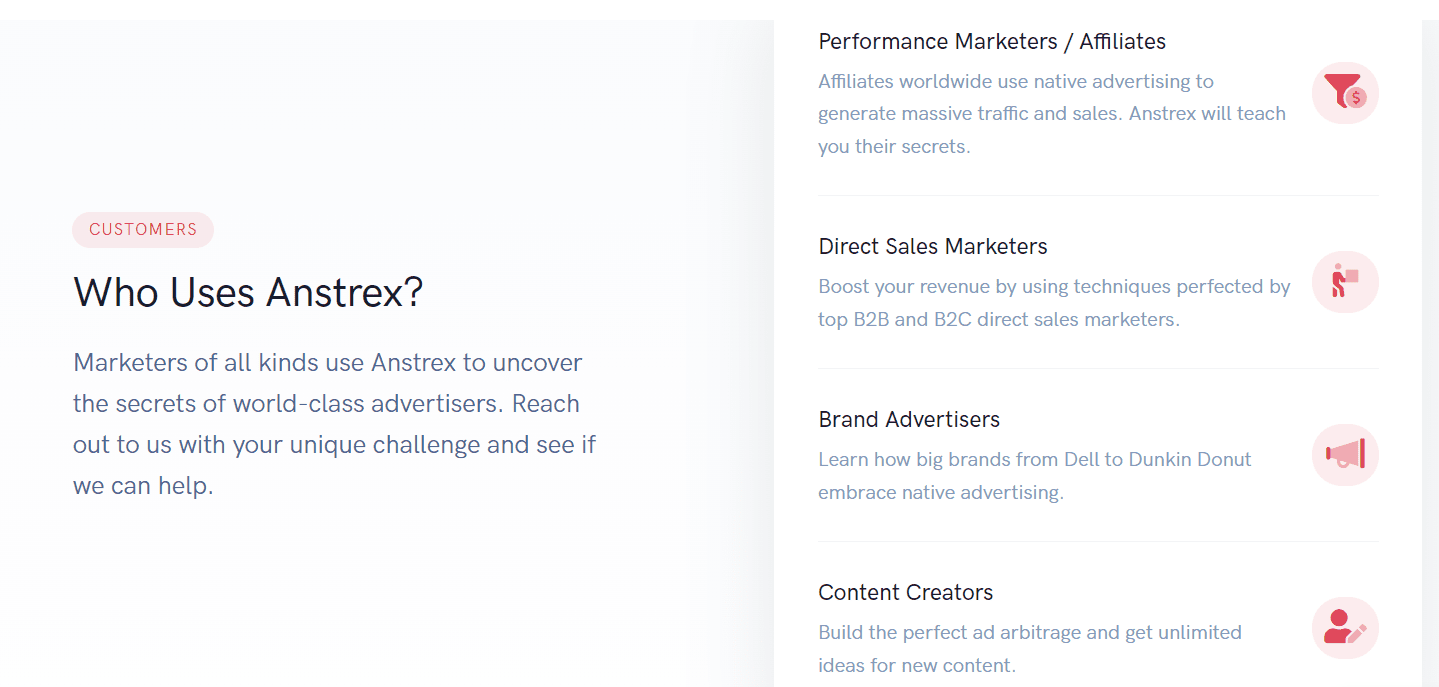 Anstrex is used by performance marketers and affiliates worldwide to uncover the secrets of world-class advertisers.
Direct sales marketers also use Anstrex to boost their revenue.
Brand advertisers, such as Dell and Dunkin Donut, also use Anstrex to embrace native advertising.
Content creators also use Anstrex to build the perfect ad arbitrage. Anstrex is the perfect tool for all of your advertising needs.
Features of Anstrex
Anstrex offers a wide range of features to help businesses with their marketing efforts. These features include 24/7 support, analytics, data import and export, and more.
1. 24/7 Support
Anstrex offers 24/7 support to ensure their customers' needs are met as quickly as possible. Their agents can be reached via a contact form or email, and they will reply promptly. They also offer a FAQ page with links to helpful resources for both their app and general marketing knowledge.
Anstrex's support is available in English only at this time.
2. Analytics
Anstrex offers powerful analytics to help businesses understand their marketing efforts. The analytics dashboard includes data on website visitors, traffic sources, social media followers, and more. This data can help businesses track their progress and make changes as needed.
The analytics are available in both English and French.
3. Data Import & Export
Importing contacts is quick and easy with Anstrex, and can be done in a variety of ways such as uploading a CSV file, copying the data from an existing source, or using Mail Merge to upload your mailing list.
You can also make bulk changes to duplicate contacts all at once, which is helpful when importing email lists for Mail Merge. The sub-modules under the contacts section are contact groups, leads, and social profiles.
The data export gives you the option to download your mailing list as a CSV file. It can also be exported into an Excel sheet or accessed directly in Microsoft Excel through Anstrex's integration with Microsoft's add-on.
4. Better Images to Advertise
You may get confused when it comes to deciding which ad creative will work for the campaign. You can learn from your competition. Check out what creatives are working for them. Get an idea, Create one for yourself and start promoting it.
There is a tool to find great converting images in your images similar to your competition. It is really helpful when you're the solopreneur sitting in front of your machine finding some great creative ideas to start your campaign in the market.
5. See what is working for your competition
Not just images and videos work in a campaign. Targeting, text, hashtags, links, emoticons, and many more aspects of a campaign impact the conversion rate of a campaign. As a result, it impacts your success.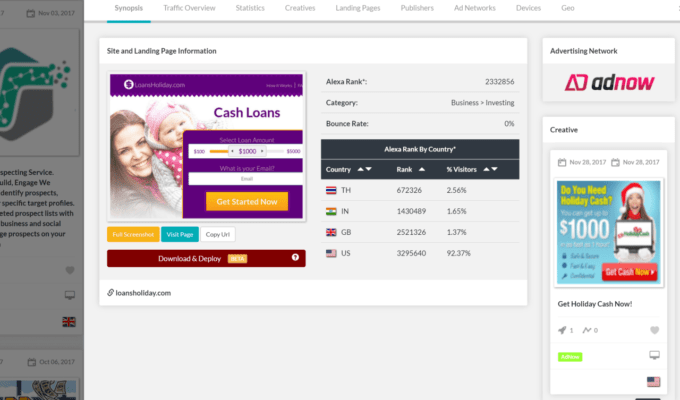 If you're a marketer, you can use Anstrex for a long time just to keep an eye on your competition and help your marketing team in generating more promotional ideas.
6. Powerful filters to Learn the secrets of competitors
When you search for campaigns, you may get lost finding the right inspiration for your campaigns. But AnsTex helps you find the right inspiration and the right competition to help you do great marketing campaigns.
7. Save on Marketing by Increasing your success rate
When you spend less time experimenting with your marketing and advertising, you definitely save more on marketing.
8. User Community
Yes, I could easily ask questions and my doubts about the features whenever I found any problem or confusion using the platform. The community is dedicated to helping each other.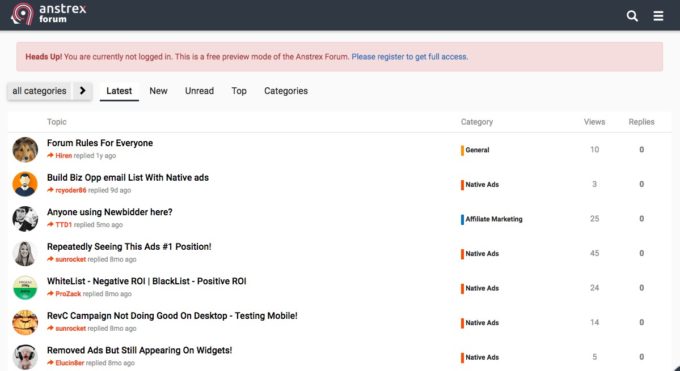 9. KnowledgeBase
There is a tutorial-based knowledge base that can easily teach you how to use Anstrex to reach your advertising and marketing goals. I know, as a marketer, it is not easy to run a successful campaign in any industry. AnsTrex just makes it easier for me to know what is working for others. Learning AnsTrex would be the first step right after deciding to use it.
PS: You can use it for 2 days for FREE. Why not go and have your hands on it before buying a plan?
10. Ticketing:
Anstrex can be used as a "ticketing engine" so that an event's tickets can be sold online from the organizer's website.
11. Event Management:
The admin panel of Anstrex includes features to help with the management of events. These include a calendar, a list view of all registered participants, widget support for contact forms and sponsorship, and the ability to export data in CSV format.
12. Alerts:
Anstrex provides alerts via email or instant messaging system (e.g., Google Hangouts) to keep you up-to-date on important event occurrences, such as when a ticket is sold or when a participant registers.
13. SEO:
Event organizers can customize the title and metadata for their event pages to improve their website's search engine ranking.
14. Landing Pages:
Anstrex provides the ability to create custom landing pages for events that include all of the information an attendee would need, such as the event agenda, speaker bios, and a map of the venue.
15. Widgets:
Anstrex includes widgets that can be embedded in websites to provide contact forms and sponsorship information.
Pros & Cons of Anstrex
Pros
Free Database with multiple countries
Professional UI (User Interface)
Ease to use tools like advanced filters, advanced search, quick compare, etc.
Easily find competitors price and product description
Product research tool with images, sizes, colors, etc.
Multiple Payment Gateways.
Cons
Only one country database.
No automatic updates on the products.
Manual labor is required to add competitor's products in Anstrex's database for further price comparison and search etc.
Anstrex Integration With Other Platforms
Anstrex is an easy-to-integrate platform that promises to boost your productivity.
One of the platforms that Anstrex integrates with is Shopify. You can use it to create app stores that are integrated into your Shopify shop automatically.
It also features direct API integration so you can create product catalogs and purchase pages for both iOS and Android devices. The API also includes a developer API which simplifies the process of integrating Anstrex into existing websites or apps.
Also, WooCommerce integration lets you import your products from WooCommerce into Anstrex, perfect for the makers who want to turn their Etsy shop into a WordPress website!
AliExpress integration can help you find suppliers for other products you're looking for whether they're Chinese or not.
AWS (AWS) and Digital Ocean are two powerhouse cloud providers that Anstrex has teamed up with to offer an even more integrated experience. You can use the Anstrex platform to quickly and easily create and manage your own cloud servers without having any prior experience.
Quick Links
Anstrex Coupons, Discounts & Promo Codes
ConclusionAnstrex Review In 2023
Now, we know that Anstrex is one of the best and most legit native ads spy tools. With this tool, you can easily explore all of the advertising campaigns as well as all of the data insights which will make your competition better. Anstrex is a premium Native Ads Spy Tool that provides you with all of the data insights and search capabilities to make your competition better.
With its help, you can explore all ads along with their landing pages so you know what works best for your campaign. 
It offers all of the superior search and filter capabilities like filtering by country, platform, ad strength, etc., so now it's easy to find what you need in seconds! Get started today by signing up for a free trial!
Get Started With

Anstrex Now