In this article, I am going to share the best AdPlexity Alternatives. Many people earn a lot of money by being an affiliate. They use different tools to do this.
One tool they may use is spy software, which lets them see what other people are doing and how they work. Other tools may let them see their competitors' networks and how they market.
What is Adplexity?

For Affiliate marketers, AdPlexity is one tool that stands out as the best in the market. However, here we will discuss AdPlexity alternatives for your affiliate marketing needs.
Adplexity will help you understand what is happening in the advertising world. You can see your competitors' actions and even evaluate their products and services.
That's not it because its alternative also gives you real marketing insights to help you stay on top of the industry.
So, let's begin with AdPlexity alternatives.
Best AdPlexity Alternatives
There are other options you can use for your house. They might be cheaper and offer more than just one feature. Check out our list of the 10 best Adplexity alternatives and competitors.

Anstrex is an ad intelligence tool that offers many features. It helps you spy on native ads and push notification ads. It offers three products: Native, Push, and Dropship, and we've also compared Anstrex with Adplexity.
The product has unique features like screenshot capture of landing pages for each ad, sophisticated searching capabilities, and the use of multiple Boolean filters and operators.
Anstrex also offers a reverse image search to show you viral images and unrivaled statistical reporting, among other things.
Anstrex Native helps you make a winning campaign. It watches your competitors and tells you more about what they are doing in their ads.
Anstrex also has 157,000 advertisers from 65 countries. You can find out a lot with them without doing much work.
Anstrex Push allows you to find out what is working in push advertising. You can see what the people who are good at this kind of advertising do.
You can spy on the top advertisers that dominate the push notification ad space and get visibility into CPC history and bids, access cloaked pages easily, and see entire campaigns at your fingertips.
Anstrex Native offers two plans:
Native Only for $59.99 and
Native Push for $124.99.
Anstrex push is packaged into two pricing plans:
Solo for $79.99 per month per user, or
The Bundle & Save plan is for $124.99 per month per user.
Pros & Cons of Anstrex
Pros
Anstrex offers the most significant number of networks for ads.
The money return policy is 2 days.
The dashboard is well-organized and easy to navigate.
You can spy on a lot of countries with Anstrex.
The customer support is excellent and helpful.
You can track a lot of data with Anstrex.
The tool is very user-friendly and easy to understand.
Anstrex is an excellent choice for anyone who wants to spy on ads.
The price is excellent and affordable.
Cons
The cons of Anstrex include that the learning curve is pretty steep, so it aids beginners in adding spy tools.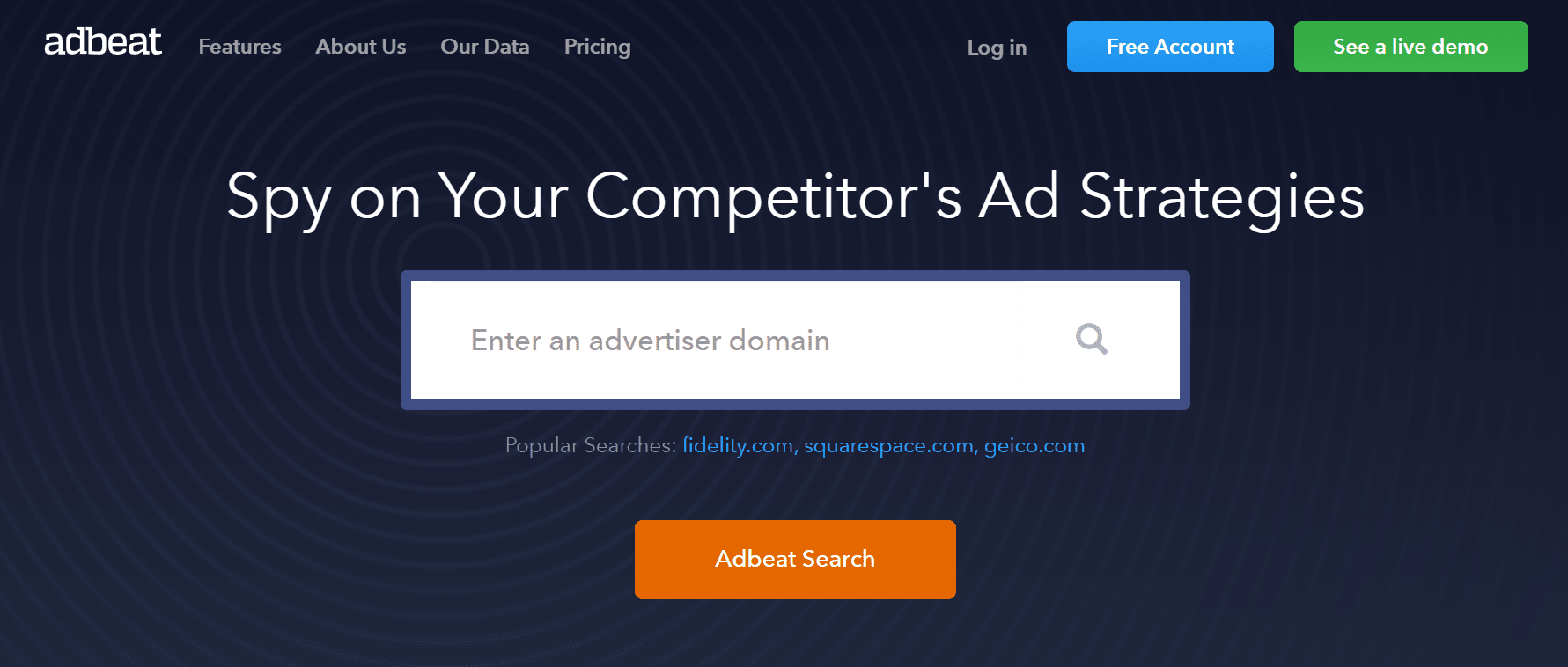 Adbeat is a computer. It crawls millions of pages every day to find ads. It can tell you how many people there are and what they advertise.
This program helps you see what other people are doing with digital ads. You will know how they are spending their money, which will help you spend your money the best way.
Agencies use Adbeat to meet their clients. Ad networks and publishers also use this tool to find the ad networks they sell space for and the advertisers who pay for it. Like them, Adbeat can help you be more valuable to your clients.
Adbeat lets you see how well your ads are doing for free. If you want more features, there are three plans to choose from:
The Standard plan is $249,
The Advanced plan is $349, and
The Enterprise plan has custom pricing.
Pros & Cons of Adbeat
Pros
A good search functionality.
A wide range of networks
Impressive insights that are often complex but can be found nowhere else.
The data is constantly updated in real-time.
The platform is easy to use and navigate.
The pricing is very affordable.
A free trial offer is available.
Cons
Adbeat can be pretty expensive.
Up next, we have WhatRunsWhere. This is a tool that will tell you what drives conversions. It will give you an analysis of what ads work best for generating traffic. It will also show you the most popular networks and formats for ads.
WhatRunsWhere is a place with tools to figure out ads and products. There are 20,000 sites in it. It has 90,000 advertisers and 500 networks in 5 countries.
You can see the top ads from across the web and what differentiates brands and affiliate campaigns. Moreover, this one has amazing tools for further help.
These tools help you when you are looking for ads on the web.
The tool covers many countries, including the USA, UK, Australia, Canada, and Germany. You can see what ads are popular in these countries by searching by keyword or date range.
WhatRunsWhere has three different packages.
The basic package is $299 per month,
The full coverage package is $399 per month, and
The enterprise package is personally customized.
WhatRunsWhere Pros & Cons
Pros
WhatRunsWhere has a search campaign by publishers, ad networks, advertisers, ad copy, or keywords.
It covers 90+ ad networks.
Able to view traffic sources.
Tracks domain easily.
Has placement suggestion.
Mobile ad data.
Easy to use interface.
Very comprehensive data.
Affordable price.
Fast and reliable customer service.
4. AdSector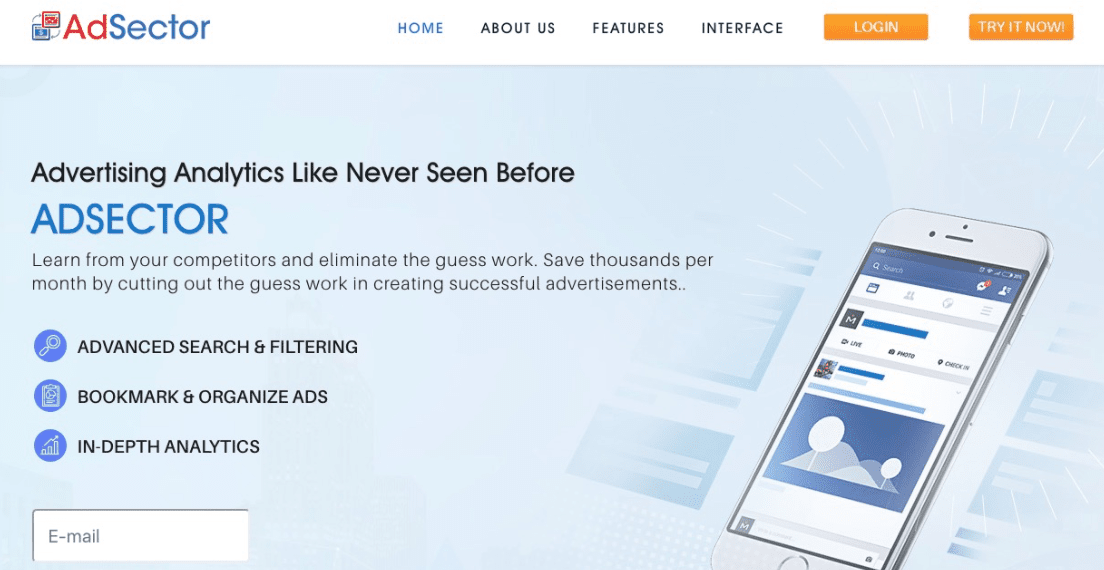 AdSector offers a way to filter ads. You can download landing pages, and it will show advertisements for you in a few clicks. This one has a straightforward interface that you can filter through.
You can also download landing pages and target market interests. This one helps you find ads by affiliate network and tracking system. You can see the people who are interested in your ad.
AdSector is popular because of its unique features. One of them has images that you can use for your ad to connect with customers emotionally. It has detailed analytics so you know how your ads are doing. It costs $249 per month.
Pros & Cons of AdSector
Pros
A good amount of features.
The intelligence used is pretty competitive.
The time you would require for learning or to the campaign is cut down significantly.
The search choices and filter options are pretty advanced.
Cons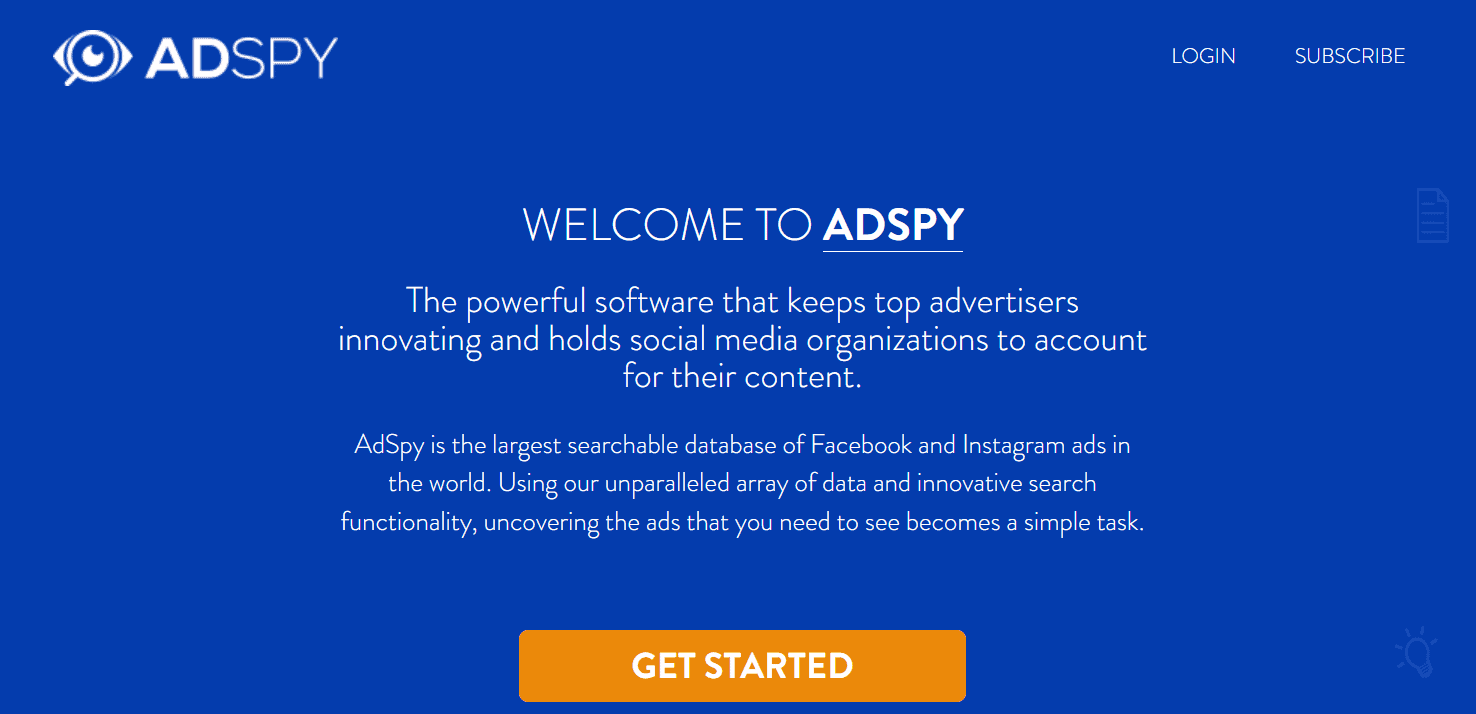 Another one of the most potent AdPlexity alternatives is AdSpy. AdSpy is a place where you can see ads that are on social media. You can see the ads that competitors put there. This one is renowned for its most extensive list of all the ads in the world!
AdSpy allows you to post ads from 202 counties and 14.5 million advertisers. This way, you can see what people are doing worldwide, find out about new products, and get data on your competitors.
With this, you can help you see trends, find new products and campaigns, and compete with your competitors.
AdSpy lets you see what ads are on a site. There are many options to choose from. You can search by URL, ad text, page name, and more. You can also look at comments others have made about the ads and see who the ad targets based on age and gender.
Adspy costs $149 per month.
Pros & Cons of AdSpy
Pros
AdSpy is always up to date with the latest ads!
User-friendly interface!
Perfect for keeping track of your campaigns!
A valuable research tool!
Cons
The AdSpy plan is too expensive for small businesses or individuals
Most of the ads are irrelevant to the person

PowerAdSpy is a great way to see what ads are successful on Facebook, Instagram, YouTube, and Google. It allows you to see their target country, marital status, age group, and more.
PowerAdSpy is a tool that helps you see which ads are winning and how they work so you can do the same thing to get more customers.
You can search for keywords, domains, or other pages to find out what people like and copy those strategies for your business.
You can also use it to search all social media ads going to a click funnel, offer page, or opt-in page. It helps e-commerce owners find the ads that go to Shopify, WooCommerce, and Magento. You can also find any keyword or advertiser to grow your email list fast by duplicating what they do.
It's software that makes sure you make money by looking at data from ads worldwide.
There are different pricing plans:
Free Plan
Basic – $49/month,
Standard – $99/month,
Premium – $149/month,
Platinum – $249/month,
Titanium – $299/month, and
Palladium – $349/month.
Pros & Cons of PowerAdspy
Pros
Easy to use.
Information is obtained from 15+ countries.
Information can be acquired from multiple platforms.
You can easily spy on someone's data.
It is free for a limited trial period.
You can preview data before purchasing it for $199+.
PowerAdspy provides national and international coverage, and 8) PowerAdspy is great for spying on just about any phone without physical access to the target phone.
Cons
One potential downside of PowerAdspy is that it can be a little pricey for some people.
Additionally, there is no proper way to direct users on how to put the tools to use, which could lead to frustration.

This is a tool for finding information about ads you can use. It is an alternative to Adplexity. You can start your own business and be successful by using text, products, strategies, and images that work online now.
With the Native Ad Buzz forum, you will not need to struggle alone because other people in the mastermind forum will help you with what you need to know about advertising on the internet.
You can get help with business ideas if you join the Native Ad Buzz forum. You can learn about what is hot in advertising and get advice from successful internet marketing people.
You can also find out about popular ads right now, save your favorite campaigns, and spy on your competitors by looking at them.
There are 3 prices:
Standard – $47,
Pro – $97, and
Pro Annual – $575
You can go for the trial for $7
Pros & Cons of Native Ad Buzz
Pros
Native Ad Buzz allows you to store all the ads that interest you in one place.
You can filter the ads according to the device you are using.
Native Ad Buzz is user-friendly and easy to navigate.
The ads are of high quality and relevance.
You can customize your experience with Native Ad Buzz.
Cons
You only have access to the basic features with the free trial.
It can be challenging to find your way around the software.

Advantage is an excellent alternative to Adplexity. It helps you find campaigns that will work well, find funnels, and see what your competition is doing. You can also use it to discover new keywords and advertisers.
Advault is actually known for its unique features. AdTracker is a feature of advertising on Advault. It can show you the keywords people use, where the ads are published, and which ad networks they show up on. You can also see when new ads come out and get contact information for advertisers in LeadFinder so that you can contact them directly.
Advault lets you search for products that super affiliates promote on native networks. You can also find direct affiliates and marketers.
Moreover, this one is available in two pricing plans:
Pro for $97 per month and
Network at $1499 per month.
Pros & Cons of Advault
Pros
Good customer service
Perfect ad spy tool for online marketing.
Cons
Advault is a relatively new company and lacks the popularity and experience of some of the other competitors.
The prohibitive price point may also deter some buyers.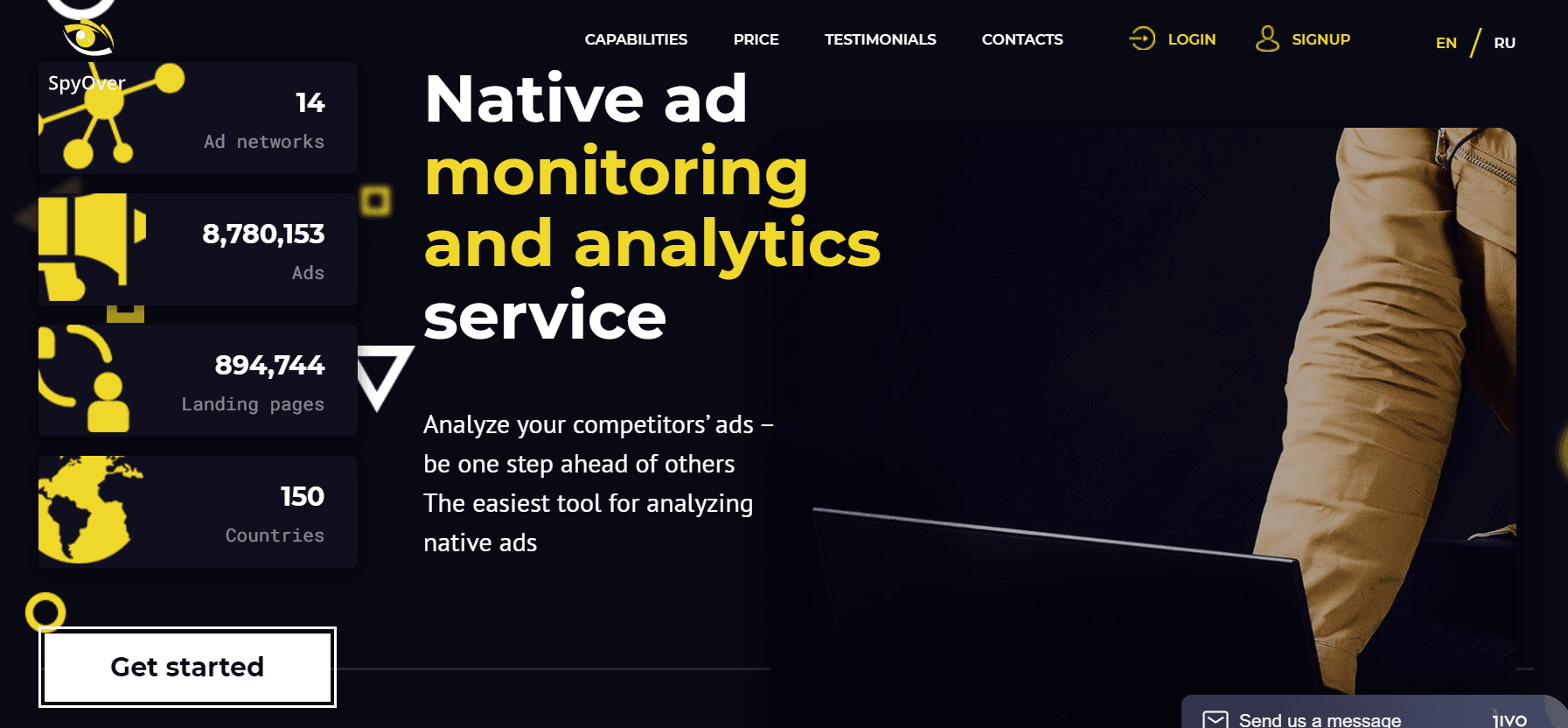 SpyOver is for people who are interested in ads. It can show you what's new and trending. You can use it to see the impressions of an ad in a country over some time, or even on specific devices.
There are other things that this tool does, too, like letting you download landings or ads by single-clicking them. You can also analyze what your competitors are doing online with this tool.
SpyOver is suitable for over 15 types of networks. Downloading the ads feature is pretty interesting. And with the language filter, finding what you are looking for will be easier.
This one also has 2 plans for ad needs:
Professional plan – $149.
Corporate plan – $299.
Pros & Cons of SpyOver
Pros
SpyOver can cover over 15 types of networks.
The downloading the ads feature is pretty interesting!
The system of filtering according to the language makes things easier!
SpyOver is very user-friendly and easy to use!
SpyOver offers excellent value for your money!
SpyOver is the best spy software available on the market today!
Cons
Expensive compared to other spy tools
Conclusion
We suggest you try these Adplexity alternatives because they will help you watch your competitors and give accurate real-time data.
They can be used without any effort to advertise your ads. One of the best is the Anstrex tool because it has excellent features and an affordable price.
It can be pretty hard to manage affiliate marketing and advertise better, but these tools will make your work easier.