It's no secret that people don't always enjoy advertisements. In a world where we're constantly bombarded with commercial messages, it's easy to understand why some people view ads with suspicion and even hostility. However, it's important to remember that not all advertisements are created equal. While some ads are annoying, others can be informative, entertaining, or even poignant. The key is to find a balance that works for both the advertiser and the audience. When done well, advertising can be a powerful and effective way to reach out to potential customers. But when done poorly, it can quickly become a source of frustration.
It's hard not to laugh when you see ads for erection pills before YouTube videos.
The global advertising market is growing yearly, yet it remains an industry with many problems. Advertisers constantly look for new ways to reach consumers and often resort to repeated and annoying ads to get noticed.
Furthermore, the current ad metrics system is far from perfect and doesn't always provide accurate information about how effective an ad campaign has been. Meanwhile, streaming services have led to a decline in traditional forms of advertising, such as commercials during television programs.
Fortunately, blockchain technology is beginning to offer some solutions to these problems. With blockchain-enabled advertising, advertisers can pay consumers to watch more-appealing advertisements. In addition, more intelligent ad metrics can be created, providing accurate information about an ad campaign's effectiveness. Finally, new entertainment models that altogether forgo advertising may be launched. The blockchain significantly impacts how the advertising sector does business, and it could eventually lead to a more efficient and effective industry.
Best Crypto Ad Networks of 2023
Let us start looking into what platforms are making a mark in the crypto ad networks. Below are some of the relevant companies operating in the space.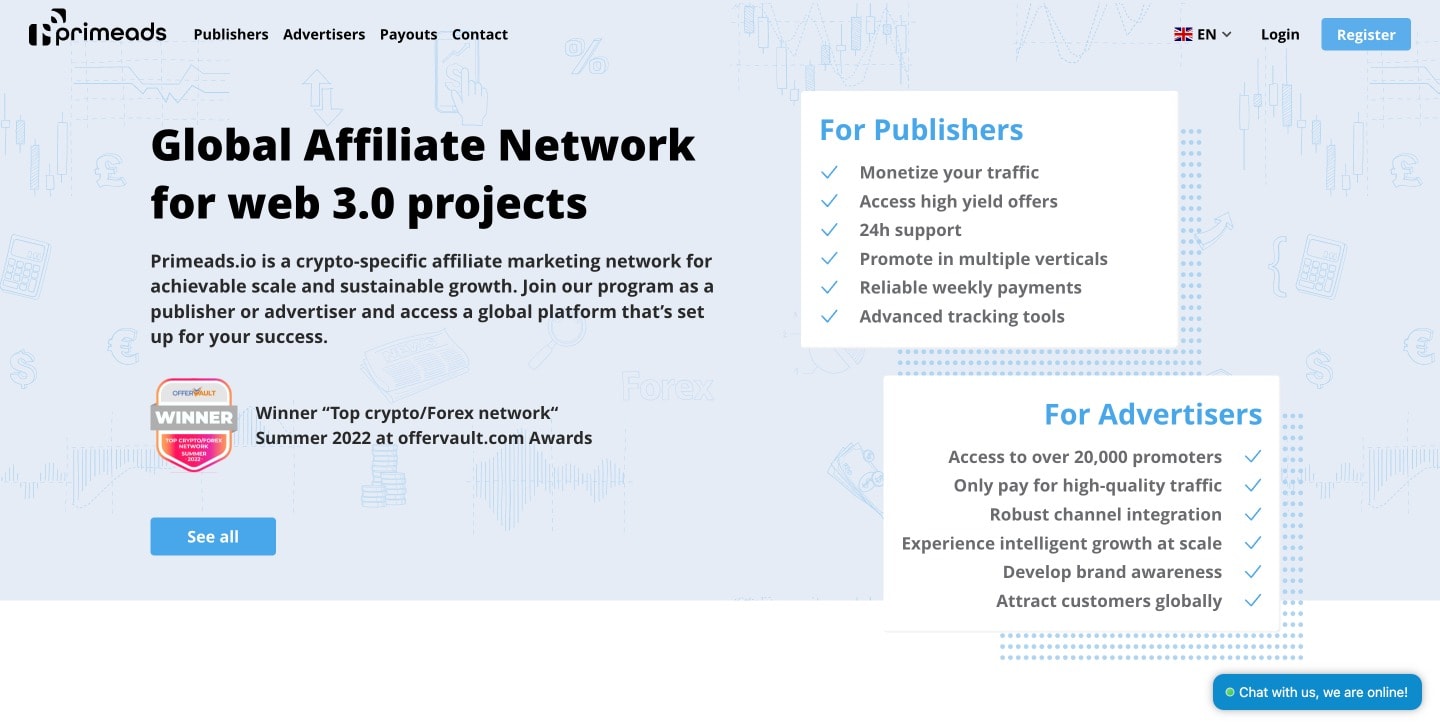 Prime Ads is your portal to more potential, expansion, and money. Their knowledge of digital currencies sets them distinct from the competition. They can assist you in connecting with the industry's leading brands.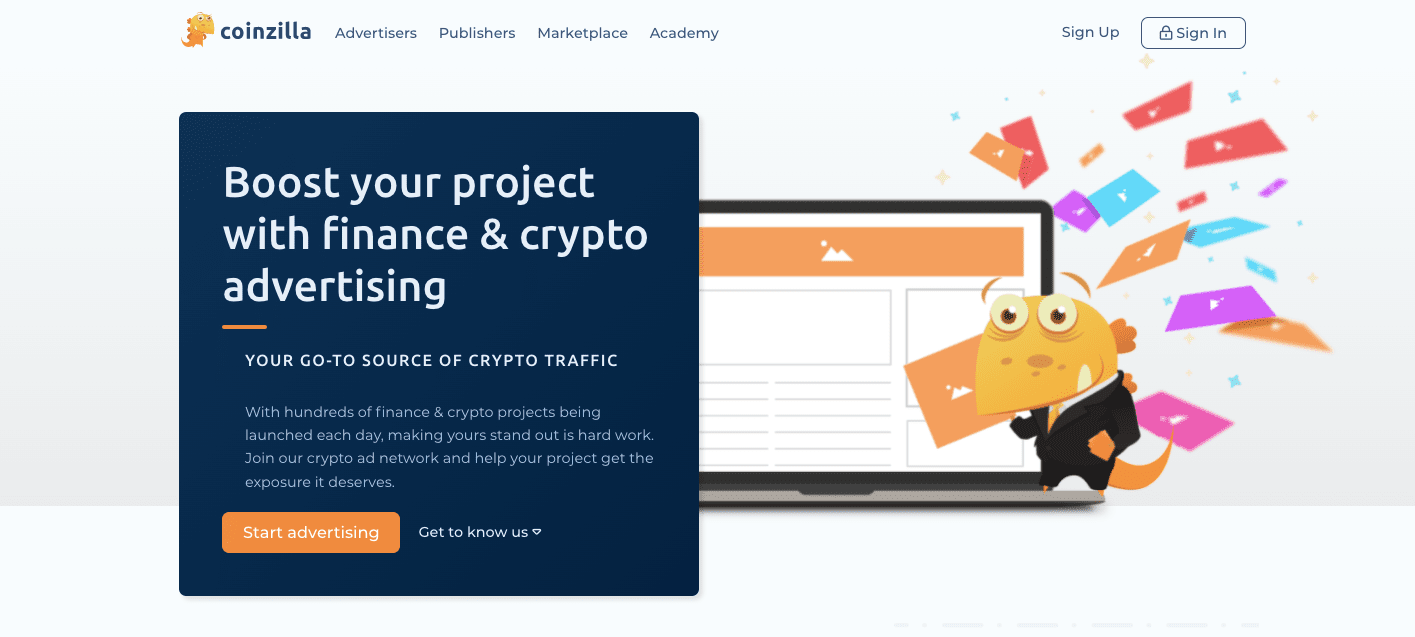 Established in 2014, Coinzilla is a bitcoin advertising network that provides merchants with a viable option for displaying and promoting cryptocurrency-related services. Managed by Sevio Solutions, Coinzilla works with over 200 companies and 400 publishers to deliver high-quality advertisements for bitcoin-related websites.
With a strong reputation in both the bitcoin and blockchain industries, Coinzilla is committed to helping merchants increase revenue and reach their goals. As a result, advertisers can rest assured that their message will be seen by a wide audience of interested individuals. Whether you're looking to promote a new website or raise awareness of an existing service, Coinzilla can help you achieve your objectives.
WeBuy
Launched in 2014, WeBuy is an on-demand advertising platform that gives buyers greater control over when and why sellers may contact them. WeBuy was founded by serial entrepreneur Simon Johnson and is backed by investors, including Google Ventures and Accel Partners. They can then browse listings and request contact from sellers that meet their criteria.
WeBuy also offers several features to make the buying process more accessible, such as scheduling viewings, tracking prices, and receiving alerts when new listings become available. In addition, WeBuy provides sellers with several tools to help them connect with buyers, including the ability to create targeted buyer lists and the option to advertise their listings on the WeBuy platform.
WeBuy is a new platform that allows users to opt into voluntary advertising in exchange for compensation via the WeBuy platform's blockchain-enabled transactional capacity. The platform provides reviews to sellers and advertisers by presenting a volunteer base of ears and eyes to market.
WeBuy symbolizes a break from the scattershot methods of mailing countless coupons or posting on sites where visitors are not interested in the goods or services getting promoted. Instead, WeBuy allows advertisers to target a specific audience who have opted into receiving advertisements, ensuring that their message is getting seen by people interested in what they offer.
In addition, blockchain-enabled transactions mean that users can be paid almost instantaneously for their participation, making it a win-win for everyone involved. If you're interested in learning about WeBuy or opting into voluntary advertising, check out their website today.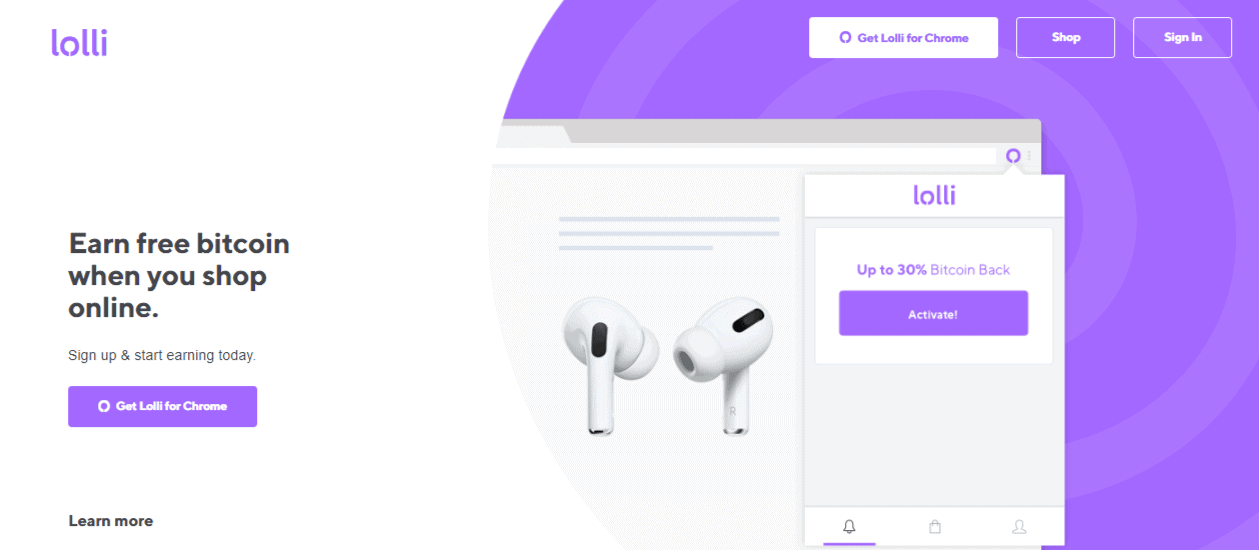 Lolli is a company that advertises by saying they have reinvented shopping and advertising. They are one of the best crypto ad networks available.
They're trying to change how brands and customers interact using blockchain technology.
Lolly is a new social media platform looking to revolutionize how users interact with brands. It enables users to follow their favorite brands, informing them whenever a coupon, discount, or sale is available. Lolly coins – where the blockchain comes into the equation – allow users to serve as they add more personal information and interact more frequently with the platform.
In return for their loyalty, users are rewarded with coins that can be used to purchase discounts and coupons from the brands they follow. Additionally, the more active users are on the platform, the more coins they will earn. As a result, Lolly incentivizes users to remain engaged with the brands they love.
AB-Chain
AB-Chain is a Hong Kong-based company seeking to change the digital advertising landscape. The company has developed a platform that allows advertisers to buy advertising space from publishers using cryptocurrencies. This allows for a more efficient and transparent system and eliminates the need for middlemen. In addition, AB-Chain's platform uses "smart" metrics to track ad spending and effectiveness. This information is then used to optimize ad campaigns and improve ROI. As the digital advertising market grows, companies like AB-Chain are positioned to revolutionize the industry.
AB-Chain is a service that aims mainly at organizations that have issued ICOs and reserved for converting the currencies to pay for advertising space.
Instead of dealing with taxation, logistical, and investor confidence roadblocks due to the exchange of crypto financing, AB-Chain allows nascent businesses to advertise their brand without the problems that come with exchanging digital currencies for fiat currencies.
Neogara has operated as an affiliate network since 2014. Its media purchasing staff has evaluated and processed all bids for six years. The network became accessible to new webmasters in 2020. You may pick from over 100 in-house crypto offerings for over 100 geographies. Up to $1,300 per lead is the going rate. The network accepts traffic from any source.
Bitcomo
Bitcomo is a Polish, cost-per-action advertising network that allows its user's verified metrics using blockchain technology. 
The performance-based platform compensates marketers with BM tokens each time a visitor or customer attracts via an advertisement.
Likewise, advertisers only pay when proven, and their affiliate marketers attract reliable eyeballs.
The Bitcomo model relies on simple metrics using next-gen technologies and paying based on those results.
Online Blockchain Technologies
Online Blockchain Technologies, also known as Online.io.
It aims to radically change how users browse and join with information on the internet. Online.io is one of the more challenging projects using blockchain technology. 
Their project offers a browsing experience without advertisements, malware, or tracking is undoubtedly appealing. They also claim that their system will implement a website rating system to help reduce the time spent on 'spammy' advertisements misrepresented as web pages.
If it goes, it will be a significant testament to blockchain's potential.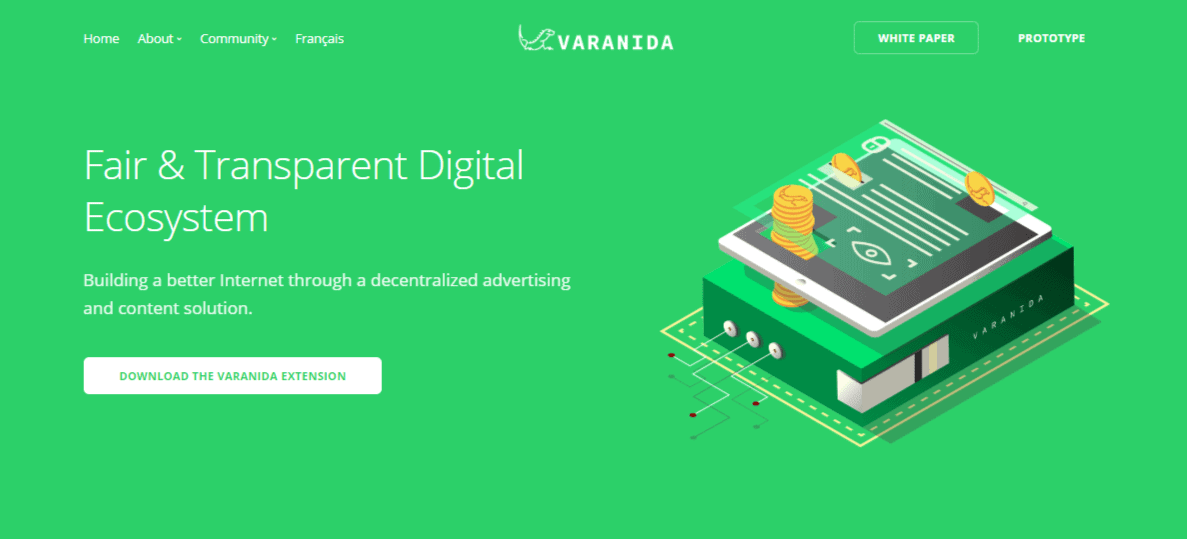 Varanida is a France-based company that plans to improve how advertising works on the internet. It believes that the current system unfairly benefits some groups, so it wants to create a more balanced and fair environment for all parties involved.
Varanida is a blockchain-based advertising platform that seeks to provide accurate and transparent data about the effectiveness of online advertising campaigns. The company uses blockchain technology to create a decentralized, tamper-proof database of advertising data. This data is then used to generate objective statistics about the number of clicks, views, and other metrics that define the efficacy of an ad campaign. By making this data available to all parties involved in an advertising campaign, Varanida hopes to create a more efficient and transparent marketplace. In addition, the company plans to use its platform to provide users with rewards for viewing or interacting with ads. These rewards would be paid out in VAD tokens, which could be used to purchase goods and services on the Varanida platform.
Varanida also pays users who voluntarily view ads. They may derive more reliable, trustworthy metrics and ensure that users know how their actions are tracked and used.
Ubex
The Ubex advertising exchange is seeing to add a heavy dose of artificial intelligence and blockchain technology, into the ways advertisements work, parse, and perceive.
Advertisers pay to be members of the Ubex network in exchange for advanced neural networks that process and pass along data about each visitant to the network's websites.
Those neural networks use artificial intelligence to gauge users' interests, actions, and the likelihood that they will engage in the targeted behavior that promoters hope to achieve. 
The market will work on a pay-per-result basis, and users will get incentives to communicate with the platform.
Sether wishes to bring greater transparency to the way the advertising campaigns run, the actual cost of ads, which the agency is going with, how advertising budgets get spent, etc.
In the Sether method, every facet of a campaign evaluates to find what worked and what didn't.
All of this data is collected using blockchain protocols, and blockchain technology also helps to allow automation on the tracking of KPIs to keep costs low and prepares efficiently.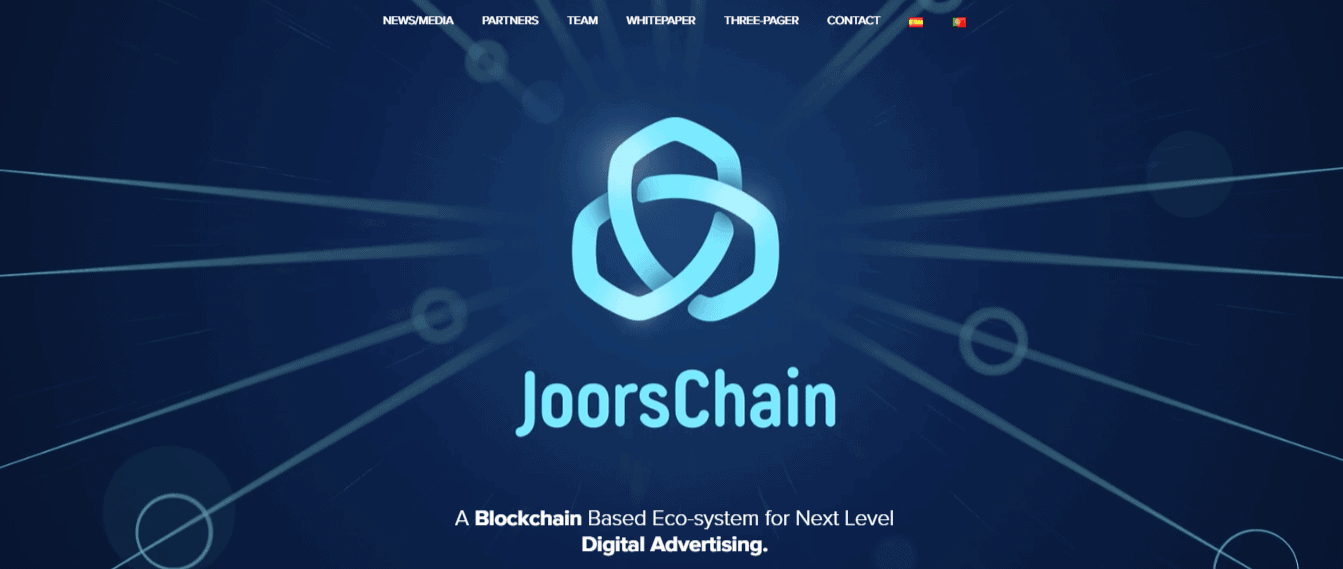 Swiss startup JoorsChain is a blockchain-based ecosystem for internet advertising. 
The company promotes its existing user base as critical in its intention to bring decentralization to the digital advertising space to decrease waste while increasing transparency and accountability. 
JoorsChain employs a platform incorporating features such as real-time bidding, improving competitiveness and fairness in advertising, selling, and administration. 
They hope that, in time, JoorsChain will work as a single source of digital advertising metrics so that a reliable data source can dictate fairer compensation in the digital ad space.
Truth
UK-based TRUTH is a media agency that is utilizing the blockchain to increase clarity and, in doing so, improve trust in the value chain.
TRUTH implements an innovative records technology that charges fees only once clear, planned milestones get completed. The TRUTH agency seeks to provide a fairer scene for advertisers, charging all clients the same fee for services rendered.
You May Also Read:
Conclusion
When it comes to investing in cryptocurrency, the timing couldn't be better. In 2021, the total value of all cryptocurrencies is on track to exceed $1 trillion for the first time ever. And with more and more businesses beginning to accept cryptocurrency as a form of payment, it's clear that this trend is here to stay. If you want to get involved in the world of cryptocurrency, joining a crypto ad network is a great way to start.
These networks connect businesses with individuals who are interested in investing in cryptocurrency. You'll earn a commission on any investments in return for advertising for these businesses. So not only can you learn more about the world of cryptocurrency, but you can also earn money while doing it. Crypto ad networks offer a unique opportunity for anyone looking to get involved in the exciting world of cryptocurrency.
Also Check