Why do you need the cheapest email marketing? Being engaged in a business not only costs all your efforts and efficiency but, at the same time, also cost your intelligence. The main focus of any business is to create more and more customers. To do the same, one should have very good marketing skills.
One of the most significant services to be outsourced is 'Marketing'. Out of various marketing services, online marketing is the one that works really well nowadays. To be able to do the best internet marketing, there is a need to have a trustable as well as a responsible email marketing service provider company that would be able to send your newsletters to attract as many customers as possible. So, here are some of the cheapest email marketing services providers that would help you save money on marketing over emails.
"The aim of marketing is to know and understand the customer so well the product or services fits him and sells him."- Peter Drucker
The Best Email Marketing Tools in 2023

Get $50 to use SendPulse
SendPulse is the best Email marketing service provider offering not only sending bulk emails to your subscribers but also Push notifications. With a really straightforward pricing, SendPulse stands out with its free plan where you can manage about 2500 subscribers and send them newsletters and push notifications also.
In case you're not sure about the subscriber count or the number of emails you will be sending to your subscribers, you can chose the pay as you go plans. These plans are cost effective and best for business at any scale. I also have a comparison between Sendpulse and GetResponse published on my blog to compare and contrast.
---

Start FREE
Kingmailer is an SMTP server provider, with servers based in the US, India, and Singapore. If you are looking for an SMTP server for your WordPress website, or WooCommerce shop, or any other web application, this may be the best deal out there. For only $9 p/mo you can send unlimited emails and even add unlimited domains. They will host all your email traffic for 45, 90 to 180 days, depending on the package.
How does it work? Just sign up, and start sending after your account is activated. Kingmailer will generate the SMTP credentials for you, that you can plug into your web application.
Some features are: manage multiple domains, monitor your emails reputation, SPF and DKIM authentication, track and analyze performance, monitor email performance in real-time, get detailed statistics on sent and bounce emails.
---
3. Omnisend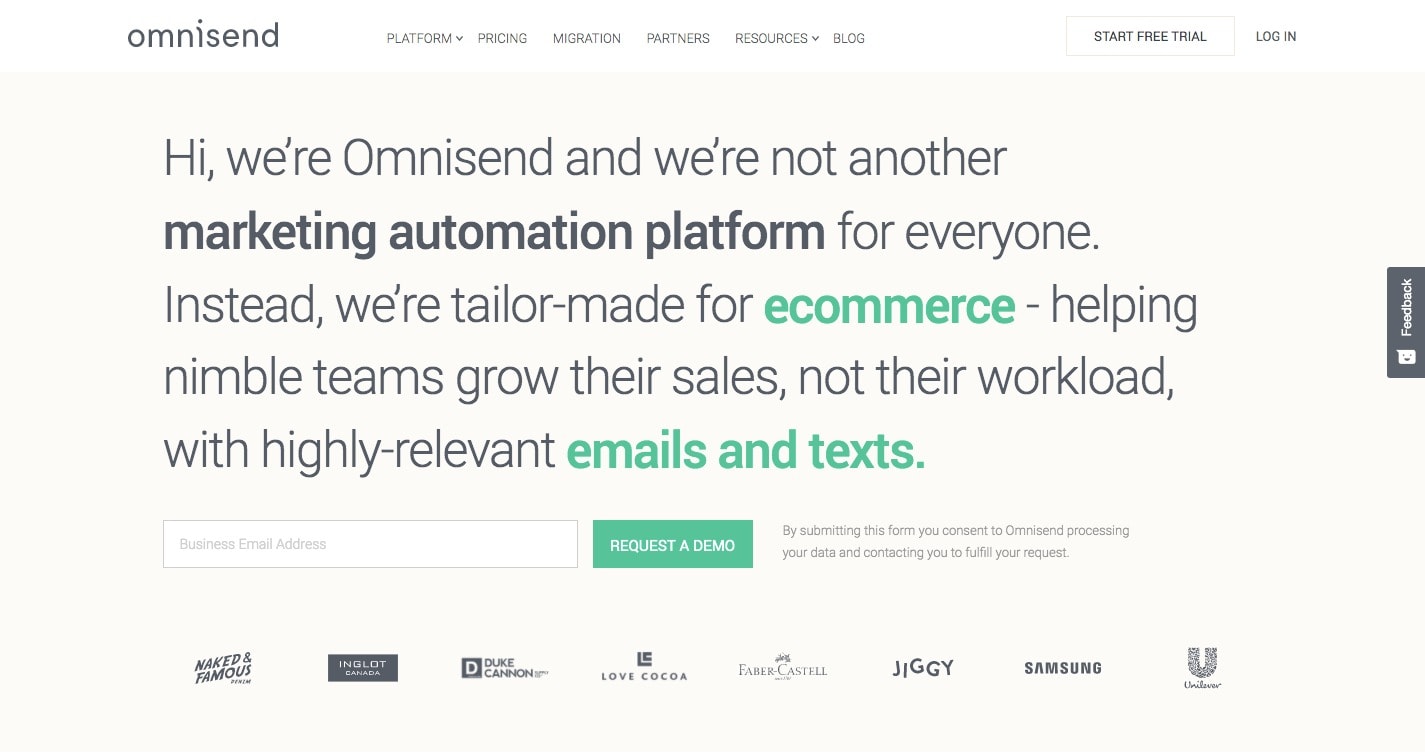 Unlike other email marketing platforms in this list, Omnisend isn't for just anyone. Specifically created with eCommerce in mind, Omnisend offers features that are unique to selling online using email marketing. With easy to use automation and quick-use templates at your disposal, getting operational is a matter of a few minutes.
However, Omnisend doesn't stop at email marketing. You can add SMS and push notifications directly to your automation workflows, meaning you can use more channels to reach your customers at the perfect time in their purchase journeys. Omnisend's Standard plan starts at $16 per month and is based on your number of subscribers, and you can try out any paid
Omnisend plan free for 14 days.
4. SendinBlue
Talking about various online marketing service providers, sendinblue is one of such service provider that serves with the price any businessman can afford. With its multiple features such as RSS to e-mail, email analytics, and stats for the same, it manages subscribers and much more at cheap prices.
The payment procedure goes with the advance payment to the number of subscribers you want to send emails. The advance package goes from monthly, quarterly to annually payment. On another side, up to 10,000 subscribers will be managed for $69.
5. MailGet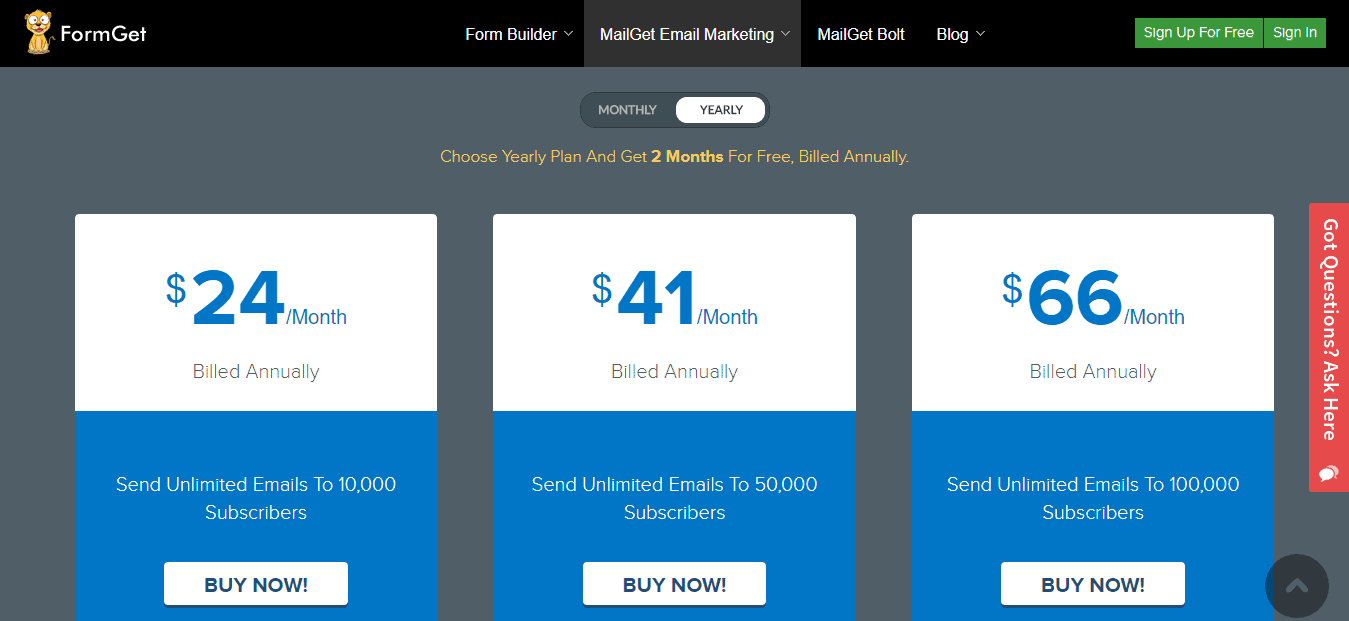 To make you e-mail service powerful and strong in marketing, Mailget will provide you affordable and cheap services. Being a fully hosted service provider, there is no need to get conscious of managing strategies. Also, the service comes with different features such as e-mail schedule, Drip your emails, multiple SMTP integrations, Google analytical integration and much more.
The fees of the service depend upon the number of e-mails you want to send. Starting from $0.10 per 1000 emails it goes on to different packages that would be preferred by you.
6. Moosend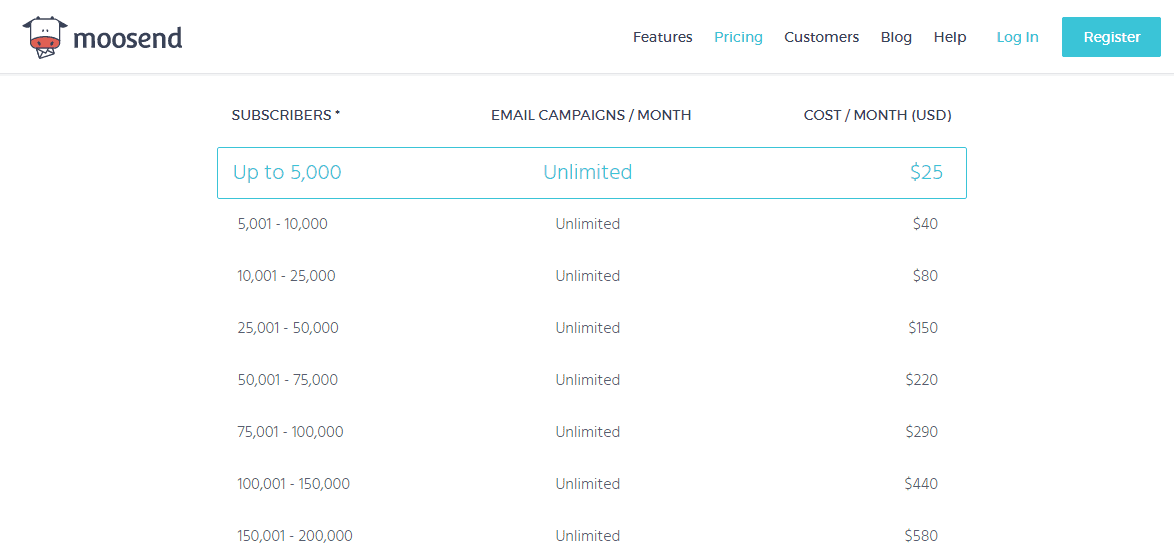 Moosend may not be as famous as the other sites but it provides equally responsible services with the cheapest price of all. It provides all the services required and, at the same time, comes with both SMTP (Simple Mail Transfer Protocol) as well as API (Application Programming Interface).
It offers payment for a period or else goes with the package that works with the number of subscribers. The package starts from 5,000 subscribers for $40 as the cheapest and goes till 8,00,000 subscribers for $2320.
7. iContact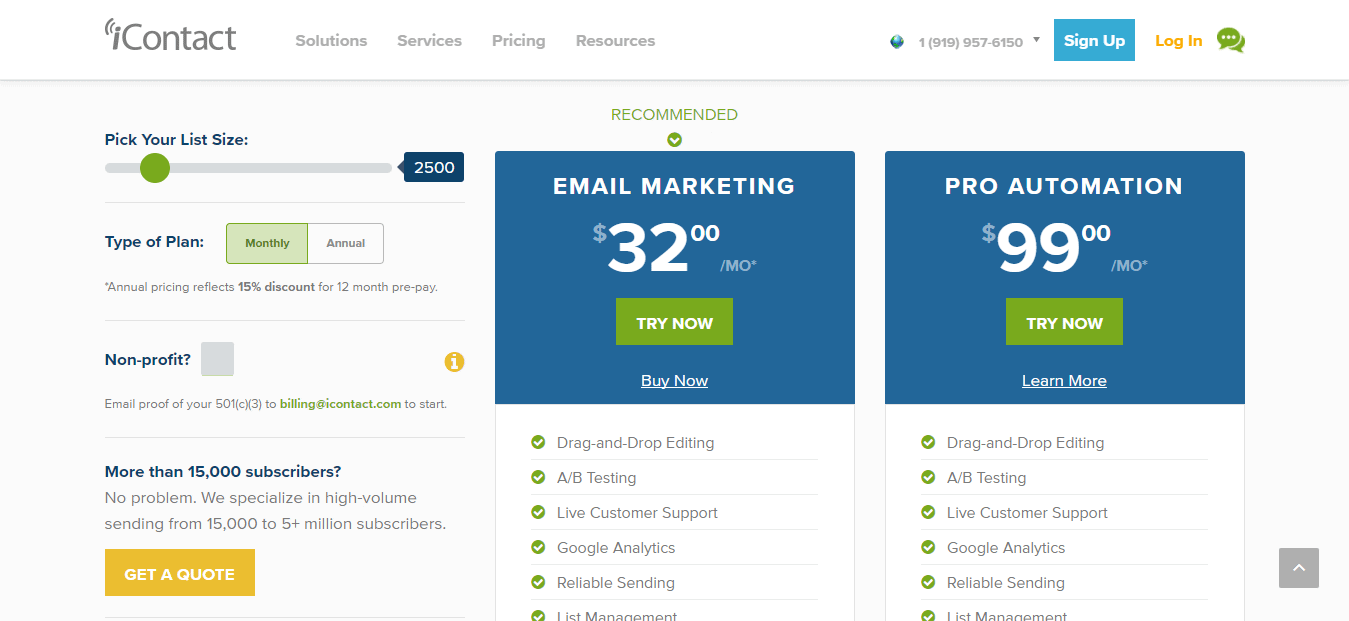 Coming with the services such as online survey, third party integration, A/B testing (comparing two pages for better knowledge), autoresponder and much more, iContact make its mark on the list of most reasonable and best marketing service providers.
The payment matter depends upon the number of subscribers you want to send emails. The payment starts from $10 for 250 subscribers, $74 for 10,000 subscribers and goes on with the increased list that will be given suitable package by the service provider.
8. Mailchimp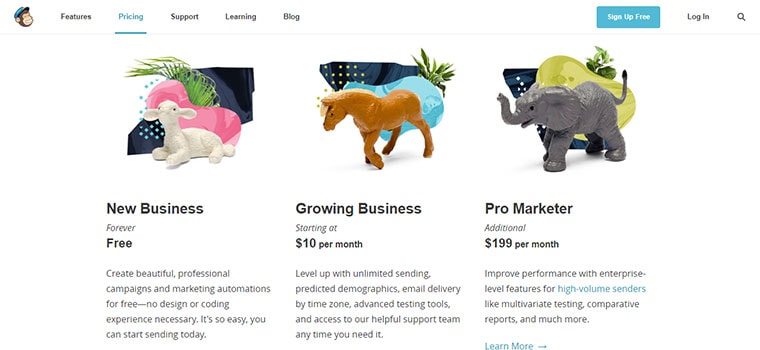 In the list of cheap and best email marketing service providers, Mailchimp has its own mark. As the cheap service provider, it comes with the services such as A/B testing (comparing two web pages), analysis and statistics, RSS to e-mails and much more.
The packages provided by it comes with three different plans, entrepreneur, growing business and high volume sender and all these depend upon the number of subscribers. Up to 2000 subscribers, it provides free service up to 12,000 e-mails and starts with 500 subscribers costs $10.
9. Freshmail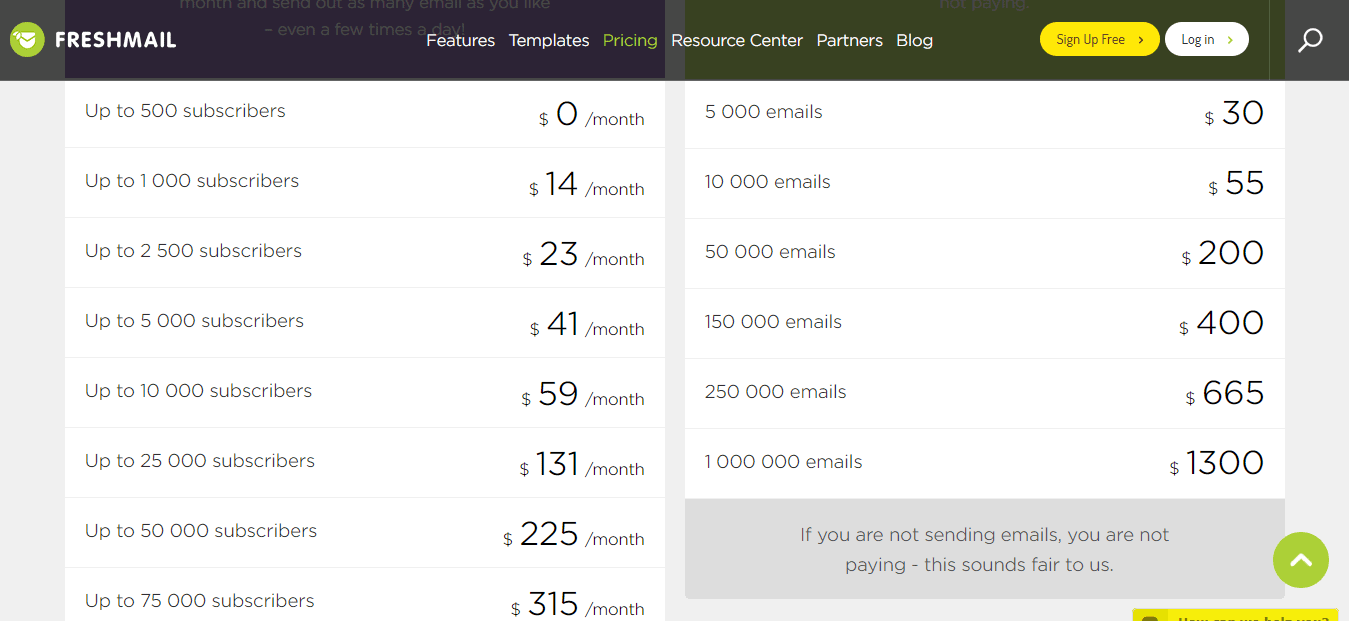 Comes with the impressive features, like A/B testing, messages with optimized time, auto response and much more, in just the price that seem modest to the users.
The service starts as free for first 500 subscribers and starts with the payment of $14 per month. Freshmail also offers various discounts, offers, cashback and retail services to provide what is best for the user.
10. Benchmark Email

This service works best for the people you are do not know anything about designing as it works with WordPad document as the matter of simplicity and to be on streamline.
One can customize emails from facebook, twitter, or any social media platform which can also work as internet survey to serve best in marketing. The service is free for up to 14,000 e-mail to 2,000 subscribers and payment starts with $11.95 for every 600 subscribers.
11. Sendloop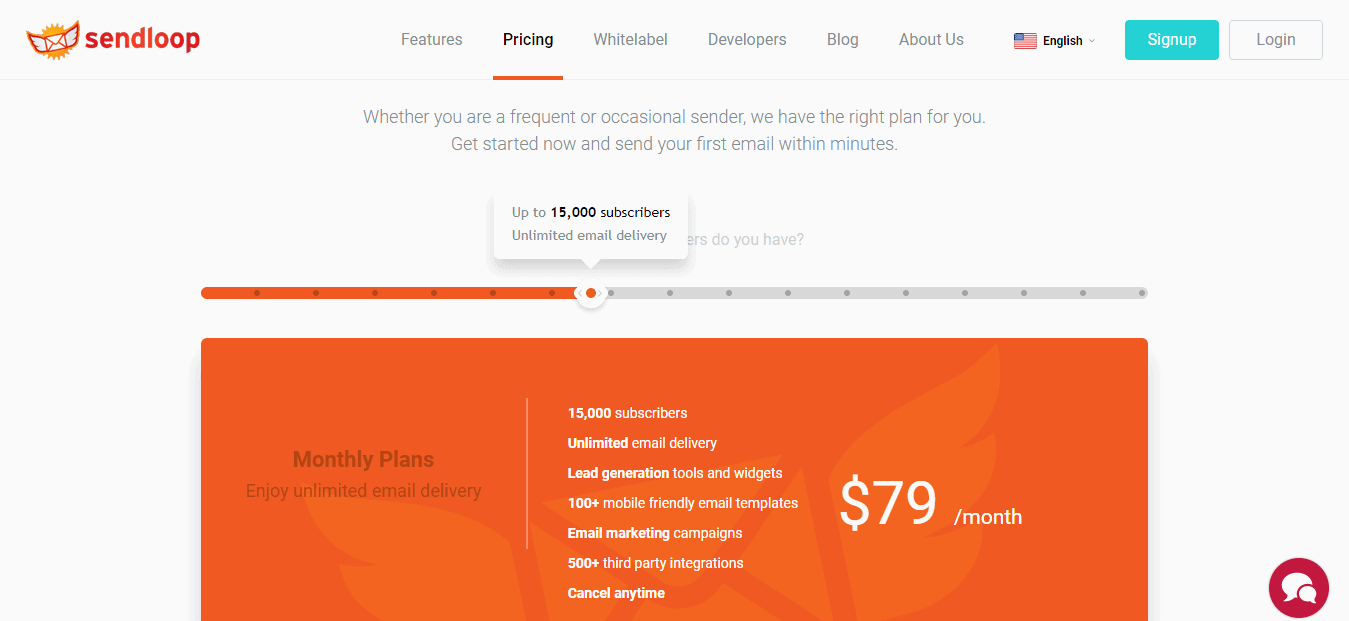 How can one forget Sendloop when it comes to the best and cheap online marketing service provider?
It provides the easiest way of sending newsletters through e-mail. It works with the services such as different application integration, list management, survey, campaign and much more with the reasonable price.
Being an API developer, Sendloop offers e-mail service for up to 500 subscribers for $9 per month. One can also go with the package that depends on the number of e-mail you want to send such as $10 for 1,000 e-mails. Isn't it less than a coffee for you? That's why its here in the cheapest email marketing providers.
12. Simplycast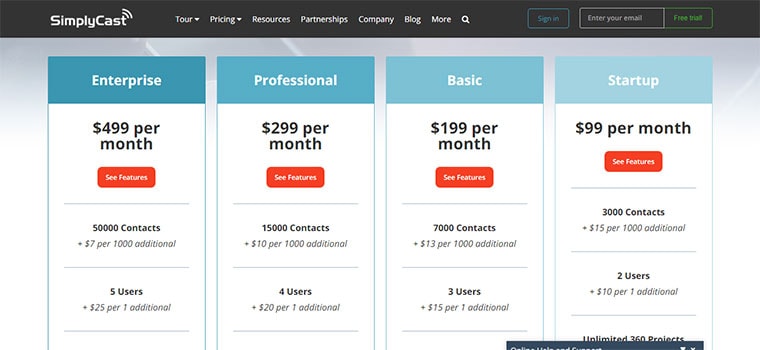 SimplyCast provides its services with the use of custom templates, holding the campaign, keep sub-accounts and cross check to make sure user doesn't miss out any important information. It offers its trial pack for the beginners that works with 3,000 e-mails for free. The payment attracts the users as being the most adorable price.
13. Mailget bolt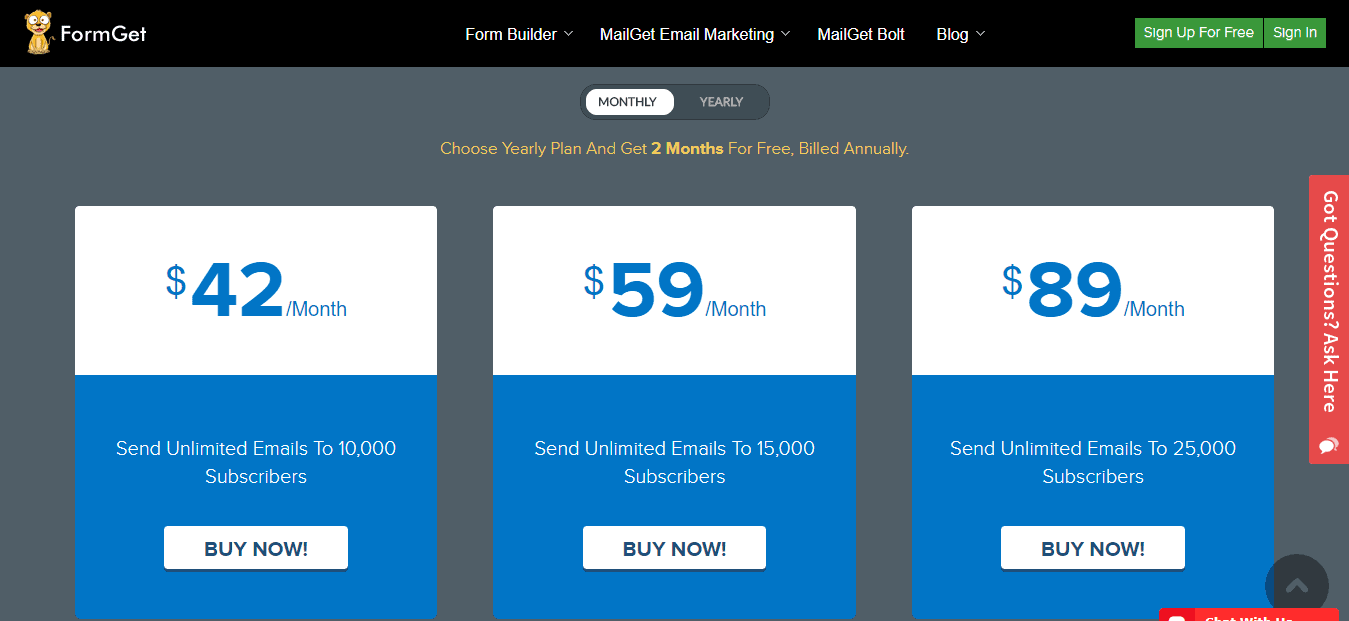 Looking for something that can work clearly to send e-mails in bulk to all the customer, than Mailget bolt is the thing you should go for. The user does not have to connect with any SMTP (Simple Mail Transfer Protocol).
All you have to do just verify your mail and start with the work.
At the start, you can go for the free trial package that would provide you email service up to 9000 e-mail per month. After that, the paid package will start with $40/month.
14. Constant contact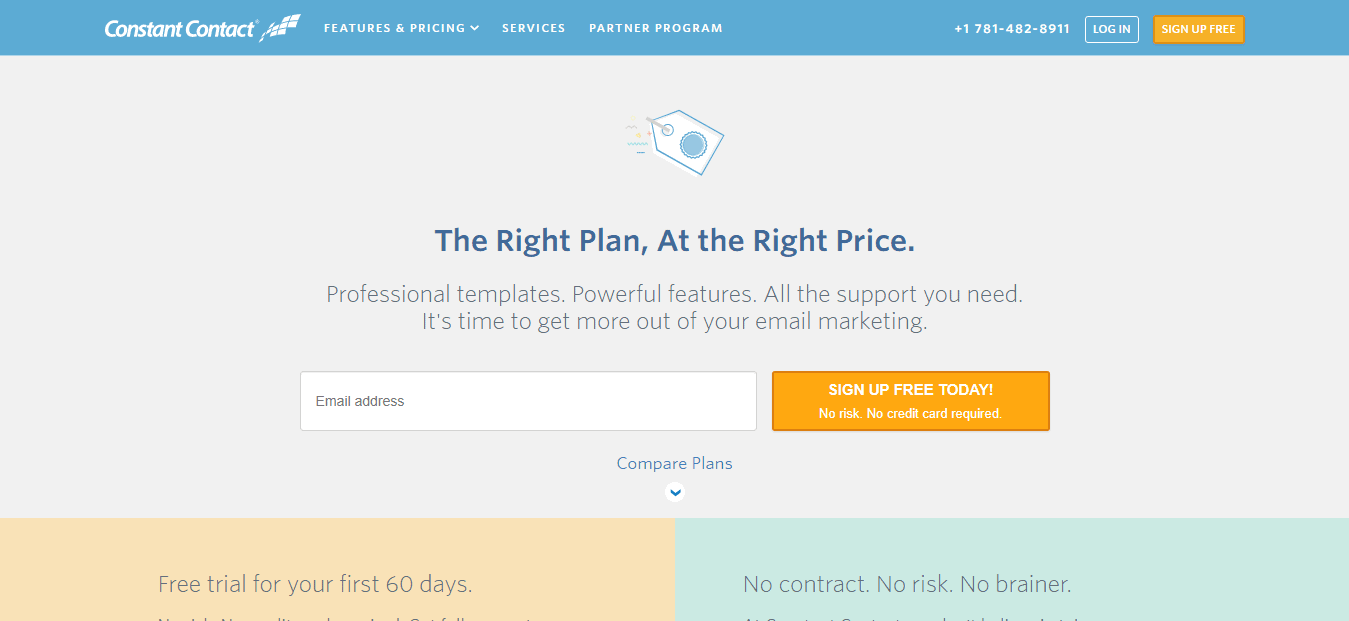 With the great online marketing skills, Constant Contact works as the solution for making emails turn out into revenue. It comes with a number of features, like analysis, support and responsible for the emails, in just the price you want. Like all the service providers, it goes with the number of subscribers you want your marketing to reach.
Starting from $15 for 500 subscribers and goes to $85 for 10,000 subscribers. Apart from the payment, the service provider also provides various offers, discounts, and money back services for the betterment of the user.
15. Cakemail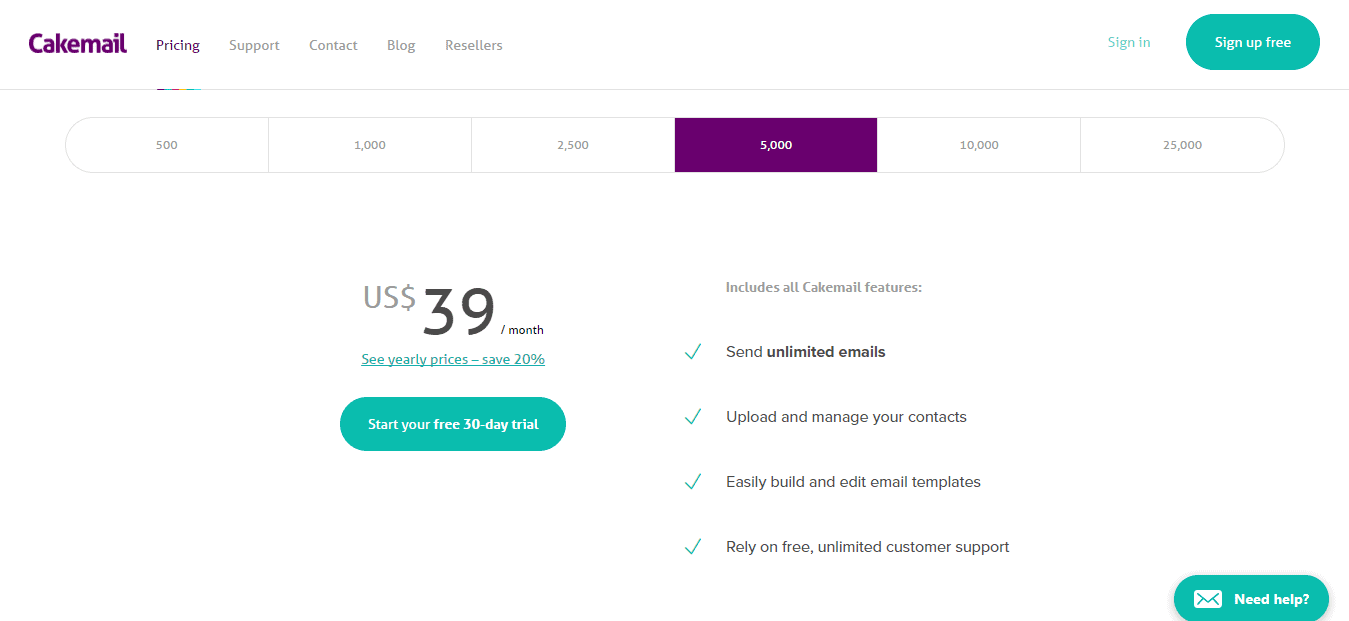 Another service provides that provide the e-mail services with responsibility and in less time, Cakemail comes with different features such as list management with ease, analysis, statistics, work with support and much more. Through such services, users enjoy easy, simple and quick e-mail sending.
The pricing starts from $8 for every 500 subscribers and goes on to 25,000 subscribers for $119 and for above that, you need to have a special package. The users have experienced full of fun. Also, Cakemail post emails without its logo on it.
16. Streamsend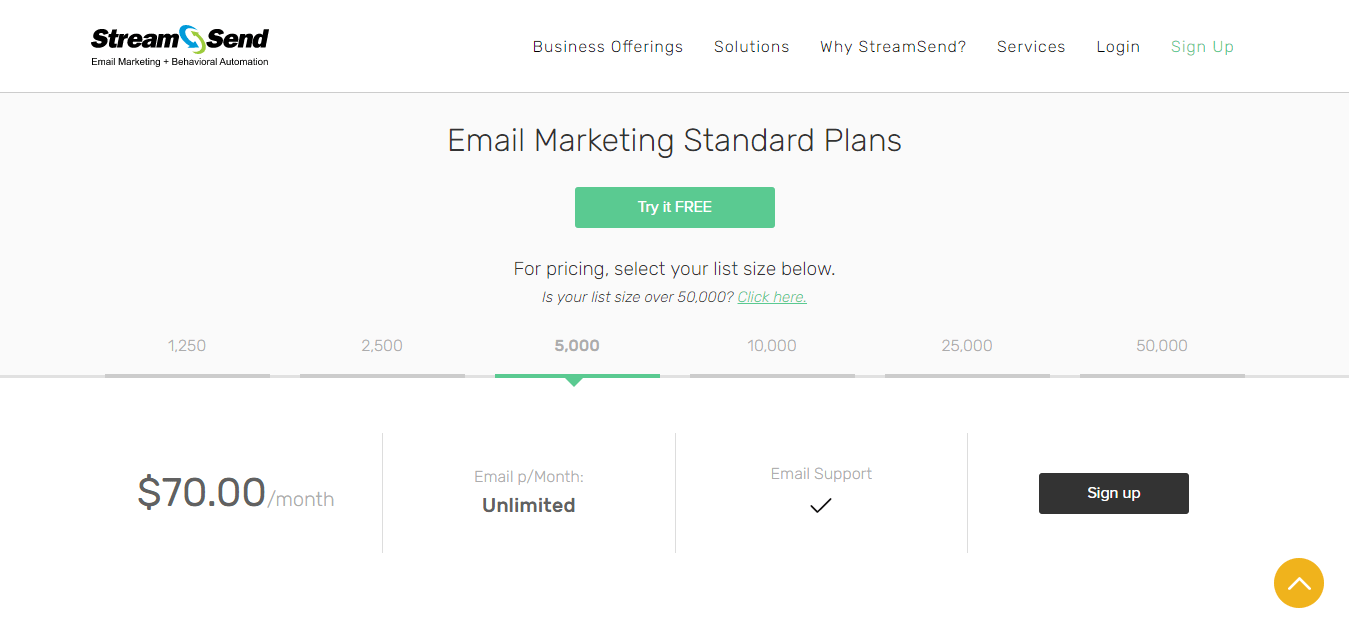 Streamsend is known as one of the best e-mail marketing service providers which also work with as less price as possible. The service provider works with the feature of opt-in and opt-out function, efficient list management including movement of contacts and much more.
The payment starts with the plan of $19.90 for up to 2,000 e-mails and goes on till unlimited emails. One can also use its trial pack that works free for the period of 30 days.
17. Emma
Comes with ready- made templates and cool visuals, Emma is known as one of the best e-mail marketing service provider that serves with the reasonable and cheap price. Emma works with trends because the surveys it makes in few intervals and provides the best information through its marketing skills.
The pricing for such services starts with $45 for every 2,500 subscribers with 15,000 emails and goes till the payment of $119 per month for unlimited sending e-mails to a number of subscribers.
18. GetResponse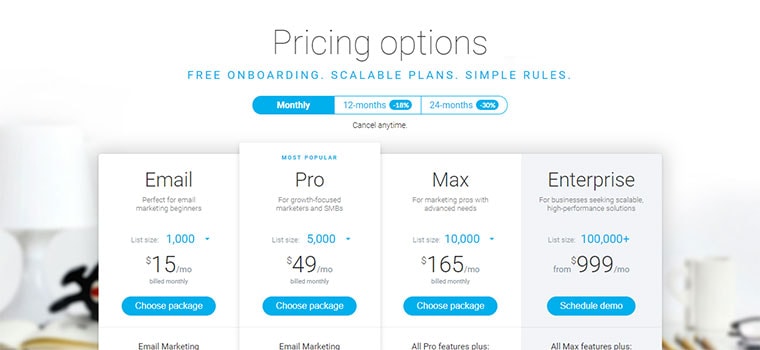 Being at peak of all the cheap online marketing service providers, GetResponse is a responsible site that provides its best services in the modest prices. Like all the other service providers, t comes with the features such as auto response, creates e-mail, compare pages, manage the list with care and much more.
Of course, the payment goes with the number of subscribers which starts with $15 for 1,000 subscribers and goes till as many subscribers as you want to show your skills to and with the special package for increased number of subscribers.
Which company gets the Cheapest Email Marketing Provider tag? Over to you.
After talking about so many service providers that would spread your business world through their e-mail marketing, have a wonderful experience for of easiness with just the price you are ready to pay. Rely on such service providers to stay in contacts with your dear subscribers, go for the best one and see the power of online marketing.