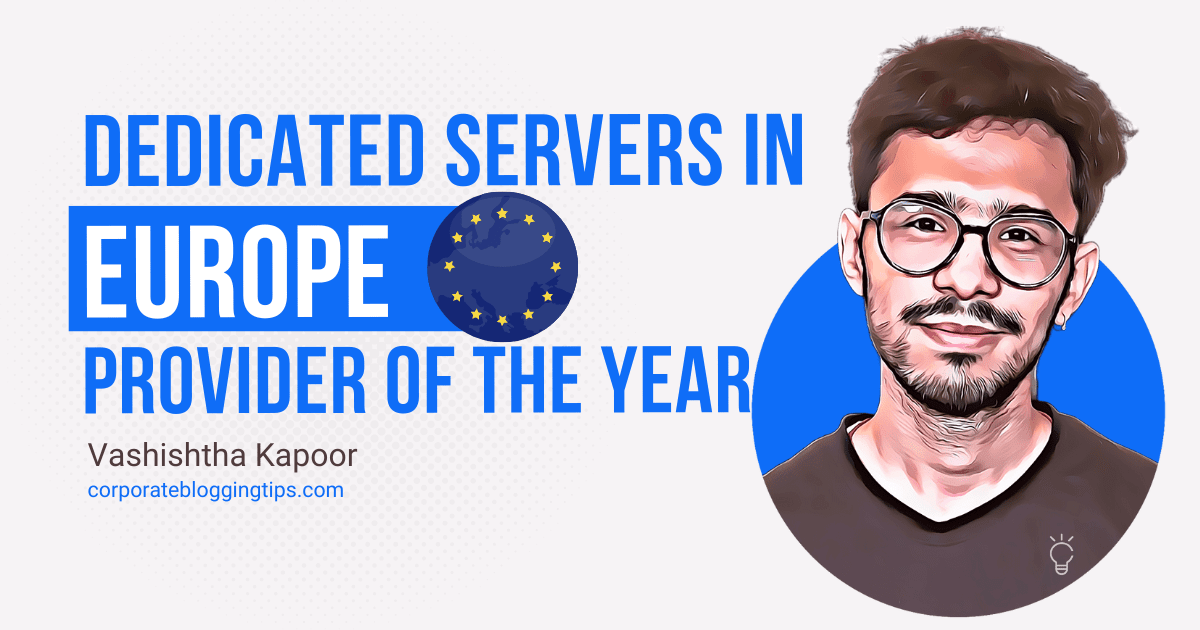 Are you fed up with the slow loading speed of your website and using shared hosting where the server space is used by several others?
Then it's time to switch your hosting solution. In this post, you will find the best Dedicated servers in Europe and get rid of the slow loading speed of your website.
List of Best Cheapest Dedicated Servers in Europe
My Favorite

Contabo

Contabo offers german-quality servers at the best price you can ever get from anywhere.
Contabo is one of the big names for dedicated server hosting in its 19 years of industry experience. Build up German technology that helps your server run smoothly and speedily.
It comes with very reasonable and affordable pricing compared to the other server hosting platforms. It has its server's global availability, which includes 5 regions and 8 locations.
Contabo has more than 1,30,000+ satisfied customers worldwide with 2,75,000+ servers running across different regions.
Contabo Pros and Cons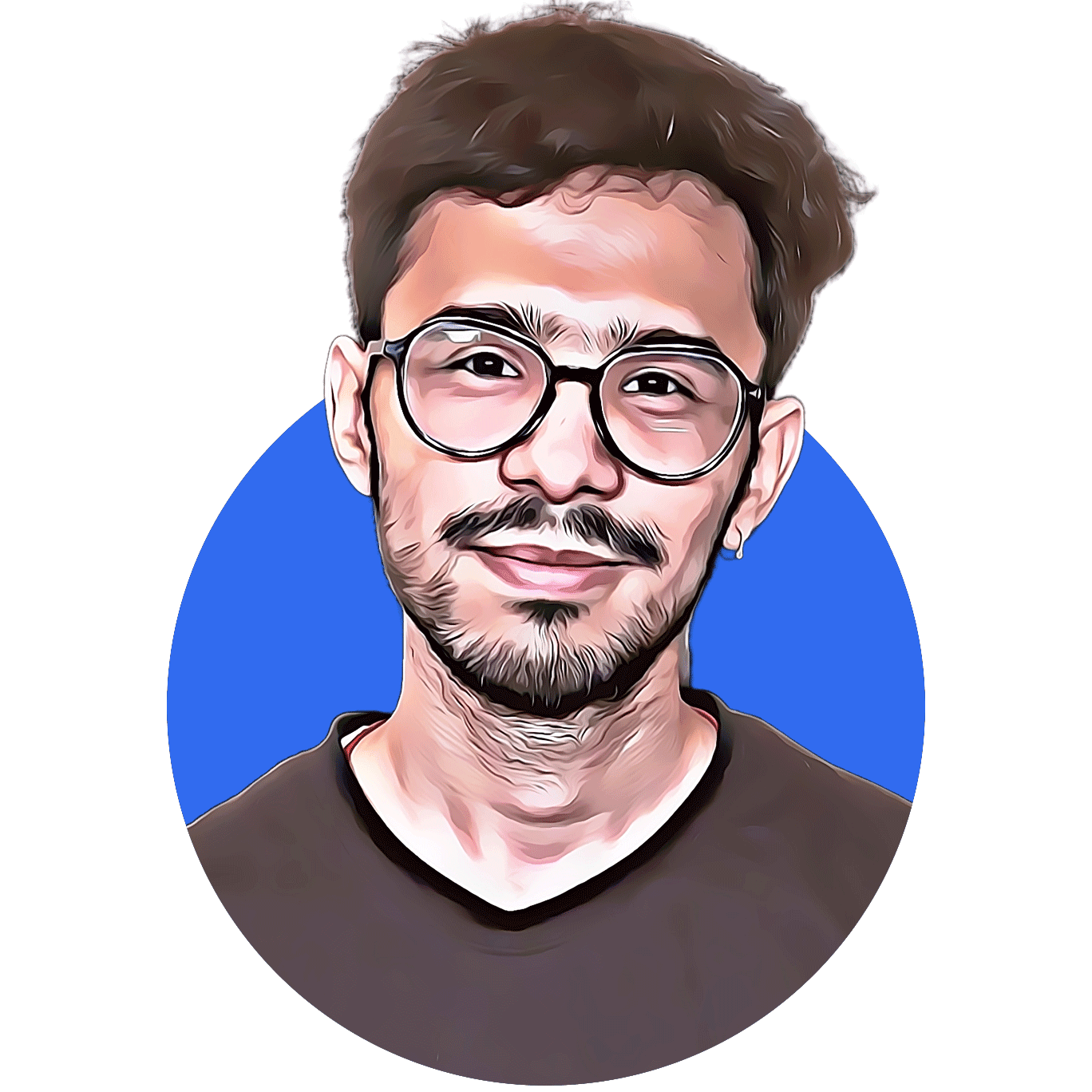 The Good
99.99% network uptime
14 days Money Back Guarantee
Fast setup time
Competitive pricing
Start at less than $7 per month
FREE DDoS and virus protection
Bare metal servers with no noise and virtualization
The Bad
No Live-chat support

Not Instant Setup

Limited Bandwidth
First-class customer support with 64 highly trained support specialists to support you 365 days. Bare metal dedicated servers with individual configuration and total control.
More than 1,30,000+ servers worldwide. A wide range of Operating systems and control panels are available.
Competitive prices in comparison to any other dedicated server. For those who need plenty of computing power with 100% control over the server, Contabo is the best choice.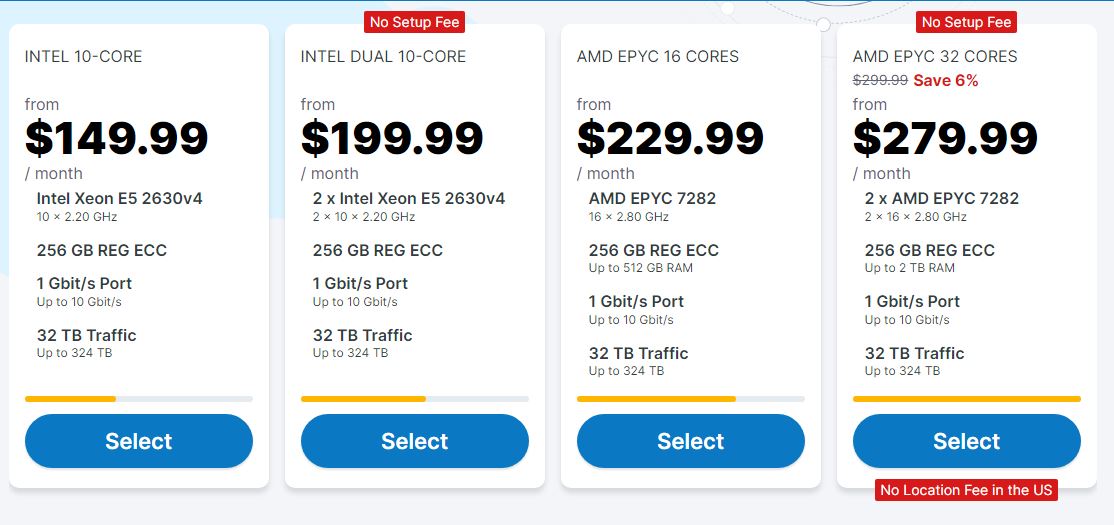 BlueHost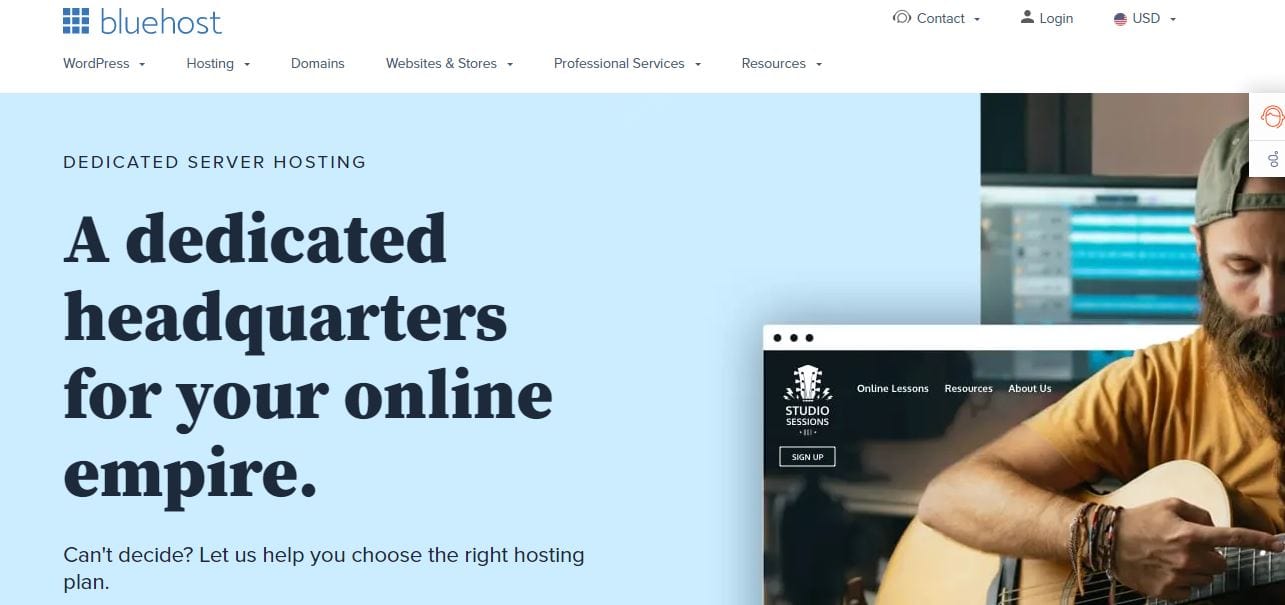 Bluehost is the leading hosting company founded by Matt Heaton and Danny Ashworth in Provo, Utah in 2003.
Bluehost is one of the hosting industry's oldest and most influential brands. Bluehost hosts more than 2M websites worldwide and has more than 750+ customer support individuals.
You get a free domain, free SSL, and more with Bluehost shared hosting plan. Once you outgrow the traffic allowance on shared hosting, you can easily upgrade to their VPS and dedicated server options.
PRICING:

There are 3 plans available in the Bluehost for a dedicated server:
Standard plan which comes

@79.99$

per month with CPU – 2.3 GHz, 4 Cores, 4 Threads, 3 MB Cache, RAM – 4 GB, RAID Level 1 Storage – 2 x 500 GB, Network Bandwidth – 5 TB, Free Domains – 1, Dedicated IPs – 3 and cPanel & WHM with Root.

Enhanced Plan comes

@99.99$

per month with CPU – 2.5 GHz, 4 Cores, 8 Threads, 8 MB Cache, RAM – 8 GB, RAID Level 1 Storage – 2 x 1000 GB, Network Bandwidth – 10 TB, Free Domains – 1, Dedicated IPs – 4 and cPanel & WHM with Root.

The premium

plan is for the high-performance sites @119.99$ per month,

which includes CPU – 3.3 GHz, 4 Cores, 8 Threads, 8 MB Cache, RAM – 16 GB, RAID Level 1 Storage – 2 x 1000 GB, Network Bandwidth – 15 TB, Free Domains – 1, Dedicated IPs – 5 and cPanel & WHM with Root.
NameCheap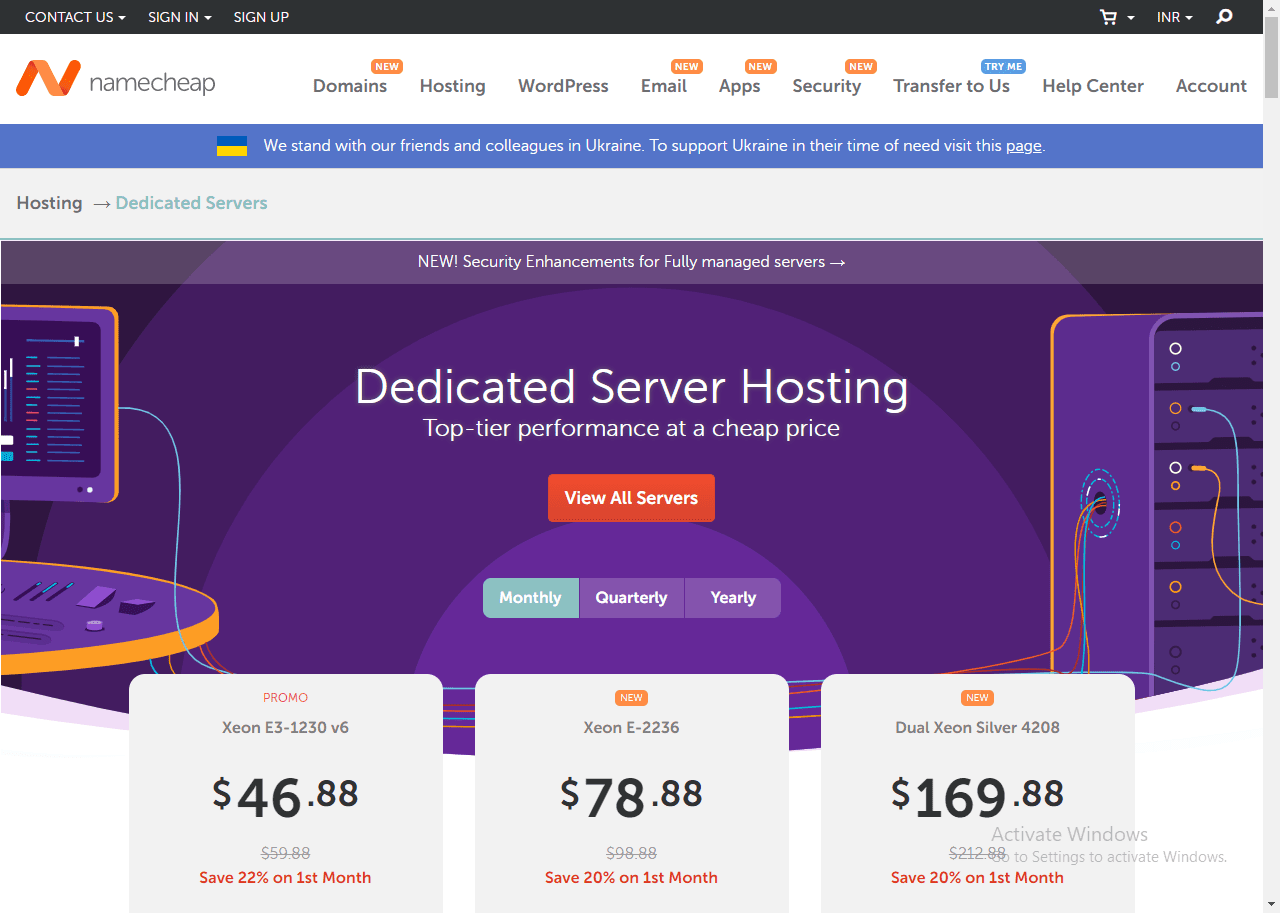 NameCheap was founded in 2000 with a vision to provide the best domains at the best price and best services.
It expanded across 18 countries with more than 1700+ users worldwide. Managing more than 15M customers around the world.
It is one of the best web hostings that offers cheap and fully featured hosting. It is inexpensive, runs malware scanning always when needed, and automatically takes the daily backups.
You get free server migration to the NameCheap without bearing any additional cost. You can manage your server according to your needs and how you like. You can choose from the 3 options User-responsible, Basic or complete.
Airtight security is provided by which you will never face any issues. Forget about slow loading because servers operate on a Cisco/Juniper-powered network connected to Level3, Highwinds, HE, Cogent, and Integra, which can handle any traffic.
The data center is hosted in the PhoenixNAP data center, located in the US, along with 24/7 customer support available.
PRICING:
The Pricing is divided into 3 categories for Dedicated server hosting: Monthly, Quarterly, and Yearly. Certain price bands differ according to the different processing units. Just refer to the given images to know how the pricing plays a role.
These all come with additional benefits such as Same-Day Setup, Free Migration, and 99.99% Uptime.
All the configuration stated in the monthly pack is the same as the quarterly and yearly plans.
MONTHLY: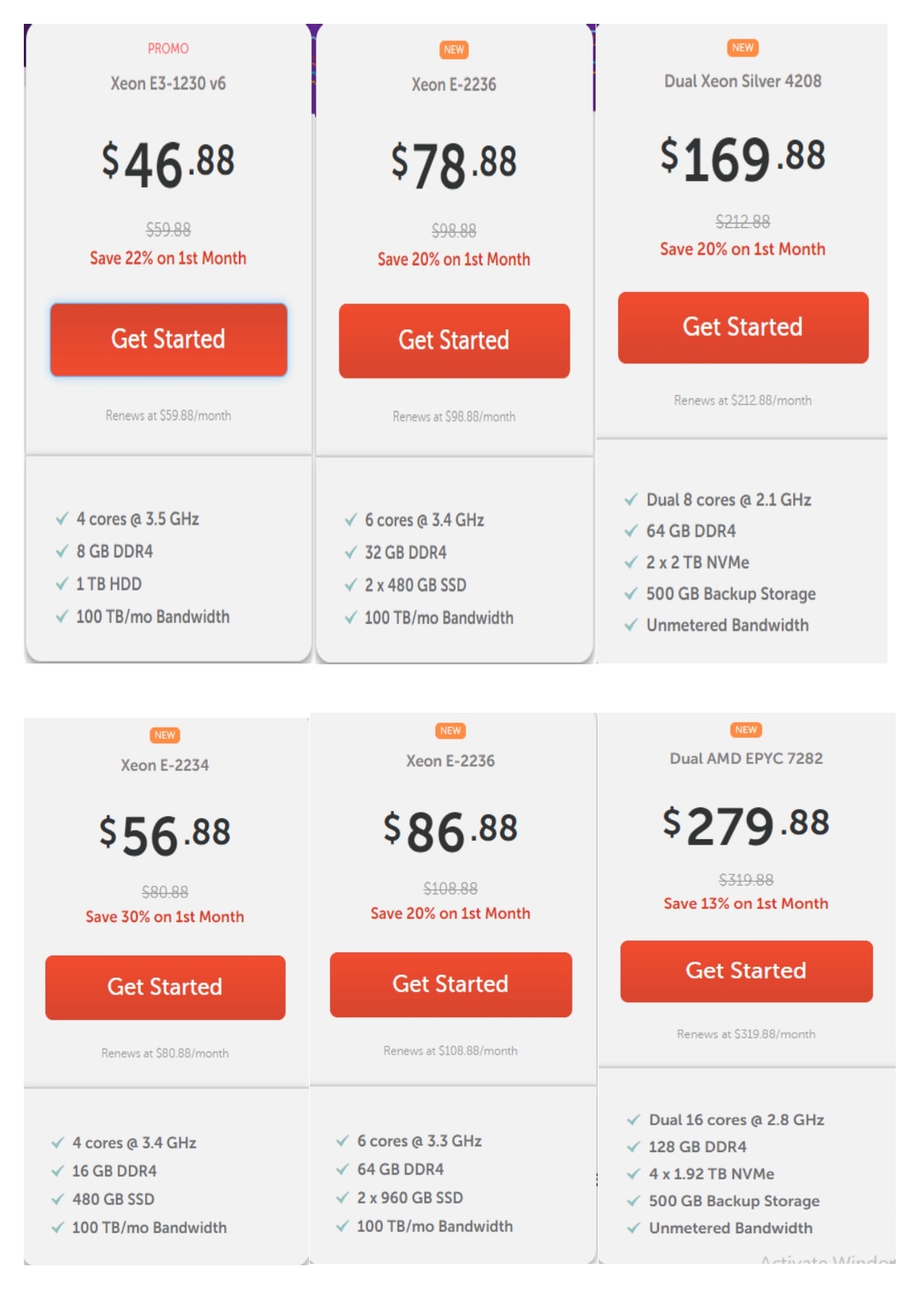 QUARTERLY: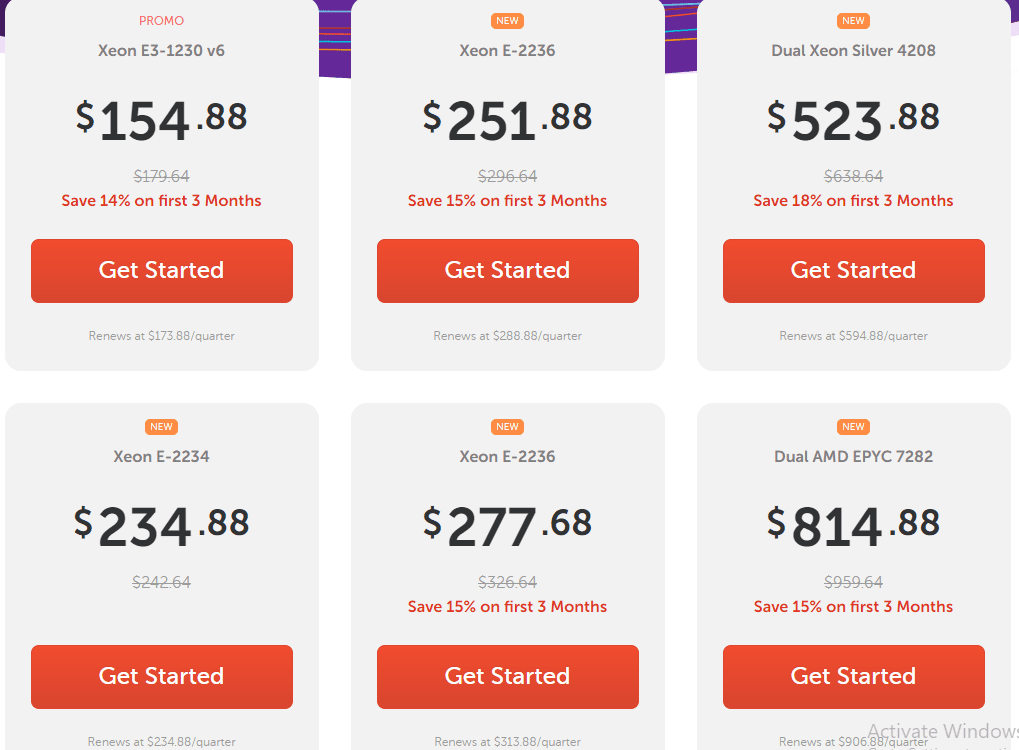 YEARLY: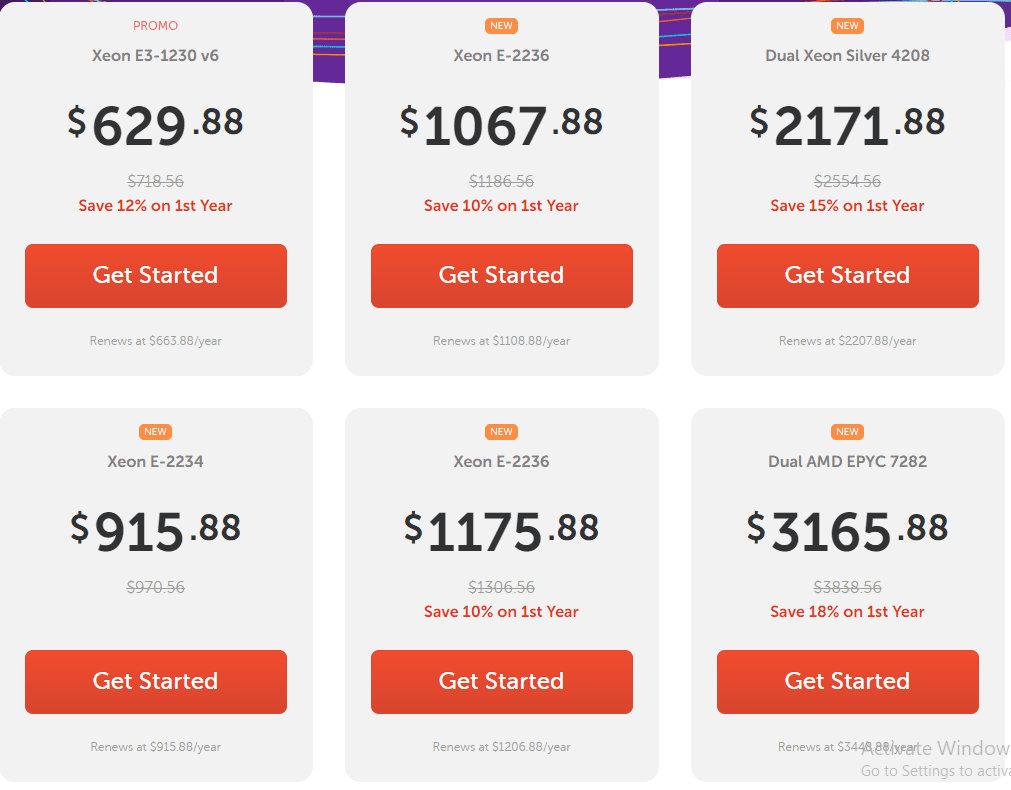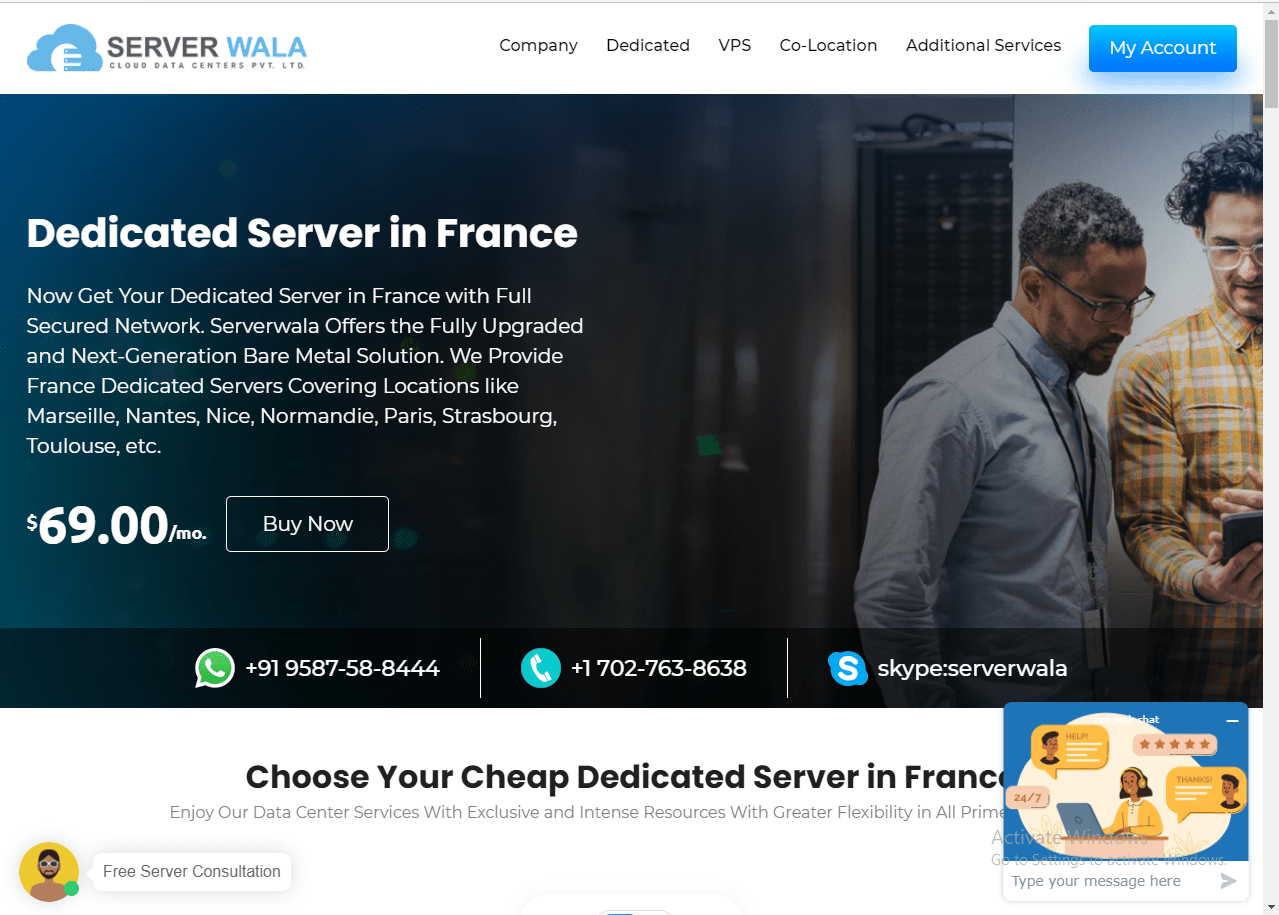 ServerWala Offers the Fully Upgraded and Next-Generation Bare Metal Solution. Dedicated servers play a very important role in any business or organization to set up independent servers for their website. It is one of the best Dedicated server providers across the globe.
ServerWala Cloud Data Centers are located in various locations. Some are in North America, South America, the Middle East, Africa, Europe, Asia Pacific, and China.
Bare metal dedicated server supports RAID Hardware such as RAID 0, RAID 1, RAID 5, and RAID 10. They come with the fastest network i.e. 100 Mbps to Gbps bandwidth.
Best Dedicated server helps to create Private server clusters using 10Gbps virtual LAN subnets. It has a robust network amongst the multiple internet exchanges such as Extreme IX- Bandwidth, DE-CIX, and NIXI, the industry leaders.
Their Bare metal dedicated server includes IPv4 and IPv6 addresses. Also, their server offers a 100% uptime guarantee to experience a high level of network uptime.
PRICING: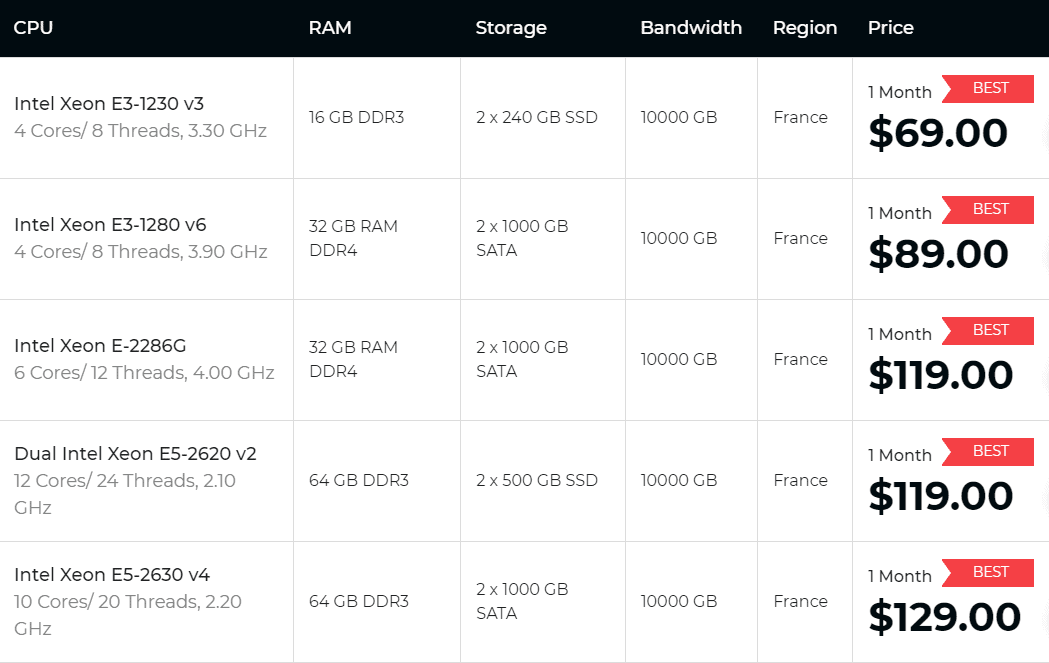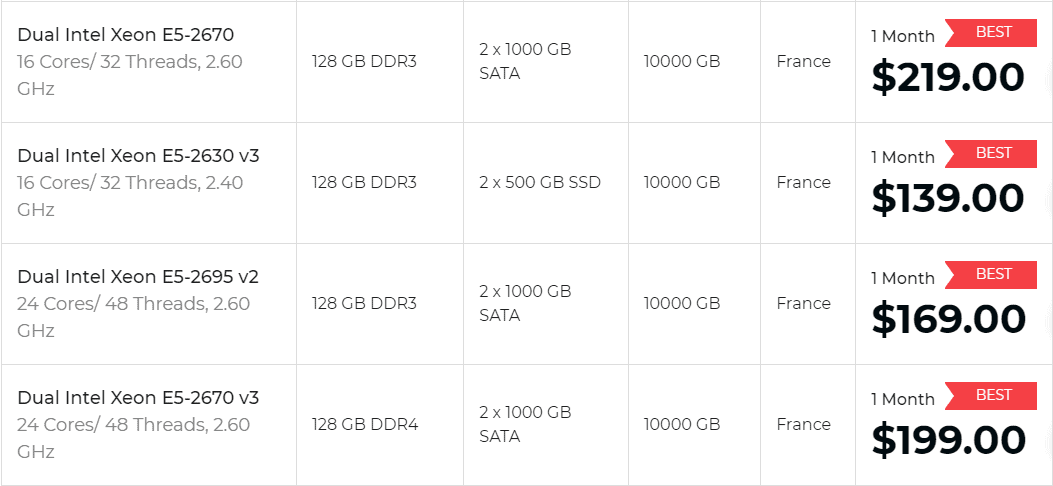 There are 9 servers available, and according to the processors, the price range varies. These plans come in 4 structures monthly, quarterly, half-yearly, and Yearly.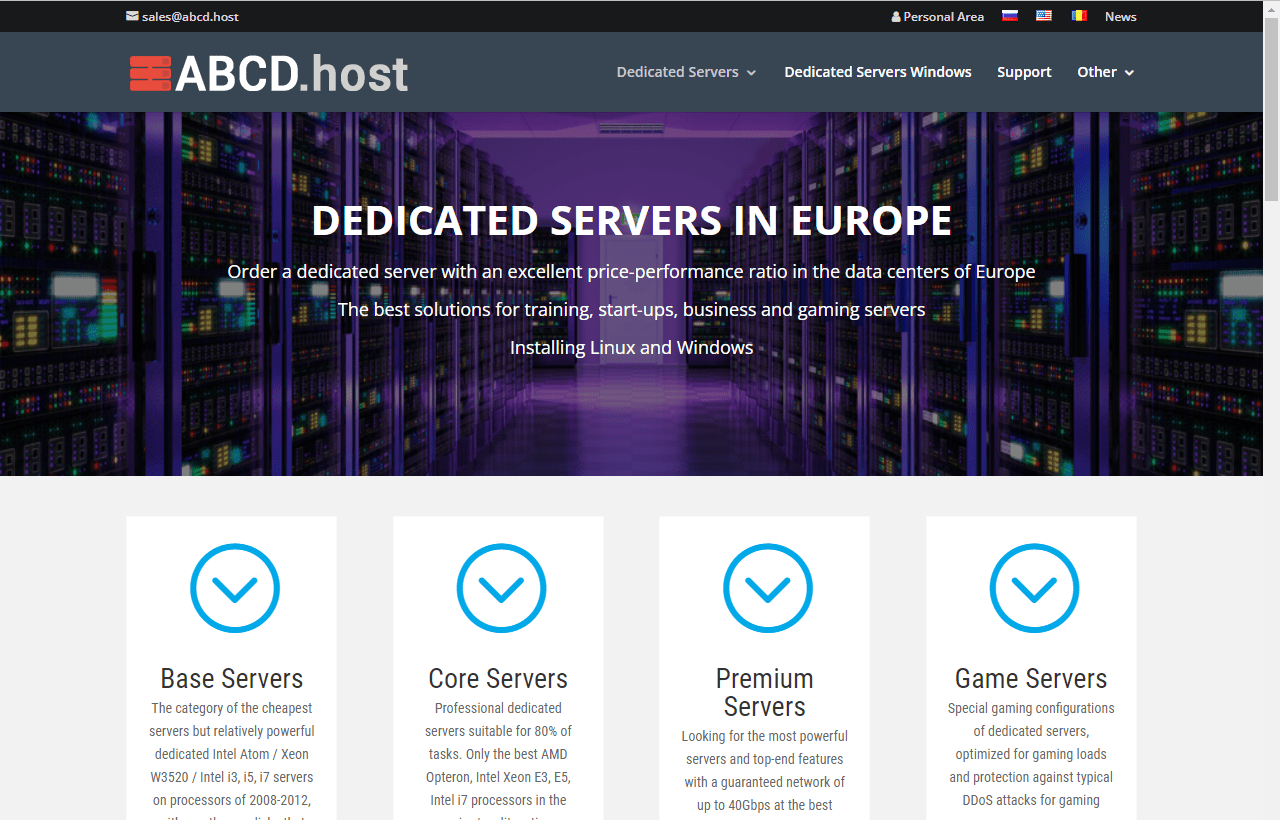 ABCD.host offers a wide range to choose from any of the data centers in Europe, starting just at 19 euros per month.
All dedicated servers are well equipped with reliable DDoS protection, automatically activated when your network is under a DDoS attack.
The most affordable and qualitative offer and best service are guaranteed. All servers are under monitoring and maintenance 24/7 at the data center level, so it's very much reliable.
Guaranteed uninterrupted network and server operation with 99.9% accuracy. Their dedicated servers offer a network bandwidth of 100 Mbps to 40 Gbps.
PRICING: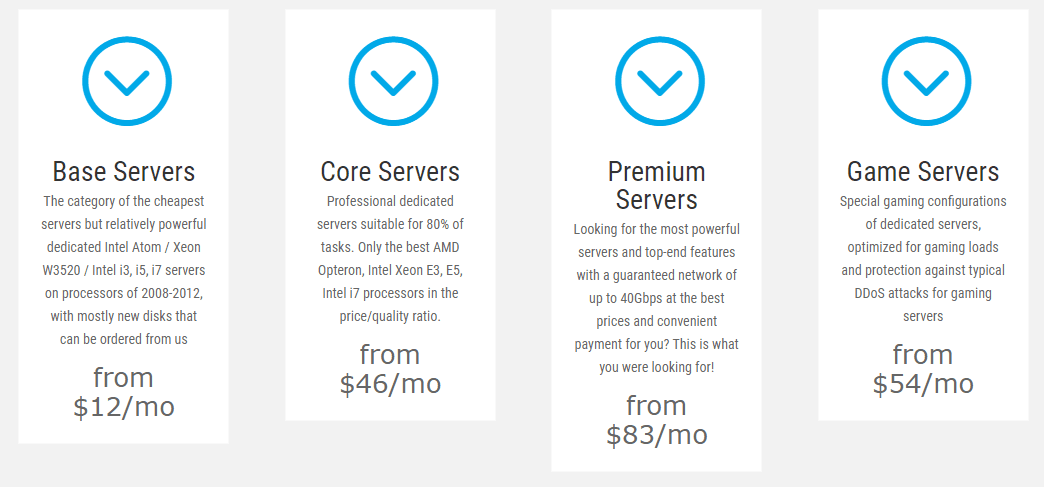 There are 4 types of the pricing available according to the different levels and advancement of the given servers:
The 4 servers are:
Base Servers:
The category of the cheapest servers but relatively powerful dedicated Intel Atom / Xeon W3520 / Intel i3, i5, i7 servers on processors of 2008-2012, with primarily new disks starting from 12$/month.
Core Servers:
Professional, dedicated servers suitable for 80% of tasks. Only the best AMD Opteron, Intel Xeon E3, E5, and Intel i7 processors in the price/quality ratio, which starts from 46$/month.
Premium Servers:
Looking for the most powerful servers and top-end features with a guaranteed network of up to 40 Gbps, Starting from 84$/month.
Game Servers:
Unique gaming configurations of dedicated servers, optimized for gaming loads and protection against typical DDoS attacks for gaming servers which start from 54$/month.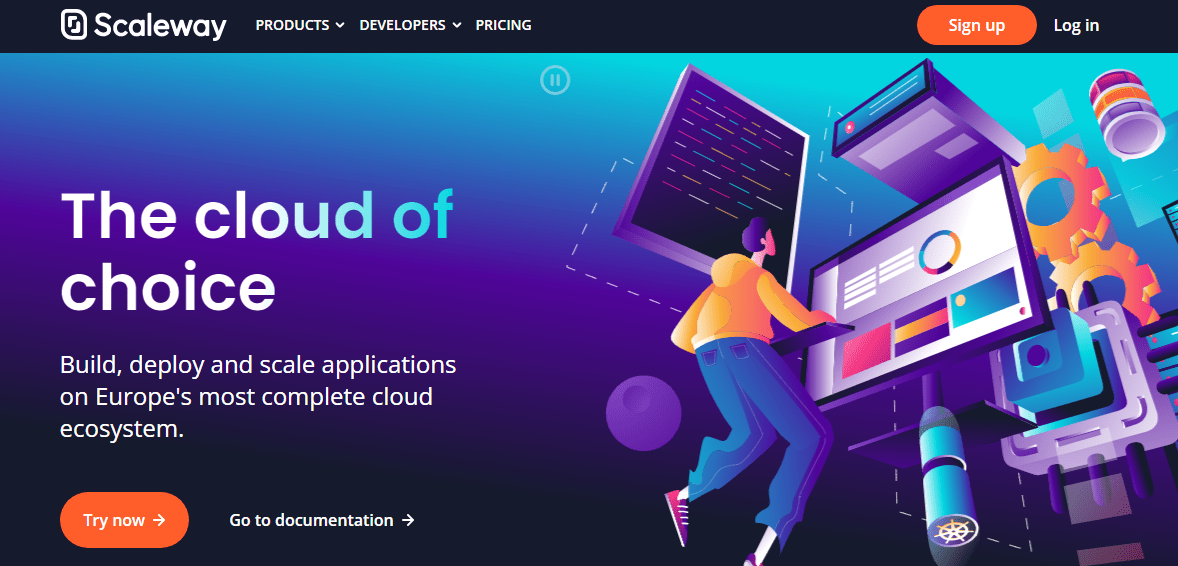 Scaleway is Europe's finest cloud hosting solution provider. The company provides Elastic Metal servers with the reliability of bare metal servers.
With its flexible pricing, you can pay hourly or monthly, and the server deployment takes less than 2 minutes. There is no long-term commitment, and you can stop the subscription anytime.
But if you commit to 12-month monthly pricing, you get your commitment fee back. There are numerous options available depending upon your requirement and budget.
Starting from the Aluminum range, entirely dedicated bare metal servers to the Titanium range for heavy compute requirements.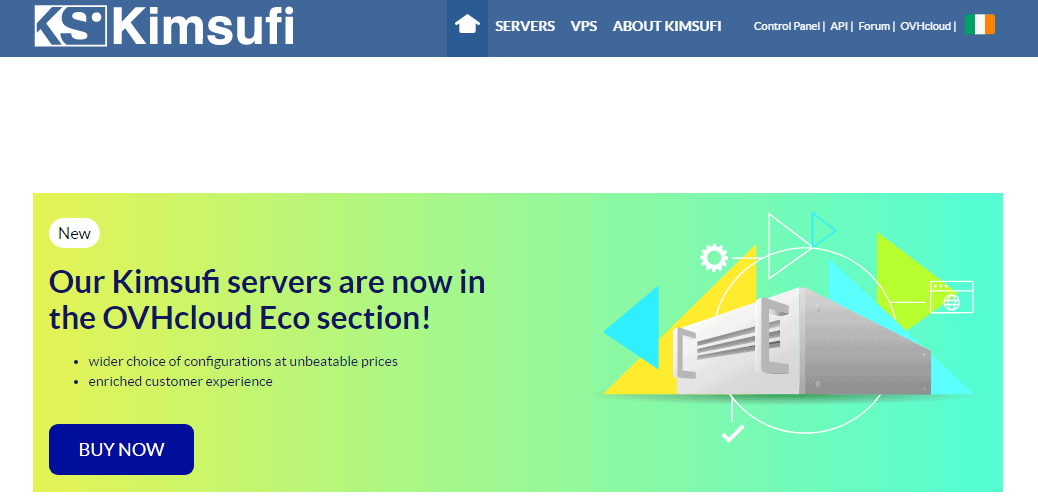 Kimsufi offers wider server configuration choices at competitive pricing in the OVHcloud eco section. The platform has deployed anti-DDoS protection throughout the network.
If your server doesn't respond, Kimsufi's technical team of experts is available 24/7 sitting in different data centers to resolve server-side issues.
In case of electrical failure, there are two electric generators to power up each server for up to 48 hours. Redundant fiber optic connections ensure 99.9% service level agreement.
A simple and intuitive interface allows you to access server resources like CPU, RAM, and storage. With a single click, you can reboot or reinstall your server.

NexyLan dedicated servers are hosted in France and managed entirely by their team. Choose any dedicated server, and NexyLan provides an N-Admin interface to manage your resources at your fingertips.
A dual power supply in case of emergency is ready for backup. All servers are equipped with high-end Intel Xeon/AMD EPYC processors.
There are different server configurations available. This includes Access, Performance, and Madmax. All the three server configurations provide different CPU, RAM, and RAID storage space.
Their team is available 24/7 every day and continuously monitors all of the client's platforms.

Ikoula has been providing hosting services since 1998. The company owns its data center in France, operated by a technical team of 24/7 experts.
Whatever your needs might be, Ikoula has a dedicated server matching your needs with a varied price range. These are specially built for professionals to pick out the best one for their projects.
Starting from affordable servers to refurbished servers, Ikoula has it all. All servers support a wide range of OS, including Windows, Debian, Ubuntu, CentOS, Synology, and VMware ESXi.
A single interface provides billing management, monitoring server resources, and performance. Not all, but most of the servers are configured with RAID storage offering speed and reliability.
KVM over IP allows you to access your server's screen, keyboard, and mouse even when disconnected.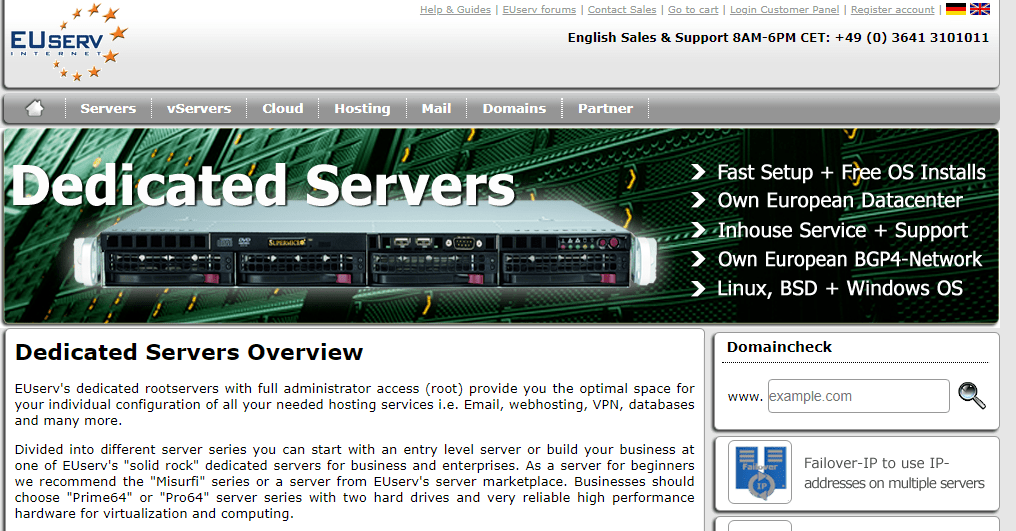 EUserv dedicated servers provide full root access to configure your web hosting, email, files & databases, and more. The setup is fast and comes with the pre-installed operating system.
The company owns its datacenter with in-house service and support. AT EUserv, dedicated servers are available for private customers, small and medium businesses, and large companies.
With one click, you can install any operating system. You can add a KVM over IP device for your server, which has additional benefits.
Conclusion
So these are the 10 best and cheapest dedicated servers in Europe that you can go for. These are affordable servers that can make your website run smoothly without any trouble.