Pros/Advantages
Advanced targeting
Multiple ad formats
Timely payments
High CPA
Dedicated support
Anti-Fraud Tech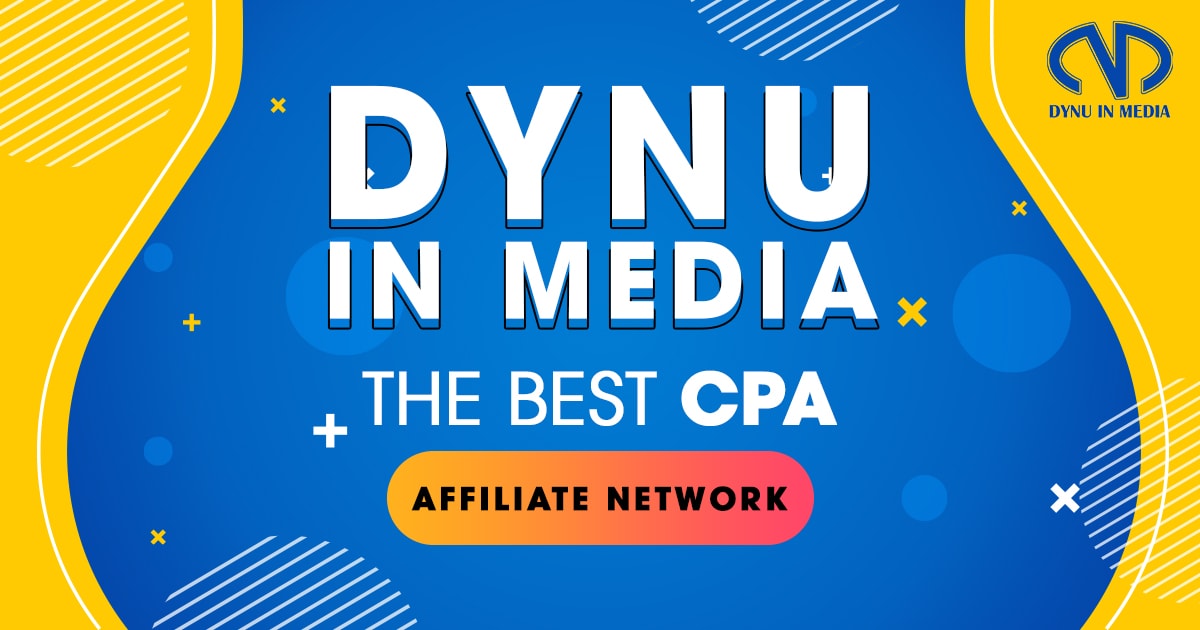 To stay ahead in the ever-changing world of affiliate marketing, research the latest technologies and services, such as Dynu In Media, a CPA network that is quickly gaining popularity in Vietnam and Southeast Asia.
I had not heard of Dynu In Media before, but a few friends of mine who are affiliate marketers spoke highly of it. After doing some research, I was impressed by what I discovered. I am glad to share more information with you if you are interested.
Dynu In Media offers a wide range of features and benefits, including:
A large and growing inventory of offers
Competitive payouts
A user-friendly interface
A responsive support team
If you're looking for a CPA network that offers a great combination of features and benefits, I highly recommend checking out Dynu In Media.
In this review, I will take a closer look at Dynu In Media and provide an overview of its features, benefits, and drawbacks. I will also share my own personal experience using the network.
I hope you find this review helpful!
Let's get started.
What is Dynu In Media?
Dynu In Media, established in Vietnam in 2019, is a leading CPA network that works with Tier 1 and Asian GEOs. It offers CPA, CPC, CPL, CPS, and CPV campaigns through international distribution channels. Advertisers can rely on its expert team to find the best offers and assist with campaign issues.
To Summarize about Dynu In Media –
20,000+ leads generated daily
200 influential advertisers and clients
1000+ publishers
CPA, CPL, and CPS campaigns
Competitively high payout rates
Cashback categories: sweepstakes, finance, gaming, surveys, extensions, insurance, health & beauty, Bizoop, and more
Global reach: US, UK, Canada, Australia, New Zealand, most of Europe, and some Asian countries
Payment methods: wire transfers, PayPal, Payoneer, and more
How to Join as a Publisher and Get Approved in a Day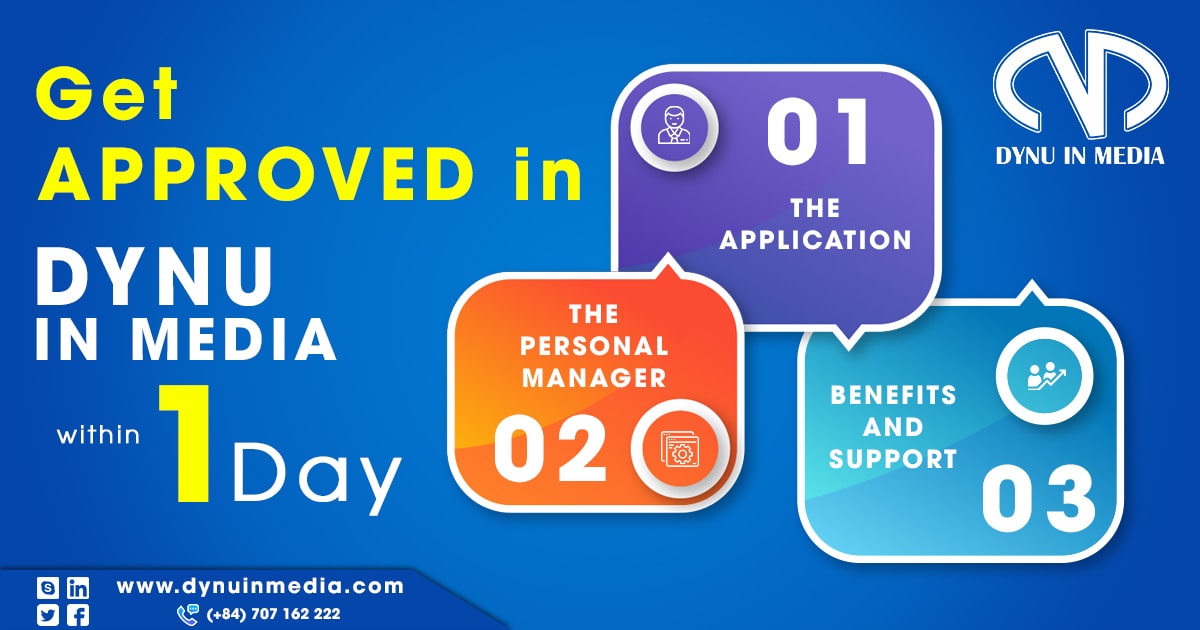 Join Dynu In Media as soon as you can, no matter if you're just starting out or you've been at it for years.
Below, we'll go over the steps you need to take to apply for Dynu In Media and provide tips to help familiarize you with the process.
Registration
To register for Dynu In Media, fill out a form with your name, company name, address, and zip code. An account manager will contact you for more information.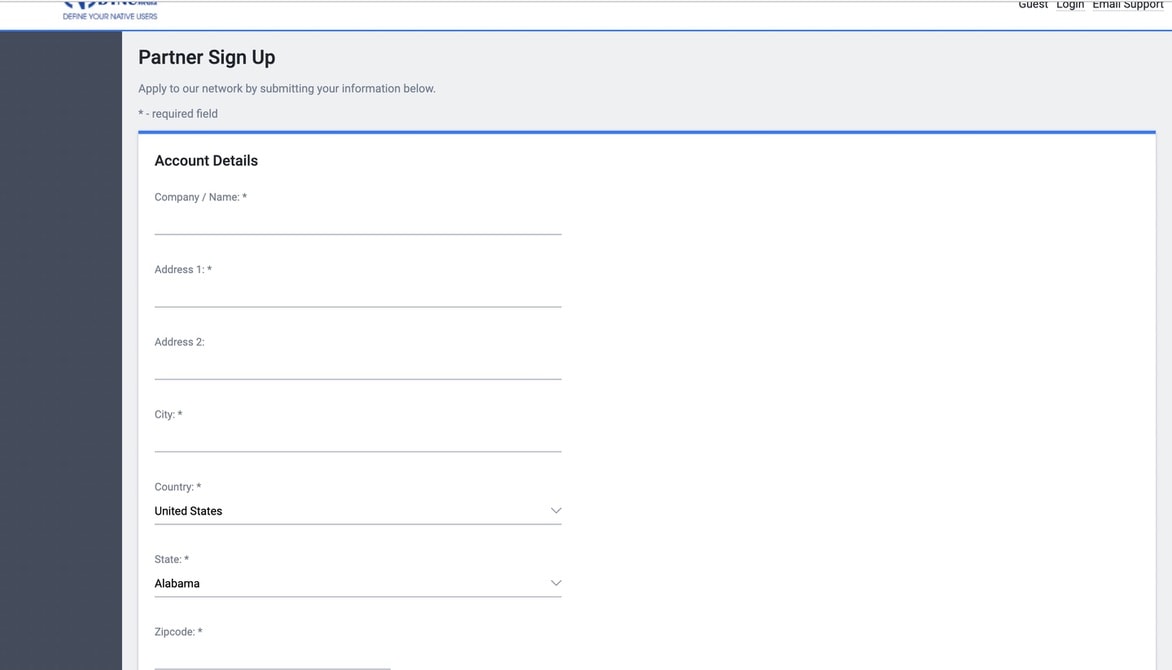 Next, you need to provide your user details and create a password. Use your email address as your username, and then create a password that is at least 8 characters long and no more than 16 characters. For added security, use a mix of upper and lowercase letters, numbers, and symbols.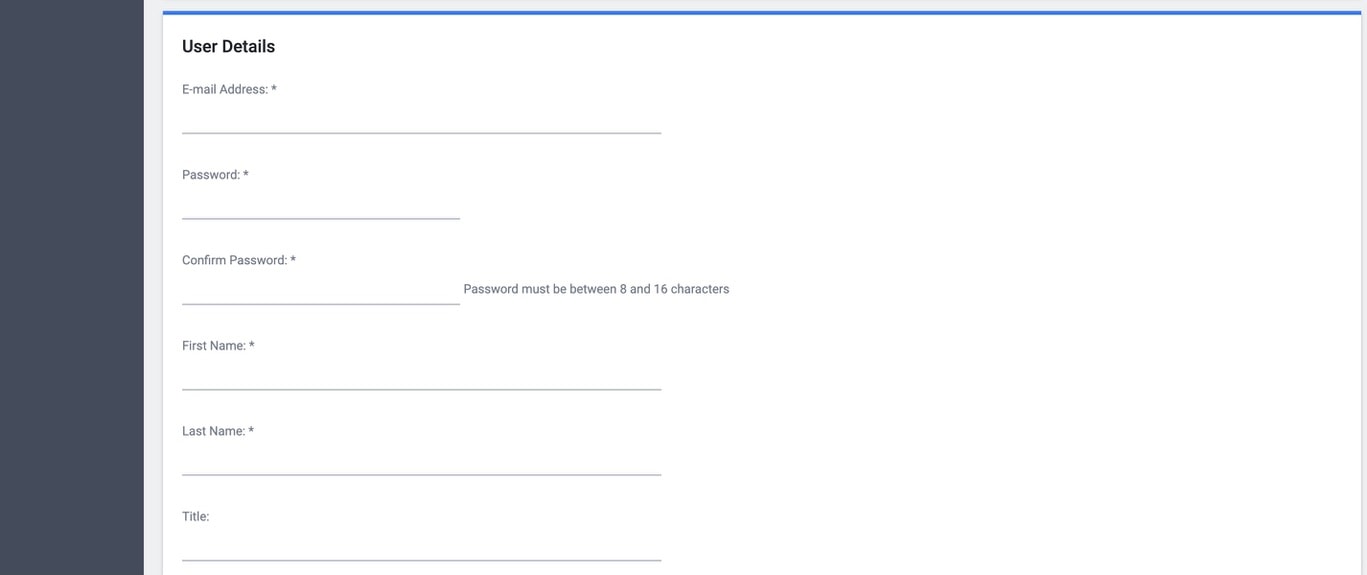 The final section is the most important because it asks about your website and the traffic it receives. Your approval depends on your answers to these questions. So, be as honest as possible about the traffic you get.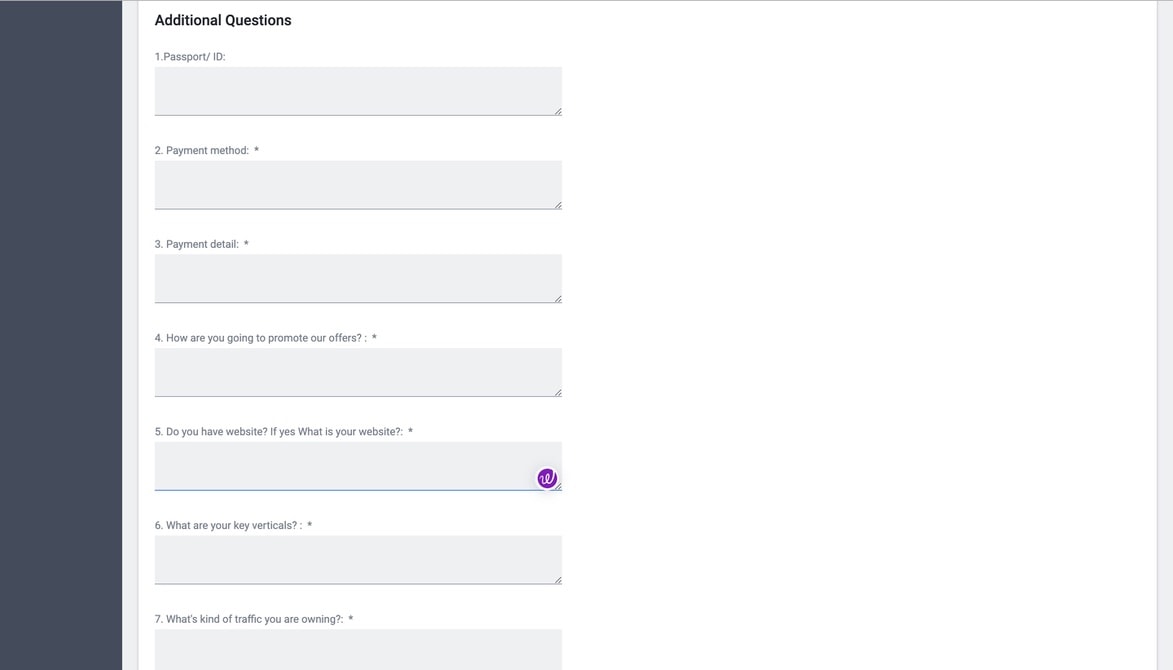 You must have your own Skype ID and submit the details before registering on Dynu In Media.
In addition, give some thought to the offers that you are most interested in, as you will be asked to enter those as well.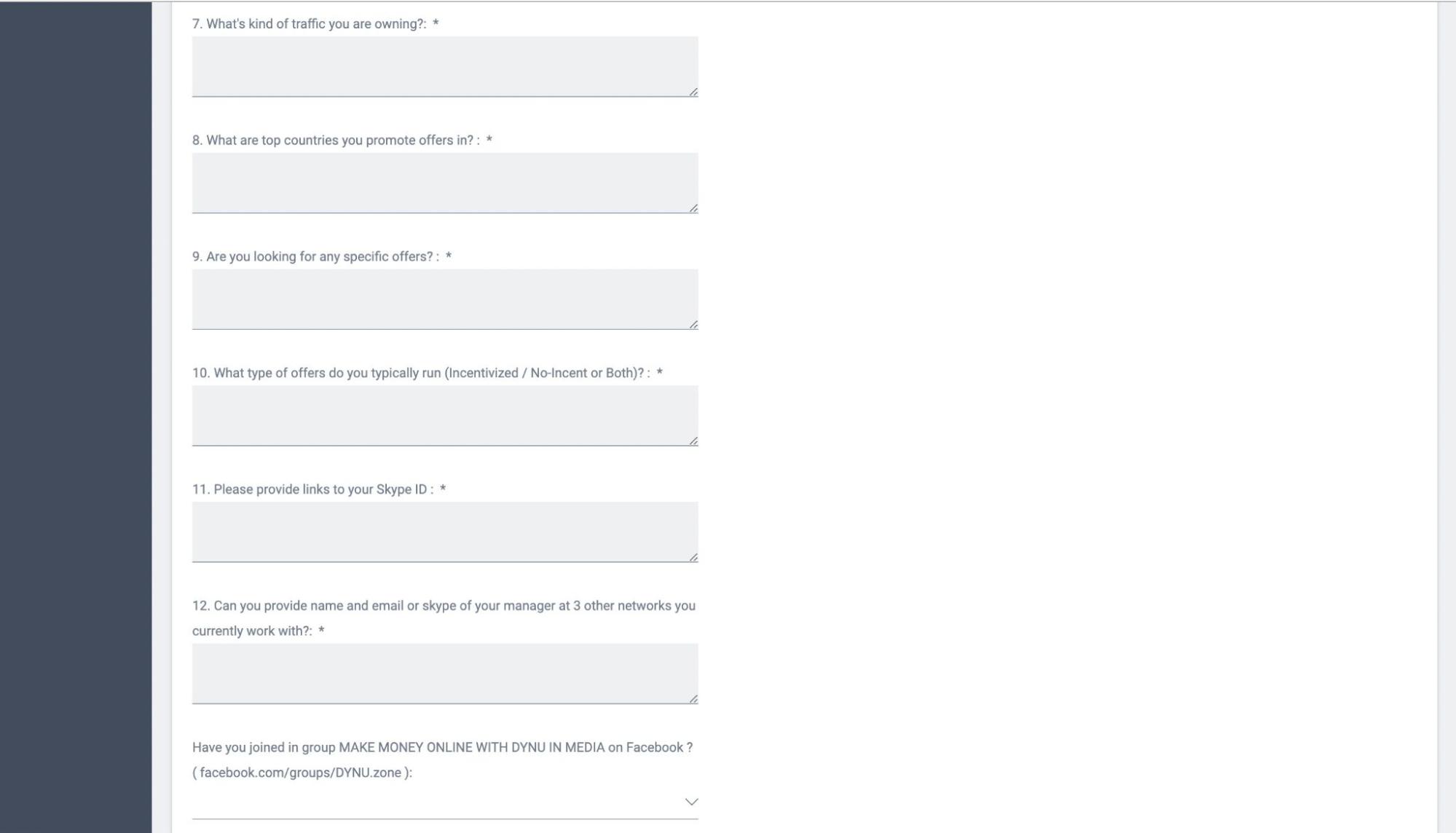 If you don't have a website, you still can join Dynu In Media, yes Dynu In Media is for everyone.
How to get accepted to Dynu In Media without a website?
While many affiliate schemes allow you to join without a website, having one is still highly recommended. A website can help you to:
Place affiliate links
Direct traffic to your links
Build a brand and reputation
Improve your chances of getting approved for affiliate programs
If you do not have a website, you can create a simple one using a template. Once you start making money, you can then improve or upgrade your website.
When applying for an affiliate program, be sure to have the following answers ready:
Your name and contact information
The website you will be using for the affiliate program
Your experience with affiliate marketing
Your plans for promoting the affiliate program
By answering these questions, you can increase your chances of getting approved for the program.
Your account manager will be assigned once you're approved or you can continue to work with the one who did the on-boarding. Remember that your account manager's relationship can greatly influence the campaign's performance.
Dynu In Media Review – The Benefits
There are a variety of benefits that can be achieved, for example:
Your account manager can help affiliates increase your payouts by 10% to 30%.
Account manager can give you access to exclusive offers
Account manager can remove lead capping restrictions
Account manager can shorten holding periods.
How Dynu In Media dashboard looks like?
Their use of the HasOffers system makes Dynu In Media stand out from the competition. The app allows you to build your own advertising network using affiliate marketing.
Direct publishers are better able to reach companies like Dynu In Media through it. The benefits of this include campaign optimization, fraud detection, real-time reports, link tracking, and many others.
When you log into your account with Dynu In Media Network, it looks like this: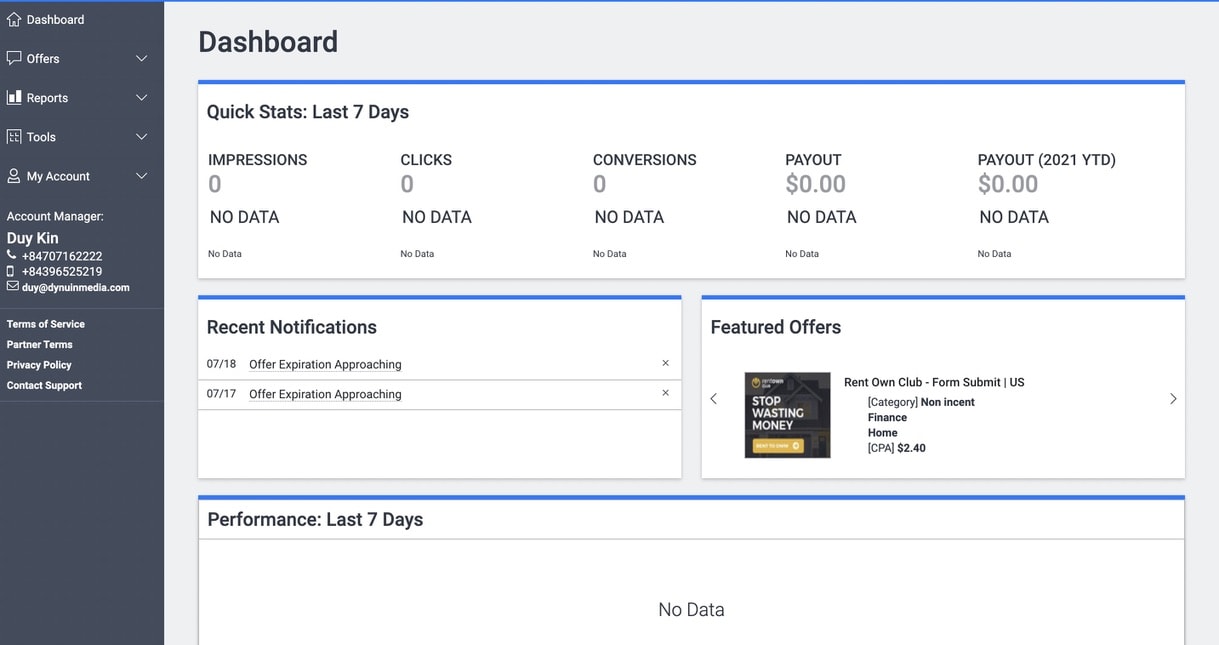 Various important data will be visible on the dashboard. Several options will be available on the sidebar. Browse the offers, view the reports, use the available tools, and check your account.
As well as your account manager, you will also find the details of how to contact them at any time throughout the day.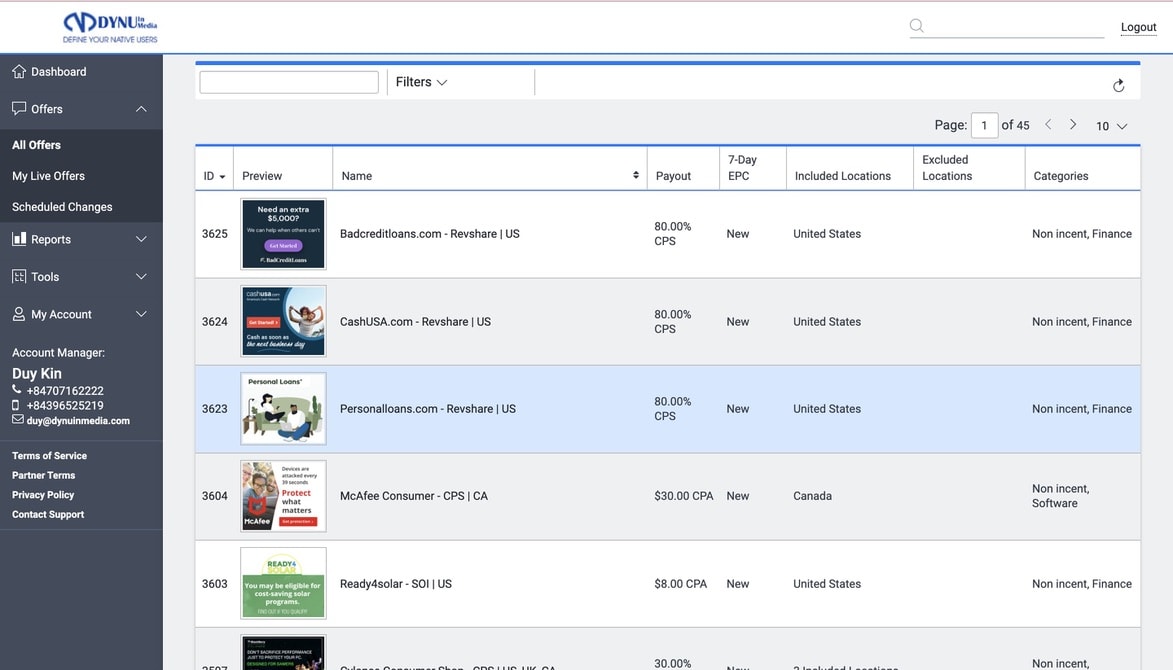 Within seconds of entering the offer page, you will be greeted with hundreds of offers.
The information provided is useful for previewing landing pages, finding out what the offer is, and checking the payout and geography.
All of this information can be used by affiliates in their campaigns. This information can be sorted and filtered in order to find the offers you're looking for.
Your performance and conversion information can be found on the reports tab. You can access detailed reports that contain information about a variety of important data to better optimize your campaigns.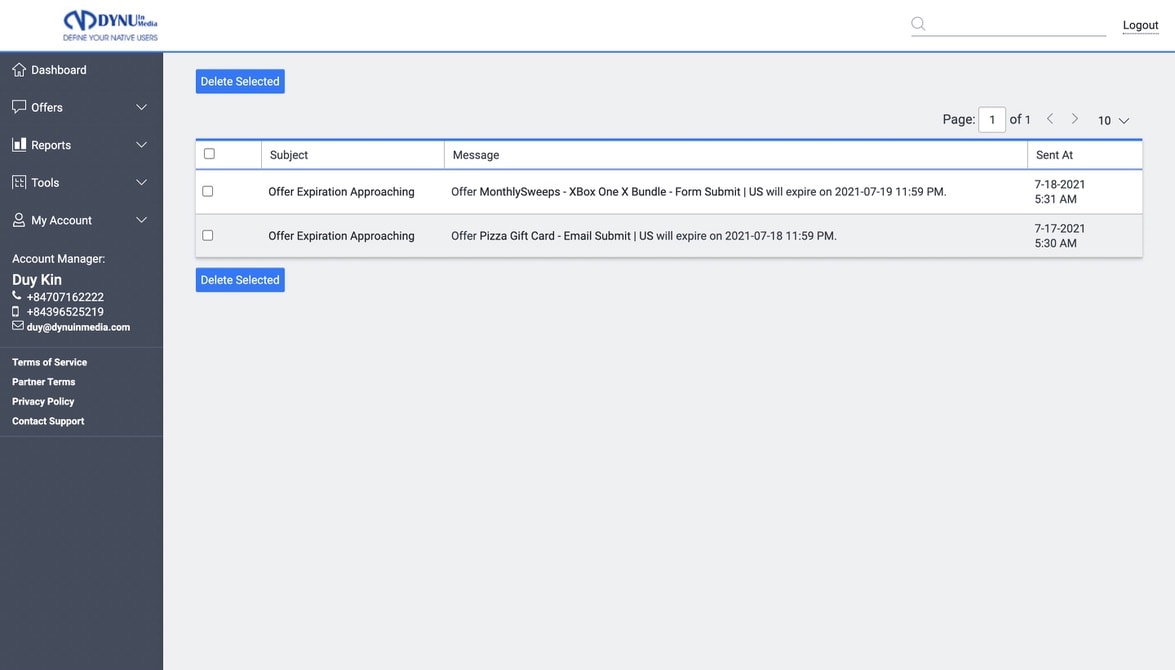 Also Read:
Final words on Dynu In Media Review
There's no doubt that Dynu In Media is a terrific CPA network worth paying attention to. During the weeks that I used it, I had great success.
The network also appeals to a lot of super affiliates. The network will be featured online in the near future, and I am fairly certain that you will hear more about it soon.
The platform itself is proving to be a powerful tool that its expert team is maximizing to the extent possible. As time passes, I'm confident that this platform will only grow bigger as they continue to succeed in Asia, implement their plans, and develop their passion.