Have you ever visited a website and are annoyed by the restrictions it has? I have been there too. That's why we need a VPN platform for smooth browsing. This NordVPN review is here to get you the accessibility to all websites.
NordVPN was founded in 2012 by four friends who traveled extensively and saw the degree of internet restriction, content control, and government monitoring. They chose to seize control of the situation. They founded NordVPN, which takes its name from the Nordic cultures' values of confidence, creativity, and trust. 
NordVPN is based in Panama and claims to have over 14 million internet users globally. It has grown to become one of the most trusted security service providers in the world, renowned for its steadfast principles and well-thought-out features.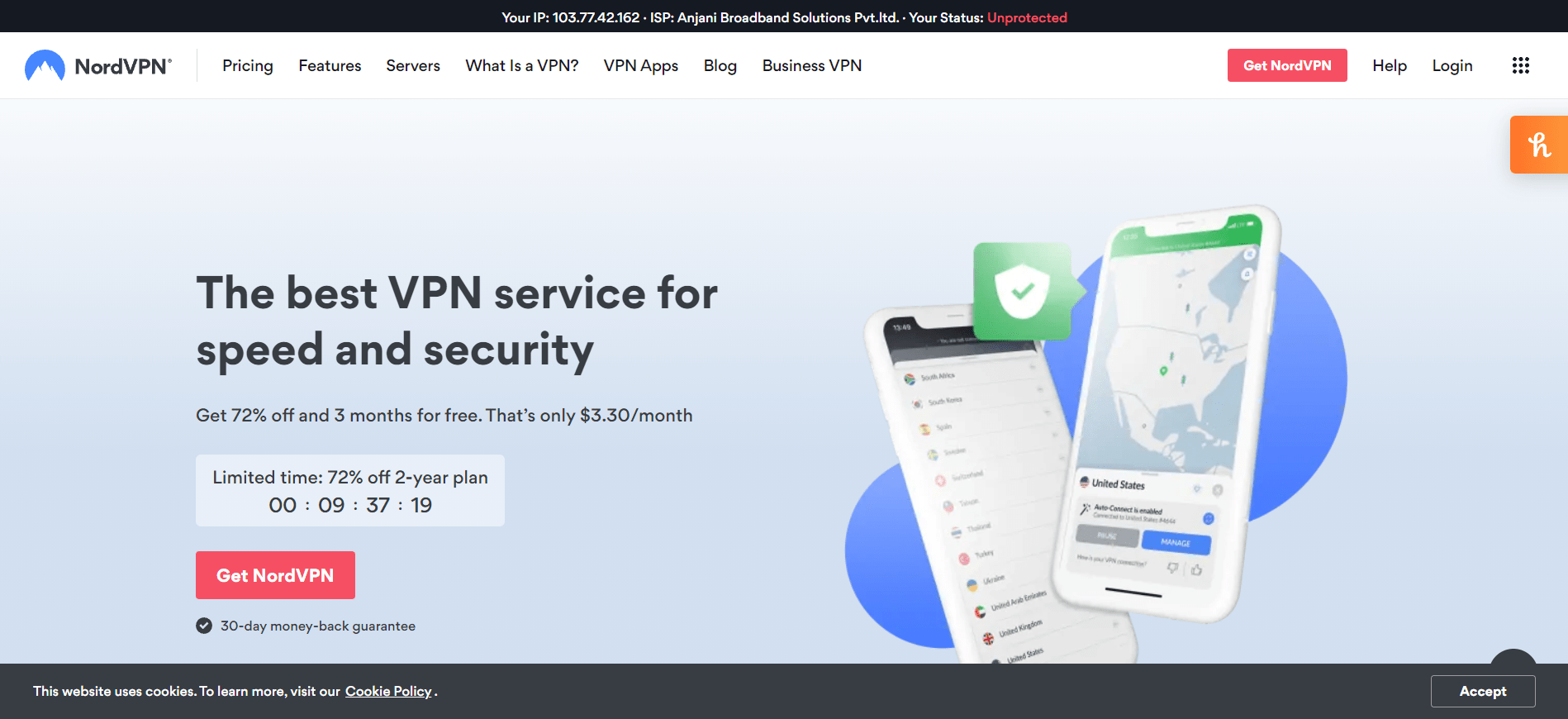 Major Features of NordVPN
In this section, I'll go over each of its features in-depth and explain why I believe it's such a fantastic choice.
Get NordVPN
1. Double VPN:
Additionally, NordVPN used a double VPN, which meant that our data was routed via several servers to achieve additional levels of encryption. This idea, referred to as VPN server chaining or multi-hop, significantly increased our security, ensuring that no one knew what we were doing.
Even if a hacker were to get past one layer of encryption, the second layer of encryption would provide further security. Because most VPNs only utilize one server, we felt secure knowing that our data was protected twice before it reached its ultimate destination.
2. Split Tunneling: 
By default, NordVPN automatically encrypted and routed all of our online traffic via a secure VPN server. This is referred to as the full-tunnel mode. However, were you aware that NordVPN also supports split tunneling?

3. Internet Protocols: 
NordVPN utilized two internet protocols to create secure connections to its servers: IPSec and IKEv2. While IKEv2 assisted in reestablishing our VPN connection whenever our Wi-Fi connection was lost, IPSec created encrypted connections across our many devices. These internet protocols came in handy when we transitioned from Wi-Fi to mobile hotspots or when we utilized our own data.
4. Strong Encryption: 
Encryption hides data about our online actions, ensuring that no one other than authorized users may see what we're doing. It's a critical feature that drew us to VPNs, and NordVPN adheres to high standards.
It employs AES encryption with 256-bit keys, the same level that governments and cybersecurity experts such as ourselves recommend. We also saw the same encryption standard when we examined Surfshark, another highly rated VPN, indicating that it is the industry standard. While we felt safe using both Surfshark and NordVPN, we noticed that Surfshark had fewer servers than NordVPN, which resulted in somewhat slower connection times depending on our location.
5. Data Usage: 
NordVPN is one of our favorite VPNs for torrenting; we liked that we didn't have to wait for our favorite programs to buffer anytime we wanted to be couch potatoes and watch them. We were able to access as much internet material as we pleased using NordVPN. The best part is that we got to watch Netflix. With NordVPN's extensive network of servers in different countries, we were even able to change our Netflix region and access content from other Netflix libraries.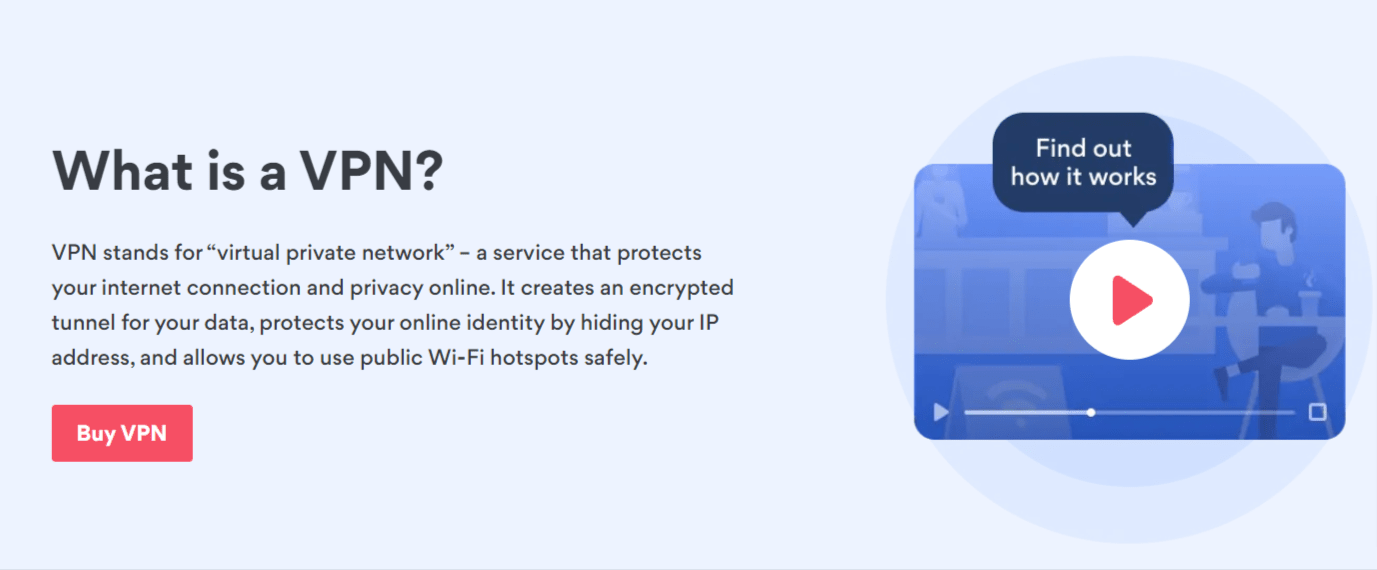 6. Kill Switch: 
Additionally, NordVPN included a kill switch, a VPN feature we usually look for. The kill button came in useful during a storm when we were downloading a large file and our VPN connection went down for a brief time.
The kill switch immediately halted our download and terminated our mobile applications. Otherwise, our internet provider would have been able to see our online activity. We feel secure in the knowledge that if our VPN connection is lost, our internet access will be lost as well, safeguarding our privacy.
7. Headquartered in Panama: 
Although NordVPN works on a global scale, the company is headquartered in Panama. That's a significant advantage for us since Panama is beyond the authority of the Five Eyes, Nine Eyes, and 14 Eyes.
For all the VPN newcomers out there, they are international surveillance alliances. Depending on the location of a VPN firm's headquarters, government agencies may compel a company to hand up data collected about its clients. That, in our opinion, is a big red flag, and we appreciate it NordVPN does not have to worry about that, which means we did not have to either.
[wp-review id="17969″]
Pricing Options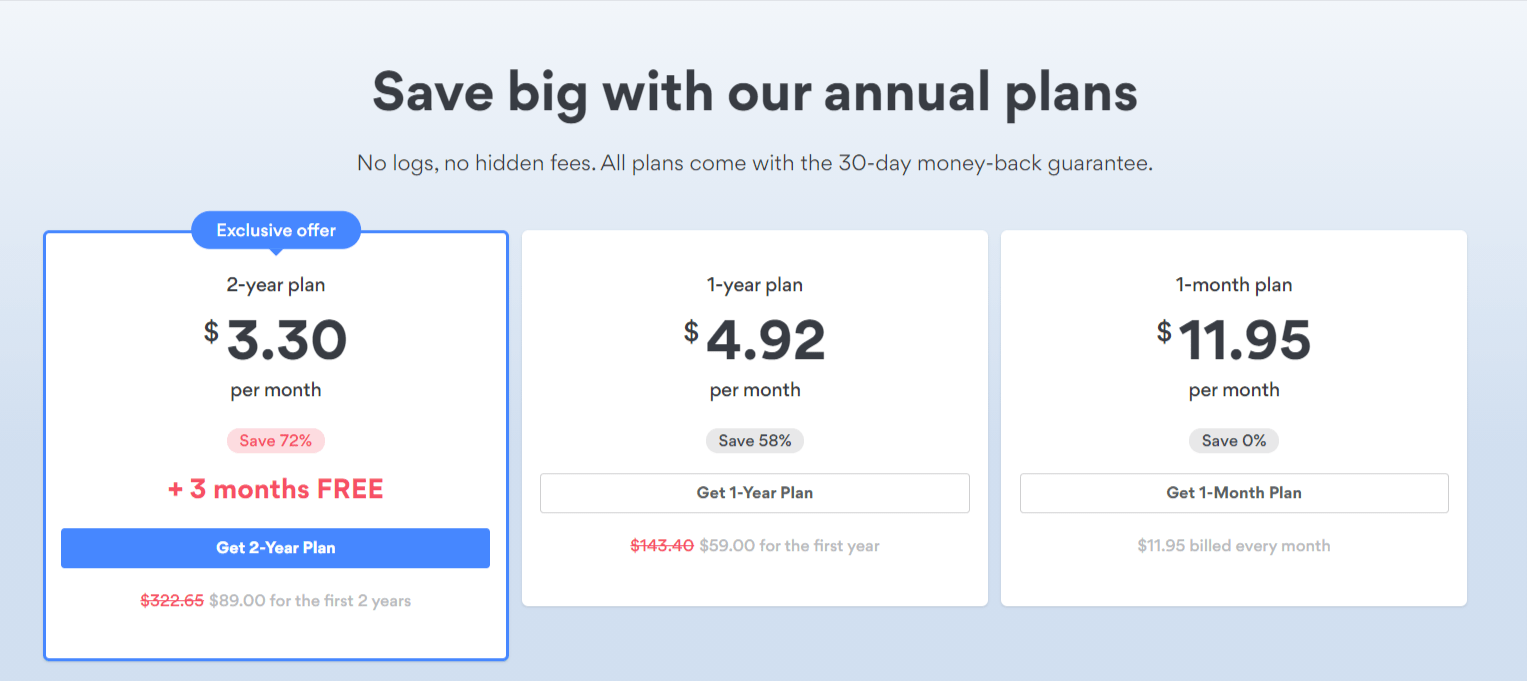 They have 3 pricing plans to offer – 
2-year plan: This will cost you $ 3.67 per month

1-year plan: This will cost you $ 4.92 per month

1-month plan: This will cost you $ 11.95 per month
Get NordVPN
How To Sign Up/But NordVPN?
Here are the steps that will guide you through the process of buying NordVPN – 
Step – 1: Go to the official website of NordVPN from here – https://nordvpn.com/pricing/ 
Step – 2: Select the plan you think would be ideal for you and click on it. 
Step – 3: You will be asked for your email address. Fill it up. 
Step – 4: Now, select the payment method you will be paying from.
Step – 5: Buy and finish the payment, and you are good to go.
How To Make Use Of NordVPN?
All you have to follow are the three simple steps. Using NordVPN is pretty. See yourself – 
Step – 1: Open NordVPN
Step – 2: Log in to your account by filling up your credentials
Step – 3: Simply connect by clicking on the 'Connect' button.
NordVPN Pros and Cons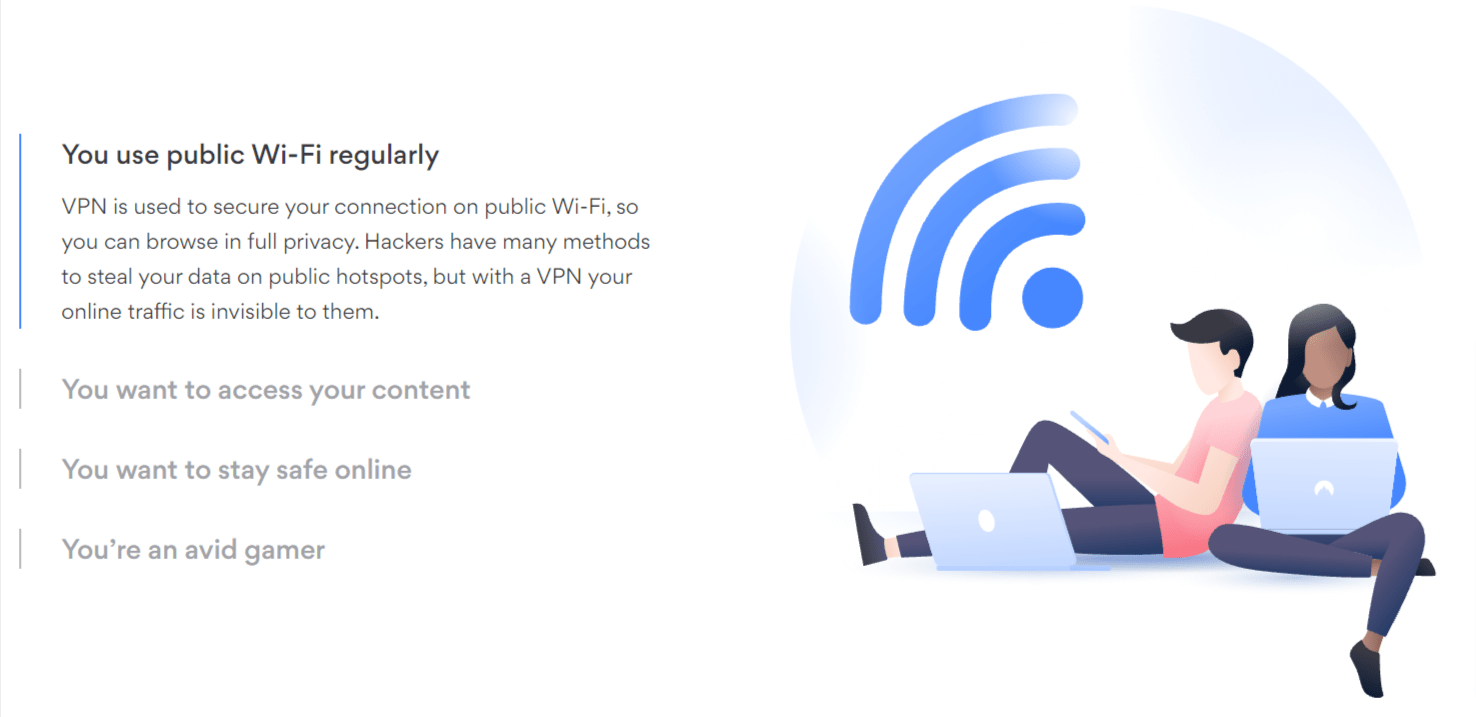 NordVPN Pros
It accepts a variety of payment methods, including Bitcoin.

Apart from mobile devices and desktops, NordVPN supports a variety of other platforms.

It is compatible with every major operating system.

At any one moment, you may have a maximum of six connections.

NordVPN also supports peer-to-peer networking.

It provides a variety of data centers.

It offers a diverse selection of server choices, ranging from ultra-secure to ultra-fast servers.

It is a very safe VPN service.

NordVPN is an intuitive program that is simple to install.
NordVPN Cons
It is unable to block ad trackers.

NordVPN is a sluggish service in comparison.
What People Say (Testimonials) About NordVPN

Source: https://nordvpn.com/cybercrimes/
Our Verdict
NordVPN is a nimble VPN service with a worldwide footprint and industry-leading digital security technologies. We liked that it was headquartered in Panama since it alleviated our concerns about the potential of our data being accessed by the authorities. We were also relieved that torrenting was so simple. Finally, NordVPN passed all of our speed and security tests with flying colors, demonstrating that it could safeguard our anonymity as we browsed the internet freely.
Get NordVPN
FAQs (NordVPN review)
Is NordVPN trustworthy?
Indeed, it is. NordVPN is one of the most secure VPN services available. They encrypt your connection with strong military-grade encryption and route it via only secure tunneling methods. In terms of privacy, their server fleet is entirely RAM-based, and their privacy policy has been reviewed twice by an independent third party.
Is NordVPN illegal?
No, using NordVPN is legal. However, everything that is illegal remains unlawful while utilizing a VPN, and as such, you should avoid using VPN services for illicit reasons.
Conclusion
I've been trying NordVPN for about five years, both personally and for VPN evaluations. This NordVPN review is one of the finest I've written due to the positive test findings. NordVPN is a quality VPN with this level of performance at a very affordable price.
While there are a few small disadvantages, NordVPN is an excellent option and continues to be my preferred VPN. It's encouraging to see NordVPN continue to evolve and develop with the addition of additional servers and enhanced functionality. And if you want to give this VPN a try, use the code below to get the best deal.
Advance Tips To Make Best Use Of NordVPN
Here are some of the tips that will help you make the best use of NordVPN – 
Make use of their customer support whenever needed

Check your connection is strong

Keep yourself updated with their servers and locations

Specifically check the kill switch

Check for the streaming sites you wish to stream
Get NordVPN
Closest Alternatives To NordVPN
Here are the two major alternatives to NordVPN –
1. ExpressVPN:
ExpressVPN is a premium VPN service that outperforms NordVPN in every category, from security to country coverage. It has over 3000 servers in 94 countries (NordVPN has over 5200 servers but is only accessible in 62 countries) and is constantly increasing its coverage. ExpressVPN also utilizes the industry-standard OpenVPN and L2TP/IPSec security protocols, which is excellent. 
Additionally, you receive AES 256-bit encryption and an Automatic Kill Switch to prevent your internet activity from being halted in the event of a VPN connection. The greatest feature of ExpressVPN is that its headquarters are located in the British Virgin Islands, which keeps it out of reach of the US and other countries. If you're looking for a NordVPN alternative and don't mind paying a premium to protect your privacy, ExpressVPN is an excellent option.
2. PIA (Private Internet Access):
Private Internet Access is one of the industry's oldest VPN providers, having protected customer privacy for over a decade. It has never had a significant breach and is continuously implementing new security measures to protect its 29000+ servers. It protects your internet traffic using two of the most sophisticated security protocols available, OpenVPN and L2TP/IPSec. Apart from that, PIA supports both 128-bit and 256-bit AES encryption, depending on your performance requirements.
Having said that, the greatest feature of PIA VPN is that it enables simultaneous connections to ten devices without sacrificing performance. The sole disadvantage for certain customers may be that the business is headquartered in the United States and therefore subject to US legislation. In any case, if you're seeking to replace NordVPN, you should absolutely choose PIA. It's much less expensive than NordVPN on a monthly or annual basis.
Get NordVPN
Want to know more about your browsing? Here is not about websites you must read.