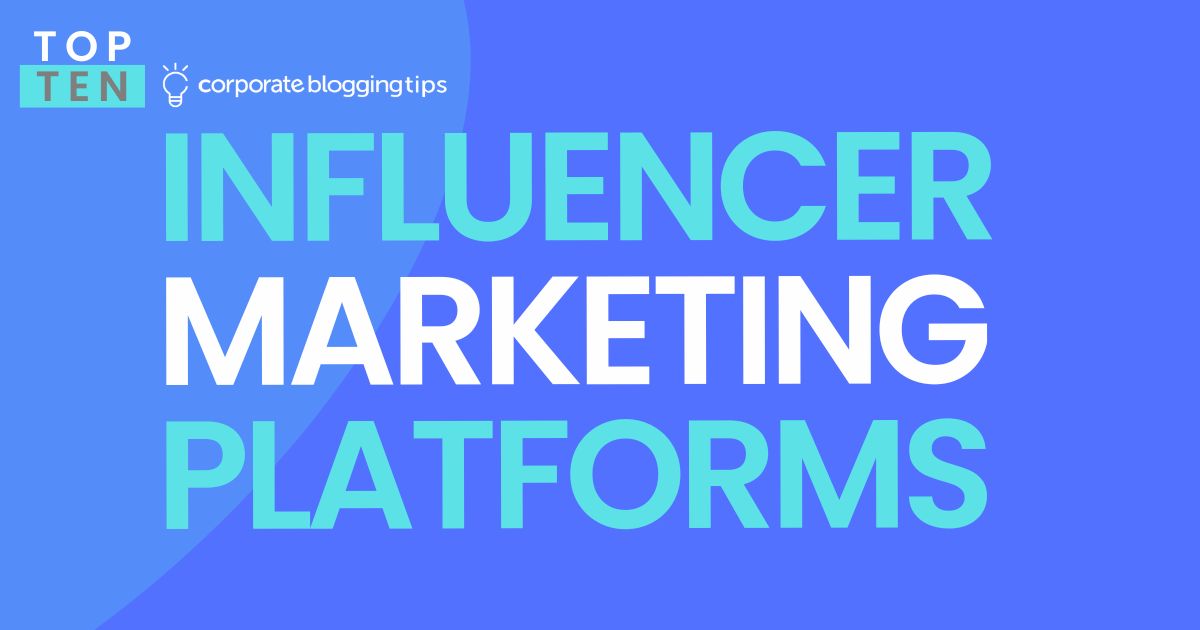 You can't do result-oriented digital marketing without influencer marketing automation in 2023. If you want to get real profit from influencer marketing campaigns and not just spend money on fancy names, of course. Influencer marketing platforms make your life easier and help you save and invest money wisely. The challenge here is to choose the right platform that suits your business needs for a fair price.
To help you with this, we have selected the 10 best influencer marketing platforms to boost your business, each with its own tools and offers suitable for different brands.
Top Influencer Marketing Platforms 🔥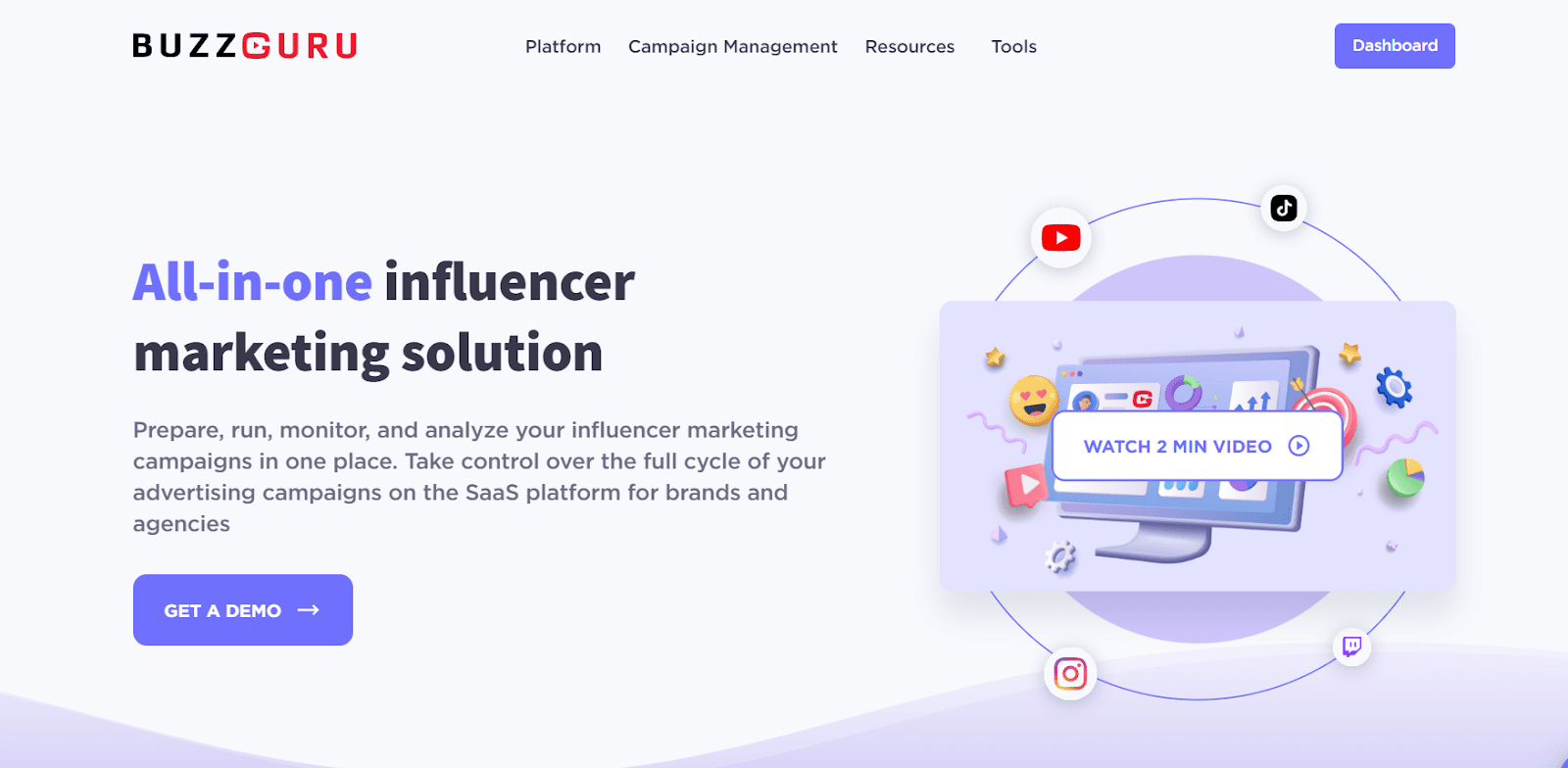 An all-in-one platform that, however, doesn't claim it's a one-fits-all solution. BuzzGuru has the entire stack of instruments necessary to run an agency's large influencer marketing department. At the same time, it doesn't require you to pay for everything if you're a brand simply doing influencer marketing in-house.
With BuzzGuru, you can select the right instruments and adjust the price. What's also nice is that BuzzGuru is extremely easy to use, making it suitable for novices and influencer marketing experts.
What are the main tools that BuzzGuru suggests?
Influencer Discovery and Analytics. The platform has a database of 27M+ influencers from YouTube, Instagram, TikTok, and Twitch and over 30 filters to help you weed out the irrelevant ones at a few clicks. The search is split for the covered social media platforms. Each influencer has a profile page with detailed data that, besides other things, helps recognize fake influencers.
Content Discovery. This search tool allows you to find relevant content first instead of influencers. This gives you insights into what your target audience likes and engages with and helps find creators of the trending content, those who perform well, not just those whose names are popular.
Competitor Analysis. The tool shows you how any brand that has been mentioned on social media at least once performs: what influencers it works with; what types of ads it buys from them; what audiences (geographically and demographically) it targets; how much it spends on influencer marketing, etc. An excellent instrument to learn about your competitors' strategies. Bonus: there are even more search opportunities for discovering games and apps.
Campaign Management. A space for creating, monitoring, and evaluating ad campaigns with influencers. Or better call it an assistant: here, BuzzGuru suggests you to set the goals for the campaign, invite teammates or clients (they have roles with restrictions for data safety), and then the tool does the routine itself. You can get reports anytime, the calculations are made automatically. The system shows you graphs and details of the entire campaign, each selected platform, and each engaged influencer's performance.
The instruments can be combined in any way or used separately. In conclusion, BuzzGuru is a highly flexible, user-friendly platform, adjustable for a business of any scale. It has the instruments not only for influencer discovery and management but also helps with market research and competitive analysis.
A platform with a massive number of influencers in the database that gives some information about their accounts. Upfluence is a tool suitable for those already very familiar with influencer marketing, as it's quite a complex platform that may be overwhelming for novices.

What instruments does Upfluence have?
A search tool with filters that helps navigate the quite large influencer database. The base covers Facebook, Instagram, YouTube, Twitter, Pinterest, and some other, more niche blogging platforms.
Influencers' profiles with basic data about their accounts and audiences.
An opportunity to integrate some third-party e-commerce tools like Shopify, Magento, T, and others.
A white-label ambassador sign-up page.
Influencer relationship and campaign management and automation tools like email and advertising campaign briefs templates, campaign workflow, team collaboration tools.
Upfluence's stack is larger than this, of course. This is it: it has the basics and also a whole lot of more complex and niche instruments. All that makes it suitable for large e-commerce businesses that hire experts, although it has subscription plans for 2 and 5 users only, followed by the widest Enterprise plan with no user limit.
A rich with tools platform that uses AI to help you find relevant influencers and check the data. CreatorIQ is an end-to-end influencer marketing platform designed mostly for large brands and marketing agencies. While you can't see its prices publicly, you can judge by its clients, the smaller of which make approximately $100M a year – this gives you an image of the possible cost of the service.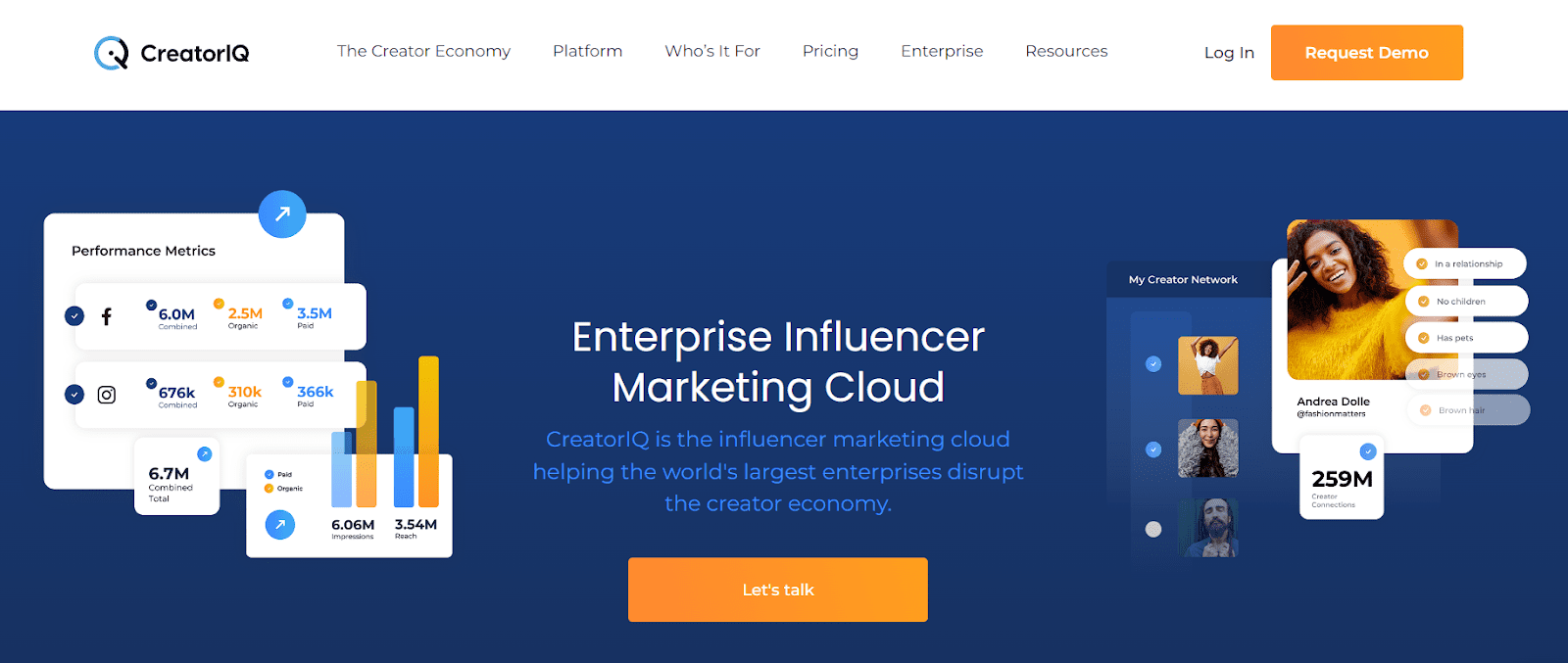 What can CreatorIQ offer you?
A smart influencer discovery tool that helps navigate the 15M+ influencers database. The AI constantly checks social media platforms and decides whether or not to add some accounts to the base.
A content discovery tool that encourages a "content first" approach. You can discover what exactly your audience likes right now, and make sure a trend can be used for your brand's profit. The tool is AI-powered and searches not only for keywords but also analyzes images, emojis, mentions, and locations, if there are any, and suggests you content based on this analysis' results.
Fake influencers detection. CreatorIQ checks the followers for you not to become a fraud victim and waste your influencer marketing budget.
White-label portal for collaborating with influencers. The platform suggests you to invite creators you have selected to join your ad campaign and register for it. This helps you create a network of influencers and build long-term relationships with them.
Other vital things like basic analytics and reporting are also available here. CreatorIQ can be of great help for a business that has its own large influencer marketing department or a fairly large agency with a stable annual income.
HypeAuditor
A platform that focuses on fraud detection, therefore, analyzes influencers' accounts and their audience quality. HypeAuditor started as a marketplace and evolved further to become a fraud detection tool for Instagram creators. Now it covers the most popular social media platforms and has a database of 50M+ influencers to discover from, still mostly Instagram-oriented.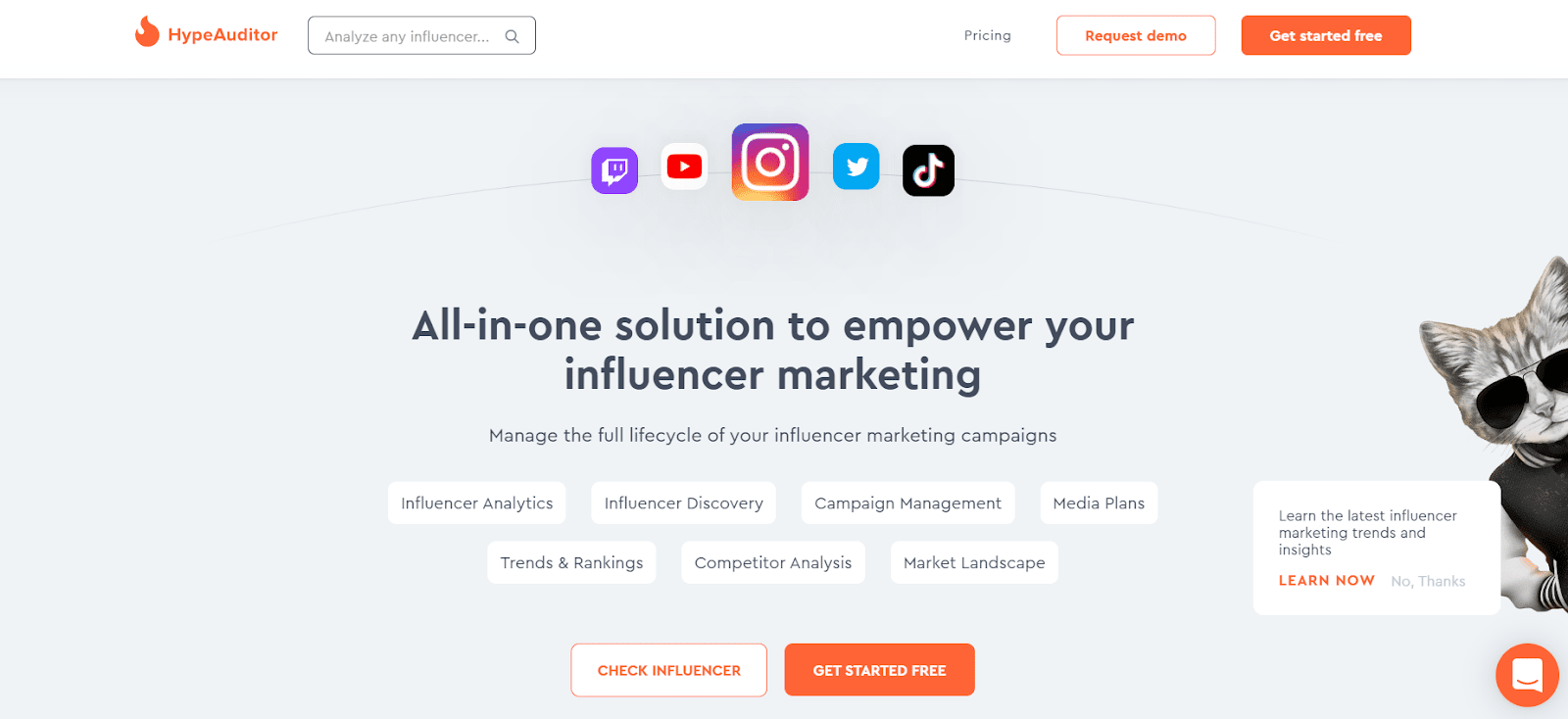 What does HypeAuditor have to offer?
Influencer discovery. Although the platform has a number of useful filters, to use all of them, you have to pay for add-ons besides your subscription. There is also a tool that allows you to compare up to five influencers and their stats to choose the most relevant for your brand.
Fake influencers check and post fraud analysis. HypeAuditor made the fight against fakes one of its main tasks and helps brands stay aware of bought followers on social media.
Campaign management tools that, once again, help check the authenticity of the content your selected influencers make for your ad campaign.
Market and industry analysis. HypeAuditor shows an overview of a selected industry landscape in terms of influencer marketing.
HypeAuditor is suitable for businesses of all sizes, and if needed, you can choose a bit of stripped-down functionality that will be cheaper.
A platform that helps build genuine long-term relationships with influencers. Grin's idea is that influencer marketing should be based on trust between an influencer and a brand. Grin's main clients are large ecommerce companies that prefer to do influencer marketing in-house and have marketing experts employed. The platform covers Instagram, YouTube, and TikTok.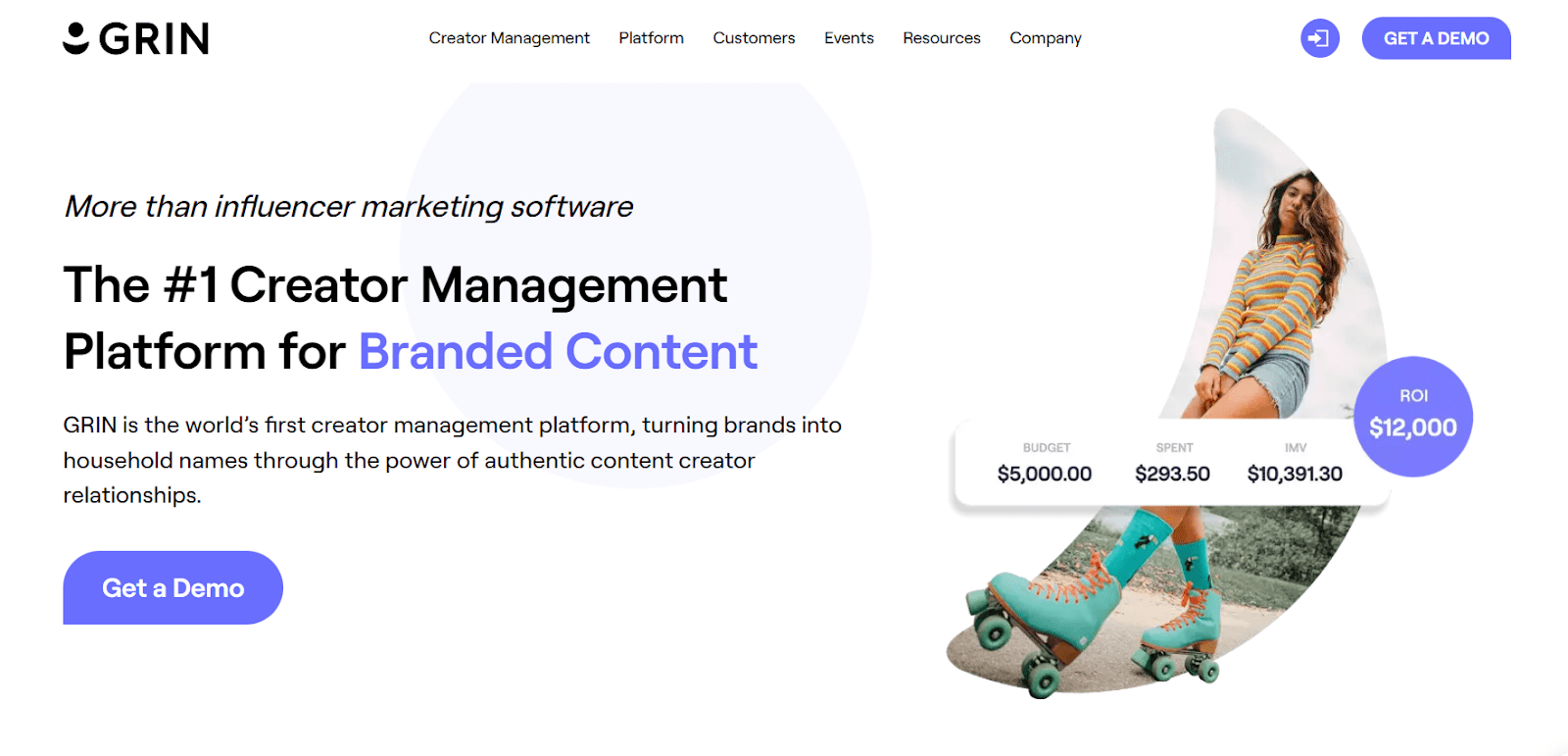 What does Grin have for your influencer marketing?
Influencer search and discovery. The main difference of this Grin's tool is that it can integrate the users that have already bought something on your ecommerce site and search for influencers among them.
Third-party ecommerce tools integration. This includes the most popular ones: Shopify, WooCommerce, Magento.
Email systems (Gmail, Outlook) integration for faster and easier communication with influencers in the process – with this, you don't have to leave the platform to talk to your selected creators.
Product seeding. This tool helps manage logistics when sending products to influencers in terms of an ad or a promo campaign.
Grin is a good choice for large eCommerce brands that want to recruit new influencers and make ambassadors out of their already existing customers.
This time, the platform itself claims it is made specifically for eCommerce. Well, this is true: Influencify allows you to search for relevant influencers in its database and among your existing customers. The platform is primarily Instagram-focused and has special tools for Insta-Stories tracking. However, it also covers YouTube, and TikTok, and has a database of 34M+ creators in total.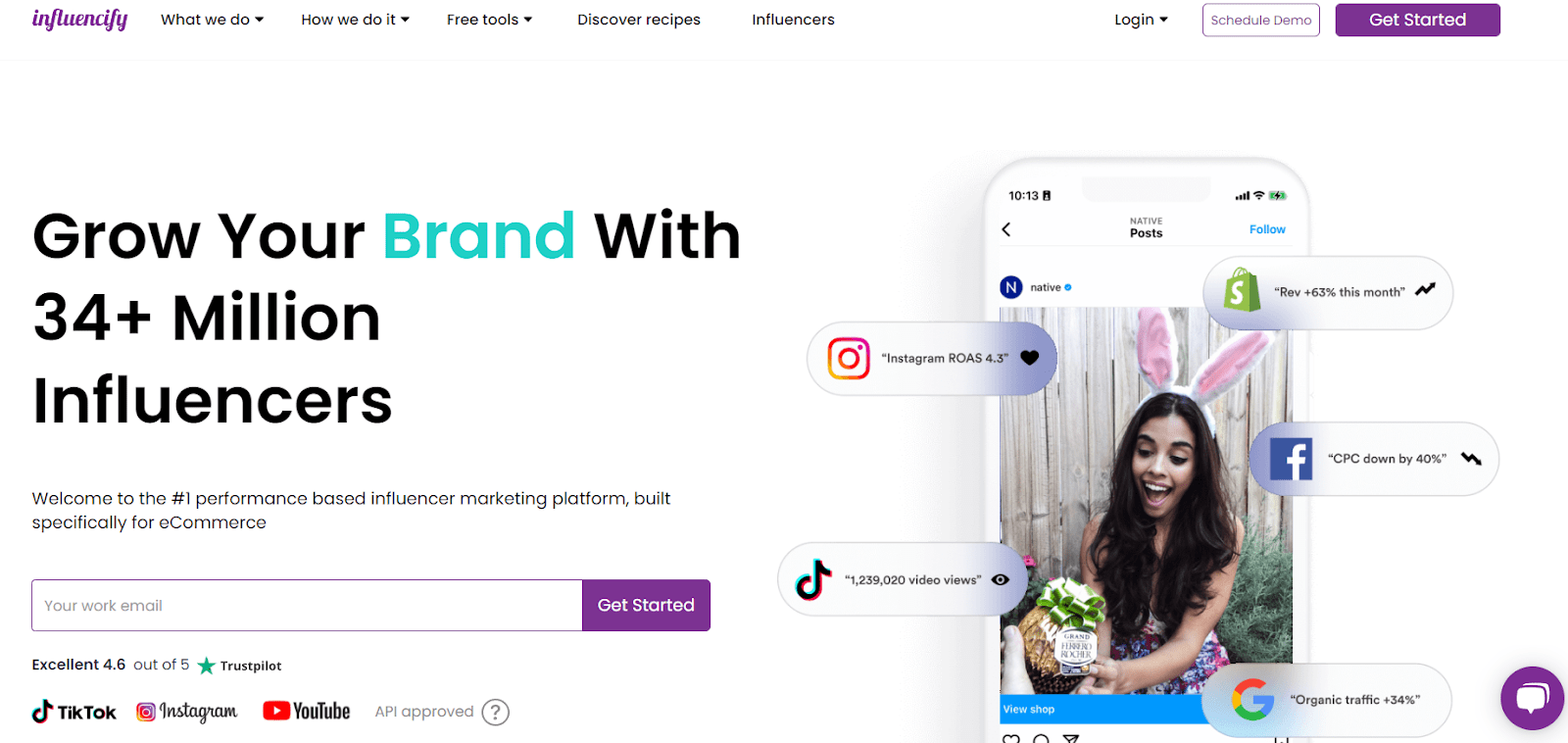 What else does Influencufy have for your brand?
Influencers search that includes audience overlap checking tool and lookalike search.
Sponsored posts library. A database of 10k+ branded posts created by influencers to get you more inspiration and motivation.
Influencers' audience data analytics. This helps understand how an influencer performs and whether they bought followers and likes.
Campaign management tool that allows to run influencer marketing campaigns for multiple brands at once.
Google Analytics integration to get more data for analytics.
Influencify attracts small, medium, and some large ecommerce brands that need some assistance in work with (mostly Instagram) creators. Although here you may need some additional help, and for that, the platform allows analytics integration.
Influencity
Not to be confused with the previous platform! Influencity started with covering Twitter, but now it is much more focused on Instagram, as well as many other platforms: Instagram remains one of the major platforms where brands, especially ecommerce, prefer to promote and sell their products. Influencity also has TikTok and YouTube creators' data now.

More of what Influencity has for your influencer marketing:
Smart search with lots of filters, as the platform also gives you a lot of information on each creator. The platform states that there are 100k+ ways to combine filters, so you will need to spend some time, but it has to get you the most relevant results.
Lookalike search with bonuses: it allows to discover creators with similar interests but in different segments (for example, mega- and micro-influencers).
Audience quality and data check to be sure your selected influencer isn't fake and has the followers you target.
Campaign tracking. Influencity shows you the demographics of the audience that has actually received your message within the marketing campaign.
There are ready-made subscription plans here, but Influencity also welcomes brands that want custom prices for custom stacks of instruments.
Tubular focuses mostly on video creators from different social media platforms: first goes YouTube, then there also are Facebook, TikTok, Instagram, Twitch, and Twitter. Tubular tries to give as much information as possible on each video, including not only the views but also watch time, for example, which makes the interface a bit too complex. To use the platform, a brand is most likely to have expert employees that can navigate and analyze large amounts of information.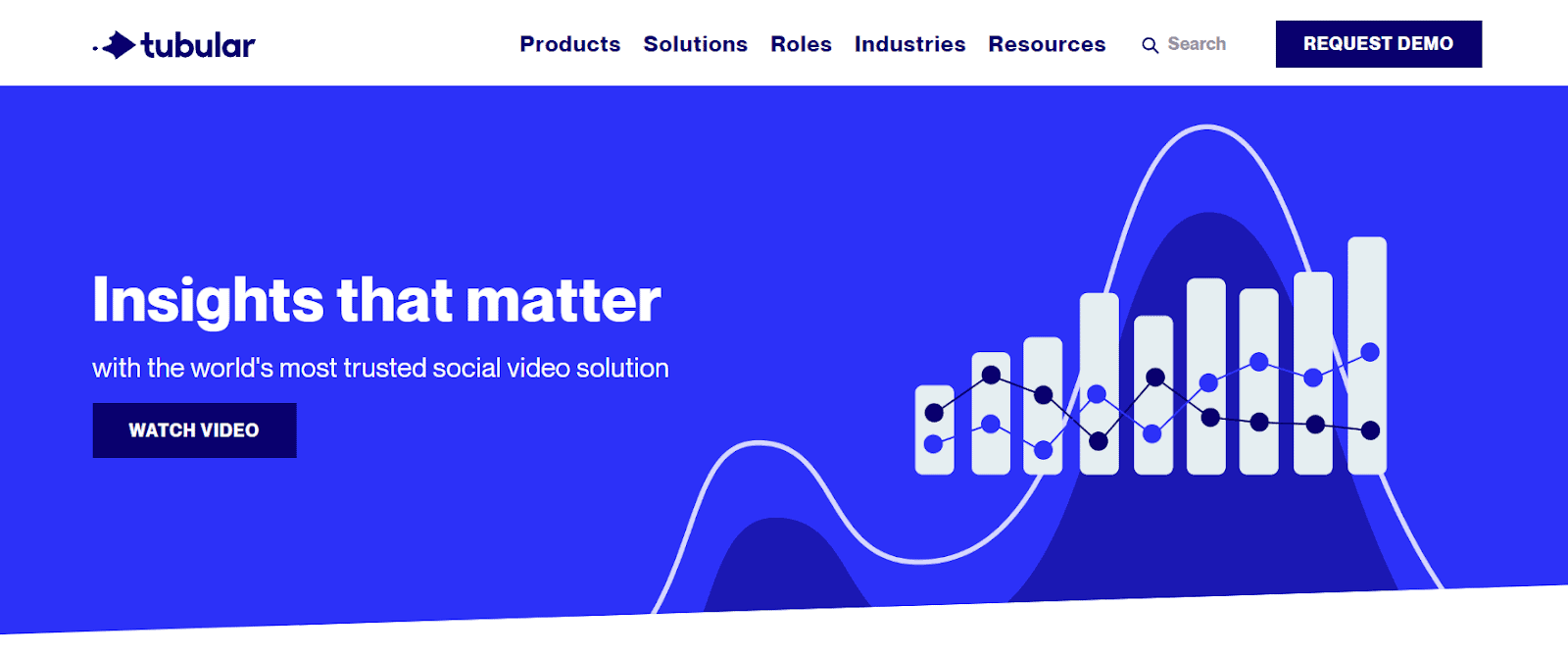 What influencer marketing tools does Tubular have?
Influencer search that leads you to an influencer profile where the analytics data is stored. The data is presented in a form of a graph that can be navigated to get more details.
Content search, or better name it video search here. Tubular suggests discovering what your audience likes among 1.1+ billion videos. The platform doesn't make you go through some old stuff: the videos available are of the last 90 days of activity.
Influencer's audience analytics that include some extra details, for example, shows what other videos they watch and what accounts they engage with.
Tubular has a database of 28M creators and processes approximately 9M new videos every day. The platform is made for those who bet on video format first and are ready to dive deeper into influencer marketing generally.
Like many other platforms, Creator.co started as a marketplace. This one was made for small businesses and micro-influencers. For now, it has overgrown this first concept. Creator.co has a large database of influencers and a community of 130k+ creators that still makes the platform a lot marketplace-like.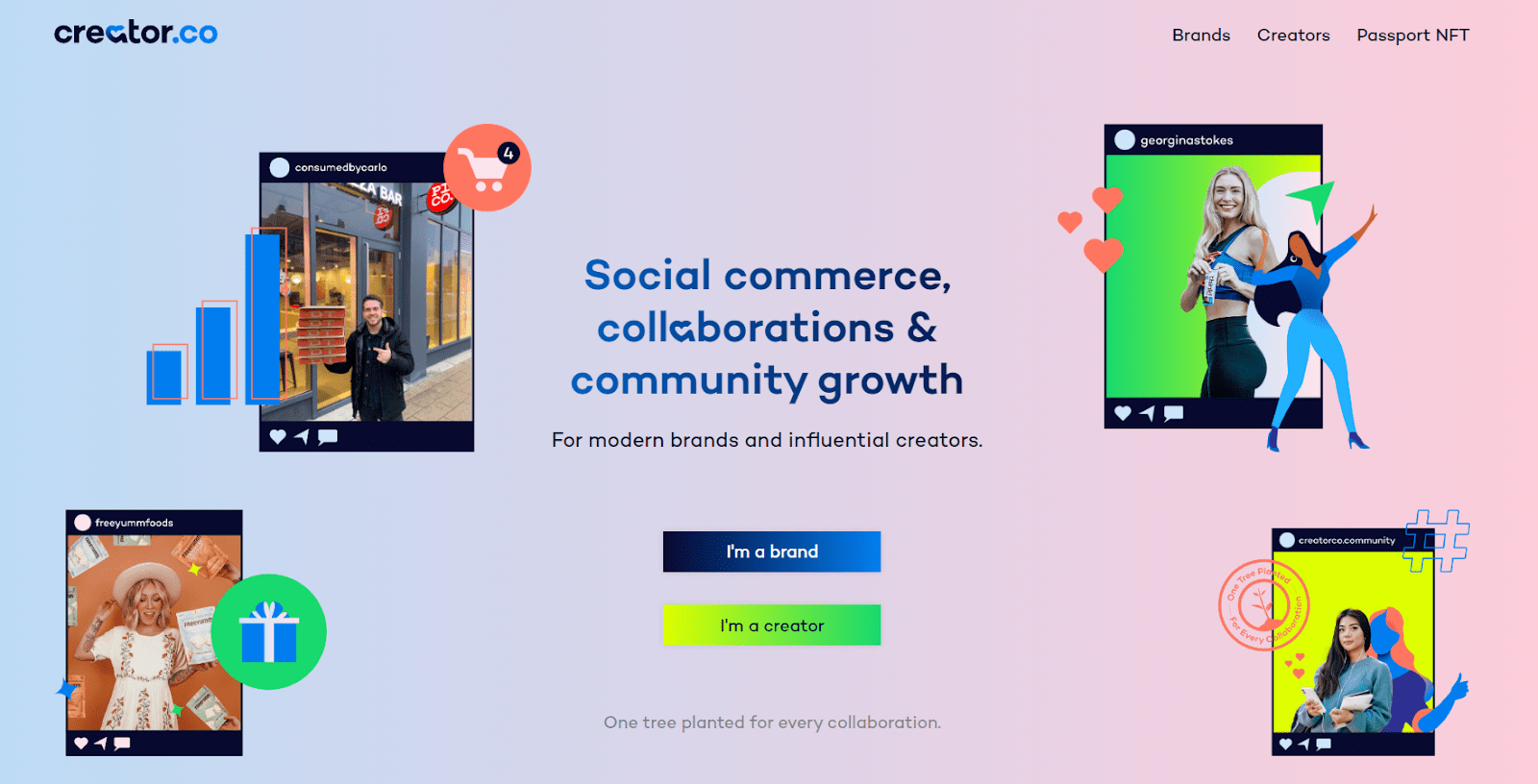 Creator.co has two use cases:
A classic variant of influencer discovery and analytics: you can search for the creators who fit your requirements yourself and select the best ones after seeing their stats. The platform gives deep insight into influencers' audiences interests, demographics, and other stats.
A "hands-free" option which is basically the marketplace style. A brand has to only launch its campaign on the platform, make a description, and set the requirements, and then just wait. Influencers will pop up for you to review them and accept or decline. Bonus: you will see what other brands the influencers have already worked with on Creator.co.
The platform is notable for its combination of actual influencer marketing platform and a marketplace. The prices are set specifically for these two options and are quite affordable, as Creator.co targets small and medium businesses.
Aspire is more of a marketplace, but it, like Creator.co, has many more features for influencer marketing than old-school marketplaces that may come to mind. Aspire gathers a community of 150k+ creators that search for brand offers and also offers brands some nice analytics tools. The platform covers Instagram and YouTube and has some extra features for ecommerce brands.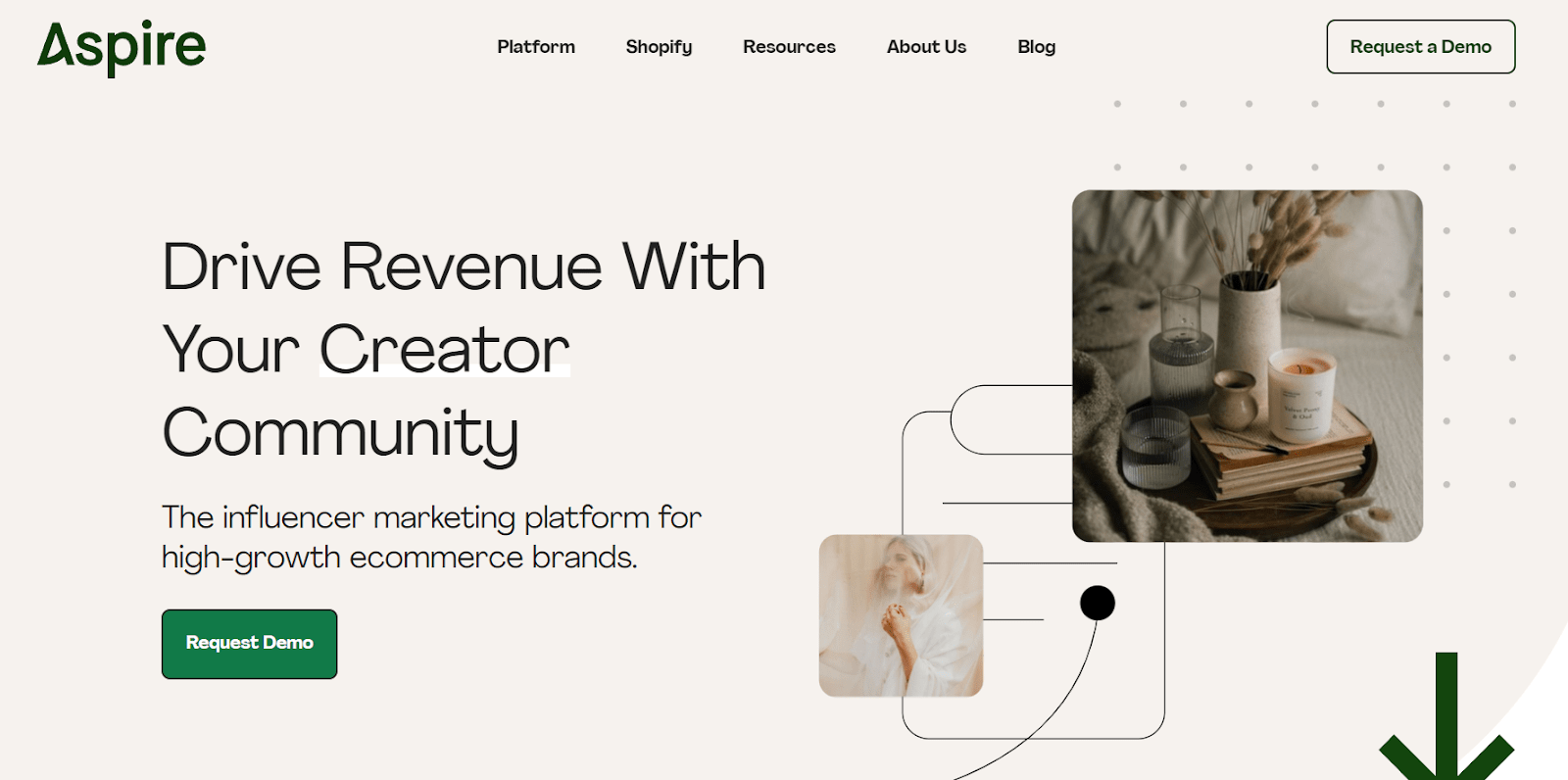 What can you find for your influencer marketing on Aspire?
A database of influencers who have opted to be there themselves and meet selection criteria: a creator has to have at least 500 likes on Instagram or 2.5k views on YouTube to be named an influencer on Aspire. Also, Aspire checks every account's quality manually.
A Tinder-like system to make a match between an influencer and a brand. While you are looking for your perfect creator, they are looking for you.
An opportunity to search for content on Instagram that matches your own aesthetics presented with an image as Aspire has an AI for image recognition.
Campaign management tool shows what the influencers who are engaged in your campaign are doing, on what stage of content creation they are. One of the ecommerce bonuses here: you can seed products and track whether they have reached the influencers already.
Aspire may be of use not only for brands but also for agencies that launch influencer marketing campaigns on Instagram (and YouTube, but Instagram is on the top here).