Pros/Advantages
DNS counterfeiting
High speed up to 25 Mbit/sec
All countries and cities around the world (Based on Sim card)
Prompt customer support
Unlimited IP changes
Cons
You can generate a mobile proxy in 1 location only with 1 android device
IP changes are not too quick, but satisfactory
Buying private mobile proxies can be a pain, especially if you need to figure out who to trust. There are a lot of proxy providers out there, and it can take a lot of work to figure out who to trust. Not all providers are created equal – some are shady, and some just don't offer the quality you need.
iProxy.online is the answer. They're a reliable, trustworthy provider with years of experience in the industry. They offer the highest quality proxies, and their customer service is top-notch. Plus, they're always here to help you choose the right proxy for your use case.
Let us check out iProxy.online review in detail.
Table of Contents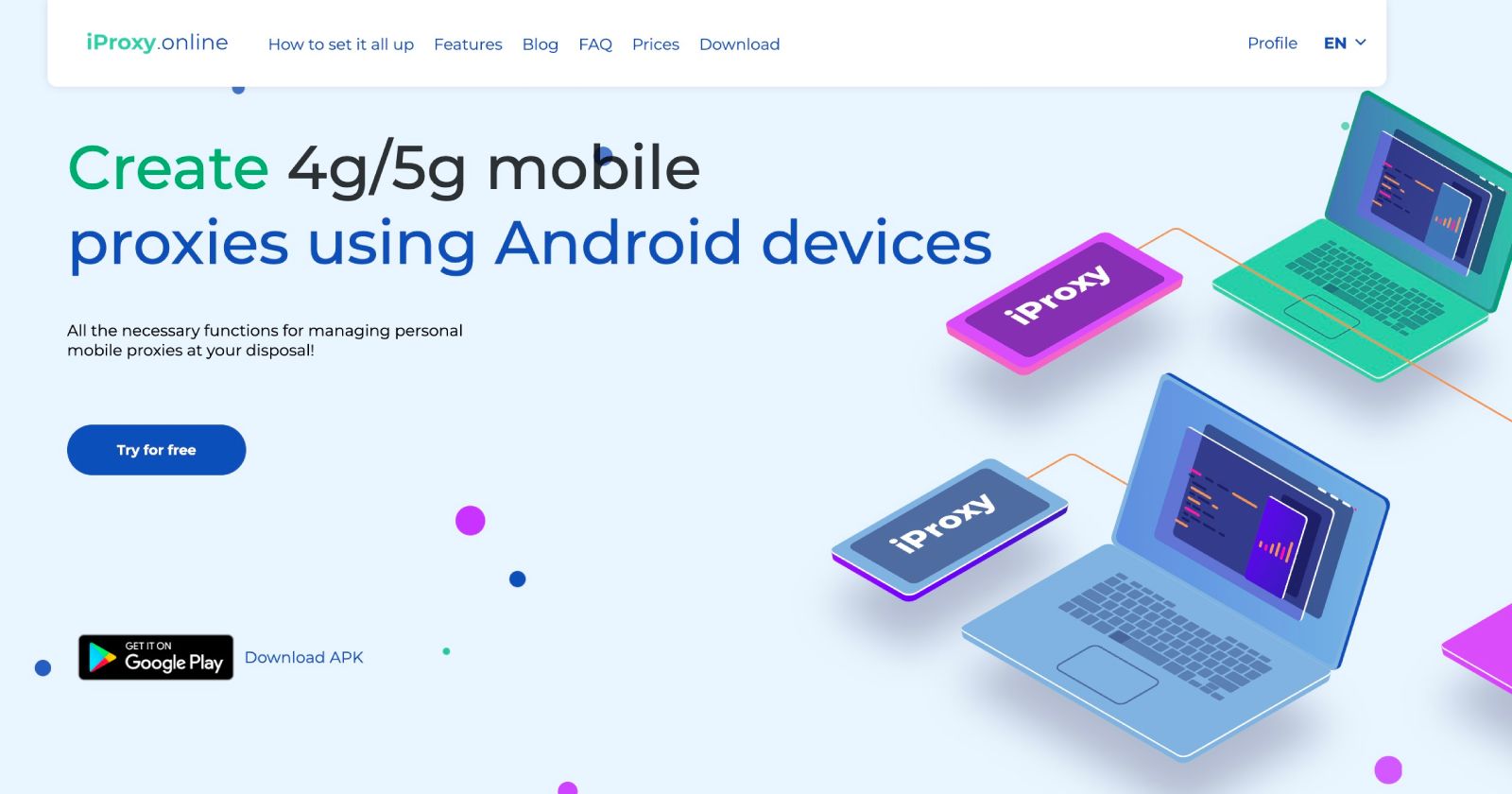 iProxy.online is an Android application created by Evgeny Smoguvse for configuring a mobile proxy on a smartphone.
Having acquired a wealth of knowledge and expertise in SMM, affiliate marketing, and the creation of IT firms, Evgeny was able to develop solutions that answer consumers' concerns at an affordable price.
The purpose of this proxy application is to enable the setup of mobile proxies fast, effortlessly, and without the need for programming expertise.
Everyone is capable of doing that. The only requirements are a smartphone and a SIM card. In addition to its ease of use, the service is also relatively affordable: $5 to $8 per month for one proxy.
The overall cost of a mobile proxy will consist of your mobile phone plan plus $5 to $8 each month. iProxy.online provides inexpensive proxies of excellent quality. The service would guarantee its consumers superior speed and security. With over 10,000 downloads on Google Play, it is continuously updated and enhanced.
How Does iProxy.online Work?
While the typical website access method is Device-Website, a proxy server establishes an entirely new connection method. For instance, if you use an anti-detect browser, the path might seem as follows: Smartphone – iProxy server – Website – Smartphone – iProxy server – Browser.
Why is it so difficult?
Affiliate marketers often utilize it to conceal their identities and appear as simple website visitors. With iProxy and an anti-detection browser, only the External IP address of a smartphone will be visible on the website.
It is very handy for publishers who want to harvest Facebook profiles. Consequently, iProxy facilitates the management of personal mobile proxies and simplifies affiliates' lives.
What Does iProxy.online Offer?

iProxy.online offers several additional features to enhance your experience with their mobile proxies. High speed is a top priority, ensuring you can access websites quickly and efficiently.
Automatic IP address change is another useful feature, providing added security and privacy.
The platform supports SOCKS5 and HTTP proxies, giving you more options for customization.
Additionally, you can create multiple proxy access points for a single phone, providing you with greater flexibility.
iProxy.online also offers a TCP/IP Fingerprint or Replacement Passive OS Fingerprint for added security.
Finally, the platform includes a bot for Telegram for notifications and IP address management, remote IP address change, and the ability to change IP addresses by following a link.
Mobile Proxy Pricing vs iProxy App + Data Plan
To setup your own mobile proxy, you will need
An android device and the application installed on it with a working SIM card
iProxy Subscription (not more than 10$)
4G/5G data plan on your SIM (20 GB data for 30 days = $36 USD)
Considering this pricing (if you already have a spare android device), your mobile proxy usage will come around 4$ per GB. This is only possible with iProxy Online App.
While any mobile proxy provider will cost around $15/GB on Pay as You Go option. Some may also cost even $25/GB
iProxy.online Pricing 🏷️ & How To Sign Up Steps
Step – 1: Go to the official website of iProxy.online, scroll down and click on 'Checkout' on the side of the plan of your choice.

Step – 2: Fill up the details asked for, and click on 'Try for free'.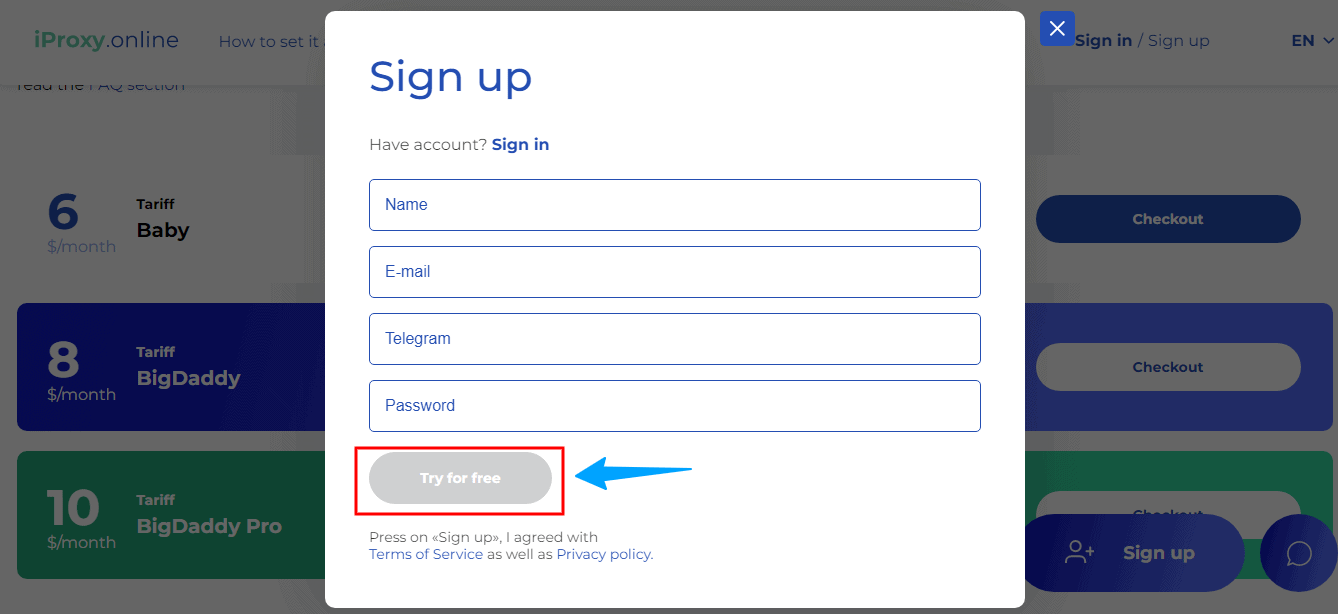 Verify your email, and you can log into your iProxy dashboard.
Step – 3: Click on 'Wallet'.
Step – 4: Fill up the amount and click on 'Top up your balance'.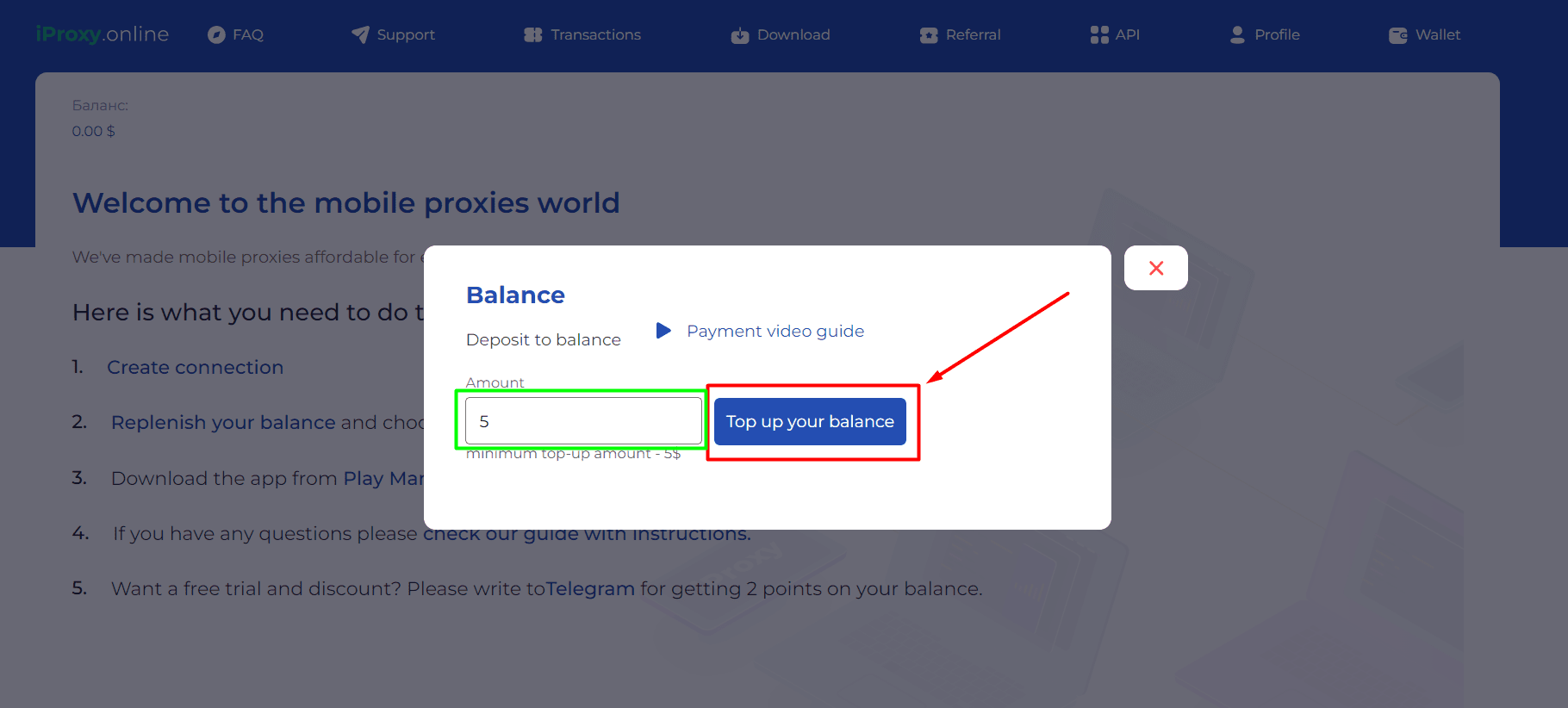 Step – 5: Click on one of the payment methods of your choice.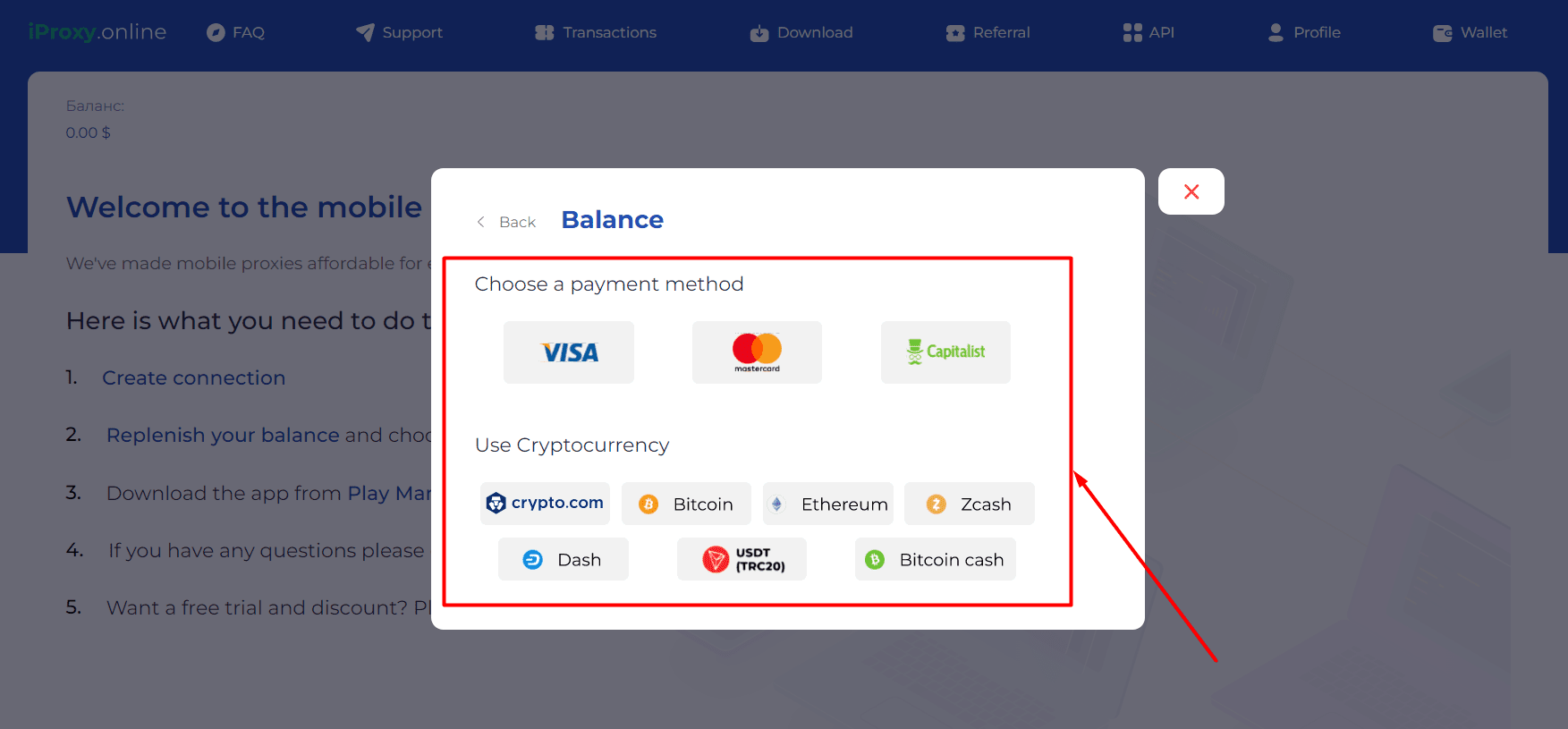 Step – 6: Click on SEND MESSAGE'.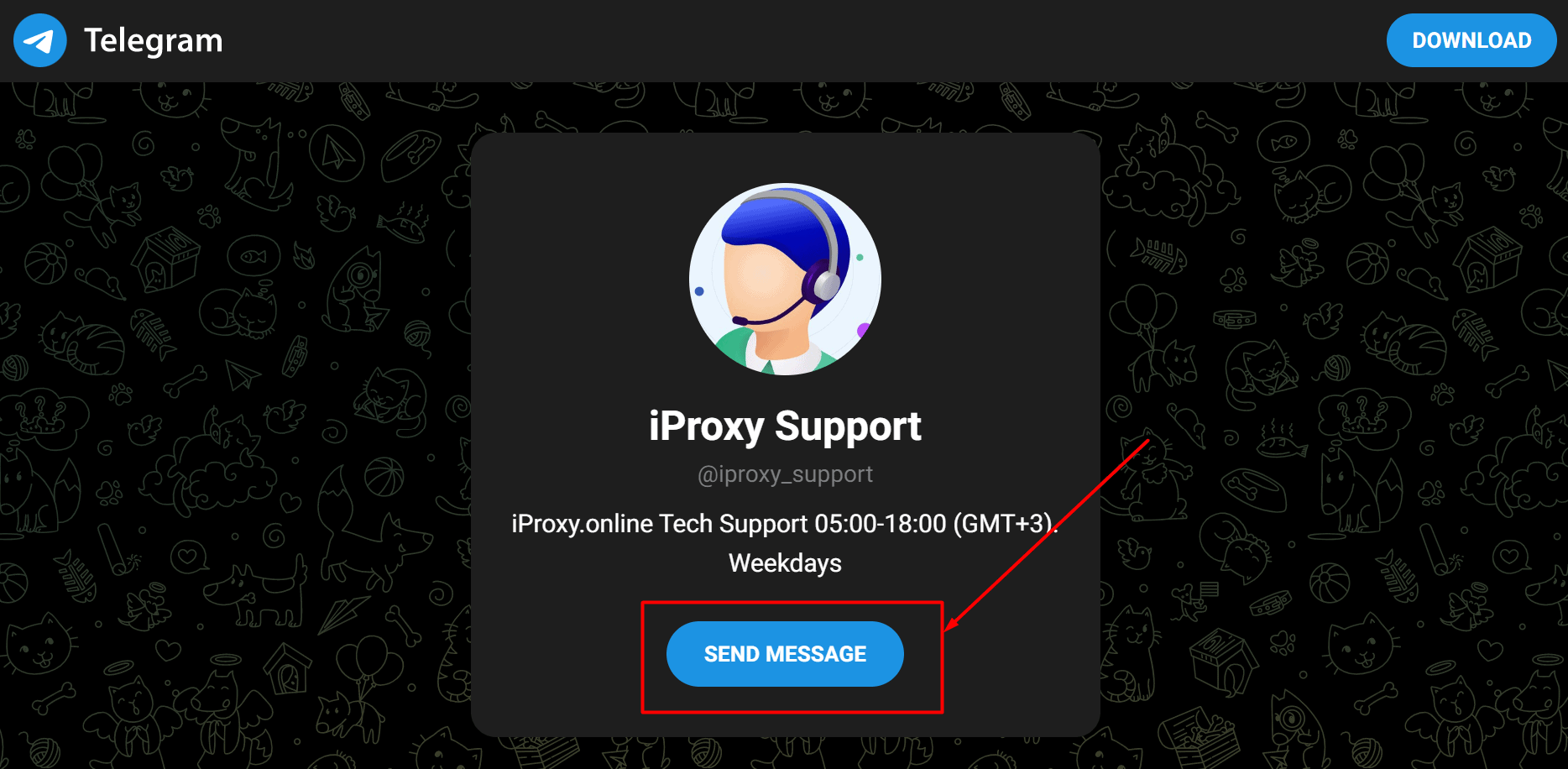 There you will receive a payment link. Complete the payment, and you are good to go.
How to Setup Mobile Proxy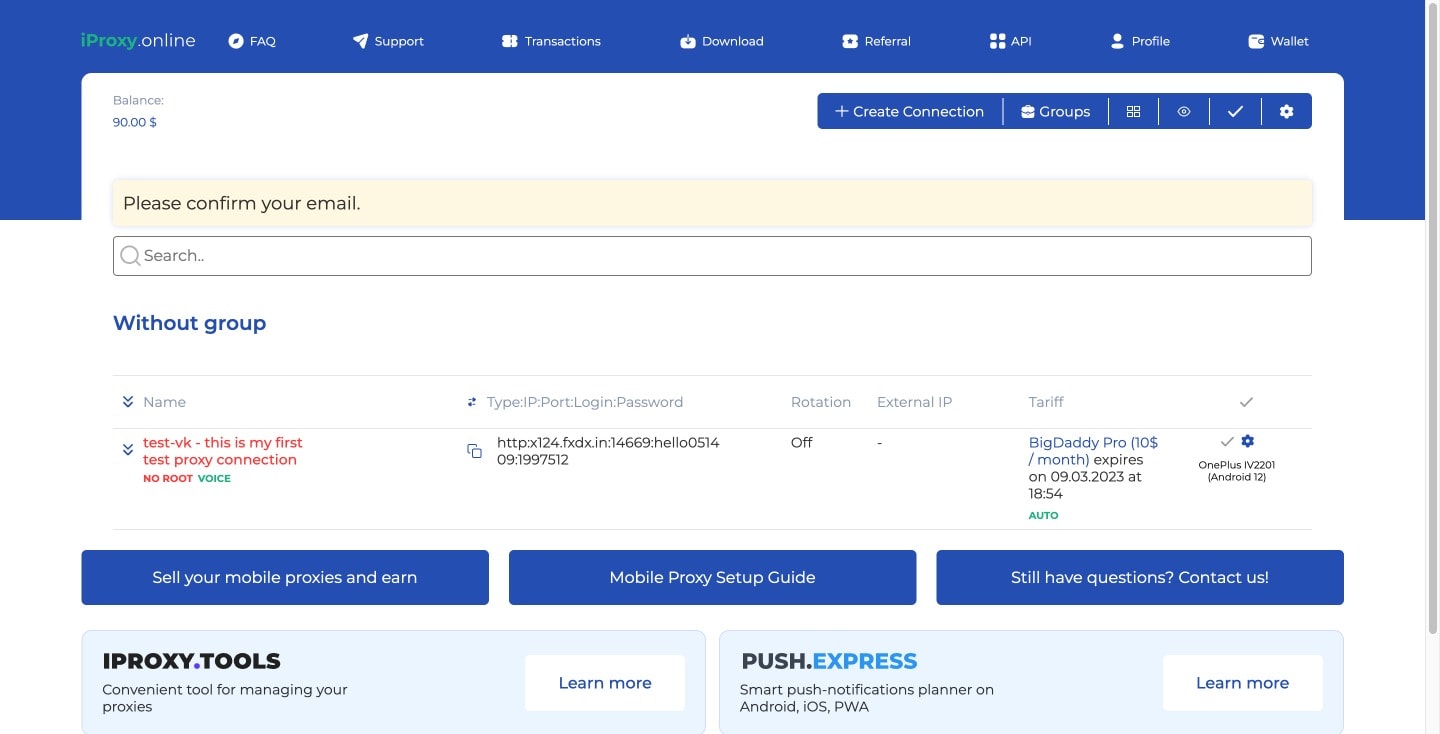 The dashboard looks something like this. When you install the the app in your android phone, login and setup it totally, it gets turned on and you will see the external IP.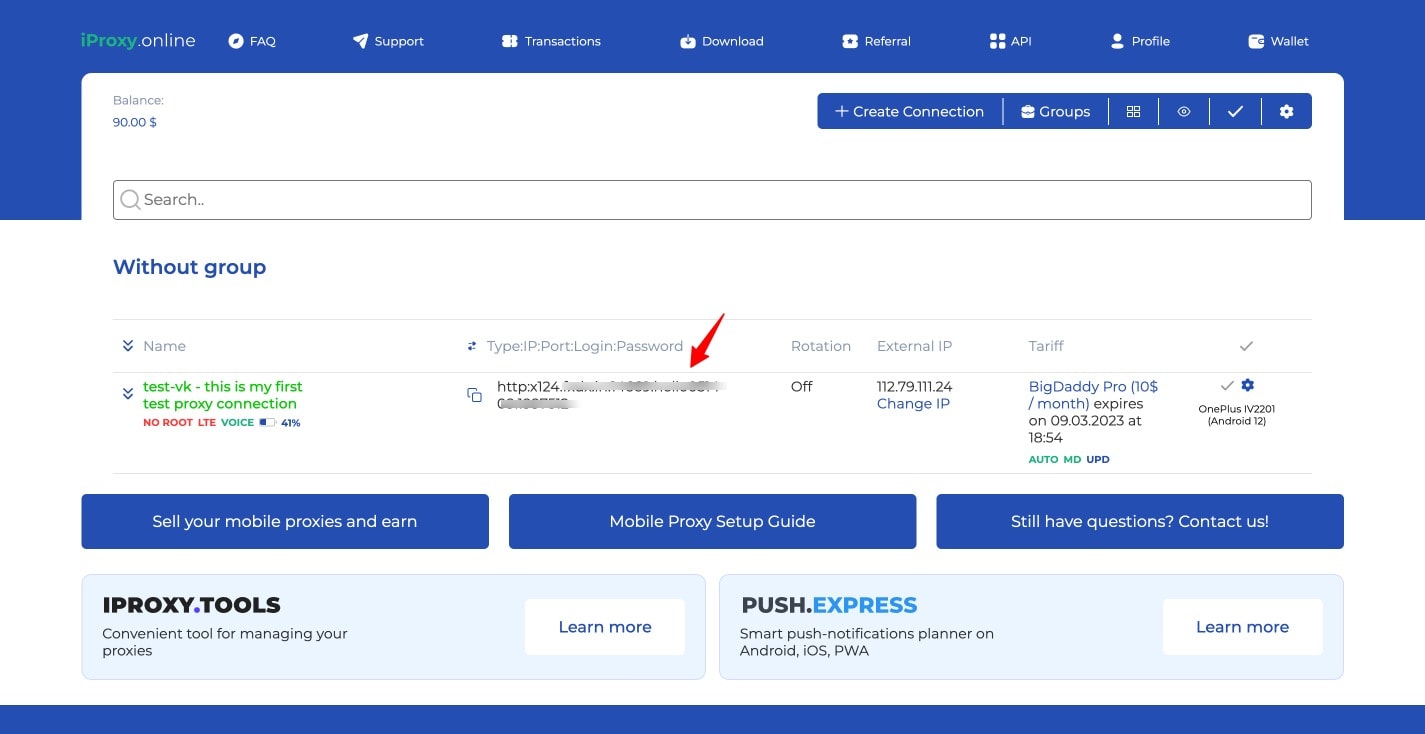 The HTTP proxy command can be used in any scraping tool or anti-detect browser easily.
Now, you can can change the External IP from 3 methods.
In the Android app
From the Proxy.online dashboard itself
Use custom IP change URL
Using telegram bot
When you change IP using any of the above options, the android phone will go on the airplane mode and will be back in 10-15 seconds. This helps forcefully changing your IP address throught the ISP provider.
That's the best method of having your own mobile proxy with unlimited rotation.
Reasons To Choose iProxy.online

iProxy.online offers several compelling reasons to use their mobile proxies.
🔥 Firstly, they work globally, meaning you can launch mobile proxies from anywhere.
🔥 Their tariffs come with limited traffic distribution, giving the illusion that you are visiting websites directly from your phone and not through a hotspot.
🔥 iProxy.online provides maximum control, with all the necessary features required for effective proxy use.
🔥 Launching mobile proxies from your phone is fast and straightforward, making it a convenient option.
🔥 Lastly, iProxy.online is an affordable option with costs ranging from just $6 to $10 per month.
iProxy Advantages and Disadvantages
Pros 👍
DNS counterfeiting
High speed up to 25 Mbit/sec
All countries and cities around the world
Prompt customer support
Easy setup with proper video guides
Unlimited IP changes
Cons 👎
Might be challenging to use if you have not used a proxy before.
It is like generating your own mobile proxy and you need a dedicated SIM card.
You can generate a mobile proxy in 1 location only with 1 android device
IP changes are not too quick, but satisfactory
More Proxy Networks To Look Out For In 2023
Frequently Asked Questions (FAQs)
How do I set up a 4G proxy?
Setting up a 4G proxy is surprisingly easy. All you need is a Raspberry Pi, a 4G dongle, and a 4G SIM card. After installing the Raspberry Pi OS on the Raspberry Pi and connecting it to the 4G dongle via the SIM card and an Ethernet cable, all that remains is to run the Proxidize script.
With one command line, Proxidize will automatically install your proxy on the Raspberry Pi with minimal effort. Once your server is configured, you'll be able to access your proxies quickly and easily. With just a few steps you can create your own 4G proxy from home!
Can I use a proxy for WhatsApp?
Setting up a proxy to use WhatsApp is easy on an Android device. All you need is a domain name (or subdomain), the IP address of your server, and ports 80, 443, or 5222 available on the server. To get started, you'll need to make sure that your device has internet access. You can then go into your settings panel in WhatsApp where you will find the option for setting up a proxy.
Once that is configured, it's just a matter of entering in the necessary information; such as the subdomain and port numbers, and even inputting information from your account's DNS service provider if you are using one. You may also have to provide additional authentication depending on your specific configuration setup. With all this set up correctly, there shouldn't be any issue with connecting to WhatsApp via a proxy on an Android device.
Is proxy safer than VPN?
It's easy to find free proxy servers that will hide your IP address. But if you want to keep your browsing activity hidden from snoops, logging onto the internet through a VPN is the better choice. Again, it comes down to encryption: VPNs encrypt your data while online. Proxy servers don't.
Conclusion
I recommend iProxy.online to anyone who needs a reliable, high-quality private mobile proxy provider. Their customer service is excellent, and their proxies are some of the best on the market.
If you're looking for a fast, and reliable private Mobile Proxy Provider, look no further than iProxy.online!