Let's start off with this Penji Review with a brief introduction to the platform. Penji is a leading provider of limitless design services. You pay a monthly, quarterly, or annual subscription fee and get access to their staff of designers, to whom you may submit an infinite number of design requests.
You may submit an infinite number of requests, but their designers will address each one individually. Thus, even if you want 1,000 logos, they will work on one at a time, completing the job in many months or years.
Why would I choose an all-inclusive design service? Because if you have regular design jobs but not enough of them to justify employing a full-time designer, outsourcing may be much less expensive than engaging freelancers or agencies.
Penji's rates are so low because the same designer who works for you also works for other firms, distributing his salary across many enterprises.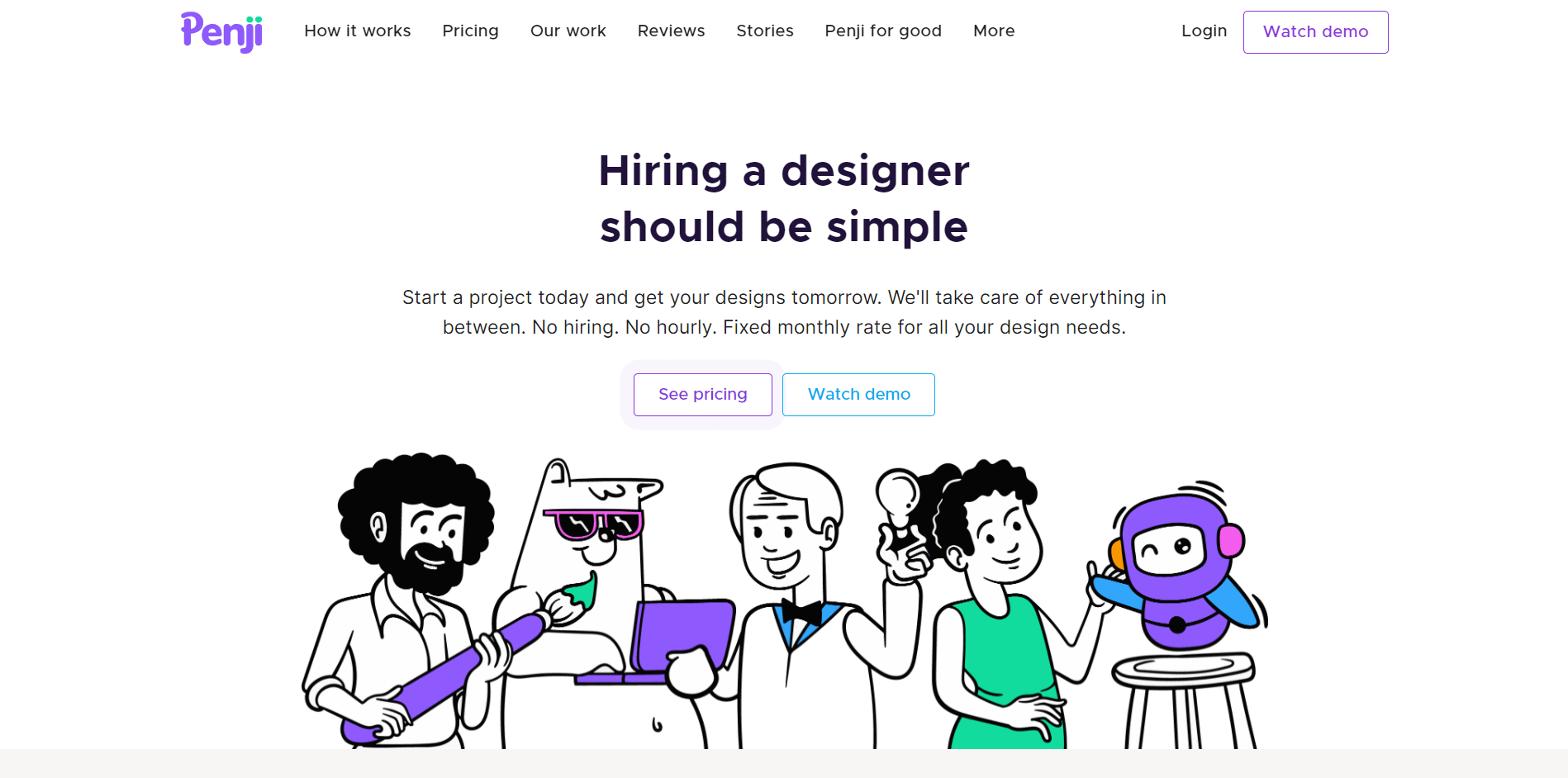 Major Features and Benefits of Penji
Penji's primary advantages are its limitless design projects, unlimited revisions, quick turnaround time, file ownership, human assistance, and seamless design process and communication. More information is available here:
Create portfolio with Penji
Design approach and communication are both seamless:
Penji utilizes a custom design platform that serves as a one-stop shop for creating, downloading, discussing and monitoring design inventory. To use the platform, follow these three steps: Create a new design project, wait 24–48 hours, and then download the necessary files.
Additionally, the platform enables collaboration with your internal staff. By registering as a member, people may quickly interact with the designers and provide comments and ideas.
Human assistance:
Clients who purchase certain Penji plans get a dedicated account manager who oversees the designer's work. This eliminates the need for customers to constantly monitor the design process. They just simply submit a design proposal, wait for the initial draft, and then leave the rest to the dedicated account manager.
File ownership:
Certain marketers will use stock photos as part of their marketing visuals. Penji ensures that customers get only unique pictures that are free of copyright violation. Clients will get ownership and licensing rights to any designs produced.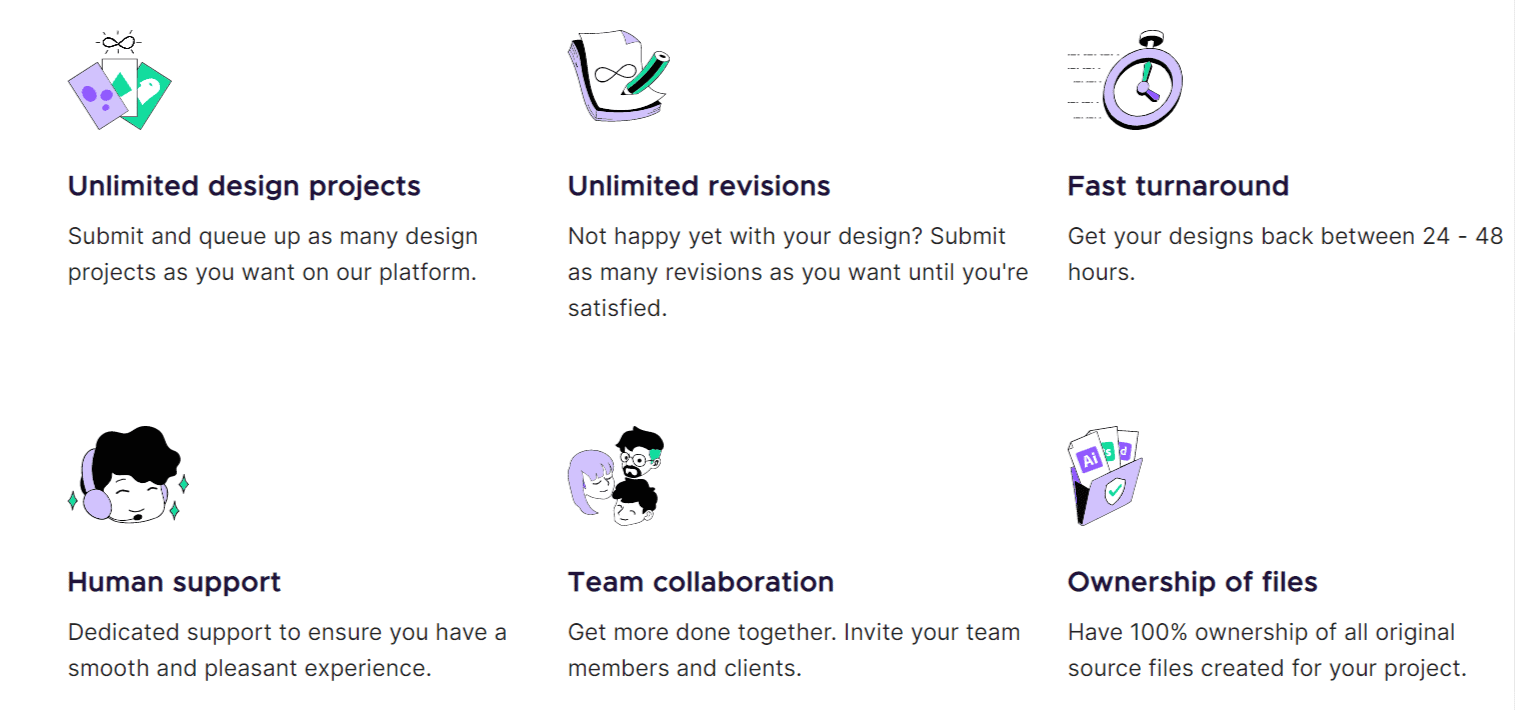 Rapid response:
Penji's 24- to 48-hour turnaround time is unmatched when compared to employing freelancers or agencies. Initial drawings are provided within 24 hours, but more complex designs may take up to 48 hours to complete.
Penji's quick turnaround is ideal for businesses operating on a tight timeline. This avoids impeding any activity that may have an effect on the total income of the company.
Revisions indefinitely:
Clients will also get limitless revisions in addition to unlimited design projects. Graphic design is a time-consuming and difficult process, made much more difficult by a lack of clear communication. Clients may express dissatisfaction with the first draft, which is common in graphic design.
While other graphic design firms charge an additional fee for changes, Penji does not. When requesting changes, you just need to utilize the easy point-and-click functionality. Additionally, you may request as many changes as necessary until you are completely pleased.
Create portfolio with Penji
Numerous design projects:
Whether you're starting a company or managing an existing brand, design is an advantage. From brand development to marketing initiatives, marketers and company owners need scalable bespoke designs. While employing freelance graphic designers may seem appealing, engaging multiple designers for each design job may be expensive.
You no longer need to seek designers with a variety of talents while using Penji. Because they employ only the top two percent of designers, you can expect to work with designers who have expertise with all design types.
Additionally, paying a fixed monthly fee in return for limitless design tasks is a lifeline for businesses operating on a shoestring budget. This may help keep the company alive without interfering with day-to-day activities such as manufacturing and marketing.
[wp-review id="17912″]
Penji Pricing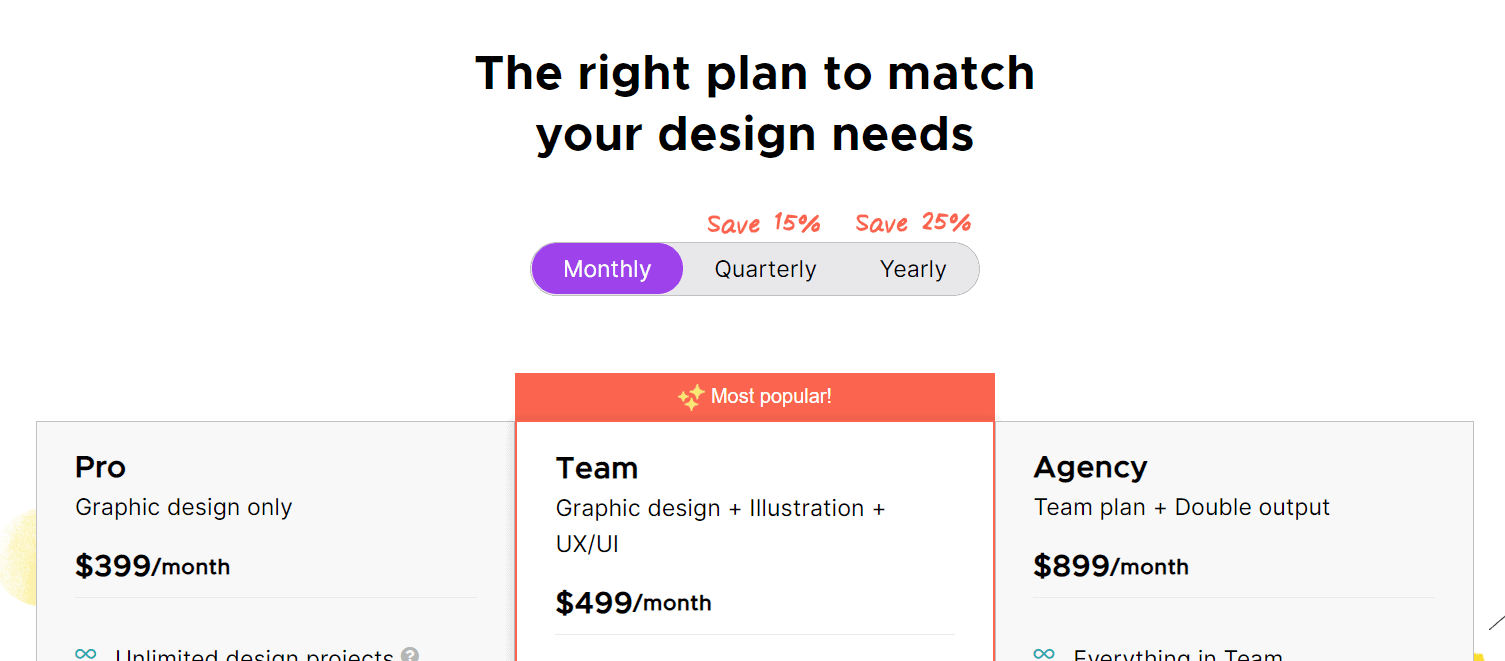 They have 3 pricing plans to offer –
Pro ($ 399 per month if paid monthly, $ 339.15 per month if paid quarterly, and $ 299.25 per month if paid annually): This only includes graphic design and you get unlimited design projects, unlimited brands, 1 designer, and unlimited users.
Team ($ 499 per month if paid monthly, $ 424.15 per month if paid quarterly, and $ 374.25 per month if paid annually): This includes graphic design, illustration, and UX/UI and you get everything in pro, unlimited website, and app design, custom illustrations, and unlimited infographics.
Agency ($ 899 per month if paid monthly, $ 764.15 per month if paid quarterly, and $ 674.25 per month if paid annually): This includes a team plan, and double output and you get everything in the team, 2 designers, and prioritized support.
The few major things I personally loved about their plans are that there are no hidden fees, you can cancel anytime, and they offer a 15-day 100 % money-back guarantee.
Create portfolio with Penji
How To Sign Up/Buy Penji
Here are the steps that will take you through buying Penji –
Step – 1: Go to the official website of Penji from here – https://penji.co/pricing/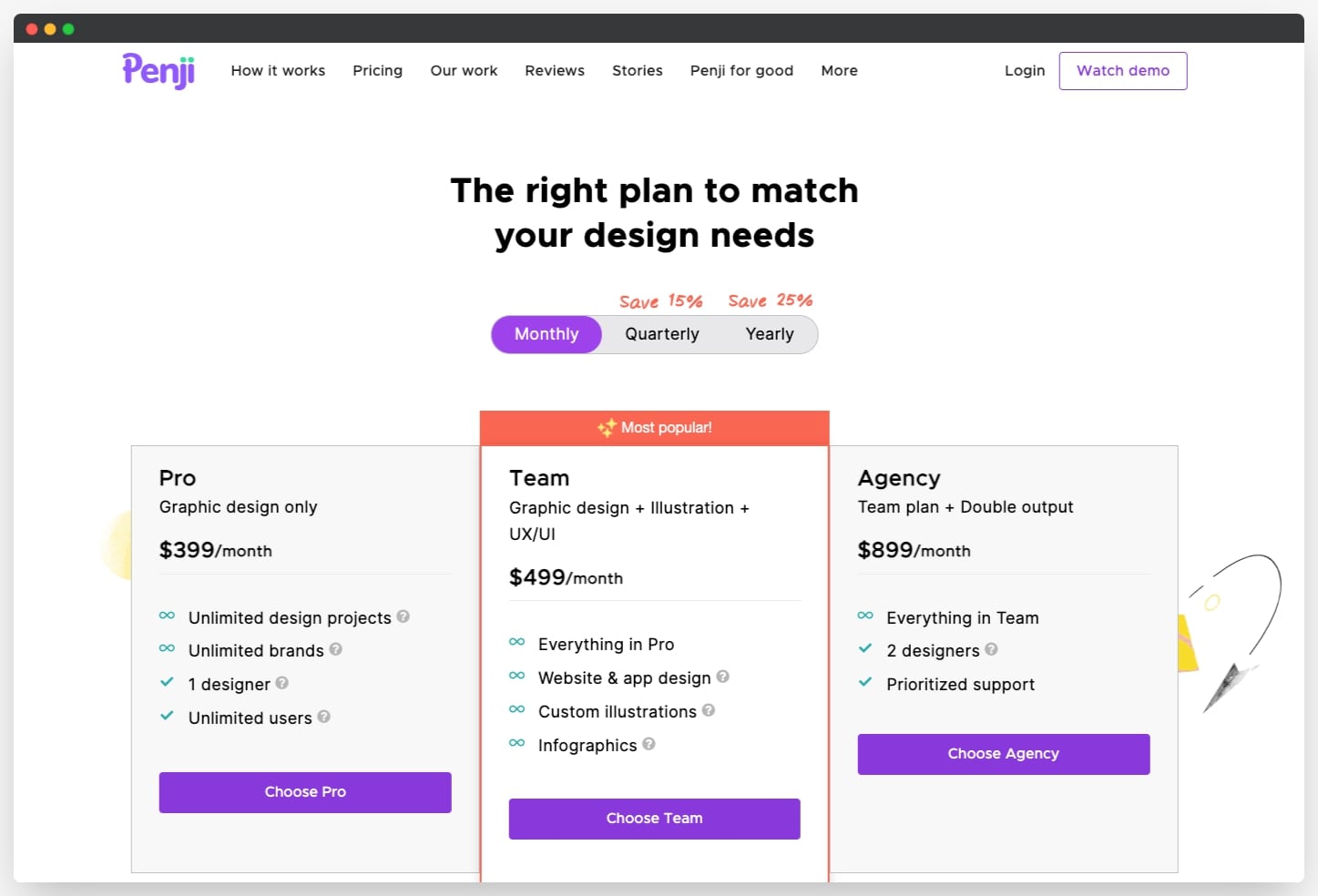 Step – 2: Choose the plan you think would be ideal for you and click on 'Choose Team'.
Step – 3: Fill out the information you have been asked for and click on 'Create Account'.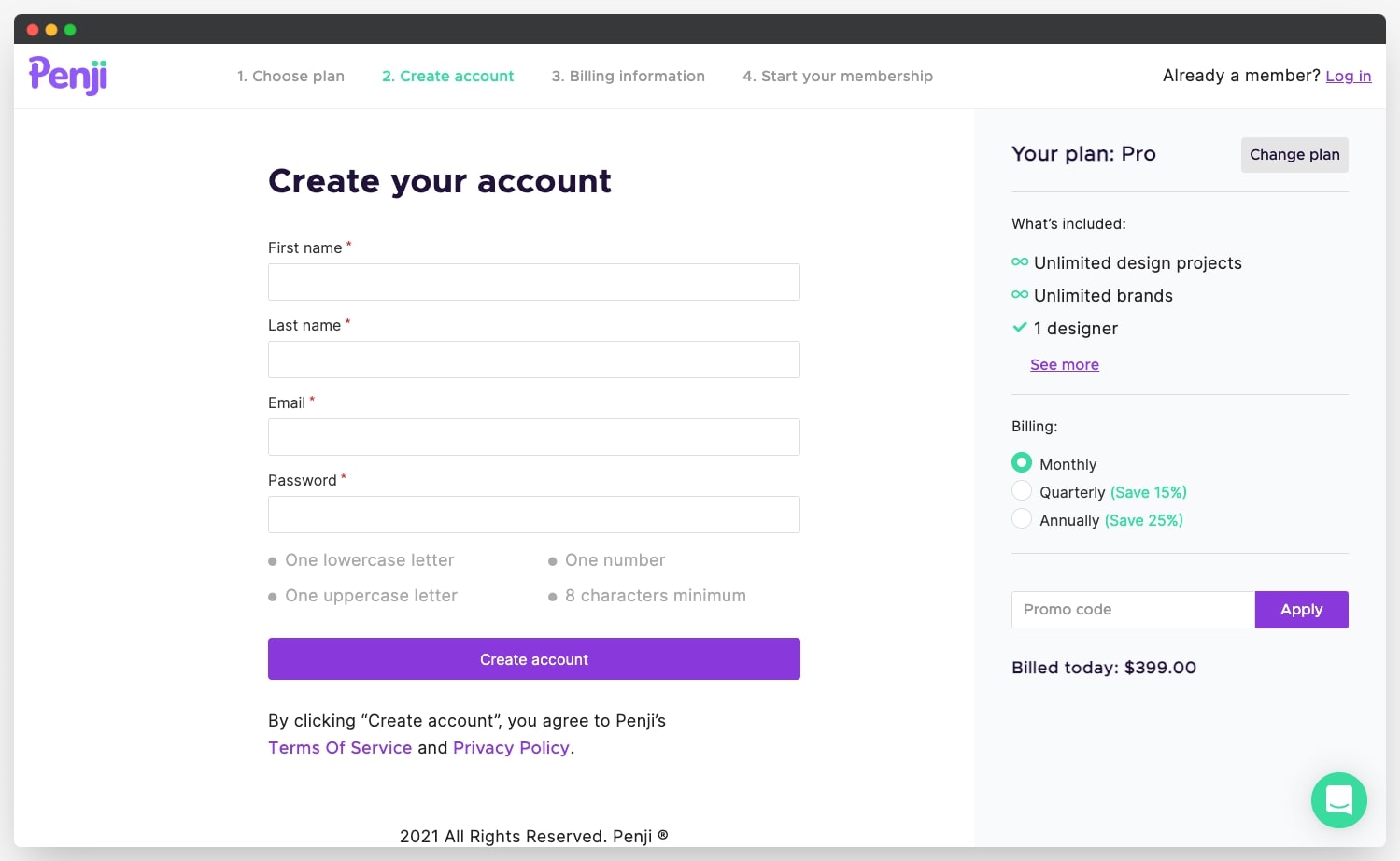 Step – 4: Then, you will be asked for payment details. Fill them up, check the terms and conditions box and click on 'Finish and Pay'.
That is it. You are good to go.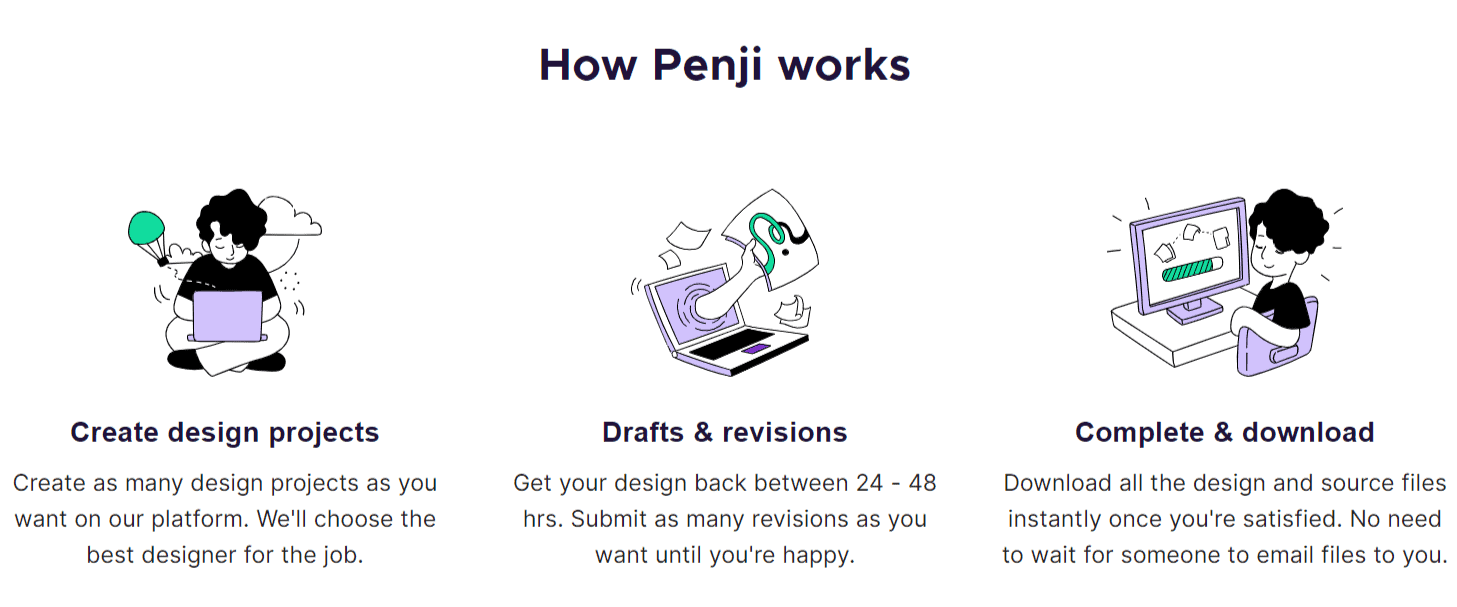 How To Make Use of Penji?
Here Is how you can work on Penji –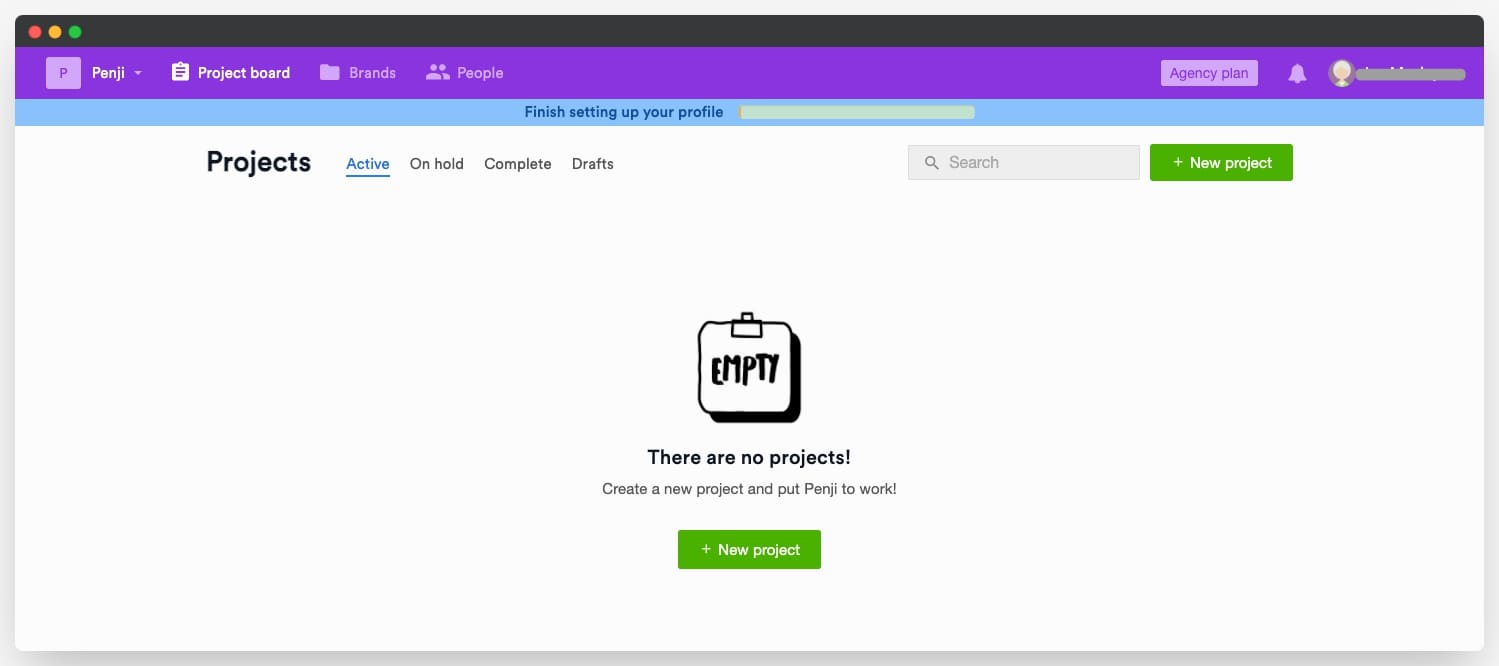 Step – 1: Create a design project: First of all, you have to fill up a form, then upload some attachments, and choose what type of files you will be needing.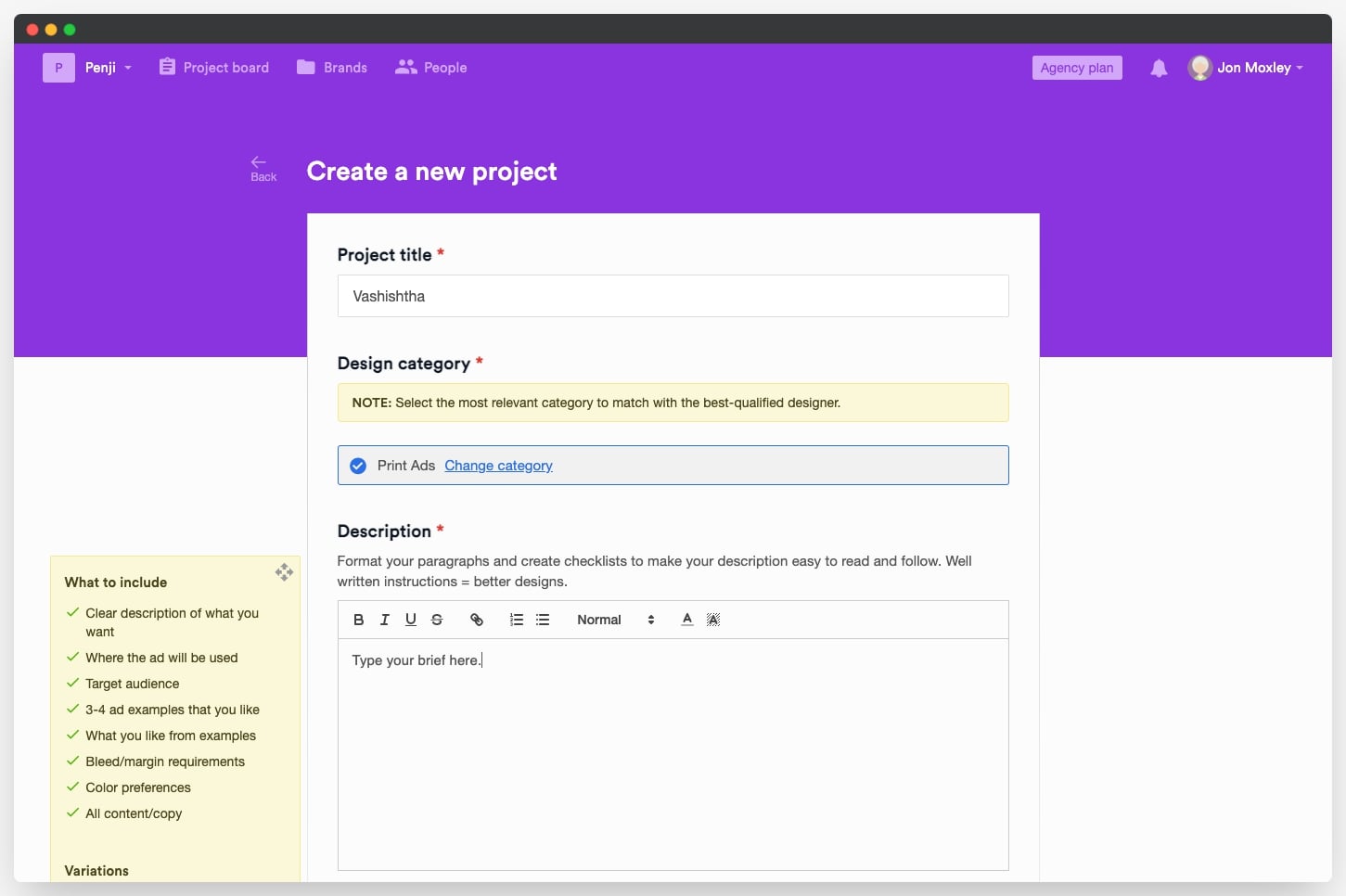 Step – 2: Your project will be assigned to the best designers: You will only have to work with 2 % of the best designers, and you can easily communicate with them.
Step – 3: Review drafts and submit feedback: Within 1-2 days you will get a draft. You can ask for as many revisions as you want and their designers would do it for you.
Step – 4: Instantly download files: Now you can easily download the design and also have complete ownership of the source files.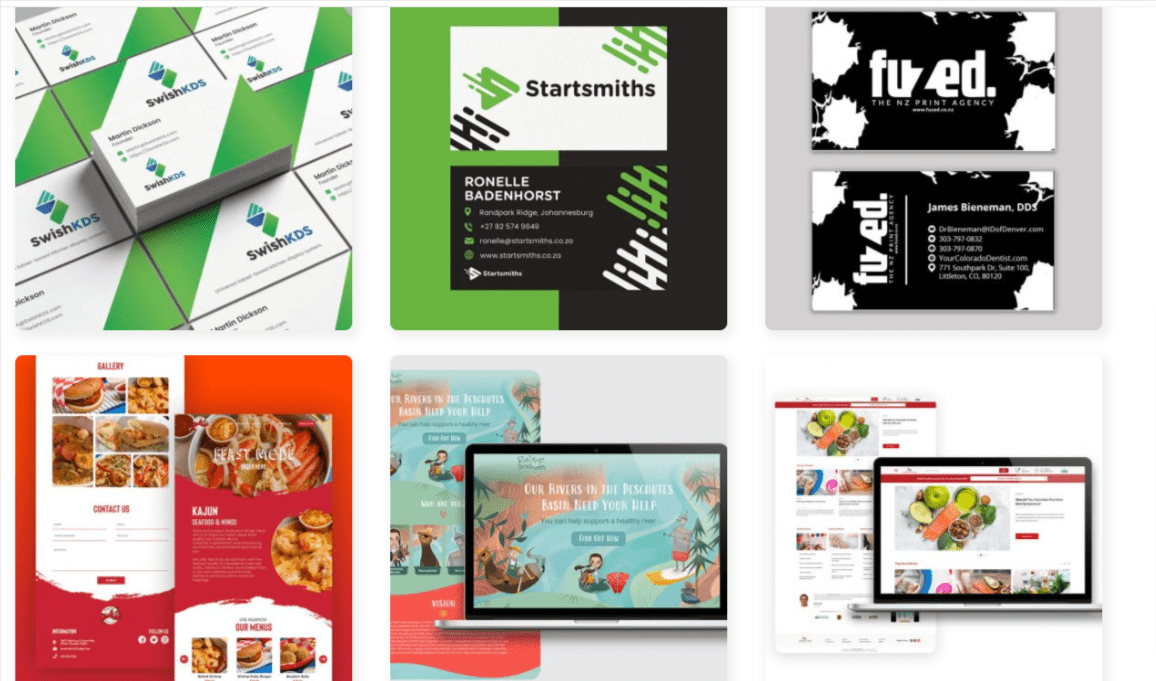 Penji Pros and Cons
Penji Pros
They provide a unique philanthropic program for just $1 per month that benefits charities.
I appreciate the fact that you can generate shareable links to email designs to friends or customers for feedback.
I like the ability to build a design profile for your business and add logos, colors, and fonts.
If your project requires more than one designer, they offer an agency package with two committed designers.
They offer an easy dashboard that enables you to give suggestions and comments directly on pictures for your designer.
The majority of requests are processed within 24 to 48 hours.
If you dislike a designer's style, just inform them and they will give you another one without delay.
When submitting a design brief, you may choose your own royalty-free pictures.
There are no obligations and you may cancel at any time.
They have a rigorous testing procedure in place for graphic designers and employ only the top 2% of candidates.
They are reasonably priced and do not include any hidden costs. I'm a huge fan of Penji's business strategy.
They supplied various designs from three different designers for the first 2-3 requests (all fairly different approaches)
They are one of the few companies that provide both mobile application and web design (Team plan and above).
They have some of the highest levels of productivity and visual output that we've seen in our testing.
Penji Cons
You must be very specific in your design brief; otherwise, you risk receiving clarification requests, which may delay the turnaround by a day.
While they provide a choice of Adobe Creative Suite source files (Photoshop, Illustrator, Indesign, or PDF), they do not have a Sketch option (which is a widely used Mac-based software).
Create portfolio with Penji
What People Say (Testimonials) About Penji
Here are a few testimonials on Penji. See what other users have to say about Penji –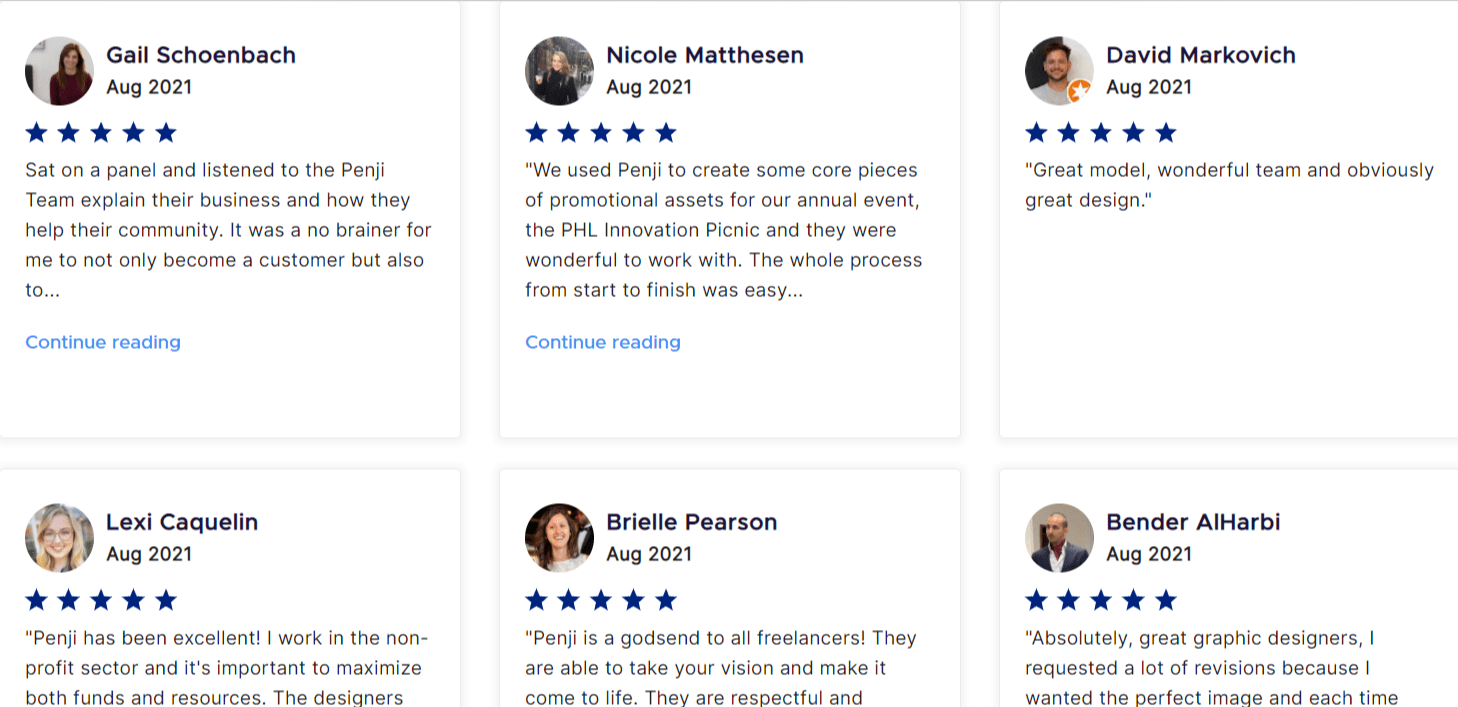 Our Verdict
Assume you are an agency, a small company owner, or a marketer in need of a headache-free graphic design solution. Penji's in-house professional design team is available in this situation. Penji relieves you of the burden of managing your design projects, such as excellent user interfaces. They make it easier and more simple to see your project's revisions online and to provide comments directly on pictures, in comparison to Design Pickle, which has a less-than-stellar user experience.
FAQs
Plans with a single designer compared. plans with two designers?
The Pro and Team plans will always include at least ONE designer who will be responsible for daily design production. The agency's strategy will always have at least TWO designers to ensure productivity is doubled.
I own and operate several companies. Can I have more than one account?
Indeed, they created a feature called Brands especially to assist you in managing numerous companies. A brand is a collection of information and assets for anybody or anything for whom you need design work on a regular basis. Create a brand for your clients, goods, or numerous companies, or use it to organize and classify your design work.
Conclusion
Because visuals attract more attention than text, why not give your material an aesthetically attractive look? Whether you need a single design or thousands, at the conclusion of our research, we can confidently state that choosing Penji is a win-win scenario. Sign up today to increase traffic to your blogs.
The service will be well worth the money you spend. However, if you're not satisfied, a 15-day money-back guarantee is always available. However, we are certain that you will not feel compelled to take advantage of our money-back guarantee offer. Hurry up and contact Penji in order to finish the first design within the next 24-48 hours.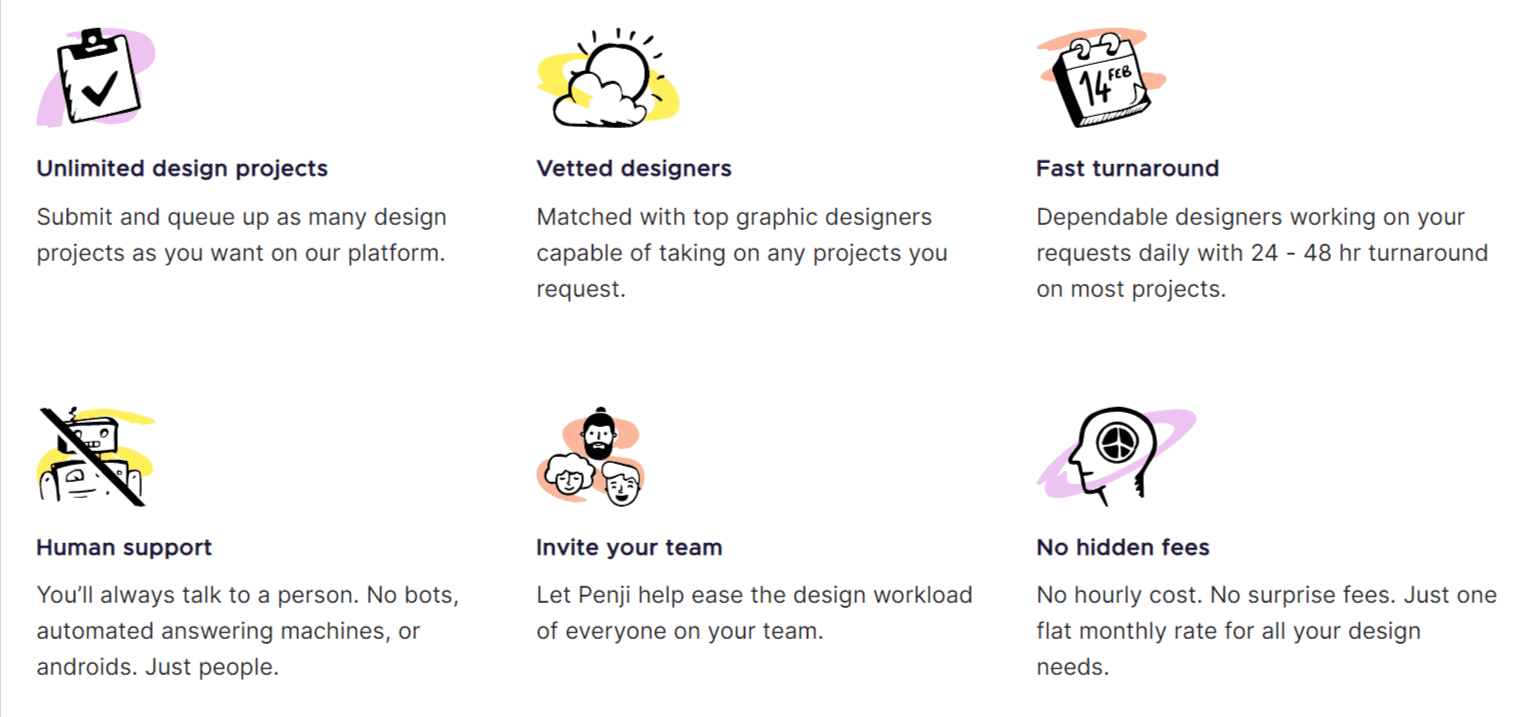 Advance Tips To Make The Best Use Of Penji
Here are some of the tips you must keep in mind while using Penji to make the most use of it –
Own 100 % of the original source files generated for your project.
Together, you can do more. Inviting your colleagues and clients.
Utilize specialized assistance to guarantee a pleasant and seamless experience.
Make time a priority. Receive your designs within 24 – 48 hours.
Not satisfied with your design yet? You may request as many changes as necessary until you are pleased.
On their site, you may submit and queue up an unlimited number of design projects.
Closest Alternatives To Penji
Here are the 2 closest alternatives to Penji –
Design Pickle
Design Pickle is the industry's premier platform for creative enablement, providing flat-rate graphic design, bespoke drawings, and presentation design. It's an incredibly simple, scalable, and dependable solution for any entrepreneur, agency, or marketing team. From social media advertising and blog graphics to t-shirt designs and even vehicle wraps, Design Pickle has fulfilled over one million creative requests, assisting thousands of companies worldwide in scaling their creative content.
Kimp
Kimp is a graphic design service that is available on a subscription basis. Marketers, startups, and SMBs may use Kimp to hire a dedicated Project Manager and Design Team, as well as create and manage their design needs in one location. The service is provided on a month-to-month basis for a flat price, making bespoke design cheap and adaptable.
Don't stop reading. Here's more for your portfolio you must know: