Today, I am going to share Newor Media review that is a young programmatic advertising company that is creating a reputation for itself in the blogging world.
After using their technologies, it's clear that this is a firm developed for bloggers, by bloggers, with a variety of tools and technologies. Also, it's the best place to make extra money from your website.
Not to mention, with a minimum of 30k monthly visits, you have access to their industry-leading header bidding systems and ad exchanges.
The best thing is that they do not bind you to a long-term contract. They see themselves as partners who want to build your enterprises together.
Many companies and blogs need to start somewhere, and after you see how much more you can expand your company when you work with the Newor Media team, you'll understand why.
What is Newor Media?
Newor Media has a partnership with Google MCM, which offers far more controls and functionality than a traditional ad exchange. This includes access to private agreements, advertiser banning, and demand source restriction.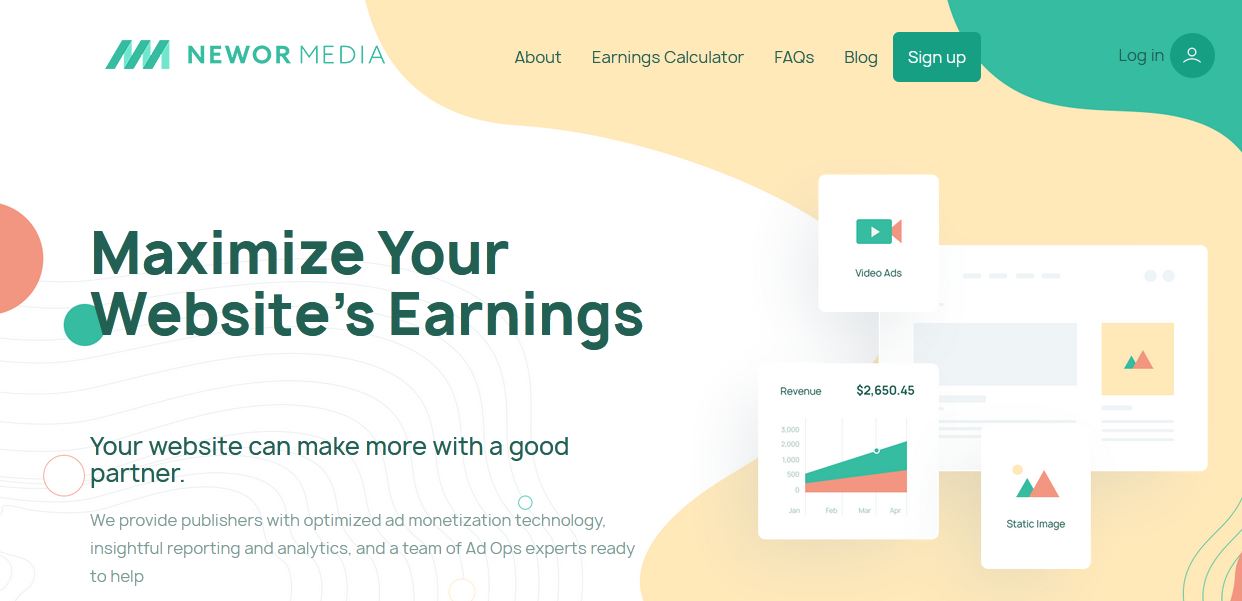 To be clear, being an approved reseller via Google Ad Exchange is a significant undertaking. The fact is that you, as a site publisher, have little possibility of receiving an invitation directly from Google.
Indeed, the majority of agencies and providers are denied access until you generate billions of ad impressions every month. Thus, when evaluating ad networks, it is critical to include a Google Ad Exchange partner.
However, Newor Media does not stop at selling your ad impressions via Google; they also employ header bidding to force Google Ad Exchange to compete with other networks and exchanges. This will boost your review count even more (50 percent or more).
In Newor Media review, I will cover its features, sign up process, and more. So, keep reading.
Newor Media Features
Great Customer Support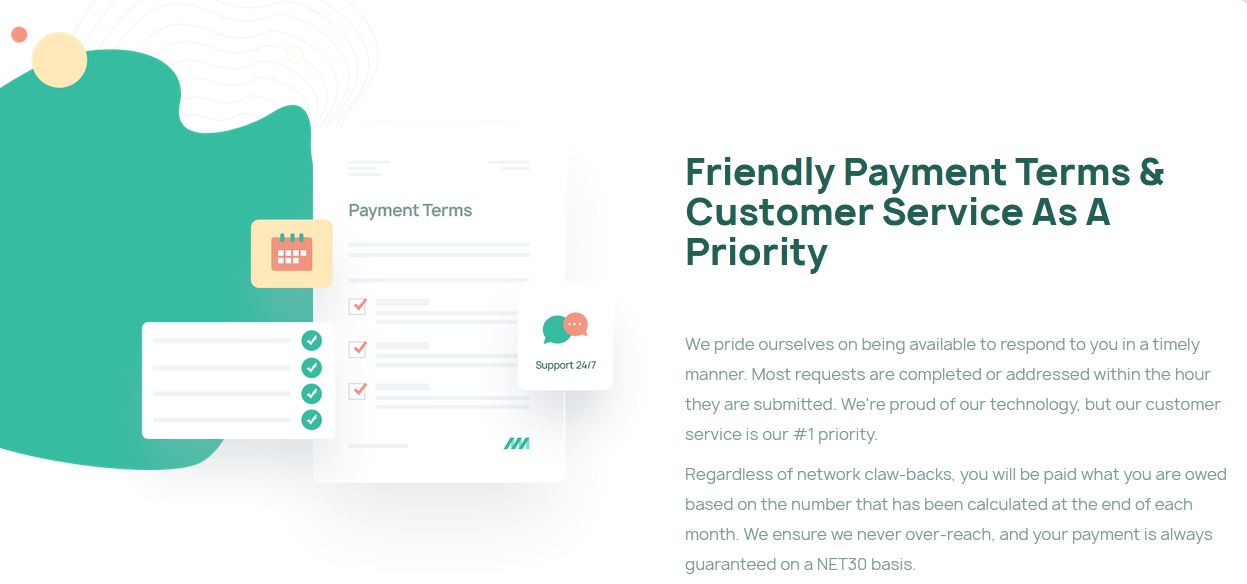 I talked with several publishers who had previously dealt with Newor Media. They said that their assistance is incalculably valuable. I contacted their support service through chat and got an immediate response.
Real-time Features

As a publisher, you may monitor in real-time the fill rate, visitors, impressions, CPM, RPM, and revenue.
Decent payment terms
Their payment conditions will not disappoint you. Newor guarantees payment on a NET30 basis with various payment methods such as — Wire Transfer, PayPal, and Payoneer.
The minimum payout via PayPal is $50, and $250 for Payoneer and ACH/wire transfer. They're known for always making timely payments to publications.
How to Sign Up for Newor Media?
Your account manager at Newor Media will undoubtedly be there to help you in selecting the finest locations for your advertisements.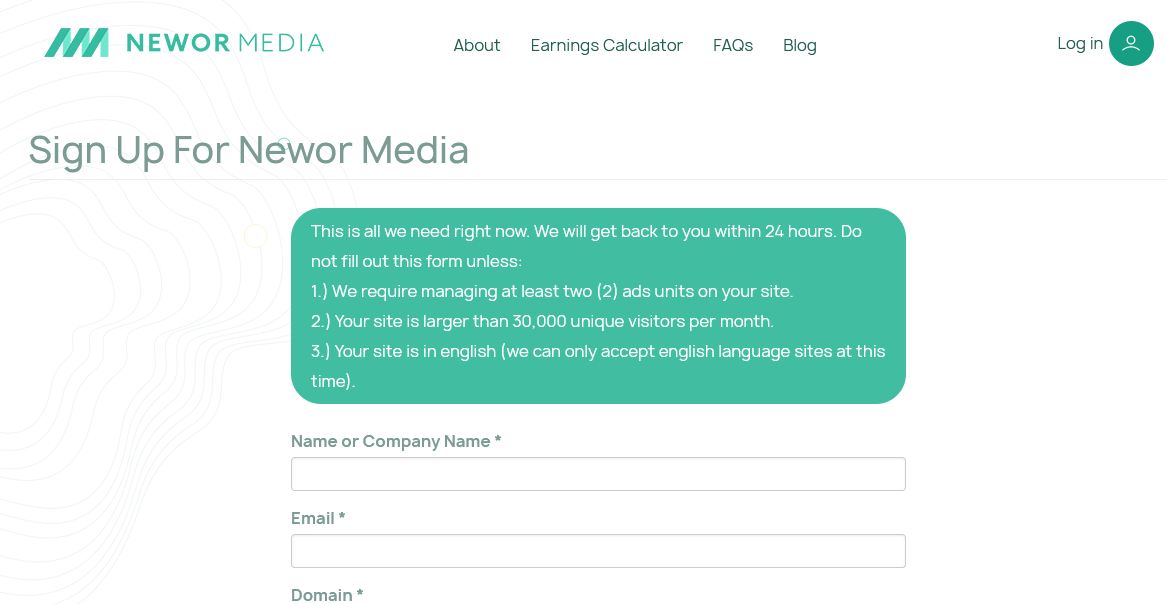 How To Make the Best Use of Newor Media?
Working with Newor Media is pretty simple. All you have to do is log in to your account and ask them about your problem with the banner ads.
One of their experts will contact you via email and you can discuss your problem with them and get your solution easily.
Advance Tips to Make the Best Use of Newor Media
Use the following benefits of Newor Media to grow your business –
Payment Terms That Are Acceptable & Customer Service That Is Priority
They take pleasure in being accessible to react to you promptly. The majority of requests are finished or responded to within an hour after submission. They are proud of our technology, but their primary focus is on client service.
Regardless of network clawbacks, you will be paid what you are entitled to based on the monthly total. They make certain they never exceed their authority, and payment is always guaranteed on a NET30 basis.
Relationships With Almost Every Major Network & Agency
At Newor Media, they have relationships with all major networks and SSPs, guaranteeing that your site has access to the most diversified and high-quality demand available. Simply, they assist you in producing more.
By diversifying your markets, you may ensure that your products are driven by competition rather than the whims of a single company's demand pool.
Revenue Maximization Through Algorithmic Real-Time Bidding and Machine Learning
By merging cutting-edge header bidding technology with the world's best yielding networks, they achieve market-leading profits and quality. Their developers are always developing new technologies to help you make more money.
Strategic Assistance in Placement and User Experience Balancing: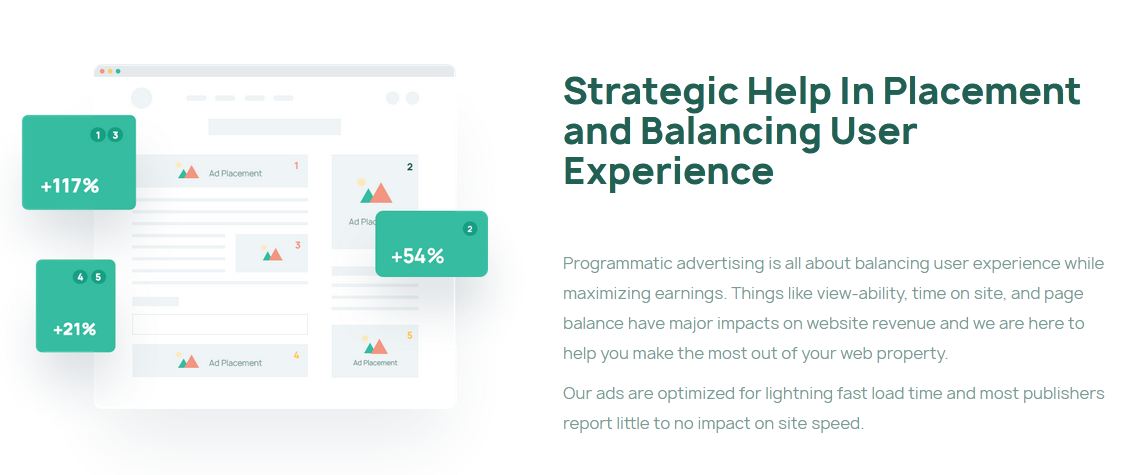 Programmatic advertising is all about striking a balance between user experience and revenue maximization.
Viewability, time spent on site, and page balance all have a significant influence on website income, and they are all here to assist you in getting the most out of your online property.
Their advertisements are tuned for lightning-fast load times, and the majority of publishers say that they have little to no influence on site performance.
Newor Media Pros and Cons

Newor Media Pros
Excellent and prompt help.
They do not need integration of a name server like Ezoic does since the advertising they make is already optimized!!
Their advertisements have been tailored for lightning-fast loading times (so little to no impact on site speed.)
Can be used in conjunction with Adsense advertising since they just need a minimum of two ad slots or placeholders on your site.
Excellent statistics dashboard
Your website may have a maximum of six advertisements (good for user experience).
Numerous networks were added.
Header bidding in real-time and the quality of adverts put on your site.
Payments through PayPal begin at a minimum of $ 50 and $ 250 via ACH or Wire.
My webpage began loading more quickly.
Rates are competitive with Adsense, Media.net, and even Ezoic!
Newor Media Cons
Where systems like Ezoic excel are in delivering DEEP analytics to the user (e.g., top-earning pages, page speed by page, etc.) that Newor Media lacks, but the RPM is comparable to Ezoic.
FAQs on Newor Media Review
How long does it take for New Media to accept or reject a submission?
It takes roughly two days for Newor Media to notify you if your website has been approved or refused.
When does Newor Media make its payments?
They provide all publishers with NET30 payment conditions. January profits will be credited to your account the first week of March. They accept payments by PayPal, Payoneer, or wire transfer.
Also Read:
Conclusion Newor Media Review – What People Say?
In terms of profits, I prefer this platform over Adsense. It does not seem to significantly slow down your website (only 6 ads).
When I switched to them, I saw no significant decrease in website traffic as shown by my Google Analytics analytics.
If you want to optimize the revenue from your blog or website and are seeking an alternative to your existing network, you may want to check out Newor Media by clicking the link below.