One of the most trending modes of advertising and promotion is Popads i.e Pop-up and Pop-under advertising. Connected to the CPI and CPA marketing, it leads to different goals that cost per acquisition and cost per lead.
The reason behind writing this list of the best pop ad networks/ platforms is to give you an idea of how much traffic you can drive to your product page with it.
Pop ads and traffic is best for you if:
You are not using AdSense to monetize your website traffic
You're a merchant and want to boost your website traffic and promote it to real people
You just want more visitors to your website (no matter they convert and make any purchase or not. But this does not mean that the traffic is not going to convert at all.)
Pop advertising is also named pop ads and pop-under media buying. And it is likely to have the same roles as mobile advertising does have.
A flood of traffic and that too at cheap rates. Who does not want that? (I am not talking about the spam/fake traffic or Google Analytics spam.)
I have gathered and crafted this piece of content to introduce you to the top pop ad networks. You might be having questions like – "whether pop ads are good for my website?" or "Is it a waste of time and money to invest in pop ads?" or even "Is there any risk if I use pop ads and Adsense at the same time?"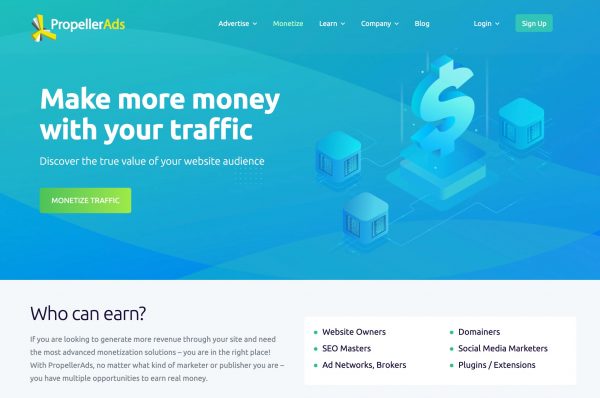 PropellerAds work like a skyrocket if your user has a regular behavior of clicking anywhere on your website or blog. No matter where a user is clicking on your website, a new browser window (containing promotional content) will be opened but under the active window. And this is how Pop-Under ad networks work.
Just taking monetization into consideration, I have heard of some people who lost their AdSense account while using pop ads and AdSense at the same time. However, there are still opportunities.
You have Push Notifications, Popunder ads, In-Page Push, Interstitials and Direct Links. The good thing is that with PropellerAds MultiTag you don't need to create an individual tag for each ad format. Just add MultiTag to your website and enjoy automatic platform optimization.
Works awesome when it comes to targeting and optimizing your ads
PropellerAds offer a massive variety of advertisers in every country and every niche, so no impressions are being wasted
You can monetize 100% of your website traffic
Top 10 Pop Ads Networks of 2022
1 RichAds