Adsterra is an ad network, used by a lot of businesses to relate the products and services provided by them, to their clients and raise brand awareness, along with improving their ROI and increasing the Ad revenue.
In my opinion, Adsterra is one of the relevant platforms you are looking for if you want to make and showcase the perfect advertisements throughout.
The advertisements are the most relevant source for marketing where one can market as many advertisements as they require. Advertisements carry forward the best marketing and are also broadcast to the maximum number of people at one time.
About Adsterra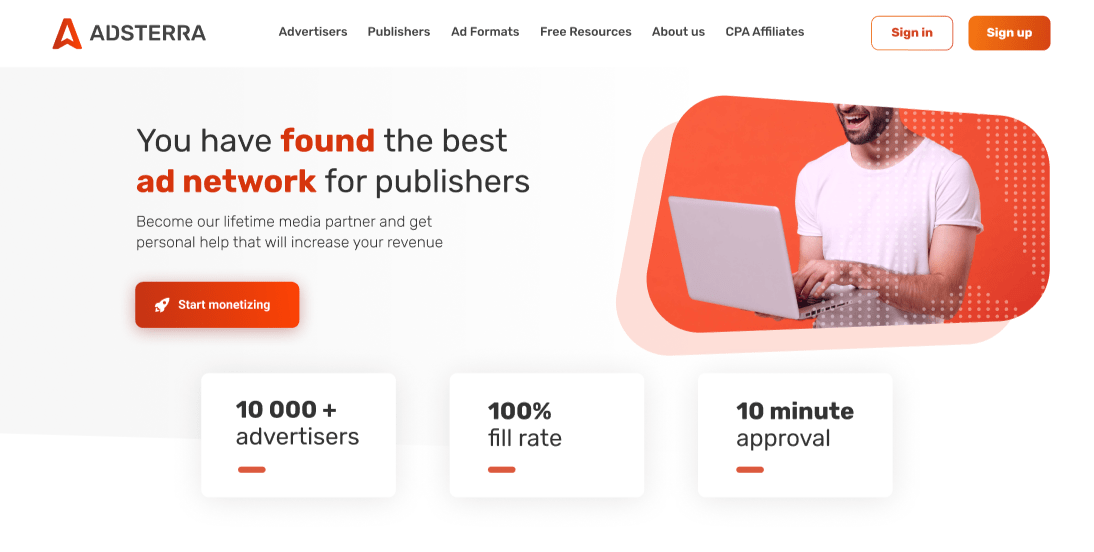 Adsterra review for Publishers:
| | |
| --- | --- |
| Ad Network: | Adsterra (adsterra) |
| Commission type: | CPM, CPA |
| Payment Threshold: | $5 for WebMoney and Paxum, $100 for other payment systems |
| Payment Frequency: | Net-15 |
| Available Payment Methods: | PayPal, WebMoney, Paxum, Bank Wire Transfer, Bitcoin, Tether (USDT) |
| Referral Commission | 5% |
| Contact Details: | Support (support@adsterra.com) |
| Joining Link (aff): | https://clc.am/ME8llQ |
Adsterra review for Advertisers:
| | |
| --- | --- |
| Ad Network: | Adsterra (adsterra) |
| Advertising formats: | Popunder (top ad format), Social Bar (new and total blast!), In-Page Push, Native, Video pre-rolls, Banner |
| Cost: | CPA, CPM, CPI, CPL, RTB, CPC |
| Minimum Topup: | $100 |
| Available Payment Methods: | WebMoney, Paxum, PayPal, Bank Wire Transfer, Capitalist, Banking Cards |
| Top Verticals | VPNs, Utilities, Subscriptions, Sweepstakes, Dating, Gambling, Adult paysites, Cams |
| Daily Impressions | 1 billion |
| Joining Link (aff): | https://clc.am/ME8llQ |
Adsterra cares about its clients and goes above and beyond to make sure the client receives what it has demanded. I found their service to be highly friendly, upbeat, and professional. They work so passionately and take their work seriously that it automatically impresses their clientele.
The platform offers high security and filtering to make sure that bad ads and malicious activities are blocked right before they appear on the client's site.
I also loved their in-house fraud detection system, along with a third party that double-checks the security of the system, both, for them as well as its clients.
By any chance, if a bad ad is made through their system, it provides a facility to directly contact your manager, provided to you, to solve all your queries and issues.
Also, by any means, if an ad that you don't want appears on your site; it allows you to block the particular ad or the advertiser.
They make sure to be responsive to your messages and requests at the possible shortest hour, as long as you're not abusing any feature.
Adsterra has always been providing amazing and satisfactory work to its clients and never disappoints them in any manner. It has proven to be up to the mark in providing all its products and services to clients at all times.
Considering giving payments to its employees, it has never lagged or deterred in timely payments. It follows a very regular and transparent way of its work style.
It makes sure to provide the best market prices and make faster payments to its clients. A lot of people have said they received the best Cost Per Mile impression while using Adsterra. Also, it highly emphasizes Security.
For me, the main benefit of using Adsterra is that you can pay in a variety of forms to advertise. You can avail of your e-payments by using applications like Wire transfer, QIWI, Paxum, Webmoney, Bitcoin, Capitalist, YandexMoney, UnionPay, Visa, or Mastercard.
Along with this feature, for those who are into Cryptocurrencies, they also offer payments in the form of Bitcoins and USDT (Tether).
Adsterra Review: Features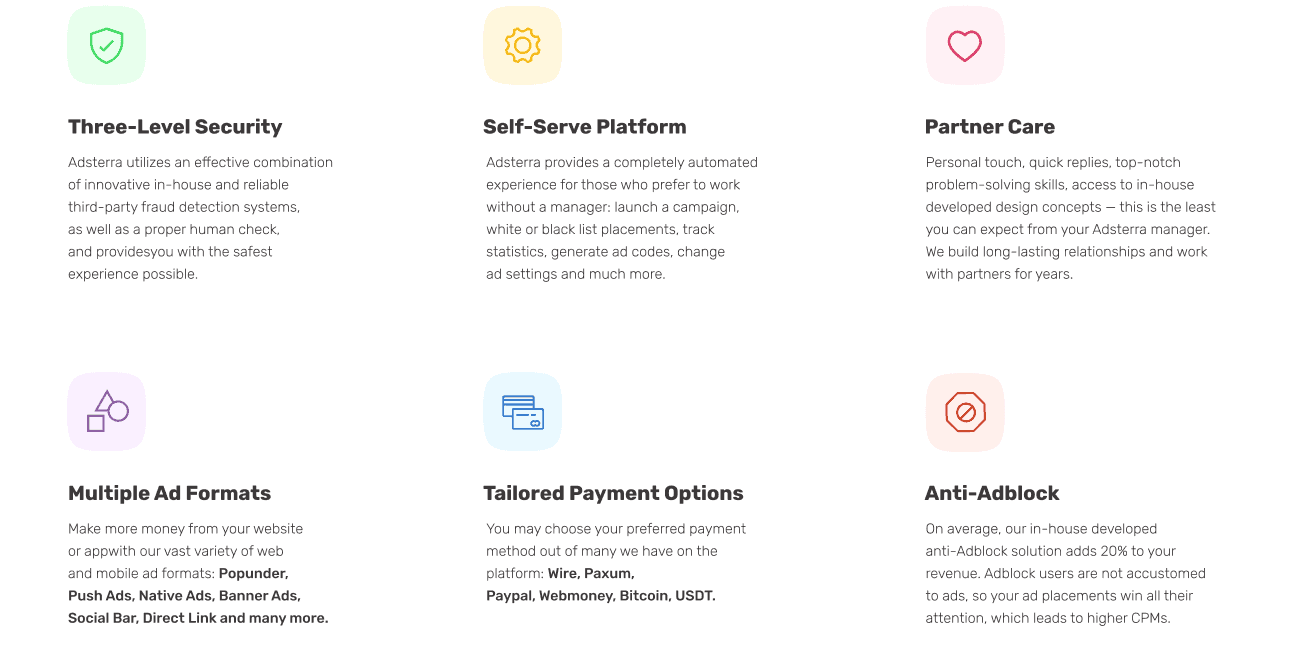 1. Secure systems
Adsterra has a high level of maintaining the security of its system as well as its clients, to avoid the breaching of ads and misuse of features. It makes sure to update its clients with their security measures on a timely basis.
2. Skilled team
According to me, one of the best features Adsterra holds, compared to its competitors, is that it has a team of high professionals with immense knowledge and experience to resolve any queries and issues that come your way.
The proper research, as well as studies, are carried out behind the properly formatted content to be showcased. There is always relevant information that will be streamed. 
All Adsterra managers complete their unique "Adsterra's Partner Care Approach" course. They believe: clients are their equal partners, and that's why they invest in long-term relationships with partners.
3. Lifetime referral program
Each partner who joined Adsterra via your referral link will add 5% of their profit to your income. Forever
Adsterra Review: Ad Formats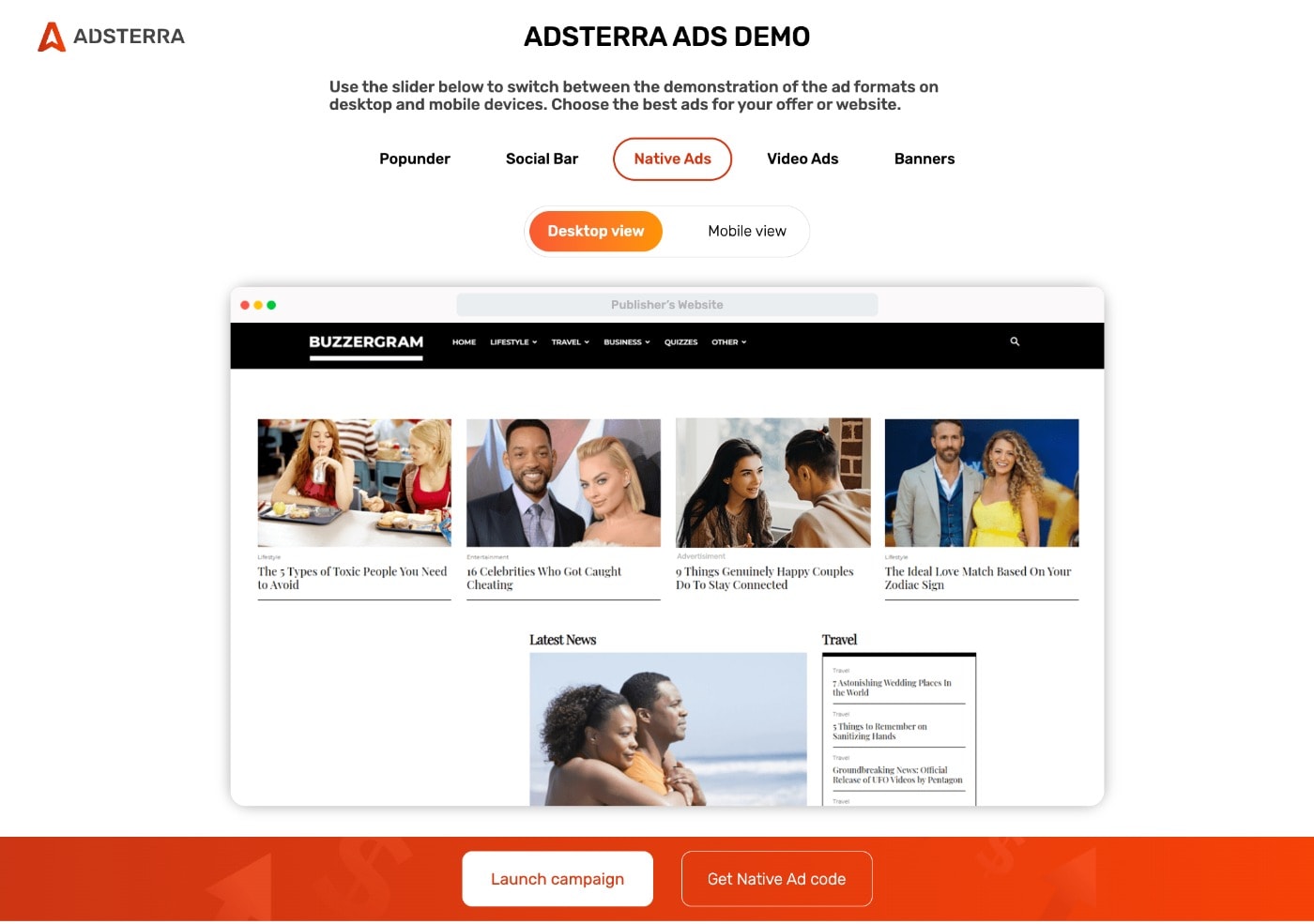 The Adsterra ad platform helped me in carrying forward the various types of different advertisements which helped me clear my mind and concentrate on other things.
I was able to The minimum select from a range of advertisement templates and formats that helped me make the right choices and present my ideas in a captivating manner.
1. Popunder ad (Pop ads)
These types of ads are considered to be smart ads in the digital era and showcase advertisements and other promotions. This is showcased behind the browser in which you are operating. 
2. Social Bar (NEW!)
Their new ad format Social Bar includes 5 highly convertible ad types: Chat Bar, Survey Bar, Video Bar, In-Page Push, and Custom Banners. You can use just one or combine them to get the best result.
Here are a few of the benefits that Social Bar can provide you:
CTR increase of up to 30x

Optimized for all devices and OS

20+ advanced targeting options

Great iOS reach

Full customization

A/B testing for up to 15 creatives at a time
3. Web push template
This is enriched and helps in pushing the website to the next level. This boosts up your website and can be caught up on the hike to your business to a different level. 
Also, check – Top push notification ad networks in 2023
4. Banner ad
Banner advertisements can be carried out when you need constant showcasing of your advertisements. It is constantly showcased in front of people with the banner-sized ad. 
5. Direct link ad
A Direct Link is an ad unit. But unlike banners, it doesn't require any specific place on the web page. Literally, it is just a link that you can apply to any area on the page.
That is to say, you leap over the stage of cutting out space to place ads. And furthermore, you don't need to run a fully-featured website to monetize with the Link. This ad type is only for publishers and is a great fit to monetize social traffic.
6. Native ad
This is my favorite one! It is one of the sources which is considered to be in the list of high recommendation and also it particularly showcases according to the particular niches and its native.
The related advertisements will appear when you search for a particular niche. Adsterra indeed is one of the top native advertising networks of 2023.
7. Video roll ad
This type of advertisement is something which for me,  was easy to visualize and get a hold of. It is supported and promoted by trending tags and boosted by paid promotion.
It remains as easy as the video format is recommended the maximum and it stays in mind when you are thinking of a particular product.
It is considered to be one of the strategic ad formattings as it has the best way to showcase the world about the advertisement that has to be carried forward.
Pricing Method – for publishers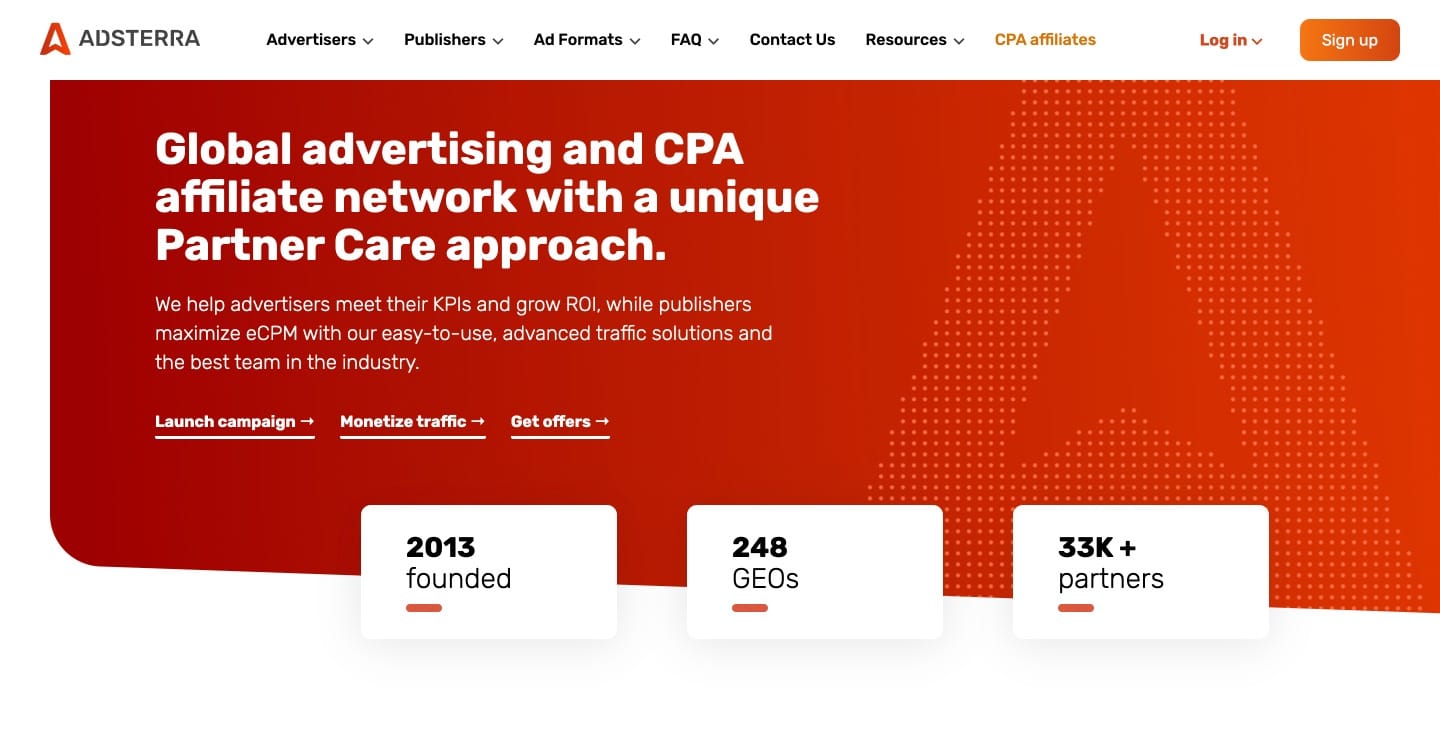 Adsterra uses various methods of Payments and many affiliates have uploaded Adsterra payment proof on various sites on the internet which proves that it is a legit ad network. It makes sure to make it easy for every publisher and therefore, processes payouts via various methods. Isn't that great?
I've listed a few of them below:
PayPal – Min $100

WireTransfer – Min $1000

WebMoney – Min $5

Bitcoin – Min $100

Paxum – Min $5
Also, it has a very short period of paying its clients. It follows a Two-week payment system, where it pays off its clients within the first two weeks itself. 
It has different threshold balances for different payment methods, which can be adjusted for every person according to their choices and sources.

Payment systems for advertisers: Paxum, ePayments, WebMoney, Bitcoin, Capitalist, WireTransfer, Credit card, QIWI, Yandex Money. The minimum deposit is only $100.
Adsterra Review: Pros and Cons
Pros
There are always two sides of coins where there are advantages and disadvantages of the same. Pros and cons work together hand to hand where there is always something to be benefited around.
For me, I've mostly only seen the pros of Adsterra until now. I believe that it is one of the most relevant platforms to be used as an advertisement source for you. Since my Adsterra review is not only for the advertisers, I've considered a publisher also in mind while seeing whether it is a great ad network or not.
One of the highest CPM rates

The payment is released twice every month on fixed dates

Safe ads (The in-house and third-party ad-checking tool makes sure that the quality of the ads is always up to the mark)

The performance data is also very detailed and easy to understand

which helps you track your progress in the

most-efficient manner.   

Quality over quantity: no restrictions for website traffic volume

Flexible settings help you control your ad volumes, frequency, verticals, and formats.

Toggle the setting to show either mainstream ads or non-mainstream ads

You will see your account balance after the Adsterra login window (in your dashboard)

Lifetime referral program. Each partner who joined Adsterra via your referral link will add 5% of their profit to your income. Forever.

Make a profit even without a website (monetize your social network traffic with direct links)

The new Social Bar ad format is a BANG and very highly converting ad type. Make sure you leverage it
Cons
Payoneer and ePayments are unavailable now
Some payment methods need documentary confirmation
Some API functions are still unavailable
Frequently Asked Questions
Is Adsterra a paying and trusted affiliate network?
Adsterra has been in the business since 2013 and has been paying its publishers on time. On-time payments are one of the factors that make Adsterra stand out.
Is it safe to use Adsterra?
Adsterra has cut down the ratio to 0 as it provides the Adsecure feature. Once the advertisement is carried forward, it is tested in various methods to carry forward the properly secured and safe advertisements.
How is the CPM rate determined on my website ads?
The CPM rate depends very much on the bidding set by the advertisers for a particular ad. As your website will serve multiple ads, the CPM will be based on how your website performs for the advertiser.
What is the minimum traffic required to apply as an Adsterra publisher? (Adsterra 1,000 impressions payout)
Adsterra has no restrictions for website traffic volume to accept publishers. Quality is preferred over quantity. If your website traffic is low but converts well, make sure you apply now. Talking about the cost or payout for 1,000 impressions, you pay or get paid based on the geo, vertical, and various other factors of the traffic you get or send.
Read More About:
Final Verdict: Adsterra Review 2023
To conclude my Adsterra review, I would say the best type of advertisement company where one can experience the best advertisement services from the company.
The conclusion comes to the point where one can rely upon running the advertisements and the campaigns of your choice.
If you are looking up for a boost of products or your firm, Adsterra is the perfect and right choice you make to run such ads. The promotion is carried forward in the best way possible with no time delay.
It carries the capability to rule the advertising domain of the country by providing excellent outputs in both its products and services. Once I approached Adsterra, there was never going back!
If you ask whether in this Adsterra review Reddit recommendations are considered or not, Yes. Is this Adsterra review Quora answers based? No, This review is based on my own experience with the ad network so far.
They are always enthusiastic about work, and I highly recommend their services to all my friends in my professional circle, and you as well.
It works in a very professional manner and tends to impress its clients at the first meeting itself. Adsterra works as a first impression is the last one, the perfection of their work is marvelous and the piece they create at last is worth investing into.