Summary – PropellerAds
| | |
| --- | --- |
| Ad Network: | PropellerAds |
| Advertising formats: | Push, Popunder, Interstitial, In-Page Push |
| Cost: | CPM, CPC, Smart bidding models |
| Minimum Topup: | $100 |
| Available Payment Methods: | Wire transfer, Bank Card (Visa, MasterCard, American Express), PayPal, UnionPay, WebMoney, Alipay, Skrill |
| Top Verticals | VPNs, Utilities, Subscriptions, Sweepstakes, Dating, Gambling, Adult paysites, Cams |
| Daily Impressions | 10 billion |
| Joining Link (aff): | Join Now |
Pros/Advantages
Performance-driven advertising
Unique advertising channel
Easy ad analysis
Massive reach at the lowest cost
Easy campaign setup
PropellerAds is an AdTech company that offers robust solutions when it comes to performance marketing on the global level.
It unites advertisers and publishers through the managed service and the self-serve platform into one complete ecosystem for marketing.
To put it in numbers, the platform is serving 10 billion ad impressions per day in more than 195 countries. More than 100 thousand advertisers are already working with PropellerAds.
Now that we know the basics let us discover what PropellerAds offers for advertisers.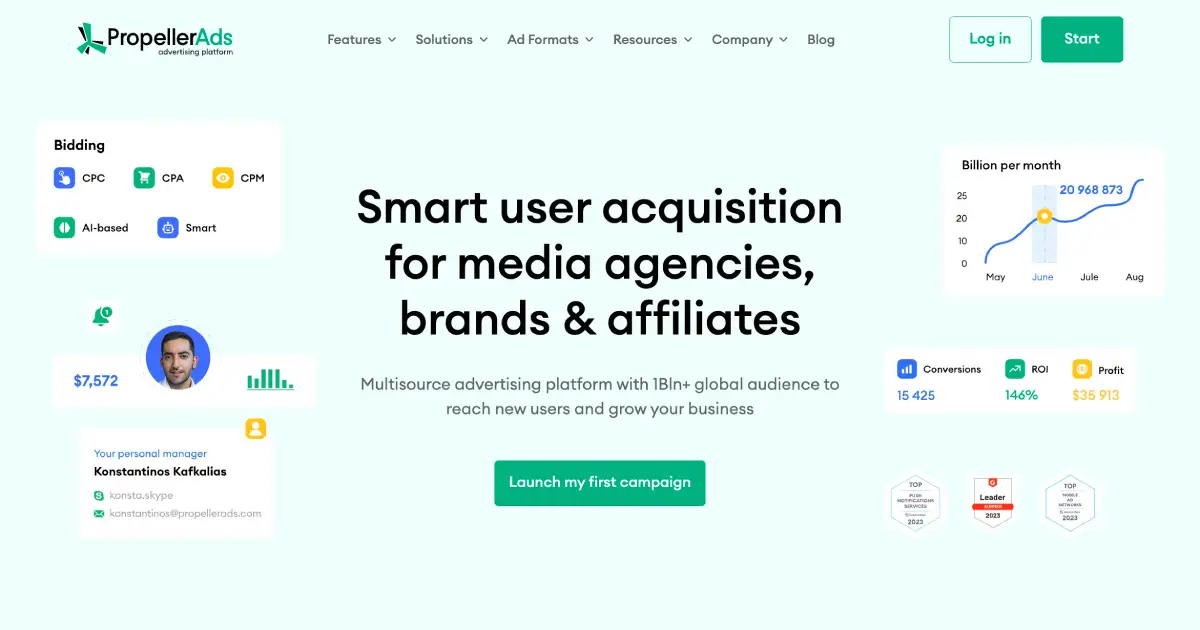 PropellerAds For Advertisers
Simply put, PropellerAds is the platform built for performance. It is performance-driven and focuses primarily on growing the revenue for affiliates and marketers. Here, you can create conversion-focused campaigns.
What Makes It So Special?
Automated Optimization Of Ads
Manual optimization is super slow and is generally less effective. You can enhance productivity by cutting down the manual processes and auto-optimizing the ad campaign.
The Artificial Intelligence system tunes all your settings to ensure that you can reach your goal of the number of conversions and get maximum ROI of your advertisements. The intelligent optimization tools offered by the platform provide money-spinning affiliate marketing.
CPA Goal 2.0 is the optimization algorithm for stable and effortless profits. It is AI-powered and can automatically find the right traffic for what you have to offer.
This way, you get the conversions right into your budget. It is entirely automated and does not need any rate optimization or blacklisting. It is fantastic to test the offers across the network. Moreover, it has an intelligent auto-bidding that ensures a stable traffic volume.
That is not all, and here you also get Target CPA, a rule-based tool for campaign optimization. It ensures cost-effective media buying by excluding the ad placement that does not meet the price conditions for off-target conversion.
Fraud Prevention
PropellerAds ensures security with its fraud prevention technology for brands and affiliates. Their systems detect real-time fraud by effectively identifying malicious activities and eliminating threats.
This way, only real people can see and interact with the ads. It blocks and prevents almost all types of fraud. This is because fraudsters and bots can either not visit or click on the ads, or the system automatically cancels their conversion, clicks, and impressions.
Their fraud prevention technology works based on more than 25 million monthly conversions. The platform is known for working with legitimate suppliers of traffic.
Their integrated fraud detection approach combines machine learning, risk assessment, behavioral modeling, and constant monitoring.
To give you a perspective on their efficiency, it eliminates 212M fraudulent requests, blocks 40M bot impressions and filters out 48K fake clicks in just a month.
Along with its complete anti-ad fraud coverage, you also get to discover the easy setup of the campaigns, easy optimization of campaigns, and quick results.
Their systems can detect fraud irrespective of the device targeted and ad format in every GEO. The clean traffic ensures that all your money gets spent on accurate impressions, and you get higher Click-Through Rates. It also eases the evaluation of the ad campaigns.
Self-Serve Platform
Here, you can explore the easy-to-use and super robust Self-Serve platform with quick onboarding, simple ad creator, and in-depth and real-time reporting to monitor success.
Self-serve platforms can start and scale up really quickly. It lets the user reach out to the global audience, measure their performance, and control the campaigns completely.
Wide Array Of Tools
The streamlined and intuitive campaign builder can guide users through ad placement, target selection, budgeting, and scheduling in simple steps.
Its real-time traffic estimator can help you see how the campaign bids and the targeting settings can impact the ad's reach. It also helps control the ad spending with the total and daily budgets.
Targeting by Demographics and Interests:
You get more targeting possibilities, which significantly improves your performance. You get more tools for really sophisticated multi-touch ad campaigns.
You get access to targeted audiences segmented by interests, age, and gender, enabling you to quickly connect with the right individuals.
With Reporting Tools, you can see how the ads have impacted the business with the help of real-time, easy-to-read reports. You can analyze the performance as well as get quantifiable results by comparing impressions, clicks, and other metrics to learn about the creatives and campaigns that are highly effective.

Retargeting
Retargeting helps you bring your audience back. When a user leaves your site without making a purchase, PropellerAds will find them online and show them ads on the places they visit. This way, the users return to your website to complete the desired action.
You can build your audience based on clicks, engaged visits, and converted users. It can help you boost your ROI.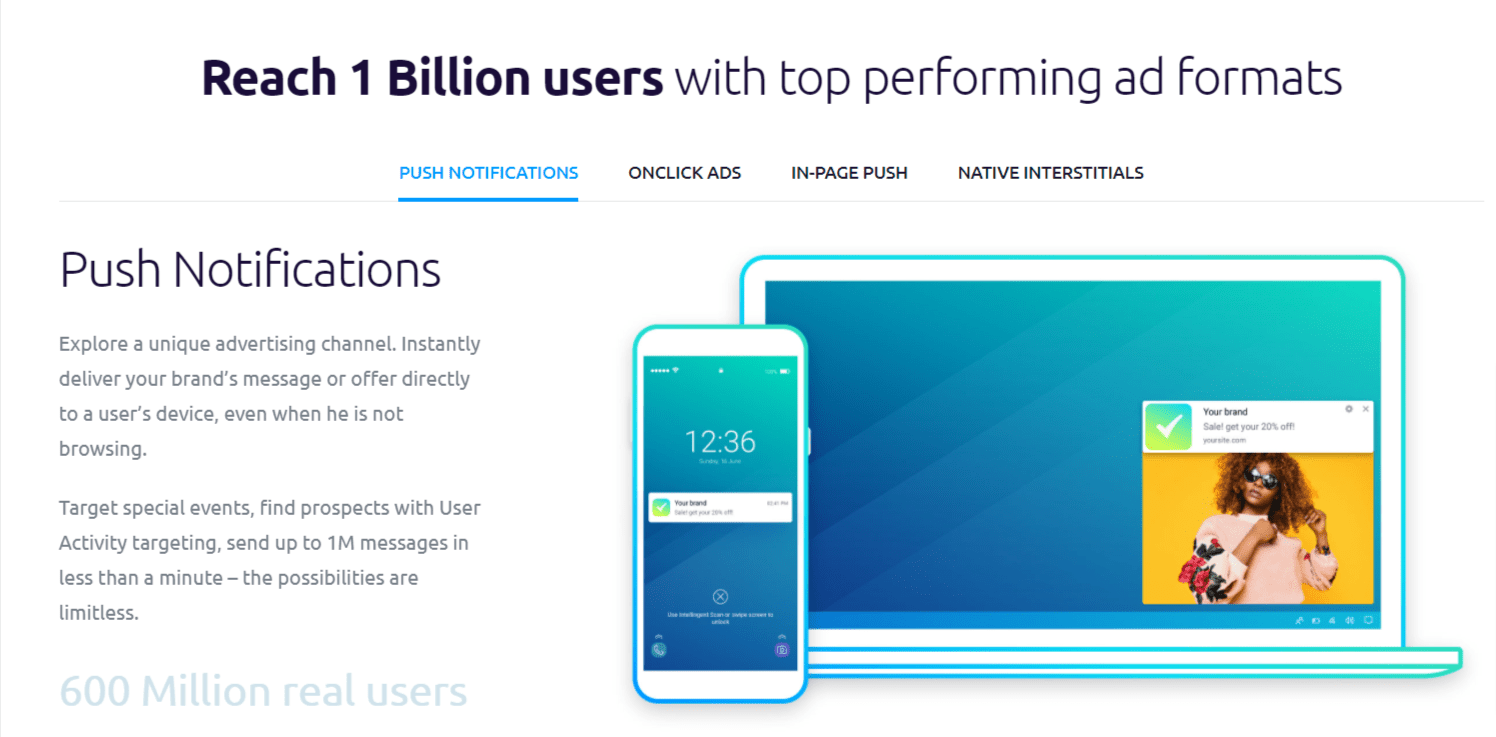 PropellerAds Ad-Formats Offered
PropellerAds offers the following ad formats:
Push Notifications
OnClick Ads
In-Page Push
Interstitials
Direct Links
Multi-Tag
Push Notifications
This format is a revolutionary tool when it comes to monetization. These browser notifications can instantly bring you CPS (per-subscription revenue) and complement the other formats. You can earn even if the user no longer visits your site. It is best for almost any website.
OnClick Ads (Popunder)
It is safe to say that Popunder or OnClick ads are the powerhouses of monetization and are at the top regarding ad formats that fetch good revenue. This format has user-initiated full-tab ads that appear in the new tab on your browser, letting the users monetize every visitor. This format offers the highest CPM rates.
In-Page Push (Banner)
This ad format has a native banner on the website and does not need any user subscription. It looks similar to the classic push notifications, but they are displayed on the website and can monetize all the traffic types. This format is considered to have highly engaging ads.
Interstitials
This format has skippable, fast-loading ad units displayed before or after a specific website page. They are perfect for additional monetization because they can easily be customized and offer a high CTR.
Direct Links
You can monetize the traffic of any type with a unique URL designed to take the visitors automatically to the most relevant offers, owing to the intelligent rotation mechanism. It is the best solution for expired domains, toolbar, 404 traffic, redirect, paid (pop), etc.
Also Read:
Conclusion PropellerAds Review
All in all, PropellerAds is an incredible ad network with many benefits to offer, like a low payment threshold, real-time reporting, and the hassle-free and easy process of approval.
It has managed to be a torch-bearer in the arena of global ad networks owing to its robust structure, astounding support team, dedicated features, and intuitive design.
Hopefully, this post helped you understand the nooks and corners of this platform so that you can make a well-informed decision about whether you should invest your time and efforts here.
Hope you like this PropellerAds Review and got everything you were looking for.