You've probably heard about web push notifications by now, but you're wondering if they're suitable for your business.
With web push notifications, you can reach out to your customers with important updates and promotions even when they're not on your website. This can help keep them engaged with your brand and drive more traffic and sales.
The Sender is the perfect tool for businesses of all sizes. Their service makes it easy to create and send rich web push notifications that look great on any device. Plus, they offer a wide range of features that let you customize your messages and track their performance.
Let us check out my honest The Sender review in a little more detail.
🔔 What Are Web Push Services?

Web push services are a communication technology that allows websites to send notifications or other messages to users. These notifications can be tailored to appear on a web browser, mobile device, desktop computer, or tablet.
Advantages of Web Push Notifications:

They do not require any plugins or special software and can be used as an effective way for businesses to stay in contact with customers without having them fill out opt-in forms or download extra programs.
Additionally, they are straightforward and cost-effective for companies since they work over existing web infrastructure.
Web push services may include notifications about offers, new content posted on the website, special events, helpful tips, reminders, and more.
They also help businesses improve user engagement and provide timely updates to keep customers informed on the latest products or deals.
Companies should be aware that such services must comply with all privacy laws, regulations, and other applicable legislation to maintain customer trust.
Furthermore, businesses need to ensure that their notifications are relevant and timely, so they don't annoy users.
Finally, web push services can provide an effective way for companies to increase user engagement and stay connected with their customers at a low cost.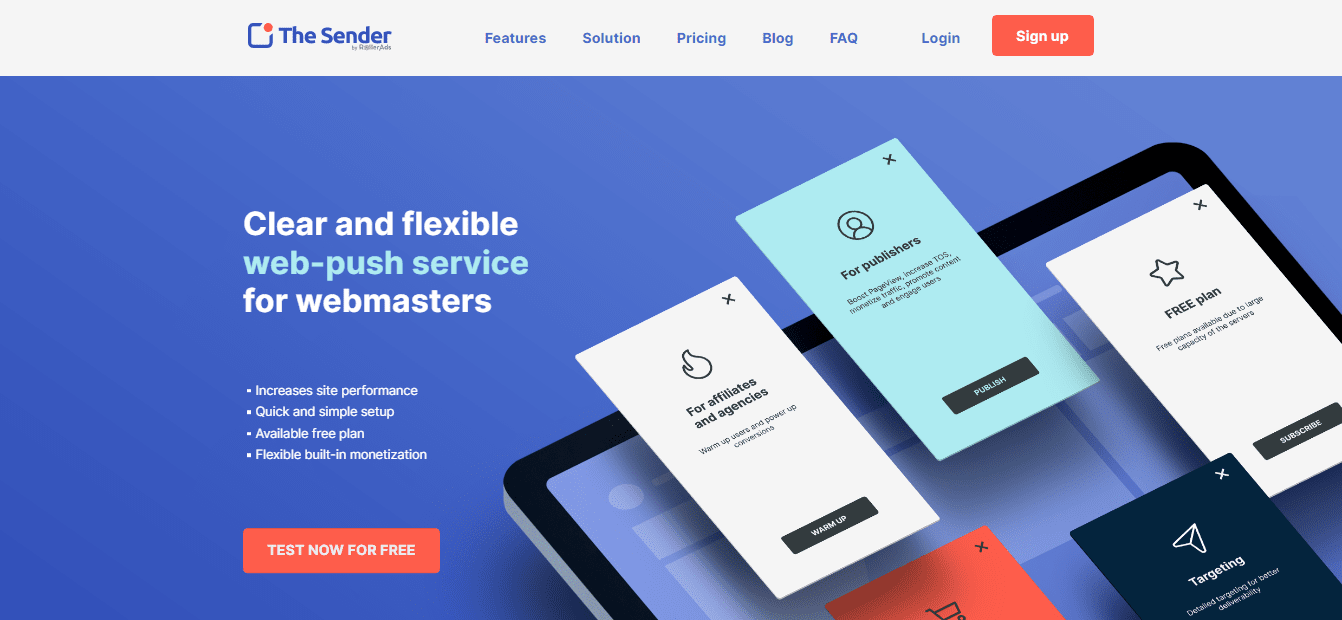 The Sender is the push notification service of RollerAds. RollerAds is an advertising network with top-performing ad kinds that provides advertisers with the most successful affiliate marketing solutions and direct publishers with a significant amount of website revenue.
Multiple services permit the delivery of push notifications to users.
Push notifications are short messages provided to website visitors upon entry. The browser often displays this location. The Sender is a push notification service that allows you to show browser-based pop-up alerts.
It is an excellent method for publishers, affiliates, and agencies to boost user retention.
Who is The Sender For?

Advantages of Push Notifications in Advertising –
Direct Engagement: Push notifications to provide a direct line of communication to customers, allowing businesses to send advertising messages directly to their devices.
Increased Convenience: With push notifications, customers do not need to take any intermediary steps to receive advertising messages, as they can be sent directly to the ordering page with just one click.
Benefits for Publishers and Webmasters –
Improved User Experience: Push notifications can inform users of new content or upgrades, helping to keep them engaged with the website and improving the overall user experience.
Increased Return Visits: By sending notifications about new content or related items, publishers and webmasters can encourage users to spend more time on their sites and return more frequently.
Advantages of Streaming Media and Webinars –
Real-time Notifications: Push notifications to provide real-time notifications about the start of a program, as opposed to email or SMS, which only offer advance notice.
Benefits for Purchase Stages –
Faster Processing: In online retail, push notifications can speed up order processing and keep customers informed about the progress of their orders.
Cost Savings: Retailers can save money on notifications by using push notifications and SMS and email messages.
Advantages for Notifications about Application and Social Network Activity –
Increased Engagement: Push notifications to help to increase user engagement by informing them of new activity within an application or social network.
Benefits for Statistical Data:
Timely Delivery: Push notifications to provide real-time delivery of important information, such as stock market updates, which is essential for many business people.
Positive User Behavior: By delivering this information promptly, businesses can encourage positive user behavior and gain trust.
Advantages in the Media Industry –
Timely Delivery of News: In the media industry, push notifications can deliver breaking news and trending topics in real time, keeping users up-to-date.
Widespread Adoption: Many major media organizations, such as the New York Times and CNN, use push notifications to deliver their content.
🏷️ The Sender Pricing & How To Sign Up For The Sender?
Here are The Sender's latest pricing plans –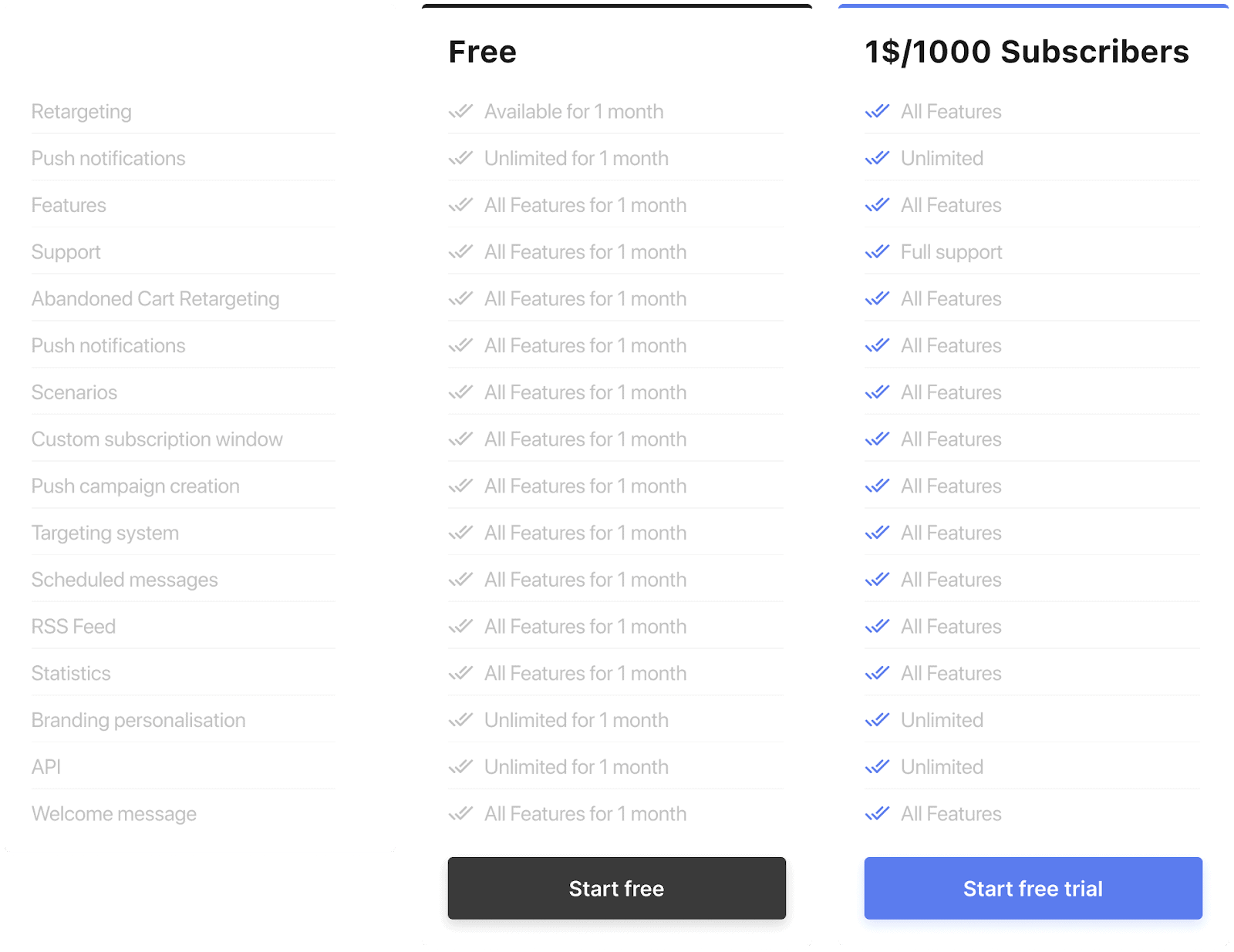 Step – 1: Go to the official website of The Sender and click on 'TEST NOW FOR FREE'.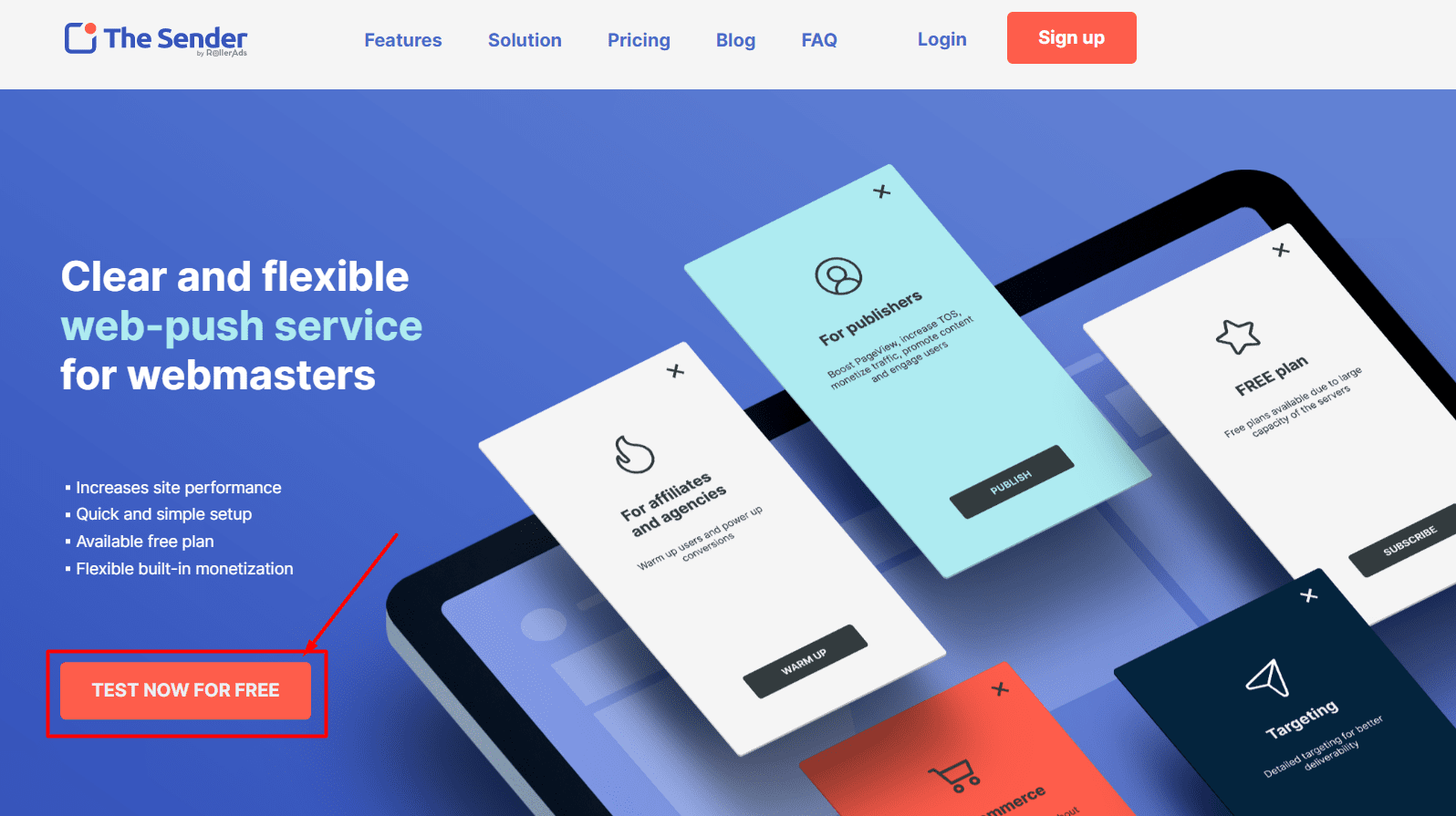 Step 2: Fill up the details like email, Skype nickname. Check the box of receiving emails on product updates and news. Verify that you are not a robot, and click on 'Send password'.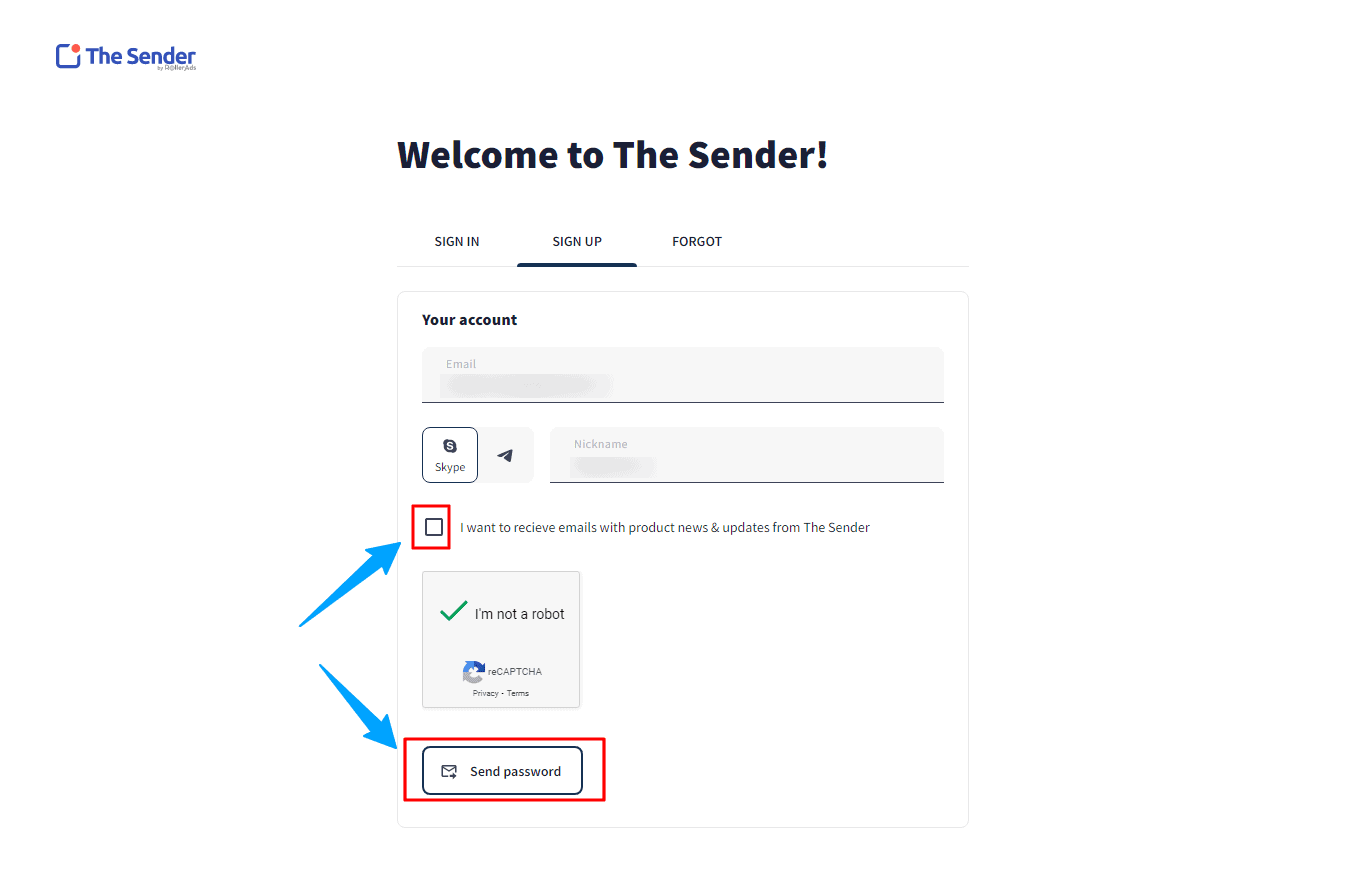 Step 3: Now check your email for the password sent by The Sender. Please check your spam folder if not received in Inbox.


Step 4: Go back to The Sender website where you left off and click on the Sign In tab. Enter the email used while signing up and the password you received on your email.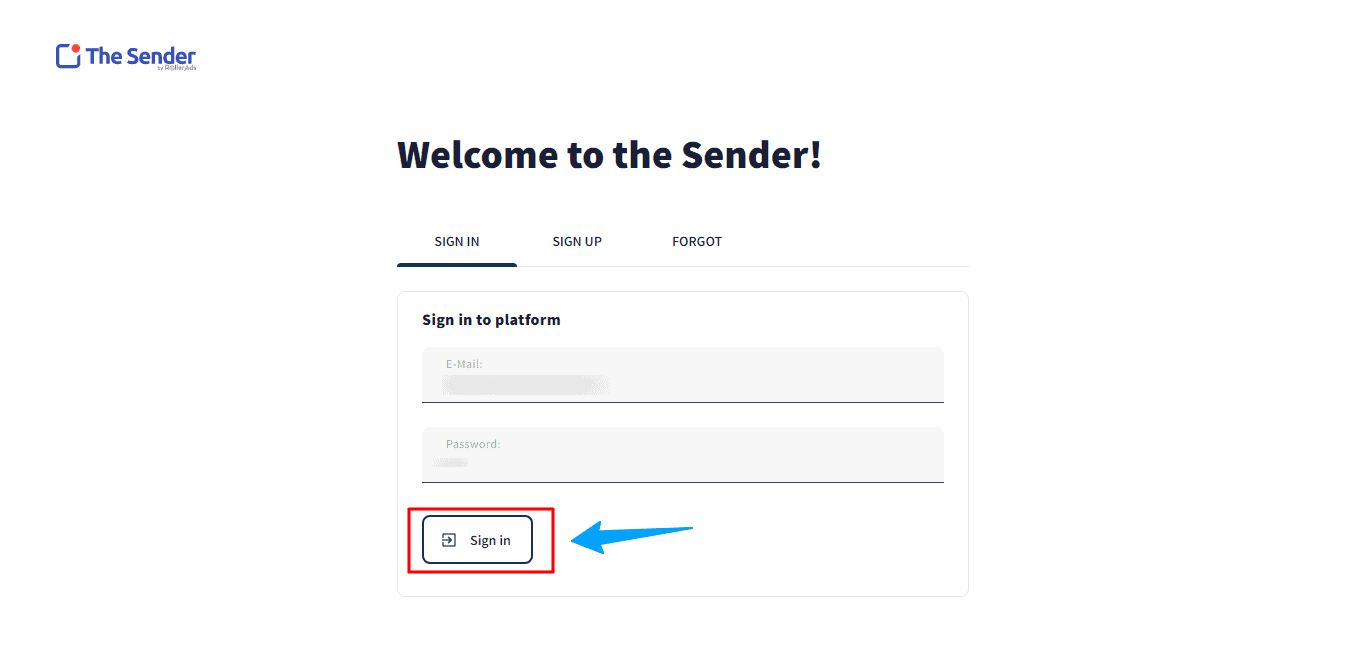 You can checkout The Sender features and configure your web push service.
Why Do I Recommend Using The Sender?
1. Easy Migration:
The Sender's subscriber migration system ensures you don't have to start from scratch. If you already have a database, their service can transfer it, saving you time and effort.
This makes it easy for you to continue where you left off and focus on what matters – growing your audience and engagement.
2. Quick Installation:
Setting up The Sender is easy and hassle-free. All you need to do is install two files according to the guide in your account, and you'll be ready to go.
With quick and simple installation, you can start using notifications immediately and keep your audience engaged.
3. Detailed Statistics:
To understand the effectiveness of your campaigns, you need accurate data. The Sender provides detailed statistics that allow you to track and analyze your campaigns by more than 12 parameters. This enables you to make informed decisions and calibrate your campaigns to achieve better results.
4. Targeted Notifications:
Effective campaigns require targeted notifications. The Sender provides detailed targeting options that allow you to select your target audience based on time, subscription age, geo, browser, operating system, and platform. You can keep your audience engaged and grow your business with better reach and effectiveness.
5. Rich and Flexible Monetization:
The Sender allows webmasters and publishers to earn additional income through cooperation with top advertisers. Regardless of the number of subscribers, using The Sender is completely free, and your database can bring in additional income.
This means that The Sender helps you stay in touch with your audience and provides a valuable income-generating tool.
6. All Functionality at Once:
The Sender offers all functionality right from the start, with no limitations. This means you can use all features and benefit from the maximum number of free users. With all functionality at once, you can get the most out of your campaigns and grow your audience effectively.
7. Large Database of Servers:
The Sender's extensive database of servers can process any number of subscribers from any location promptly. This ensures low prices and timely delivery of push notifications to your users, so you can keep your audience engaged and growing.
With an extensive database of servers, The Sender is an affordable and reliable service for webmasters and publishers.
The Sender's Pros and Cons
PROS 👍
Free plans due to server capacity
Easy setup with the WP plugin
Targeting for better delivery
In-depth Statistics and analytics
Income-generating monetization
Scheduling and automation
27% enhanced traffic quality (views + time)
Safe and non-impactful on site ranking
CONS 👎
Relatively new in business
Also Read:
Frequently Asked Questions (FAQs)
What is a push notification?
Push notifications are a great way for app publishers to stay connected with their customers. Through a quick message on their mobile devices, users can be instantly informed about everything from sports scores to flash sales and coupon codes. Different from emails or text messages, push notifications can reach an individual even when they are not using their device or in the app. They help keep individuals up-to-date with the latest updates, allowing customers to remain engaged and in touch with businesses.
Are Push Notifications Safe?
Yes, push notifications are more secure than SMS. An SMS can be sent to users without their consent. There is a history of data breaches using SMS where the users can land in a potential malicious trap of hackers. In addition to that, it is very easy for hackers to send messages to your mobile devices.
Is The Sender Free?
Yes, The Sender web push service has free plans. You can access all the features of The Sender free for a month without any credit card information. Simply sign up with your email and sign in with the password received on your email.
Conclusion
I recommend the Sender Clear & Flexible Web Push Service to any webmaster looking for an easy way to increase website traffic. It's an excellent, user-friendly service with many features that make it worth the price.
Plus, the customer service is excellent, and they are always available to help answer any questions.