Do you want to attain the highest point of satisfaction with a hosting company? This article ensures you are at the verpex. So drill down the Verpex review to know why it is loved by so many people around the world.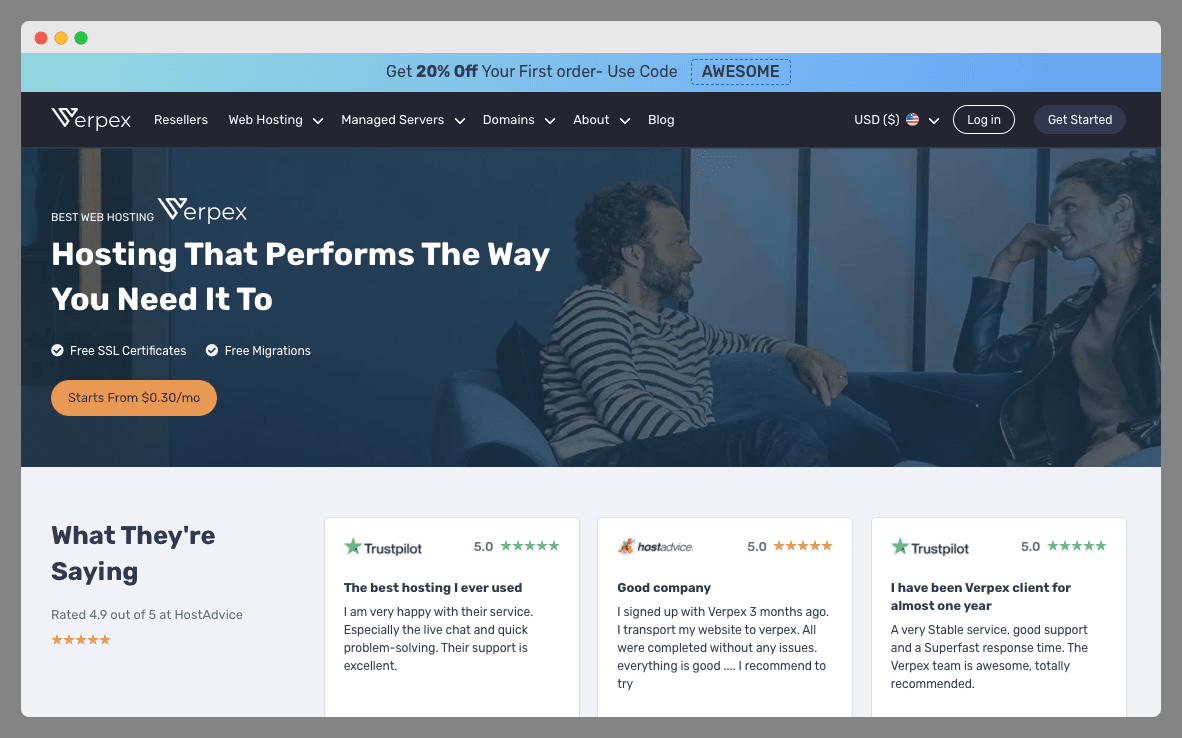 Verpex offers everything you need for hosting your website at super-fast speed. The company was founded in 2018 and now has over 50+ employees located in over 3 countries around the world.
You will rarely find hosting companies like Verpex that are privately owned. Verpex is not only known for super-fast hosting services but also for its affordable pricing.
In a span of just three years, Verpex has till now hosted over 50000 websites successfully. With so many websites hosted, a lot of people would worry about support.
But when it comes to support, Verpex has a friendlier support team in all three offices. Not one, two, or three, but over 15 support staff just to resolve your general or technical issues.
Features of Verpex hosting

Verpex offers almost everything you need from a hosting provider to make your business run online smoothly.
1 Free Domain Name:
You will rarely find a cloud hosting service provider that provides a free domain name. At Verpex, you get a free domain name with every web hosting. You can either register a free domain name or get your existing domain transferred to Verpex.
2 Security:
Security of your website is essential. To make sure your site is safe when hosted at Verpex, you get an SSL certificate. This SSL certificate is installed automatically on all your domains and subdomains. Just one-click, and your site is completely safe from suspicious activities.
You should always have a site backup in case your site goes down while performing some changes. To ensure you have a complete backup, Verpex performs daily backups.The backup is stored for 30 days, so you restore to any previous point of backup.

3 Control Panel:
Verpex hosting is powered by the most powerful control panel in the world cPanel. With cPanel, you can easily access your site database and do a lot more at fingertips.
You can install WordPress at one-click using the Softaculous one-click app installer. More tools like JetBackup, Imunify360, and more are included with the control panel.
4 Support:
No matter how good the hosting speed is, if the support is not good, then that hosting is not worth buying. At Verpex, you are rest assured that all your issues will be taken care of immediately.
Around the clock, the Verpex support team is working to resolve any small or big issues. The well-trained staff is available 24/7 via live chat, phone and ticket.
5 Free Site Migrations:
No matter how many websites you wish to migrate to Verpex, you can do it all for free. The migration team only needs access to your existing web hosting account.
You just sit and relax, and watch your sites migrate to Verpex efficiently.
6. Global Coverage:
Verpex has 12 server locations in 5 continents covering Europe to Asia. The global connectivity gives users the option to select the nearest server location to host their sites.
The servers are located in Toronto, San Francisco, New York, London, Amsterdam, Frankfurt, Mumbai, Bangalore, Sydney, São Paulo, and Singapore.
7 Performance:
Lightning fast speed with global server location and use of latest technologies is what makes Verpex the top-most cloud hosting companies.
Most companies fail to deliver when it comes to performance, but Verpex can handle any amount of site traffic. Your site loads in less than 2 seconds making you more profits then ever.
Products by Verpex
Verpex is a cloud hosting provider and cloud server provider. You can buy any web hosting plan that suits your budget and needs. Listed below are the different kinds of hosting services provided by Vertex.
1 Cloud Web Hosting

The cloud web hosting plans are suitable for any small or ideal website with low budget and less requirements. The plans are the cheapest and start at only $0.30 per month renewing at $3 per month.
So, whether you are a blogger or an agency with multiple websites, you can go with the cloud web hosting solution.
All the cloud web hosting plans are covered with a 60-day money-back guarantee.
2 WordPress Hosting

If you are looking for a WordPress optimized hosting, then you can choose Verpex WordPress hosting. Your site is configured to WordPress ensuring to keep it always live and running.
The price is the same as Cloud web hosting but gives you an inch extra with automatic installation. There is no technical expertise required and if you can't do it, then Verpex engineers are there to help you.
3 Managed Cloud Servers

With managed cloud servers, you don't have to do the server configuration part. Not many people have the expertise to install and configure different apps on a raw server.
Verpex managed cloud servers takes your pain away and provides pre-installed cPanel cloud servers. You will save a lot of time with everything at your fingertips and focus on what's more important.
4 Managed WordPress Hosting

For WordPress lovers, Verpex managed WordPress hosting is the perfect hosting choice. It comes with lots of themes and plugins to design any kind of website.
Some important plugins like WooCommerce, Divi and MemberPress help you build a powerful website from the core.
5 Managed Magento Hosting

Magento is the best alternative to WordPress for designing eCommerce websites. The Verpex managed Magento hosting saves your time by deploying the server in less than an hour.
So whether its installing or optimizing your server, all of it will be taken care of by Verpex. High support, security and top-notch performance is what you can expect with managed magento hosting.
6 Reseller Hosting

White-labeled hosting business helps you make a lot of money if you go into reseller hosting business. With Verpex reseller hosting, you can free SSL for all sites, cPanel for every website/client, daily backups, and more.
You can choose the server location you want and deliver your clients a high-performance web hosting service. Your brand name, so everybody knows you are the boss for your hosting services.
Emails, backups, and a lot more that you need for your clients is included in the reseller hosting plan.
Pricing and Support of Verpex
Hosting your website at Verpex takes your burden off of heavy pricing. Now you can afford cloud hosting at a cost of merely less than a dollar for the first month. In this section of Verpex review, I would be covering the pricing structure of different hosting plans. So, don't miss out!
Cloud Hosting Plans

Verpex offers 4 different cloud hosting plans. These are Iron, Bronze, Silver, and Gold.
Iron: €0.20 first month  and renews at €2.00/mo.
This plan is best suited if you are a startup or a blogger with less traffic handling requirements. You can host a single website with 10 GB bandwidth, and 1 GB SSD space.
You get a free domain name with free SSL and website migration. An automatic daily backup is scheduled to protect your site data. LiteSpeed server ensures your site loads faster. To secure your site, the plan offers malware protection. There's also a 60-day money-back guarantee to ensure you can cancel the plan if you aren't satisfied.
Bronze: €0.40 first month  and renews at €3.99/mo.
The plan offers similar features except few one differing from the Iron plan. The bandwidth is unlimited along with an increase in disc space of up to 50 GB SSD. But there is no malware protection.
Silver: €0.75 first month and renews at €7.50/mo.
The silver plan is the most popular plan. With this plan you can host up to 5 websites on the latest cloud technology. The bandwidth is unlimited and the disc space is 100 GB. The resources are twice compared to the Iron and Silver plan. You get 2GB live memory limit, 2 vCPU cores, 30 entry processes, unlimited email accounts, and multiple PHP version support.
Gold: €1.20 first month and renews at €11.99/mo.
For more websites, you need a scalable plan and that is why you should get the Gold plan.
You can host up to 10 websites with unlimited bandwidth and SSD disc space. The resources are 3x more than the Gold plan. So if you have multiple websites and a good budget, then the Gold plan is for you.
Managed Server Plans

As already discussed in the previous section of Verpex review, managed server plans save you a lot of time. It comes with a pre-configured server, so you just pay the bill and the rest is taken care of.
By choosing any server you get fully managed services with dedicated resources.
Managed Server – D4: €32.50 first month and renews at €65/mo.
This plan is ideal to power your websites. The plan comes with 4 GB dedicated RAM, 80 GB dedicated SSD space, and 2 dedicated Xeon vCPUs.
The server can handle an unlimited amount of traffic, for unlimited websites. For any technical issues, you have 24/7 managed support.
Managed Server – D8: €49.50 first month and renews at €99/mo.
If you have high traffic on your websites like the eCommerce ones, then this plan is best for you.
With the D8 plan, you get 8GB dedicated RAM, 140GB dedicated SSD space, and 4x dedicated Xeon vCPUs. All other features are the same as the D4 plan.
Managed Server – D16: €78 first month and renews at €156/mo.
For agencies and complex websites, this plan works the best.
With this plan you get 16 GB dedicated RAM, 300GB dedicated SSD disc space, and 6 dedicated Xeon vCPUs. Such kinds of resources power your website with blazing speed and security at its best.
Reseller Plans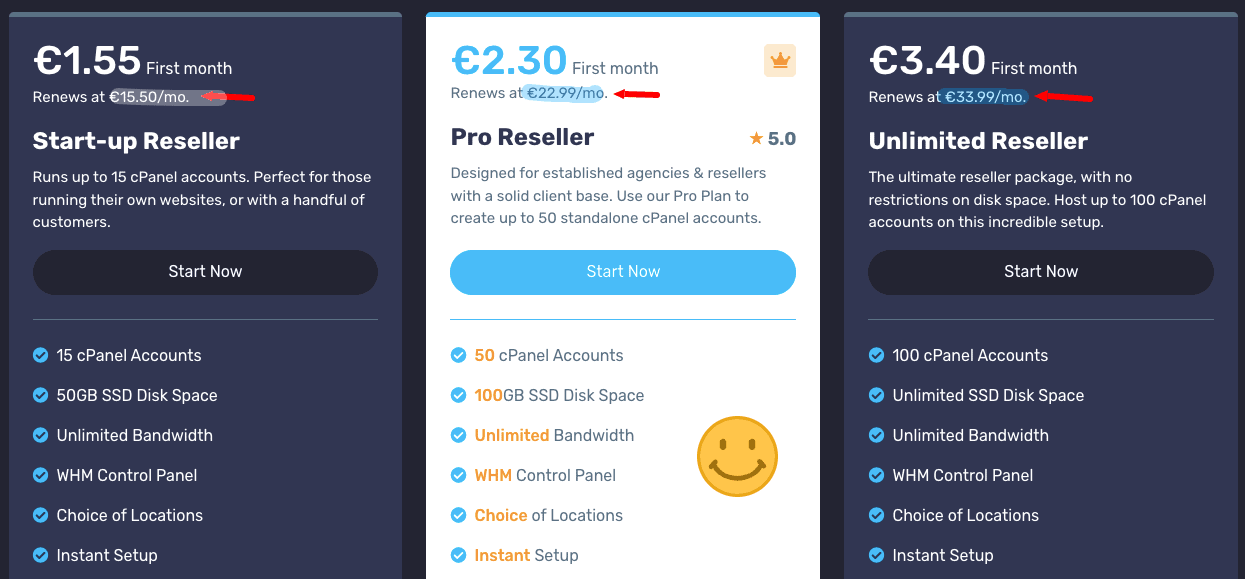 Here's a chance to resell hosting with white-label services from Verpex. Buy a reseller hosting plan at Verpex, and share the server space with customers. There are a total of three reseller hosting plans.
Start-up Reseller: €1.55 first month and renews at €15.50/mo.
For a few customers, you can choose this plan. The plan comes with 15 cPanel accounts, so you can run yours and customers websites.
The disc space is 50 GB SSD, along with unlimited bandwidth. The setup is quick and instant, with custom nameservers, and white-label servers.
You also get one free domain name, LiteSpeed Webserver, and a 60-day money-back guarantee.
Pro Reseller: €2.30 first month and renews at €22.99/mo.
A whopping 50 cPanel accounts gives you the chance to host multiple clients' websites. The disc space is also increased to 100 GB SSD with unlimited bandwidth.
You can choose the server location of your choice, and set custom nameservers.
Unlimited Reseller: €3.40 first month and renews at €33.99/mo
With the unlimited reseller hosting plan, you can host up to 100 cPanel accounts with unlimited bandwidth. All the features are the same as the Pro Reseller plan.
To buy any hosting plan at Verpex, go to the pricing page.
Or you can first choose the type of hosting you need from the tabs on the homepage.
Let's say you are signing up for the first time, I would recommend you choose the cloud hosting plan. It's the cheapest and comes with cPanel along with free SSL. You can also register a domain name.

Checkout the various cloud shared hosting plans that I have also shown in the pricing section of Verpex review.

Step1. Choose the preferred plan by reading all the features and click on Start Now.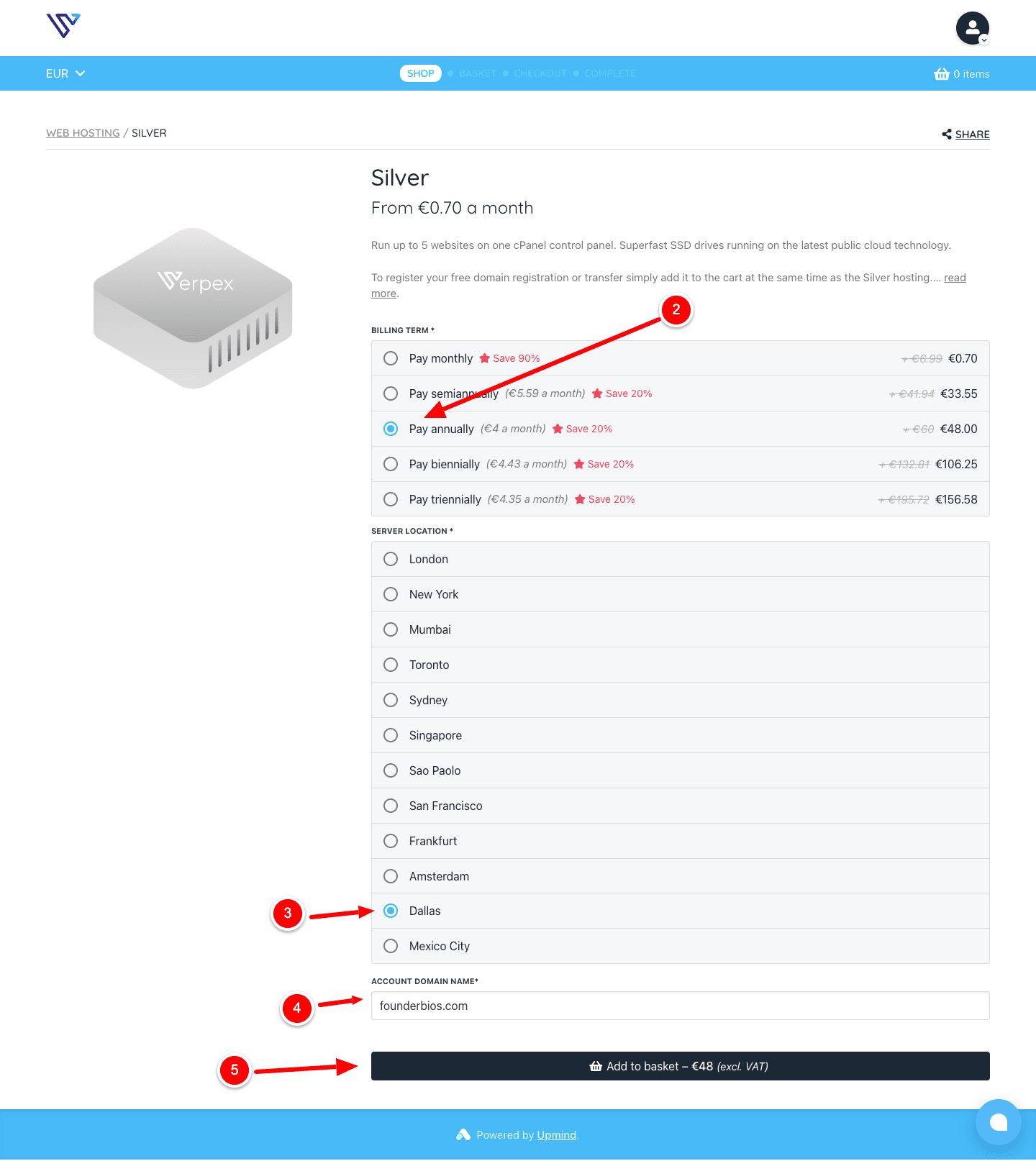 Step2. On the next page, you can choose to pay monthly or annually.
Step3. Next, choose your preferred server location. The closest location to your customers is the best option.
Step4. Though you buy a hosting that can host more than a single domain, you need to type at-least 1 domain to be the default hostname for your hosting account.
Step5. Then click on Add to Basket.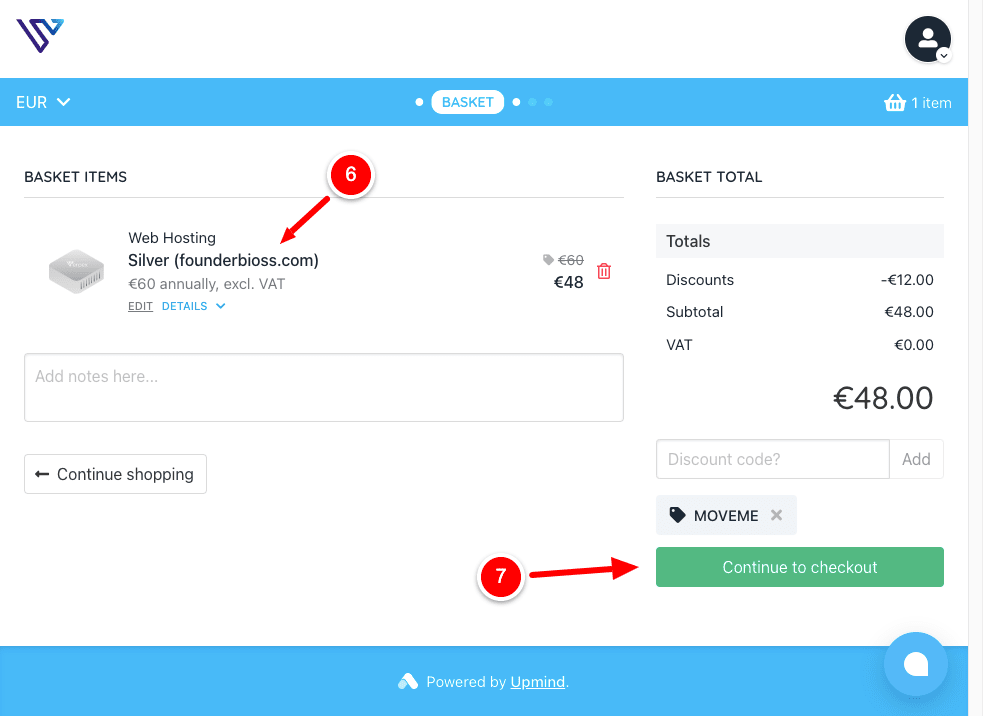 Step6. Before moving further, make sure the information in your card is correct.
Step7. Click on Continue to checkout and then enter your personal details.
After successful creation of your account, proceed with the payment process.
Once the payment is made, you will get an email confirmation with the login details to your hosting account.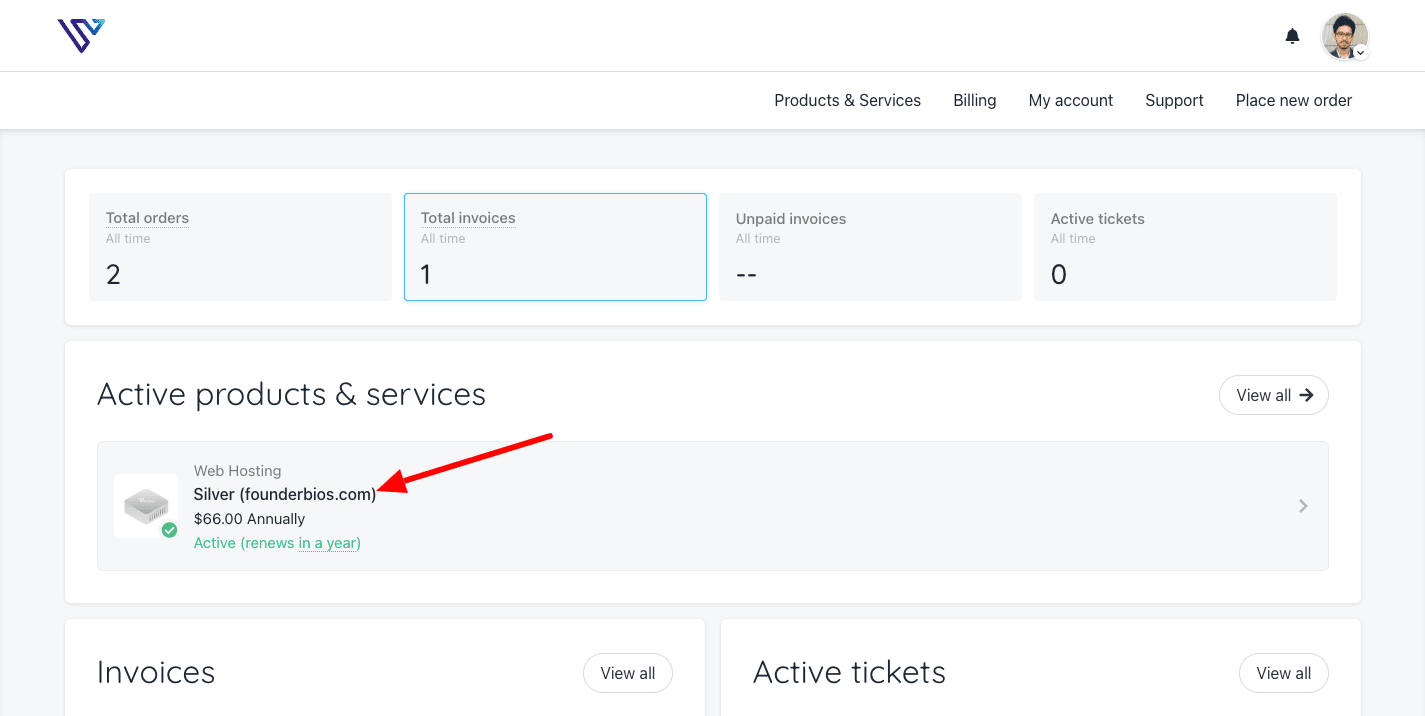 Log in to your account and you should see your Verpex dashbaord something like this.
How to Access your Hosting Control Panel?
Once you complete the process of buying the cloud hosting from Verpex, you will have access to your hosting dashboard.
Most hosting plans at Verpex are based on cPanel which is a great hosting control panel. And cPanel running on Litespeed webserver is like cherry on the cake.
To start making use of your hosting account, let's login to the cPanel account.
Go to your dashboard and click on the hosting account.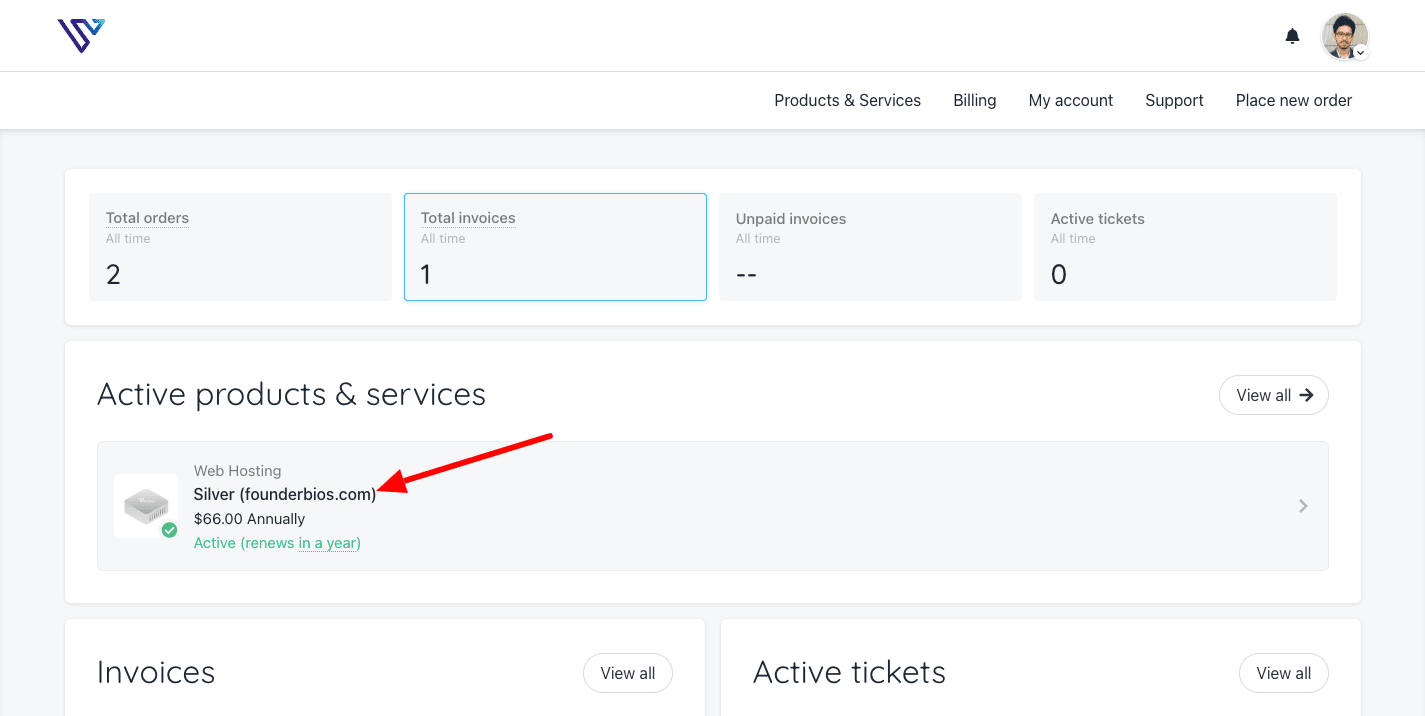 Next up, you will see the details about the hosting plan you've purchased. Click on the "Login to cPanel" button which takes you to your ultimate control area.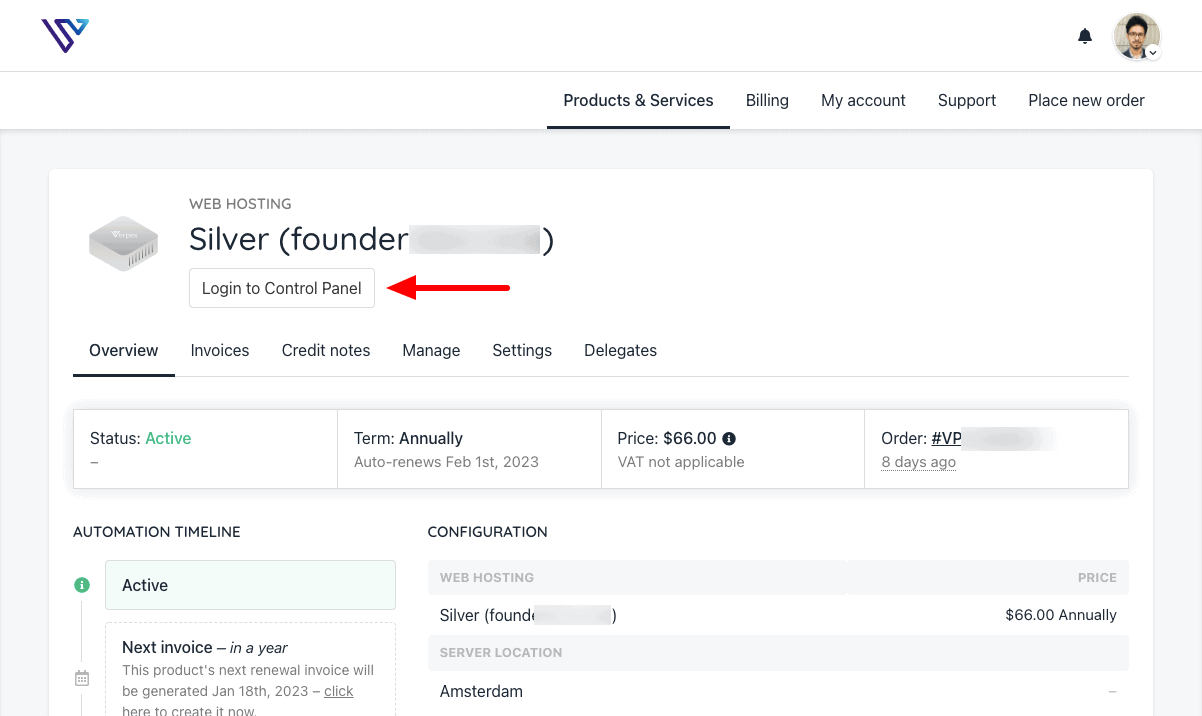 Below is how the default cPanel dashboard will look. Out of several dashboard styles, you can choose anyone you prefer.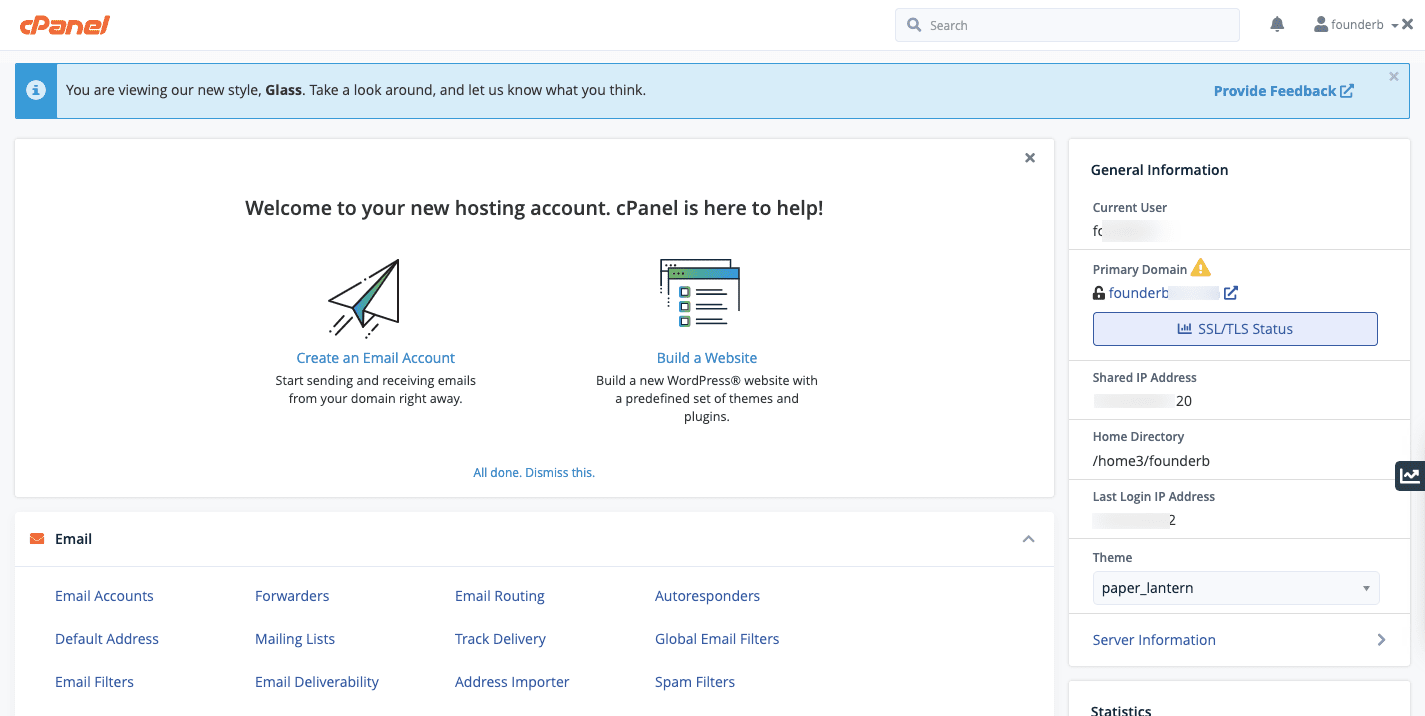 From this cPanel dashboard, you manage almost everything on your web hosting server you've purchased. The recommended step would be to first setup the DNS records.
If you have purchased the domain name from somewhere else, you will need to add your Verpex cloud server's shared IP address in the A record of the domain's DNS.
How to Install WordPress on Verpex cPanel Hosting?
To get started with your first website, WordPress is a great choice of CMS. It is easy to understand and comes with unlimited possibilities to build almost any type of website.
You can not just start a blog, but also host a fully-functional ecommerce store with WooCommerce plugin and a powerful ecommerce theme.
Let's go ahead in your cPanel dashboard and install WordPress.
Step1. Type "wordpress" in the search bar on the top-right corner of your dashboard screen.
Step2. Choose "WordPress Manager by Softaculous".

Step3. Next up, Click on "Install a New Copy"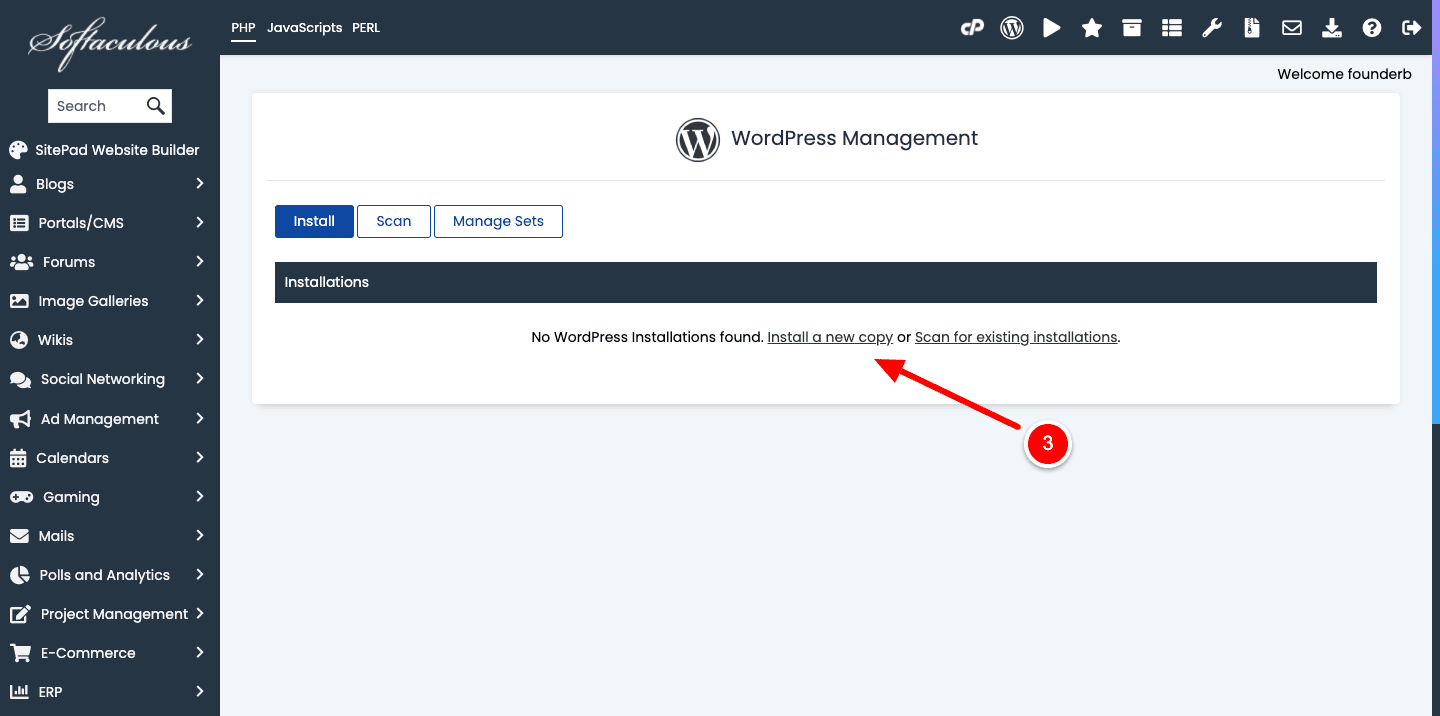 Step4. – Step 10. In the very next screen, configure your WordPress site's details.
Step11. Once you click on "Install" after filling up the details, it will quickly install fresh WordPress site on your server.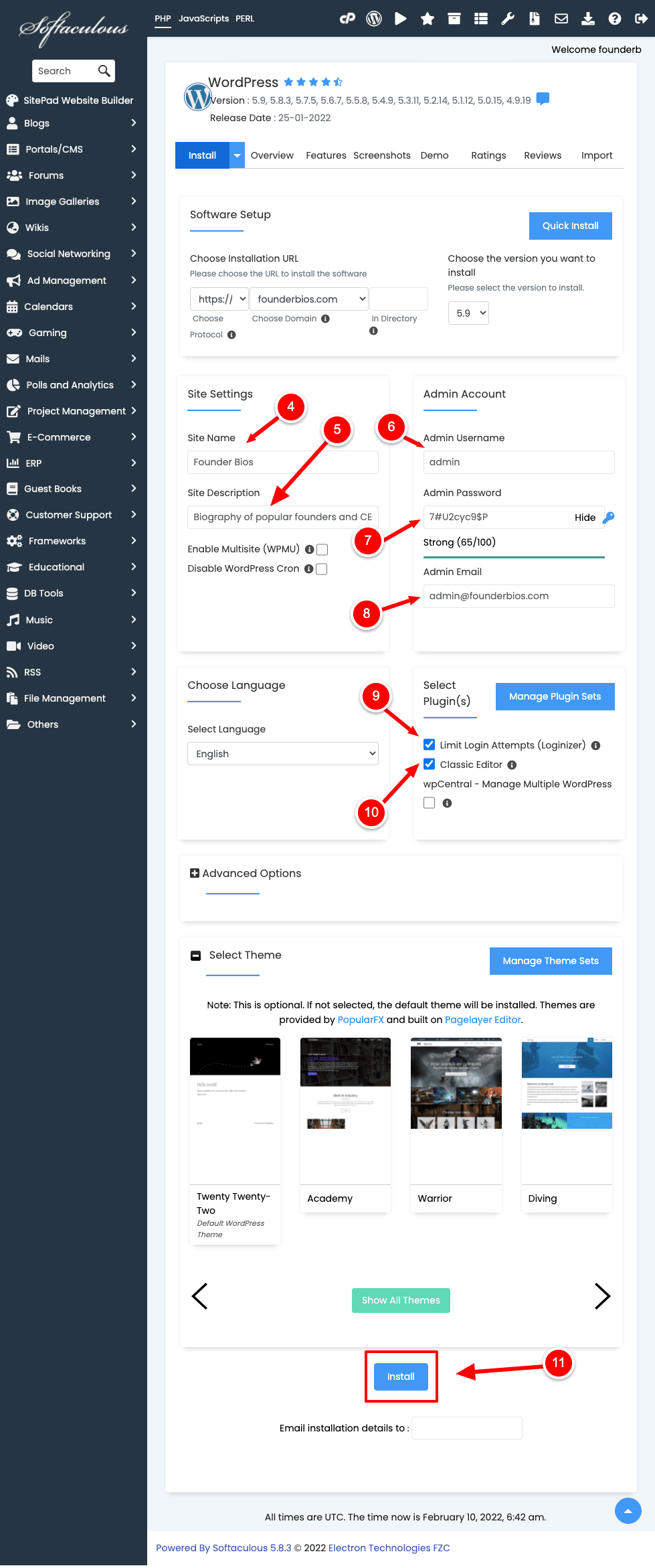 Once the installation is complete, you will get the login credentials in your email.
Now, you're all set to launch your first WordPress website with Verpex hosting.
Next up, you should change the permalink structure, Install a WordPress theme and upload the must-have plugins.
Pros & Cons – Verpex hosting
Pros:
Cloud based technology
Worldwide servers to choose for the fast site speed.
LiteSpeed Servers to boost your site speed.
Free automatic daily backups and SSL certificate.
One-click WordPress hosting installation using Softaculous app installer.
The best control panel cPanel to manage your hosting account.
Cons:
The cost might be a bit expensive but only to those who don't understand cloud technology. Otherwise so many benefits are at an affordable price.
Alternatives to Verpex
So in the Verpex review, we have spoken everything we could about the Verpex cloud platform. Let's checkout some Verpex alternatives that offer cloud hosting solutions.
UpCloud is my top alternative to Verpex that offers effortless global infrastructure. It is one the fastest and reliable cloud hosting platforms to host your sites at the cheapest price. Here are some specific features:
2x faster performance with MaxIOPS block storage.
100% uptime SLA
Flexible and scalable
Pay as you go pricing
Managed databases so you can focus on productive tasks and leave the rest to professionals.
24/7 secure servers with N+1 redundancy.
Round the clock support with response time less than 1m 37 seconds.
If you are looking for a VPS alternative to Verpex, then Contabo is the best choice. Contabo provides German quality VPS hosting solutions starting at only $6.99 per month. Not just VPS, but it also offers dedicated servers with more power to your websites. Features of Contabo:
German quality hardware and software solutions.
Global servers that share the same German quality standards.
Unbeatable prices not only during promotions but all the way through the year.
With German quality comes good support to make sure all your issues are taken care of by quality professionals.
Security is at its best.
Even though Verpex offers reseller hosting, there's another popular company that is known to provide reseller hosting. ResellerClub is the best alternative to Verpex reseller hosting solutions. Here's the reason why you should love ResellerClub hosting:
WebPro panel unlike other hosting platforms. This control panel helps you manage clients billing, products, and a lot more.
You can manage everything with the mobile app available for Android and iOS.
Competitive and affordable pricing.
Automated billing and support management panels.
Award-winning support via chat, email, tickets, calls and even social media.
HTTP API helps you set up your storefront quickly.
DigitalOcean is one of the most popular and widely used cloud computing platforms. Developers love DigitalOcean for its developer-friendly features and flexible pricing.
Deploy your server at one-click.
Choose the resources from basic to advanced and then pay the price.
8 data center locations offer high reliability and access to your site from anywhere around the world.
Choose the preferred OS including Ubuntu, CentOS, and more.
Monitor your server performance and receive alerts at no additional cost.
Useful Links
There's more for you to explore in the hosting technology.
FAQs about Verpex
My Verdict – Verpex Review
The reason I shared Verpex alternatives in this Verpex review is to show that Verpex has all the hosting solutions offered by other competitors in the market.
So instead of choosing a different hosting provider for cloud or reseller, you can get it all at Verpex.
If you want to achieve the highest point for the success of your online business, Verpex is the choice.
I hope the Verpex review was helpful and informative in terms of its pricing, features and alternatives.