Having a strong understanding of the influencer marketing space, it's no surprise that Affable.ai has quickly become a go-to platform for brands and agencies.
However, it's always important to consider alternatives to find the best fit for your needs. Here are some reasons why you may want to consider an alternative to Affable.ai.
Reasons To Choose Affable.ai Alternatives
☑️ The platform may not have all the features or integrations that you need. While Affable offers a robust set of features, there may be other platforms that offer specific capabilities that better suit your goals and processes.
☑️ Every business has different budgets and resources. So it's important to evaluate the cost-benefit analysis of each potential platform before committing.
☑️ While Affable has received praise for its user-friendly interface, every team has different preferences. It's worth considering alternatives that offer a better user experience that aligns with your team's needs and abilities.
List of Best Affable.ai Alternatives and Competitors
On YouTube, Twitch, and TikTok, BuzzGuru boasts the most extensive influencer database, which includes over 21 million content producers.
The platform's functionality enables marketers to look for ideally matched influencers, utilizing filters, particular phrases, and references from the video.
As a result, you may market your goods and services using influencers with a highly focused audience. Marketers may estimate the advertising budgets they need to launch a promotion thanks to the clever AI algorithms that compute the funding of an ad campaign with any influencer with more than 10,000 followers on YouTube, TikTok, and Twitch.
You must enter the brand name into the dashboard to access the platform's data and performance insights database.
One of the biggest appeals of BuzzGuru is its affordability. While Affable's pricing plans can be costly for smaller companies or those just starting with influencer marketing, BuzzGuru offers more affordable options that still provide valuable insights and analysis.
Another advantage of BuzzGuru is its user-friendly interface. The platform is easy to navigate and understand, making it a great choice for those who may not have as much experience with influencer marketing and social media analytics.
In addition, BuzzGuru offers a unique feature called "Buzz Alerts" that can notify users about potential brand mentions or when certain keywords are trending on social media.
This can be incredibly useful for monitoring online conversations and staying on top of any potential PR crises.
Overall, BuzzGuru may not offer all of the advanced features that Affable does, but for those looking for a more budget-friendly and user-friendly option, it's a great alternative.
Also Read: Is BuzzGuru #1 Influencer Marketing Platform? – 2023 Review
💳 BuzzGuru Pricing: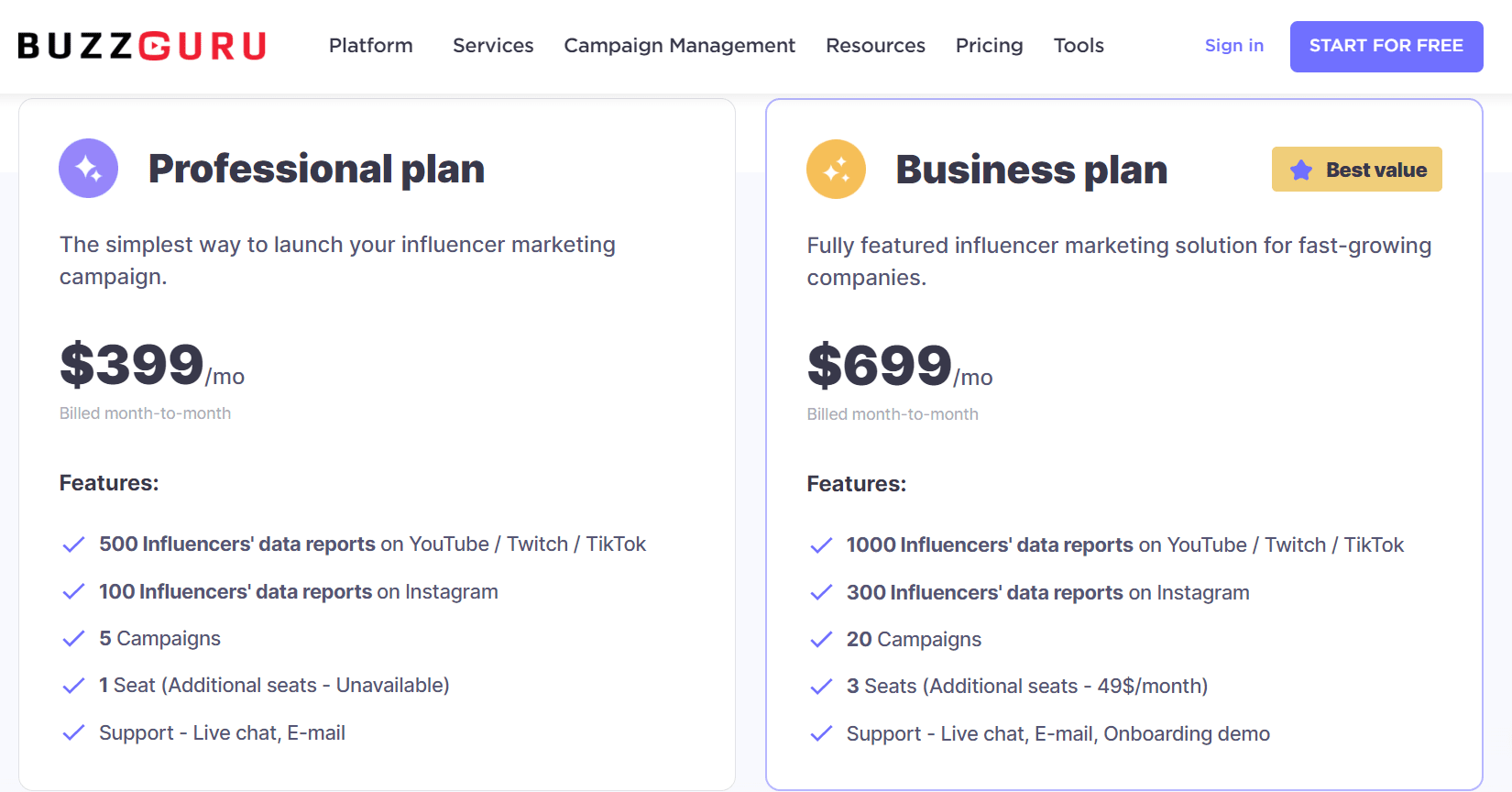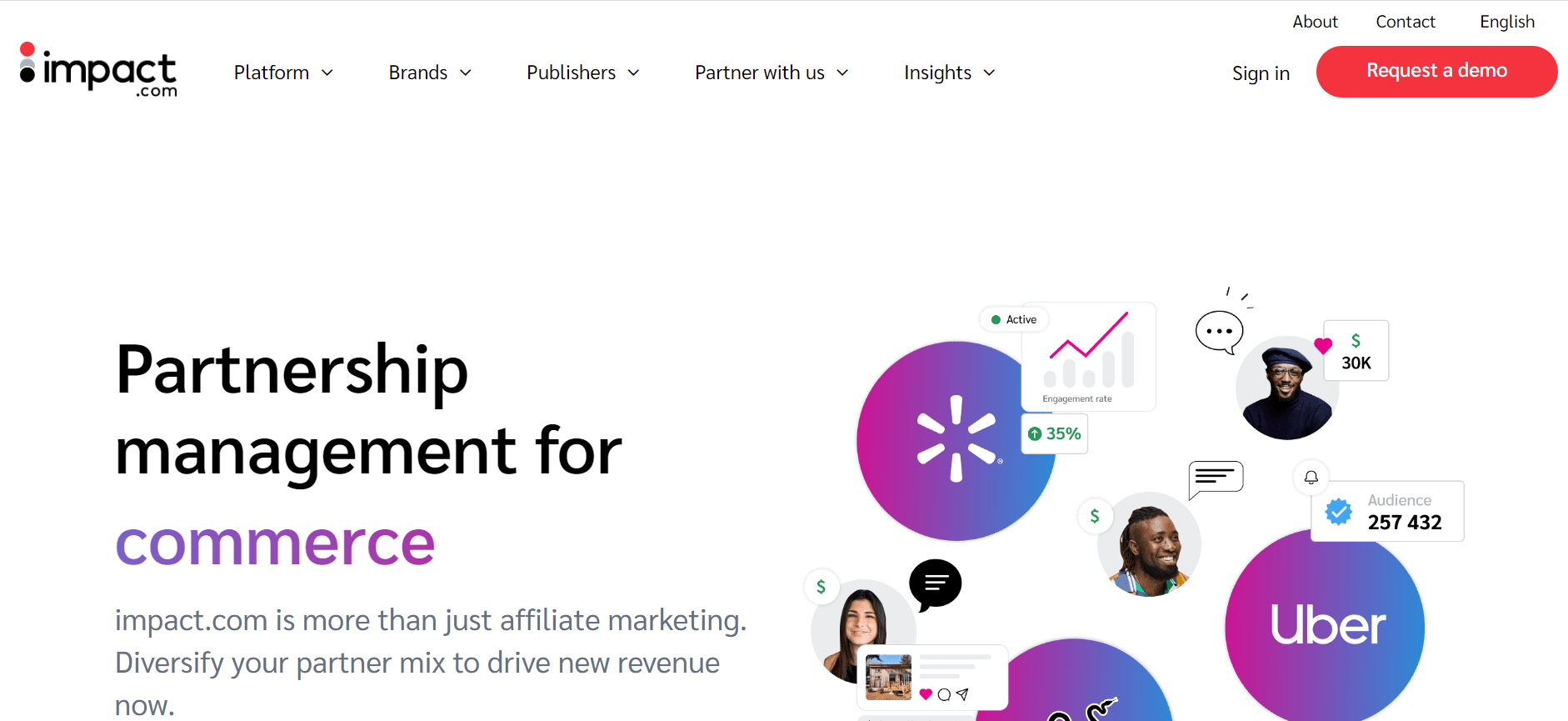 Impact.com's digital marketing platform offers a fully integrated suite of tools for media attribution, performance marketing, tag management, and mobile analytics, enabling substantial improvements in the return on global advertising spend for brands and agencies.
Since its establishment in 2008, impact.com, the top worldwide partnership management platform, has revolutionized how businesses find and manage all types of relationships, including affiliates, influencers, commerce content providers, B2B, and more.
Their potent, purpose-built platform enables companies, including brands, publishers, and agencies, to create lucrative connections with publishers and customers.
They can collect, organize, and maximize the absolute value of the whole mix of relationships with simplicity and transparency thanks to their provision of insight throughout the entire consumer experience, which spurs growth and generates a new value for customers.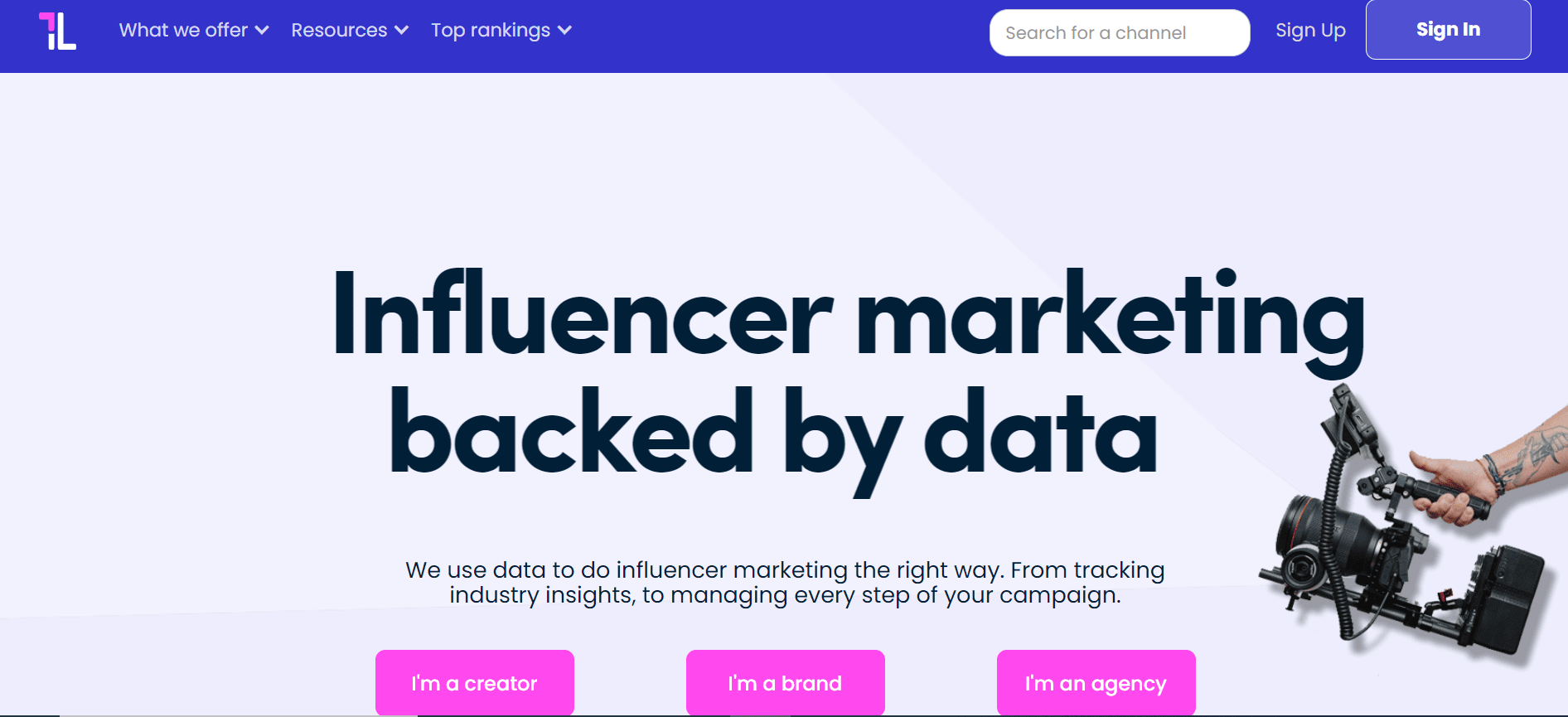 The work that thought leaders conduct is known as "Sponsorship Intelligence." They assist companies in locating all the influencers they need, and artists learn the full scope of what a brand is seeking.
Despite not directly supporting sponsorships on Instagram, its sponsorship intelligence tool monitors brand backing on YouTube, Podcasts, and newsletters.
Many Instagram users also contribute photographs and other material to these publications. The website refers to its influencers as "think leaders" regularly. Thought leaders, however, are more than simply well-known figures.
They may also be magazines or other organizations that exhibit thought leadership behavior. You may use keywords, categories, publication dates, companies, influencers, and others to search for content.
Only "likely sponsored" you may find articles by narrowing your search, and the platform makes it extremely obvious why a specific piece of content is cut.
Thought leaders offer information on any businesses it discovers funding content. This contains information about their social media presence and the number of influencers they have collaborated with.
💳 ThoughtLeaders Pricing:
There is no pricing mentioned, but you can book a demo.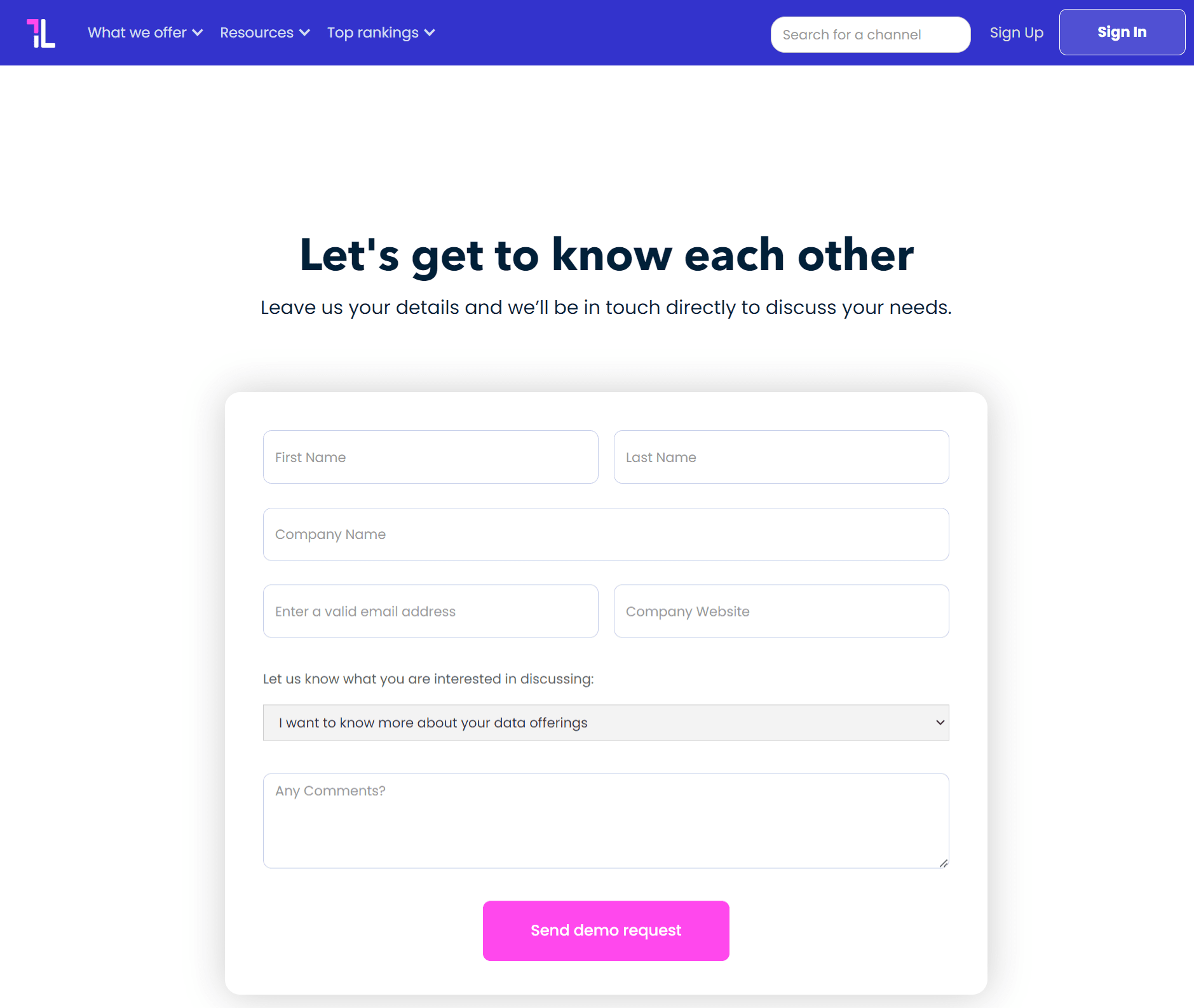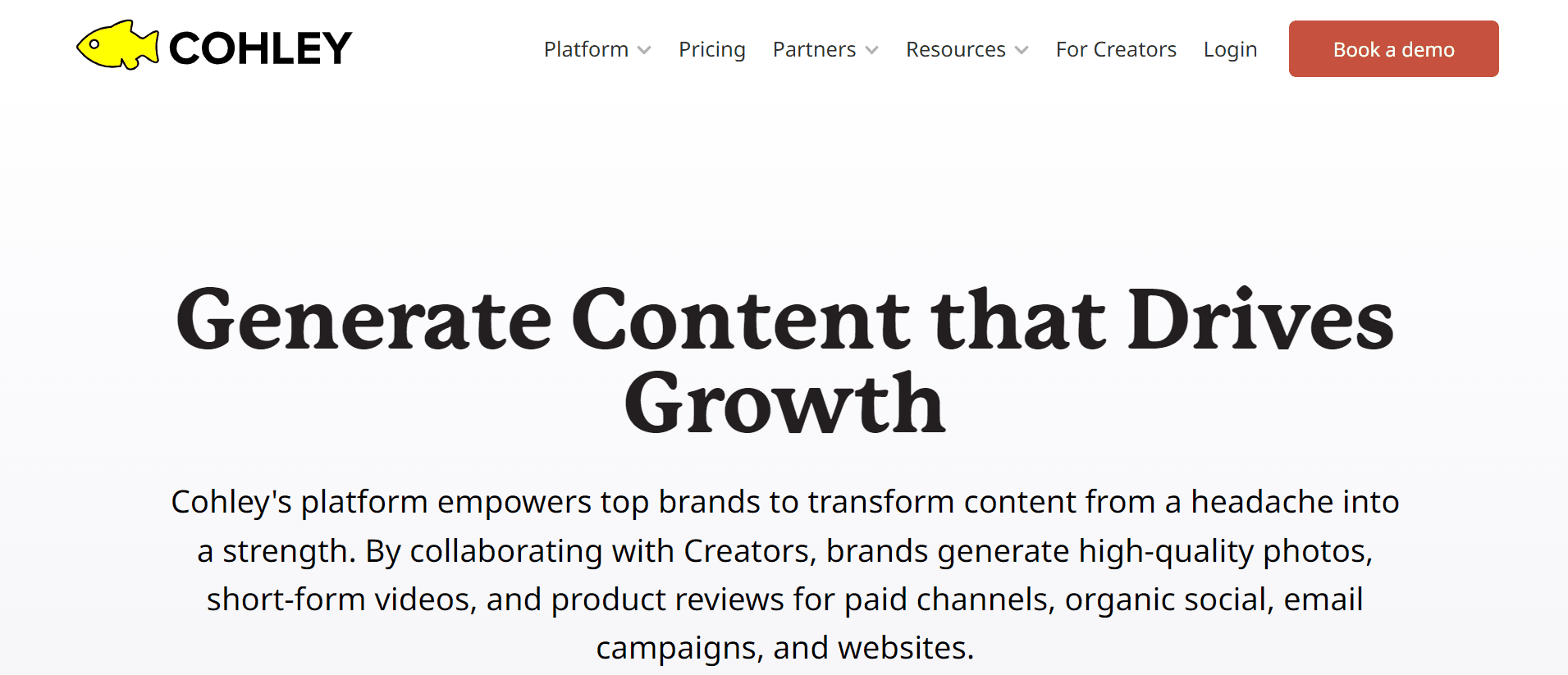 Cohley acknowledges that content and influencers are mutually exclusive tools in a marketer's toolkit, but she regards both as equally crucial.
Not all influential people produce excellent content, and not all skilled content creators have influence.
Cohley links businesses with creatives, including photographers, videographers, and established and up-and-coming talent who are beginning to achieve recognition.
Content is always the secret to success. Brands may utilize and reuse their top hits across all their marketing channels, tweaking their usage to become more and more successful.
Brands maintain the licensing rights to the content. Cohley keeps its cost private since it evaluates the demands of each prospective client before creating a solution that would assist them in meeting their objectives.
Your first campaign is onboarded for you, and their staff helps you become acquainted with the platform.
The creation of genuine User Generated Content, perfect for social media campaigns or graphic assets you may utilize for websites, can be found from up-and-coming influencers.
You gather this stuff in a content library that is set up to resemble a well-known file manager, with a folder for each campaign's content.
When distributing goods to an influencer, Cohley interacts with Shopify and BigCommerce to simplify the shipping and fulfillment process.
If you need product reviews similar to those on Amazon, you may ask influencers to submit them to Cohley, which posts them on the relevant Yotpo or PowerReviews product page.
💳 Cohley Pricing: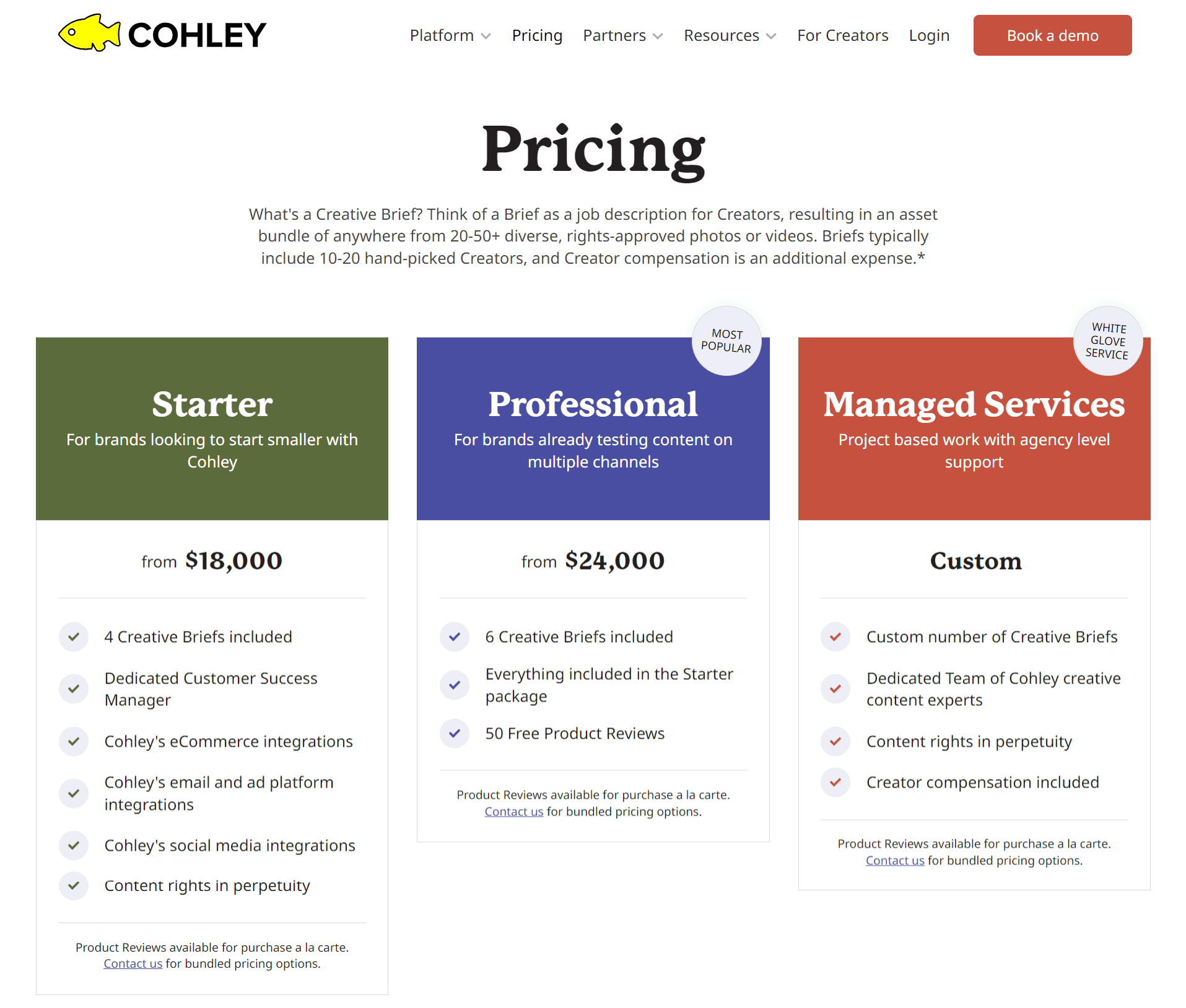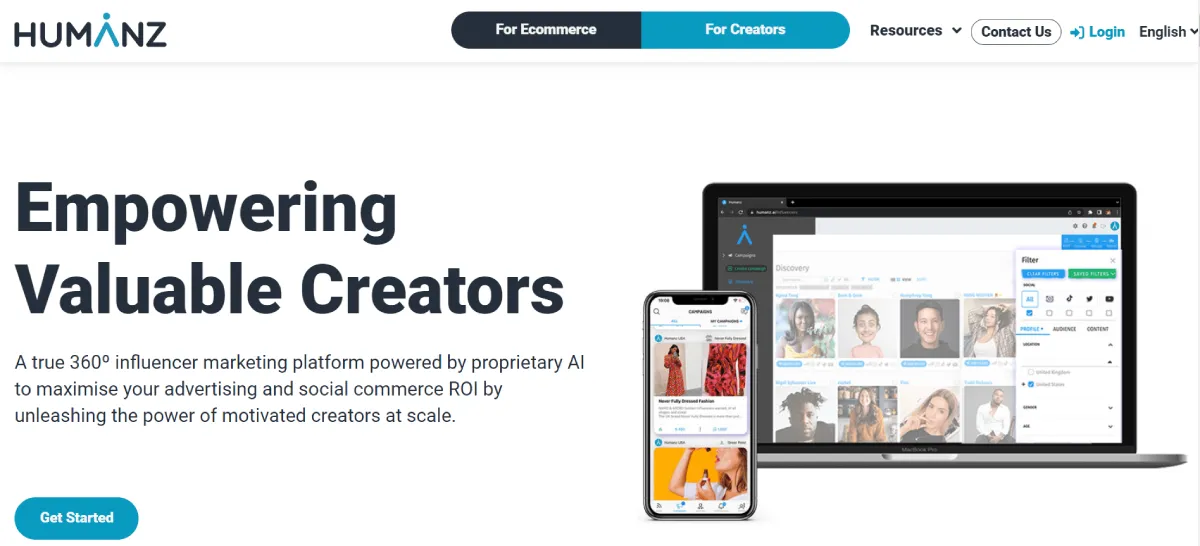 According to its website, Humanz is an influencer marketing platform driven by AI that you created to rebuild trust between businesses, content producers, and their target audiences.
Its objective is to combat influencer fatigue, quantify true ROI, and, in the end, provide a smooth end-to-end experience for businesses and influencers.
Simply put, it seeks to remind audiences and advertisers that influencers are actual individuals, not just automated income generators.
The platform uses an algorithm to scan public profiles, paying close attention to followers, text, photos, videos, and performance metrics.
You may learn more about the account holder and their followers with this knowledge. This technology makes the influencer marketing process more straightforward, and companies also receive an accurate representation of the influencer.
To better accurately assess an influencer's potential reach, it also allows them to identify those followers who may be genuine but aren't active.
Although Humanz is still relatively new, influencers, agencies, and marketers have already praised it as the most complete and user-focused influencer marketing platform.
Humanz has developed a platform that appeals to influencers and brands equally, unlike other platforms that are more enticing to companies. The dynamic interface may rapidly provide outcomes that have been well investigated.
Each feature has been carefully considered to provide all the necessary information in the proper context. In other words, they've raised the bar for user experience and functionalities.
Overall, medium to big companies and agencies benefit the most from it.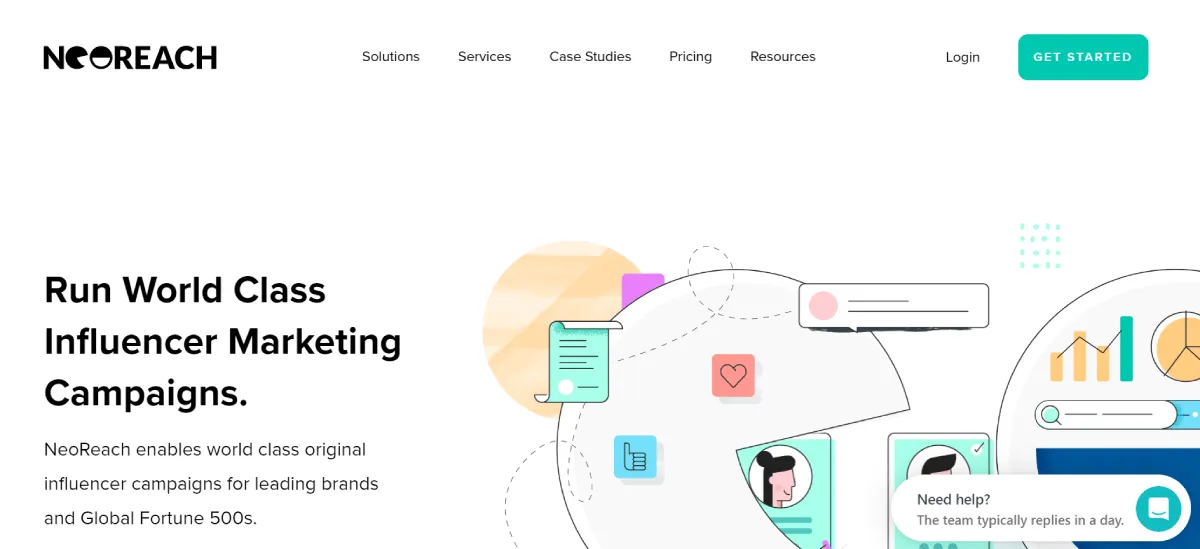 While attending Stanford University, CEO Jesse Leimgruber, and CMO Misha Talavera initially presented the concept for NeoReach.
As a strategy to link companies with social media influencers, they suggested NeoReach. The idea was well received, which inspired Leimgruber and Talavera to pursue their vision.
By 2014, they had raised $1.5 million in startup money, making NeoReach a reality.
Brands that utilize NeoReach must pay an annual charge adjusted to each company's requirements. NeoReach focuses on big businesses with sizable marketing divisions.
NeoReach uses a sophisticated algorithm to explore the social web for pertinent data to identify its influencers. Influencers don't sign up for the service as a consequence.
However, anybody who is prominent will probably discover that they are among the 3 million individuals in NeoReach's database.
Providing a wide range of data is one of NeoReach's primary goals. You may look for articles using a specific term, and NeoReach will show you the influencers that often discuss that topic online.
You may focus your study on various aspects, such as demographic and psychographic characteristics. NeoReach utilizes artificial intelligence to decide what will work best for you.
The more you use the site, the better you will discover its recommendations since it learns from your searches. Once you have identified the right influencers, you can manage your campaigns with the help of NeoReach's campaign management tools.
NeoReach has created its system for figuring out your ROI. Its goal is to demonstrate the true worth of your influencer marketing initiatives. It is known as Influencer Media Value (IVM).
💳 NeoReach Pricing: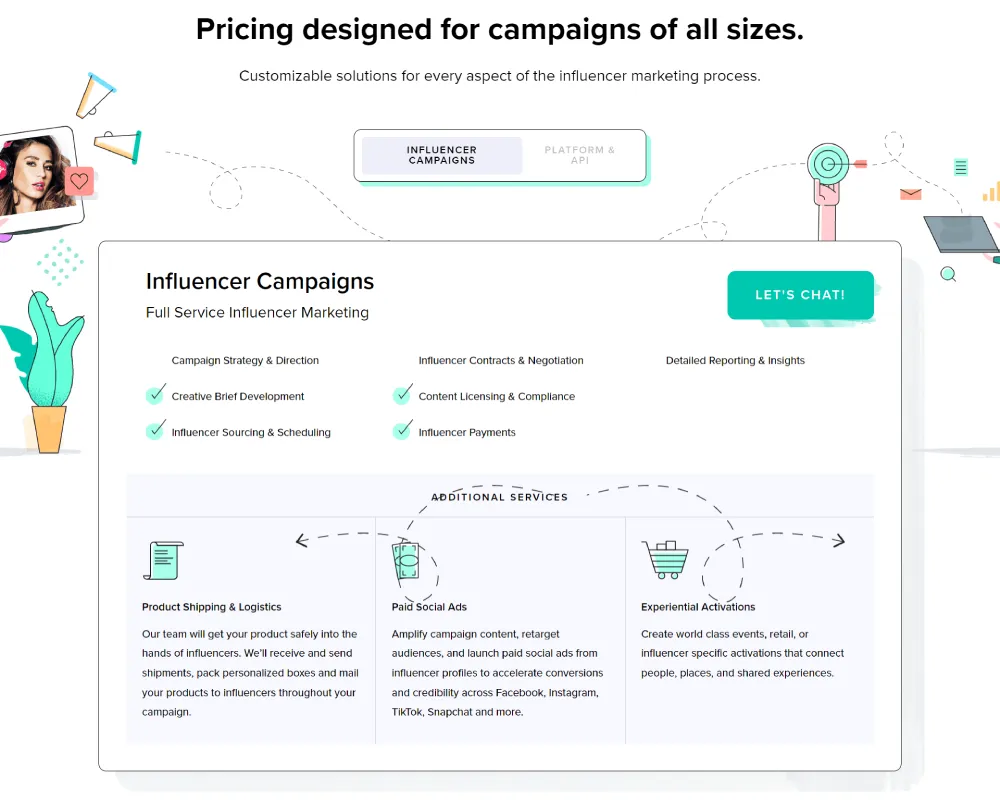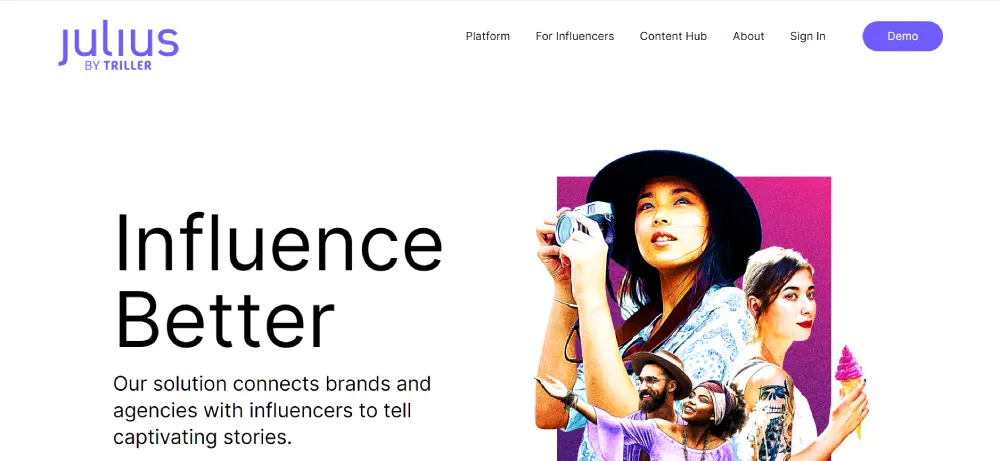 Hypr has been acquired by Julius for an undisclosed sum.
Hypr was found on the premise that if you're spending money on influencers to produce and share content for you, you should be as knowledgeable as possible about their target markets.
Varied packages provide different monthly searches (unlimited for Pro and above), lists, contact information access, export, and user login limitations.
With the help of 10 million influencers in its database, Hypr also has complete demographic information on its followers.
The Google of influencer search engines, as they like to refer them themselves. You may search using various keywords or demographic details once you reach the Pro level. Hypr gives tracking cards for each possible influencer when you have finished your search.
They provide specific information about the influencers and their fans. Finding prospective influencers whose following correspond to your target market is now simple.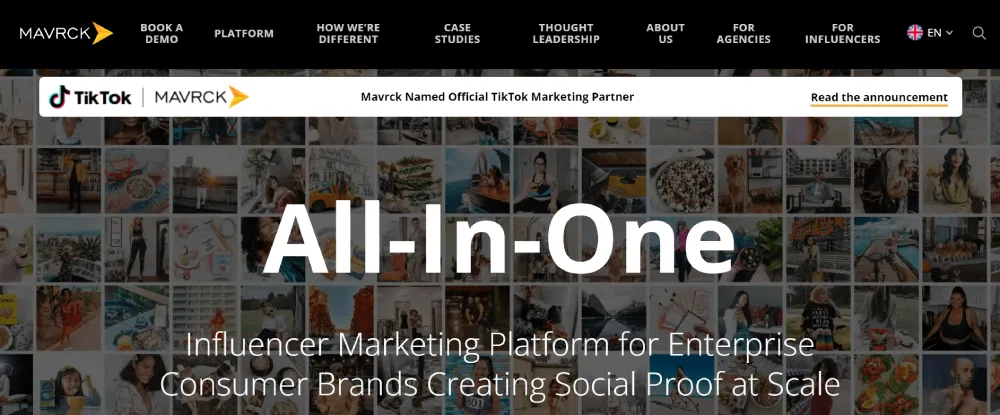 Mavrck approaches influencer marketing programmatically. You choose your campaign kind and then carry out the instructions provided by Mavrck.
All you have to do is provide the platform with precise information about your campaign. You can operate influencer campaigns at scale by automating many of the phases in Mavrck's approach.
The platform blends staff and customer advocacy with a conventional influencer marketing platform.
You may use its influencer search engine to look for individuals who fall into your niche, suit your style, have the right amount of followers, and have high engagement rates.
In addition to those on Facebook, YouTube, Pinterest, Twitter, and blogs, you can search for influencers on Instagram.
Mavrck, though, provides a lot more. It may help you locate the influencers—often micro-influencers—who are already your clients.
Additionally, it will always be simpler to engage these individuals as influencers than random people who may not be familiar with your company.
Activation may take place at the point of sale when you come into contact with thousands of customers, many of whom are likely active on social media.
Your influencers may engage in 20 pre-defined "digital activities" on Mavrck; you need to decide which are relevant to your company.
It may be as easy as having someone share a discount on your behalf, or it might be a little more complicated, like having someone upload an Instagram photo of them using one of your goods.
You may then decide what rewards your influencers and advocates can get for each digital action.
💳 Mavrck Pricing: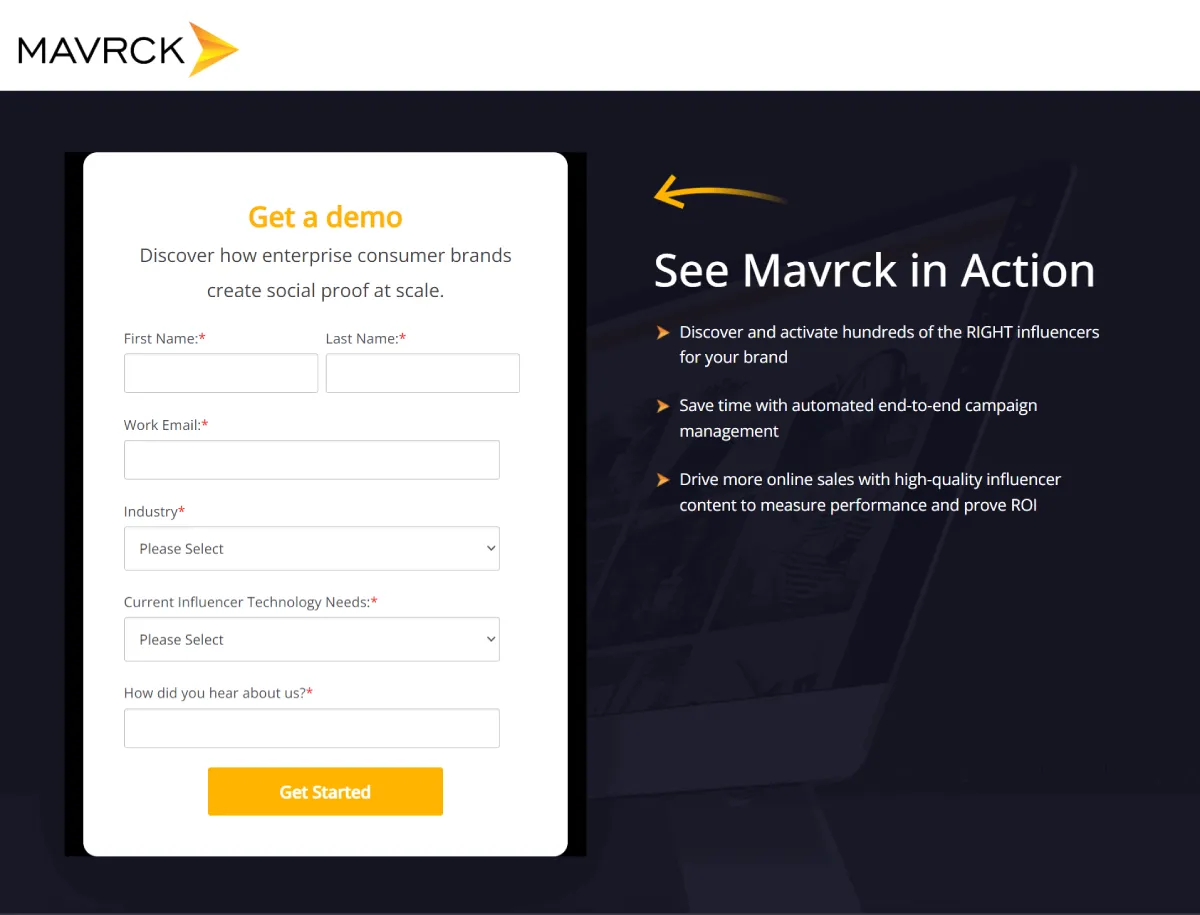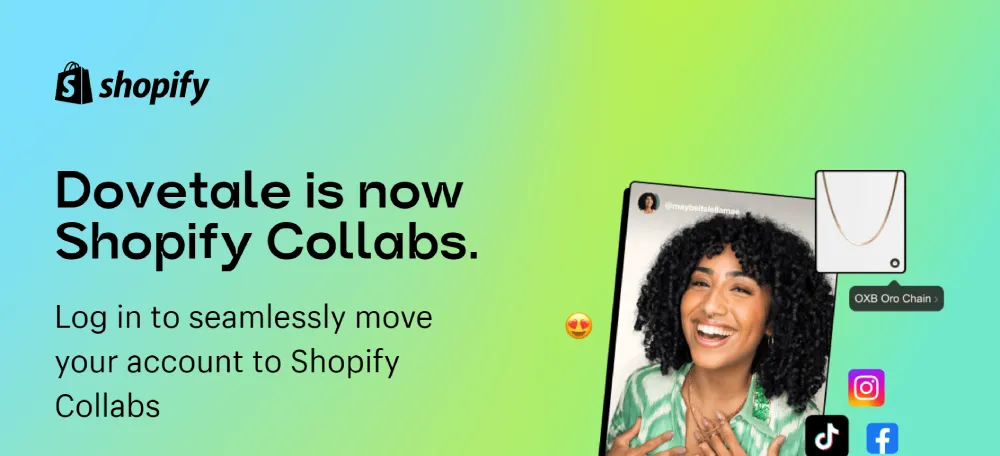 Dovetale, an influencer-finding tool, has only been around for a year. The company's founders, Mike Schmidt, and Naveed Shoushtarian were worried that the majority of influencer networks available at the time catered to big corporations and were out of small companies' pricing ranges.
Schmidt and Shoushtarian first saw Dovetale as a one-stop shop for influencer marketing, but they have downplayed campaign management's importance.
Once your campaign is in motion, you'll discover that Dovetale offers few choices for managing it. Dovetale advises you to do audience research before launching your marketing.
It provides comprehensive information on your social media profiles, particularly Instagram. You can monitor follower numbers, activity levels, gender, places, and ages.
The social media profiles of your rivals might be subject to similar scrutiny.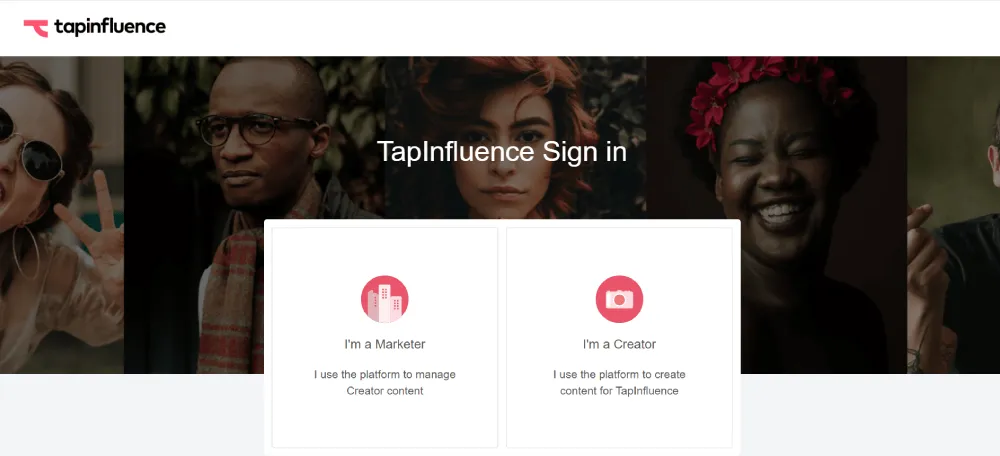 One of the more seasoned influencer marketing networks is Tapinfluence, which has been since 2013. It evolved from Blog Frog, a platform for connecting bloggers.
The business modified its strategy after realizing that banner advertising was no longer as successful as they once were.
They also wanted to join a marketing firm that could demonstrate to customers how to get a good return on their investment.
Whole Foods, Seiko, Canon, Volvo, and Target, are just a few of the remarkable clientele Tapinfluence can now point to.
They concentrate most of their marketing efforts on more prominent companies with substantial marketing expenditures.
Influencer search, influencer outreach, analytics, and campaign management are all critical components of an influencer platform and are included in Tapinfluence.
Its collection of campaign management tools is its most well-known area of strength. They are some of the influencer marketing platform's most complete tools.
Tapinfluence enables businesses to grow their influencer marketing quickly. Regardless of how many influencers you decide to collaborate with, Tapinfluence will make the process easier to handle.
Also Read:
FAQs
Which is better Affable or BuzzGuru?
The user happiness percentage of BuzzGuru is 100% whereas for Affable, it is 87%. So, this means users love BuzzGuru over Affable.
Can you integrate BuzzGuru with other software?
Yes, BuzzGuru can be integrated with WooCommerce, Shopify, and other third party platforms. Affable.ai doesn't not allow third-party software integration.
Conclusion
These are the top 10 alternatives to Affable in India. Given its outstanding features and accessibility for companies, we suggest BuzzGuru as the ideal choice for brands in India. You are granted complete control over your campaigns and the most acceptable costs.