Not Finding CreatorIQ to be the best choice for your requirements? Don't worry, I have curated a list of the best CreatorIQ competitors highlighting their features and pricing.
There are a few reasons why you may be looking for CreatorIQ alternatives for your influencer marketing needs.
Table of Contents
CreatorIQ Alternatives and Competitors
BuzzGuru enables companies and agencies to manage influencer marketing campaigns on Instagram, YouTube, Twitch, and TikTok from beginning to completion, measure performance, and assess results in one dashboard.
You can design your plan, outperform the competition by evaluating your influencer marketing performance against industry leaders, and get insight into the online marketing tactics of your rivals using an intuitive influencer marketing analytics and research intelligence platform.
BuzzGuru offers automated capabilities to help you expand your influencer marketing initiatives and spend less on acquiring customers via influencer marketing channels.
If you're looking for a tool to manage your influencer marketing campaigns on multiple platforms, look no further than BuzzGuru.
Also Read: Is BuzzGuru Review – #1 Influencer Marketing Platform?
💳 BuzzGuru Pricing: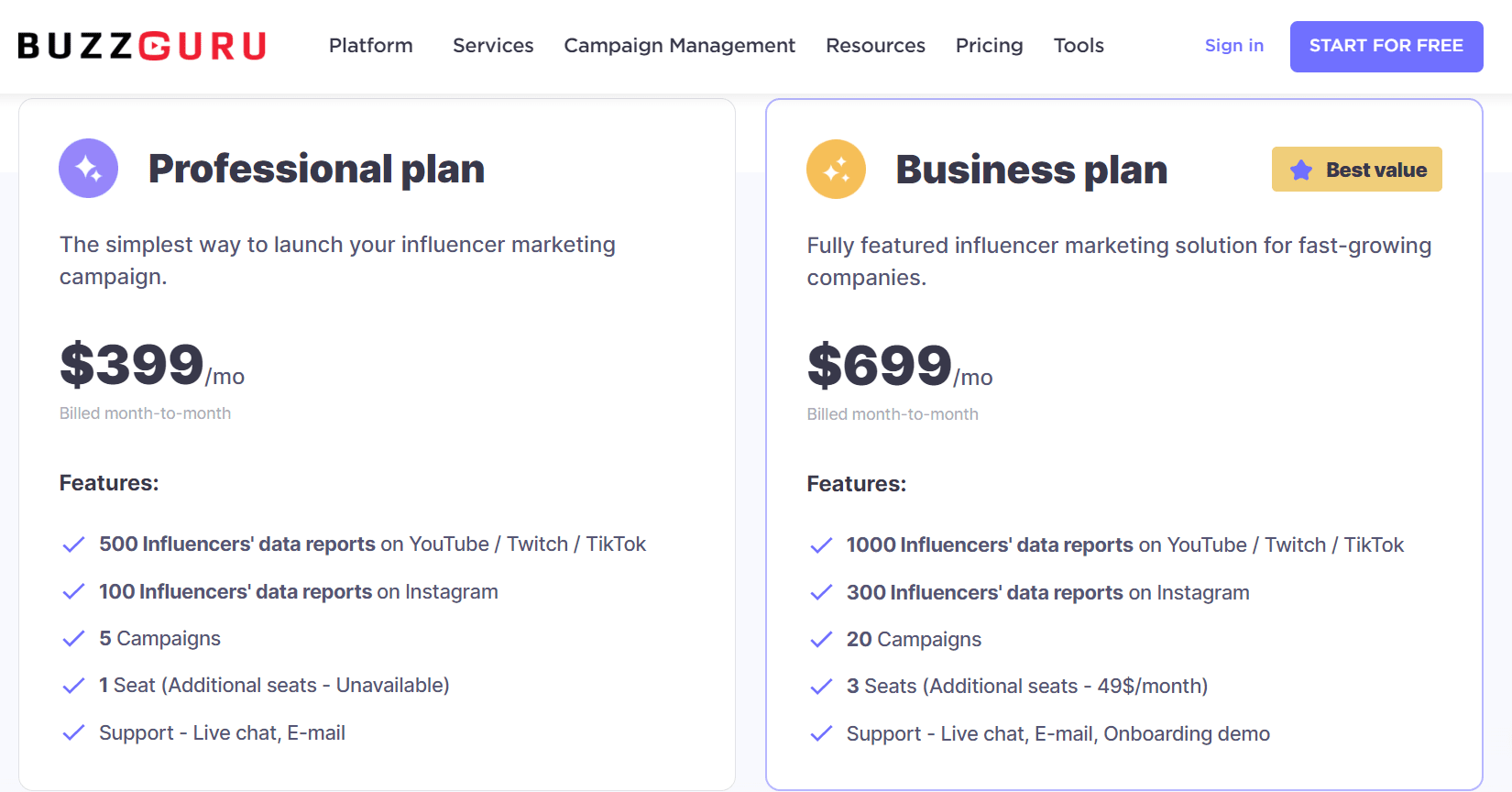 The top all-in-one influencer marketing platform, Mavrck, enables businesses like Kraft Heinz and Express to leverage the impact of the social proof that customers now trust.
To generate real insights and content for customer experience touchpoints at scale, marketers utilize Mavrck to locate and engage influencers, robust employees, and consumer advocates.
Marketers may also use an automated and performance-based strategy for influencer marketing by using its self-service influencer manager.
Mavrck, a 2014 startup, has offices in Denver, New York City, and Chicago in addition to its Boston, Massachusetts, headquarters.
The platform has received praise for its exceptional offering from the Shorty Awards and Retail TouchPoints' Retail Innovator Awards, as well as recognition as Digiday's "Best Influencer Marketing Platform" in 2018 and inclusion in the 2020 Inc. 5000 list of the nation's fastest-growing private businesses.
The Forrester New WaveTM: Influencer Marketing Solutions, Q2 2020 study ranked Mavrck as a "Leader" among the best influencer marketing platforms.
💳 Mavrck Pricing:
There is no pricing section on the Mavrck's official website. You need to book a demo.
Tribe completes a must-visit for businesses searching for Instagram influencers. The website resembles an Instagram feed of fun-loving, gorgeous young individuals more than anything else.
But behind it all, Tribe cleverly uses a mobile app to provide companies with exciting content. Influencer members of Tribe create content for businesses they adore using an iOS app, usually just a brief mention.
If you have 50,000 followers and are going to publish a photo from New York City's Times Square, wait.
Instead, upload that photo to Tribe and see if Coca-Cola would compensate you for using their brand in the backdrop in exchange for a mention.
Tribe's central idea is that. Instead of long-term advertising or campaigns, it focuses on one-time shout-outs that firms may employ to get some attention.
Billboards in the backdrop are only one example, and they're not a good one if you're an influencer trying to earn money.
When a product is mentioned in the article and seems natural, you'll fare better.
💳 Tribe Dynamics Pricing: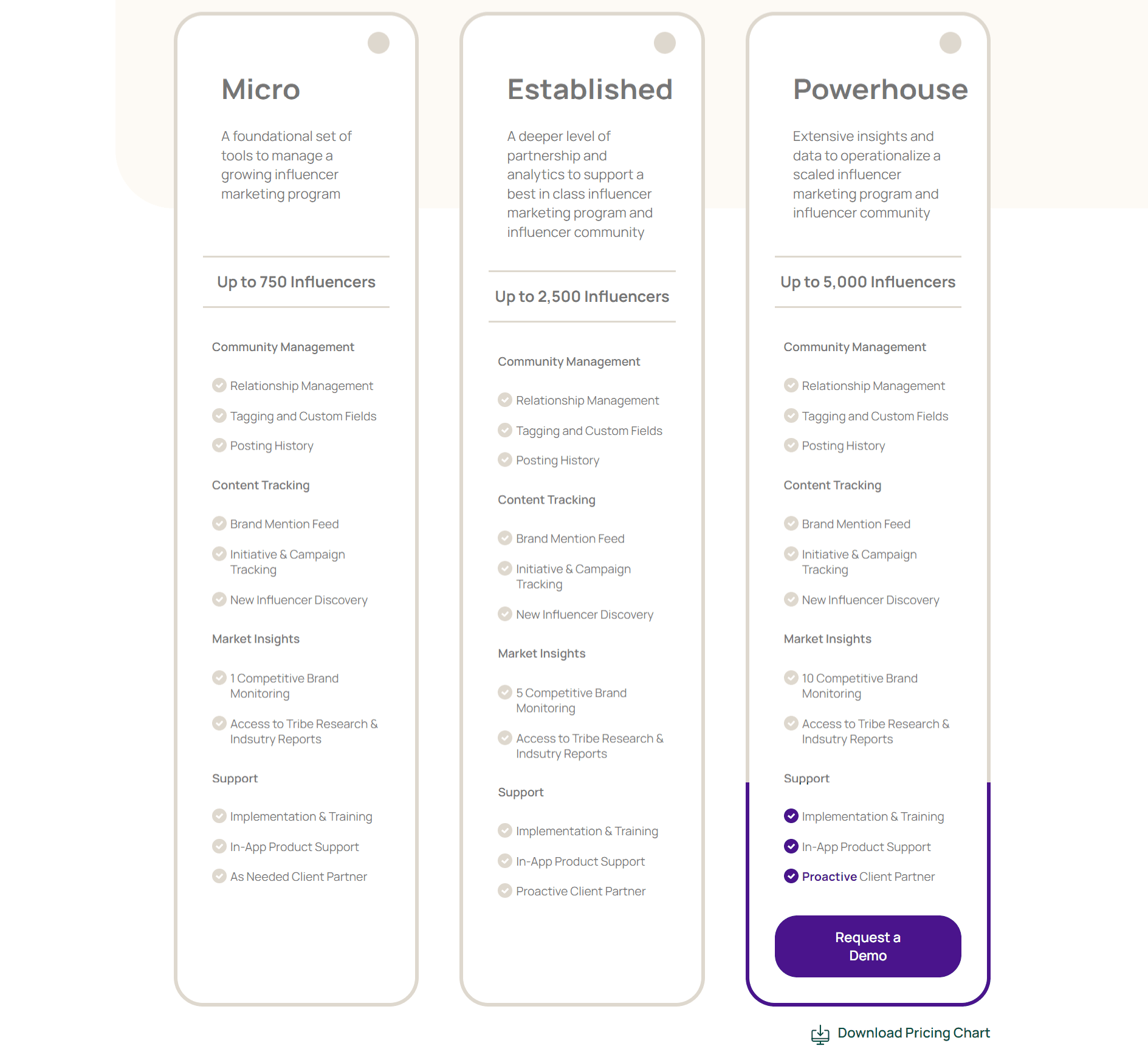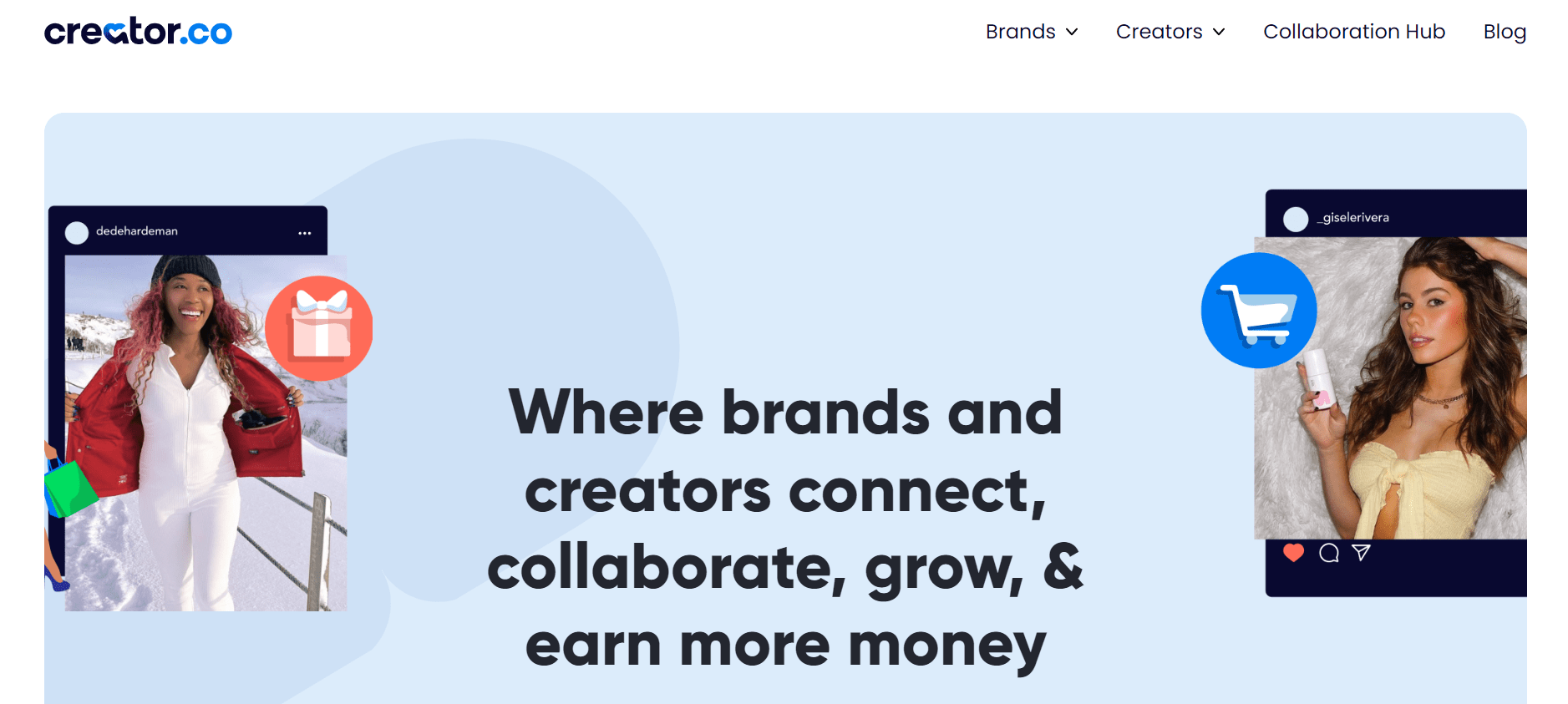 Along with YouTube and TikTok, Creator.co focuses on influencers (and their content) for Instagram. It emphasizes content production just as much as content dissemination.
In contrast, it has a database with information on 500 million influencers, including detailed information on these influencers and their audiences—more than you would anticipate from a platform aimed at small and medium-sized enterprises.
The Community-Driven (automated) Plan on the platform allows businesses to outline their targeted campaign and ideal influencer in a "hands-free" manner.
From a more constrained talent pool of 80,000 verified influencers, Creator.co makes recommendations in this case.
In this instance, Creator.co identifies appropriate influencers and determines if they are willing to participate in the campaign.
The company must decide whether to engage each suggested and willing influencer. The first step is to establish and define your campaign, whether you're using the automatic plan or the self-service one.
It would help if you were as explicit and thorough as you could. Although Creator.co offers two prefabricated campaign types, you can fully customize them.
These are the ShoutOut campaign, which is essentially an exchange of free products in exchange for exposure, and Giveaways, where you collaborate with influencers to attract followers to your profile by holding contests for free stuff.
💳 Creator.co Pricing: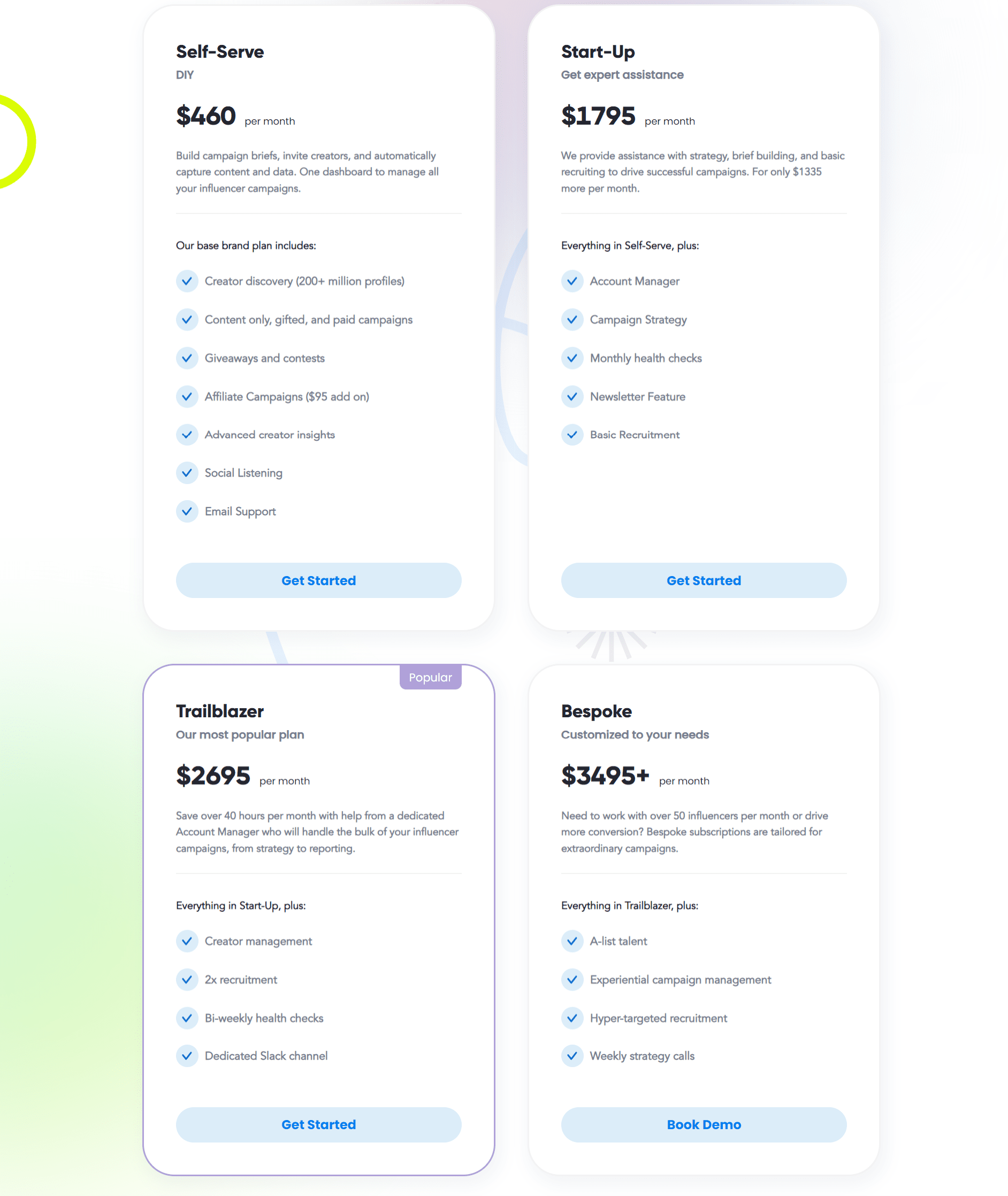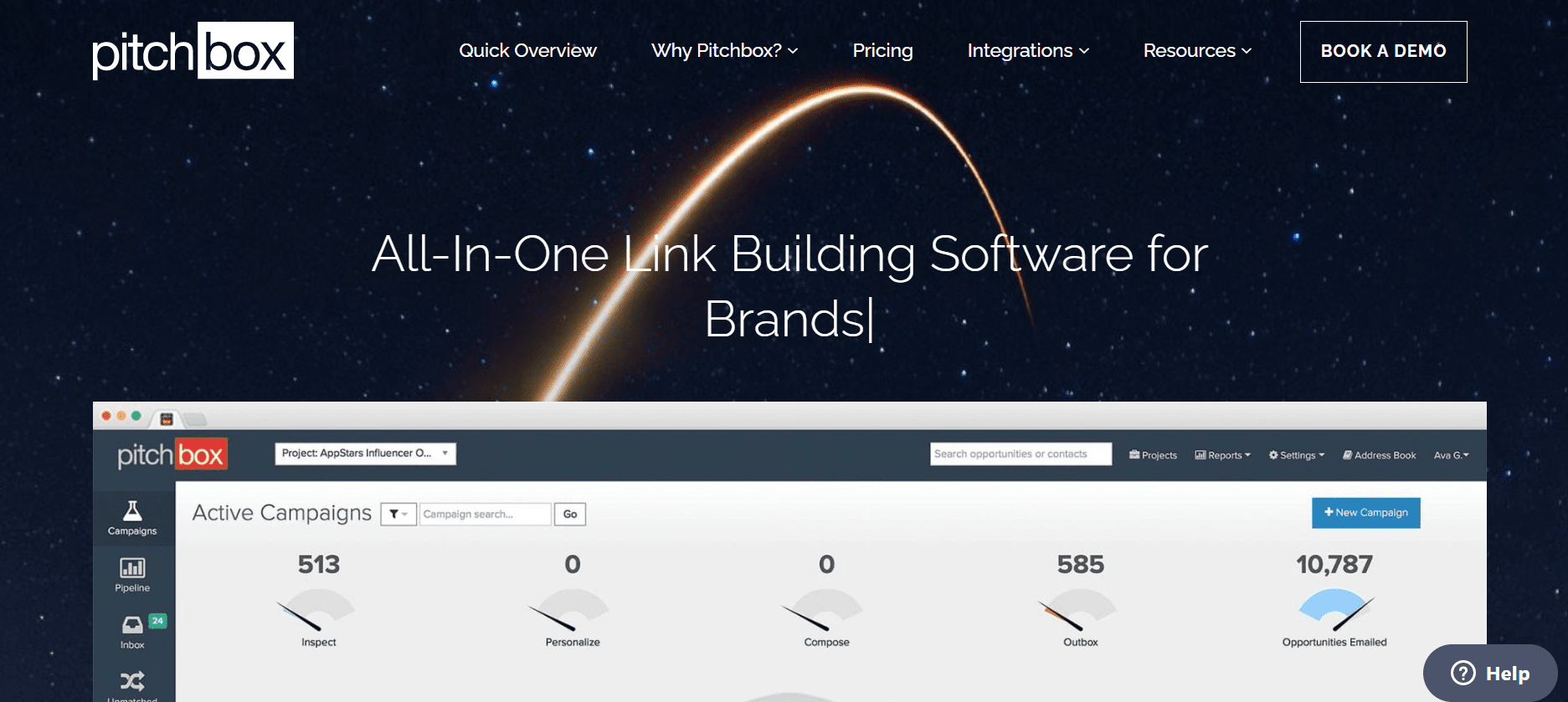 Finding the ideal influencer to promote their content and raise awareness of their business is made possible by Pitchbox, influencer outreach, and content marketing service.
PitchBox may interact with SEO service providers to get dependable and brand-safe results. Some critical features are outreach campaigns, editable email templates, automated processes, and reporting at each stage of the outreach process.
Campaign managers may design unique campaigns utilizing three-stage outreach emails that you can customize.
Using the Pitchbox Keyword tool, users may build up any movement to look for certain influencers that match a specific set of keywords.
Pitchbox's keyword analysis feature enables it to focus searches and provide a list of chances. Campaign managers may contact any influencer and use customizable email templates for automated processes to deliver follow-ups and responses.
Pitchbox's primary dashboard allows for the presentation of reports, infographics, and a range of outreach analytics, including the number of opportunities, the ratio of emails sent and received, the number of email templates, and more.
Additionally, it provides aging reports to ensure options are moving through the pipeline and pipeline reports to provide an overview of opportunity data and the state they're in.
💳 Pitchbox Pricing: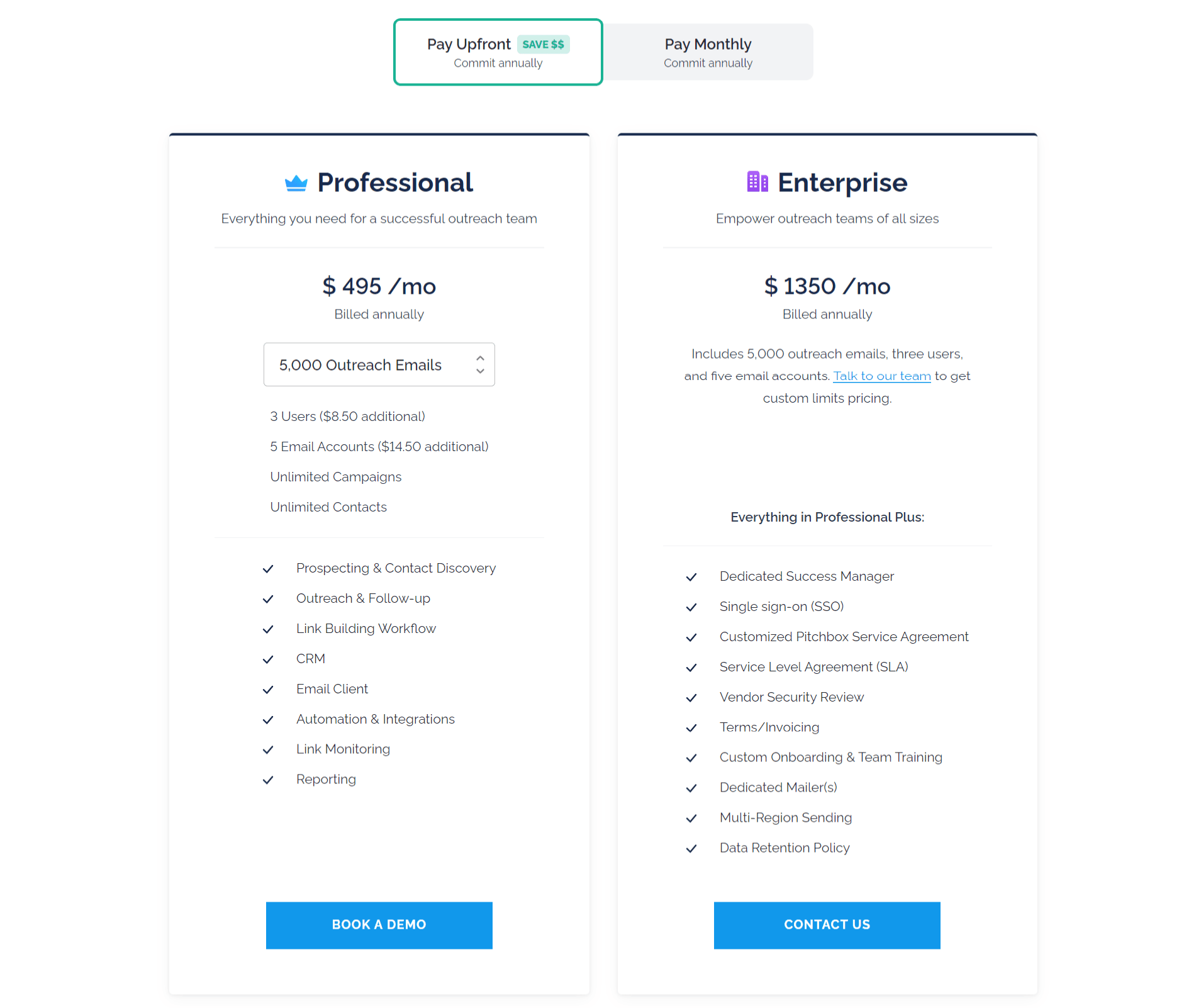 With the help of the SaaS-based platform NeoReach, marketers, companies, and agencies can find, create, manage, and monitor their network of influencers and carry out several campaigns.
Influencers, content producers, and social media tastemakers are invited to join NeoReach's expanding network of more than 3 million connections.
Then, with the capacity to manage campaigns while monitoring return on investment, advertisers may search via this community database to locate the appropriate influencers based on their needs for the target audience, preferred content, and performance objectives (ROI).
In addition to 40+ different search filters, which include keywords, profile performance, interests, preferred social platforms, and target audience demographics like gender, age groups, location, languages, brand affinity, and more, known influencers can also be uploaded into the system, which automatically detects the relationships between them.
The workflow automation features of NeoReach's browser-based interface expedite the influencer activation process. Users may manage influencer contracts and manage the planning and monitoring of different campaigns while arranging fruitful connections with those hired as influencers.
It is possible to add links to posts and publish reviews, and payment histories and deadlines for agreed-upon material are monitored. An influencer projection calculator, unrestricted access, exportable influencer lists, and other features are included in the package plans.
Through real-time dashboard reporting with filtered graphing that measures KPIs across ROI, CPM, CPE, impressions, engagements, and more, NeoReach also facilitates monitoring campaign performance data.
💳 Neoreach Pricing: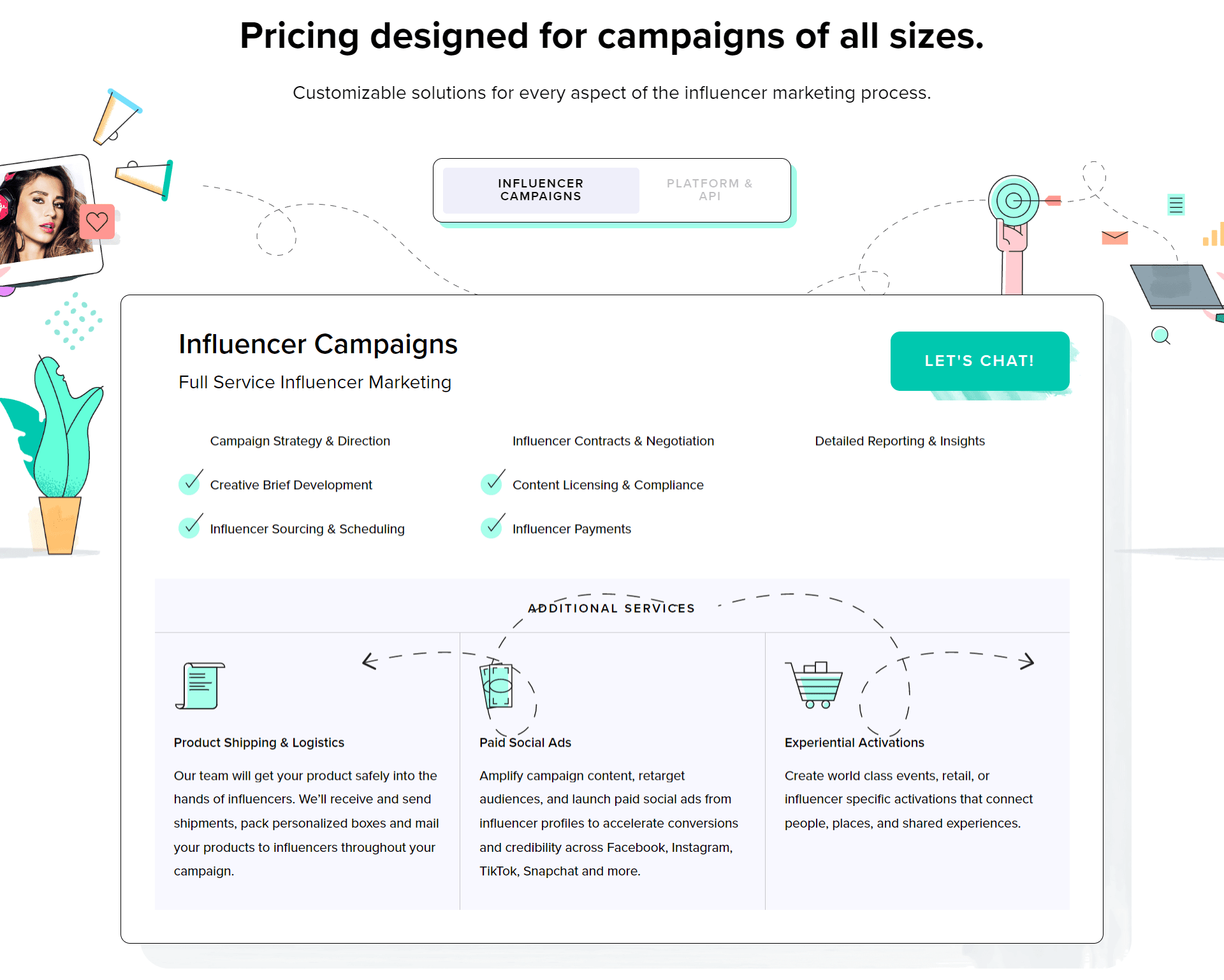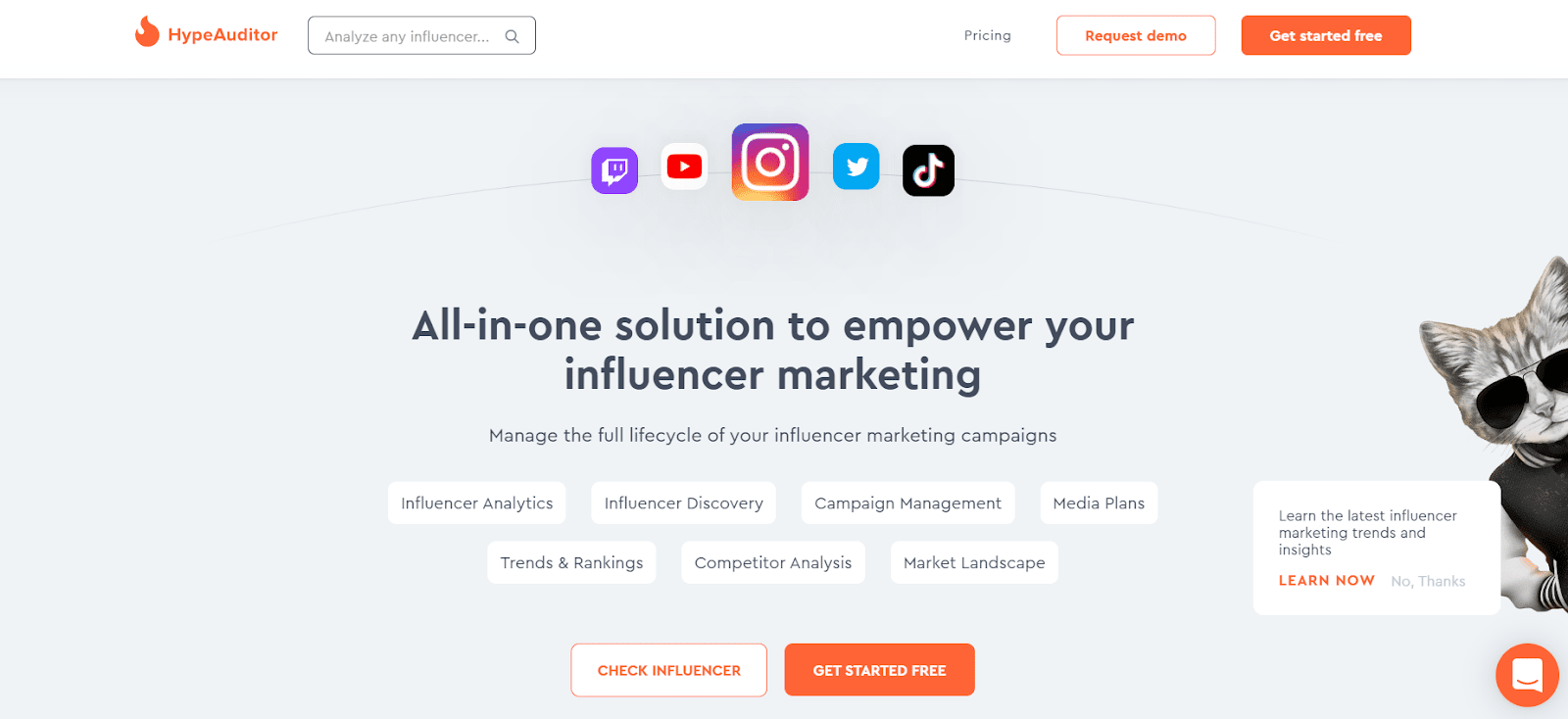 Leading influencer marketing analytics platform HypeAuditor is powered by artificial intelligence technology.
HypeAuditor uses a significant quantity of social data to assist companies and agencies in finding and analyzing influencers on Instagram, YouTube, and TikTok and making data-driven choices based on helpful information.
With the help of a complete collection of tools and reports, HypeAuditor may assess influencers on Twitter, Instagram, YouTube, TikTok, Twitch, and other social media platforms and create marketing strategies.
The suite of tools makes it easier to find and evaluate influencers with high-caliber accounts, confirm the legitimacy of their following, and examine audience demographics.
Businesses may design branded media strategies for influencer campaigns, manage and automate campaigns using AI-based features, and monitor the effectiveness of such efforts with the help of the Campaign Management Solution.
To provide enterprises with industry insights and a picture of the state of influencer marketing in various nations and specialized areas, HypeAuditor offers a variety of Market Analysis studies.
The analyses of rival companies' influencer campaigns are included in the reports. The Competitor Comparison report makes it easy to contrast several brands.
All of the services are built on AI algorithms, allowing HypeAuditor to recognize trends in user activity and spot suspicious accounts.
The most acceptable analytics solution is what HypeAuditor strives to provide so that its customers may collaborate with social media producers as efficiently as possible.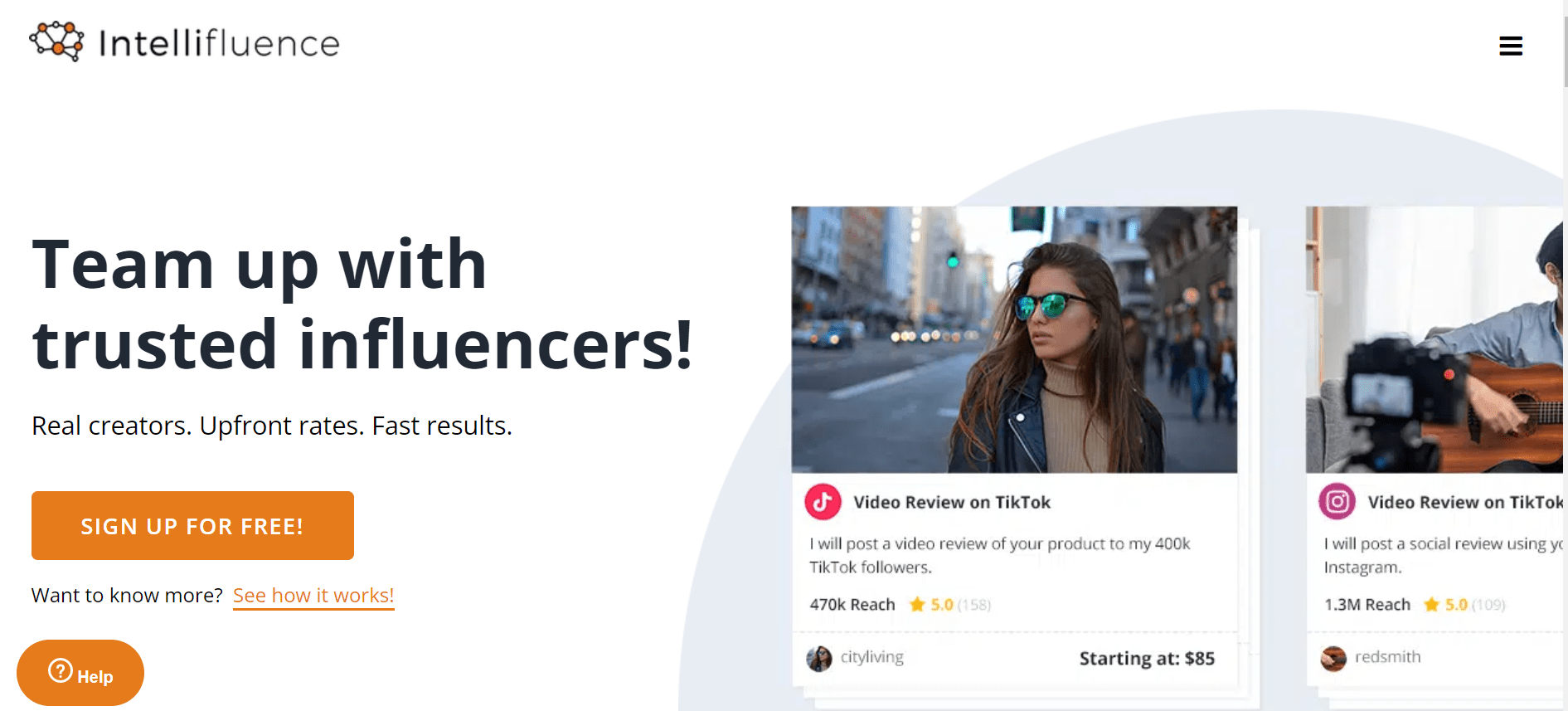 Through their extensive kindly contact influencer marketing network, Intellifluence can assist you in making connections with them all, whether they are peers, micro-influencers, or unimportant celebrities with millions of followers.
By using an opt-in process for screening that includes self-categorization of interests, pricing norms, and profile ownership verification, Intellifluence distinguishes itself from the competition.
Similarly, some influencer networks are nothing more than enormous databases of contacts that have been scraped but never verified.
Growing companies have not been able to reap the rewards of influencer marketing due to high prices and a focus placed too much on celebrity endorsements.
With Intellifluence, you can manage relationships in one place and speak with influencers directly without ever sending an email. Utilize an affordable influencer marketing strategy to boost your sales.
Brands may choose from several cost-effective programs that include easy-to-use influencer marketing tools that make managing campaigns fast and straightforward.
Each package gives marketers access to our enormous network of dependable Influencers with a range of audience sizes. Influencers may sign up without cost and get free goods or money in return for their evaluations.
💳 Intellifluence Pricing: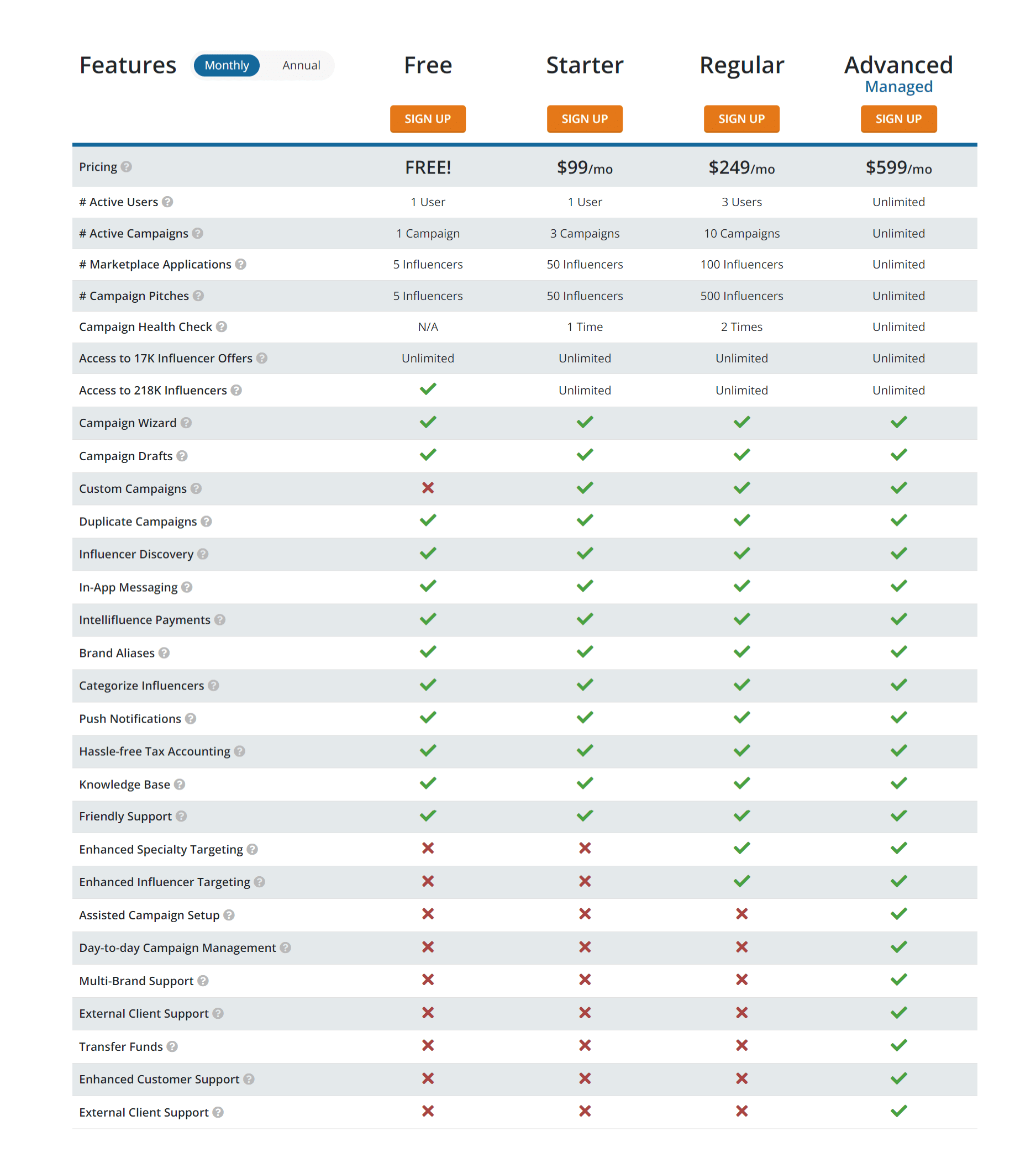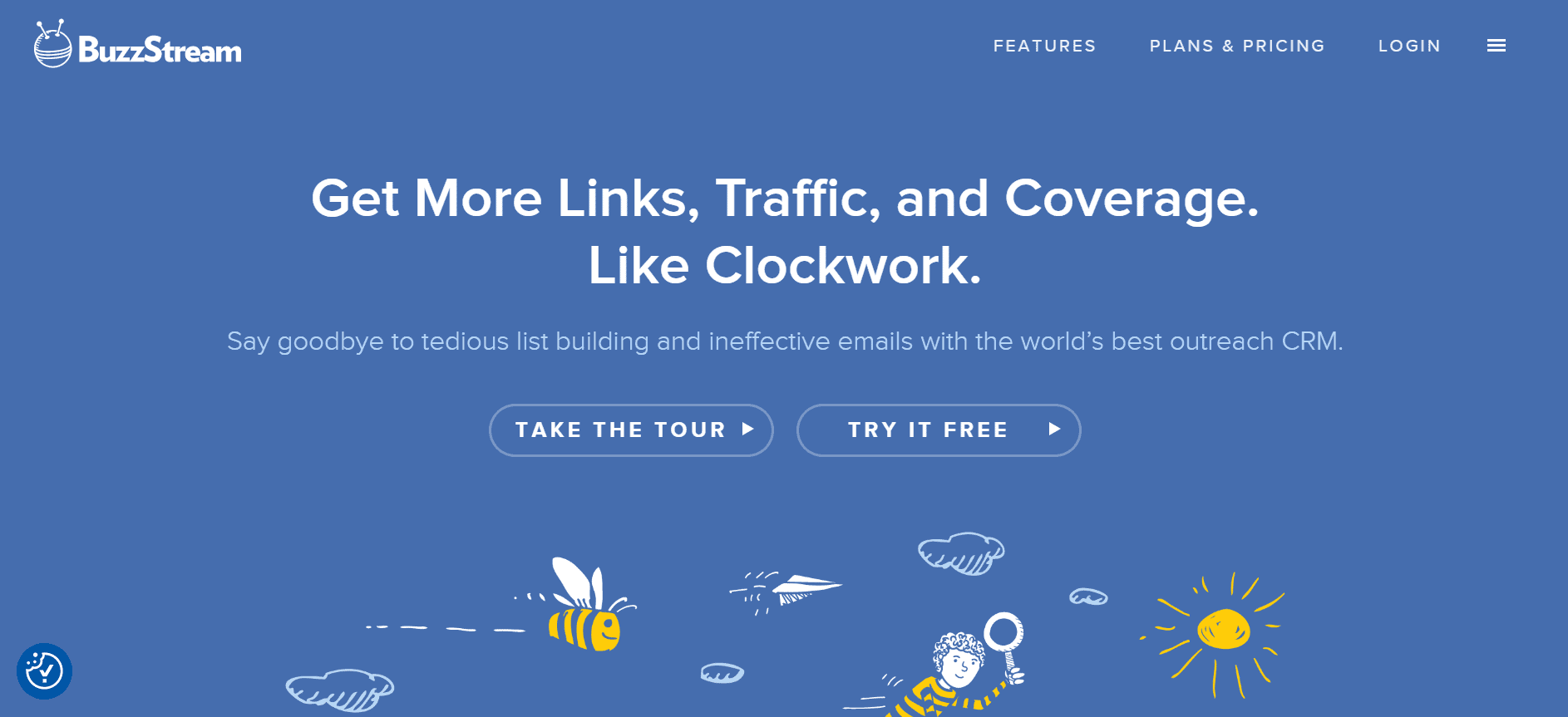 A platform for establishing relationships has incorporated BuzzStream as an influencer marketing tool. The tool searches for online influencers who are related to your keyword phrases.
You have access to their social media accounts and contact information. This establishes the foundation for a subsequent outreach initiative.
There are options for monitoring each campaign's effectiveness and team collaboration tools. This influencer marketing tool makes monitoring anything from campaigns to email blasts easy.
BuzzStream is software created specifically for marketers to assist them in outreach operations with a tailored approach to relationship development.
Marketers may locate influencers using BuzzStream to get the ideal audience to share and connect to their content. When you add websites to your BuzzStream account, the program will automatically find contact information on those sites.
Organize your outreach by projects, then particular tag contacts, make comments, and assign them to a team member. You may look up a website's contact information and use it to send the owner a pitch email. BuzzStream makes it possible to create prospecting lists by harvesting links on a website.
The program then guides you from website to website, letting you choose whether to contact a website owner, store possible information on your account, or disregard a terrible one.
BuzzStream integrates all of your team's contacts into a single, central database by adding them automatically.
You may use filters and outreach tools to change the contents of this database. BuzzStream has powerful organizational tools, link management, and custom fields.
💳 BuzzStream Pricing: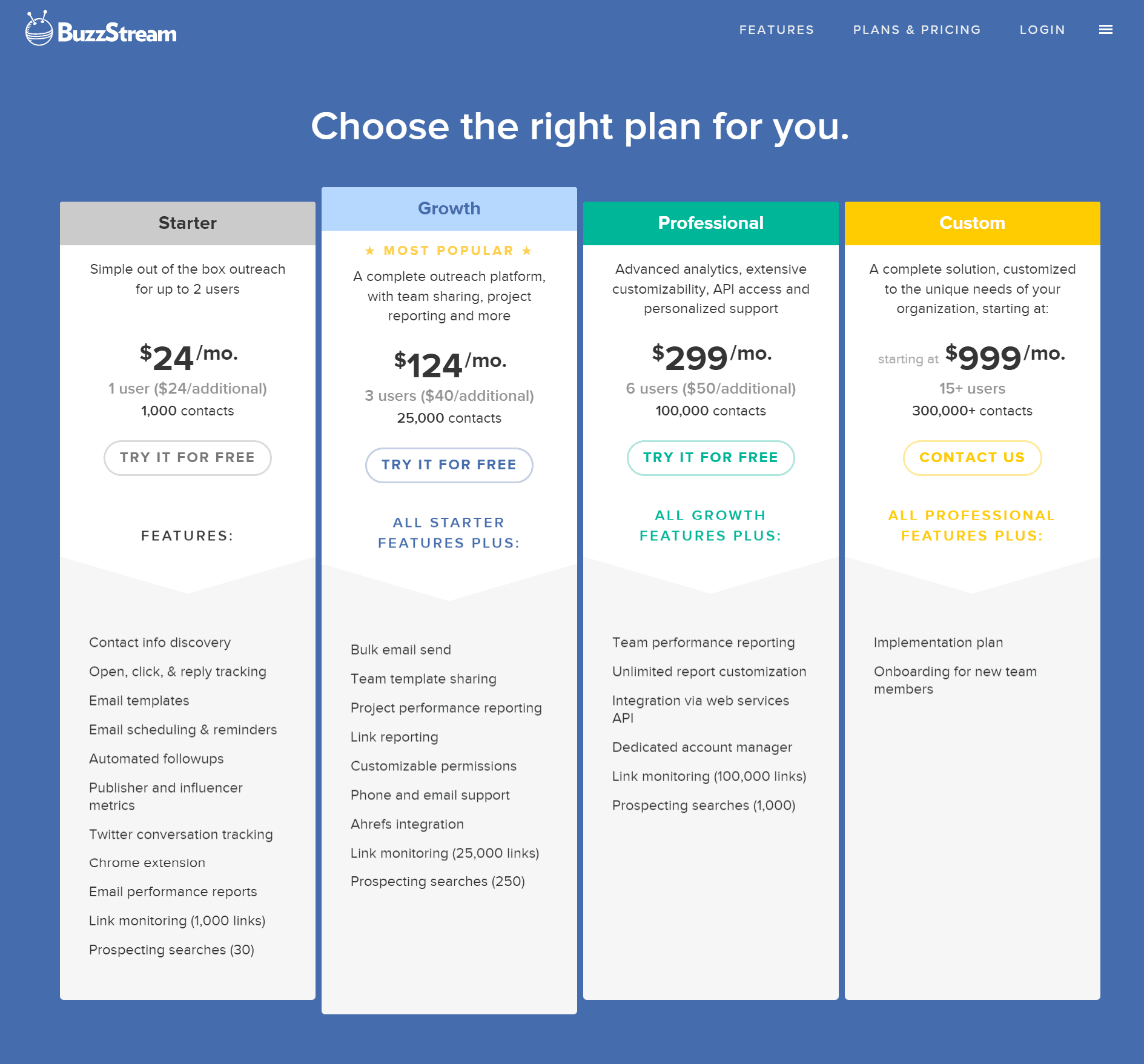 Influencer marketing is made simpler from beginning to end with NoxInfluencer, which benefits companies and social media influencers. TikTok, Instagrammers, and YouTubers may benefit from utilizing NoxInfluencer to monetize their content.
NoxInfluencer has become an expert in this field over the last five years and has helped hundreds of companies and influencers grow. Your one-stop shop for all of your marketing requirements is NoxInfluencer.
💳 NoxInfluencer Pricing: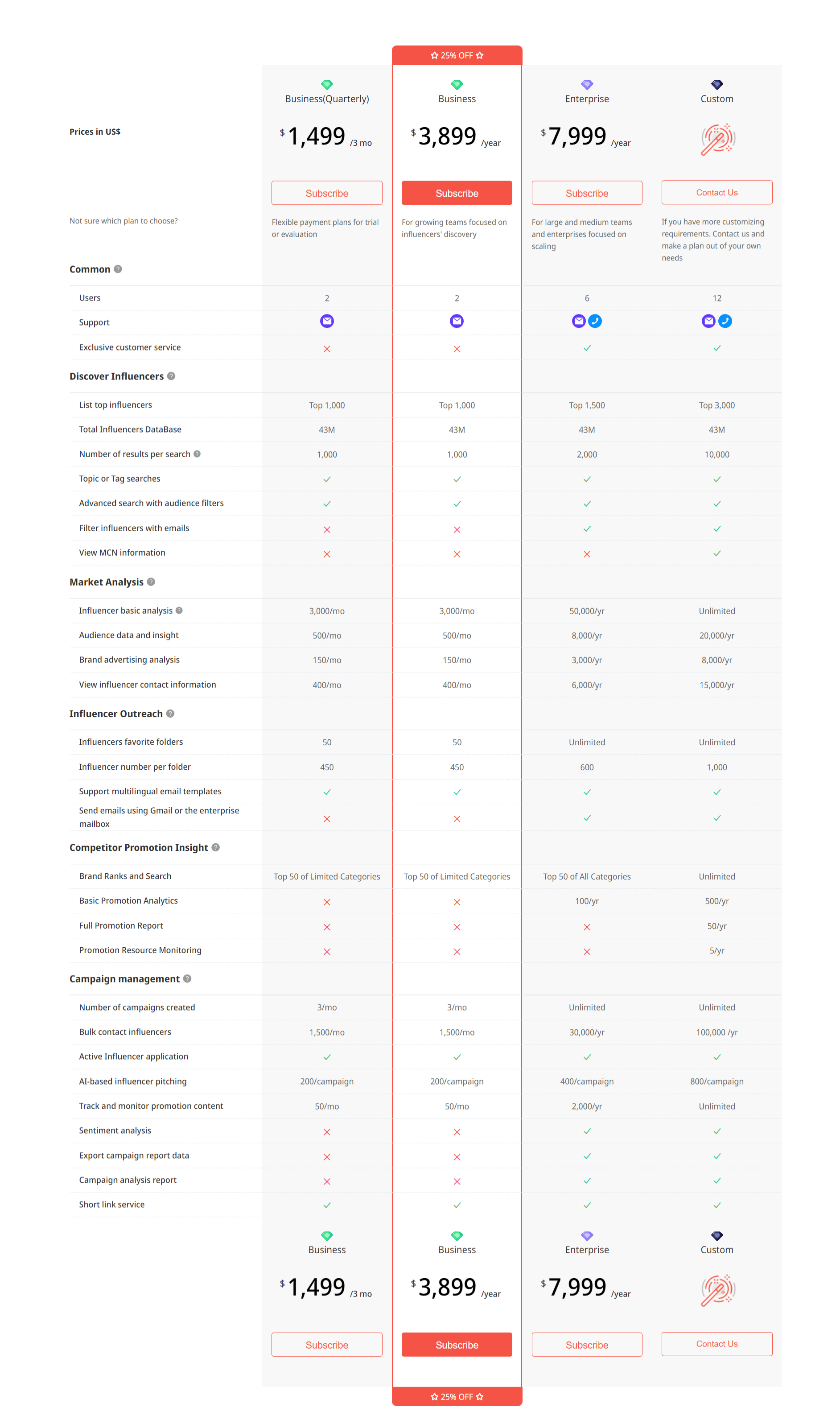 Also Read:
FAQs
Does Influencer marketing platform offer a free trial?
Not all, but yes, there are some Influencer marketing platforms that offer a 7-day free trial like Influencity.
Is BuzzGuru better than CreatorIQ?
When it comes to influencer marketing features, BuzzGuru is a clear winner. BuzzGuru offers Campaign Management, Faceted Search / Filtering, Influencer Discovery, Payment Tracking, and ROI Tracking. Also BuzzGuru integrates with Instagram, TikTok, TikTok Ads, Twitch, and YouTube.
Conclusion
It will be a game-changer for your company to increase brand recognition and generate more money if you can identify and collaborate with the right influencers.
BuzzGuru is the most powerful influencer marketing platform trusted by 1000+ businesses globally.