Bright Data (Luminati) has established itself to be one of the finest on the market, but it is not without flaws. If these disadvantages are crucial, you must employ proxies from a different provider. These will be explored further down.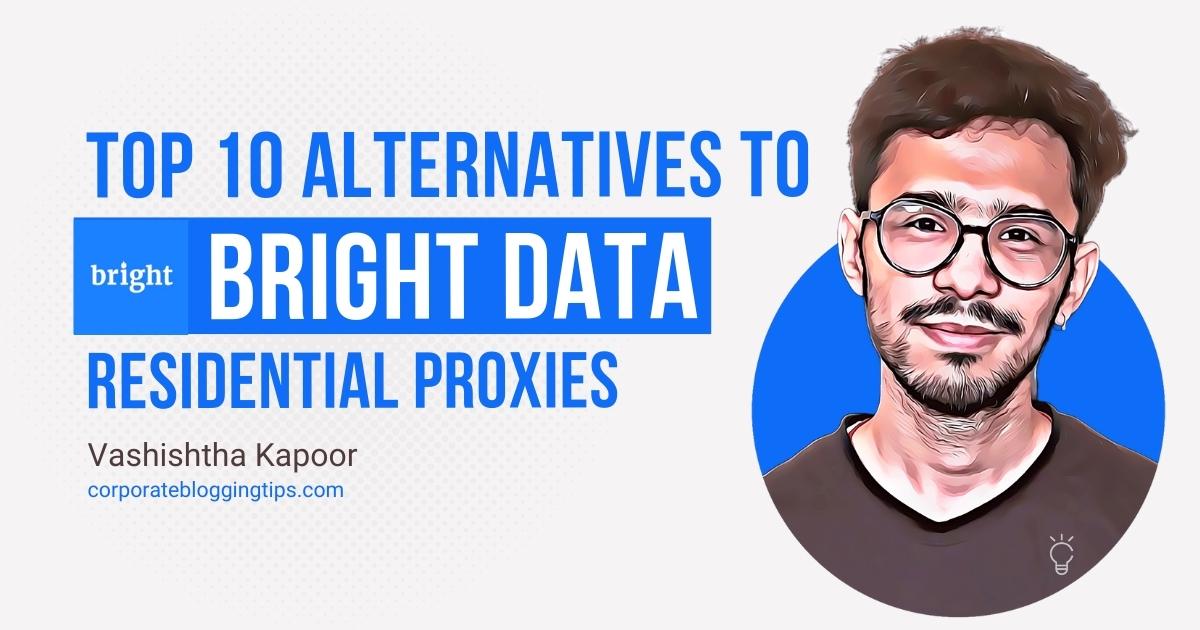 Bright Data is the industry leader in the proxy business, as shown by its quality of service, the number of large clients on its customer list, and the pace of innovation and new features it provides. However, this does not imply that all proxy users should use proxies from them.
While it may seem perfect, it is not, and just like any other provider on the market, it has its benefits and flaws. Users who cannot ignore its faults might choose Bright Data as an option.
Several proxy service providers are available on the market, but are they all viable alternatives to Bright Data? The response is NO.
I've gathered a list of proxy service providers that may be considered alternatives to Bright Data and will explore them in the post. Before that, we will see an overview of Bright Data and why you must choose an alternative.
10 Best Bright Data Alternatives
Smartproxy is the most excellent alternative to Bright Data on the market. Additionally, it is a premium supplier of high-quality residential proxy services that may be used for jobs that need Bright Data proxies. Some marketers found Smartproxy to be more successful in particular use situations.
Smartproxy is one of the biggest proxy pools, with 40 million IP addresses originating from over 195 sites worldwide. Their proxies are comparable to Bright Data's speed and are compatible with all standard online services.
You may get started with Smartproxy's proxies for as little as $12.5, which is an aspect you will grow to like.
Smartproxy Pricing Plans
Smartproxy Pros
Dual authentication
Allowed to make sub-users with traffic limits
Select between sticky and rotating sessions
Dashboard and API to control your proxies
Huge IP pool size
Wide location coverage
24/7 customer support
Smartproxy Cons
Limited city targeting options
Bright Data's most active opponent is Oxylabs, which has even filed a lawsuit against Bright Data in the past. This service claims to have over 100 million IP addresses in its pool, surpassing Bright Data in proxy size.
It also has decent geographic coverage, an IP rotation mechanism, and outstanding uptime, yet, many users have complained about detection and IP bans.
Oxylabs Pricing Plans
The pay-as-you-go option is one of the best things that you can have to minimize your bill. This plan works best if you use proxies only for a few tasks and do not need significant bandwidth.
Oxylabs Pros
Great customer support
Fast uptime and servers
Diverse proxy packages
Unlimited datacenter proxies
Unlimited bandwidth
Dual authentication method
IP refreshing available
Multiple locations
GeoSurf is one of the alternatives you should not utilize. This is not because Bright Data is a poor provider but because it is responsible for most of the issues that make you want to abandon it.
It is not an inexpensive supplier, requiring a minimum payment of $450, which is more costly than Bright Data. Despite this, they have only 2,500,000 IPs in a pool. Their proxies are rotating, and they provide static IPs. They help every country and city by targeting specific places.
Geosurf Pricing Plans
Geosurf Pros
Great customer support
Proxies for sneaker bots as well
High rotation and sticky IP gateways are both available
Highly flexible
Intelligent search function
Multiple locations
High compatibility
Geosurf Cons
Limited city-targeting options
The Netnut proxy service is one of the most outstanding proxy services on the market;. However, other residential proxy services get their IPs from P2P networks, Netnut has direct contact with ISPs and receives its IPs straight from them. This service provider offers real static proxies that preserve IP addresses for as long as you like. Intriguingly, they have a proxy pool with almost 20 million IP addresses.
This service claims to be the quickest on the market since they have a direct connection. This is not the case since there are quicker providers than them. Although they are for web scraping, you must implement an anti-Captcha system.

NetNut Pricing Plans
NetNut Pros
Great scraping performance
Quick and easy setup
Great customer support
High-speed proxies
Real-time dashboard
NetNut Cons
Limited location coverage
Hydraproxy is one of the most inexpensive and inexpensive Luminati Networks alternatives available on the market. This service features a budget-friendly minimum bandwidth purchase of 1 GB; Hydraproxy offers this option. Intriguingly, this item costs $5, making it one of the cheapest.
That it is inexpensive does not indicate that it is ineffective. Its proxies are residential proxies that support more than one hundred nations. The size of the proxy pool is estimated to exceed 5 million IP addresses. Hydraproxy supports both rotating proxy and session proxy configurations. You are permitted limitless bandwidth and setup instantaneous.
Hydraproxy Pricing Plans
Hydraproxy Pros
Rotating and sticky IPs are both available
Geo-targeting IPS
Flexible mobile proxy pricing plans are available
Multi-profile browser manager called HydraHeaders is offered
Cheap residential proxies
No monthly commitment

Hydraproxy Cons
Limited location coverage
The name of this service suggests that it emphasizes cost. Bright Data charges between $15 and $8.5 per GB, depending on the package purchased. For Proxy-Cheap, a GB may be purchased for between $5 and $3. This does not imply that the quality of proxies is poor.
Proxy-Cheap offers some of the most excellent proxies on the market. The provider's pool of IP addresses exceeds 7 million, and it supports around 127 countries. They provide support for both dynamic and static proxies.
Proxy-Cheap Pricing Plans
Proxy-Cheap Pros
Easy to use
Good referral program
IPv6 datacenter proxies 
24/7 customer support
High proxy speeds
Instant proxy activation
Proxy-Cheap Cons
Additionally, Proxyrack is one of the most excellent alternatives to Bright Data. It provides an unmetered residential proxy service that allows you to enjoy limitless bandwidth and utilize an infinite number of IP addresses – making it unique – and its cost is determined by the number of threads permitted.
This proxy provides proxies that are suitable for a variety of use scenarios. This supplier offers revolving ports that alter your IP address with each request. In addition, it supports sticky ports, which give session IPs that persist for some time.
Proxyrack Pricing Plans
Proxyrack Pros
Easy-to-use dashboard
Works on all IP authentication
Accepts HTTPS and SOCKS protocols
Crypto payments accepted
It has random and rotating ports as well
Proxyrack Cons
Limited geo-targeting options
No specific proxies
Stormproxies is also one of Bright Data's alternatives. It is also one of the few providers that provide limitless bandwidth consumption, making it ideal for bandwidth-intensive operations. However, as mentioned before, Shifter is my preferred unlimited bandwidth supplier; Stormproxies is a less expensive option that offers unlimited bandwidth with five ports for just $50 per month.
As a low-cost option, you will be forced to make concessions. Unlike other services, this one solely serves US and EU locales and has around 40k IPs. In addition, IP authentication alone is supported.
Stormproxies Pricing Plans
Stormproxies Pros
Great customer support
Affordable proxy packages
Unlimited bandwidth
Dual authorization
IP refresh available
Extended services
Stormproxies Cons
Relatively smaller IP pool size
#9. Shifter
Bright Data and most other residential proxy services base pricing on bandwidth. If you are searching for an alternative that provides limitless bandwidth consumption, then Shifter is now your best choice, and this is not without good reason. This service was formerly known as Microleaves before being rebranded as Shifter.io.
Shifter's pool of IP addresses exceeds 31 million, making it one of the biggest proxy service providers on the market. Shifter gives IP addresses from more than one hundred countries and several localities. Their proxies are likewise rotating like the ones mentioned before, but their rotation is time-based — after every 5 minutes.
Shifter Pricing Plans
Shifter Pros
High proxy speeds
Great scraping performance
Good pricing plans
Unlimited bandwidth
Affordable pricing plans
Wide location coverage
Huge IP pool size
Shifter Cons
Soax is a formidable force regarding the mix of usability, price, and a clean proxy pool. This firm is a new entrant to the market but has already established itself as one of the top residential proxy service providers.
The proxy pool is among the cleanest since it is often updated. It includes more than 5 million residential IP addresses from many regions. As previously noted, Soax is inexpensive despite its bandwidth-based pricing mechanism, which is identical to Smartproxy and Bright Data. Like Smartproxy, the minimum cost to utilize the Soax service is $75.
Soax Pricing Plans
Soax Pros
Global location coverage
Huge IP pool size
High proxy connection speeds
Easy-to-use dashboard
Flexible payment options
Highly anonymous proxies
27/7 customer support
Soax Cons
What is Bright Data? – All You Need To Know Before Looking for Alternatives
Bright Data delivers continuous website data that contains information about websites, such as customer demographics, demographic data, sources of online traffic, and consumers.
You will be able to understand how individuals behave online. Utilize the information to develop targeted advertisements and marketing messages.
You can concentrate on developing a commercial product without worrying about the number of scrapes or data required since Bright Data already handles these tasks.
The business model of Bright Data, a firm that used to be affiliated with Hola VPN but was bought by EMK capital in the past, was the source of considerable debate.
Why Go for Bright Data Alternatives?
The news is not entirely positive. Even though they provide an excellent service, some issues still need to be resolved.
The price is the most notable and the factor that most people consider first, followed by the Know Your Customer (KYC) requirement of the service and the complexity of the service itself, which can be a significant deterrent for those who are new to the use of proxies and the services that provide them.
Not for Noobs
Bright Data is not the most user-friendly service available, and many newcomers may find it challenging to get started; moreover, it's easy to feel overwhelmed by its capabilities. Bright Data management, generation tools, and the developer API, among others, may be pretty perplexing for new users, who often need tutorials and guidelines simply to get started.
KYC (Know Your Customer) Requirements
As indicated before, Bright Data employs a Know Your Customer (KYC) system, which necessitates that you provide contact information and a method of identity before using the service. This is used to prevent online fraud and other unlawful actions, so if this kind of system is a problem for you, you may want to seek alternate services.
Price
When contemplating subscribing to a service, the price is often the first consideration; for some, it may make or break the decision to acquire the service. The lowest package begins at $300 per month for a monthly subscription or $270 per month for an annual subscription.
And that's only for the "Experimenting" plan; the "Starter," "Production," and "Plus" plans each increase by around $500, $1,000, and $3,000 each month.
With such high charges, it is understandable that you may seek alternatives.
Conclusion
As you can see, there are a variety of possibilities, some of which are excellent and others that are not. Smartproxy is my top alternate recommendation to Bright Data. Bright Data is one of the best proxy providers, but it is certainly not for everybody. It is incredibly costly and hence not affordable for all. I made this list of some of the best Bright Data alternatives. I hope it helped. Let me know in the comment section if there is another provider that can be better than these.