Want to receive business intelligence data? Want to guarantee that your proxies are as trustworthy as possible? Read my honest Oxylabs review and see how it proves to be the best provider of any type of proxies and scraping API.
You may rest assured that no one will ever have access to your personal information since Oxylabs provides premium-level privacy protection for organizations. If you are a developer, you may utilize their accessible private endpoint tool to interact with any software stack that permits the manipulation and querying of proxy data.
Obtaining trustworthy proxy service providers is not everyone's cup of tea. Due to the abundance of options accessible on the market, we may become confused throughout the selection process. But in my Oxylabs proxy review, you can make informed decisions and see if Oxylabs is worth it or not.
Oxylabs Review : About the Company
Oxylabs is one of the leading proxy service providers that assist businesses in acquiring business intelligence data, provide premium proxies, and provide enterprise-level support. Oxylabs enables organizations to manage the necessary data and locate information in all the proper locations. To our experience, The crew at Oxylabs has decades of experience in web scraping; they are experts in their field.
Oxylabs is the leading provider of premium proxies and web data extraction solutions globally.
With millions of premium data centers and residential IPs globally, clients of Oxylabs can maintain data-gathering infrastructures that support their enterprises. In addition, applications like Next-Gen Residential Proxies, powered by AI and ML, guarantee to capture data with 100% accuracy, regardless of target complexity.
Oxylabs offers its clients high-quality proxies for market research, brand protection, travel fare aggregation, ad verification, SEO monitoring, and price intelligence, among other activities.
Oxylabs Review : Features
In-House Rotation: The IP addresses will be rotated by them, so all you have to do is contact one IP, and you'll be connected to one of their IP addresses.
Multiple Locations: Oxylabs' proxies are based on multiple locations like the United States, Europe, Asia, and the Pacific.
Full IPV6 Support: Search Engine Data Harvesting is greatly facilitated by IPV6. IPv6 is also fully supported here so that you can easily access internet protocols.
Custom Setup: Since every data extraction project differs, Oxylabs offers customized configurations to meet specific needs.
24/7 Technical Support: You will find friendly and expert technical assistance just an email or a phone call away. Support is available 24/7, 365 days a year.
99% Uptime: Oxylabs' servers are usually built with custom-designed software and are generally housed in some of the world's most reliable data centers. Oxylabs guarantees 99.9% uptime as well.
Built-In Safety Features: The system typically adds the blacklisted IP address to a blacklist. Additionally, it incorporates user-string directly into your requests. Thus, there are low chances of being denied.
Advanced Stats: Here, the Advanced IP rotator often provides all the specific details on your searches. You can track your consumption and expenses.
Session Control: The session control allows you to reduce the likelihood of being blocked or obtaining inaccurate information.
Diverse Resources: Their IPv4 data typically comprises of 750,000 IP addresses from all major continents, with bandwidths of 50 Mbps and 10 Gbps.
Lean IP Management Tool: It is based on Python and is far lighter, snappier, and up to five times as quick as Squid.
A Brief Insight into the Oxylabs Product & Services
Oxylabs offers four essential products and services for customer convenience: Datacenter Proxies, Residential Proxies, Next-Gen Residential Proxies, and Scraper APIs. Let's acquire a bit more information on them.
Proxies
Shared Datacenter Proxies
Oxylabs has launched Shared datacenter proxies to match the needs of a low-cost data center proxy. You get instant access to a pool of 20,000 proxies where you can easily set up your zone and start using these dedicated proxies.
The pricing starts from just $100/month or 0.60$/GB.
Datacenter Proxies
With over 2 million IPs, Datacenter Proxies is considered the industry's largest pool. Unlike other proxy IP addresses, it never limits concurrent sessions and imposes no bandwidth restrictions on the same. This is an excellent choice for high-bandwidth scraping as it encompasses 82 places.
Key Features:
Dedicated IPs with all bases covered.
Affordably priced.
2M+ datacenter proxies are included.
The proxies are all tested.
A reliable solution for monitoring the web.
Concurrent sessions are unlimited.
There is no bandwidth limit.
It is user-friendly.
Increases scraping possibilities by supporting IPv4 and IPv6.
It can easily be integrated with third-party software for better performance.
Residential Proxies
Residential Proxies, the primary and most popular product of Oxylabs, boosts your mobile web scraping applications. It has a pool of over 100 million IP addresses, allowing users to access proxies from any corner of the globe. In addition, Residential Proxies has a good uptime of 99.9 percent, allowing your web scraping project to continue smoothly. I have personally used residential proxies while writing this Oxylabs review.
This disperses over 195 places and allows firms to overcome geographical barriers.
Key Features:
The success rate of 99.2 percent on average.
Never limits the number of concurrent sessions.
Allows you to change your IP address with each request.
Allows targeting at the state and city levels.
Steady and trustworthy proxy network.
Next-Gen Residential Proxies
It is primarily an API for web scraping based on the infrastructure of residential IPs. It incorporates several extra performance-enhancing features. This may be the most acceptable option if you are seeking a hundred percent success rate. With the auto-retry system, it can retrieve data regardless of the complexity of the destination. This cutting-edge technology is built on Artificial Intelligence and Machine Learning, and as a result, it retrieves accurate data that meets your business needs.
Key Features:
Ensures 100% success.
Compared to other products, it is slightly more expensive.
Provides websites tailored to your business needs.
You can browse without CAPTCHA restrictions.
Ensures smooth and block-free scraping.
Scraper APIs – Free Trial
Looking forward to receiving the precise information? In that case, try using the Scraper APIs to propel your firm to unprecedented heights. It includes ready-to-use data APIs, low web scraping costs, and produces 100 percent accurate results.
Types of Oxylabs Scraper API
Moreover, this is a one-stop solution for businesses that do not want to deal with data complications and are looking for ready-to-use information.
1. SERP Scraper API
It provides city-level SERP statistics from all of the leading search engines. It can provide localized search results, live and trustworthy data, and resistance to SERP layout modifications. This is ideal for keyword data collection, brand monitoring, and tracking ad data.
2. E-Commerce Scraper API
It allows you to capture data from e-commerce product pages quickly and without difficulty. You need not worry about proxy management; you can instead concentrate on data analysis. It enables data extraction from thousands of e-commerce websites. The parser is adaptive. It can return JSON-formatted structured data. This application is ideal for pricing intelligence, catalog mapping, and competition analysis.
3. Web Scraper API
This API enables the extraction of public data from even the most complex and sophisticated targets. It features configurable request parameters, JavaScript rendering, and efficient delivery. This API is ideal for monitoring website modifications, fraud prevention, and travel fare monitoring.
How to Start Using Oxylabs?
Fill out the registration form to start using Oxylabs. You can then:
We will contact you to set up your account once a Sales Manager contacts you
By self-service, you can choose from two Residential Proxy plans (Starter or Business). Shared Datacenter Proxies as well.
Oxylabs Dashboard
Oxylabs dashboard consists of five sections: the overview, three sections for proxy services (Next-Gen Residential Proxy Dashboard is separate), and one for your account.
If you purchase any of these services, you can manage your proxy settings, track proxy usage, access the public API, and access the relevant documentation. Usage statistics are also available.
Oxylabs Public API
The Residential Proxies API from Oxylabs can be accessed and managed manually if you wish. Sub-users can be created, deleted, and modified, and their traffic limits can be assigned and managed.
Oxylabs Review: Pros and Cons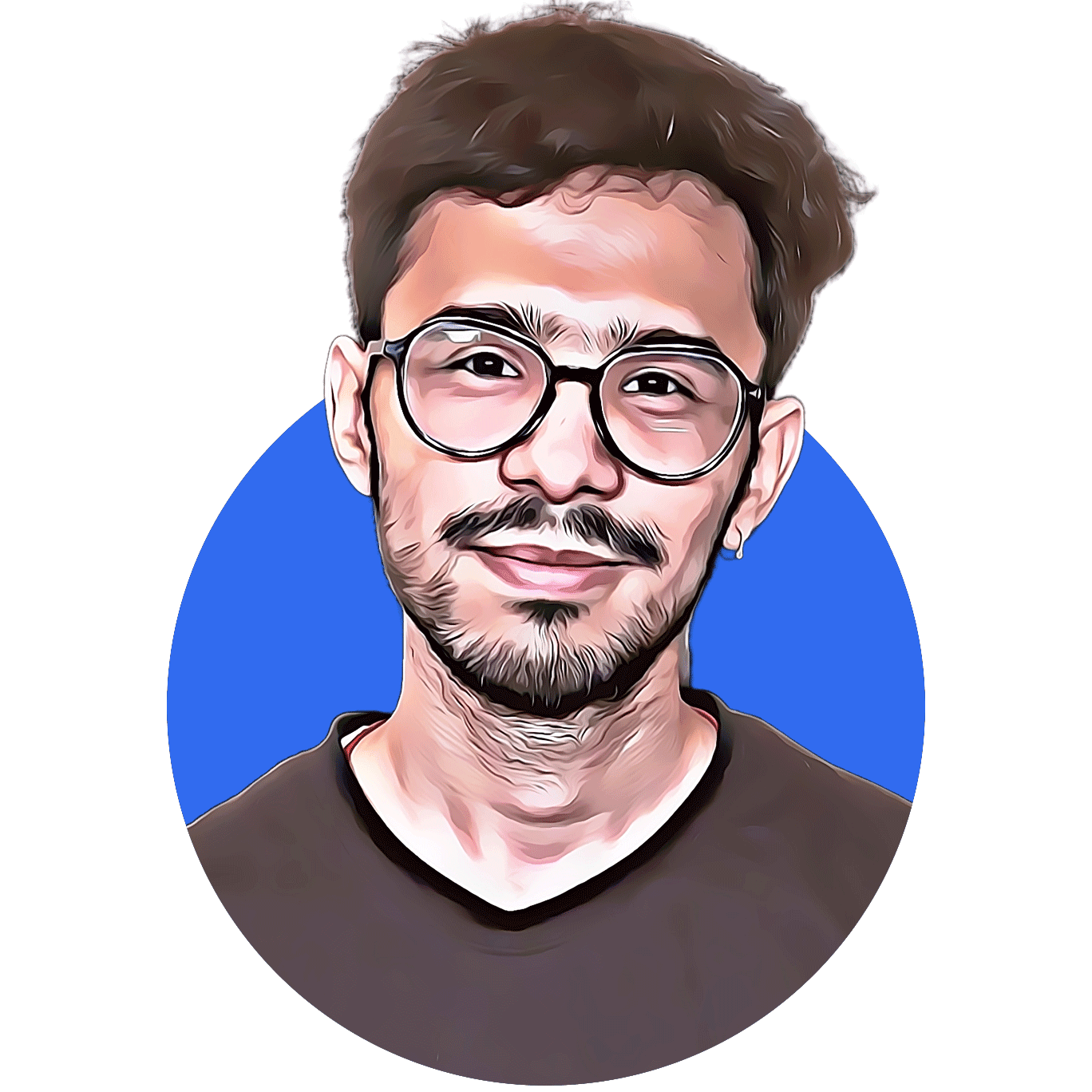 The Pros
Resources for proxy servers that are reliable and stable
Dedicated account manager
24/7 customer support
Success rates are high
Filtering by ASN and country
Real-time data collection tool
Overall best performance
Compatibility with HTTPS, HTTP, and SOCKS5
The Cons
Provide more pricing options
The entry threshold is high
Oxylabs' coverage of locations
Oxylabs' network consists of more than 6 continents, and they are constantly extending their resources. IPs from many countries can be obtained here, as well as choices.
Total Number of Proxies by Countries
USA & Canada: (1,350,904 Proxies)
Europe: (3,018,659 Proxies)
Asia: (3,971,462 Proxies)
South America: (1,302,565 Proxies)
Africa: (262, 137 Proxies)
Australia: (257,508 Proxies)
Definitely a large number of IP addresses and proxies around the world.
My Verdict – Oxylabs Review
Choosing which proxy server is best for your needs is much easier. The company Oxylabs is highly recommended for its high quality and reliability.
I wish you luck as you proceed and look forward to hearing which option you select! My Oxylabs review was based on my own experience with the product and its service and ease of use.
If you check some other Oxylabs reviews on the internet by their customers, you will find a mixed opinions.
I am attaching some of the authentic Oxylabs reviews that you can rely on and make your decision –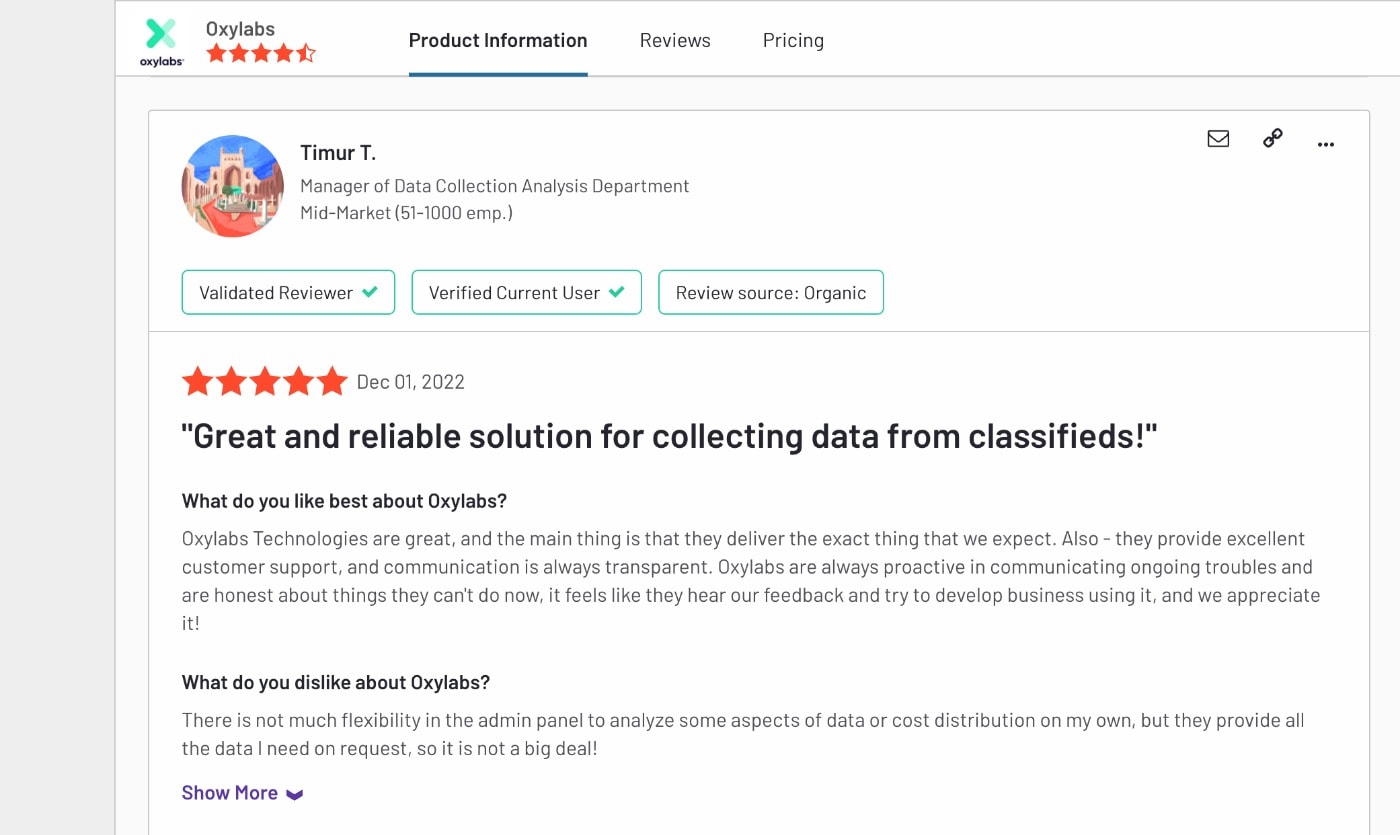 Some more reviews worth checking –