Upcloud is a cloud hosting provider that offers services such as VPS, storage, and downloads. Upcloud has a wide variety of plans to choose from, which makes it great for both small and large businesses.
In this review, we'll take a look at the different features offered by Upcloud and how they compare to other cloud hosting providers. We'll also discuss pricing and customer service to help you decide if Upcloud is the right choice for your business.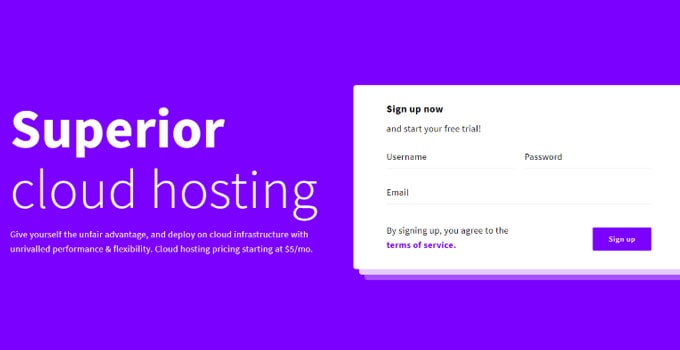 UpCloud ranks number one against the other fast servers like Google Cloud servers and DigitalOcean. UpCloud has offices in four countries in Asia, Europe, and North America, and the servers are situated in six countries.
The customers are fully satisfied with their services and have given a satisfaction rate of 89% to UpCloud.
What is Cloud Server or Cloud Hosting?
To understand servers, you should first be very clear about cloud servers or cloud hosting. Cloud Hosting refers to the acquiring of the computing reserves from a service to host data or cloud computing suppliers, facilities, and solutions.
It is an IaaS (Infrastructure as a Service) cloud delivery model that provides a series of virtual or distant services. It is also referred to as an on-demand supply of resources without involving the managerial level by the user.
UpCloud has been leading the market for seven years since it was set up. It is a company that is developer-driven and provides the best solutions to businesses and individuals who are searching for customizing their hosting needs.
UpCloud offers efficient services in block storage, cloud servers, and software-defined networking.
About UpCloud
UpCloud is a well-known company located in Helsinki, Finland. UpCloud offers the best and fastest cloud computing services. Joel Pihlajamaa founded UpCloud in the year 2011 and is also the CTO of the company. The company became functional with its operations in the year 2013 and boasts of being the superior hosting service in the market.
Get $25 Free Credits with this Link
Features of UpCloud
UpCloud is undoubtedly is an innovative home for the development that has a faster-than-SSD cloud server and an uptime of 100% so that the user projects do not suffer.
Its powerful yet simple control panel lets you Deploy the server in just 45 seconds. It offers fast boot times and starts running in minutes.
Here are the main features of UpCloud:
1. Flexible and Easy scaling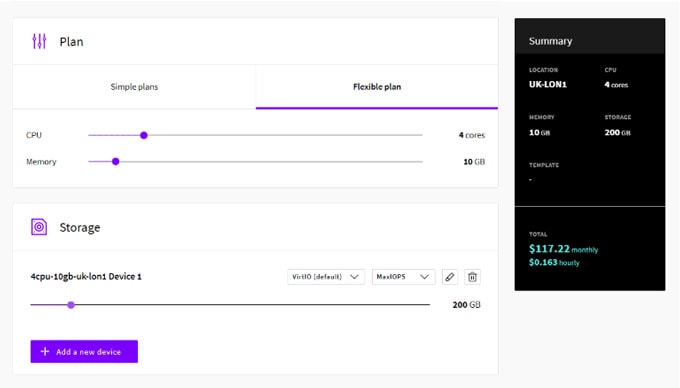 With UpCloud you can easily deploy a server with a pre-setup plan or configure every resource i.e. RAM, CPU, Storage, and IP addresses, separately with easily configurable cloud servers.
As per your desire, you can anytime switch between freely configurable resource limits and pre-configured plans. This feature enables high traffic to a website.
2. Consistent and Great performance with MaxIOPS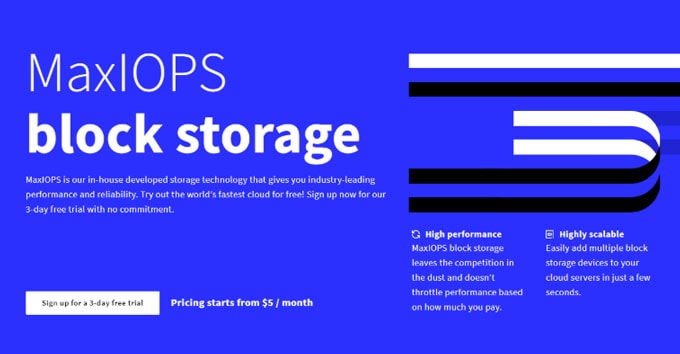 UpCloud has all the cloud servers deployed on enterprise-grade hardware.  It assures in providing industry-leading performance every time with the help of their in-house developed software and proprietary MaxIOPS storage technology.
3. Powerful yet Simple API

The API of UpCloud is fully featured and lets the user automate his infrastructure and lets him create, configure, and delete cloud servers and all their services – storage, floating IPs, firewalls, etc. The API also provides all the functionality in the control panel to help automate the whole cloud.
4. Private Networking and Floating IPs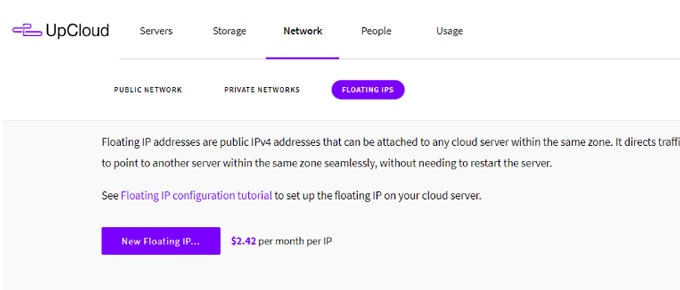 UpCloud lets you make your own 100% private network that is inter-related between their owned data centers. You can send the data via a private connection between the cloud servers and without incurring costs.
The floating IPs also give you a static IP address to attach with one of the cloud servers. You can then move them around freely and develop a greatly available infrastructure with no chance of failure at any point.
5. Server Tagging and Group Accounts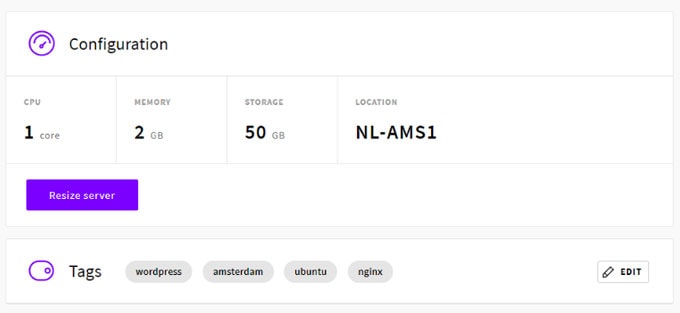 UpCloud provides a facility of granular permission control which can be used to give access to the rest of your team or clients. You can organize the whole infrastructure and add tags to the servers. You can also use these tags to grant or limit particular groups' access to the servers.
6. Firewall, Server Cloning, Snapshots, and Scheduled Backups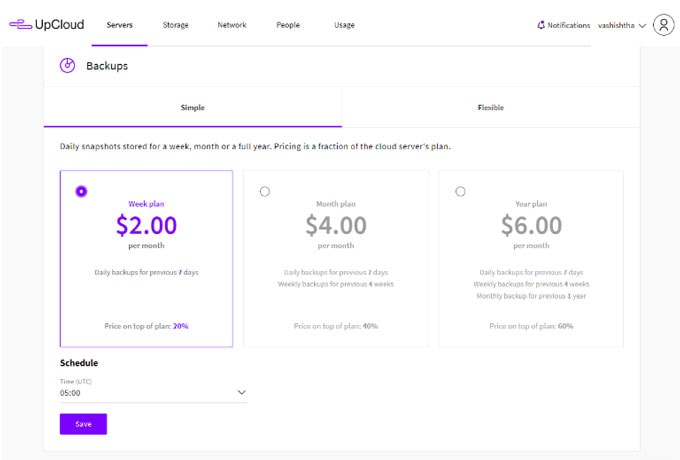 Firewall – UpCloud allows you to keep your environment secured with its well configurable firewall. It lets you allow or block the traffic before it reaches your servers.
Server Cloning – UpCloud lets you clone one of your cloud servers or storage disks to make a staging environment. It allows you to automate your deployments and convert the converted cloud servers into a template.
Backups – UpCloud lets you take schedule periodic backups by using true snapshots. This feature helps in creating backups instantly and restoring them quickly as well.
7. N + 1 Redundancy with 100% Uptime SLA
UpCloud has an N+1 redundancy throughout its infrastructure, ensuring all failure points are phased out. This implies when one component fails, the other one instantly takes its place. Thus, UpCloud ensures you will not have to lose anything because of your faulty hardware. This company will give 100% uptime SLA with 50x payback for the downtime of more than 5 minutes.
8. Flexible Hosting
Flexible Hosting with Upcloud is a great way to host your web application.
You can resize the size at any time, whether that's downgrading or upgrading from an existing server plan in just 2-3 minutes! In order for your current server size change though there are some things we need first – like shutting them off completely and then resizing again when done.
There's also flexibility on where exactly those extra resources go; choosing between standard sizes such as CPU/RAM (which will be cheaper) vs custom plans tailored specifically towards each user."
9. Free Migration
Upcloud has a generous two-month free migration period. During this time, you don't have to pay any service fees for transferring your account from another cloud services provider like AWS or GSuite.
However, it is only available if the costs of infrastructure on UpCloud are at least $500 per month– which would be more expensive than either Google Cloud Platform ($300-$400) or Amazon Web Services (AWS).
10. User Interface
Upcloud's interface is designed to be easy to understand and fast. Once you open up your dashboard, everything becomes crystal clear; where there are any strong terms or concepts used in their site from where users can go on learning about them easily through knowledgebase links present throughout the page for newbies like me who need help with deploying servers, resizing databases–or adding more members as well!
11. Upcloud Backups
UpCloud offers three backup plans- week, month, and year. The first plan costs $1.98 per month which is 9 cents per day to backup your server. The second plan is $4.95 per month which is 3 cents per day. Finally, the third plan costs $17 for the year, which translates to 1 penny per day for backups.
The prices of these backup plans are almost negligible compared to the prices for storing data on UpCloud, but it is important to note that these backups are not free.
You must pay extra for them even if you already paid for your server's hosting package. However, Upcloud backs up all databases, system settings, and files; they do not back up your website, however.
12. Firewall
UpCloud offers an advanced firewall that limits server traffic. It ensures advanced protection from various hacking attempts. To make use of a firewall, you need to add incoming and outgoing traffic rules.
Like automatic backups, a Firewall also costs you excess cost to your normal server cost. The firewall works based on rules on a first match basis from top to bottom.
With the automatic backups, if someone were to hack your site/server they would not be able to go through with their malicious intentions because all your files are stored safely in the cloud. But what about your web data? Data that is stored normally server cost. The firewall works based on rules on a first match basis from top to bottom.
When creating a firewall rule, you need to consider the following:
The type of traffic (incoming or outgoing)
The protocol (TCP, UDP, ICMP)
The source or destination IP address
The source or destination port
Upcloud offers a firewall for all users to have an extra layer of protection. If you are being hacked, the hackers will be blocked from further attacking the server (this usually happens when people use default usernames and passwords). It ensures advanced protection of various hacking attempts.
To make use of a firewall, you need to add incoming and outgoing traffic rules. Like automatic backups, a Firewall also costs you excess cost to your normal server cost. The firewall works based on rules on a first match basis from top to bottom.
Services Offered by UpCloud
UpCloud provides a lot of services like Private Cloud, Networking, Cloud Servers, MaxIOPS Block Storage, etc.
The Private Cloud service is an excellent cloud that keeps the users on committed hardware in a physically confined environment. It can also set up a Hybrid Cloud by combining a private cloud with a public cloud.
MaxIOPS Block Storage delivers the fastest I/O performance with the help of established storage technology. It is very easily available and can easily be attached and detached from the cloud servers.
Thus, UpCloud lets you set up your vital resources on the private cloud and take the benefits of the infinite expandability of the public cloud for meeting the need for changing capacity requirements.
Now let me take you to the procedure of deployment of server in UpCloud, which is fairly simple and can be done in minutes.
Pricing and Support
UpCloud is an amazing provider of cloud computing services. Having discussed its amazing features and services, it's now time to discuss its pricing. UpCloud has two pricing structures – Simple Plan and Flexible Plan.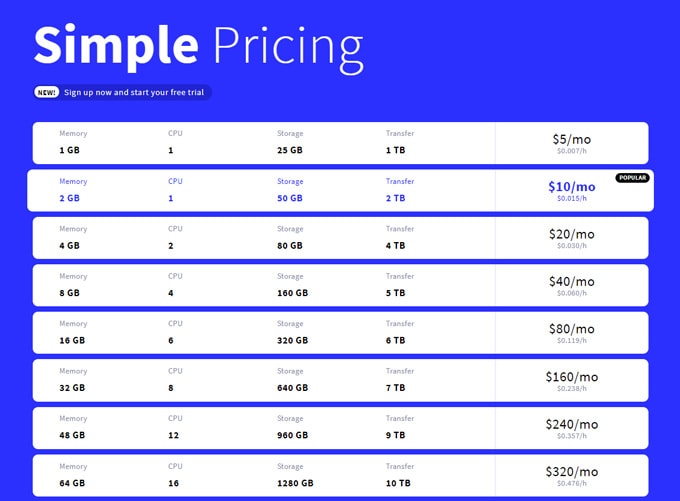 The Simple Plan lets you select one of its low-cost options that are almost the same as what you want. The Flexible Plan does not require you to select a plan, but only the resources that you require.
Both plans charge on an hourly basis, which implies when you switch off the server for some time, you will not have to pay charges for that time. they do billing on a monthly basis and on-account credits.
For first-time customers, it allows a free trial because it does not have any refund policy. So, newcomers can try the free trial before buying the plan.
UpCloud updated its plans recently and the pricing starts at $5 per month now, along with a free trial and 30 days money-back guarantee.
For $5 per month – 1GB Memory, 1 CPU, 25GB MaxIOPS, and all the above-discussed features in this article. For newbies into Cloud VPS, this is the best plan.
Here is a summary of the preconfigured pricing guide:
| Price | RAM | CPU | Storage | Bandwidth |
| --- | --- | --- | --- | --- |
| 5$/mo | 1 GB | 1 | 25 GB | 1 TB |
| 10$/mo | 2 GB | 1 | 50 | 2 TB |
| 20$/mo | 4 GB | 2 | 80 | 4 TB |
| 40$/mo | 8 GB | 4 | 160 | 5 TB |
| 80$/mo | 16 GB | 6 | 320 | 6 TB |
| 160$/mo | 32 GB | 8 | 640 | 7 TB |
| 240$/mo | 48 GB | 12 | 960 | 9 TB |
| 320$/mo | 64 GB | 16 | 1280 | 10 TB |
| 480$/mo | 96 GB | 20 | 1920 | 12 TB |
| 640$/mo | 128 GB | 20 | 2048 | 24 TB |
Get $25 Free Credits with this Link
UpCloud is the best and the fastest way to host a website or blog regardless of its size. Its prices are economical and competitive as compared to other cloud servers. It is the best time to invest in the fastest and most supportive Cloud Server.
The customer support provided by UpCloud is amazing. It consists of comprehensive tutorials in the community section and API documentation.
You can get to earn many account credits if you contribute with your suggestions and answers to the community section. Apart from documentation and tutorials it also has email communications via their email address, live chat, and phone numbers that are available on the website.
The customer support experts are available 24/7 and the average response time is 2 minutes only.
Deploying the server from UpCloud
Deploying the server from UpCloud is very easy and simple. The steps to deploy them are:
>> Log in/Signup
You must first start by signing up with the UpCloud services. Once you sign up, you can access the website's server section.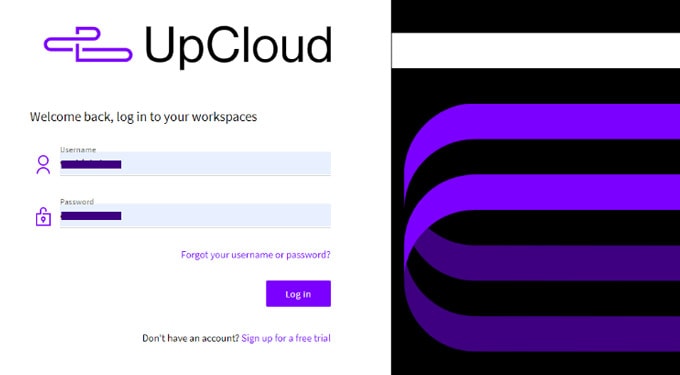 >> Select and Deploy
In this area, there is a purple button that indicates where to go next. If you're a new user, you will find this button in the middle of the screen.
Set up the configuration of your new UpCloud server
When you click the button, you will be taken through a process that enables you to choose the server location from the European locations, the USA, and Singapore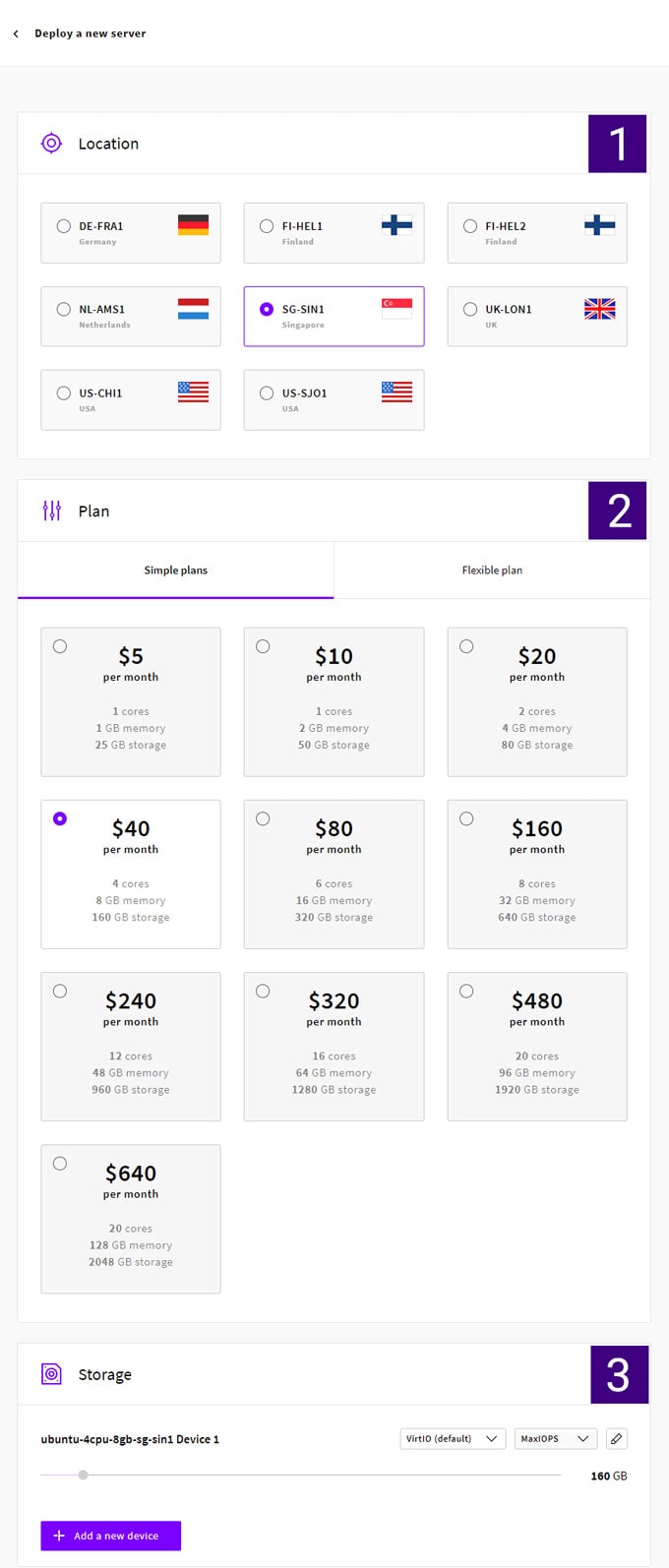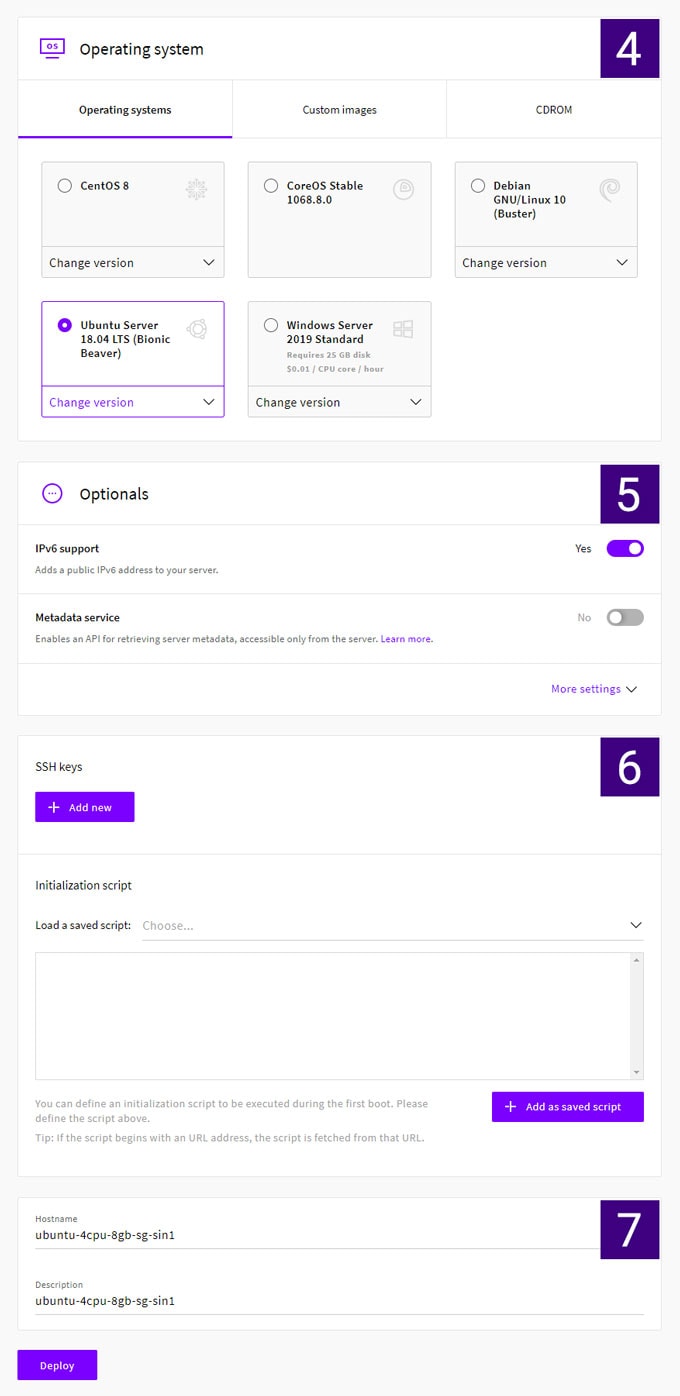 1 >> UpCloud server locations
In the very first step,  you have to choose the data center where you want your server to be deployed. You should choose one which is the nearest location to your maximum potential website visitors.
2 >> Pricing and Resources
Post choosing the right location you can select the specifications for the server, which start from $5 USD – $640 USD a month with a few server resources that are heavy duty.
For most of the websites, the initial few options are sufficient if they are managed well. you also have the choice of adding some additional storage devices to the setup.
This is a good idea to host many file systems or even deep capacity repositories for the apps and websites. You can choose between the MaxOIP or the HDD storage. There would be a price variation between the options.
3 >> Storage on your Server
You can edit only the name of the storage drive. Storage device names can be renamed by simply clicking the pencil icon. However, if you choose to deploy with flexible pricing in step 2, you can definitely decide the size of mounted storage on your server.
4 >> Choose Operating System
Finally, you can choose the Operating System server which you want to install on the server.
All the popular OS can be found here inclusive of Ubuntu, CentOS, Debian, etc. You can get a Windows Server as well to set up. You can select the version of OS from the basic configuration.
You can also choose from the various configurations by clicking on the tab – CDROM. You can also choose the IPv6 support in case you wish to have it.
My choice of OS is always Ubuntu 18.04 LTS because it is stable, powerful and enough documentation is available on the internet compared to CentOS and Debian.
5 >> Optional
To be honest, as far as you have IPv6 support turned on in this section, you need not touch anything here.
6 >> SSH Keys
There is a drop-down with a lot of advanced options on how to send the root password (post-deployment), if access is through exclusive SSH keys, a password, or even both, etc.
If you have created your SSH keys on your machine (PC or desktop), you can upload your public key from here and keep the private key on your computer to further access the server securely.
7 >> Server Name and Description
Finally, you can choose the option of whether you wish to change the server Hostname and also give a small description that is visible within the UpCloud server dashboard.
The process of UpCloud server deployment starts once you click Deploy.
On the server, you will observe a tiny yellow dot when the server deployment process is on. When it is complete, you can see a green light and you will get the root password of the server in the notification. The password also will be sent to you by your email.
You can change the password manually once you get it. After some time, the server gets deployed and you can check it out. When you check out your dashboard, you can see your page.
Ensure that access to the root user must be given only to trustworthy people and not to anyone and everyone. Root user holds all the privileges to perform any command on your server.
Get $25 Free Credits with this Link
Accessing your server using SSH
After the above steps, you can proceed to access the newly deployed server. You can open a terminal window on either a MacOs or a Linux-based computer with the terminal.
In case you have a windows computer, the Command Prompt or CMD will be quite a struggle. It is recommended to install Putty and set it up.
If you are using macOS, you do need not any third-party application to be able to access your server via the command line.
Simply open Terminal App on your Mac and go to Shell >> New Remote Connection
When you see the terminal window open, you have SSH access to the remote server. For this, you have to use the server through the root user along with the password sent across by email to you or from the dashboard notifications.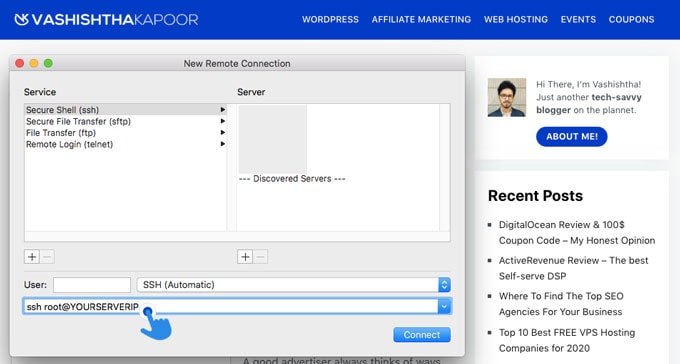 Firstly,  you will receive a message regarding the host authenticity that wasn't established because it has been logged in for the first time. Post this you will be asked if you wish to continue with the connecting (you need to select yes).

Post this you have to provide the password and on the success of the login, you can access the server and you will get a welcome message that offers some data regarding the installation.
Most of the Linux distributions come preset with much helpful software, tools, and apps that are part of the package.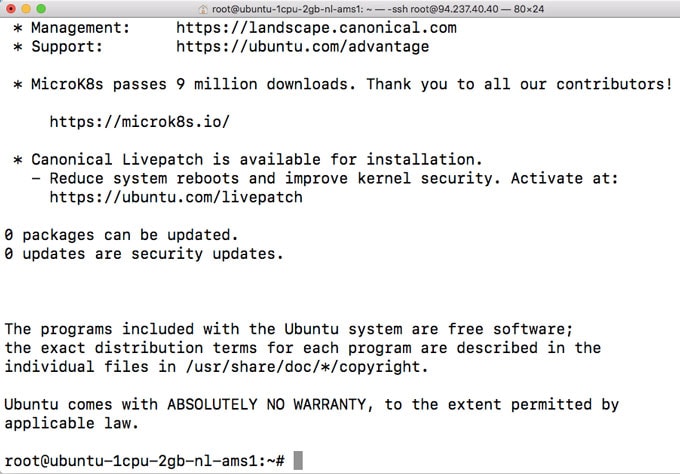 You can see that I am logged in to the server using SSH and can do anything here.
If you want to install something, do a quick check via apt-get update first just to check if it's there first. To exit out of the remote server simply type in the command: exit
Setup Server package
The server instances are being set up as boxes that can be accessed through the terminal interface. By default, there isn't any nice User Interface that can be accessed to check the updates and any other stuff.
Update commands can be run on a timely basis in order to check the updates and patches for the software installed; however, this is time-consuming and not very effective.
In case, an important security patch comes suddenly, there are no chances of getting to know about it; which is why it is recommended to install Apticron.
Apticron application runs only on the Debian or the Ubuntu servers, hence the users of CentOS and Red Hat might have to find a similar alternative.
Install WordPress on UpCloud Server
Installing WordPress on a VPS server is easy. All you need to know is some of the most-used SSH commands and this tutorial where I have listed all the SSH commands you will need. Just go ahead, copy and paste commands one by one, and BOOM.
A new WordPress installation on your server right away. Install an SEO-friendly WordPress theme and do some basic customization and you're ready to launch your SEO-ready and fast-loading website on the world-class fastest cloud hosting on the planet.
Another great way to host a WordPress site would be "CyberPanel". I have written a detailed tutorial on how to install Cyberpanel on a Ubuntu server on UpCloud.
Upcloud Server Cloning
Cloning a server is an excellent way to test changes before applying them to a live server. This can help you avoid any potential problems that might occur if the changes are not compatible with the rest of the server.
Creating a clone is very easy – just click the 'Clone' button on your UpCloud Control Panel, and you're ready to go. You can even choose to clone your entire server or just select parts of it. The cloning process is very fast, so you won't have to wait long before you can start testing your changes.
If you're not sure whether a change will work, or if you want to be absolutely certain that a change won't cause any problems, then cloning is definitely a sensible option.
If you clone a server that is running a website, then the clone will also have all its websites cloned as well – so you can test changes to your website without affecting any of your other sites!
Cloning is an integral part of UpCloud's comprehensive set of tools, which also includes the ability to add, remove and suspend users on your server. All of these features help you manage your server better so that it's optimized for maximum performance.
Pros and Cons: UpCloud Review
Pros
Stable uptime
Fast Disk I/O speed and MaxIOPS storage
Fool-proof control panel
Amazing network quality
24/7 customer support
Affordable prices with flexibility
Fastest customer support response time
Has several performance-enhancing features
Cons
No option for OS Reinstall or Rebuild
A credit card is mandatory to sign up
Finland servers are a bit costly
Not so friendly for newcomers
A detailed review of UpCloud Servers
Alternatives of Upcloud
1. Hostinger
Hostinger is a web hosting service that promises a high server uptime rate. During our two-week testing period, we didn't have a single issue with the site going down.
Additionally, Hostinger guarantees that your website will be online 99.9% of the time. This makes Hostinger an attractive option for anyone looking for a reliable web hosting service.
In addition to an uptime rate, Hostinger promises fast load times. The company states that most websites will be viewable within a mere two seconds of a visitor going to the page.
This is an important factor for anyone launching a site because many web surfers won't wait longer than this for a website to load.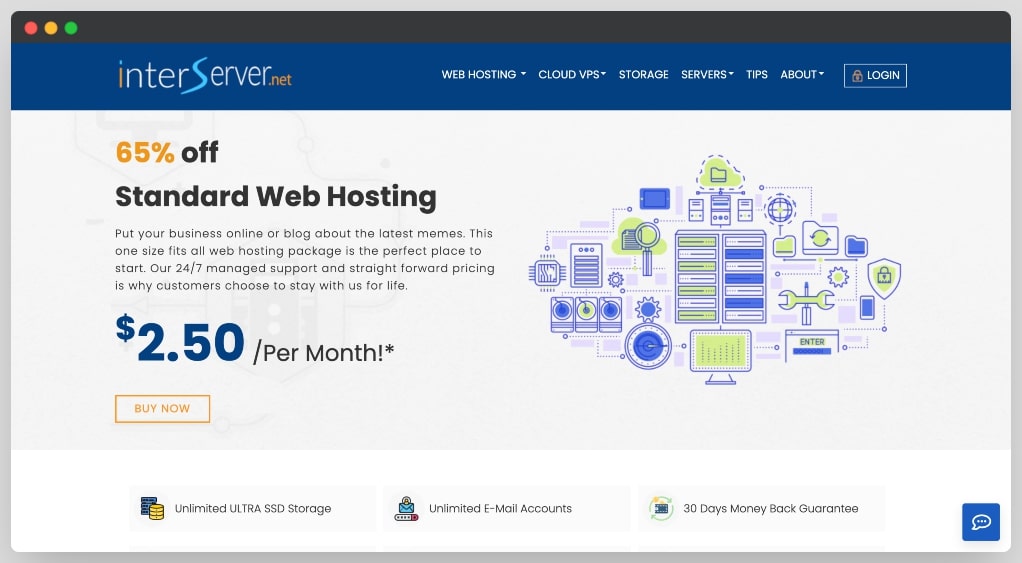 Interserver provides hosting services. Customers have access to unlimited storage, bandwidth, email, and SSL certificates. They have contemporary infrastructure and are assembled, deployed, and supported in the New Jersey data centre. The hosting provider was founded in 2003.
This hosting service is affordable with prices starting at $2.50/month which includes an SSD-based shared hosting plan along with free migration, SSL certificates, and much more!
Their shared plans come with unlimited disk space, bandwidth, email accounts, FTP accounts, databases & sub domains are also included. InterServer has a large panel of features including a control panel, Cpanel, 1-click installs for WordPress, Joomla!, Drupal, and much more.
3. Nexcess

In terms of features, Nexcess has surpassed other managed web hosts. Nexcess provides free migrations, CDN services, and 100 percent uptime as one of its primary benefits.
They also have around-the-clock support. In addition to all this, Nexcess has been able to provide a reliable option for anyone looking for a web host.
Numerous web hosts on the Internet claim to provide a particular feature, but this is not always the case. Some of these "features" may be temporarily unavailable due to high website traffic, or they may be in development and have not yet been released. In contrast, Nexcess can consistently provide all of its features.
There are no hidden costs or other fees that will be added after you have paid for the initial hosting plan. The prices are already displayed on their website, so you always know exactly how much it is going to cost.
4. Kinsta 
Kinsta is a web hosting and design company with offices and servers in Poland and California. It provides cloud-based WordPress hosting with a 99.9 percent uptime guarantee. Google Cloud Platform, the largest public cloud provider in the world, powers Kinsta.
Kinsta guarantees that websites built with its service will typically see less than 10 minutes of downtime per month, and at least 99.9% availability of the application.
The company claims that it has never experienced more than 3 minutes of downtime in a 24-hour period.
Kinsta's service is based on the technology behind the Google Cloud Platform. It includes an Application Programming Interface (API), authorizes users to use certain PHP libraries, management functionality for MySQL databases, and automated caching.
Useful Links
Of course, there is even more for you to explore. You might be looking for some comparisons of UpCloud with close competitors like DigitalOcean or Vultr. So, here are the quick links for you to navigate.
FAQs about UpCloud
Is UpCloud Fast?
UpCloud offers high-performance servers. These servers are pre-optimized for a faster response which eventually help you enhance the speed of your website.
How much RAM and CPU I need?
If your website uses WordPress CMS, you need to consider my WordPress Speed optimization service to improve the speed. Once your website is optimized, you can host around 200k visitors on the smallest server. The smallest server costs only $5 per month.
Is there any coupon code available for UpCloud?
UpCloud does not offer any coupon code. You can use my referral code 3M623W to get extra 25$ credits when you top-up your account with 10$. It is additional credits and not a discount. However, it is great way to kick-start your website and host it on UpCloud.
Does UpCloud offer Free Migration?
No, you need your own developer to help you with the migrations. However, you can consult with UpCloud support for any guidance.
What is the validity of 25$ credits at signup
There is no such expiry date for the credits defined as of now. However, you can use these credits to deploy a server of any size. If you deploy a $5/mo server, it will work for 5 months straight.
Am I charged for a server if It is power off?
Yes, you will be charged for the server if it is turned off and not deleted completely from your account.
Is UpCloud better than DigitalOcean and Vultr?
As far as I have used UpCloud to host so many websites on a single server, I am very confident about its performance. It performs way better than DigitalOcean and Vultr when it comes to website speed, read and write tasks and application hosting.
My Verdict – UpCloud Review
UpCloud is undoubtedly the fastest and the most reliable provider at present. It provides first-rate services and above standard performance.
UpCloud servers will let you host your website or app courageously. The servers of UpCloud are ready for production projects. It is rated as the world's fastest cloud server, which also offers fast and easy migration from one cloud to another.
Upcloud is a great hosting provider for small to medium-sized businesses. They have top-notch customer service, excellent uptime performance, and competitive pricing that will meet the needs of any company looking for reliable web hosting services without breaking the bank.
If you're considering moving your site over to them or are just thinking about it, I would highly recommend giving Upcloud a try!