UpCloud is a very good and innovative hosting platform that makes you go for it undoubtedly. Since it is a lot more expensive than some of its competitors, let me show you the cheapest UpCloud alternatives. But, before looking at the UpCloud alternatives, we will take a look at UpCloud and all the benefits it provides.
About UpCloud
The last five years have been very good for UpCloud. They have taken the market by storm with their new ideas and developer-driven solutions for individuals and businesses.
UpCloud offers software-defined networking, block storage, and cloud services. It has major offices in all countries across Europe, Asia, and North America.

Features of UpCloud
You get 100% uptime SLA, and the company claims that all points of failure are eliminated from the servers at regular intervals. As a guarantee, you can have 50 x payback for any downtime of more than five minutes.
The company has introduced simple plans so you don't get confused about hidden prices. You will also have a 30-day money-back guarantee and desired flexibility.
The users will get scalable MaxlOPS block storage even at lower prices, and the performance will not be tempered.
As a developer, you can also create custom images that match your brand and business, giving it a feel of premium service.
You can deploy a new cloud server in just 45 seconds. They use the same MaxlOPS technology.
Customer support is good, and more often, you will be satisfied. The core team knows what they are doing and will help you however they can.
Read: UpCloud Review
DigitalOcean has worldwide data centers with cloud hosting services that help developers in deployment quickly & easily. It offers an intuitive control panel, competitive pricing, and many tools to save you time and focus on building your project online.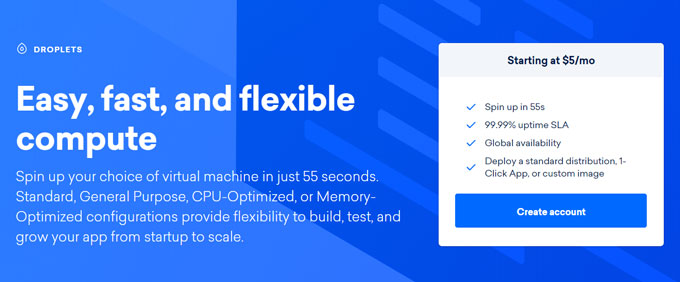 DigitalOcean is one of the top UpCloud alternatives you will ever find. To be honest, DigitalOcean existed even before UpCloud, which is why it is a more trusted solution for your cloud hosting needs.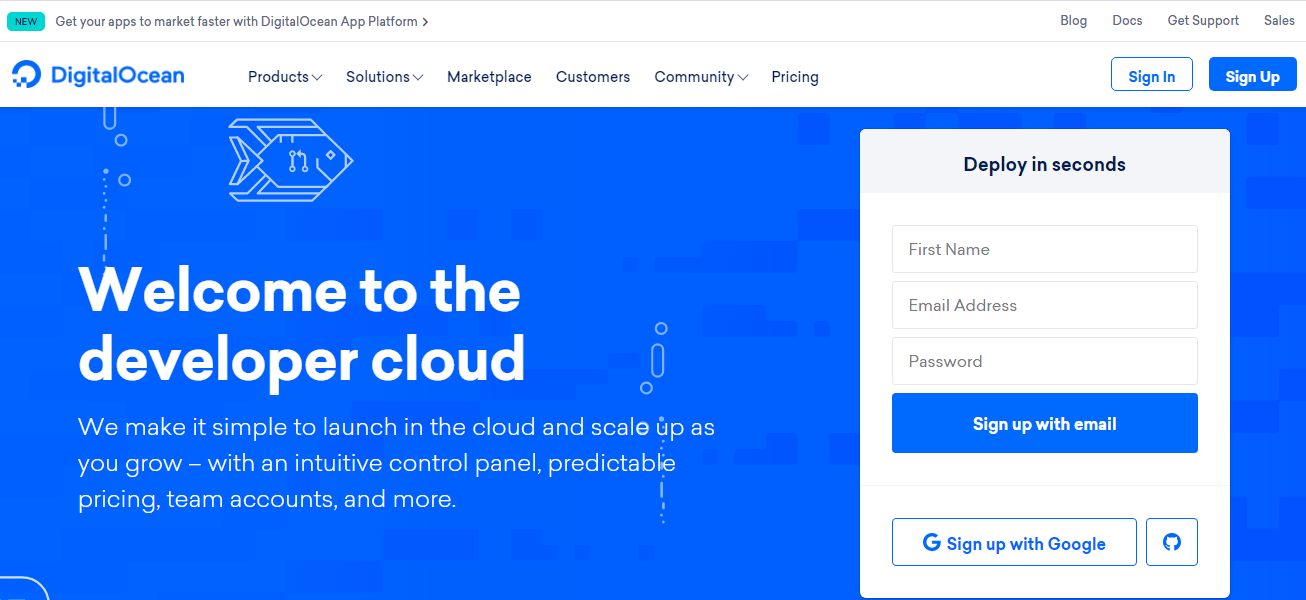 DigitalOcean Features:
A reliable platform with a 99.99% uptime SLA guarantee.
Pay monthly with predictable pricing.
World-class support for all the customers.
International security standard certifications include SOC 1 Type II, SOC 2 Type II, ISO/IEC 27001, and PCI-DSS.
13 worldwide data centers perfect for running any heavy apps.
Kamatera is yet another cloud infrastructure provider with leading technology and tailored solutions for every business. It outperforms other cloud infrastructures with zero point of failure and 99.95% uptime guaranteed. The reason why I am adding Kamatera to the list of top UpCloud alternatives is its simple and affordable pricing structure.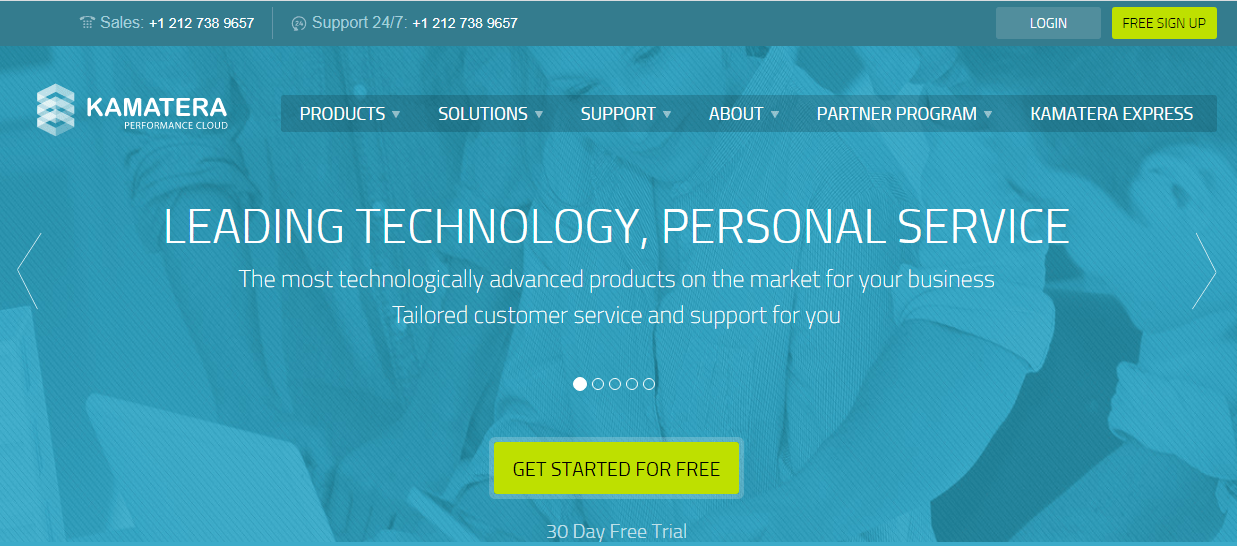 Kamatera Features:
Cloud infrastructure with data centers in America, Europe, Asia, and the Middle East.
Pay only for the resources you utilize hourly, monthly, or minutely. You can cancel anytime if you are not satisfied.
Managed cloud services with Kamatera cloud experts ready to handle your servers.
A single control panel with ease, flexibility, and reliability for startups, developers, and agencies.
It offers advanced management solutions like cloud consulting, server migration, disaster recovery, and Microsoft Cloud solutions.
Vultr is one of the fastest cloud infrastructures with easy-to-deploy cloud servers, bare metal, and storage worldwide. With over 17 data centers located worldwide, you can deploy servers and enjoy fast speed by testing the servers.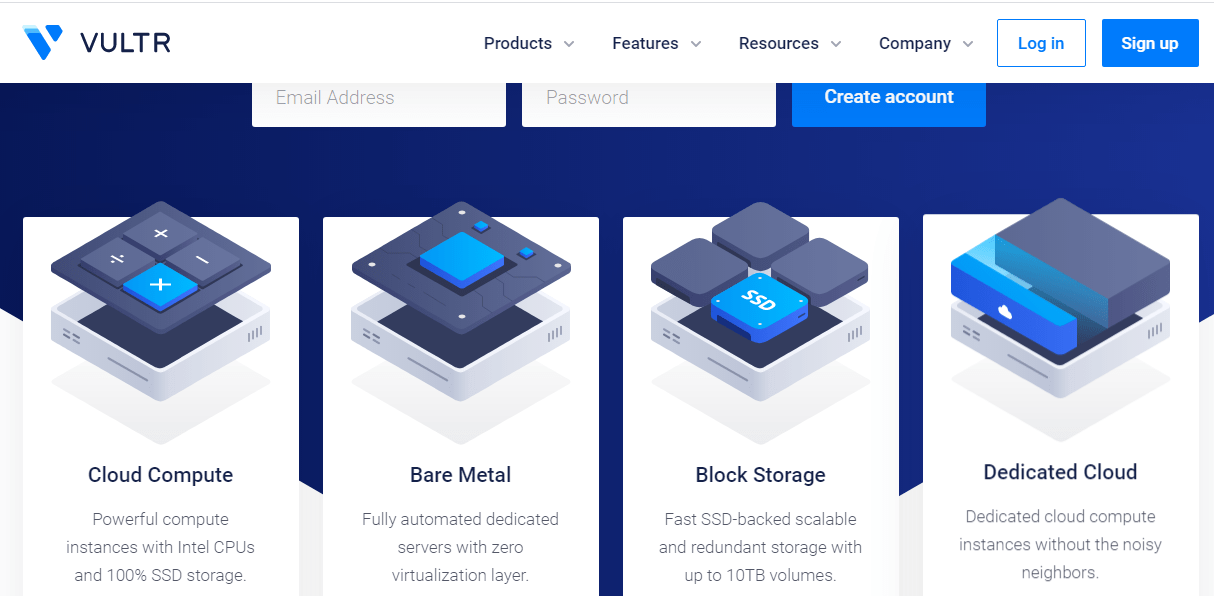 Features:
One-click deploys to your nearest data centers within 60 seconds.
With the API, any action you perform can be automated into your systems.
Easy to manage control panel to perform tasks like backups, ordering servers, and more.
100% SSD and the latest Intel CPUs.
Additional features like IPv6, auto-backups, DDoS protection, and private networking.
Templ is a Managed WordPress hosting provider powered by the Google Cloud Platform. Your WordPress site will load with lightning speed and outperform your competitors with high performance. If you compare UpCloud vs Google Cloud Platform, you will find that the performance of Google servers and the availability of locations outperforms UpCloud.
Templ is not one of the best UpCloud alternatives for developer cloud hosting. But it offers managed WordPress hosting only. As a result, you will find it great only if your use case is limited to hosting WordPress blogs, sites, or WooCommerce shops.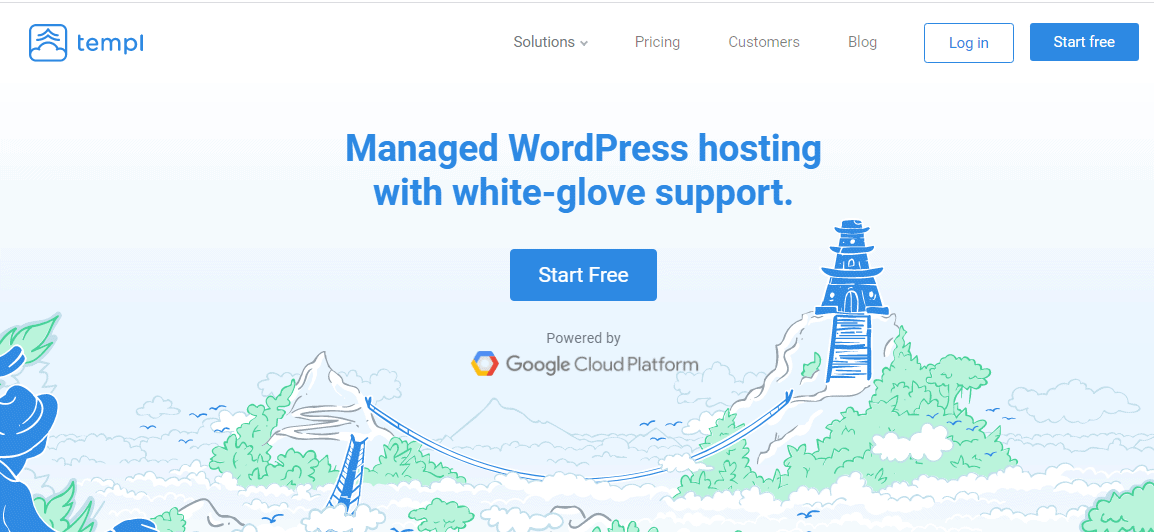 Templ Features:
Professional support by real humans who are experts in WordPress and WooCommerce.
Scale your site with hosting that grows your business.
A WordPress-specific panel with no unwanted functionalities.
Quickly launch your site in minutes with friendly support at all stages.
Create staging sites in a click and test them before they go live.
Manage backups and view usage statistics to improve your workflow.
SkySilk is a cloud solution for freelancers, developers, and businesses looking for simple cloud solutions. Some of the top companies like Intel, AMD, Dell, and more trust SkySilk's leading cloud solutions.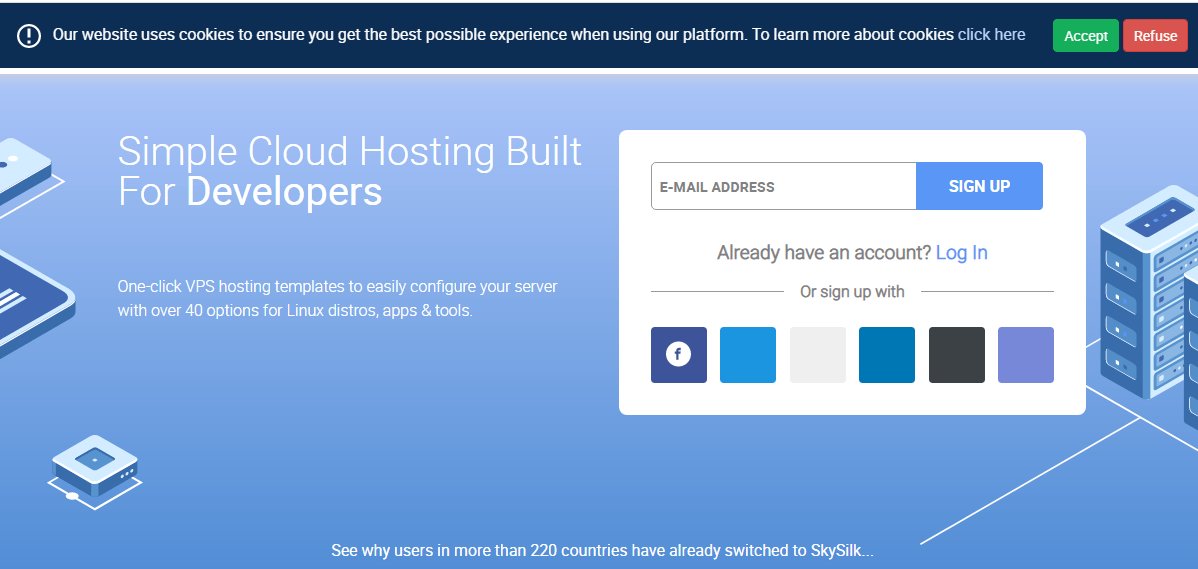 SkySilk Features:
Simple and transparent pricing starts as low as $2/month.
A variety of Linux OS Distros & apps like WordPress templates, MySQL Servers, Node.js, Magento, and more.
With the SkySilk mobile app, you can manage and monitor your servers.
Automatic weekly cloud backups to give you peace of mind.
Triple replicated SSD for rapid deployment.
When looking for the cheapest UpCloud alternatives, one of the top web hosting to replace your current service should be InMotion Hosting. This platform suits small and large websites, even with low or all-time high traffic.
Reasons to choose InMotion Hosting:
You can transfer your website to InMotion free of cost. So, there's no added burden when you decide to change the platform you want to be on.
The best freebie you will get is $250 worth of advertising credits.
A stable connection both in terms of reliability and dependability. The interface will remain smooth irrespective of the number of websites hosted.
The integration settings are top-notch, as you can access any business application. In addition, you will also have Google Apps that you can integrate with.
A 90-day money-back policy ensures risk-free hosting.
The customer support team is always ready to help you with any issues.
7 Linode
Linode plans are interactive and give access to developers to the Linux command line on cloud hosting plans and VPS. They provide users with only Linux-based servers, making them unique to a certain extent. It is popular due to the control it gives to its users, as they have the responsibility to run their own virtual web servers.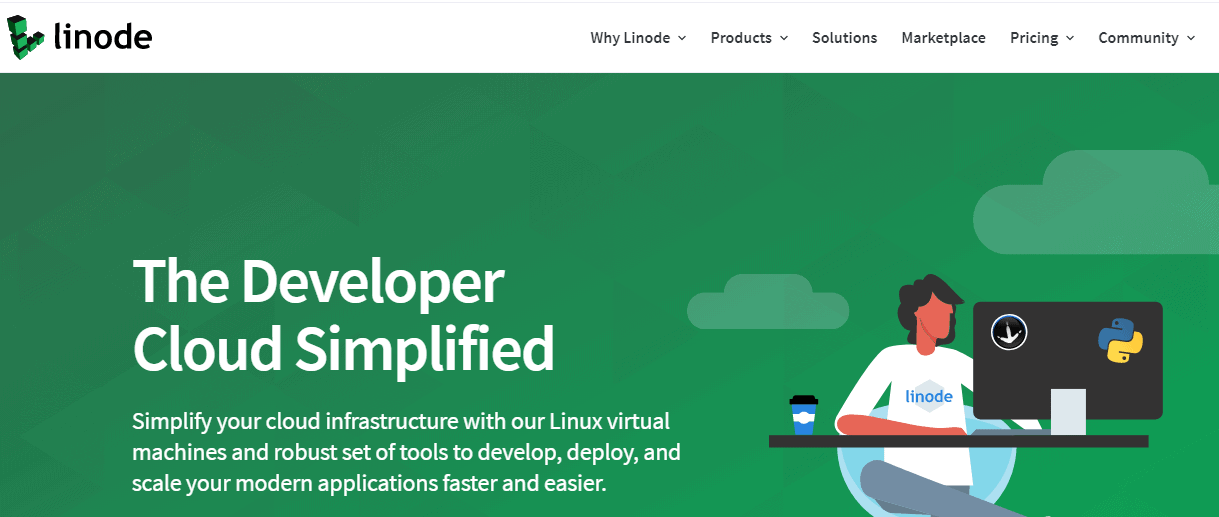 Reasons to choose:
Choose any data centers in London, Tokyo, California, Georgia, New Jersey, and Texas. Test the server speed and then select the server.
Any plan includes an Intel E5 processor, SSH access, Solid State Drives (SSD), and root access.
Automatic backups, cPanel, and WHM licenses can be added at extra cost.
With a 99% uptime guarantee, you can claim the credit if the service is down for a particular time.
Get more support from the Library and the knowledgeable user community.
Read: Linode Review | Alternatives
LiquidWeb has been in the market for over two decades and can host websites other than WordPress. They do provide different servers for WordPress websites.
Reasons to choose LiquidWeb:
Free SSL certificates to boost your SEO on Google.
Get all the latest technologies and features, including Nginx, PHP 7, etc.
The benefit of a staging area will also be provided to you so that you can unfurl your creative self and do not worry about messing things up.
You get premium support from the team of LiquidWeb. Also, the response time is quite good after you get a ticket.
GoDaddy is the biggest domain registrar and also a cheap web hosting service provider in the world. You get dedicated hosting, VPS, and shared hosting, for both Windows and Linux systems. It is the cheapest UpCloud alternative due to its cheap Shared Web hosting & WordPress hosting cost for all its users worldwide.
Reasons to choose GoDaddy:
GoDaddy is different than other web hosting providers as it varies its prices according to the visitors and not bandwidth. This will especially please the beginners as they are bound to get low traffic initially.
Free SSL certificates and cPanel/Plesk control panel.
Get unlimited disc space, bandwidth, and email accounts with the higher hosting plans.
Great support via email, phone, or live chat 24/7/365.
A 30-day money-back guarantee and 99.9% uptime guarantee.
Why UpCloud Alternatives?
You probably still thinking why do you really need an alternative to UpCloud hosting. The answer is very simple. UpCloud pricing is not the only reason why someone would look for an alternative company to buy cloud hosting.
There are some limitations that can definitely urge you to look for the best UpCloud alternatives.
No option to reinstall the operating system
Compared to other cloud hosting providers, UpCloud has fewer locations
Lack of automation tools and API
No app marketplace
Conclusion – Best UpCloud alternatives
UpCloud is a really good company that provides excellent services to its customers. You can continue using the services if you are truly satisfied and don't care about the monthly expenses.
But if you want to save some bucks, then choose any hosting from the list of best & cheapest UpCloud alternatives.