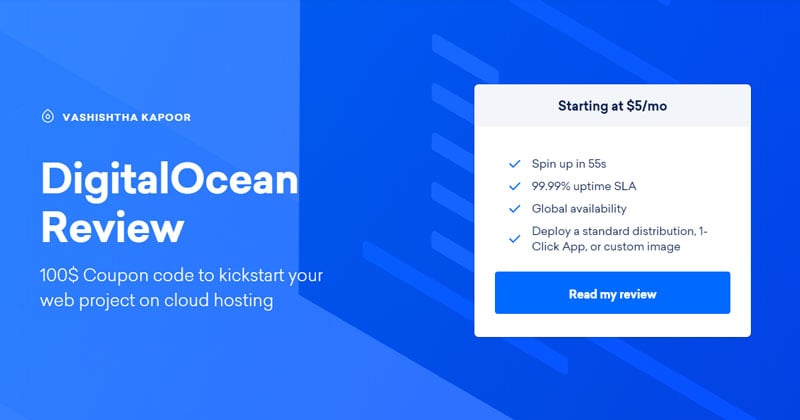 Writing this DigitalOcean review after handling multiple VPS servers for clients and deploying multiple WordPress sites on a 5$ droplet.
It always sounds good to know that you can leverage the performance of DigitalOcean cloud and still save money. But how you actually do it? That's what we discuss in this DigitalOcean review.
If you're once given a ride in Ferrari 458 Italia, the chances are you will lose interest in a car with fewer features. The same happens when you once run a live test of the performance of a DigitalOcean's fastest cloud VPS.
I have tested cloud VPS servers from more than 10 different cloud hosting providers. In my opinion, the performance of DigitalOcean droplets is unbeatable and of unmatched quality.
I have been in a situation where I did not know anything about the SSH clients and how servers are managed. All I knew that time was that you need a high-performance cloud server or a dedicated server to be able to host a fast-loading WordPress website.
Yes, to be honest, you need to be a little bit aware of how servers are deployed and what is a web hosting server's environment. Further you need to know how to manage a remote virtual server with an SSH client in your PC.
In my DigitalOcean review, I have summed up everything you may want to know about the DigitalOcean cloud platform. From creating a new droplet to troubleshooting some common challenges are covered in this DigitalOcean review.
About DigitalOcean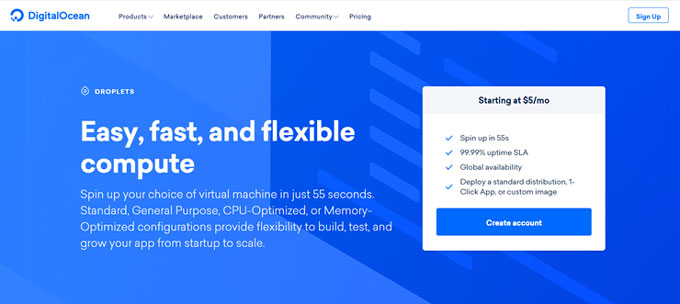 DigitalOcean is one of the leading cloud infrastructure providers in the world. The list of such providers also includes Google, Amazon and Microsoft as they also offer self-managed cloud service.
With a network of 12 data-centers, DigitalOcean has offices around the globe and is headquartered in New York. Techstars, Andreessen Horowitz, IA ventures and Access industries are the top companies who have invested in DigitalOcean LLC.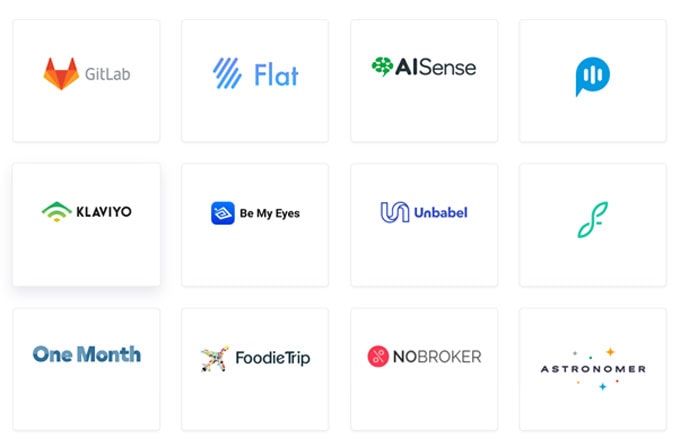 DigitalOcean hosting platform is used by the top companies like ContentIgnite, ghost, WPMUDEV, Cloudways, Crowdcontent, Jquery foundation.
A huge list of renowned brands hosted by DigitalOcean is the proof of its trustworthiness, speed, scalability, and performance.
Get $100 Free Credits with this Link
Products Offered
DigitalOcean has solutions for everyone. The usage of a cloud VPS is not limited to hosting a WordPress website only. You can also use Kubernetes cluster and deploy containers to automate application deployment.
Cloud Compute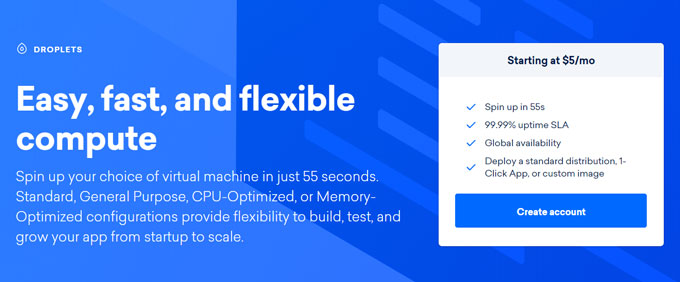 Compute engine is simply a cloud VM where you can deploy the application of your choice. It is a virtual computer which you can use to host a PHP application, an eCommerce store using Magento2 or Prestashop, a blog using WordPress or a custom HTML website.
It is basically an on-demand compute service where you pay for what you use. You are always away from bearing the cost of maintaining and running real physical IT infrastructure.
Kubernetes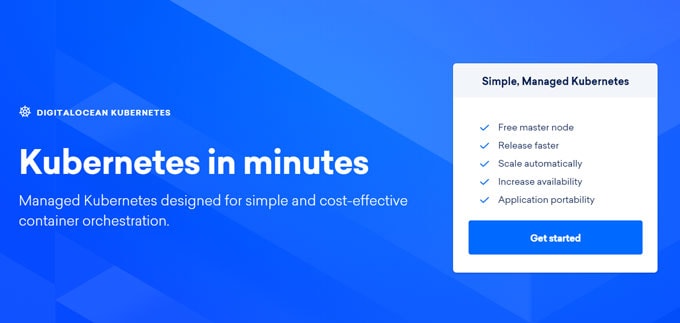 Kubernetes clusters are used to run the scalable applications and increase the availability of the apps. It is a developer friendly product to facilitate automatic application deployment and scaling. In DigitalOcean, you can deploy KubeMQ, Okteto and a lot of complex applications on a Kubernetes cluster with a single click.
Database Containers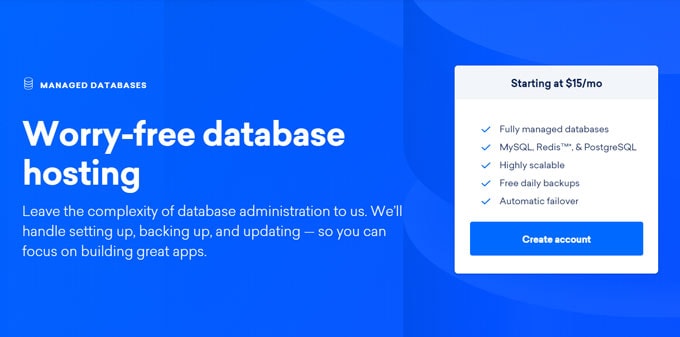 You happen to be in a situation when you don't want to focus on your database management because it has become too complicate and heavy with time. You may want to focus only on the application and not on the database.
At this stage, you can use the worry-free database containers. Such database container has the only thing installed which is a database server.
DigitalOcean database containers are powered by MySQL, PostgreSQL and Redis. In this type of database server, there exists a database caching system called Redis and that too inside the memory.
Such setup improves the performance of your database and supports your application to serve data from the database server efficiently with the caching policy enabled.
Object storage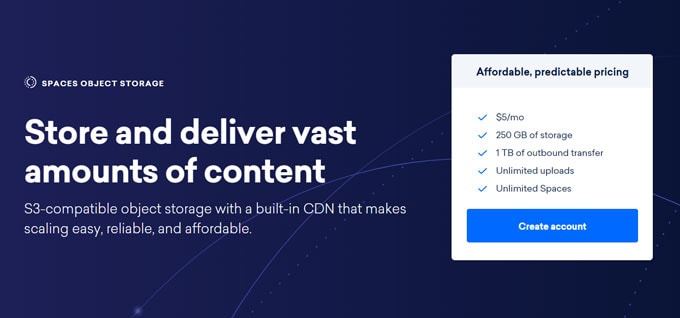 Now that you know how to host a website and keep a backup of your website on your local machine. You are making the biggest mistake if you have stored a backup of your website on a cloud compute machine itself.
Now the question comes in mind, where should you host your website's backup?
The answer is Object storage. Not only for website backups but also for storing custom image of a server, large media files and a lot more.
Pros & Cons of DigitalOcean Cloud hosting
Every service has its own pros and cons. It can not be for everyone and for everything.
Pros
DigitalOcean servers are available and you can rely on its performance for your real business website / application
You can easily run multiple websites on the smallest droplet with 1GB ram and 1GB CPU
You can quickly scale your VPS server up and down in case of high-traffic events
I have successfully tested the smallest droplet to run a website with 100% uptime serving 100k+ pageviews in a month.
You can install the server stack of your choice, customize it the way you want and destroy when you do not need it
The servers are charged on hourly basis. So, if you run a 5$ droplet for 15 days and then destroy it completely, you will only be billed for 15 days and not 30 days.
Cons
The platform is not for you if you're the least technology friendly person. You need to be aware of server infrastructure and how it all works.
Once you start using DigitalOcean for web hosting purpose, you will have to go through a long learning timespan
You can use the one-click app install option in DigitalOcean to quickly deploy a droplet with preinstalled WordPress. But, you need enough understanding of linux to be able to add more sites on the same droplet.
You don't get the kind of support that you get from a managed hosting provider like WPEngine or Kinsta. DigitalOcean expects you to self-manage everything from installing the server stack and managing the file system and its maintenance.
Get $100 Free Credits with this Link
My recommendation
For web hosting, the professional linux experts will recommend you use Cent-OS. However, Ubuntu 18.04 LTS is my choice to quickly setup a hosting server where you can host a wide range of applications such as WordPress, Ghost and Magento 2.
For me, DigitalOcean droplets perform efficiently and go the extra mile for my hosting needs. My websites are getting more than 100k pageviews every single month and I host more than a single such websites on a standard droplet. Yes, the droplet I use has only 1GB of RAM, 25GB of SSD storage and 1v CPU.
I believe that the server stack on your droplet tells how much traffic your server can handle. Nginx is considered to perform better than Apache2 in most of the cases.
If you optimize your website with proper caching and server level optimization, you can get the most out of your smallest size droplet.
Pricing
In the most managed web hosting packages, you will see pricing based on the number of sites you want to host. But in DigitalOcean, you have access to everything on your server and you can decide the amount and type of storage as well as the CPU cores. The customization options do not end here.
The pricing is purely based on the consumption without a worry of managing a physical IT infrastructure.
Standard droplets start from 5$ per month with 25GB of SSD storage, 1v CPU and 1GB internal memory (RAM). You may get a better price from the close alternatives to DigitalOcean but you need not worry about the performance if you're hosting on DigitalOcean.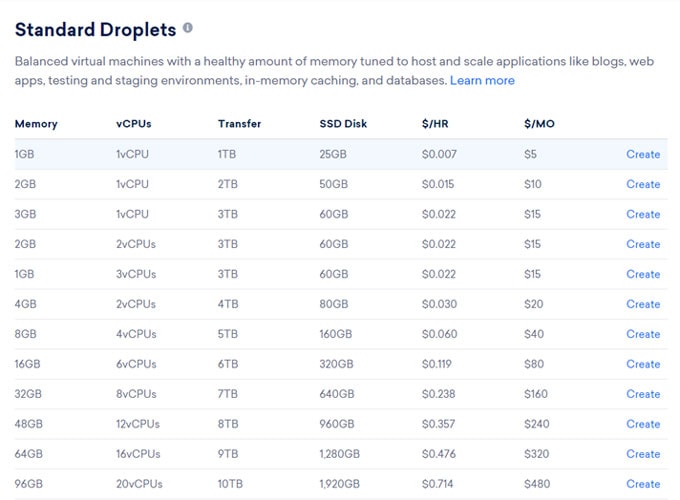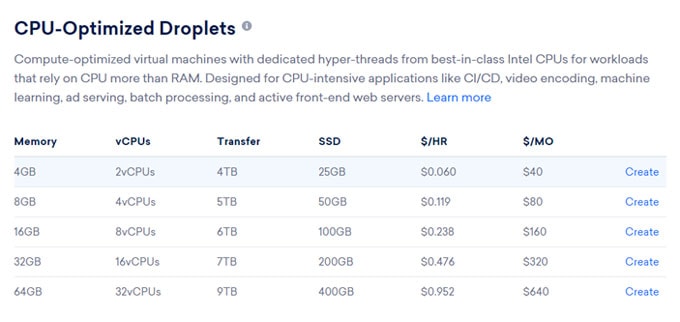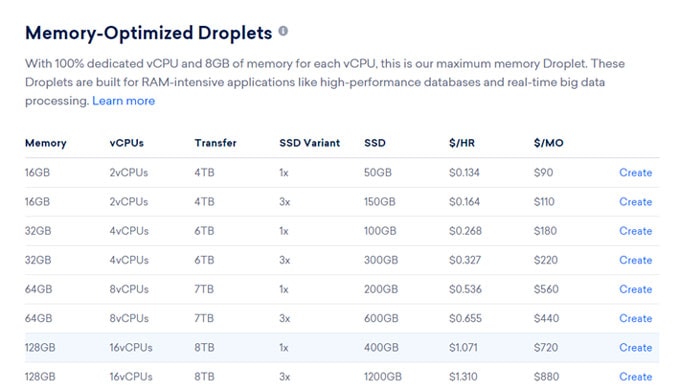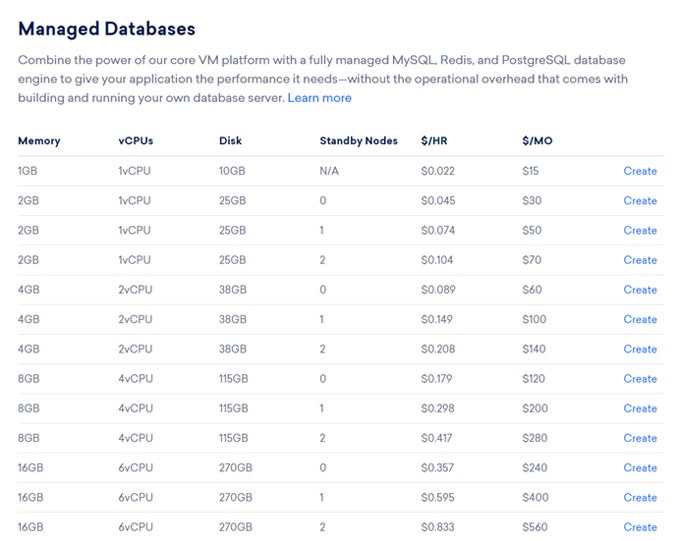 I could narrate a whole story on the pricing of every service that DigitalOcean offers. But I would rather want you to go and check out the pricing of the product you need.
The pricing is very straight forward which says that you will be charged for how much you use. On an hourly basis, you are charged for droplets as long as they are running and not destroyed. You may want to stop billing for a droplet. In such case, turning the power off won't work. You need to destroy a droplet to stop getting charged for it.
Get $100 Free Credits with this Link
Creating a Droplet to Host a Website on DigitalOcean
The process to deploy a new server for hosting your website is robust and the DigitalOcean platform is super user-friendly that even a newbie can start with creating a new droplet.
To create a new droplet, follow the following steps-
— Login to your DigitalOcean account. If you're a new user, create an account and add your card to start using the platform.
— On the top-right menu, click on Create button and choose droplet from the dropdown menu.

— Choose an image. Here, you need to choose the operating system of your droplet. Out of the 4 most popular linux packages, I will recommend you select Ubuntu 18.04. However, you can choose anything apart from that.
— For basic hosting purpose, you can choose Standard plan. However, when it comes to installing and managing resource intensive applications such as Magento and Prestashop, you should be using any of the performance plan.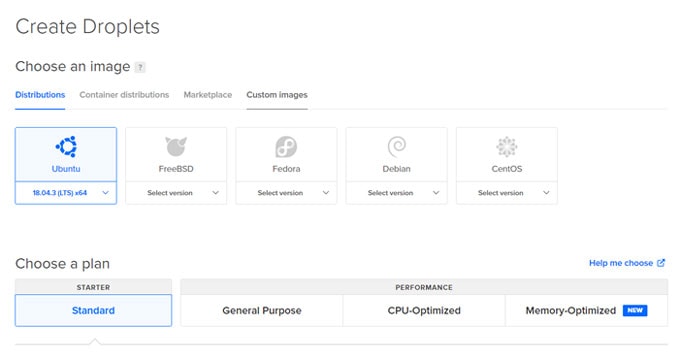 — Choose the size of droplet as per your budget and requirement. For 5$, you get 1v CPU, 1GB RAM and 25GB SSD storage on your droplet which increases when you scale up.
— VPC Network: No VPC
— Additional Options: Here you can choose to enable IPv6, user data and Monitoring. For a faster hosting experience, you should enable IPv6 and for better monitoring of the resources, turn on the Monitoring feature.
— Authentication: If you're doing this first time, chances are that you don't know about SSH keys. Simply choose Password and type your strong password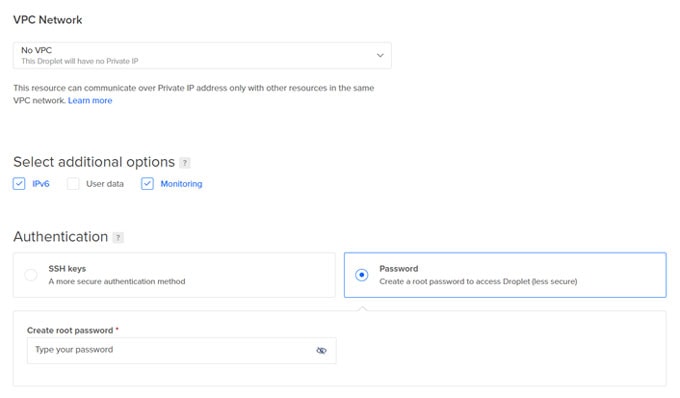 — Before you click Create Droplet button, choose a hostname in the Finalize and Create
— Add tags if you are planning to run multiple droplets with this account
— Select Project: You won't be able to edit this section if you have not created a new project already. This will be your account email.
— Auto Backup: This is 20% additional extra expenditure over the cost of your compute droplet. If enabled, it will create a new backup weekly and such backup will be retained for maximum 4 weeks.
— Click Create Droplet and wait for a few minutes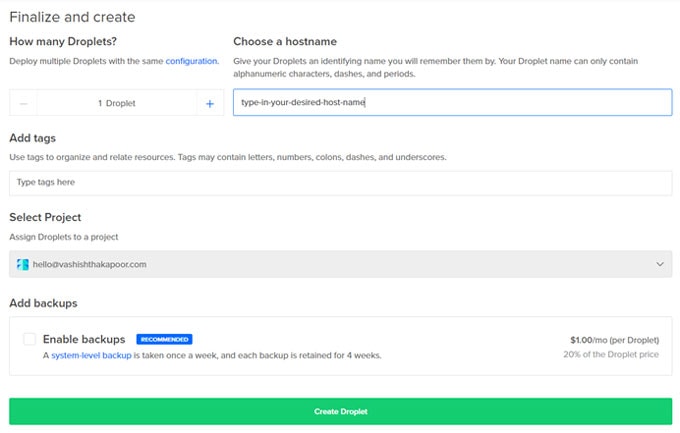 — Wait for few minutes while your server is created and booted for the first time with the OS you selected.
Hosting WordPress on this Droplet
WordPress is my top-choice when it comes to start a website. It can be a blog, an eCommerce store, a portal website or a forum; WordPress has the features to let you do anything.
To be able to run WordPress efficiently on a DigitalOcean droplet, you need below server stack (there are alternatives too.)
A web server: Nginx preferred over Apache2
Database Server: MySQL or MariaDB
Latest version of Php
Installing WordPress on any cloud VPS server is easy and you can do it easily.
Coupon Code to Start with a Discount
Last but not the least, you get 100$ in free credits to launch a VPS and start using it. The credits are valid for 2 months which is enough to efficiently evaluate the performance.
Here are the steps to get free $100 credits in your DigitalOcean account.
— Signup using this link on DigitalOcean.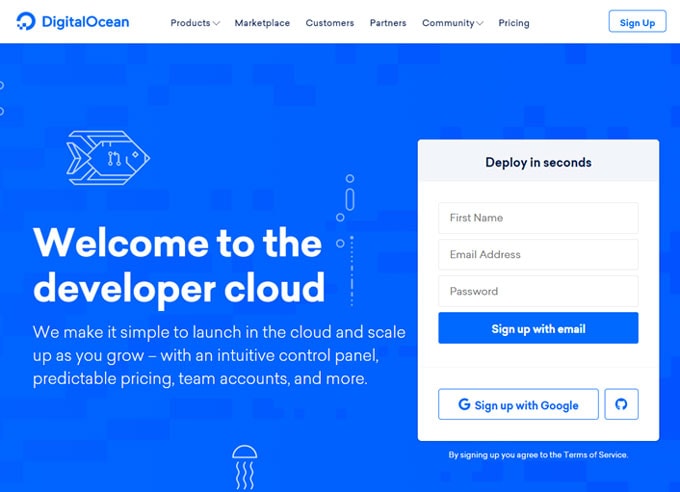 — Type in your First Name, Email address and choose a secure password and click SIGNUP WITH EMAIL.
— Add your valid credit card details and authorize it. The process will charge a very minimal amount on your card for verification.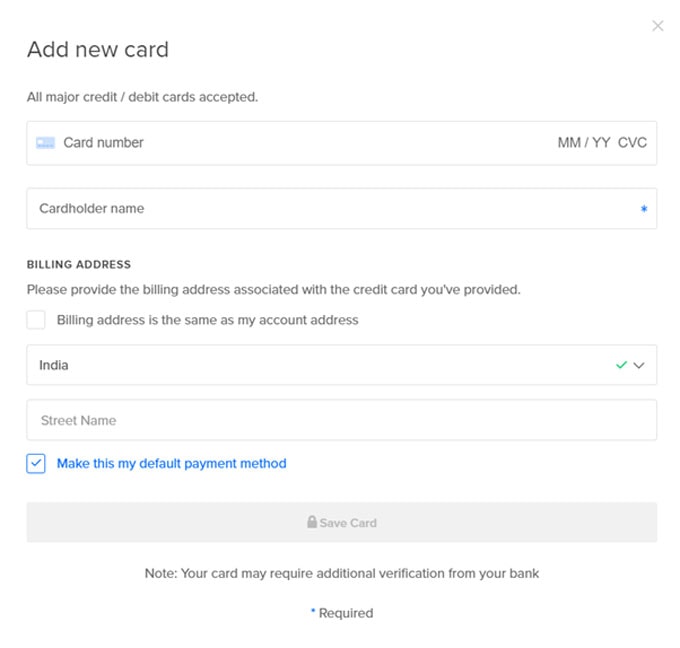 — Upon a successful card verification, you should be able to see 100$ credits in your account which you can use to create a droplet, kubernates, database droplets or block storage.

— Now create a droplet and kickstart your website today.
Get $100 Free Credits with this Link
---
Frequently asked Questions
How to regain access if you forget root password?
Once you login to your VPS using the secure shell, you will be asked to change your root password. However, it is not recommended to use root user always to login to your droplet using SSH. You should create a new user and set password for it.
In a worst case where you forget the root password of your VPS, you can reset it from the DigitalOcean dashboard.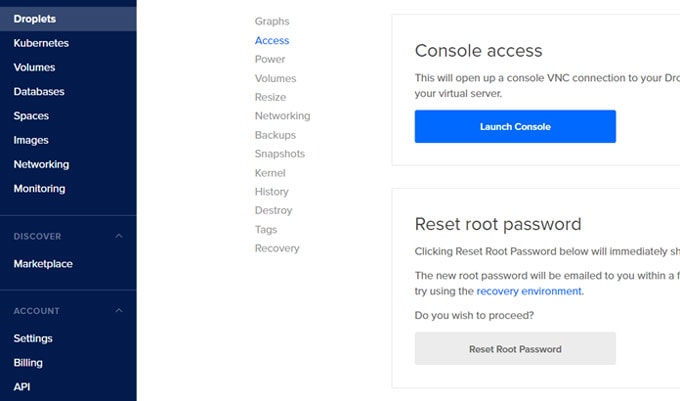 How to add more SSD storage on your droplet?
You can easily add a storage volume to your already running droplet. Yes, it increases the cost but not more than 1$ per 10GB per month.
Here's how you do it.
— Go to your cloud dashboard and navigate to Volumes

— Click Add Volume and a box will pop up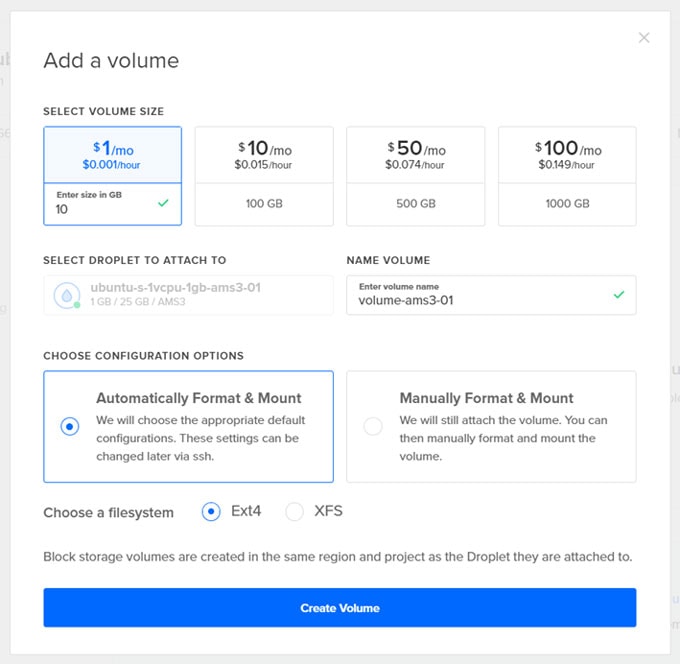 — You can quickly add 100GB of storage or type the amount of storage you need in the first box.
— You can input a desired name of the volume
— Choose the configuration options: Automatically Format & Mount
— Choose a preferred filesystem. Available options are Ext4 and XFS.
— Click on create volume. It will be deployed and attached to your droplet within a few minutes.
How to Increase RAM and CPU of your DigitalOcean droplet
Yes, the time comes when you need to go the extra mile and upgrade your server. When your website's size grows up and it becomes larger, it also requires more resources to efficiently server page to a larger audience.
Also, in a case where you have a sudden surge in traffic, you will need to resize your droplet. In such case, you need not add storage but RAM and CPU.
Follow the steps below to do this:
— Open your DigitalOcean droplet and turn off the droplet from the on/off toggle on the top right corner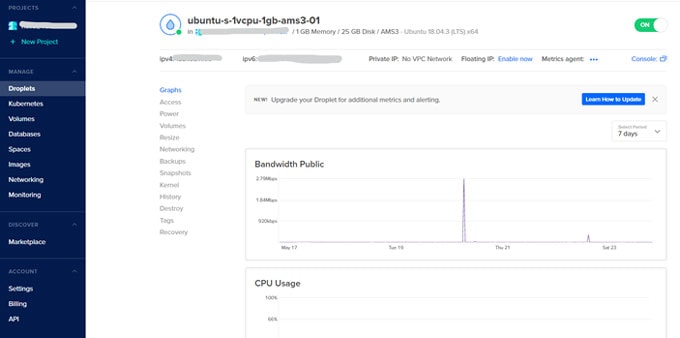 — Go to Resize and choose your preferred size of droplet and click Resize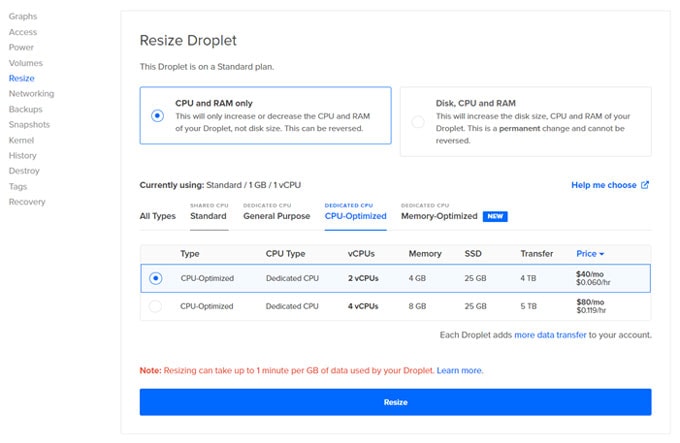 — The process will take time. Once it is done, turn on your droplet.

You can also reduce the droplet size if you do not need increased resources on the server. The process will be the same.
While writing this for you, I upgraded my server and then downgraded it back too. The process was super-quick and seamless.
Checkout Comparisons of DigitalOcean vs Other Cloud Hosting Providers:
DigitalOcean Review: Do I Recommend DigitalOcean?
DigitalOcean Review 5$/mo
Summary
DigitalOcean is one of the leading cloud infrastructure providers in the world. The list of such providers also includes Google, Amazon and Microsoft as they also offer self-managed cloud service.
Speed
Performance
Pricing
Trust
Referral Program
For Newbie
Stop if you are not a kind of person who love challenges. You might face several problems along the way and that will be solved only by SSH.
As far as you are not a developer and only want to build a presence on the internet with a WordPress blog, go check out some cost-effective hosting plans.
Once you learn the most common SSH commands and a basic server setup, you're ready to host your website on the fastest cloud infrastructure.
Get $100 Free Credits with this Link