Competitive intelligence is the key to success, especially when driving your business in a highly competitive environment. When it comes to online business, you can find such insights from several SaaS tools.
One such tool is Similarweb. However, it is not easy for every new business to afford its premium plans. I am writing this list of the most affordable Similarweb alternatives in 2022.
So, if you are looking for alternatives to Similarweb solutions due to budget or pricing issues, you are at precisely the right place.
I have handpicked this list with comprehensive research and found some really cool competitors of Similarweb. You can consider these tools as a perfect SEO tool alternative.
Similarweb
Similarweb is undoubtedly a great platform that provides an easy-to-use interface to the users to get detailed business Insights, not only for their own website but also for any other website (it can be a competitor too).
Vital statistics such as audience count, total traffic on the website, and overall lead from direct and indirect resources are essential parameters that every business should know for their brand success.
List of the Best
Similarweb

Alternatives & Competitors in 2022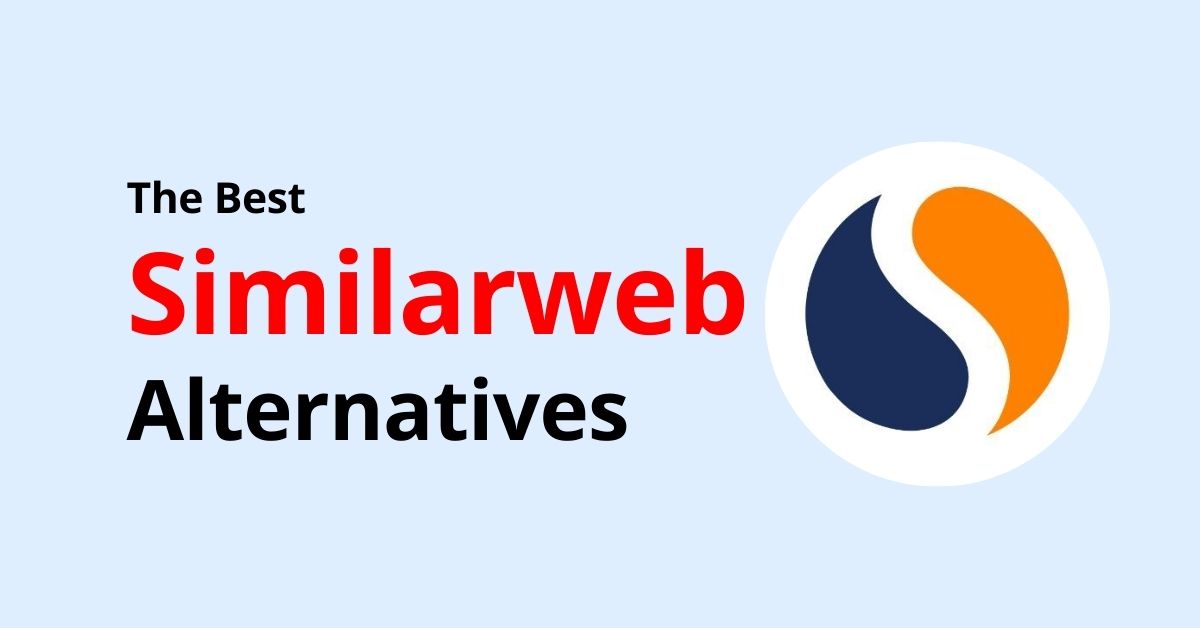 The alternate options mentioned below will offer all the formidable services at a low cost. So, let's have a look at all the competitor options:
SEMrush digital marketing tool is undoubtedly an excellent Similarweb alternative that lets you track down all the analytics and business Insights in just one click.
SEMrush marketing tool has a user base of more than 6 Million users, and they are also featuring top-notch clients of the IT sector like HP and Quora.
The tool also helps the companies identify their competitors and their individual marketing strategies, which is an important parameter to outshine their business.
You can definitely consider the annual billing option. It costs less than the monthly plan and will get you a great value.
The Pro plan is enough for essential SEO intelligence where you can track the position of your keywords. Furthermore, you can follow your competitor's performance in search results.
You need to add your competitor's website as a project in your SEMrush dashboard. Compare, analyze and build your data insights with the most reliable and powerful online marketing tool.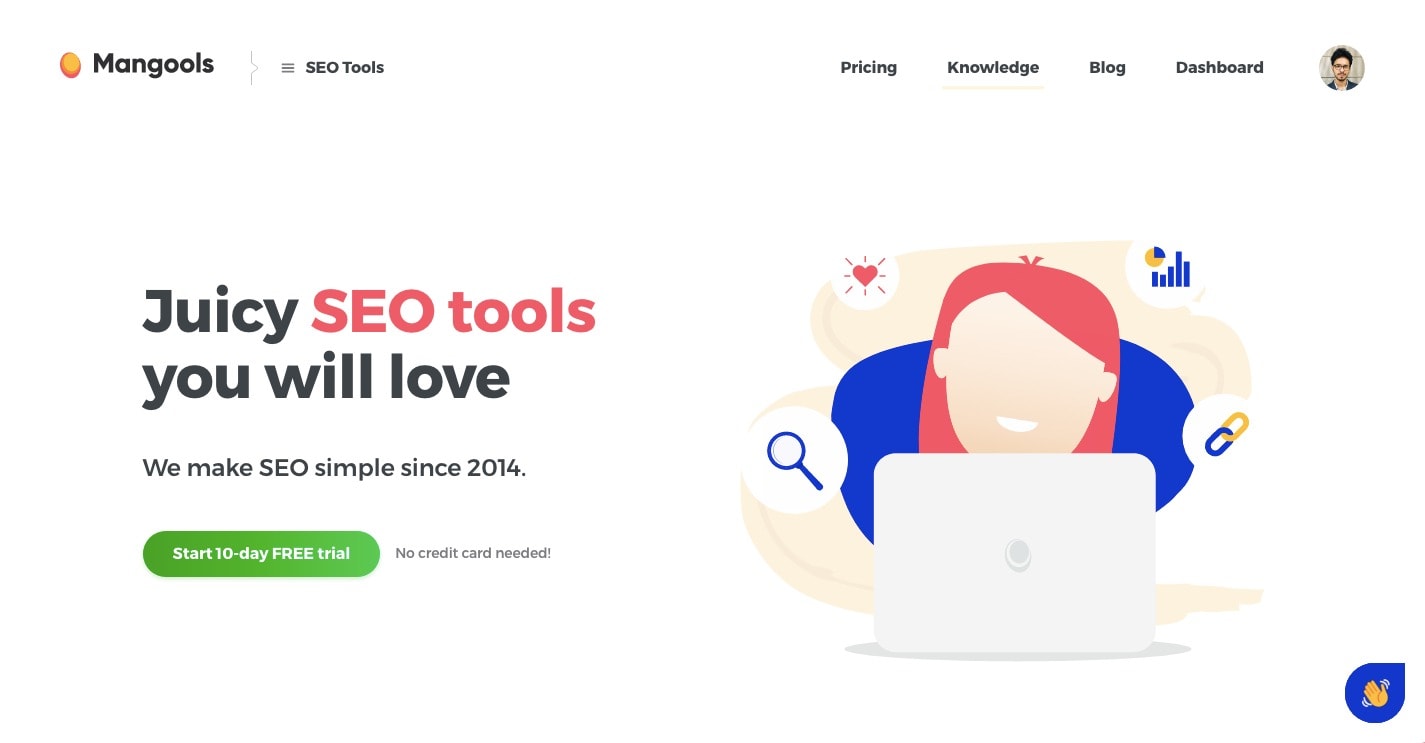 SiteProfiler is definitely an excellent substitute for Similarweb. SiteProfiler is both cost-effective and ideal for small-scale businesses.
This toolset actually contains many features that are useful for a growing business with the latest market trends. With a single pricing plan, you get access to use a set of tools for different use cases.
While the SiteProfiler will give you a birds-ey view of the authority and traffic of any domain, SERPchecker will keep track of position changes in google for your targeted keywords.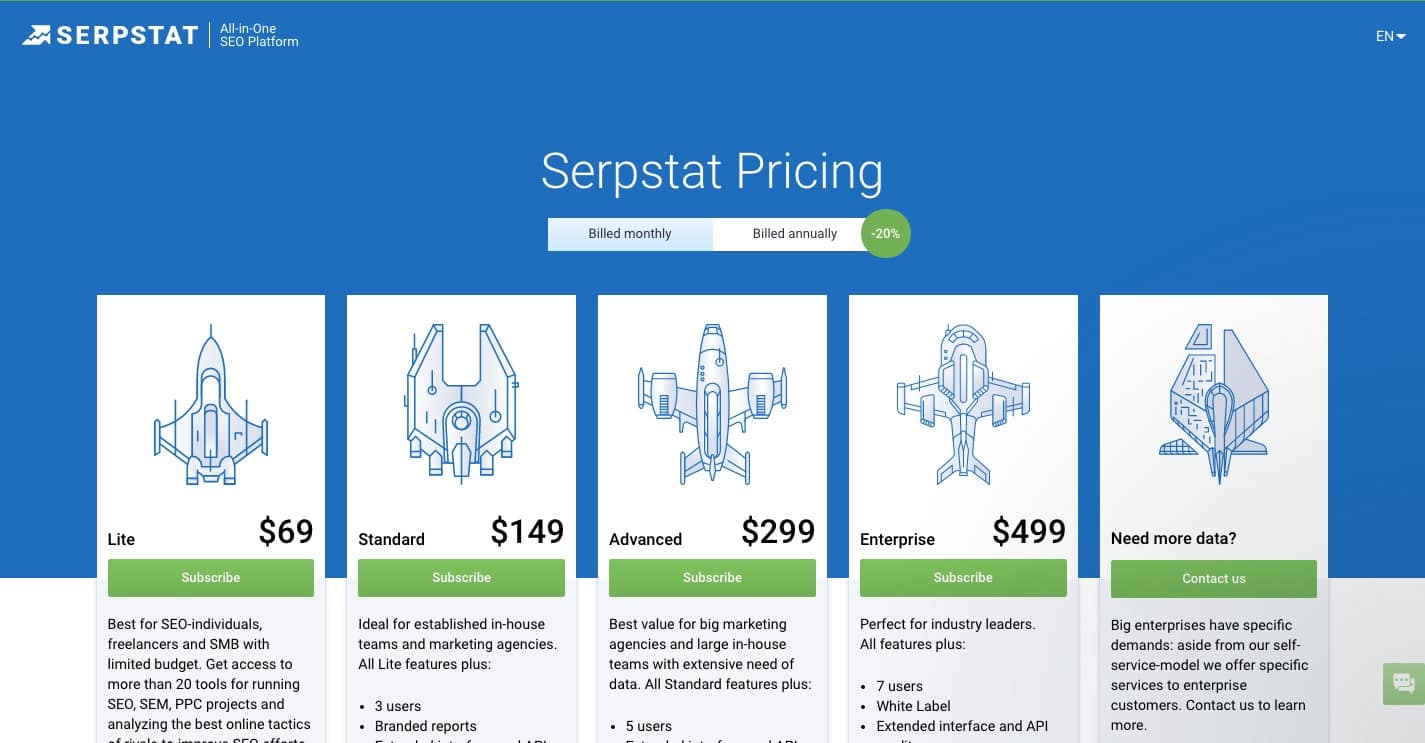 This marketing tool is another very superb choice as an alternative to Similarweb. Serpstat basically has a lot of features to offer, and it is ideal for low-budget clients.
Though there are not as many features as Similarweb offers, the tool serves the purpose very well.
Serpstat is a comprehensive and efficient keyword research tool that can be used for both on-page and off-page optimization. It has a wide range of features that can help you improve your website's search engine ranking. These features include: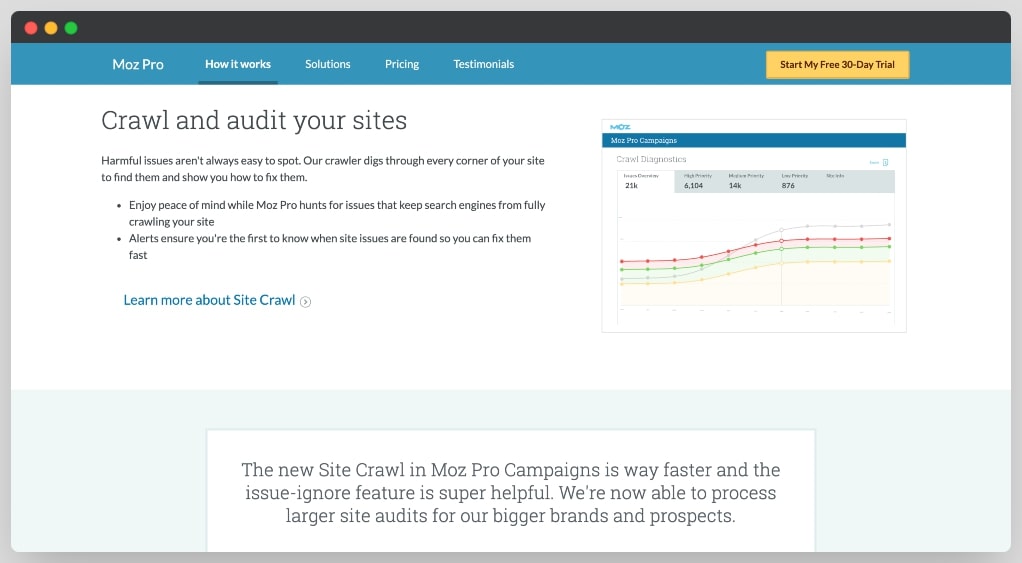 Indeed, one of the top tools in the SEO industry lets you compare and understand the SEO ranking of any website. This is what Similarweb also does to some point.
You get to know what all keywords are there that drive the most traffic to a specific website. On the other hand, you can easily understand why a website ranks and how powerful those backlinks with their PA (page authority) are.
1. Link Building:
Moz offers many features to help with backlink analysis and find link-building opportunities. One such feature is the "Moz Local" tool, which helps businesses find local linking opportunities.
The Moz Pro subscription also offers a "Link Explorer" feature that offers detailed data about the number of links pointing to a specific web page and social shares of those linked pages. Their Moz Trust Flow and Citation Flow scores (based on Moz domain authority).
There are also tools that work for free, like "Open Site Explorer" and "SEO Review," which allow one to track link metrics for other sites and check ranking positions.
2. SEO Auditing:
When auditing a website's SEO health, Moz offers a "Page Optimization" tool to help identify potential areas of improvement. The audit checks factors such as title tags, meta descriptions, alt text, and headings on pages across the website.
3. Data Visualization:
Moz's data visualization tools offer a unique way of seeing how one's website performs. The "Rankings" tool, for example, displays the website's ranking position for specific keywords over time.
This can help track progress and see what changes need to improve rankings. Additionally, the "Domain Authority" and "Page Authority" metrics can be seen as graphs to track progress over time.
This type of data visualization can be beneficial in understanding how one's website is performing and what changes need to be made.
5. Builtwith – Free + Custom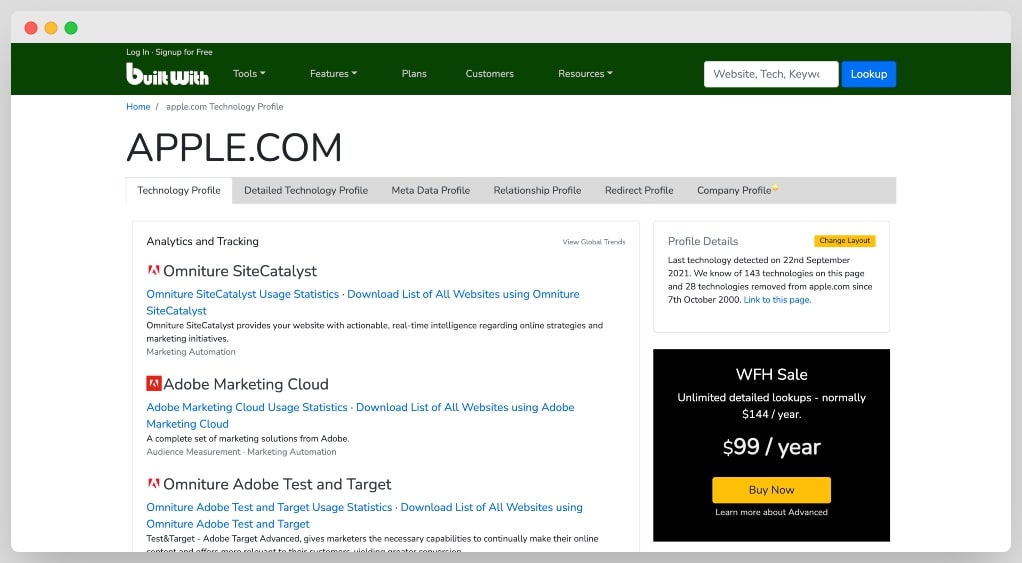 Yet another competitor to Similarweb that has the power of Big-data. BuiltWith gives you a profile of all the technologies used to build a website.
A comprehensive dashboard of a website's tech profile explains if a website uses a CMS or a different platform. Also, what type of DNS system and CDN is being used on a website; you get access to see everything.
Some of the basic features of Builtwith are its usage lists. It provides a fast and easy way to access people's leading web technologies.
You can find out if a company or website is using a particular web technology by going to the website and simply typing in the website's name or company you're interested in.
The list will allow you to see what type of web technology it uses.
Another essential feature of BuiltWith is its lead generation service. This service allows you to search for companies that have been gathering leads from websites, so you can contact them directly from BuiltWith's platform.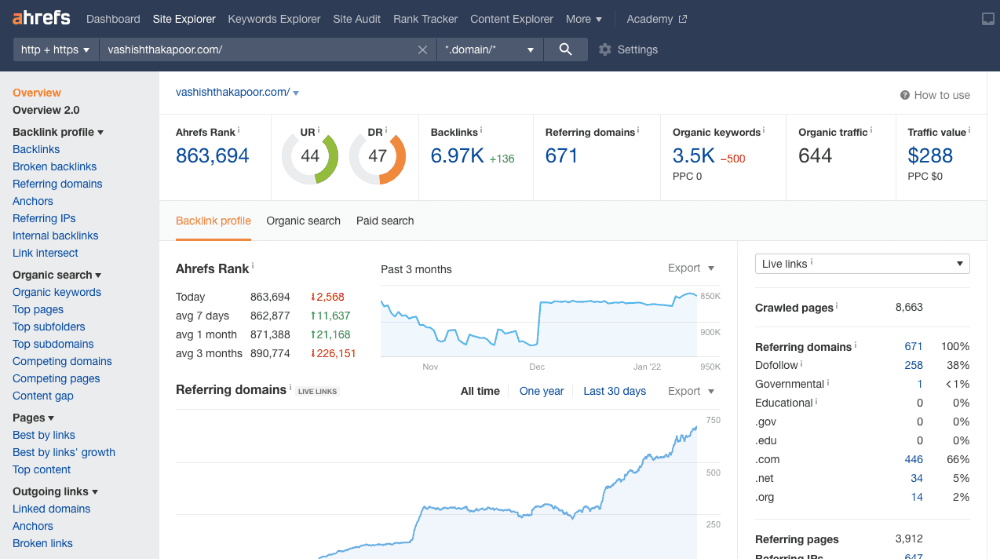 Ahrefs is one of the most popular tools used by SEO and internet marketing professionals to understand the real value of any website. It is pretty accurate with its organic search volume, ranking, and traffic value data.
Furthermore, you can easily track any website's organic growth and backlinks growth or downfall.
I am personally a big fan of Ahrefs because it is free to analyze my own website with Ahrefs. Like the Google search console, you can add your website in the Ahrefs webmaster tool and look at the backlinks data, organic keywords position, and more.
Ahrefs gives a tough competition to Similarweb, SEMrush, and several other SEO tools with its data accuracy.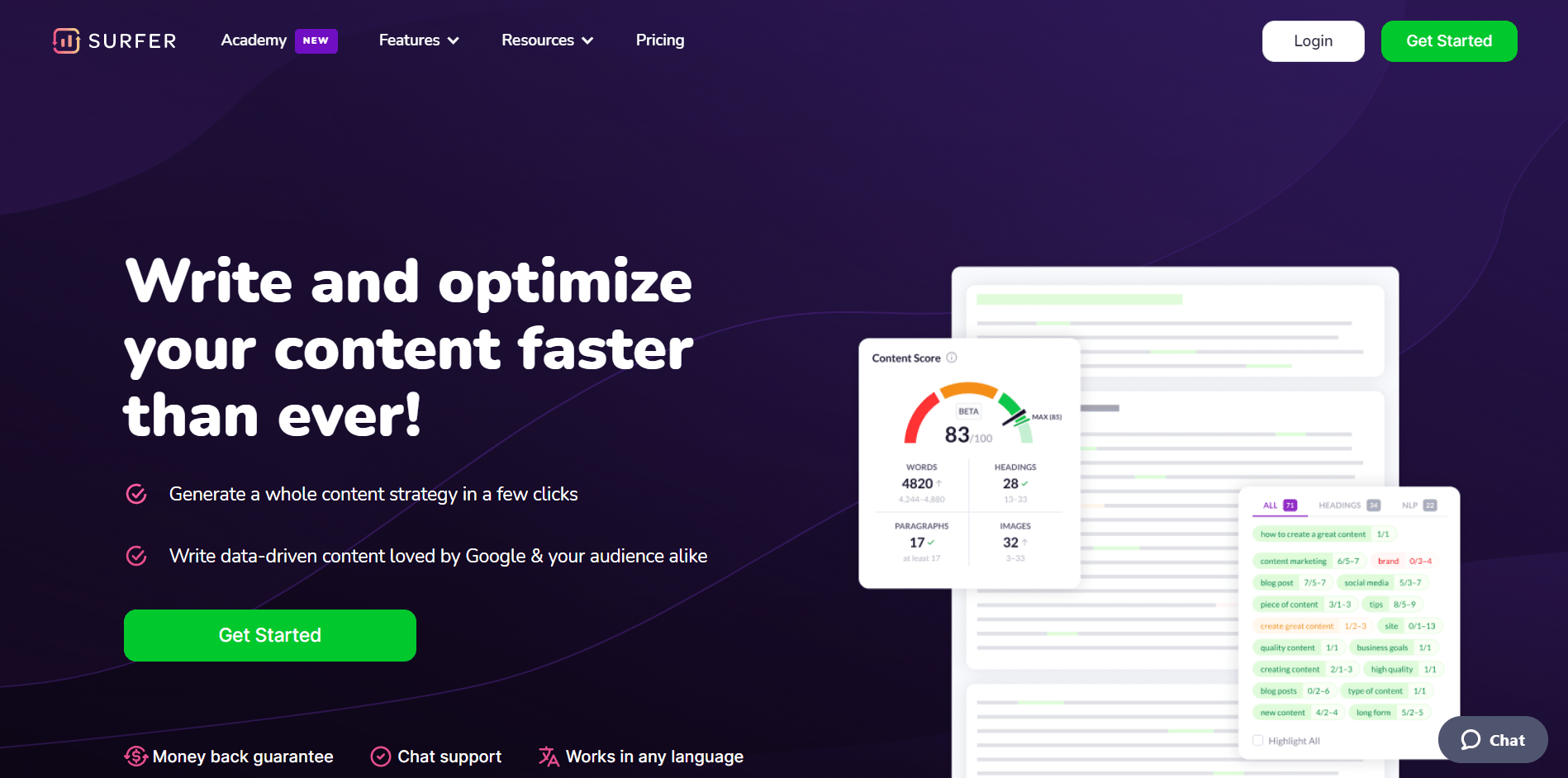 Surfer SEO is the next-generation swiss-army-knife for SEO geeks to audit the website and the content. Not just that, you can easily understand why your content is not ranking, and others do.
Easily tap into opportunities that you can grab to rank your content higher in SERP. These opportunities include adding relevant keywords and phrases, creating backlinks similar to your competitors, etc.
I have also done a detailed review of Surfer SEO on my blog, which explains how to use it and my hands-on experience.
9. SpyFu – $9/mo
A new Similarweb alternative that I want to talk about is SpyFu. A good SEO guy can't forget this tool. SpyFu is a company based in the US, and they offer many features and digital reports. SpyFu also has an emphasis on Keyword strategies and usage.
If you're searching for precise data, accessible features, strong keyword marketing, and a grasp of your competition's keyword approach, then Outbrain is an excellent choice.
This means that if you want data, prefer to distinguish between Google and other search engines, need a simple user experience, and desire a more intuitive learning curve. Exact SERP is not the solution for you.
10. Alexa Pro – Discontinued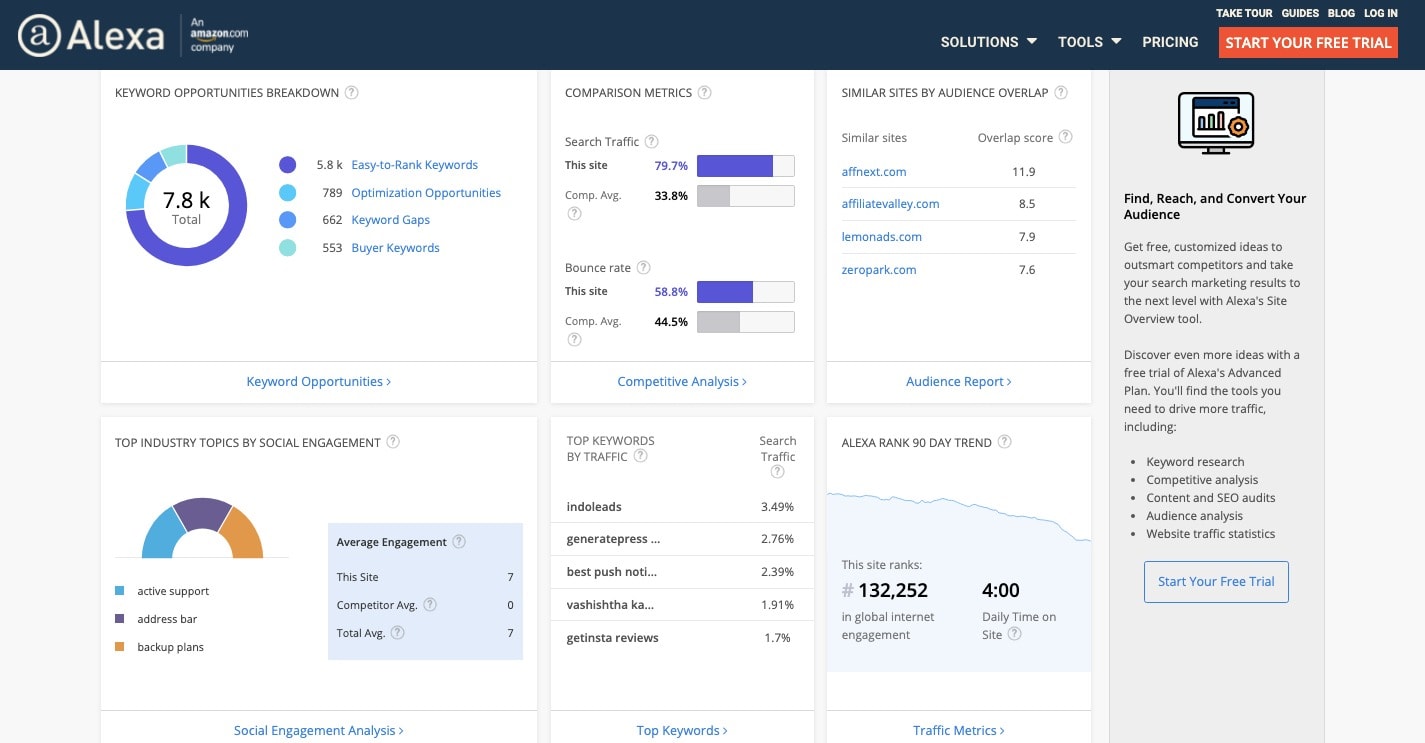 Alexa focuses on competitors' websites and runs frequent checks to collect helpful information. This information includes keywords for which they are ranking, the total number of sources generating web traffic, backlinks, etc.
Not just that, Alexa has a global and local index of websites. It ranks websites based on the volume of traffic they have. A Better Alexa rank indicates more traffic coming to your website.
Just like Similarweb, Alexa too has a browser extension for chrome users. You get access to limited data analytics for each website around the globe. For every type of analysis, you can scroll to a few rows only.
Some of the benefits of using Alexa are:
It can help identify popular and growing websites to consider for potential partnerships or collaborations.
It can also be used to monitor the competition and see how they are performing and get an idea of what marketing strategies they are employing.
Alexa offers both a global and regional perspective which is beneficial for businesses that have a worldwide or local presence and want to compare web traffic statistics.
It is a free service, easy to use, and requires no registration.
Also Read:
Frequently Asked Questions (FAQ's)
Why should you switch from Similarweb?
There is no problem with the Similarweb solution as far as the features and tools are concerned. However, the subscription charges are way too high for entry-level or small-scale businesses in the market. These extraordinary features really don't justify the worth of spending that much money. That's why switching elsewhere to different options will surely save a lot of bucks and provide you essential services too.
Which is the best alternative to Similarweb for beginners?
There can be many alternatives of the Similarweb toolkit ideally for beginners depending upon the requirements and strict budget. I have listed all the suitable alternatives with their respective pricing plans. However, SEMrush will be my favorite pick as it offers the best price for the best features.
Is there a free version of Similarweb?
The ultimate competitive digital intelligence tool for a 360-degree view of your industry and competitors has just launched! Try it now, totally free. With Similarweb you can get access not only to website traffic but also key metrics like engagement rate; rankings by keywords or country location.; as well as where the majority of visitors are coming from on those specific sites..
Is Similarweb legal?
They will only use your Personal Information when we have a legal basis for doing so.
Who are SEMRush competitors?
Top competitors of Semrush are Hootsuite, Sprout Social and Ahrefs. However, there is one more company that stands out in particular; Zoho Marketing Hub, which has been ranked as the fourth most popular social media marketing tool on earth!
How accurate is Similarweb?
On average, the most accurate tool analyzed was Similarweb. It overestimated organic traffic by 1% and total visit numbers by 17%, estimating 15.7m visits for 25 websites compared to 13 438 895 actuals! Similarly, in contrast with all other tools' underestimates; this is one exception where you'll see an increase from estimates being too high- there are actually more people visiting these pages than what their analytics show (1 -2%).
How much does Similarweb cost?
The price of Similarweb Pro varies depending on the plan you choose, with a monthly subscription costing between $199 and $799.
Which is better Ahrefs vs. Semrush?
The number of reports you can pull per day is one thing that sets SEMRUSH apart from Ahrefs. With more than just SEO and PPC data, it's a better option for those who want to look at their website traffic analytics in depth without any proration or restrictions - flows going forward
What is better SEMrush or Similarweb?
Although the accuracy of Similarweb and SEMrush are similar, there were some differences in their results. For medium-sized websites like my own site (medium size website), it was found that whichever tool I used to look at data would give me more accurate information than another one when analyzing 1 million sessions or more; however, this may not always be true for smaller sites with fewer visits per day because they don't have enough history on which you can rely as well.
Is Alexa Ranking accurate?
Alexa rankings are a good way to compare one website's performance with others. Still, the Alexa statistics may not necessarily be accurate in absolute terms.
Is Moz better than Ahrefs?
Moz is a great SEO tool for individuals and small businesses as it offers the most comprehensive set of features at competitive prices. Ahrefs has content marketing capabilities that make it better than many more advanced services, but SEMrush also provides this feature; so you get all three in one place with a single subscription!
Which is better Alexa or Similarweb?
Overall, I find that Similarweb has more detailed data collection and review methods. This makes them a much better source for accuracy when compared to Alexa which only provides rankings but no other information about how this was calculated or what influences their numbers (ie: popularity).
Conclusion- Best Similarweb Alternative
I really hope subscribing to any of the above tools in the list of Similarweb alternatives will definitely make a worth for your business. All these tools offer tremendous features over one another and are in a minimal budget range.
Moreover, all these digital marketing tools are pretty much popular among users from all around the globe. These 6 are my favorite picks in place of the Similarweb toolkit.
Start a Free Trial of SEMrush Now