Pros/Advantages
Extensive functionalities for web crawling
Easy-to-use interface  
Customization available
Affordable pricing
Excellent tech support
Abundant user resources available
Cons
Not many third-party integrations
Are you looking for a simple, effective, and user-friendly solution to scrape data at scale and grow your business?
Crawlbase is a one-stop solution for you. They offer proxy power to get work done like a pro. Read my honest Crawlbase review to understand its features and pricing information.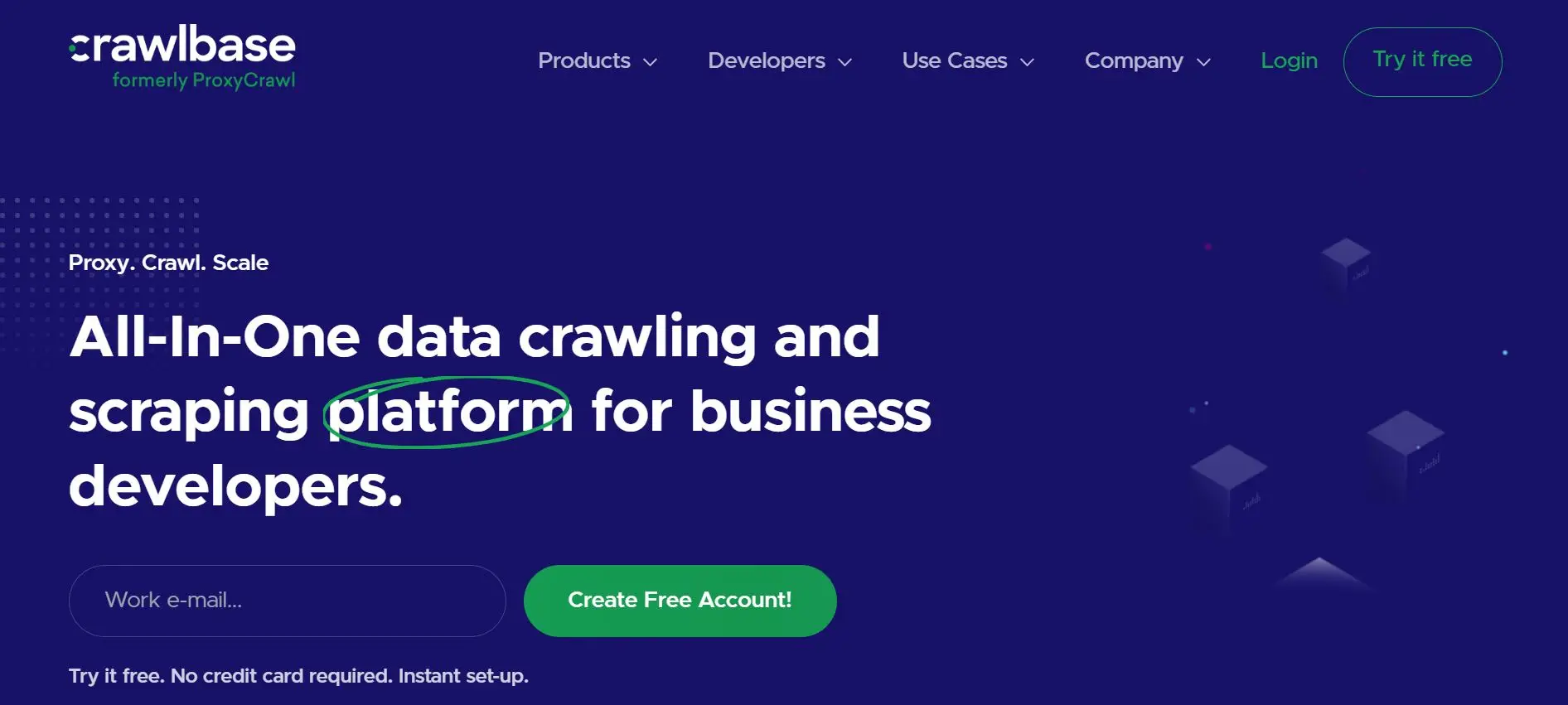 Crawlbase is a data crawling and scraping provider that prioritizes being anonymous while scraping data and easily bypassing restrictions or pesky bans. With their services, you can focus on your data mining projects without worrying about proxies around the world.
No matter which website you want to scrape data from, Crawlbase API works for all. Amazon, LinkedIn, glassdoor, and Facebook are just a few names that come to my mind. But hey, there's more.
​Why Choose Crawlbase?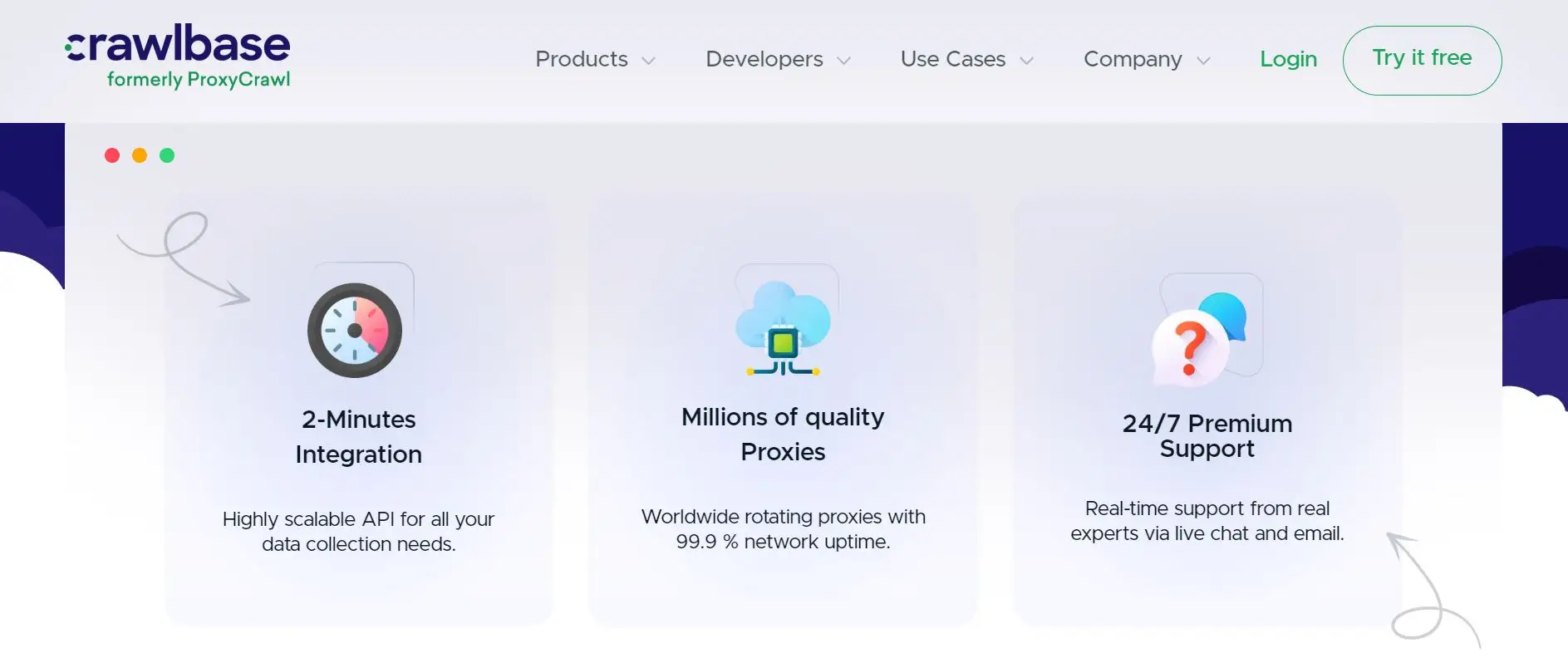 ☑️ Quality
Crawlbase provides a remarkable solution for web scraping needs. The platform's vast network of high-quality proxies and rotating IPs ensures seamless data extraction from diverse global locations.
⚡ Uptime
The 99.9% network uptime is truly impressive and guarantees a reliable scraping experience.
👨‍💻 User-Interface
You can benefit from its straightforward interface and step-by-step instructions that make the entire process user-friendly, regardless of your level of experience in web scraping.
⚙️ Integration
With its 2-minute Integration feature, Crawlbase makes the onboarding process a breeze, allowing users to quickly and effortlessly integrate the platform into their existing workflows.
🔗 API
The highly scalable crawler API caters to a wide range of data collection needs, whether you're a small-scale data analyst or a large enterprise seeking comprehensive web scraping solutions.
It ensures seamless and efficient data extraction, providing you with the power and flexibility to gather valuable information from the web like a pro.
📌 Customization
This proxy provider, right here, takes the lead among web scraping platforms by offering a range of fantastic features that cater to your unique needs.
With this tool, you have the freedom to customize your data extraction processes to get precisely the information you want.
You're in control of your scraping journey from handpicking specific data fields to tailoring data delivery formats.
🤑 Affordability
And here's the best part – Crawlbase's affordability sets it apart from similar tools.
You get powerful web scraping capabilities without breaking the bank.
It's the perfect fit for individuals and businesses looking for cost-effective data solutions.
💬 Tech Support
Worried about getting stuck along the way? Fear not! Crawlbase boasts excellent tech support to assist you whenever you need it.
Their responsive and knowledgeable team is there to answer your questions and help you breeze through your scraping struggles.
📑 User Resources
Feeling overwhelmed? Don't worry. Crawlbase has got your back with an abundance of user resources. You'll find comprehensive documentation, tutorials, and guides catering to all expertise levels.
Whether you're a beginner or an experienced pro, these resources will empower you to get the most out of the platform.
📊 Bandwidth Limits
With Crawlbase, you'll never have to worry about bandwidth limits holding you back. Say goodbye to restrictions and extract as much web data as you need without any constraints.
Whether you have large-scale data projects or continuous scraping requirements, Crawlbase's unlimited bandwidth empowers you to gather valuable insights and information from the web without interruptions.
Gone are the days of being limited by data quotas or facing additional charges for exceeding usage limits. Crawlbase ensures that you have the freedom to access and extract data as much as your heart desires.
Focus on your data-driven projects, scale your operations, and unleash the full potential of web scraping, all without worrying about bandwidth limitations.
The limitless bandwidth provided by Crawlbase is a game-changer for researchers, data analysts, and businesses alike.
No matter the size or complexity of your data collection needs, Crawlbase's no bandwidth limit approach guarantees a seamless and efficient scraping experience.
⭐ Solutions
So, whether you're extracting data for personal projects or business needs, Crawlbase is here for you with its user-friendly customization, pocket-friendly pricing, top-notch support, and a wealth of user resources.
It's the go-to solution for easily turning web data into valuable insights. I highly recommend this for those seeking efficient and reliable web scraping services with top-notch performance.
Crawlbase Products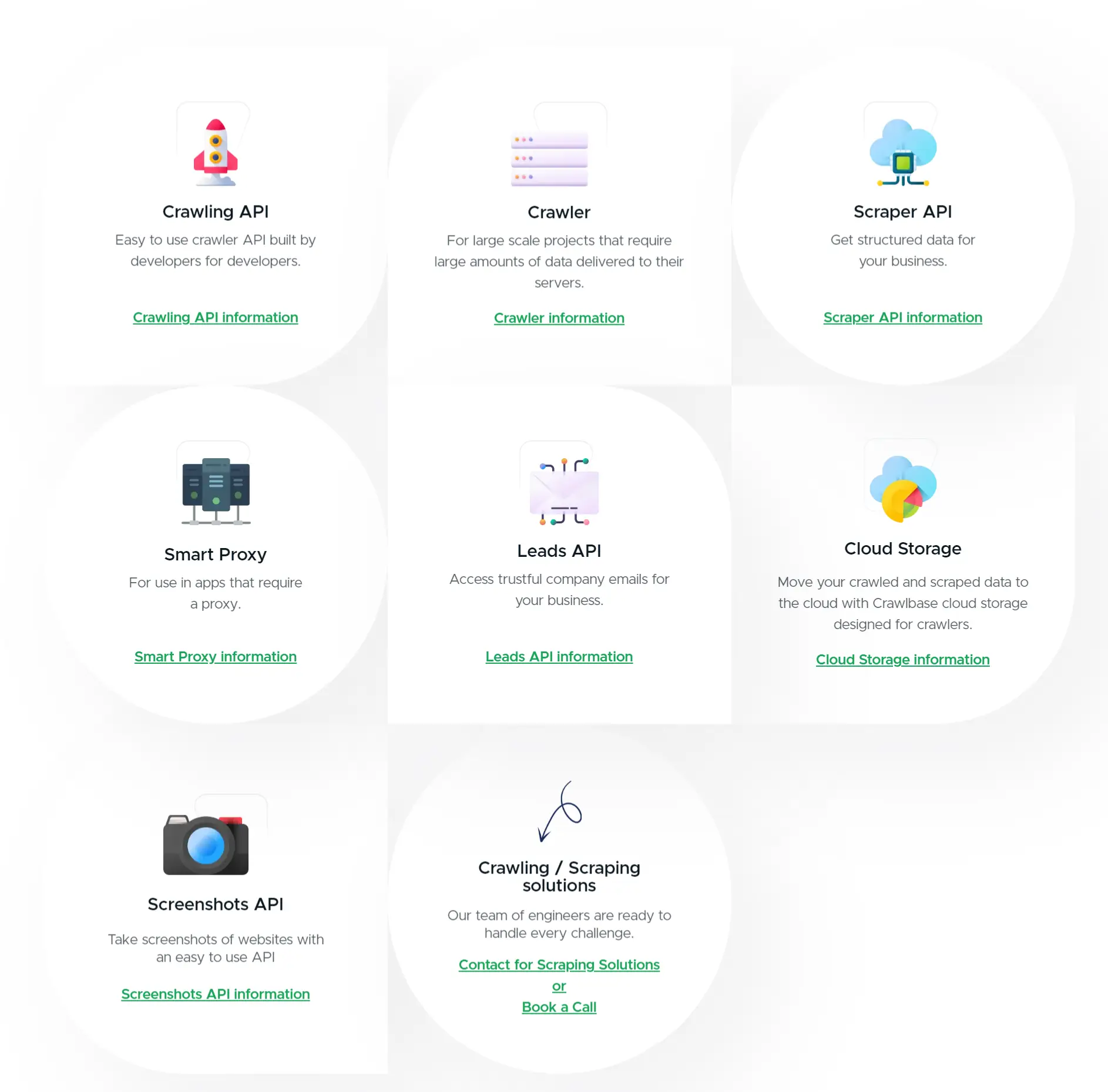 Let's explore the diverse lineup of Crawlbase products:
✅ Crawling API: The Crawlbase Crawling API offers a user-friendly interface that allows you to fetch the data you need from various websites effortlessly.
Whether you're a newbie or a coding geek, this API is here to save the day by making data extraction a breeze.
✅ Crawler: Working on large-scale projects with an insatiable appetite for data? The Crawler from Crawlbase is your ultimate ally.
Designed to accommodate extensive data demands, this robust tool searches the web extensively, gathering and accumulating vast quantities of crucial information. Brace yourself to enhance your projects with exceptional efficiency and swiftness.
✅ Scraper API: Want to make sense of the data you've gathered? Look no further than the Crawlbase Scraper API! This nifty tool transforms unstructured data into a well-organized format, perfect for your business needs.
No more juggling with messy data; plug into the Scraper API and unlock the true potential of your information.
✅ Screenshots API: Sometimes words aren't enough, and that's where the Crawlbase Screenshots API steps in!
Capture captivating snapshots of websites as images with ease. Whether you're building a portfolio, monitoring website changes, or just satisfying your visual cravings, this API has your back with a click and a snap.
✅ Smart Proxy: This is the one-stop solution when your apps require secure and reliable proxy services. Powered by AI, these proxies adapt to changing scenarios, ensuring smooth and uninterrupted data access for your applications.
✅ Storage API: Safeguard your precious crawled and scraped data with the Crawlbase Storage API. No more fretting over storage space or data loss!
This cloud-based storage solution offers a secure and scalable environment to store and access your valuable information whenever you need it.
✅ Leads API: Need to expand your business network and find trustworthy contacts? The Crawlbase Leads API has your back!
Gain access to a wealth of trustful company emails, giving your business the edge it needs to establish meaningful connections and grow exponentially.
🔥 Crawlbase Features 🔥

Crawlbase has many remarkable features that you might want to take a glance at–
💽 Data Collection Methods:
Extracting email addresses
Gathering pricing information
Identifying IP addresses
Collecting phone numbers
Extracting data from websites
Gathering information from documents
Extracting data from images
👍 User-Friendly Interface:
Crawlbase makes life easier with its user-friendly approach, backed by helpful alerts and dependable customer support. Whether you're new to web scraping or a company looking for third-party services, it's a perfect fit for everyone.
Once you sign up and activate your account, you'll be guided through a simple interface with easy-to-follow instructions.
✔️ Versatility:
Crawlbase ensures seamless data mining projects by taking care of proxies so users can focus on their tasks worry-free. The platform offers website compatibility, making web scraping and data extraction hassle-free across all websites.
🔥 API Authentication:
Crawlbase ensures smooth website compatibility with its quick crawling services. Thanks to its simple pre-installed API and instant validation, users can crawl the web in just minutes, saving developers considerable time.
How To Get Started At Crawlbase For Free?
Step 1: Visit the Crawlbase official site and click on the "Try It Free" tab in the top right corner.

Step 2: Next, proceed with the signup using Google or GitHub account. Alternatively, you can enter any email address and password for registration.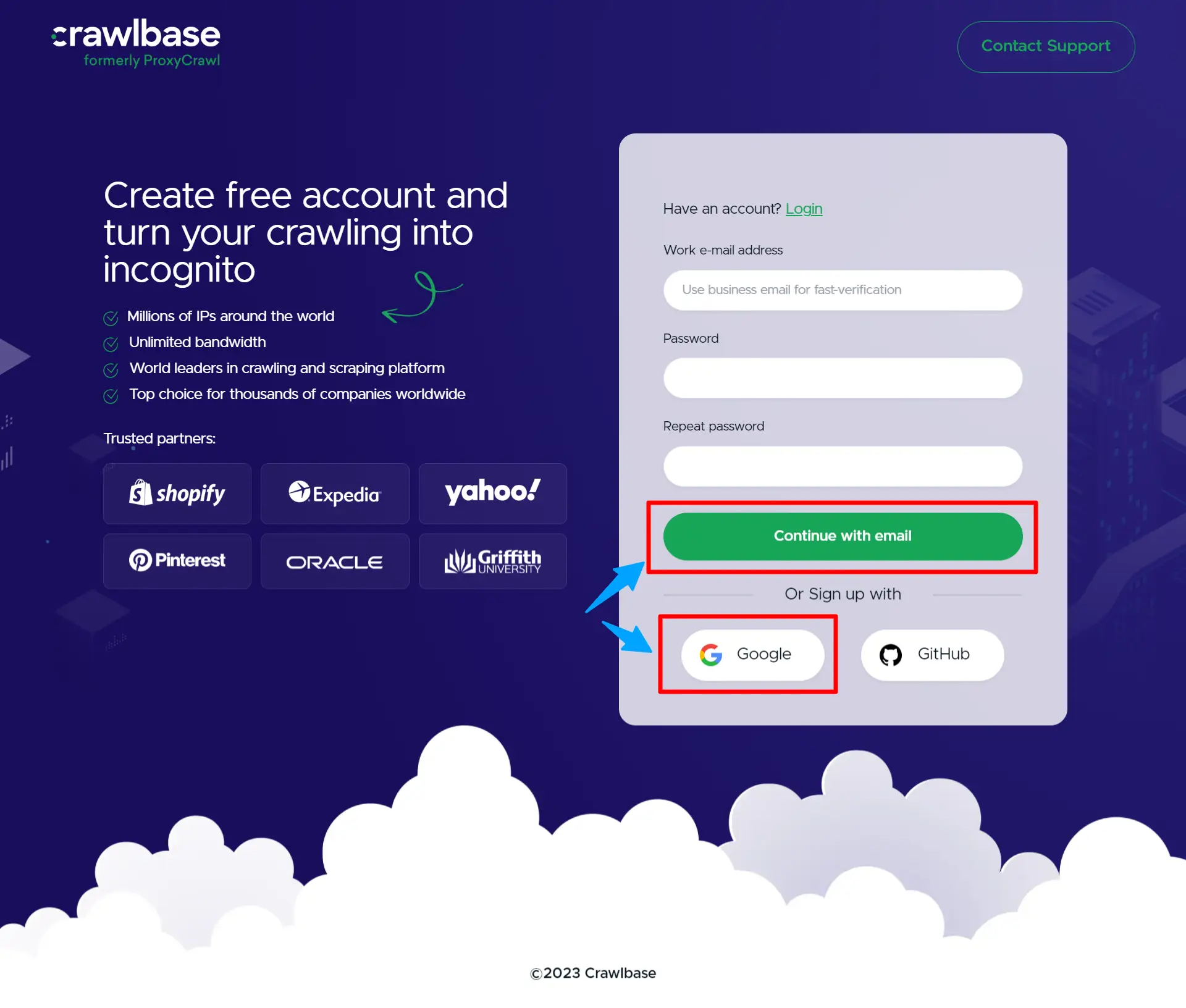 Step 3: To assure that you are a human, Crawlbase will ask you to verify your account.
Step 4: You are now logged into your Crawlbase dashboard for free. Choose any Crawlbase product to start for free.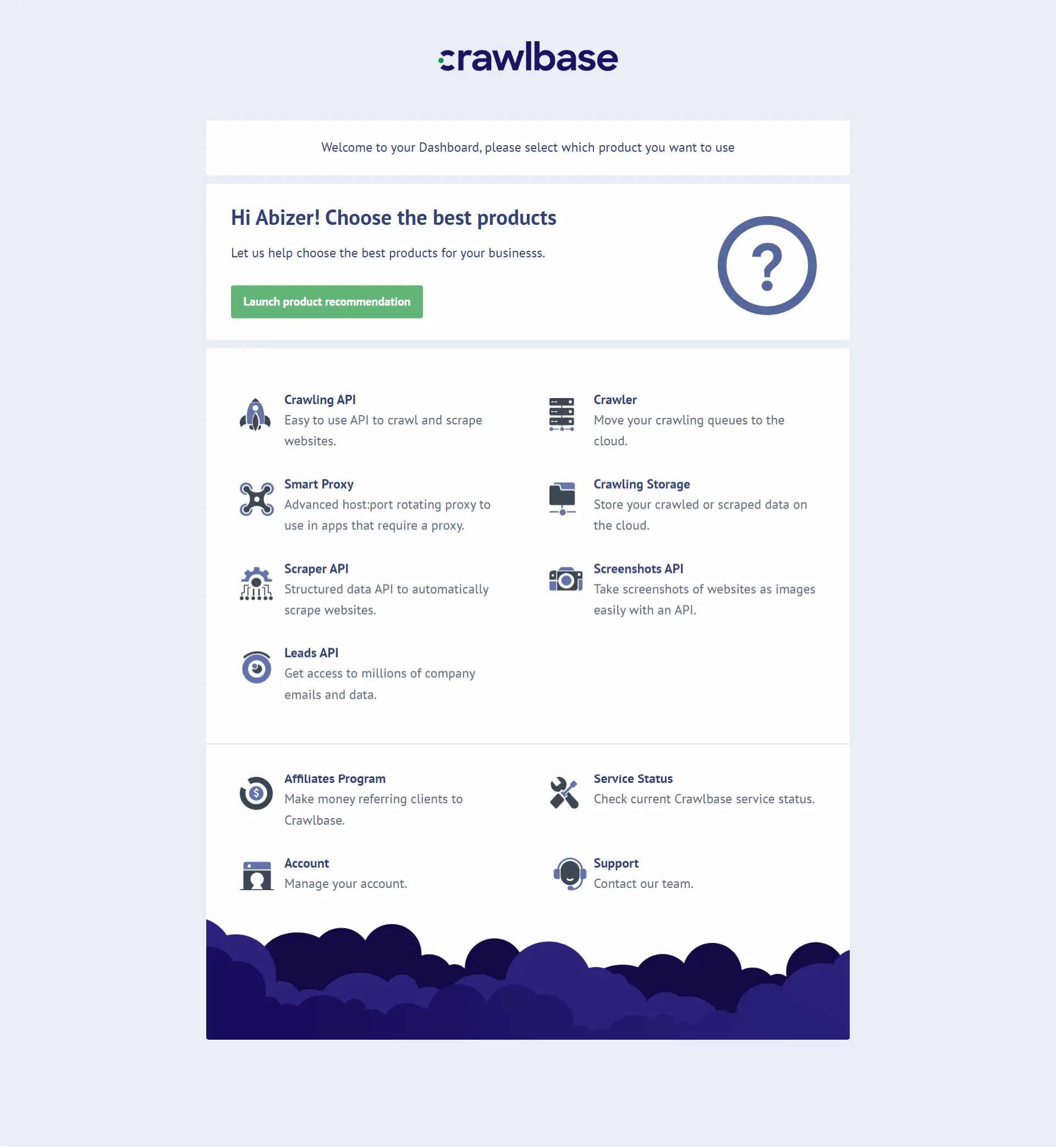 Step 5: You can choose the Launch Product Recommendation option or choose a product on your own. Here, I have chosen the Smart Proxy option.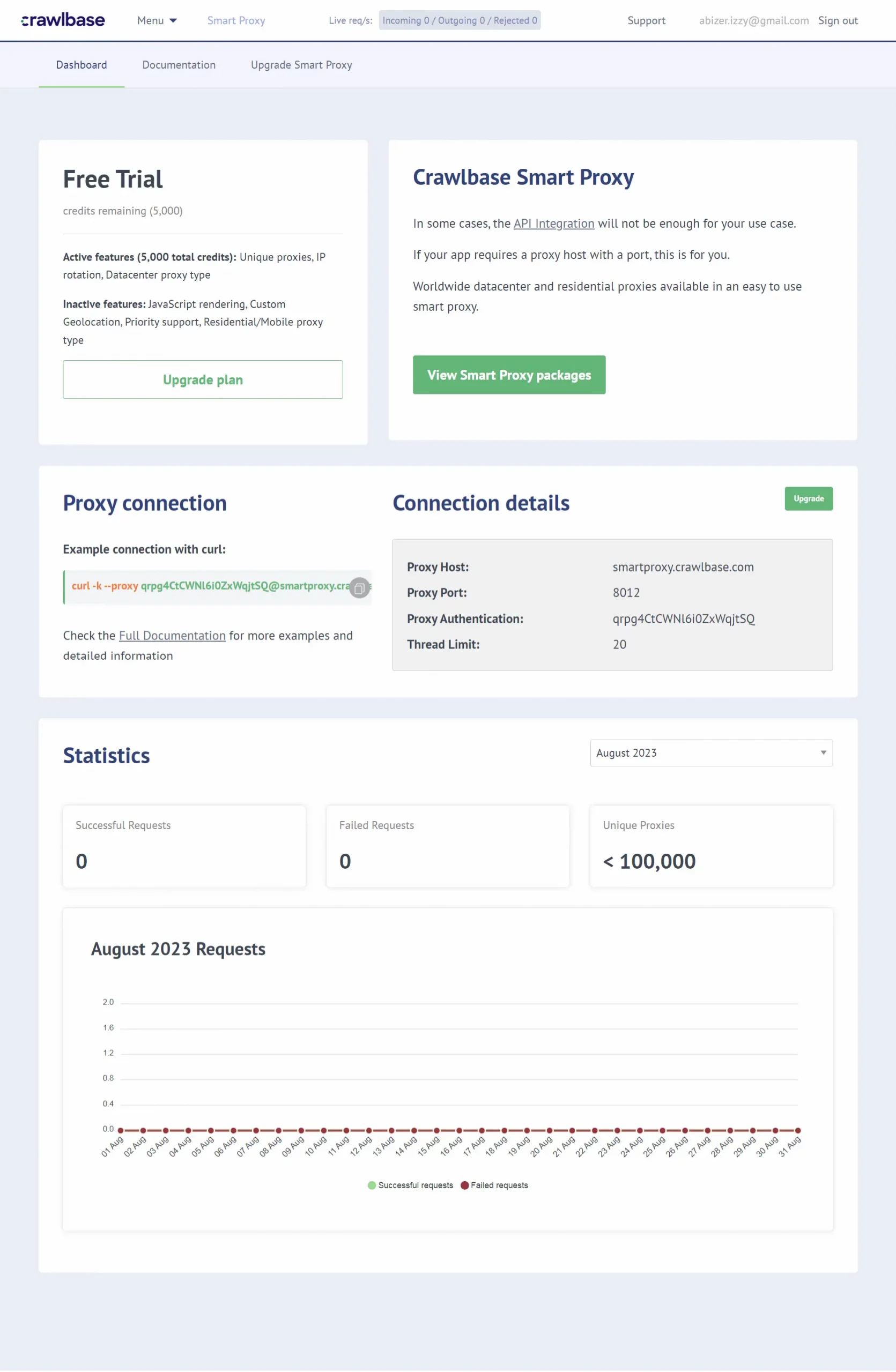 You can find Smart Proxy packages and also the connection settings.
Similarly, you can choose other Crawlbase products.
💲 Crawlbase Pricing Of Smart Proxy 💲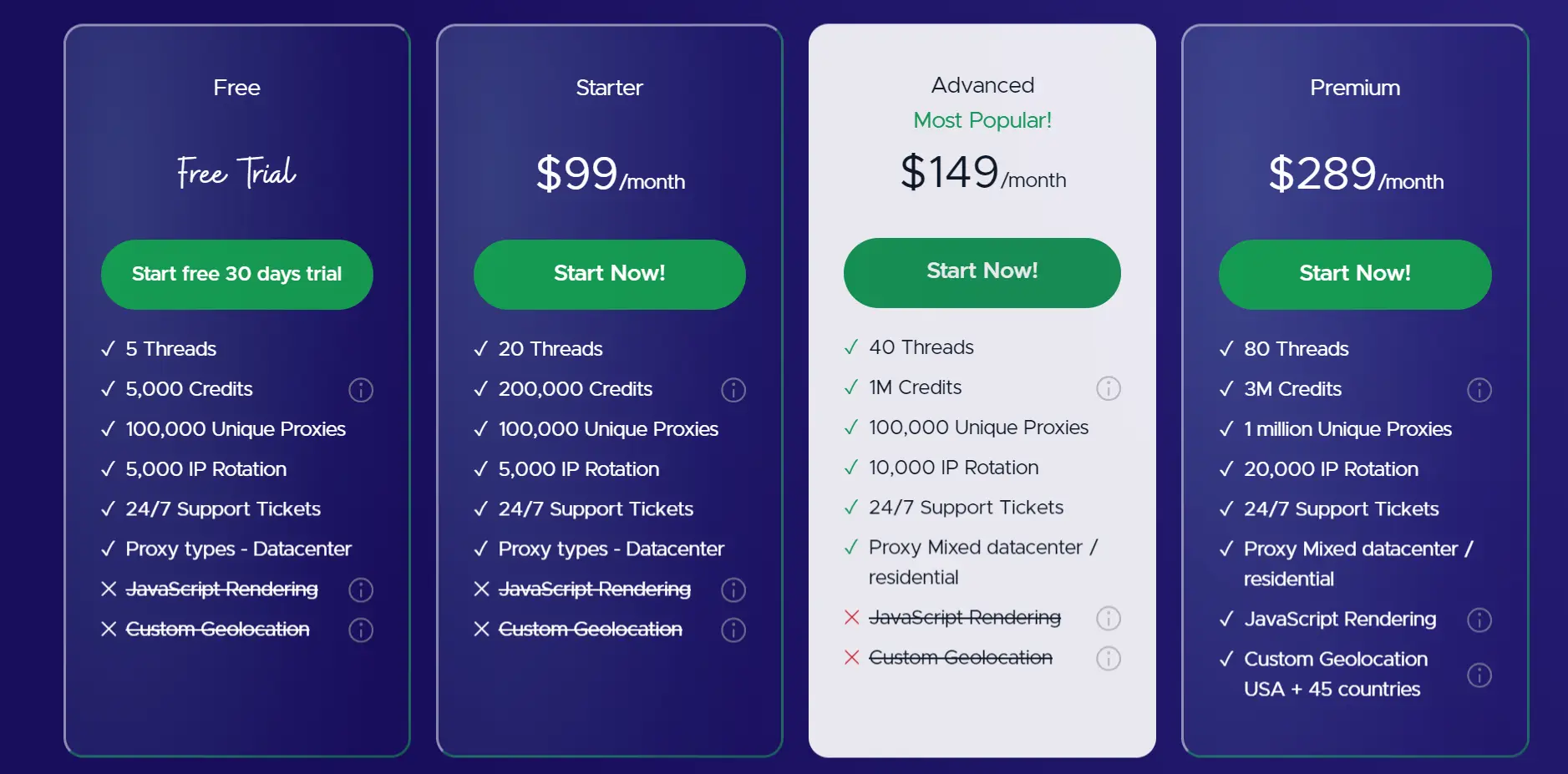 Crawlbase offers a 30-day free trial with no credit card required. The best part is that the free trial also offers around-the-clock support via tickets. So after registering a free account, you can test out the features and contact the support team for any help.
Related Links:
FAQs
Who can use Crawlbase?
Crawlbase is not only used by Fortune 500 companies but also small and mid-size businesses. Crawlbase helps businesses extract valuable data by bypassing IP blocks & Captchas.
Is Crawlbase free?
Crawlbase does not provide a free lifetime plan. But you can start with Crawlbase's 30-day free trial with no credit card required. The free trial does have some limitations but you still get ticket support for any technical issues to be resolved.
Does Crawlbase have a good support?
Crawlbase provides 24/7 premium support from real people via email and chat. There is no phone support which is a drawback of this tool but real-time chat support is quick.
Conclusion of Crawlbase review
Scraping data from a reliable source can be a real snooze-fest, right?
Will Crawlbase do the task?
While researching, it is crucial to consider various factors such as the features, pros and cons, pricing, and more.
My comprehensive and honest review highlights why Crawlbase is a worthwhile investing option.