Google proxies are the best proxy servers with Google compatibility. Google is not an ordinary website that can be accessed with any proxy. It can identify proxy servers and will smell you out.
Serious about being a Google proxy provider, a proxy provider must ensure that its proxies are highly anonymous and elite – leaving no trace to be discovered as proxies.
🔥 Featured
🔥 Bright Data
Bright Data's residential IP network has more than 72 million IP addresses, offering the best proxies for scraping Google.

❤️ 72M+ real device IPs
📍 195+ locations
🛡️ Full anonymity and security
⚙️ Unlimited connections and threads
💰 Pay As You Go option
In addition to being invisible, the proxy must be able to visit google.com without blocks. It must support proxies with a high rate of IP address rotation that changes their IP address after each request.
This guarantees that no request limit is surpassed and that Google does not detect an IP footprint. In addition, geo-targeting is another characteristic you should look for in a Google proxy service provider.
Google may be the only proponent of geotargeting. Google's results are dynamic and vary based on location. A supplier must serve many countries, perhaps all of those Google offers.
List of 8 Best Google Proxies for Google Blocks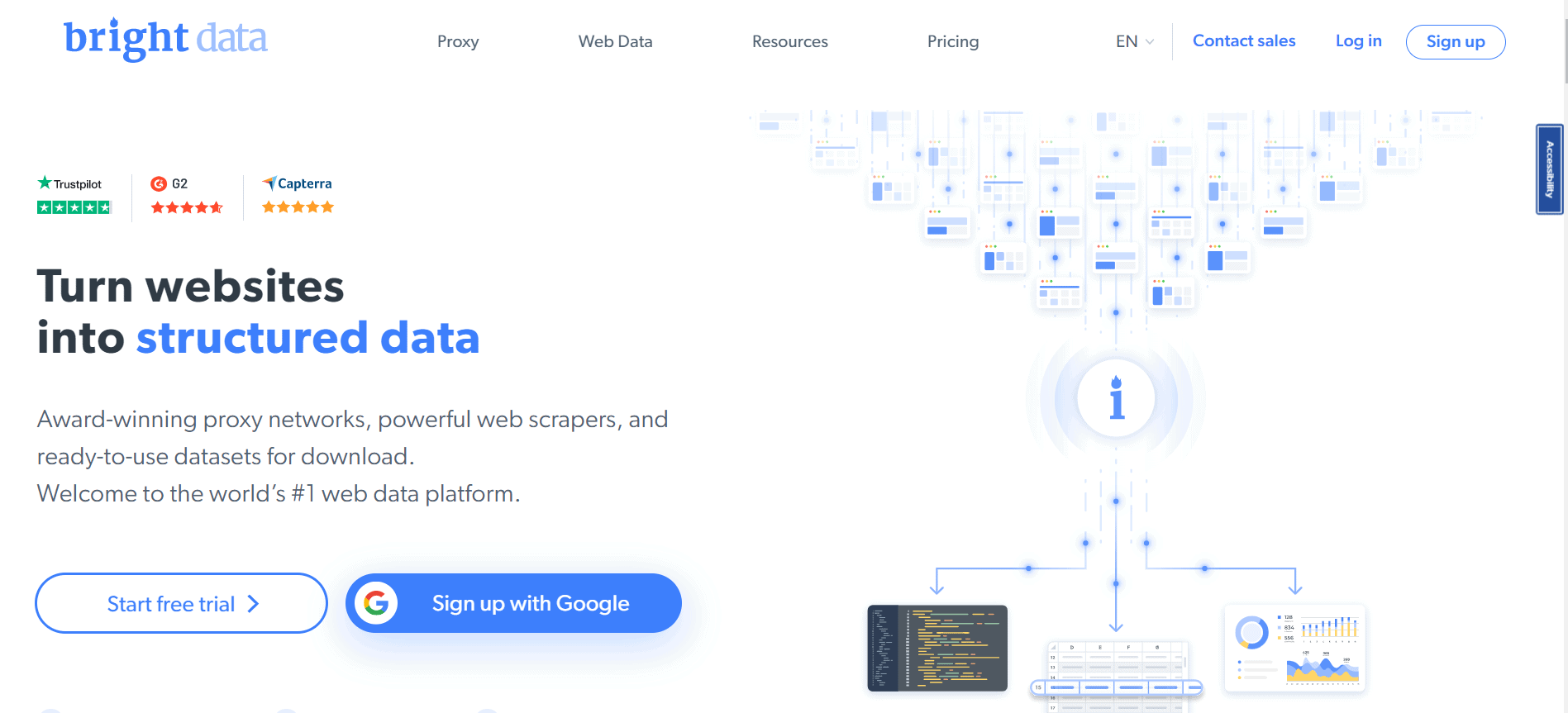 Bright Data's residential IP network has more than 72 million IP addresses, making it the most extensive residential IP network. The proxy network contains real-peer IP addresses in every nation on Earth.
The proxy service includes a sophisticated residential proxy that supports HTTP, HTTPS, and SOCKS5 protocols.
Bright Data's proxies are patent-protected and 100% compliant to guarantee that they are secure and ethical. Bright Data SDK is the source of the company's Residential IP addresses.
App owners may generate extra revenue by integrating the Software Development Kit into their apps. If app users are opt-in, their user experience is enhanced.
The Residential proxy is appropriate for scraping Google data without being banned. Additionally, they provide a "pay as you go" option, so you don't waste money when your bandwidth requirements are small.
Bright Data Pros and Cons:
Pros
Multiple use cases
24/7 customer support
Dedicated account managers
Highly anonymous proxies
Great scraping performance
Great uptime guarantee
Multiple third-party integrations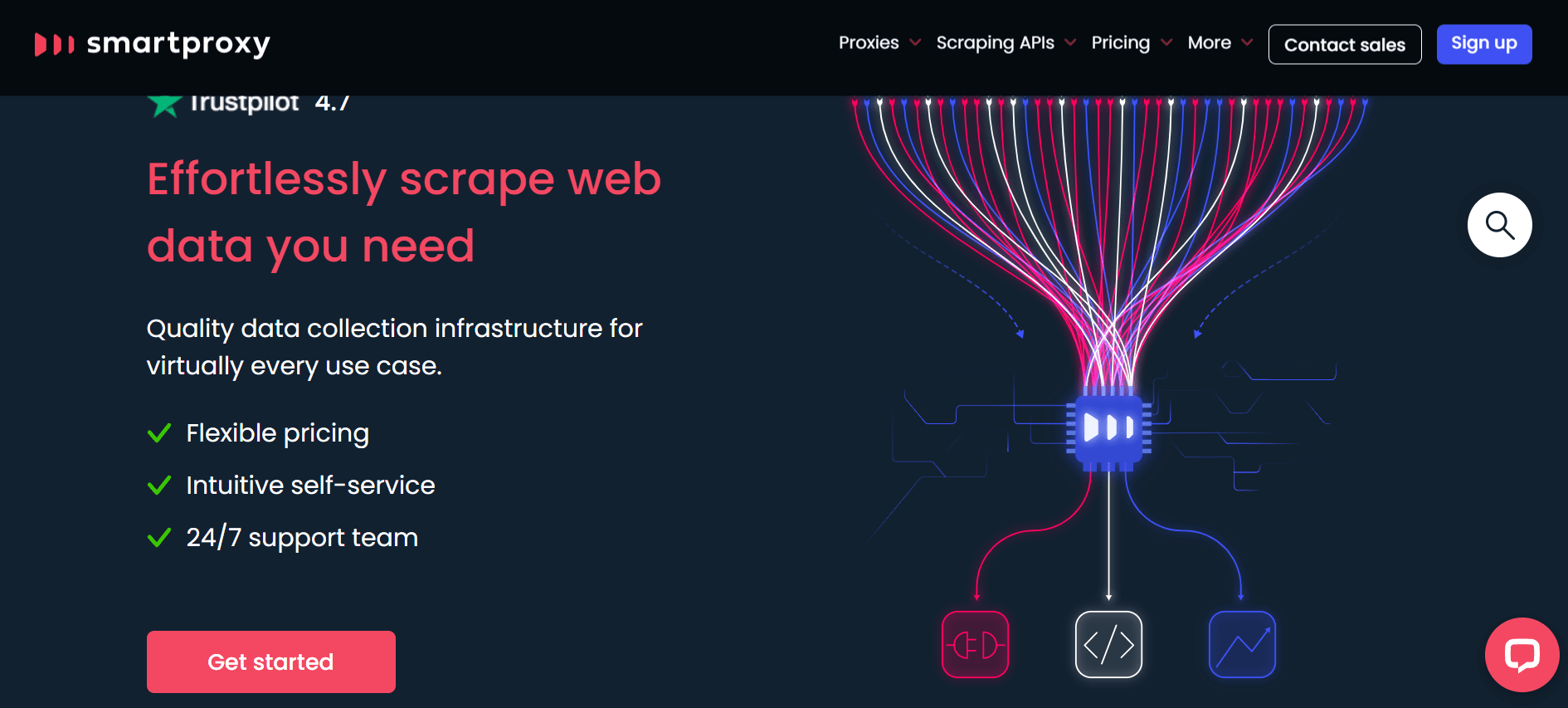 Smartproxy's network has 40 million residential IP addresses. The proxies span about 195 nations worldwide. Both HTTP and HTTPS proxies exist on the Residential proxy network.
It does not need that proxy lists to be imported. The proxies are automatically allocated to you. They enable you to spread your proxies based on your tasks. You may submit as many requests as you like without being banned.
The proxies are optimized for Google scraping since you may submit many queries concurrently. Residential proxies can assist you in avoiding Captchas when accessing the web. Google Ads may be verified for free to prevent fraud.
Smartproxy Pros and Cons:
Pros
Great customer support
Good session control
Less response time
High proxy connection speeds
Great scraping performance
Very easy to use
Cons
Limited geo-targeting options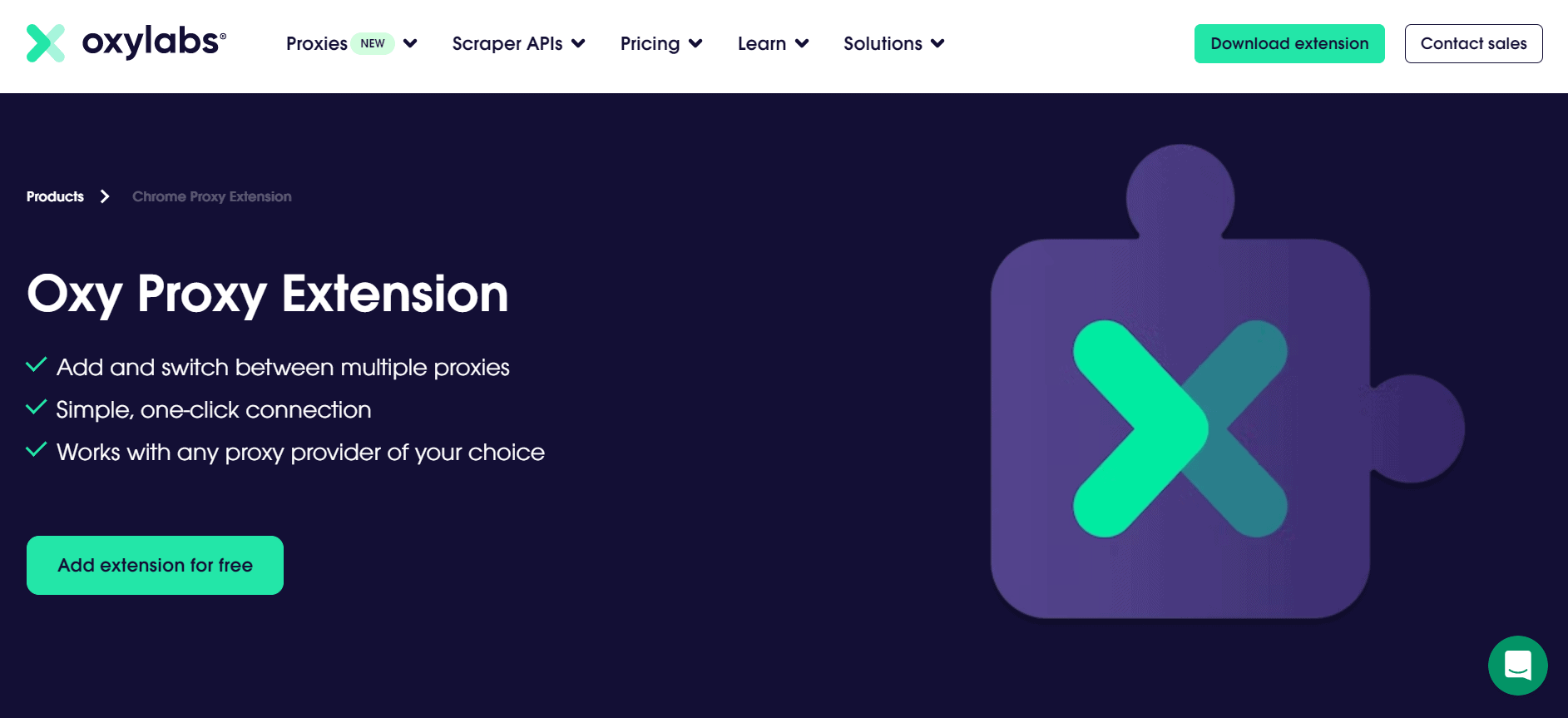 Oxylabs is my top choice for Google proxies and with its Chrome proxy extension, you can easily switch between multiple proxies with one click. You can add the Oxylabs Chrome extension for free, but to use any of its proxies, you need to subscribe to its plan.
The best thing about Oxylabs Chrome extension is that it works with any proxy provider of your choice. This saves you time by helping you manage all the resources under one extension.
One more advantage of the Oxylabs Chrome extension is that without changing your username, it allows you to change Oxylab's residential proxy session.
Oxylabs Pros and Cons:
Pros
Avoid IP bans and Google blocks.
Add an unlimited number of proxies.
Supports both HTTPS and SOCKS5 proxies.
Free Chrome browser extension.
One-click resource management.
Cons
Free trial only for companies.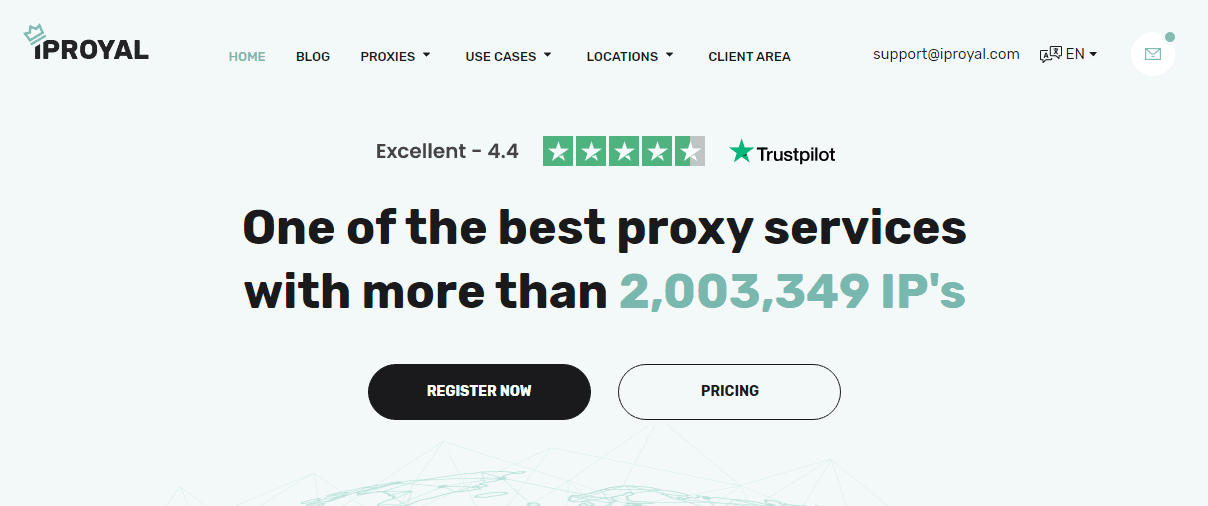 IPRoyal is a world-class Google proxies provider for Google Blocks. It is trusted by TrustPilot and rated 4.4 out of 5 for its exceptional services.
The proxies are 100% real and genuine ensuring you never get detected or blocked by any website.
You can pick between sticky or rotating proxies offering 99.9% uptime from a global pool of IPs. When you choose datacenter proxies, you experience unlimited bandwidth, blazing speeds, and easy integration.
IPRoyal supports both HTTPS and SOCKS5 for anonymous data extraction and crawling.
IPRoyal Pros and Cons:
Pros
100% genuine and ethical.
Blazing-fast speed.
Unlimited bandwidth.
A vast pool of IPS.
Support for HTTPS and SOCKS5.
Dedicated 4G mobile proxies.
GeoSurf is among the first proxy service providers. The business was founded in 2009. It includes about 2.5 million IP addresses that span every nation and 1700 cities worldwide. The proxy is easy to implement and use.
It enables either IP authentication or logging in with a username and password. The Proxies are compatible with both HTTP and HTTPS.
The proxy service offers extensions for popular web browsers such as Firefox and Chrome. Therefore, the attachment may change IP addresses and delete cookies.
The firm provides trustworthy IP addresses. They meet your Google scraping requirements. In addition, the GeoSurf dashboard offers comprehensive information for monitoring the data scraping process.
GeoSurf Pros and Cons:
Pros
Unlimited connections
Simple to use dashboard
Coder friendly
No limits
Unlimited bandwidth
Huge IP pool
Cons
Slow email support sometimes.
Proxy-cheap provides residential IP addresses in 127 countries. There are close to 6 million IP addresses on the proxy network. The proxy service supports just the HTTP protocol and is equipped with IPv4 proxies.
The dashboard is simple to use. It may be used to manage proxy servers and choose new IP addresses. It also allows IP whitelisting or login credentials before granting access.
The improved residential IP addresses meet all Google proxy requirements. You may scrape vast data, do market research, and create accounts without restriction.
The proxy provider provides rotating proxies and persistent sessions depending on your demands. The sticky session may run for up to thirty minutes.
Proxy-Cheap Pros and Cons:
Pros
Flexible and cheap pricing plans
Global location coverage
No monthly commitments
Easy to use
It supports IPv6 proxies as well
Cons
Limited geo-targeting options
The Singapore-based proxy company has more than 10 million IP addresses. Their website displays IP addresses from 12 countries, including the United States, Germany, Russia, and Brazil.
They cannot geo-target a city. Infatica supports SOCKS5 proxy connections. Additionally, it supports HTTP and HTTPS. Residential IP addresses are renewed every sixty minutes.
After 10 minutes, you may manually renew the proxies. Real residential IP addresses ensure you have the necessary anonymity to steal data from Google using bots.
You may get information from the website of your competition without being prohibited.
Infatica Pros and Cons:
Pros
Good customer support
Easy to use
Private and secure proxies
Great proxy speeds
Great scraping performance
Good session control
Huge IP pool size
Cons
Developer API is not available.
Soax's IP addresses are pristine and often changed. The pool has around 8,500,000 IP addresses. Users are targeted by nation, city, and service provider.
The proxy dashboard is user-friendly. The dashboard supports authentication methods.
The business provides adaptable proxy packages. You may tailor the proxies to your specifications. They let you choose a nation, connection, time frame, and many threads. Residential proxies are used for SEO monitoring, Ad verification, Data scraping, and market research. These proxies are effective on Google.
Soax Pros and Cons:
Pros
Compatible social media automation
Live customer support
Supports HTTPS and SOCKS5 protocols
Highly secure proxy connections
Flexible pricing plans
Easy-to-use dashboard
Incredible proxy speeds and scraping performance
Huge IP pool size
💡 Importance of SEO Proxies
Most people use SEO proxies to circumvent limitations, but this network offers several advantages. First, it automates its processes using tools and script bots for SEO assessments.
A bot executes audits more quickly and efficiently than other approaches. However, some websites flag bots since it slows down their systems and increases operating costs.
Do not be shocked if you get a barrier while attempting to utilize a bot on a website. Moz, Majestic, Semrush, and Ahrefs use SEO proxies to circumvent size restrictions and prevent censorship.
You may study these SEO techniques in your spare time since you may need them shortly. Some of the exercises for which you will need the proxy are detailed in this section.
Appropriate Proxies for SEO Tasks ✔️:
Regarding SEO proxies, you must be cautious with your proxy types. While your rivals may not have a stringent policy on proxies and bots, Google has a zero-tolerance approach to these practices.
I am sure you have experienced Google requiring visitors to utilize Captchas despite not being a proxy or bot.
The worst-case situation is when a single device makes several requests in a short amount of time. To circumvent this, employ proxies that help you avoid detection and limit the number of Captchas to a minimum.
Proxies Help to Get More CTR 👉:
In SEO, obtaining a high click-through rate (CTR) is somewhat dubious. Google's search relevancy increases with the number of times a website is clicked on by Internet visitors.
To enhance CTR, some professionals deploy traffic bots to replicate their Google listings.
If there are no proxies, the bot will only generate clicks from a single IP address, which has no bearing on your objective. You must have CTR from many IPs or devices to improve your rating.
Proxies Are Effective for SEO Site Audit/ Crawl Tool ⚙️:
Another significant reason your page needs SEO proxies is to assure the accuracy of your website's audit report.
Typically, SEO Crawl tools such as Website Auditor, Screaming Frog, and Sitebulb assist in organizing the essential data required to create an audit report. In addition, several SEO tools rely on proxies for optimal performance.
Proxies Are for Scraping Search Engines 🔍:
SEO Audits demand frequent Google crawling. Consequently, it is essential to understand your rivals' search engine rankings. Always be aware of your regional competitor's standing to track your growth.
Google has a strict policy against bots and Captchas. Therefore you must utilize proxies to seem to originate from a different location. Note that Google keyword recommendations also need scraping.
Proxies Research Detailed Information About Your Competitors 🥊:
If you don't know how your rivals' websites are doing, you may not know where to focus your efforts. To surpass your competition, you must know the origin of backlinks, outbound links, keyword categories, and how they publish material.
Even though automated software can handle all of these duties for you, your rivals may find you snooping on their data.
Therefore, it is recommended to employ proxies for these activities. Additionally, it aids in exceeding the standard access boundaries.
Proxies Help in SEO Monitoring & Keyword Tracking 📊:
Keyword research is the most vital component of SEO audits. You merely need to submit information requests to search engines to get research data. Use SEO software to watch specific keywords to track data, as proxies efficiently monitor SEO.
FAQs
Does Google proxy servers offer a free trial?
Yes, you do get a free trial if you register as a company. If you register as an individual, you get a 3-day money-back guarantee.
Can I use free proxy in Chrome?
Yes, all most all of the Google proxy servers provide a free Chrome extension. Simply download and install the Chrome extension and use proxies on the go.
Conclusion
Google is vital to the Internet marketing strategies of the majority of businesses. It enables you to locate clients who are actively seeking you out. Therefore, Google is the place to start if you want to market your goods and services.
Google proxies provide a secure and efficient search experience while a free proxy list may not help you out in scraping Google. They enable the scraping of massive quantities of data from websites or search results without being restricted.