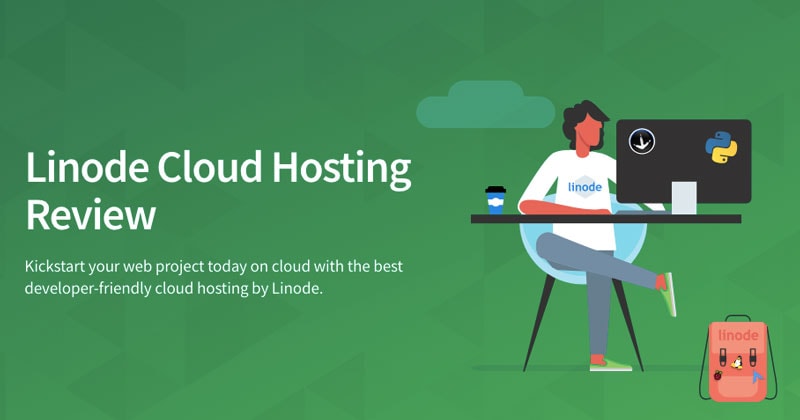 Linode is a well-known cloud hosting provider and anyone who ever wanted to host a website on a cloud VPS server had surely heard the name of this company. It was established in the year 2003 and has become a multinational organization with clients in more than 131 countries.
It has made a name by specializing in VPS hosting and cloud options and is also growing to include cloud hosting too.
In this Linode Review, I want to discuss more my experience of deploying servers, managing them, and overseeing their performance on Linode Cloud servers.
I tried Linode to host WordPress using almost every stack possible. Sometimes for clients and sometimes for testing. I will later reveal the best-performing server stack to host your WordPress Site.
About Linode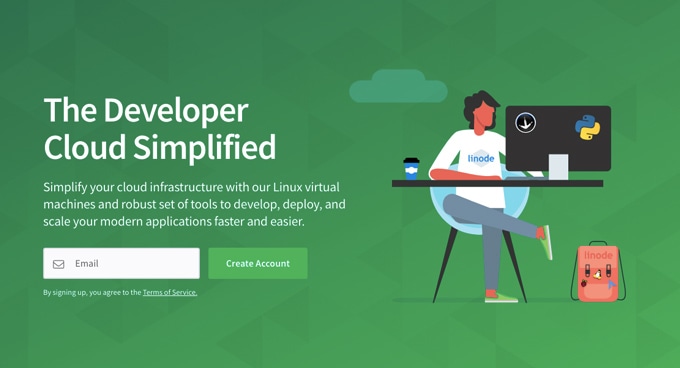 Linode VPS host provides for the developers so that the staff is updated with the latest development and features. Linode is a highly-graded VPS and cloud provider which comes at a great price. Linode is yet another close alternative to DigitalOcean and Amazon web services and has very competitive pricing plans to attract your attention.
Let us see and learn more about Linode.
The Background and story of Linode?
Linode is an established and popular VPS hosting services provider. Linode staff has professionals and experts led by Christopher S. Aker who are well-versed and knowledgeable in computers and programming.
At the time of its launch in 2003, Linode was already many steps ahead of the time as it was offering virtualized hosting and was the first to introduce cloud computing. Gradually, it became the leader in the industry of cloud hosting.
I was an 8 yo kid at the time when Linode was launched. Guess what? Linode was 3 years old when Amazon launched Amazon web services.
Linode's cloud hosting solutions are fast, simple, and dependable. They have 11 data centers across the globe to provide continuous and unparalleled speed and power to the users. The data centers are in Dallas, Atlanta, Sydney, Singapore, London, Tokyo, Frankfurt, Mumbai, Toronto, Newark, and Fremont.
Linode also offers GPU plans and One-Click Apps which can be installed on the servers with the least effort. It also has Object Storage, Block Storage, Load Balancers, and a governed Kubernetes solution – Linode Kubernetes Engine.
What Linode Offers?
Linode is an awesome cloud hosting service that focuses on high-performance SSD Linux servers. It has made a mark in providing an innovative approach to security. It has participated in the HackerOne bug bounty program that pays the hackers of white hat to find susceptibilities. Linode does not use industry-specific terms like VPS hosting, shared hosting, etc. to hint at its plans, but those plans are almost the same to VPS hosting.
Linode is a company based out of the USA with a huge experience and customers in more than 130 countries across the globe.
Compute
The compute engine is everything it takes to get a website up and running. In this category, Linode has several products you may choose from and kick-start your next web project.
Nanodes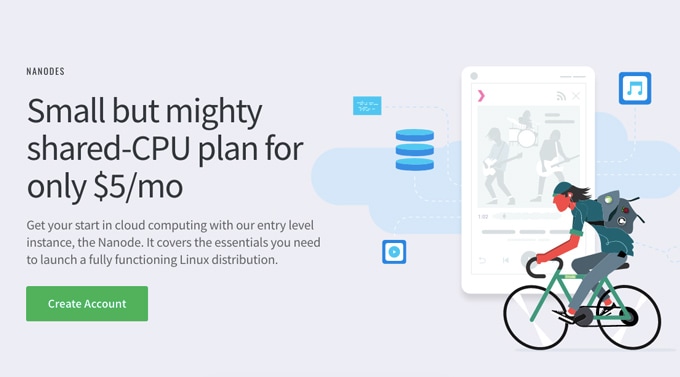 Nanode is there to let you start at the cheapest price with the optimal server resources. A shared CPU, 1GB RAM, and 25GB of SSD storage are all you need to give birth to a cool-looking website or a small eCommerce website. Yes, as you grow your business and revenue, you will be able to upgrade seamlessly.
Start with $5 per month Nanode Now
Standard Linode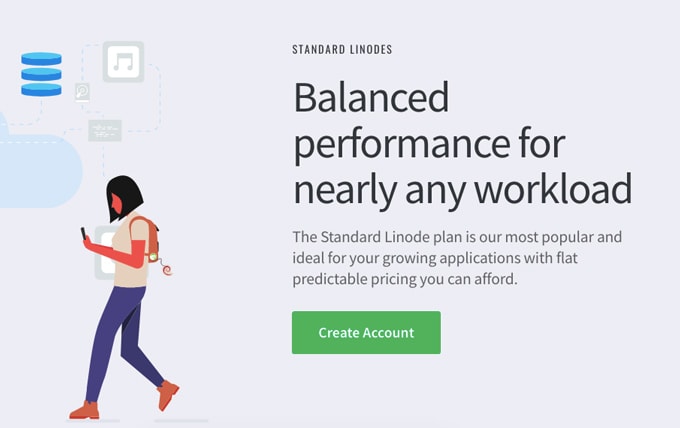 Standard Linode is what you will need when your application needs more resources and grows with time. No matter what you want to host on a standard Linode, it handles almost all types of loads.
Linode provides several standard clouds compute instances, starting at $10.00 per month. It requires you to have a technical understanding of things, but performance-wise it offers the best.
Deploy a standard linode $10/month
High memory s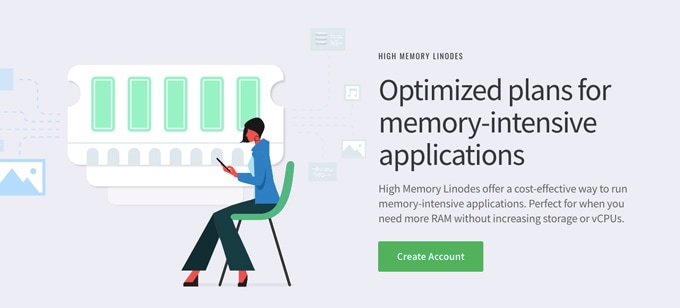 As you see, nanodes and standard linodes are compute engines with a standard amount of resources that increase proportionally when you pay more. At times when you need a different ratio of system memory and SSD storage, you need high-memory linodes.
Apart from the standard plans, Linode also offers 5 upper-tier plans. For a blogger, these plans are superfluous. The cheapest upper-tier plan starts at $60 per month.
Deploy a high-memory linode
Dedicated CPU compute engine
Likewise, when you need a dedicated CPU to be there to manage the workload, you should deploy dedicated-CPU linodes. On the other hand, you don't get a dedicated CPU with any other type of linodes.
Storage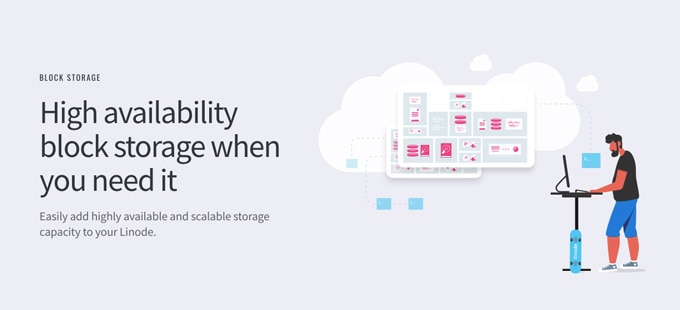 Apart from hosting purposes, you can use the Linode dashboard to create your own cloud storage disks on the fly. The high availability block storage costs $1 per 10 GB which is stacked with speed optimized HDD and ultra-fast NVMe disks. You can use this to store custom ISO files, your website backups, snapshots, and similar stuff.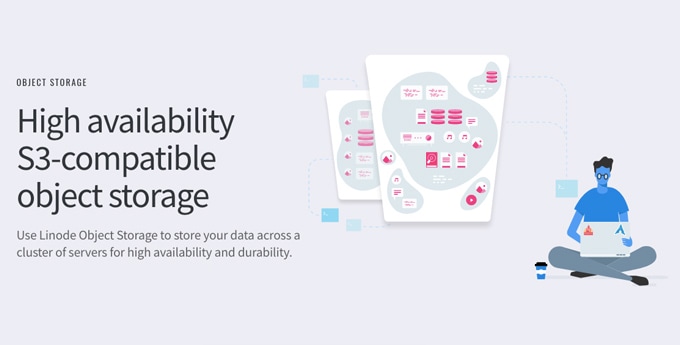 In case you need storage to attach to a Linode like you do in AWS S3, Linode's object storage is there to make it possible. You can use this to store static content of your websites like images, CSS, and JS files as well.
Furthermore, this can be used to host static web pages too. Isn't it cool? Yes, it is.
It is much better than it sounds. So, go and check out the object storage plans here.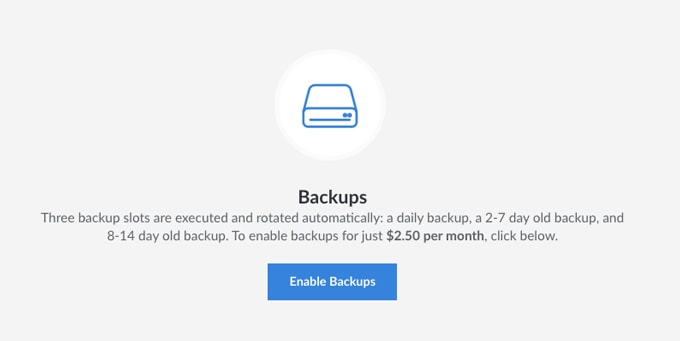 Backup storage is yet another awesome product by Linode where you need not create a backup of your Linode manually and upload on block storage. It costs 2.5$ per month extra on top of your standard Linode's compute the cost to avail automatic daily backups.
Services
You should be able to deploy your web application on the cloud even if you're a perfect noob to cloud computing. Yes, Linode's cloud platform professionals and experts can help you out and do it for you. This is covered under professional services by Linode.
Features of Linode
Linode boasts about the three primary areas it focuses on – Power, Reliability, and Simplicity. This has been its secret for success for all these years and has helped businesses at every stage of their journeys.
Overview of Features
Linode can help flourish your business with the help of the following features:
Linode API
9 data centers across 3 different regions
DNS Manager
Command-line access
Virtual console for server access
Full IPv6 support
Scaling and cloning
Recovery Mode also called Rescue Mode
Custom stack deployment capability
Linode Uptime/Downtime
Linode guarantees an uptime of 99.9% and is also mentioned in its Terms of Service document. Although it does not show the exact uptime statistics, one can monitor it using any uptime monitoring tool such as Pingdom.
Uptime Guarantee
The credit policy of Linode is very simple, i.e. if your service goes down for a long time enough to break the SLA, you can ask for a pro-rata credit. You can straightaway swap the credit with your downtime as there are no complex rules governing it.
Customer Support
To kick-start your onboarding, Linode offers you free credits which are enough to test services. You can have a look inside the Linode dashboard and start a real cloud server without even paying for it for a few months(depending on your usage).
You should not expect dedicated support from them like you do in the case of a managed WordPress hosting provider or managed dedicated server providers. The product they sell you out is subject to be managed on your own. However, I tried to ask questions from the support team to update my knowledge about the servers and how to deal with problems that occur while managing things on my own. The support team is very helpful in this.
You have to handle your own VPS unless you have bought the Managed add-on, or you are facing a system issue that only their technical team can look into.
User Community and Knowledge Support
If you have any inquiries and questions in mind, you can visit the Linode library, which is an extensive technical knowledge base. There are also Linode community forums where you can get others' assistance and help.
And yes, I can't forget to mention the Linode tutorials section where I can learn how to install various stacks, manage applications, deal with common bugs, and much more.
For support requests, there is a ticket system and a US telephone number. Their email support is also prompt and usually answers within a few minutes.
Linode Control Panel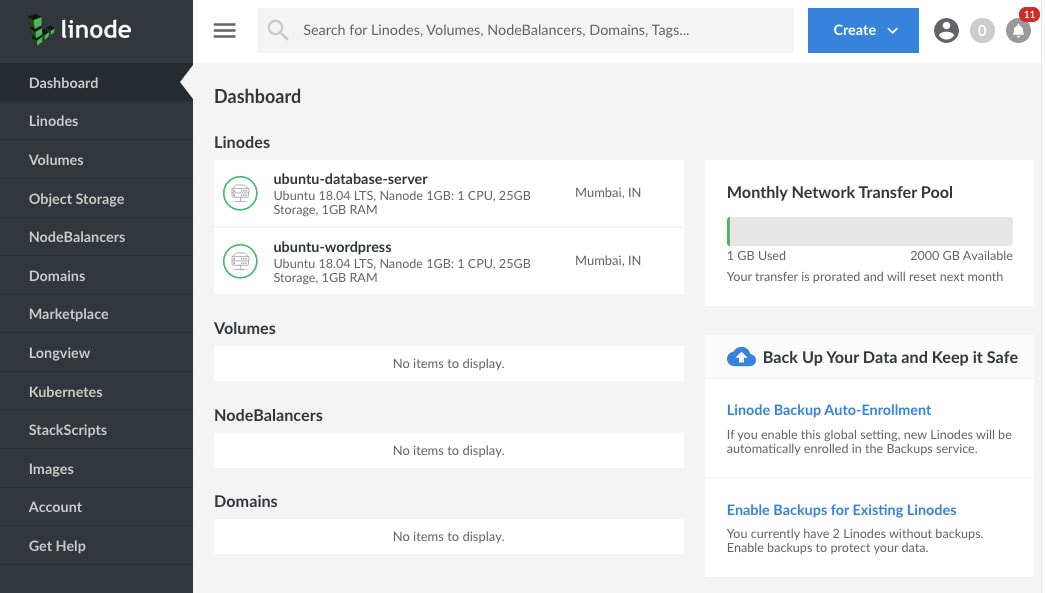 The unique Linode Manager Tool is used by the customers to deploy a Linode, select the Linux distribution they wish to change or its settings. Linode Manager is easily accessible via the desktop r by the company's free iPhone app.
The custom control panel handles all the server administration for Linode's virtualization. On paying more for the Managed add-on, other control panels like cPanel are also included.
Are there Any Site Building Tools Available?
Usually, other hosting providers offer the usual site-building tools and script installers. But, Linode focuses on Linux and developers which other hosting providers don't do.
Thus, you will have to install WordPress or any other blogging platform for yourself. You can also hire someone else to do this for you.
But wait, there is an option to deploy from the marketplace and community stack scripts as well. With the help of this feature, you can install the most popular CMS and stack scripts on your servers.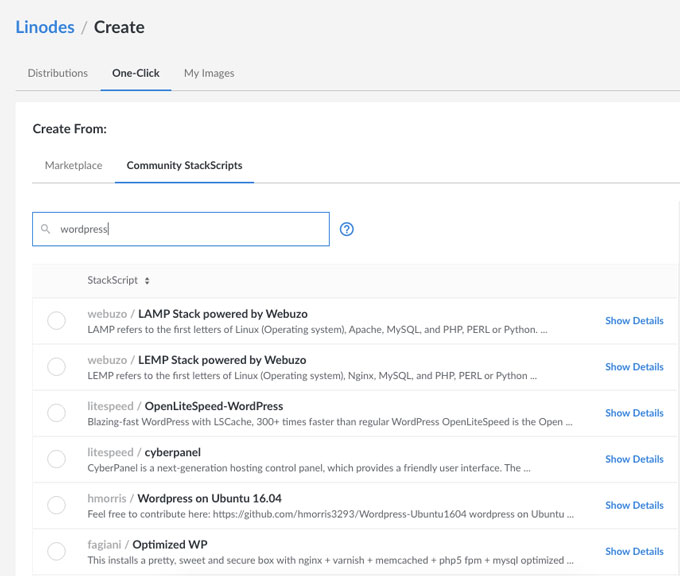 And a lot of things you install with one click Marketplace.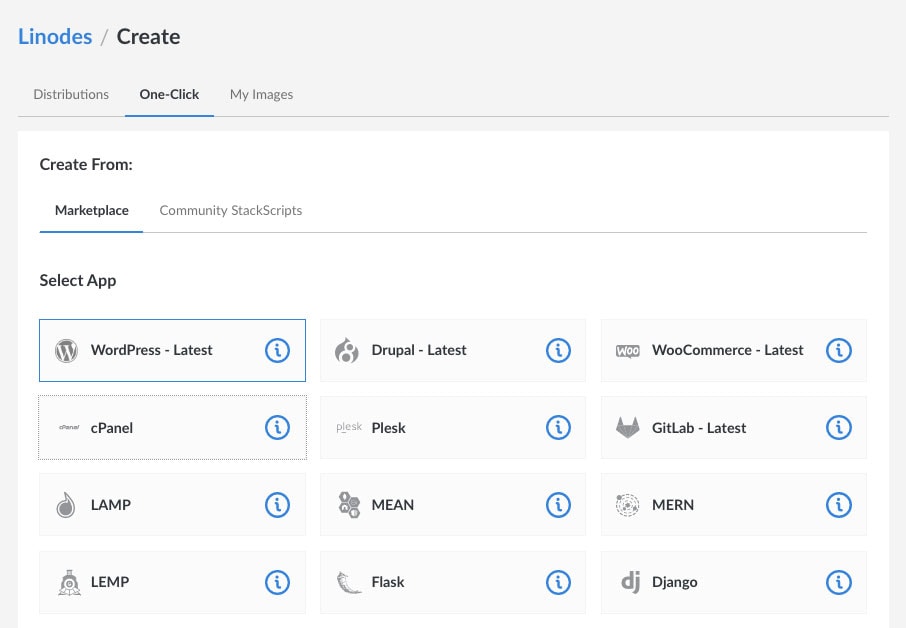 Linode Extras and Add-ons
Linode has no extra add-ons like freebies or advertising credits. But, customers can add on services like managed load balancing or backups by paying a little extra fee.
Quick Launch and API Access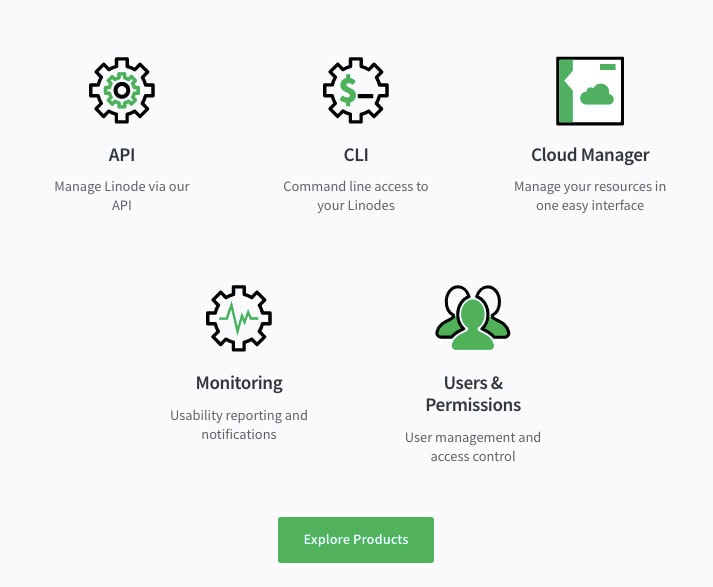 You can easily launch a server within seconds after activating your account. Thus, you get enough time to focus on improving the strategies and targeting key cores of your online business.
The API platform on Linode is very advanced and has DNS management and scaling facilities. You have to be skilled enough to make the best use of these resources.
Linode Pricing Plan
There are a total of fifteen straightforward standard cloud hosting plans ranging from 1 GB RAM plan to 96GB RAM plan, which can accommodate a business of any size.
The primary alternatives between these plans are:
CPU – This is the brain of the computer, also called the Computer Processing power.
RAM – It is the short-term memory of a computer. A higher RAM means a faster computer.
Storage – Storage is the place where you store the data.
Data Transfer Speed – This is the speed with which the data gets transferred between various devices
Network In – This means how fast the data comes to your Linode
Network Out – This means how fast the data goes out of your Linode
The starter package has the following:
1 Core CPU
1GB RAM
1TB Transfer
25GB SSD Storage
This small pack is the best for starters as you can make the upgrades later when required.
Managed Hosting
Managing your own Linux VPS machine may be technically demanding and if you do not wish to manage that, then you can go to Linode's experts for help so that they can take care of this.
You can get this by opting for Managed Hosting add-on. In case of any problems, the Managed Hosting Team will take care of it 24/7.
Linode has given the term 'incident response service' for helping the businesses who want to prevent downtime, by offering their managed services.
Why Managed Hosting?
Managed Hosting Services are time-saving and beneficial for businesses and busy bloggers. This way they get free time to aim at managing and progressing their blogs and businesses. These services also offer the advantage of automatic backups.
For instance, if you have signed up for three months or more, Linode's experts will also migrate one and more blogs existing websites or blogs to your new account, and that too is free of cost. This transition between servers saves your downtime.
What Do I get with Linode's Managed Add-on?
For those who want to keep themselves away from the needless stress of handling and maintaining the website 24/7, the managed plan comes with amazing benefits.
These services cost $100 per month and are a bit expensive for beginners. This plan has the following features:
Free Cpanel
Emergency incident response
Dashboard metrics
Free WHM
Access to Longview Pro – advanced system analytics
Free site migrations
Free site migrations
20% discount n professional services, like architecture work, deployments, server installations
Billing and Payment
The services offered by Linode are automatically billed on an hourly basis, with a monthly cap. In case the client exceeds the transfer rate, extra charges are levied.
Here is the hourly pricing comparison of the plans: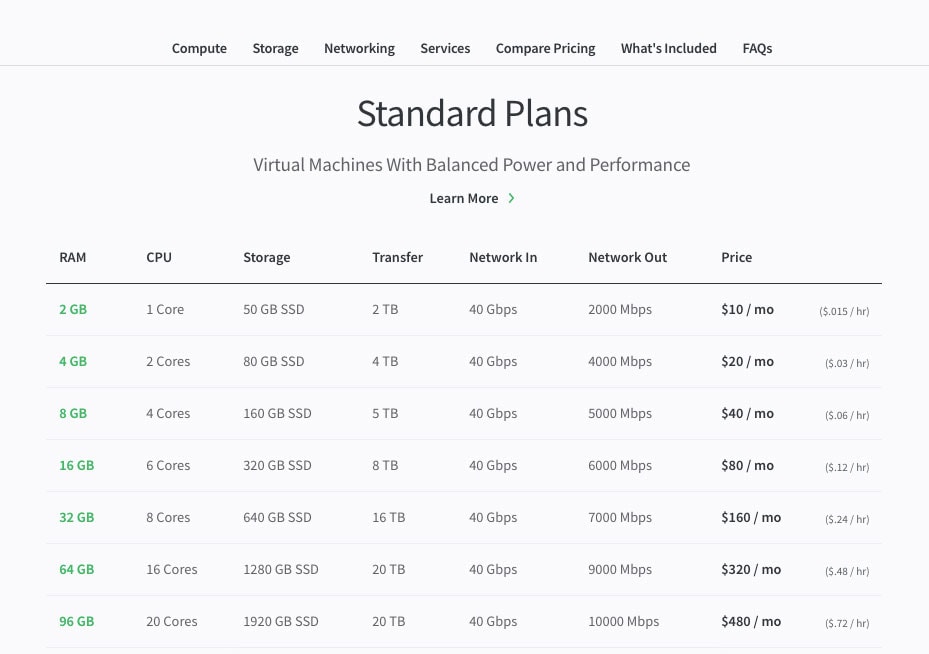 The customers can make payments via several methods like American Express and MasterCard.
Free Trial with Linode
Linode offers a 7-day free trial for the users so that they can test the platform if they are not sure about its performance. The cheapest cloud hosting plan by Linode costs $5 per month.
Start a free trial now
Online Tutorials and Guides
Linode has enough tutorials and guides for the users who are getting started to migrate existing packages to the Linode platform. There is also a dedicated tutorials section to help you with your concerns and queries, especially the new Linux users.
If you want to directly interact with the experts, you can use Skype or telephone to connect.
Online forums are a great help in making announcements. Here, you can also discuss several issues and seek answers for the same. You can get handy tips from the forum to make things smooth with Linode.
Is Linode secure?

Security-wise Linode is very safe and always particular about its security. The company ensures that your website is safe to the maximum extent.
Linode:
Proffers two-factor authentication to safeguard user's account
DDoS protection
Regularly scans its networks and supporting systems to make sure that everything is correctly configured, updated in terms of fixes and patches and its security is not vulnerable.
Has partnered with HackerOne and pays them for the security research to find and document the vulnerabilities in Linode systems.
Safeguard certifications up to 9+ per region with the UK having the most.
Carry out regular system testing which includes application tests and penetration.
Protects the data center and curbs the access to the employees and unlawful visitors verified via biometrics.
Management of Vulnerability – It regularly scans the networks and systems to look for anything unusual.
A Dependable Hosting
Linode hosting is extremely reliable and this is its USP as well. To meet the increasing demands, Linode is continually launching a new data center.
For instance, Linode has recently launched additional data centers in Singapore and Germany. Moreover, Linode also assures of giving a pro-credit to any user who faces a considerable amount of downtime.
Security and Backups
Linode considers security as one of its highest priorities. One can see this from their extensive guides and materials on firewalls, SFTP guides, and SSL administration.
The server manager handles the Backups for you, so it can be you or anyone you choose to manage the server. Linode also advises proper backup utilities, locations, and frequencies.
Billing and Cancellation
The billing by Linode is very different from the rest of the commercial and largely famous hosting provider companies. Linode bills you for its products on a monthly basis for the usage of the prior month.
In case you do not fully use the resources allotted to you for that plan during the month, Linode will bill you at a specific hourly rate. And, if you are about to surpass the cap of your plan, the bill will not exceed the plan's particular payment cap.
Why Should You Choose Linode?
Linode is worth it if you are an app developer or a tech startup that needs a top-notch, cutting-edge Linux foundation for your blog or your web application and thinking of possible future website plans.
Linode can become overkill for those who just want a forthright blog or informational website, which is relatively static and does not involve collecting or processing a lot of client data.
My Own Tests
I decided to give Linode a try and deployed 2 Nanodes to run 1 WordPress website.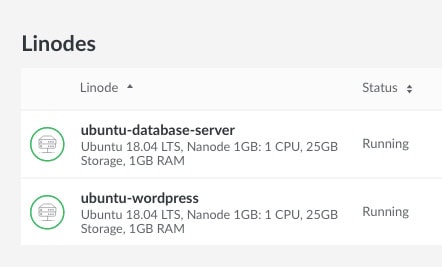 One of the Linode has Nginx + php7.4-fpm and Memcached installed and another one hosts the database server (MariaDB).
After this, I sent a load of traffic on this test website to test the performance. Making a note that the server only has 1vCPU and 1GB RAM, I noticed that the database server's CPU is 99% idle.
Then came the turn of the server which hosts the WordPress files. It came as a surprise that the WordPress host server also does not exceed 3% CPU usage in the last 24 hours.
This test means that the servers are performance-optimized. If you know the best way to deploy a WordPress website on a cloud server with the optimal caching setup, you're going to get the most out of the smallest cloud hosting plan too.
This performance statistic is the reason why I wrote this Linode review for you.
Linode Review Essential – Pros and Cons
Pros
A vast variety of hosting plans
Ideal for Linux experts who want root access and SSH
Easily expandable
Superb pricing on VPS and dedicated server plans
Huge library of great-quality tutorials and guides
Gives unlimited power over your servers
Top-notch global data centers and security
Cons
Only a 7-day money-back guarantee
No shared hosting plans for entry-level
The managed plans charge extra and are costly for small webmasters and beginners
Automated backups charge a fee
All plans do not include snapshots and site migrations
Start a free trial now
FAQs
The following frequently asked questions will answer all the general queries that one will face about the services of the hosting provider.
How does the hourly billing take place with Linode?
It works just the way it sounds, i.e. on an hourly basis. Depending on the resources you have used, you are charged hourly for the same. The package you select determines the hourly rate that you will be charged.
Does Linode provide Backups?
Linode does offer a backup service which you can activate in your Dashboard. The pricing would definitely vary as per the size of your VPS server.
Where can I locate my Linode IP address?
You can locate your IP address in the Linode Manager under the Remote Access tab. The public and private addresses can be found under the labels – Public Network and Private/LAN Network.
How to enable Backups on Linode?
First, log in to the Linode Manager, then select the Linode which you want to backup. Thereafter, click on the Backup tab and enable the backup. Finally, complete the order for your chosen Linode backup.
How to start a fast-loading WordPress site on a Linode server?
First, get started with a trial if you're not registered yet. Since you have root access to your VPS server, you can install the server stack of your choice. My recommended stack contains Nginx + php7.4-fpm + MariaDB and Varnish Caching. I have compiled all the commands in this tutorial that you can use to start a WordPress website now.
Start a free trial now
Also, Read Linode Comparisons with Other Cloud Hosting Providers
Summary of this Linode Review
Linode is the best and perfect cloud hosting solution, which is fast and dependable as can be inferred from the above discussion. The user can go through their trial period and decide whether to buy it for the long term or not.
Moreover, the 7-day money-back guarantee is a boon for the customers as they will not get trapped in long-term contracts. It is an extremely versatile solution for people with a similar background.
Linode thus gives the responsibility and power to the users in running their virtual web servers hands-on.
Compare Linode with other leading cloud hosting providers.