In this article, I will share with you the best Twitter Tools To Unfollow Inactive Users.
How many times have you been like 'why am I following accounts that don't care to stay active?'. Every time you open your Twitter and it feels like you are following way too many accounts and would like to unfollow a bunch of them.
But who has the time to see which one is good and which one is not so much in the market anymore? Here are Twitter tools to help you out.
Sometimes it feels frustrating to have people in your follow list who don't follow you back. Don't worry, we have been there.
Also, we want followers too especially when we are working night and day to create amazing content for our followers.
That's why there are many techniques, apps, and tools out there in the market to do your job and help you unfollow such people.
So, let's see 4 amazing tools, absolutely free of cost, that will help you unfollow inactive users from your Twitter account.
Twitter Tools To Unfollow Inactive Users
1. UnTweeps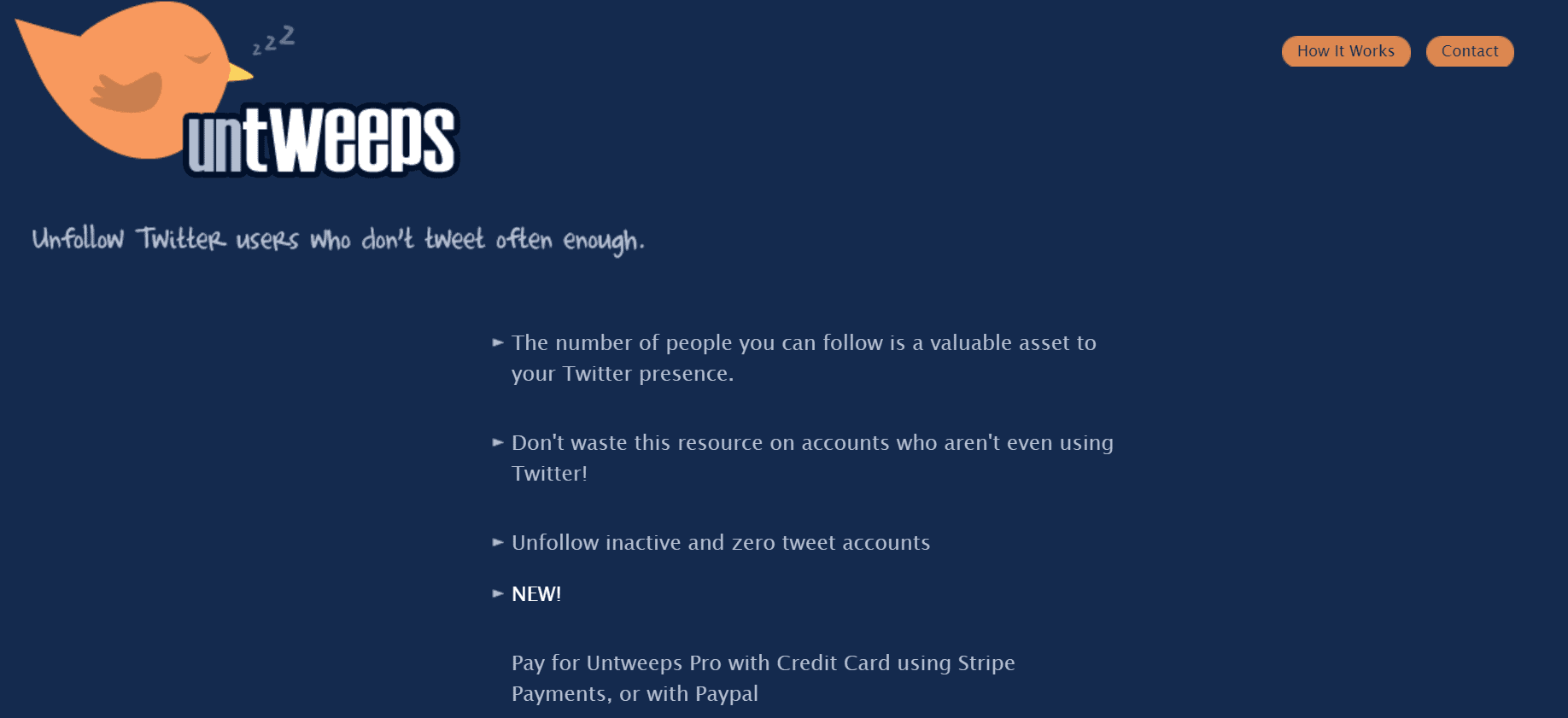 At first, we have UnTweeps which is one of the best Twitter unfollow tools you can use to unfollow accounts that don't keep updated on the platform.
This tool has been in the market almost since Twitter was launched. As we are talking about the free apps, this one allows you to keep an account of around 7500 accounts for free which is YEAHH!.
This is enough for the newbies but if you are a big brand, you might have to move to the pro version.
Anyway, what UnTweeps does is show you the accounts that have not posted anything since 30 days or so.
However, that's the default time period set that you can change as per your preference, say make it 3 months or 1 year. When you have the list of inactive following accounts in your hand, it becomes easy to take the decision.
Features of UnTweeps
Record accounts that have not uploaded anything since the last 30 days (by default)
Offers you to block people from your contact list.
You can scan 2500 people at once 3 times in the free plan.
Authorized app
Shows messages and other exchanges with the account
2. ManageFlitter

Up next we have ManageFlitter which is yet another powerful tool for your Twitter experience. Yes, it tells you about people who are not posting anything but there is more. You can also keep an eye on accounts that you are following but they are not following you.
That's where the priority works because you don't want such people in your account unless it is some big company or celebrity that you take inspiration from.
ManageFlitter is known to show you priority news on Twitter as well. If you are someone who loves to stay updated on the app and go with the trend, this is your key.
Moreover, there is a free plan for people who don't want to spend anything on the additional tools but if you have a big number of followers/followings in your list, its Pro plan is for you.
Features of ManageFlitter
It shows you the best time to post (get more followers)
Find and follow accounts made simple
You can track keywords easily to stay on the top
You can unfollow up to 5000 people at once in one attempt
Find and unfollow people who are not following you
Helps you identify fake profiles and keeps you away from spammers.
3. Crowdfire
CrowdFire is another amazing app/tool for you to stay up-to-date on Twitter. This app is popularly known as JustUnFollow.
Wondering how does it work? Well, obviously you would have to authorize the app for your safe work. It takes you through the easy procedure and then to the dashboard where you can manage all your work.
It is one of the best in the market available through which you can unfollow accounts daily, to be precise, 100 each day.
This might be too little for some people who can upgrade their subscription to limitless in the paid version.
Besides, as you select and go through the list of accounts they present, you can see your chat exchange and other common activities.
Features of Crowdfire
Get your unfollow list with a single click.
Check out the details in the list too.
Gives you a complete list of whoever is not following you.
You can see a list of your recent followers and non-followers with a single click too.
4. Friendorfollow
Last but definitely not least, we have FriendorFollow which is known for its effortless work. Of course, this one too is a free tool that you can rely on for your Twitter follow/unfollow activities.
However, that's not just it because you can also manage other apps too like Tumblr and Pinterest. Well, on these apps too, you can unfollow accounts that don't stay active or follow you back.
To use it, all you would have to do is authorize, signup, and get to your dashboard straightaway.
To signup, you would have to use your Twitter, Pinterest, or Tumblr account. You can easily link up to your other accounts as well from other 2 different apps.
There on the dashboard, you will find the list you wanted with all the details about the accounts such as last activity, followers number, bio, tweets in a day, and much more.
Features of FriendorFollow
Shows you the details of accounts for better analysis.
Presents you fans, followings, and unfollowing, and everything in a simple display.
It also shows you the mutual followers as well
You can also see people who you are not following but who are following you.
Have people who are verified, normal, and protected accounts with other unique features. Something that sets it apart.
Quick Links
How to Use Instagram Stories To Grow A Loyal Following
FAQs related to Twitter Tools To Unfollow Inactive Users
🙆‍♀️ Is it unethical to unfollow people?
As soon as you are doing it from your personal account, it is all good because you should be following people of your choice. No matter what actor or actress you follow, it's totally your choice. Also, if you have a business account, you would have to have people in your follow list who are not following you back. So, it goes both ways.
💁‍♂️ Why do I need a tool to unfollow people on Twitter?
Twitter doesn't show you the account whom you are following but they are not following you back. Also, who has the time to check that out personally and see who has stayed active this month/week? This is the reason why these tools work wonders for your Twitter accounts.
🙋‍♀️ How do I unfollow someone without letting them know?
It's very simple, these apps do the job for you. If you are afraid to even after that, you have the list, go to their accounts and select mute from the drop-down menu on their profile. This will prevent them from knowing what you are up to.
Conclusion- Twitter Tools To Unfollow Inactive Users in 2023
Who would want people in their account who are not that active or not following you? This would work if you have some personal account but maybe not even then.
So, there are tools to help you out that wouldn't even cost you a penny to use.
What we just discussed above are exactly the types of Twitter Tools that you need to keep your Twitter account above all competitors.
What's next? Keep an eye on your following list and stay updated on what others are doing.