Earning money online is with the most minor work is the dream of every individual. How about making money while you are doing nothing? This is why affiliate marketing is something that people just adore. 
When we talk about affiliate marketing, there is one platform that is renowned among the best ones. Yes, we are talking about MyLead. 
So, here we are with a great and honest MyLead review that will show you the best and worst sides of it.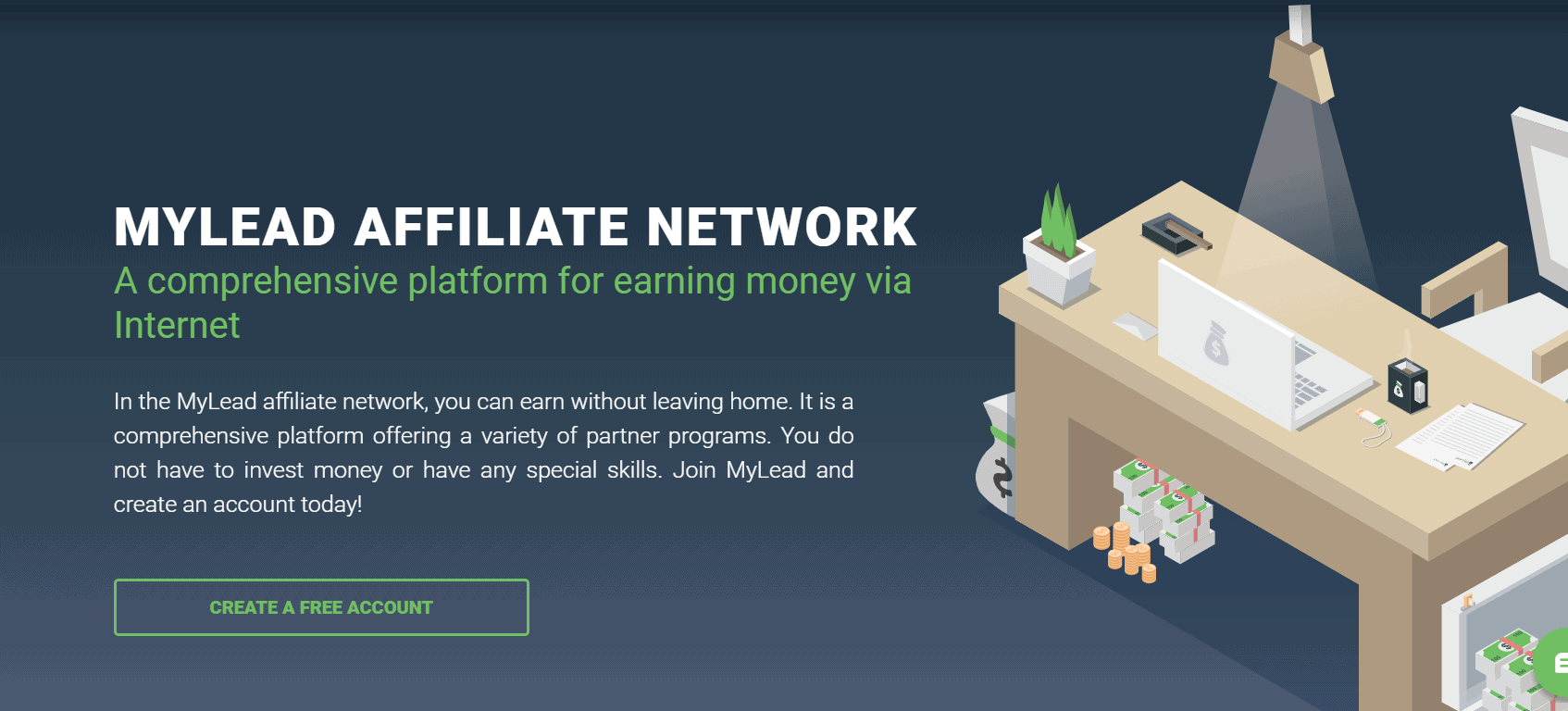 What is MyLead?
| | |
| --- | --- |
| Affiliate Network: | MyLead (mylead.global) |
| Commission type: | CPL, CPS, CPA, PPI, COD |
| Payment Threshold: | $20 |
| Payment Frequency: | Net 14 |
| Available Payment Methods: | Paypal, WebMoney, Skrill, Bitcoin, Bank Transfer, Revolut |
| Tracking System: | InHouse |
| Contact Details: | Krzysztof Długokęcki (support@mylead.global) |
| Joining Link (aff): | https://mylead.global/ |
As aforementioned, an affiliate marketing platform is a source of earning money via marketing products. One of the most effective affiliate marketing platforms is MyLead. It has been helping people make money online for the last 4 years. 
MyLead is a Poland-based company that has all the necessary tools that one would need to earn money online. Besides, people worldwide make the best use of these tools to earn money from marketing products. 
Want to know about its achievements? Well, more than 9 thousand users prefer MyLead over any other affiliate program every month. Moreover, it is known as the number-one affiliate network in Europe.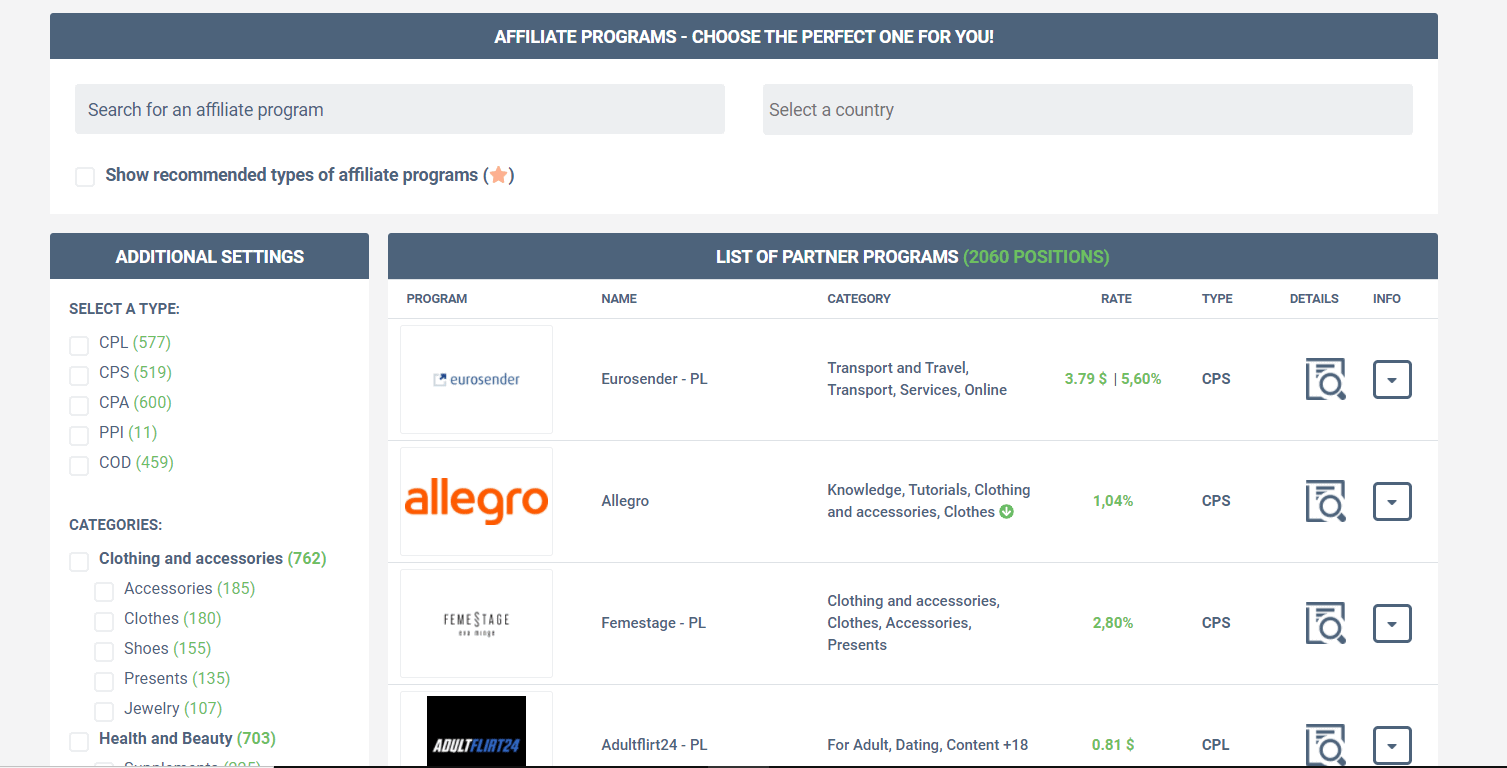 How good it is for the publishers?
Now we know how simple is MyLead but the question is, why should you go for this platform? Apart from money, there is a lot more than you can have from MyLead. So, let's have a look at them:
Get the best of the flexibility
MyLead is something that allows you to make money without following any rigid rules or timeline. You are all open to working as per your time and location. The convenience you get while working with MyLead is quite commendable. You may travel anywhere, work anytime, and serve your best with the affiliate program you prefer. 
No expense freedom
Do you know MyLead is an absolutely free platform? Right when you visit their website, you will come across a button that says 'Start for Free'. There is no lie in that because you can start working on your affiliate program without spending any money. 
Now you might think that there is some hidden cost involved with it. But the truth is, there is no hidden cost involved with MyLead. Besides, they also advise you not to involve in any expensive training. 
A great source of passive income
Passive income is something that needs minimal effort to make money. Affiliate marketing is that type of income. There is no need to get to every individual and convince them to make the purchase or subscribe to something. You post your content and people can see the affiliate link on your page until your delete it yourself. Therefore, it is the best source to make money even while you are sleeping. 
You get exactly what you expect
As you choose MyLead for your affiliate marketing, you would love to find everything you need in one place. There is essential information about all the guidelines you need to follow. Moreover, if you want the surety that all the offers you get are authentic, the team ensures that. 
All these facilities and great things about MyLead make it the topmost priority of affiliate marketers.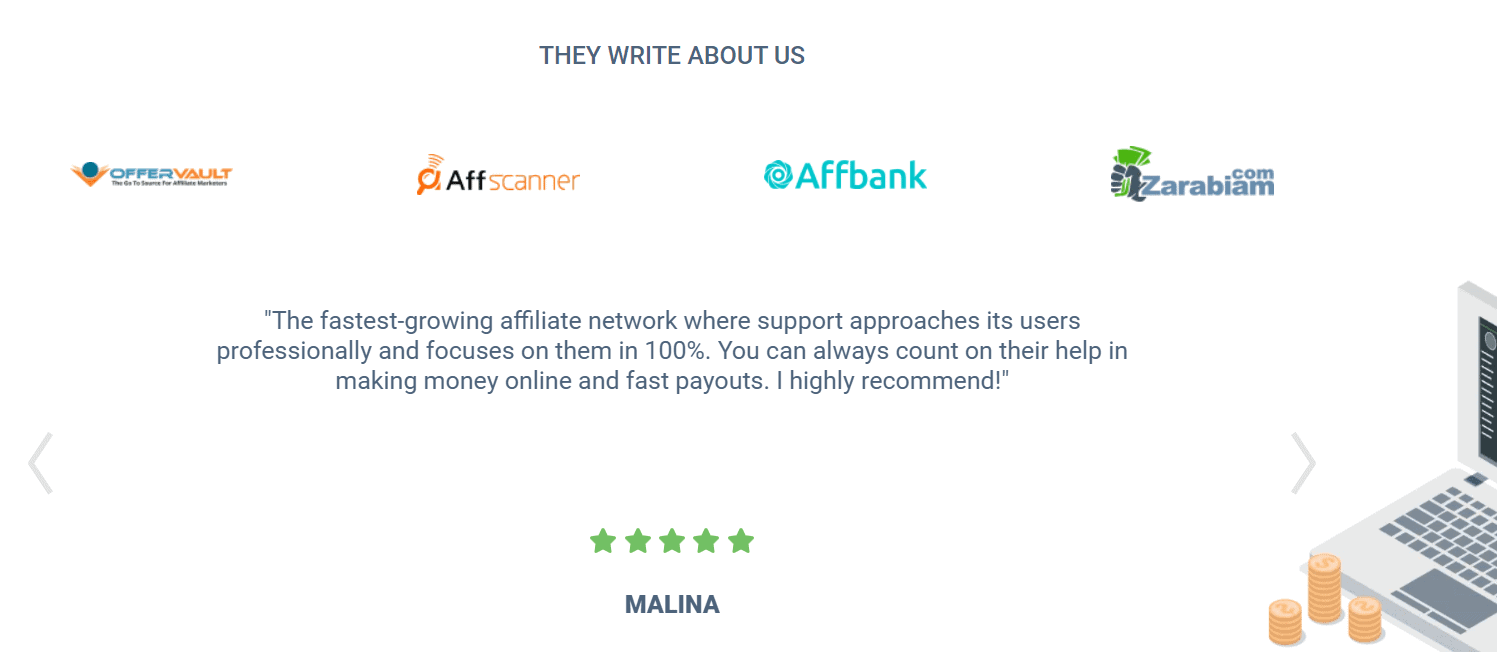 Features of MyLead
Moving further with the MyLead review, let's have a look at the features this brilliant affiliate marketing platform offers. 
Versatility
Talking about the versatility, we cannot ignore the fact that it has been providing more than 1000 partner programs. Moreover, these programs are available in various dozens of categories. The company offers around 9 models of earnings supporting all devices and operating systems. So, you get what you expect and promote what you wish. 
Innovation and MyLead
From Android to iOS, blogs to the built-in forum, MyLead constantly develops mobile applications that are made with extreme innovation. These applications are then further used to transfer special knowledge to systems that help in increasing your profit. Hence, you can simply get the place where you can find everything you need. 
User support and reliability
Now, let's talk about what support does MyLead offers. As per the reviews of the users and our personal experience, the support team is quite understanding and remarkably fast. Moreover, you get support for an entire 24/7 period. 
Moving on to reliability, there is a user-friendly and easy-to-read publisher panel where you can find all the necessary information. You can use a practical statistic system, count on a team with simplicity, and find help anytime you want. 
Payment Flexibility
MyLead works with a payment cycle of 14 days and every payment is made within 48 hours. What medium does it use? Well, you have a wide range to choose from such as Wire, Skrill, PayPal, Payza, and more. Furthermore, you can get notifications of your tasks via mobile SMS daily or monthly. 
Training system
MyLead would love to have people who are damn serious about making money via an affiliate. Therefore, the team provides immense training and never keeps its users hanging. Users can access the training system of the company from their respective accounts. Besides, this includes both basic and advanced levels of training. 
Other systems
By other systems, we mean to say referral systems and tracking systems. The referral system of the affiliate market enables the user to earn extra money. You can have a referral income of 5% for your life with that. Whereas, for the tracking system, you can keep track of your activity and check for statistics. 
All these exciting features of MyLead make this platform just amazing to be used by people who are good at promoting a product. If you are one of them, you can make the best of these features and earn as much as you can. 
How credible is MyLead?
The founder and CEO of MyLead have been working in the affiliate industry for years. Besides, MyLead itself has been providing its excellent affiliate services for more than 5 years. Throughout this time, the company has built a strong and popular position on the internet. 
Achievements also reflect credibility and, as far as MyLead is concerned, it has won too many awards to date. These awards include recognition from great affiliate marketing portals such as affiliatefix.com, affbank.com, and zarabiam.com. 
Do you want to know the best part? It has paid around USD 5 million to over 1,50,000 users worldwide. Now, you must realize you great and remarkable it is.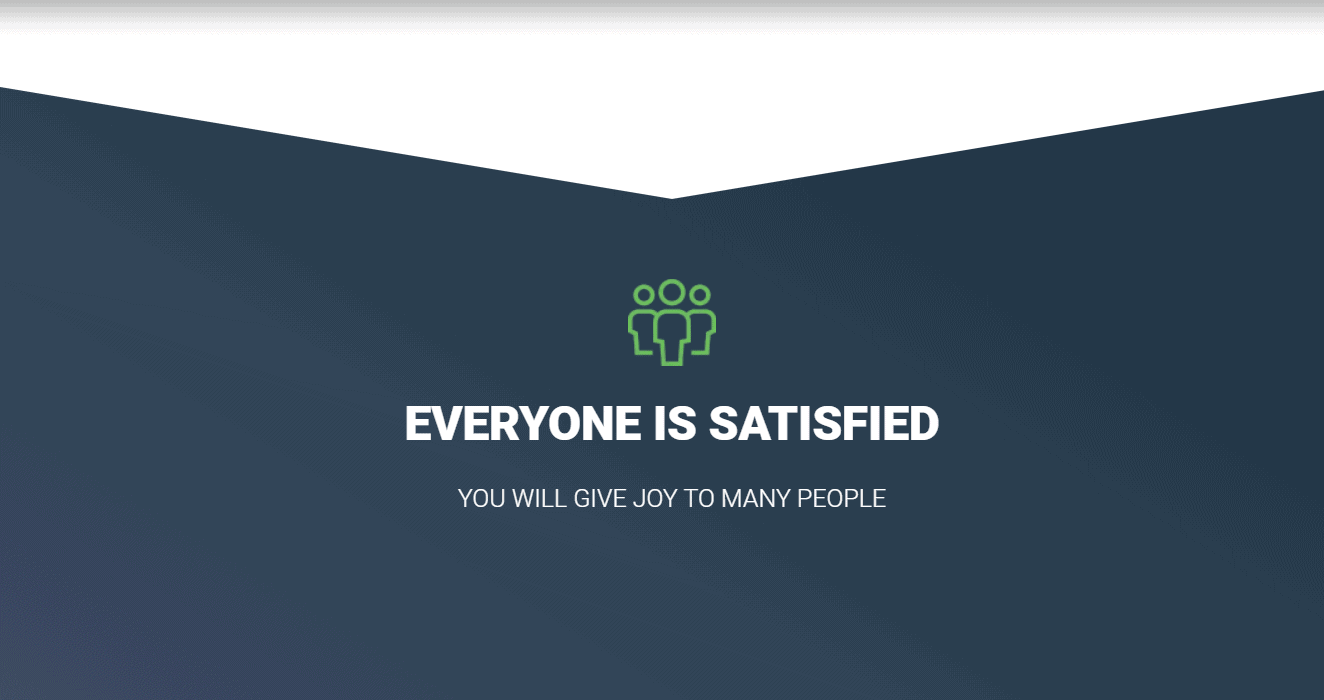 Different types of partner programs are available at MyLead. 
CPL (Cost Per Lead)
Whenever a customer or user clicks on the link and subscribe or even signs-up to the website, you will earn your share. This works on any site be it a blog or a business service provider. 
PPI (Pay Per Install)
This one usually works whenever someone promote a mobile app or software. So, when an individual installs the software or the application successfully, the user earns their remuneration. 
SMS
This one might seem a bit critical but here, the user sends out messages to the service provider to find the eligibility for the services. These services can be a game, downloading videos, sharing content, or take part in a contest. These are briefly known as SMS programs. 
CPA (Cost Per Action)
Cost Per Action, as the name suggests, is the condition that is a prerequisite for payments. It all depends on whether the customer takes specific actions, as said. For instance, making the payment using a credit card, creating an account with the website, and similar actions. 
CPS (Cost Per Sale)
The sale is directly related to commercial activity and so is this program. When a final consumer visits the merchant's website and makes a purchase on the product, the user gets their share of earnings. Now you know, this one is the most common.
MyLead Pros & Cons
MyLead Pros (advantages)
Free registration and no extra charges on each affiliate marketing. 

Extremely trustworthy

Working under the guidance of a professional team

Super quick and easy to use

Easy and fast payments. 

Accessibility to statistics to maximize your productivity. 

A wide range of programs available. 
MyLead Cons (drawbacks)
It pays you as per the performance
My Honest MyLead review
To conclude with the MyLead review, I can say that MyLead is a wonderful platform where you can earn as much passive income as you want. That too by using your marketing skills. So, now you see how amazingly good this affiliate network is?
Wrapping Up
For affiliate marketing success, joining a good affiliate network is not enough. You need the right tracking tools and the best technology to support you for the growth of your website traffic.
The organic traffic increases only if you rank well on the search engines.
Here's a list of articles that you should read after exploring my honest MyLead review