Adplexity is a tool that helps you find the ads of your competitors. This gives you access to a fair competition analysis where you can check the bidding strategy, landing pages, and several important factors for advertising.
You can see what they are advertising on native traffic sources, which are growing all the time. This is hard to do if you have no competitive intelligence.
Adplexity can help you with your ads. You can see what works for the competition and use that information to save time and money on your own ads.
Adplexity shows you native ads that already work by showing you data from successful campaigns. This is different from other ad spy tools because it offers amazing benefits like promoting affiliate offers, landing pages, analyzing campaigns, and more.
Pricing of Adplexity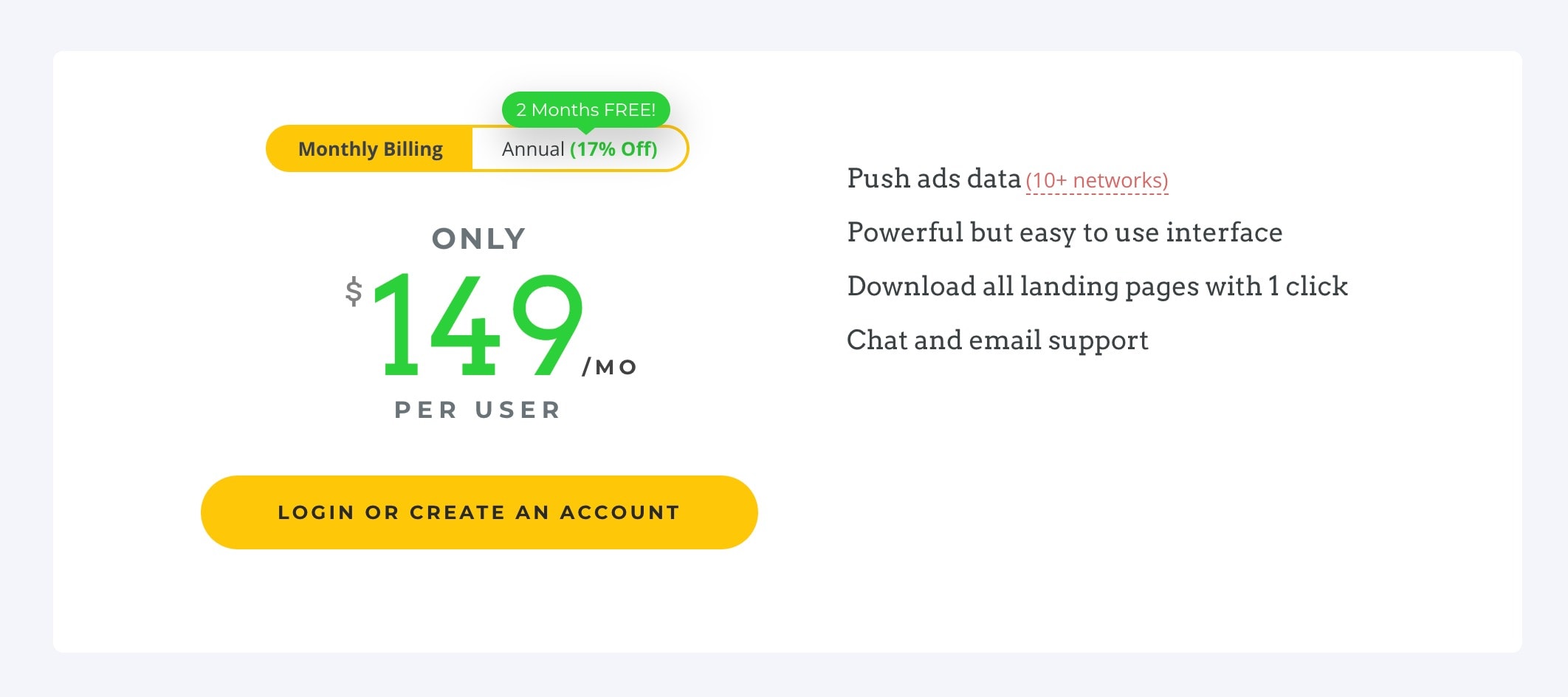 The pricing of Adplexity is very cost-effective, which is great for small businesses and startups who are looking to get the most out of their advertising campaigns.
There are two plans: the monthly plan for $199/month or the annual plan for $1990/year (with 2 months free). This way, you can choose the plan that best suits your needs and budget.
Adplexity offers a 14-day free trial of their all-inclusive analytics and ad campaign solution, which includes:
Unlimited Custom Dimensions & Metrics
Detailed Analytics
Smart Optimization
High Volume account
AdPlexity Products:
1. AdPlexity Desktop
As you know now, AdPlexity Desktop helps you in finding successful ad campaigns quickly and a simple user interface with different filters helps you in finding a particular advertisement.
Benefits of Adplexity Desktop
AdPlexity Desktop is the perfect tool for advertisers looking to take their campaign monitoring and analysis one step further.
With this program, you can monitor campaigns running in over 75 countries as well as uncover profitable ones on desktop popup traffic sources that may be generating revenue without even being advertised!
It comes with various filter options so it's easy enough to pick out anything from keyword searches through advertiser information or publisher data–and download every landing page right away too if needed (zip file).
Get Adplexity Desktop
2. AdPlexity Mobile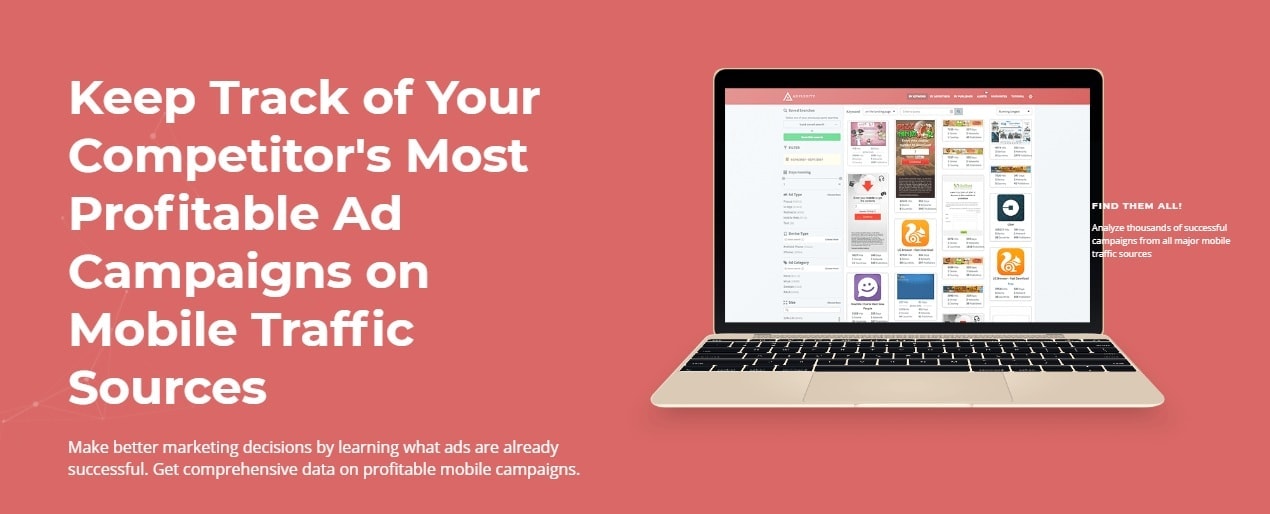 This product is used for checking the most profitable advertisement campaigns. Like, AdPlexity Desktop you get all the features and other options to work with.
Benefits of AdPlexity Mobile
With this amazing ads spy tool, you can easily see all the affiliate network & tracking tools.
Outgoing URL: You'll be able to find your outgoing URLs and simply check which offer is being promoted on which landing page!
Find All Campaigns: Now here's where things get really cool – not only are there campaigns run by affiliates but also those of advertisers themselves so that means if someone wants more information about an advertisement they will have access to it instantly without having any problem whatsoever with copyright strikes or anything similar as
Get Adplexity Mobile
3. AdPlexity Native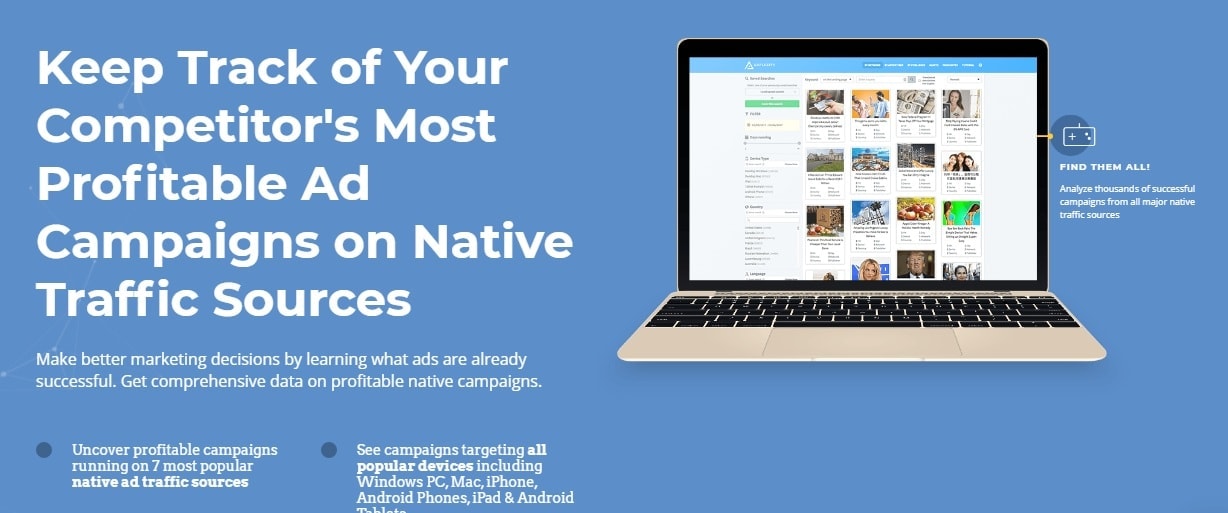 AdPlexity Native is for those who want to keep track of their competitors and be ahead in the game. This service will allow you to discover successful ads in more than 32 countries.
Benefits of AdPlexity Native
The benefits of using Adplexity's Native platform are endless.
You can easily see all the affiliate networks & tracking tools that are generally used for specific landing pages, such as Google Analytics or click fraud detectors to make sure your data won't get skewed in any way!
And with our Outgoing URL feature you'll be able to find which offer has been promoted on each page without having a deal near impossible trying figure out who was responsible yourself- just look at this nifty little box below called " campaigns."
It lists every single campaign run by both advertisers AND affiliates.
Get Adplexity Native
4. AdPlexity Push
To uncover the most successful ads on Push Traffic Sources, this product will come in very handy. Whether you want mobile or desktop data, this tool will help with more than 82 countries serviceable.
Benefits of AdPlexity Push
The benefits of using AdPlexity Push are huge!
With this tool, you can monitor campaigns running in over 82 countries and uncover profitable ones on 10+ push traffic sources.
You'll also be able to see hidden ads that are only found through a mobile carrier — 90+ carriers supported for those looking for an edge when competing against others online advertising their products or services directly towards consumers who want what they offer without any effort at all; just one click away from being caught—and there isn't much anyone could do about it.
Get Adplexity Push
5. AdPlexity E-commerce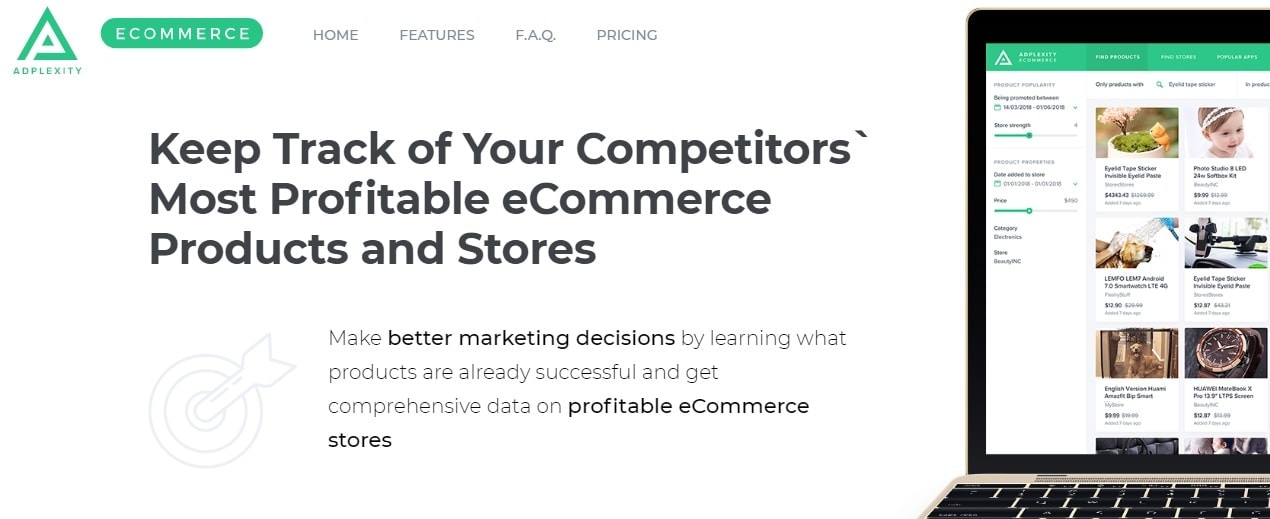 This is a spy tool for finding the most successful and profitable e-commerce stores and websites on the internet. You can also uncover and see the most successful products by adjusting the filters.
Benefits of AdPlexity E-commerce
AdPlexity is a great way for retailers to stay up-to-date on the latest trends and find out what's happening in their industry.
With features such as search by store, you can easily see if any of your competitors are having more success than others with certain products or stores location – even how much profit they make off each item!
Not only does this save time but it also saves money because now there's no need to spend unnecessary cash advertising just one thing when really wanting to promote all aspects.
Get Adplexity eCommerce
6. AdPlexity Carriers
To have your campaigns running on mobiles and other portable devices at different locations in the world, all you need is an AdPlexity Carrier. This service is available on more than 80 mobile carriers with 3G or LTE proxies.
Benefits of AdPlexity Carriers
The benefits of using APlexity carriers are huge and can help you increase your profits up to 50%.
The conversion flows show the full path an offer takes through, from when someone clicks on it until they buy something.
This allows us to see if there's anything we might have missed with our marketing campaigns or landing pages which will give a more complete picture of what works best for our business compared to competitors' sites.
It also makes testing different call-outs possible so that sometimes people may not even be seeing them because their banner won't display unless somebody goes into Google Maps.
Get Adplexity Carriers
7. AdPlexity Adult (new)
You can uncover your competitor's most profitable Ad campaigns on Adult Traffic Sources with just one tap! Get the valuable data at your fingertips in seconds.
Let's take a look into our dashboard now: it shows you which adult ad networks and keywords these ads are targeted towards, so if they're not working for any reason or don't provide enough profit then we'll let ya know straight away – saving time and money along the way too.
Benefits of AdPlexity Adult:
The benefits of AdPlexity are extensive.
From scraping more than 75 countries to targeting devices like Windows PC, Mac, and iPhone with a single click – it's easy for marketers who need access across various networks!
Whether you want live traffic data or conversion analytics (and even both), we've got what you're looking for in our dashboard; insights into campaigns running on adult popup traffic sources such as Google Ads Pop Pioneer Network which has over 4 million online retailers linked-up through them alone!.
You can also download any landing page straight from here so that they're always accessible when needed.
Get Adplexity Adult ad tool
AdPlexity Support
Adplexity 's support services are available to customers 365 days a year and are free of charge. Customers can contact them by email or toll-free numbers depending on where you live in relation to them.
When contacting them, customers need to make sure they include all relevant information.
When customers contact their AdPlexity's support service, depending on where you live in relation to them you can do this via email or a toll-free number.
Features of Adplexity
Adplexity is a great tool for affiliate marketing because it provides easy-to-navigate analyses. This makes it easy to track campaigns and identify any hidden ones. Additionally, Adplexity provides landing pages for downloads, which makes the process of setting up campaigns much easier.
Adplexity is a great tool for affiliate marketing because it provides easy-to-navigate analyses. For example, the summary bar on the top of your page can give you information about:
total clicks and impressions over time;
the number and click-through rate of all campaigns;
an overview of conversions, including the total value and number of conversions; and
a list of all creatives. This makes it easy to track campaigns and identify any hidden ones.
Another great feature of Adplexity is its landing pages for downloads. This allows you to quickly and easily set up campaigns without having to create your own landing pages. Additionally, these pages are responsive, which means they will look great on any device.
Pros & Cons of Adplexity
Pros
Adplexity is easy to use and has a very intuitive interface.
You can scrape campaigns in over 75 countries with Adplexity.
You get real-time insights running on various traffic sources with Adplexity.
Adplexity allows you to download every landing page in a .zip file with ease.
You can analyze campaigns by – ad trends, a device targeted traffic source and publishers with Adplexity.
Adplexity supports all major web browsers – Windows, Chrome, Safari, and so on.
Adplexity is constantly updated with new features and improvements.
The support team at Adplexity is very helpful and quick to fix bugs and add features.
The pricing for Adplexity is reasonable, especially considering the excellent discounts they offer on longer plans.
Cons
One of the cons of using Adplexity is that it doesn't offer any free trial. This can be a big inconvenience for beginners who want to test out its features before committing to a subscription.
Additionally, Adplexity could do a better job of providing helpful guides to beginners on their products. This would make it easier for new users to get started and make the most of its features.
My Verdict – Adplexity review
As I have already told you, it is one of those robust ads spy programs. There are many reasons to go with this software including its user-friendly interface and detailed insights & reports on your campaigns; but what really sets them apart from other marketing tools out there right now (in my opinion)?
The accuracy that they provide when monitoring data in real-time! No need for guessing where people come from or which channels were most likely used because these guys get down into specifics like no other company does– giving us accurate information straight away so we can make changes before anything.