🔥 Featured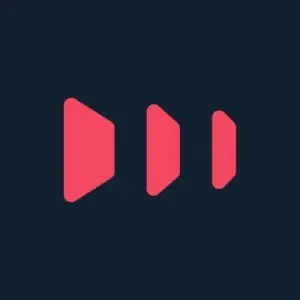 Smartproxy has yet another self-serve platform to buy private datacenter proxies. The Pay-as-you-go option lets you keep a tap on your budget.

🔥 40M+ real device IPs
🔥 195+ locations
🔥 24/7 instant epic support
🔥 Full anonymity and security
🔥 Unlimited connections and threads
🔥 Advanced rotation
🔥 Pay As You Go option
Datacenter proxies are used for pervasive cases where normal residential proxies become irrelevant. Datacenter IPs are used especially for ad verification and SEO monitoring. In this post, I have featured the best & cheapest datacenter proxies worldwide. 
Irrespective of why you need it, data center proxies are the cheapest possible way to change your IP address and avoid geo-location restrictions for any use case you may have, not just for gaming but also for integrating a custom IP address with your automation bots or scraping tools/scripts.
However, you still would need to figure out which datacenter proxy provider is the best and most affordable at the same time.
Also, there are multiple uses for a datacenter proxy. For example:
Cheapest Datacenter Proxies Providers Of 2023
Bright Data offers the fastest datacenter proxies with unique IPs worldwide. Over 1,600,000+ IPs are available in a pool or for individual purchases. All the IPs provide 100% network uptime with an extensive interface of IPs across 3000+ subnets. So far the best datacenter proxies I have ever used are from Bright Data.
Their billing model is easy to understand and manage. You must know how to best use bandwidth and requests through the proxies. Also, usage limit on specific zones is yet another feature you can utilize to reduce your bill on data center proxies.
To buy a datacenter proxy from Bright Data, you may need to sign up on the official website and complete the KYC process. No matter what sort of proxies you want, you need to verify your valid identity and mention the valid use case that you will use their ipv4 data center proxies.
Bright Data Features:
Pros
Global coverage.
Seamless Integration with third-party tools.
99.9% uptime guaranteed.
Highly reliable and flexible.
100% compliant.
Cons
API integration is not easy for starters.
Cost is not competitive compared to other proxies.
Proxies in some regions might show errors but are minimal.
You can choose between Shared IPs and Exclusive IPs. In shared IPs, you can pay per user or IP.
Pricing:
| | | |
| --- | --- | --- |
| Plan | Price | Bandwidth |
| Startar | $500/month | $0.60/IP + $0.095/GB |
| Production | $1000/month | $0.55/IP + $0.085/GB |
| Plus | $3000/month | $0.50/IP + $0.07/GB |
| Enterprise | Custom | Custom |
2. Smartproxy
Smartproxy offers advanced proxy rotation with flexible pricing and unlimited connections & threads. You can access datacenter proxies with over 40,000 US IP addresses in over 100 subnets. 
Smartproxy Features:
Pros
A trusted and legit company

.
Simple pricing plans.
Good support.
3-day money-back option.
Unlimited connections and threads.
Cons
Costly for individuals.
Fix pricing.
No support for SOCKS.
Limited city targeting.
Pricing:
| | | | |
| --- | --- | --- | --- |
| Plan | Price | No of IPs | Price/IP |
| Teeny | $9.38/month | 3 IPs | $3.13 |
| Tiny | $50/month | 20 IPs | $2.50 |
| Mini | $119/month | 50 IPs | $2.38 |
| Main | $400/month | 200 IPs | $2.0 |
| Enterprise | $3,375/month | 2000 IPs | $1.69 |
Smartproxy Datacenter Proxy pricing. All plans get you unlimited bandwidth. You only pay per IP.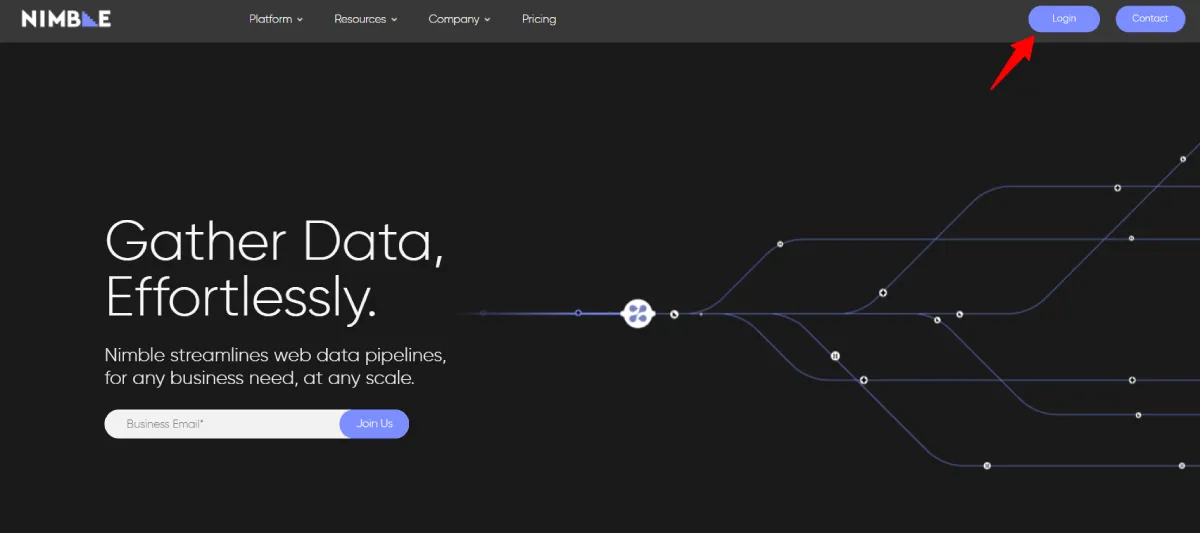 Nimble offers all under one roof, whether you need datacenter, residential, or ISP proxies. Nimble's premium proxies offer data scraping and data gathering a hassle-free experience.
🔥 Feature Highlights:
| | |
| --- | --- |
| ⚡ Performance: | Low latency provides high performance |
| ⭐ IP Quality: | Premium residential, datacenter, ISP IPs |
| 💻 User interface: | Easy & intuitive |
| 🎯 Targeting Options: | City and State-level |
Pros
Premium IP pool.
Rotating proxies for any use case.
No need for coding pipelines.
Comprehensive reports.
Real-human support.
Cons
There is no credit rollover in the Essential Plan.
Pricing: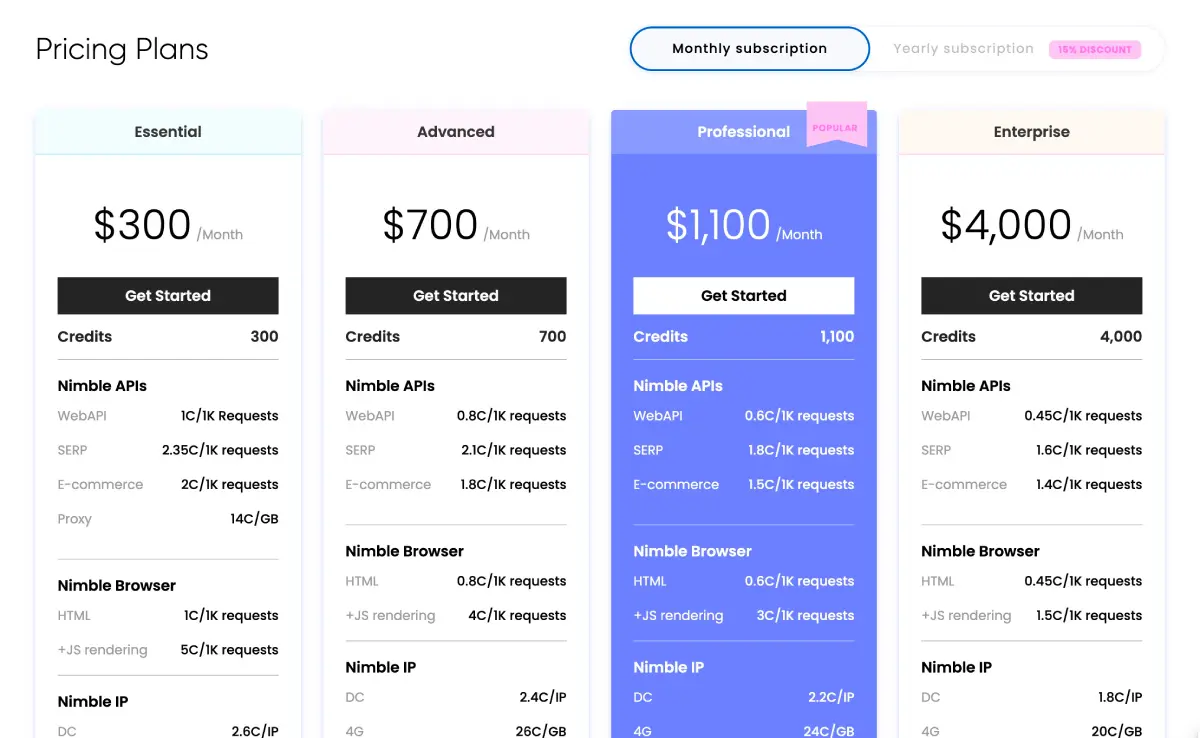 | | | |
| --- | --- | --- |
| Plan | Price | Bandwidth |
| Essential | $300/month | 2.6 C/IP |
| Advanced | $700/month | 2.4 C/IP |
| Professional | $1100/month | 2.2 C/IP |
| Enterprise | $4000/month | 1.8 C/IP |
Monthly pricing of Nimbleway Datacenter Proxies.
** Yearly pricing makes you eligible for 15% discount.
4. Oxylabs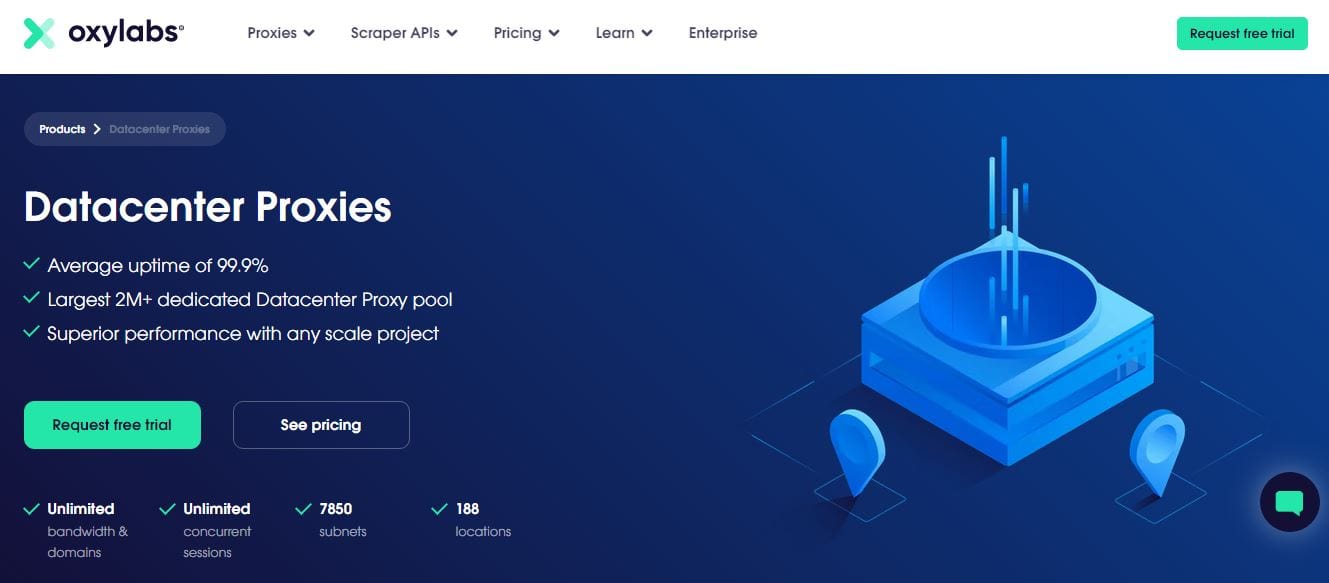 Oxylabs proxies provide unlimited bandwidth & domains with unlimited concurrent sessions. The average uptime is 99.9%, with the largest 2M+ pool of dedicated proxies. You can choose proxies from over 188 locations worldwide.
Oxylabs Features:
Pros
Dedicated Account Manager.
24/7 live support Instant help.
Auto-retry system.
High success rates.
Unlimited bandwidth & domains.
Cons
More pricing options are needed

.

High-entry threshold

.

Too expensive for individuals and small companies

.
Fix pricing.
Pricing:
| | | | |
| --- | --- | --- | --- |
| Plan | Price | IP in USA | IPs Elsewhere |
| Starter | $180/month | 100 | 60 |
| Business | $800/month | 500 | 285 |
| Corporate | $1500/month | 1000 | 577 |
| Enterprise | $6000/month | 5000 | 2500 |
Monthly pricing of Oxylabs Datacenter Proxies.
* You can get 10% saving on all plans when you pay annually.
5. Limeproxies
Limeproxies offers private, shared, and public data center proxies. These IPs do not reveal your identity and help you anonymize the web. You can have multiple social media accounts and manage them effectively. You can browse any website by accessing an IP in that location.
If you really want cheap datacenter proxies and the exclusivity of bandwidth and connection is not a matter of concern for you, you must be going for the shared datacenter proxies in place of dedicated datacenter proxies. Shared proxies are cheaper and equally fast as other users of the proxy.
Limeproxies Features:
Pros
Virgin SOCKS5 proxies.
Free trial & money-back guarantee.
Start from $10 for 10 IPs.
3-day money-back guarantee.
40 locations worldwide.
Trusted by 5,000+ companies.
Cons
Cheap recycled private IPs.
Limited available use cases.
Refund issues.
Premium version issues.
Pricing
You can start Limeproxies' 3-day free trial without any credit card details. The plans and pricing depend on the number of proxies you choose.

IPRoyal is a premium datacenter proxy provider with SOCKS5 and HTTPS support. The speed is fantastic, with no bandwidth limits. You never have to compromise on speed and authorization. You can get automatic proxy replacements once a month. IPRoyal proxies are cheap when you buy for a more extended period. I always get a 10% discount on the regular price when I create an order for 90 days.
Number of IPs: unknown
Format: IP list
Locations: US (Reston, LA, Chicago), UK, Germany, Netherlands, Italy.
Rotation: no
Connection speed: 10 Gbps
Parallel threads: Unlimited
Bandwidth: Unlimited\Protocols: HTTP(S), SOCKS5
Authentication: credentials & IP whitelisting
IPRoyal Features:
Pros
Highly reputable.
Available in a lot of locations.
Unlimited bandwidth available.
Anonymous datacenter proxies.
Cheaper than alternatives.
Cons
Residential Pool Size is Small.
Speed needs improvement.
Pricing:
The datacenter proxies pricing by IPRoyal is based on IPv4 and IPv6.
For IPv4: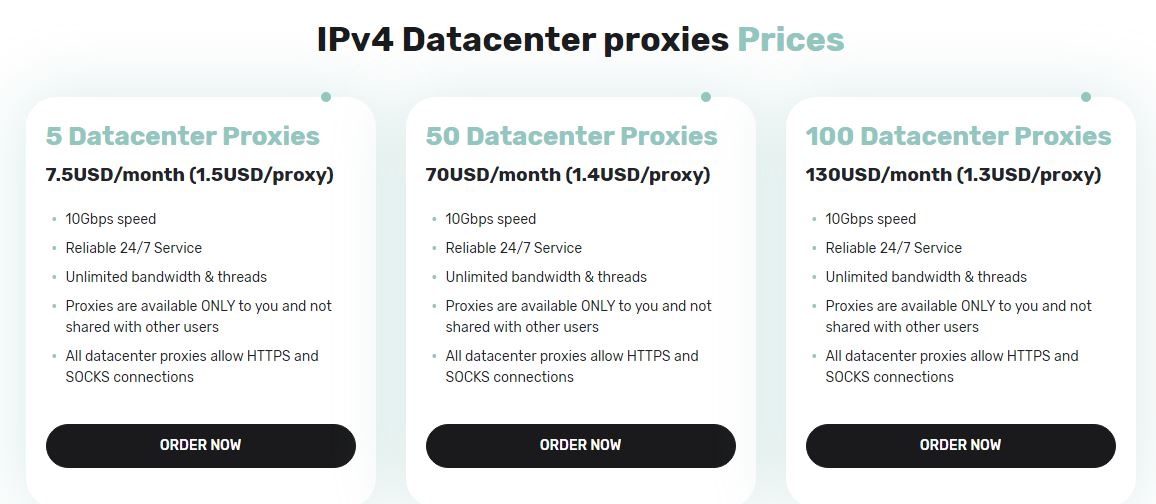 5 proxies: 7.5USD/month (1.5USD/proxy)
50 proxies: 70USD/month (1.4USD/proxy)
100 proxies: 130USD/month (1.3USD/proxy)
For IPv6: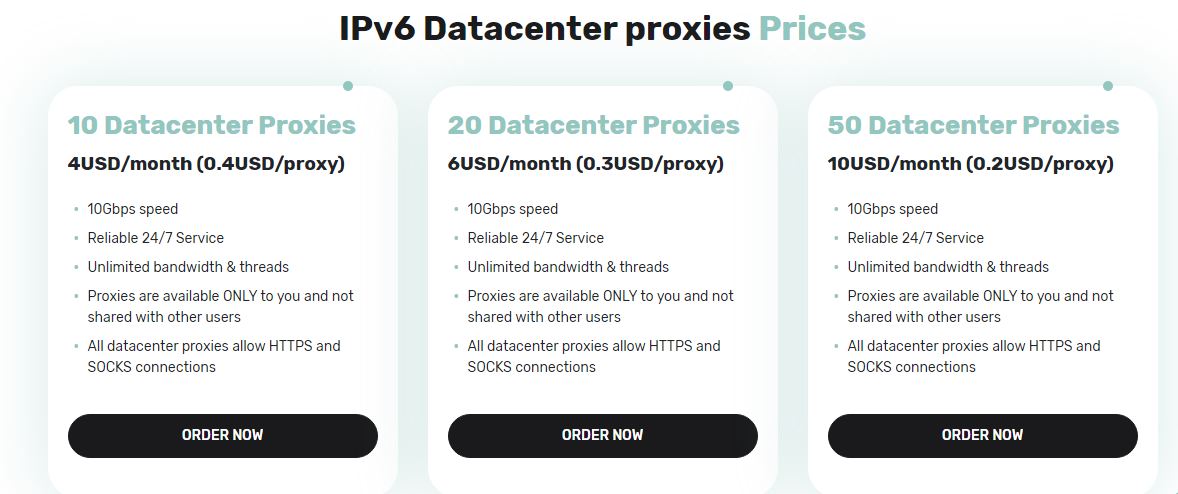 10 proxies: 4USD/month (0.4USD/proxy)
20 proxies: 6USD/month (0.3USD/proxy)
60 proxies: 10USD/month (0.2USD/proxy)
7. Shifter
Shifter provides proxies and data scraping tools for data collection. All Shifter users enjoy worldwide coverage of over 50 M+ + IPs with unlimited concurrent sessions. Get all the tools to scale your business.
Shifter Features:
You can get tailored pricing depending on your needs as Shifter supports everyone.
Advanced Geo targeting and IP rotation features are included.
Their Tier I bandwidth and worldwide connectivity offer 99.9% uptime.
Distributed cloud infrastructure offers low latencies that result in top speed.
The expert team is available to support you 24/7.
Supports HTTP/S and SOCKS 4/5 protocols.
Use the Shifter panel or API for easy configurations.
Ghostealth offers a balanced mix of quality and price. The entry price at Ghostealth is $20.
The quality of their proxies is distinguished by the fact that they have an uptime of 99.9% with direct access to 50,000 IPs for each subscription.
Ghostealth Features:
Pros
Fast Support.
Transparent Pricing.
Free Trial before purchase.
Socks5 & Http/s proxies.
Unlimited Bandwidth.
Cons
Limited country targeting options

.
They only offer IPv4 proxies.
9. Blazing SEO (Rayobyte)
Blazing SEO is now renamed Rayobyte, meaning there is no stopping the number of IPs, bandwidth, and data you require. You can take your business to the next level with ethical proxies from Rayobyte. It is a US-based proxy service provider with services ranging from proxies to web scraping.
Blazing SEO Features:
Easily control your proxies using API without the need to access a dashboard. You can effortlessly change, authorize, and do much more with your IPs.
Simply using API allows you to resell proxies by becoming a Blazing proxy reseller.
Risk-free 2-day trial to test our Elite private proxies.
Unmetered bandwidth and threads.
Available IPs include IPv4 Dedicated, semi-dedicated, rotating, IPv6 Dedicated, and ISP static.
10. My Private Proxy
MPP Group runs My Private Proxy and is running a bonus proxy program offering a 10% bonus on purchasing any private proxy plan.
My Private Proxy Features:
Enterprise-grade hardware and guaranteed uptime with over 220 dedicated proxy servers in 24 datacenters worldwide.
Dedicated customer support via ticketing system, email, and live chat.
Competitive prices with no compromise on network uptime and speed.
Instant activation of proxies after a successful purchase. An activation email with the information is sent to your email.
Complete security and anonymity while browsing Facebook, YouTube, and more.
11. SSL Private Proxy
Choose SSL Private Proxy and avail 50% OFF all private proxies and VPN plans. All the proxies are hosted on extremely fast Dual Intel Xeon servers with 1000 Mbps internet connectivity and 99.99% uptime.
SSL Private Proxy Features:
There is no need to share your IP with others as you can now access dedicated IPs.
Use dedicated proxies for gaming, social media, eCommerce, and more.
You just name the platform for which you need proxies, and you will get it.
Cheap dedicated proxies with large bandwidth and suitable for any online task.
All proxies support HTTP and HTTPS protocols and are anonymous.
Unique premium Twitter, Instagram, and Pinterest proxies are available.
All servers run on Wind power, and they plan to add servers to run on solar energy.
12. High Proxies
High Proxies is another well-oriented proxy solutions provider configured with security and reliability. It supports IKEv2 and LT2TP/IPsec protocols. You can grab dedicated/private proxies and keep them only with you without sharing them with others.
High Proxies Features:
A single architecture with multiple cloud computing infrastructures.
All proxy IPs are highly available with multiple datacenters.
Support via ticket is available round the clock.
99.9% uptime for all servers.
All the proxies are anonymous and highly secured, ensuring you won't get blocked.
No bandwidth restrictions with up to 100 threads/proxy allowed.
What are Datacenter Proxies?
Datacenter Proxies are IP addresses (IP4, most commonly) that can be used remotely to change your machine's IP address and avoid geo-location restrictions. This IP is basically attached to a physical server in a datacenter. Customers can then use that IP address to route their requests from that IP address.
Difference between datacenter and residential proxies
Datacenter proxy is very different from the residential proxy. Datacenter IPs give priority to speed, and they behave like an IP address hosted by a datacenter. Residential IP gives more weight to ensure it looks like a real user's private IP.
Also Read:
Conclusion
With the top data center proxies, you must have decided which one to choose. The #1 spot goes to Bright Data for its fast speed and affordable pricing. Look out for more Bright Data products and features on its official website.